Managing a high number of various types of tools and equipment that are constantly in motion is a daunting task when you use outdated, manual tracking methods.
However, with an automated tracking system, the process is streamlined to be faster, more accurate, and more efficient across the board.
Nevertheless, finding a good reason to choose between different asset tracking software is less straightforward.
The mix of features, pluses and minuses, ease of use, and price range makes every product a different fit.
To find the one that best fits your business, in this article, you will find our picks for the top 10 asset tracking software solutions.
Every entry will have a concise description and highlight its most notable characteristics, helping you to make a better-informed decision.
Let's dig right in with GoCodes.
GoCodes
GoCodes is a comprehensive asset tracking software, with all the features necessary for complete asset life cycle management.
The tracking system consists of three components. The first is the software itself, which includes web-based and mobile applications.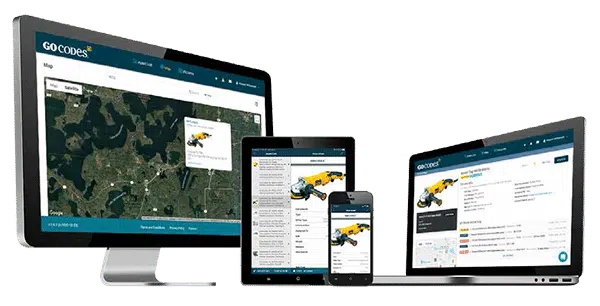 It contains an exhaustive online database of all your assets, with pertinent data you can track across different time periods.
This includes everything from manufacturer and purchasing information, maintenance schedule and history, utilization rates, past locations and users, etc.
You can also use the app to gain valuable insight into your workplace by using analytics and reporting features.
The main goal in designing these features was to make them easy to use and simple to navigate, which is reflected in the top reviews for the product on sites like SoftwareAdvice:

The second component of the system is the mobile app, used for scanning.
Smartphones can be used to scan tags with codes, and, for instance, pinpoint the time when the scan was performed, and the location of the equipment.
The information is then fed into the central database, where it is permanently stored for tracking purposes.
Scanning makes it possible to conduct various tasks, like logging updates, uploading photos, conducting rapid check-ins and check-outs, performing audits, and creating maintenance tickets, among others.

Finally, GoCodes uses durable, rugged asset tags of different shapes and sizes.
You can choose from materials like premium polyester, metal foils, and anodized aluminum metal, making them usable for any type of equipment and working conditions.
In terms of tracking technology, GoCodes offers barcode and QR code tags, BLE beacons and RFID trackers.
Key Features
Cloud-based data storage
Complete asset life cycle management
Tool check-in and check-out
Barcode scanning
GPS tracking
Patented QR codes
Rugged metal tags
Work order, document, and material management
Tool kitting
Maintenance scheduling
Automated alerts
Report generation
Online and offline mode
Now we explored its features, here are some of GoCodes' pros and cons: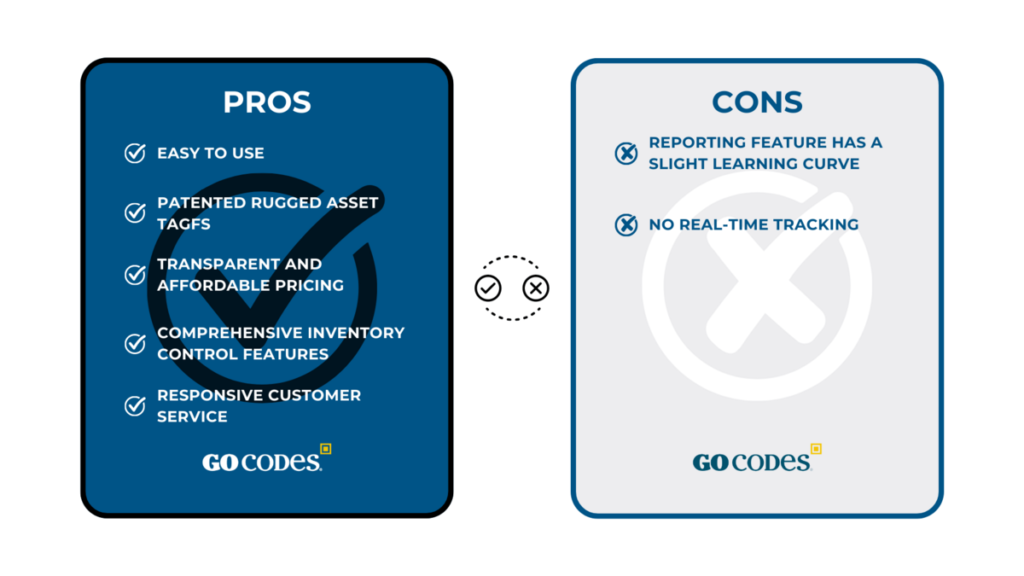 The prices start at $500 annually for the Standard plan.
They rise to $1,000 and $1,750 for the Premium and Premium Elite plans, respectively, and finish with a Professional tier costing $2,500.
Anything more falls under custom pricing options available in the Enterprise plan.
In summary, GoCodes is an affordable, user-friendly asset tracking software solution with all the features necessary for a better asset management experience.
Asset Panda
Asset Panda is a cloud-based asset tracking software solution notable for its extensive set of features, mobile support, and a wide array of customization options.
As shown in the screenshot below, these include custom check-out forms, reports, audits, and data fields and groups, among others.
Rich configuration capabilities make Asset Panda a good choice for businesses with an already well-established workflow.
Usually, implementing a new system takes accommodation from workers and management. With Asset Panda, they can more easily adapt the software to fit their unique needs.
Robust support for mobile devices, as well as providing an unlimited number of users, also makes the software a viable tracking solution for construction companies of all sizes.
Key Features
iOS and Android compatible
Built-in barcode scanner
Passive GPS locator
Full life cycle tracking
Unlimited users
Asset kitting
To sum up, here are the pros and cons of using this software: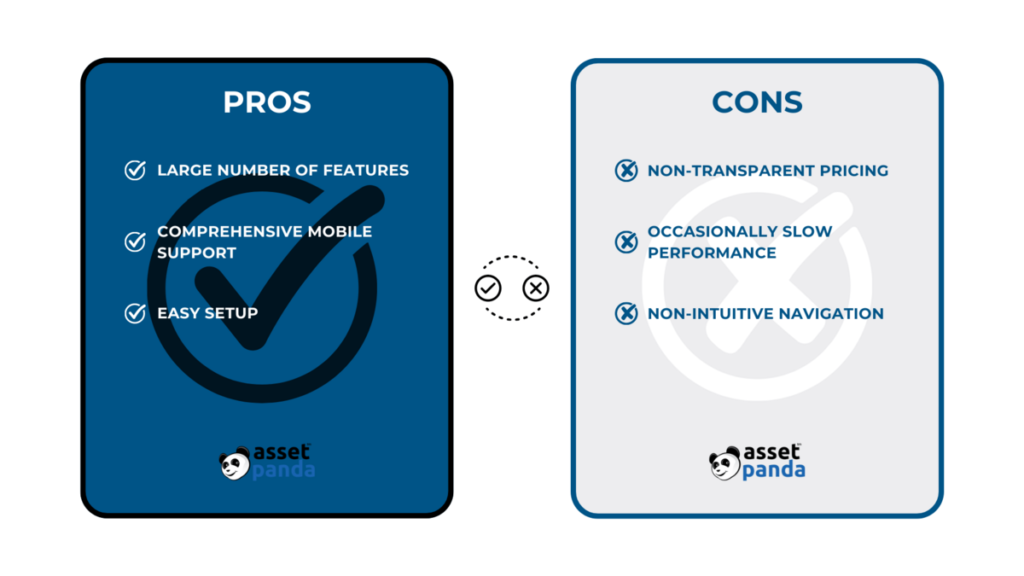 There is little information on pricing on Asset Panda's website.
However, what is known is they offer a 14-day free trial, pricing starts at $125 a month (billed annually) for a standard set of features and integrations, and discounts are available for multi-year, education, and non-profit clients.
Premium integrations and add-ons such as analytics, preventive maintenance, equipment leasing, and depreciation tracking all rack up additional costs, which, as many users report, make Asset Panda out of reach for smaller businesses.
AssetCloud
AssetCloud is a tracking software by Wasp Barcode Technologies that offers a complete line of asset management hardware to go with it.
You can mix and match their own brand barcode scanners and printers, mobile computers, labels, and other accessories to build a system best suited to your business.

Other than that, they provide US-based customer support and knowledgeable training staff.
They even offer a free one-on-one demo you can use to evaluate both the software and the staff in one 30-minute go.
Key Features:
In-house brand of asset tracking hardware
Unlimited items, customers, vendors
Free "Getting Started" training
Automated check-in/check-out
Custom notifications
Web-based and on-site training
As for what works and what doesn't, here's what the reviews say: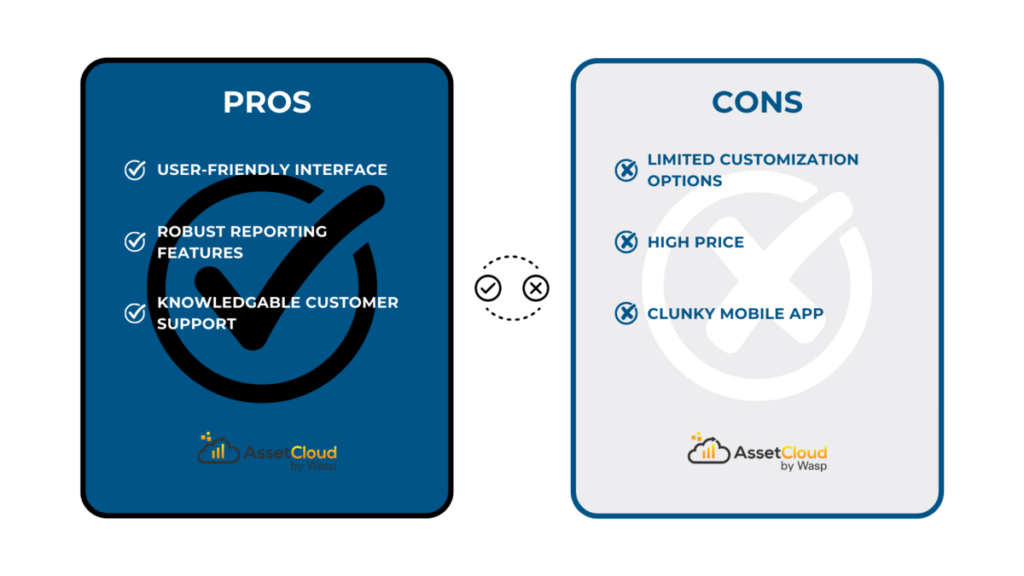 Pricing plans for AssetCloud are split into two categories—self-hosted and cloud-based.
Self-hosted plans go for a one-time fee of $2,995 for the Basic plan and $6,995 for the Complete plan, with yearly maintenance fees and one and five users included, respectively.
If you want a cloud-hosted system, you can get one for $995 a year for one user. Here, you pay no maintenance fee, and more users can be bought for an additional cost not listed on-site.
EZOfficeInventory
EZOfficeInventory is another comprehensive asset tracking software offering services to the construction industry.
Similarly to GoCodes, it provides features for end-to-end asset life cycle management.
It enables businesses to track tools and equipment, schedule maintenance, scan barcodes, QR codes, or RFID tags, manage teams, and create maintenance schedules, among others.
Its mobile app is fully compatible with the web app, providing options such as quick searches, check-ins and check-outs, reservations, cart actions, etc.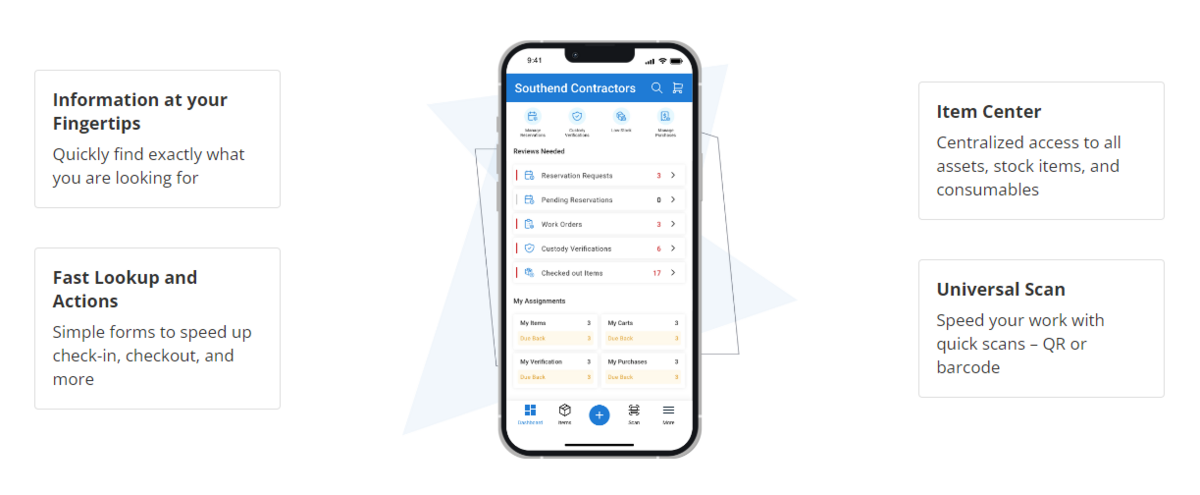 It should be noted, however, that some of these options are only available in the higher price plans.
Before delving deeper into the costs, here are some of EZOfficeInventory's key features, as well as its benefits and drawbacks:
Key Features:
Asset life cycle management
Quick check-in and check-out
RFID tags, barcodes, and QR-codes asset tracking
Carts for tracking equipment across worksites
Scheduled maintenance
Unlimited users
Here is what you can expect from using it: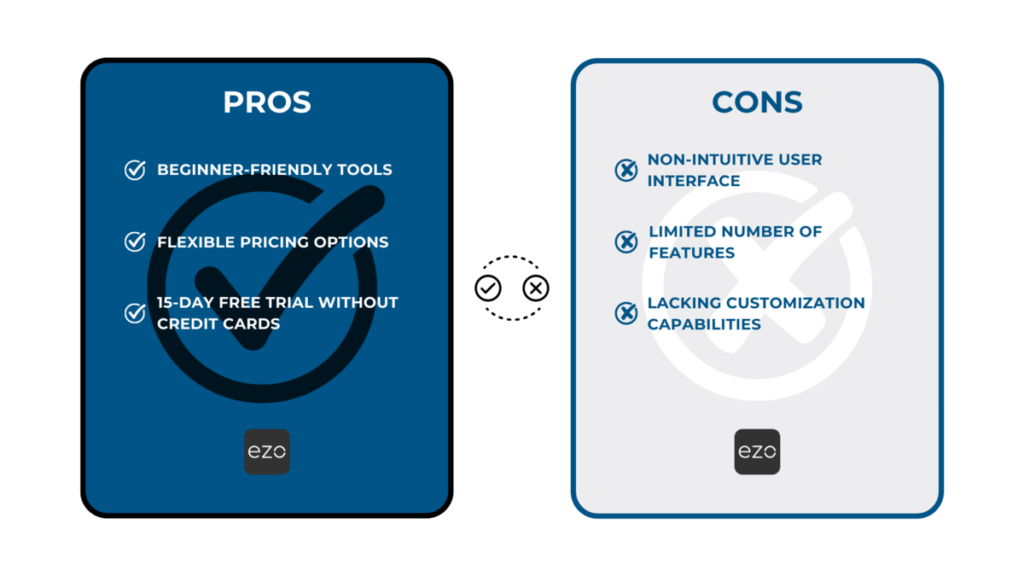 As stated above, EZOfficeInventory offers flexible pricing options, with a 15-day free trial period and no credit card required.
Their three plans go from $40 to $60 a month, differing in the number of features.
They include 250 entries, and scale in price up to 15,000+ assets, after which you need to request a custom quote.
In conclusion, the small price makes EZOfficeInventory an affordable option for companies with fewer assets.
But larger construction companies, or those planning to grow, may find the scalability unfavorable.
Geoforce
Businesses managing a large fleet of heavy construction equipment should definitely consider Geoforce.
Their main selling point entails extremely durable trackers, with the hardest boasting stainless steel bezels, which are ideal for equipment working in rough conditions.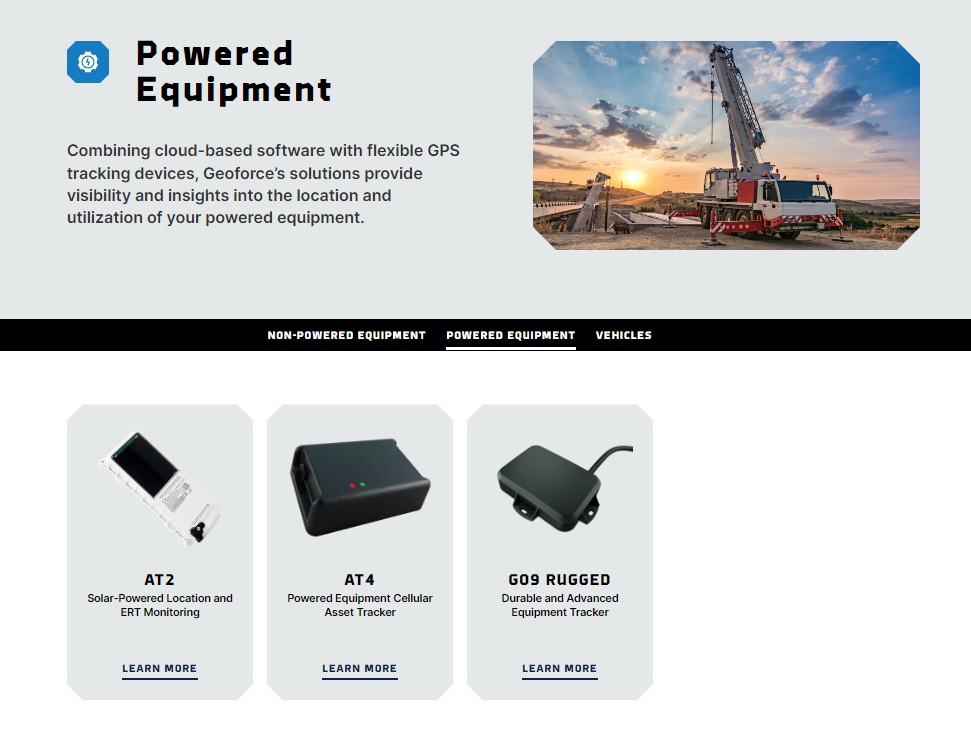 They offer tags for powered and non-powered equipment, as well as vehicles.
Unlike other entries in this article, GeoForce offers locators that do not have to be scanned in order to send location information to the system.
Instead, they come with antennas or beacons sending location signals either in real-time or via 1-24 location transmissions per day.
This allows companies to collect and analyze unique data, like fuel performance, engine performance, and driver habits.
Furthermore, all trackers are power-efficient, using either external power sources, solar-powered batteries, or low-power Bluetooth technology.
Key Features
Real-time GPS tracking
Durable, stainless steel trackers
Equally suitable for non-powered and powered equipment, and vehicles
Solar-powered and cabled tags
Route planning
Vehicle performance data
Now, for the summary of Geoforce's advantages and disadvantages: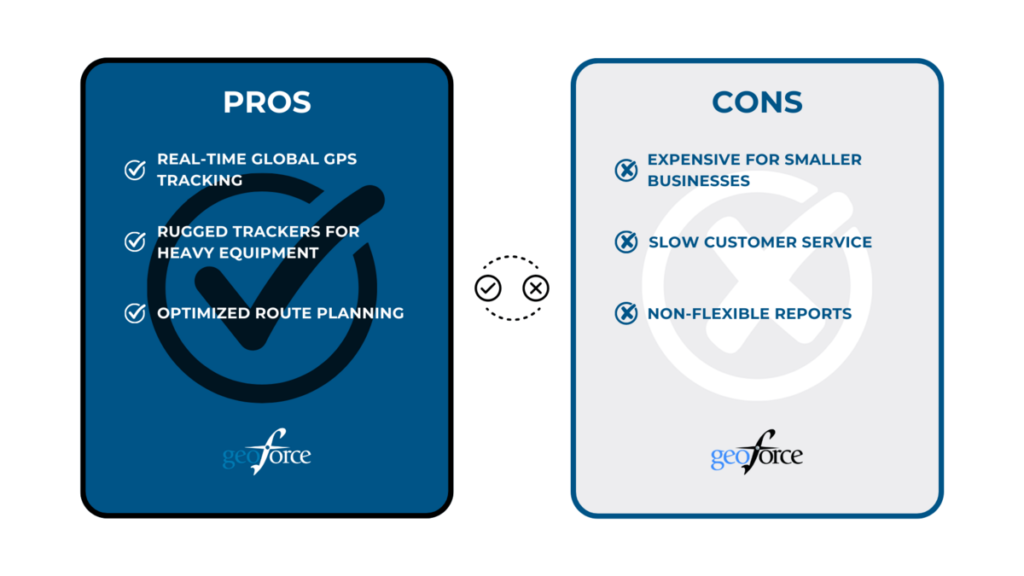 Naturally, to have extremely durable, real-time tracking, you will have to spend some extra cash. However, to find out exactly how much, you must request a quote.
GigaTrak
Don't fix it if it isn't broken.
That approach seems to have worked for GigaTrak, the most long-standing company of our top picks.
With over 25 years of experience, they offer a traditional asset tracking system allowing you to track, maintain and manage tools and equipment with barcodes and scanners.
This is reflected in their classic set of features, which can be found in most software solutions appearing throughout the article.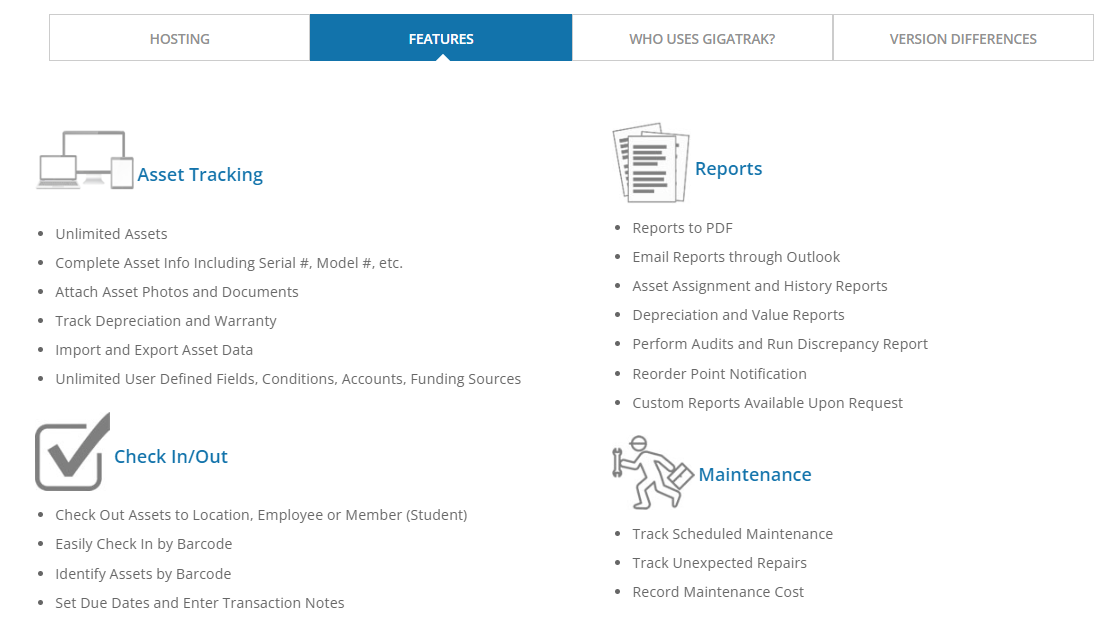 Being a legacy company, GigaTrak still offers a self-hosted version of its system, along with a newly developed cloud-based one.
They also sell hardware such as printers, labels, scanners, and mobile computers to go with their software solution.
Key Features:
Unlimited assets, locations, and inventories
Hosted on-premise or on the cloud
Aluminum and poly-blend barcode labels
Track maintenance schedules and repairs
Android/iOS mobile app
Check-out/check-in to locations, employees, or containers
As for the factors that may influence your purchase decision, here are some: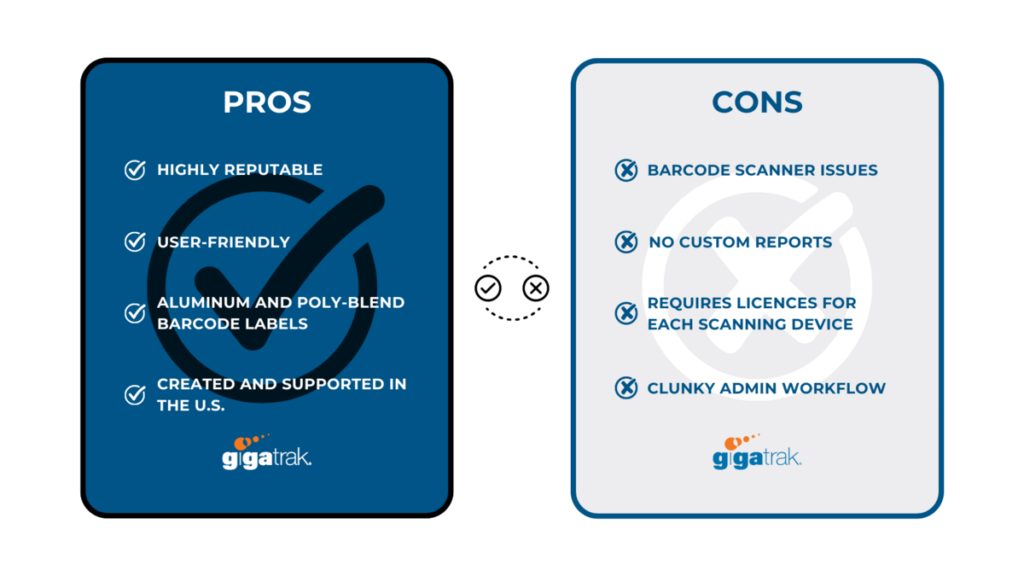 The pricing starts at $75 monthly for the cloud-hosted solution, including all standard features.
If you're looking for self-hosting, you will have to pay a one-time fee of $2,495, or $995 for a downgraded system.
For more on the differences in features between plans, you can read their brochure.
Overall, GigaTrak is a reputable asset tracking solution, having been around for over 25 years.
In that time, they developed user-friendly software and a solid complementary hardware line, but technical issues and operating quirks show they are potentially still in a struggle to keep up with the times.
ON!Track
ON!Track is an asset management solution for the construction industry, coming from the German manufacturer Hilti.
This company specializes in construction, with products covering anchor systems, construction chemicals, firestop solutions, fleet management, and more.
For companies already using their products, especially those based in Germany or Europe, this could be a natural extension of their asset management.
The configuration of the tracking system is well represented in this image from Hilti's own brochure: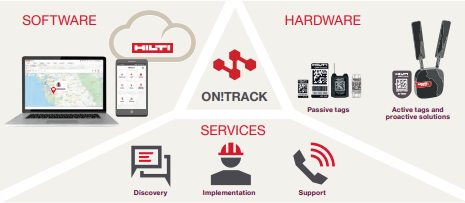 Key Features
Cloud-based solution
Robust asset tags
Mobile app
Full implementation support
Manage tools, commodities, and consumables
Now, let's take a look at the good and the bad aspects of ON!Track asset management software: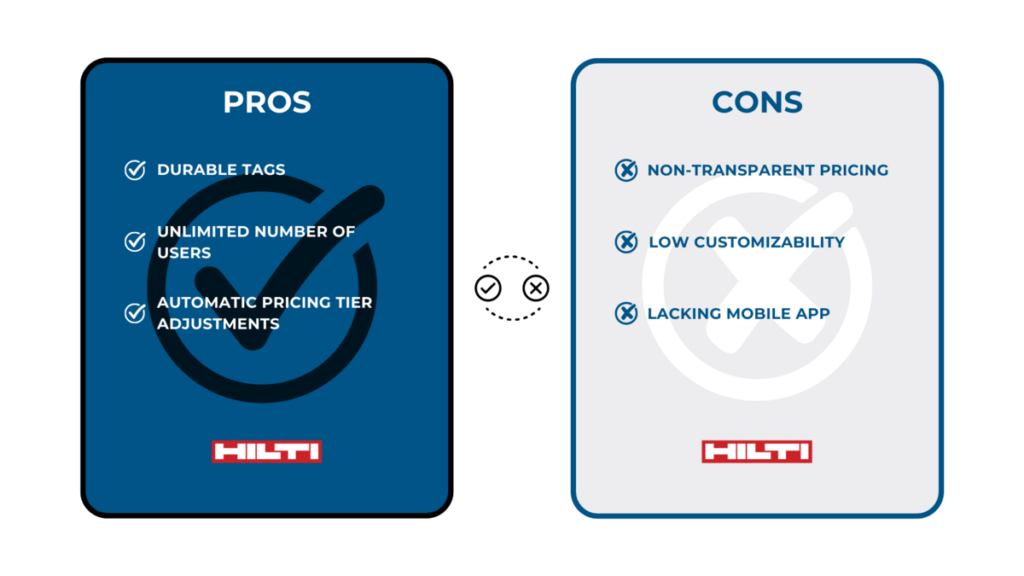 Unfortunately, there are no prices listed on Hilti's website.
However, according to Billwerk, they are based on the number of recorded assets, with costs starting at 95 €/month for up to 250 devices, 195 €/month for 500 devices, 295 €/month for 1,000 devices, and so on.
An otherwise rarely found feature is their dynamic subscription plan, which automatically checks the number of asset entries every month and changes your pricing tier accordingly.
Tenna
Tenna is a construction asset management platform offering a variety of tracking devices and technologies.
You can use their trackers for equipment of all shapes and sizes.
From tools, attachments, and consumables, over heavy and mid-sized equipment, to engine-operated machines, heavy trucks, and on-road vehicles.
This range is part of their commitment to the construction industry, as mentioned in a testimonial by their user: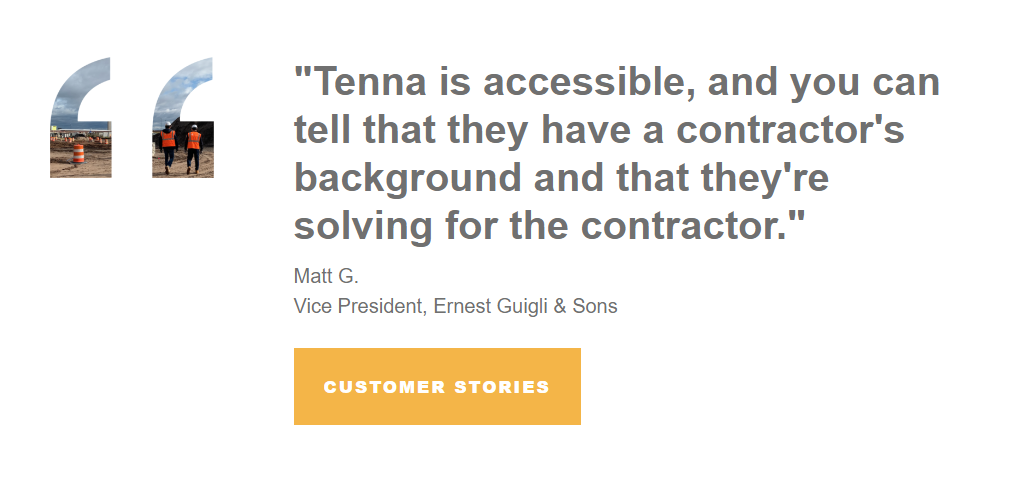 As such, they offer integrations with accounting and ERP, construction software, and OEM & AEMP telematics to offer the potential for a complete, all-in-one construction management platform.
Key Features:
Real-time GPS tracking
Manage sites and geofences
Equipment telematics data
Many integration options
Offline and online modes
Mobile app for iOS and Android
As for the pros and cons, here's the breakdown: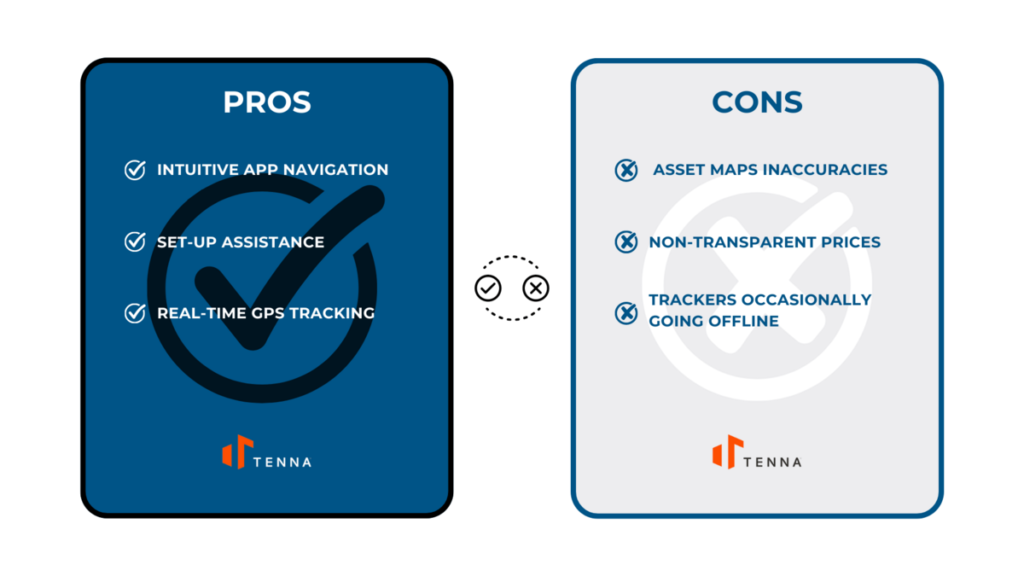 To find out how much it will cost you to use Tenna's tracking software, you will have to use their customized price calculator.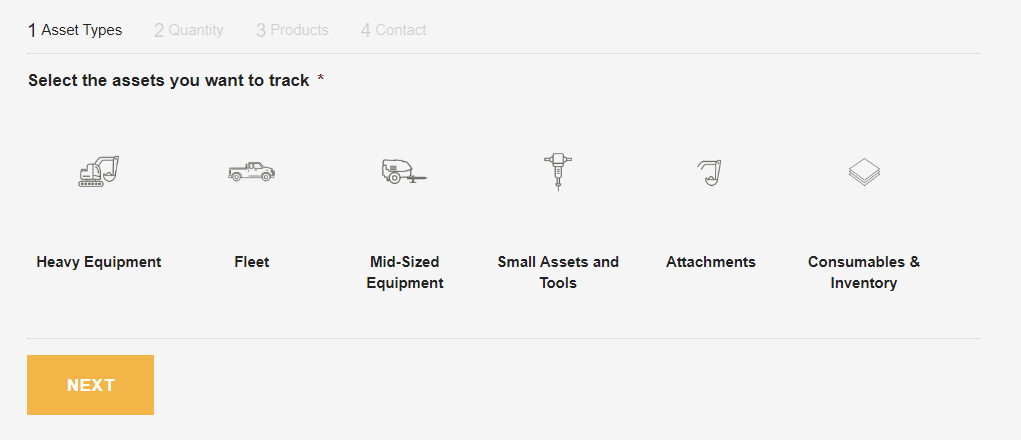 Choosing the type and quantity of assets, as well as the product package, will get you the quote you are looking for.
ToolWatch
Another company focused primarily on construction equipment is ToolWatch.
As such, they offer a comprehensive set of features helping contractors track tools and equipment, but also with various tasks related to EHS and equipment management, inventory control, job site operations, financial oversight, and reporting and analytics.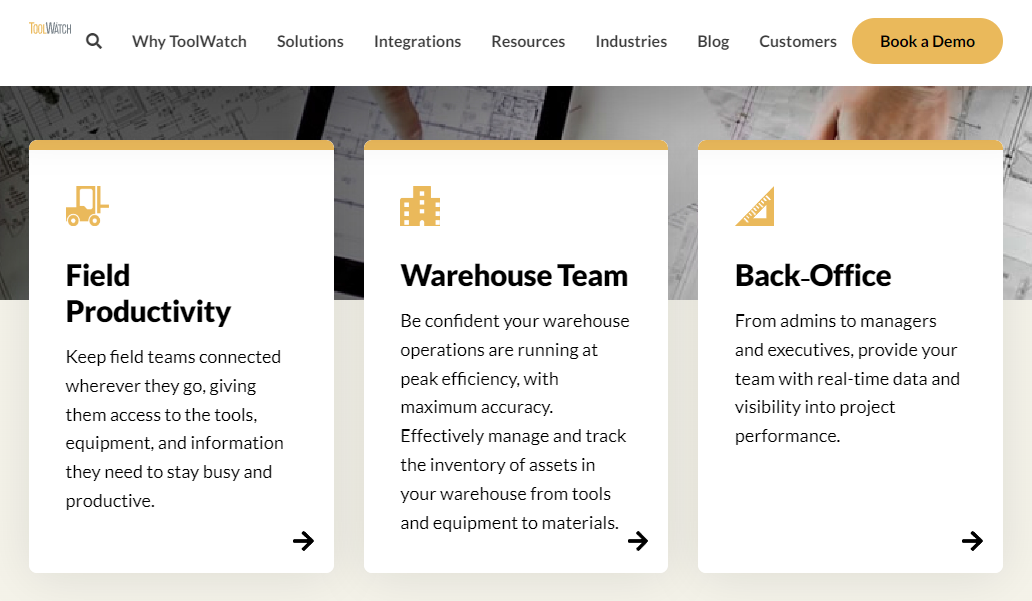 Combined together, their products combined cover the whole construction project infrastructure, including field processes, warehouse procedures, and back-office operations.
Regarding tracking, they offer a range of code-based, Bluetooth, and RFID tags and trackers, as well as complimentary mobile apps, scanner devices, and BLE and RFID readers.
This flexibility affects the pricing, which will be discussed after going through some key features, pros, and cons of the software.
Key Features:
BLE, RFID, and barcode scanning
Purchasing and receiving tasks from anywhere
Unlimited warehouse and field users
Advanced operational workflows
Tool crib software
Here are the pros and cons: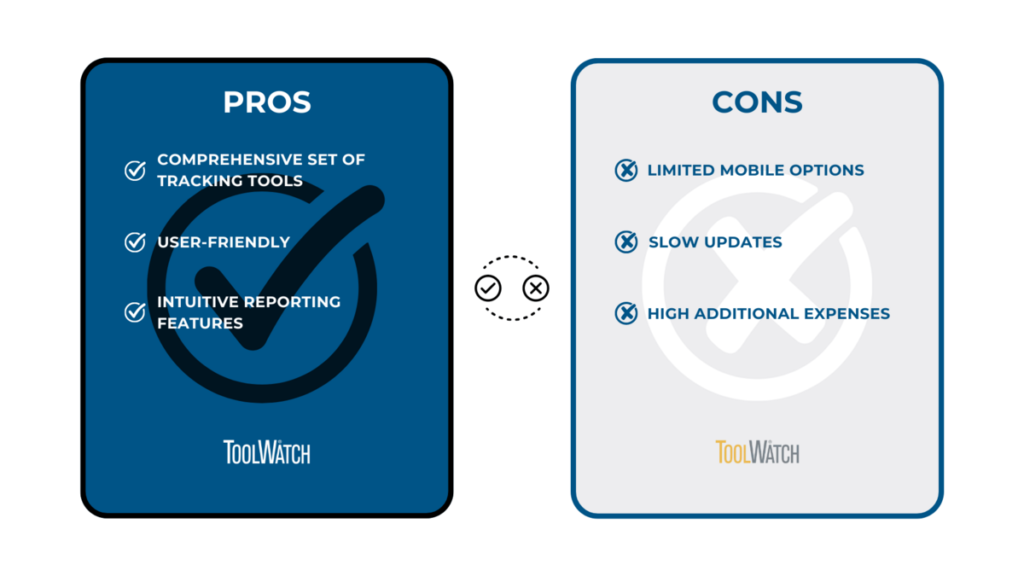 Following suit with a lot of software solutions providing a wide range of options, ToolWatch only provides prices upon request.
However, reviews from sites like Capterra indicate the starting price to be $2,520 per year, with some users also noting relatively high additional expenses.
itemit
The last entry on the list is the UK-based itemit, another modern cloud-based tracking solution.
Although less robust than other solutions on the list, itemit makes it up by being user-friendly, which shines through in a simple user interface that is easy to navigate.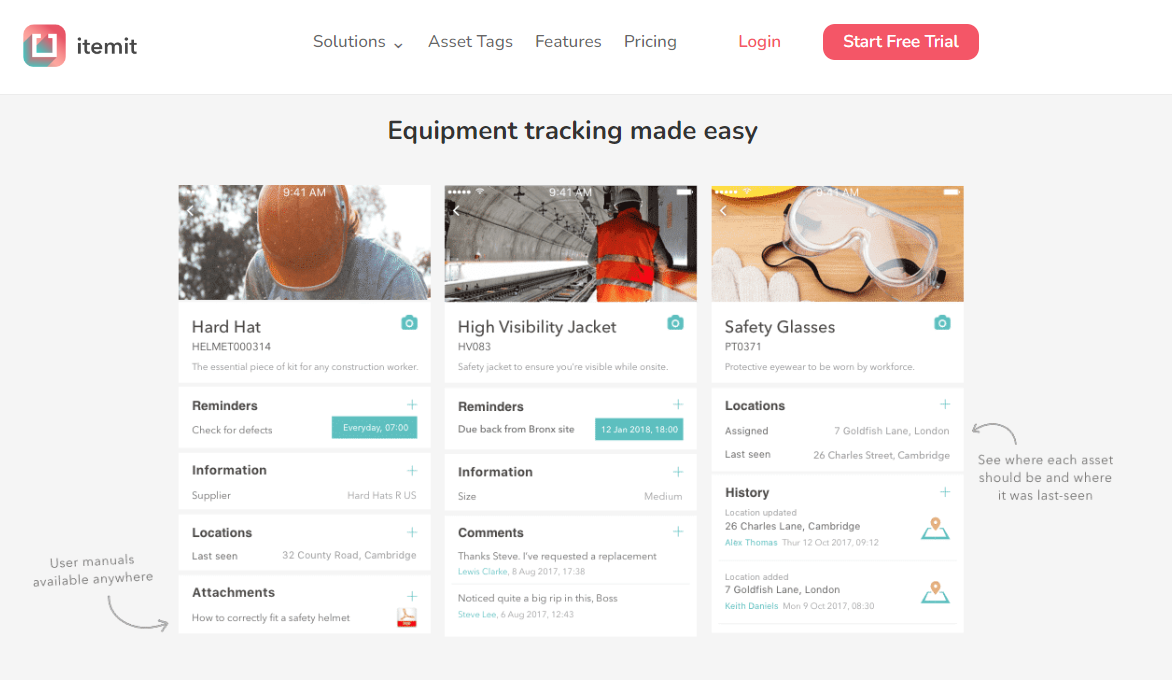 Therefore, tasks like barcode scanning, adding custom fields and item specifications, and managing reminders can be quickly taught to workers, who can employ them in their everyday operations.
Other than that, according to reviews, itemit also provides helpful customer support, always ready and willing to assist when there are issues with the software.
Key Features
Asset life cycle management
Manage maintenance and services schedules
Assign assets to team members and sites
GPS, BLE and RFID trackers
Audits and depreciation tracking
Resource management
Custom asset tag designs
Of their premium features, RFID handheld trackers are the only component not included in any of the pricing tiers, which we cover in depth, right after listing the virtues and flaws of itemit's tracking software.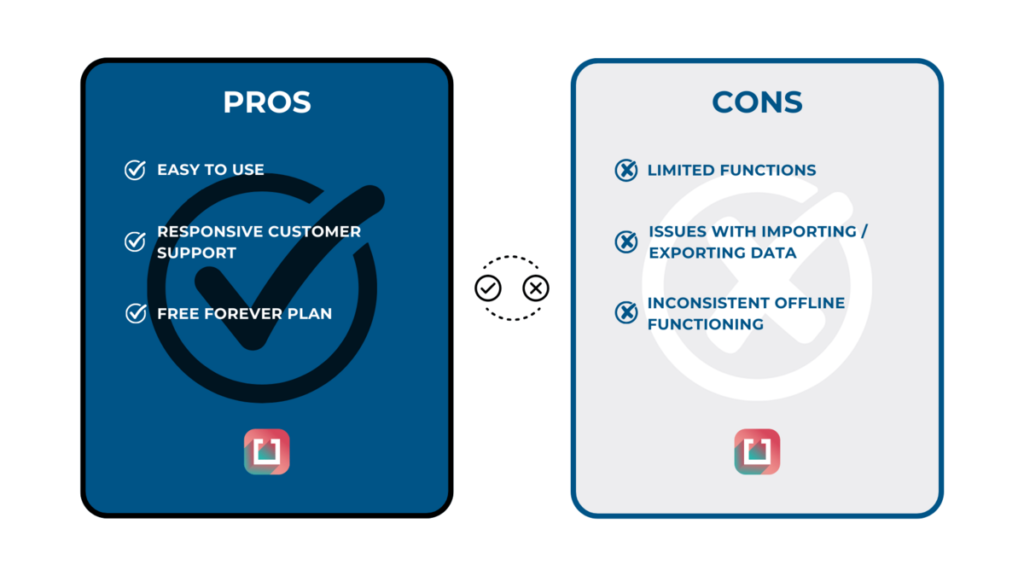 Offering a refreshing change, itemit's pricing is transparent and relatively affordable, especially for a small number of users.
For a start, they offer a Free Forever plan for one user, 500 items, and code-based tracking.
Next, their Start plan includes either 500 or 1,000 items and is paid annually per user (£249 for the former, and £399 for the latter).
For up to 2,000 items, unlimited users, and a complete set of features, you must put aside a maximum of $2,699 annually, with any more items falling under the custom-priced Industrial tier.
Conclusion
There you have it.
If you're still having trouble figuring out how to sort your priorities in choosing the best asset tracking software solution, check out our guide on the most important features to look out for.
Then, feel free to skim through the list again, now armed with more information to further narrow down your choices.
Taking it step by step will take you to the optimal asset tracking software in no time.
Good luck!