Maintaining strong relationships with clients is paramount for the success of any business, and general contractors are no exception.
Gaining the trust and respect of clients is the key ingredient in establishing strong contractor-client relationships, and although it does take time and effort, it usually leads to new business. Satisfied clients bring great online reviews and enthusiastic word-of-mouth referrals.
So, what can general contractors do to build such relationships and grow their business?
Here are five of the best practices.
Discuss Your Clients' Needs
As already said, the crucial element of any relationship is trust, which is best established when a general contractor invests effort to understand their client's needs better.
To do that, general contractors should ask their clients insightful questions and discuss what they expect from the project.
Having this discussion is important for starting the relationship off on the right foot and reassuring the client that their needs will be met to the best of the general contractor's ability.
So, what questions should a contractor ask when meeting their prospective client for the first time?
Well, depending on a specific construction project the client has in mind, that can be a long list.
However, to get you started, here are seven questions a contractor should ask before any project, courtesy of PlanHub.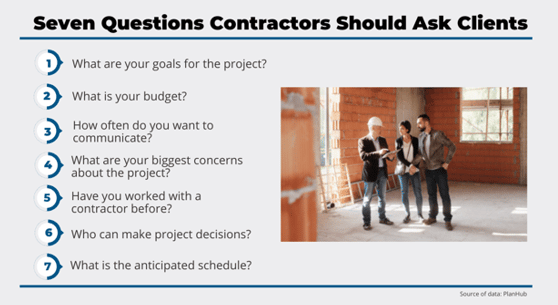 As you can see, these and many other questions aim to gain a better understanding of the client's needs and wants in terms of the project, its budget and schedule, communication, and decision-making, as well as their concerns, expectations, and previous experiences.
Hence, asking insightful questions will show the potential client your professionalism and trustworthiness while allowing you to assess whether you want them as a client in the first place, whether you need and want to manage any of their unrealistic expectations (e.g., because of their limited budget).
In any case, having this discussion can avoid many problems that could occur later.
As for what you might expect the clients' needs to be, one study provided a summary of the most typical client's needs for construction projects: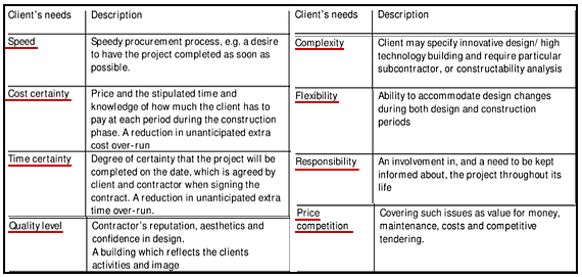 Keeping these in mind, you can ask your client more insightful questions about their needs, which will help earn their trust and set the foundations for a strong relationship.
Overall, asking clients the right questions to understand their needs and discussing what they expect from the project is the best way to start a relationship, as it reassures the client that their needs will be met.
Have Clear Contracts in Place
We could say that a great contractor-client relationship starts with and relies upon having a clear contract in place.
In other words, when you decide to take on a project, the next step in building a strong relationship with your repeat or new client is to establish clear rules that will create mutual trust and prevent problems down the line.
Even for smaller jobs, this means drafting a contract that clearly defines the responsibilities of everyone involved in the project, then reviewing it with the client, and signing it.
From there on, that contract will represent the backbone of your relationship, particularly in case of misunderstandings or conflicts.
As for drafting contracts that are as clear as possible, there are many great templates online to get you started.
For instance, eForms allows you to download a free template or create a construction contract online.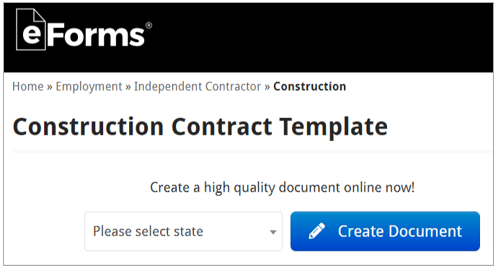 However, keep in mind that drafting even the simpler contracts might require help from construction law professionals, as evidenced by the number of construction disputes caused by poorly drafted contracts.
In practical terms, this means that any ambiguous language or gray areas in the contract, whether real or perceived by the client, should be more precisely defined to reassure the client and build the mutual trust needed for a strong relationship.
As for what a clear construction contract should include, that will depend on the type of construction contract, delivery method, and many other specific project details, but here are the essentials, courtesy of Buildertrend.

Remember, the contract is the blueprint for your relationship with the client, so it needs to be clearly written and fair to all parties.
Overall, having a clear contract in place will establish trust between you and the client and prevent many issues down the line, thus forging a path toward a strong relationship.
Establish Good Communication With Your Clients
As apparent from our previous tips, establishing good communication with your clients from the start is paramount for building solid relationships with them.
For this purpose, the general contractor and the client should agree on the method and frequency of communication, including updates on project progress.
As we've seen, the process of establishing high-quality communication starts with listening to your client's needs and drafting a clear contract.
Those steps should be followed by identifying one person (primary point of contact) within your company who will be responsible for updating and communicating with the client throughout the project.
Whether that's you or one of your employees, remember to keep communication with the client clear, concise, and context-driven.
These 3 C's of client communication are aimed at avoiding confusion or bombarding clients with too much information at once.
With that in mind, the next thing to do is agree with the client on the method of communication and the frequency of project updates.
For instance, some clients would like daily updates on project progress, some weekly, and some monthly, depending on the project and their preferences.
As for communication methods, initial interactions with the client should be done in person or, if not possible, via a video or phone call.
That's because emails and text messages, although convenient, fail to convey the tone and nuances of meaning that are essential for building trust.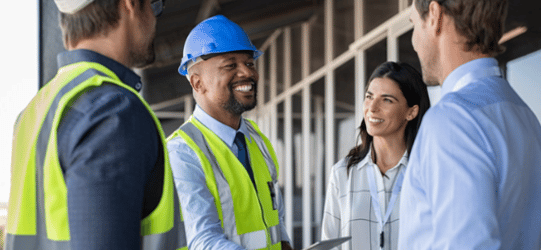 Once your relationship with the client has progressed past the initial stage, these methods can be used for conveying shorter messages or addressing simpler issues.
Other than their speed and convenience, these communication methods also create a digital paper trail that can be used to clear up misunderstandings or disputes.
However, more complex issues should still be discussed face-to-face while recapping what was concluded in an email or app message distributed to all involved.
In summary, establishing good communication with the client from the start, as well as agreeing on the method of communication and the frequency of updates, is the basis of a solid contractor-client relationship.
Be Transparent With Your Clients
Another pillar of strong relationships with clients is transparency, and it's important to maintain it from project initiation to completion.
In other words, you're building trust from the moment you meet the client, and that trust is best established by being open about all elements of your operation.
This involves not only your pricing but everything from explaining different construction procedures, material and equipment specifications, as well as compliance and safety requirements, to communicating any anticipated issues.
Transparency also includes being upfront when an unexpected problem arises, i.e., the client should not be misled or lied to.
That way, when you have to deliver bad news, the client will value your honesty and be more open to finding a solution.
You can read more about the value of honesty, transparency, and accountability in business in this Forbes article.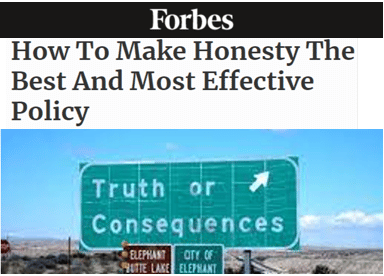 Again, being honest and open about any issues that arise, as well as taking responsibility if you make a mistake will show the client they can rely on you.
That sort of trust allows the clients to be more relaxed in their interactions with you, and consequently more likely to be cooperative when you're looking for a solution.
Likewise, such clients are more likely to provide great word-of-mouth referrals and/or online reviews about your work, thus helping your business grow.
To sum up, being honest and accountable from project start to finish will create transparency, which is another critical ingredient in forging solid relationships with your clients.
Use Modern Technology to Improve Your Process
Today, there is almost no construction process that can't be improved by using modern technology.
These improvements can also help strengthen client relationships in many ways, including making communication easier and enhancing overall project efficiency.
As said, rapid technological advancements in construction are quickly changing the industry, making it more efficient and client-oriented.
This progress includes improvements across the construction landscape, such as the use of drones, remote-controlled equipment, wearables, or 3D printing.
However, we'll focus on tools that can do the most in improving all construction processes, namely various construction management software and mobile apps.
For instance, project management software is used to organize, integrate, and digitize different construction processes (e.g., budgeting and scheduling), allowing general contractors to more easily complete projects on time, within budget, and to the client's satisfaction.
The market is full of different options, but contractors should focus on those that not only improve their processes but also give the client direct access to their project, such as Buildertrend.

This mobile app allows clients to track the progress of their project in real-time and receive updates and other messages.
That way, the client is constantly kept in the loop, which increases transparency and builds trust, resulting in a stronger client-contractor relationship.
However, general contractors should also consider other software apps that can improve their productivity and prevent different risks and events that could cause delays and cost overruns, thus jeopardizing client relationships.
For example, asset tracking apps like GoCodes allow contractors to track the location, usage, and condition of their tools and equipment throughout the project, which ensures that the workers have everything they need for smooth project execution.

Moreover, such solutions also prevent or minimize risks of theft, misplacement, or poor maintenance, all of which can cause project delays that hurt your relationship with the client.
In summary, using modern technology to streamline your processes, increase overall productivity, and facilitate communication with clients allows you to strengthen client relationships and enhance your professional credibility and reputation.
Conclusion
In light of all of the above, it's clear that developing positive relationships with your clients based on trust and respect is crucial for success.
Building such relationships starts by discussing the potential client's needs, followed by drafting and signing a clear contract. It continues with establishing effective communication throughout the project, being transparent with your clients, and using tech solutions to improve your operations.
The key takeaway?
These best practices can help you build strong client relationships, making your projects run smoother and attracting repeat and new clients by enthusiastic word-of-mouth referrals and great online reviews made by those you've already worked with.