General contractors have more responsibilities than regular trade workers. They are in charge of material, staff, and equipment, and they also have to know the ins and outs of all applicable regulations.
If you're starting out as a general contractor, setting up your business properly from the get-go is essential for future success.
This article will provide you with six helpful tips to efficiently manage your legal matters, team, and equipment.
Get Licensed
The cornerstone of all contractor businesses is valid licensing.
Operating without a license is a type of misconduct you will pay for in fines and a damaged reputation. On top of that, if a client doesn't pay for the work done, unlicensed contractors don't have the right to seek compensation from the court.
So, in essence, licensing defines your obligations and protects your rights.
Before you get into the field, you'll have to look up which specific licensing requirements apply to you because they vary by state and trade.
For instance, some states require both a state license and registration for general contractors, while some ask for only one of those. You should get acquainted with those rules to know which are relevant to your company.
The process of obtaining a license may even include some studying: some states demand that all applicants take an exam, which may contain trade-related questions, as well as questions on business management.
When you're first getting started as a general contractor, taking the necessary exams and getting licensed may take some time, but it is definitely worth the effort.
When all your licenses and permits are in check, it shows your partners, subcontractors, and potential clients that you are reliable and take your job seriously.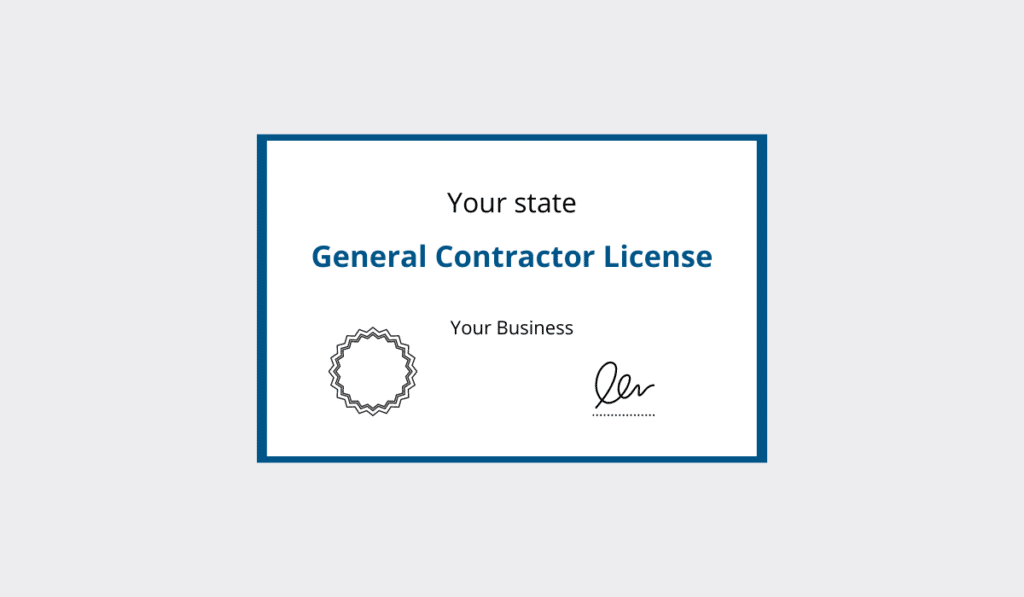 When you're just starting out, you may not have many examples of your prior independent work to build your reputation on. Yet, you need to attract clients somehow. Showing that you're operating legally and professionally is a way to do that.
Obtaining all the necessary licenses is only the first stage of becoming a general contractor.
Keep in mind that, if you're based in one state but operate in two, you have to get licensed in both states.
Finally, don't forget to check if your state requires contractors to renew their licenses periodically.
Once you get your licenses, it's time to work on protecting the rights of your client as well as yourself. You can do that by entering a surety bond.
Obtain Surety Bonds
Operating as a general contractor is a risky business. You may be the best, but sometimes you just can't plan for a shortage of materials, illnesses, severe weather, or other factors that may prevent you from finishing a project.
Regardless of circumstances, clients want to have financial safety. Clients want protection against any additional costs that may occur if the contractor turns out unable to finish a project, and that's what surety bonds are used for.
But what exactly is a surety bond? Here is a simple definition from AdvisorSmith:
"A surety bond is a legal contract that brings together three parties to ensure the completion of an agreed-upon project."
In other words, the purpose of a surety bond is to provide a financial guarantee that a contract will be completed according to the prearranged terms.
In short, a third party promises to return the money to your client in case you don't complete the project.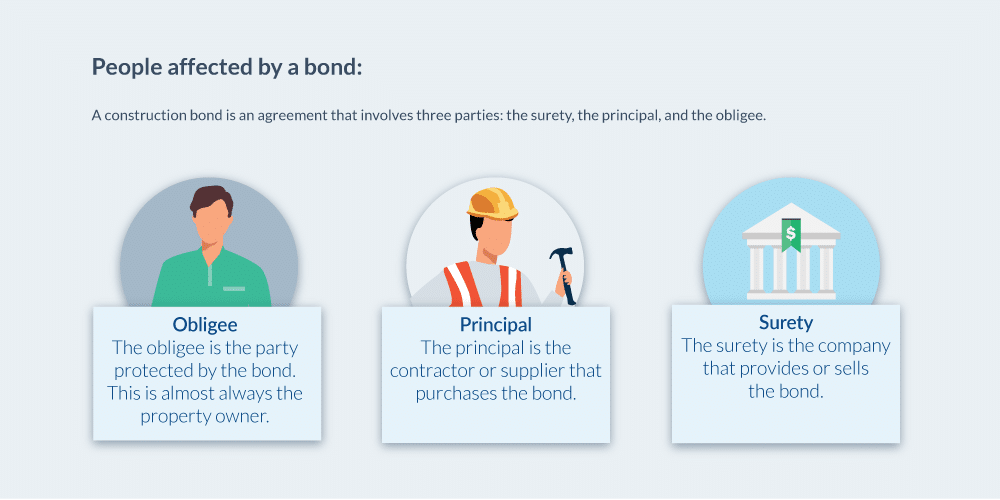 Obtaining a bond means having to work with a surety company. To ensure all the details are correct, you can start by finding a reputable bond broker or producer specializing in contract surety bonding.
After you apply for a bond, you will get a quote, which will depend on the amount of risk associated with the bond and your credit score.
Your bond will be approved if the surety company finds your experience, financial records, and project estimation fitting.
Surety companies approve the bonds only if they are confident the contractor is qualified to perform the contract and if the work plan can withstand the risks involved in the construction business.
Your next step is to pay for your surety bond.
Finally, you have to file the bond with the obligee.
A good bond broker will lead you through the process of obtaining a surety bond. However, there are some areas of the law that a general contractor has to master on their own.
For example, you have to know how to determine the status of your workers.
Know Your Industry Regulations
The most expensive ballot measure in California's history was Proposition 22, which allowed rideshare companies to classify their drivers not as employees but as independent contractors. The proposition was later found unconstitutional.
It was easier and cheaper for large companies to categorize the drivers as independent contractors because that meant they could pay less in wages and benefits.
But what about small businesses?
As a general contractor, you are not working alone. Some jobs can be done solo, but teamwork is usually the go-to approach in the construction industry.
To be sure you're compliant with all industry regulations, you have to know whether your subcontractors should be regarded as independent contractors or employees.
When starting with your general contractor business, make sure you avoid the most common error businesses make: failing to declare the worker's status correctly. A staggering 3.4 million U.S. workers are misclassified and not reported as employees.
Some employers don't classify workers as employees on purpose, to avoid having to pay for Medicare taxes or adhere to minimum wage or overtime laws. In other cases, it's an honest mistake.
However, regardless of whether it's done intentionally or not, misclassifying workers leads to criminal penalties.
To avoid misclassification, you can take an IRS test of 20 factors that help you determine if a worker should be regarded as an employee or not.
Below, you can find a brief overview of the employee/independent contractor criteria to help you run your business by the book.
However, licensing and IRS compliance is not the only thing you need to keep in mind. To keep your business legal, and more importantly, to make sure your workers are safe, you must comply with OSHA regulations.
The distinction between independent contractors and employees also matters for OSHA; keep reading to find out how.
Make Sure You Comply With Osha Regulations
Construction sites are infamous for their injury rates. In 2017, the industry with the highest number of fatal injuries was construction.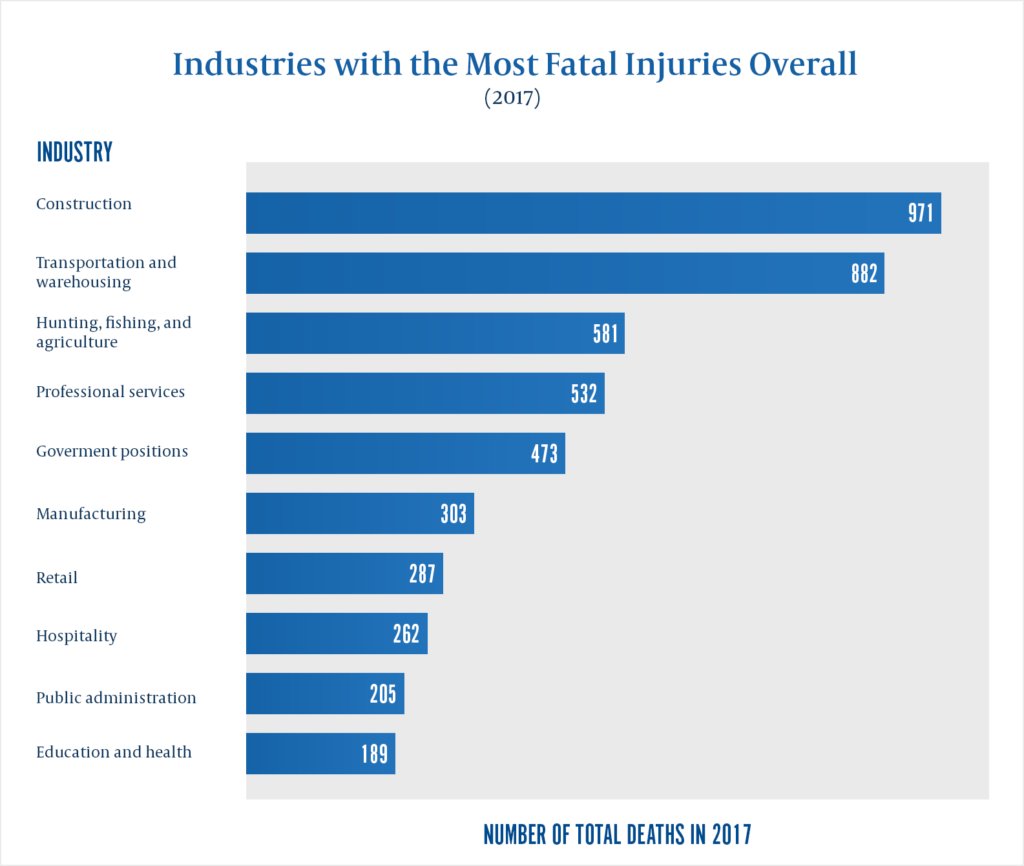 It would be impossible to claim that all the fatalities would have been prevented if contractors had familiarized themselves with construction site regulations.
Still, even a single tragedy avoided because the right rules were implemented makes the efforts worth it.
As a general contractor, it's your responsibility to look after the safety of your construction site staff. However, the range of your responsibilities varies depending on whether you're operating as an independent contractor or have employees.
For instance, OSHA doesn't have the authority to force a lone independent contractor to comply with their regulations.
However, according to the regulations, this is true only "if a construction worker is truly self-employed—is not an employee—and has no employees working for him or her."
In such a case, the agency won't require that individual to abide by their requirements.
On the other hand, if a worker does count as an employee, OSHA requires the general contractors to:
Provide safety training before the work begins
Provide a written safety policy
Maintain a safe project site
Make sure that the subcontractors don't create safety hazards
Perform frequent site inspections to verify its safety
Provide general safety requirements for all worksite staff to follow
But even if a site happens to employ independent contractors only, it's still safest to work as if the OSHA regulations apply.
For instance, the cost of purchasing hard hats, protective footwear, and visibility vests is a small price to pay if you know how important such equipment is for your workers' well-being.
Safety is a prerequisite for a job well done. Another important factor is working with skilled staff.
Surround Yourself With Skilled Staff
The larger a project is, the more workers it will require. If you're just getting started as a general contractor, you have your recruitment work cut out for you.
To help you find the top talent, we've compiled some bits of advice you can use to assemble a team of professionals.
Start by taking stock of your own business. For instance, what kind of tools or equipment do you use?
If you're using the kind of state-of-the-art technology that your competition doesn't have, that could be your selling point. It will attract workers interested in developing their skills.
In that vein, another way to form a skilled team is to offer apprenticeship programs. After all, the construction industry hires the largest percentage of apprentices compared to all other industries.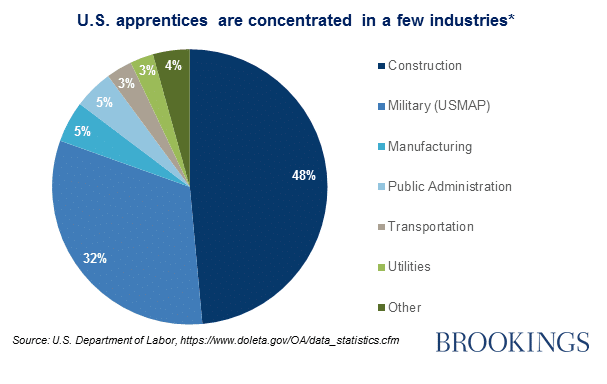 Offering apprenticeships has multiple benefits for you as a new general contractor.
Since your trainees are learning from the ground up, you get to teach them to work the way you find the most efficient, without their previously adopted habits interfering with your practices.
Including an apprentice on your team also shows you are future-oriented and ready to grow, which makes you look better to investors.
Referrals are also your friend when it comes to finding skilled staff. If you're starting your own general contractor business, you probably already have some experience in your niche and the contacts that come with it, so why not leverage that?
Ask the people you've previously worked with if they know anybody who might be a good fit for your values.
Whichever way you choose to surround yourself with talent, remember to always be clear about your expectations. Make sure to inform candidates of the job description and state the hours and the wage.
People won't be interested in working with you unless they know exactly what they will be doing.
Use Cutting-Edge Tool and Equipment Management Software
Managing your tools and equipment can be difficult, even if you're working alone.
You take your tools to different working sites, purchase and use building materials, have your vehicles and large tools serviced, and more—not to mention that sharing the equipment with other workers additionally complicates matters.
With all the different types of assets there are in construction, losing track of equipment can happen to anyone.
But it doesn't have to.
With the right tool and equipment management software, like the one offered by GoCodes, you can find the exact location of a tool with only a swipe and a tap.
If you're starting your general contractor business, you'll soon find that knowing the availability and location of your equipment helps you save time and allows you to focus on completing your projects, instead of managing inventory.
For instance, with GoCodes, each asset you own gets its unique ID, together with a QR tag. You can scan a QR tag with any device and see information such as:
Warranty terms
Last service notes
Date of last and next service
Home location
Check-in/check-out log
The features that come with GoCodes tell the user if each piece of equipment is in working condition and where it is located.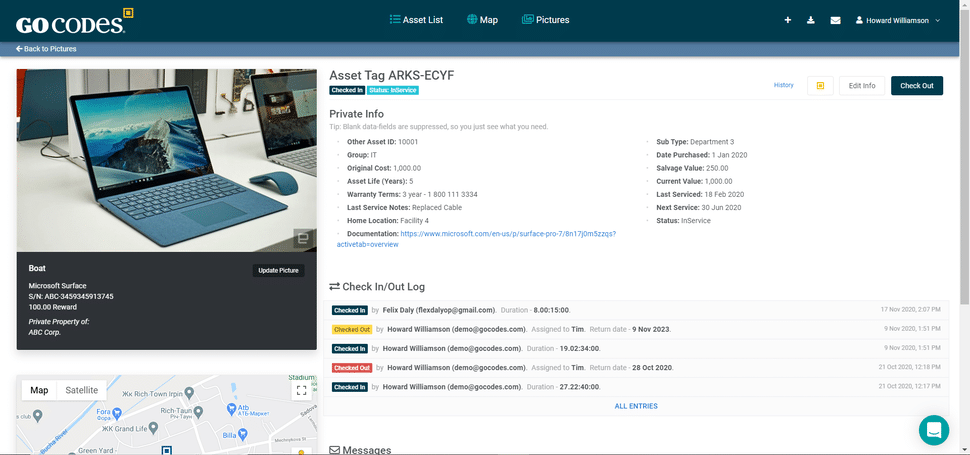 General contractors who work with other subcontractors can use the software to plan their activities, schedule the use of the equipment and prevent double booking.
Of course, when you're starting your business, you don't have time to go through extensive manuals and instructions for each solution you own.
This software was designed with that in mind, so smartphone, tablet, and computer apps are intuitive and easy to use.
Conclusion
If you want to be the best in your line of work, your business has to have a solid base. You can build it by getting your licenses and surety bonds.
When it comes to regulations, you have to comply with, be careful to classify your workers properly, and follow the safety rules set by OSHA.
Finally, you can't do your job without the proper equipment. If you maintain and manage it properly, you'll have many years of success.