We could say that achieving success as a general contractor is all about ensuring a steady stream of clients, which can be challenging in a highly competitive market despite the quality of your work.
In fact, 41.4% of new construction businesses will fail before their fifth year of operation, and 62.4% will never celebrate the 10th anniversary of their business.
Against this backdrop, here are seven strategies you can use to attract more clients to your construction business and grow your client base, thus ensuring a consistent inflow of new projects and profit.
Build a Website Optimized for Search Engines
Nowadays, building a website that showcases your contracting business, gives contact info, demonstrates before/after pictures of your projects, etc., is a must, but optimizing it for search engines is equally important.
For starters, having an official website signals to potential clients that your business is legitimate and professional.
Moreover, it establishes your online presence, which is, in today's world, one of the most important ways to attract more clients.
Of course, your website should be well-designed, user-friendly, and suitable for viewing on any device (smartphone, laptop, desktop, tablet), while its contents (text, images, video) should be generally optimized to appeal to your target clientele.
And that's only the first step.
Namely, the website should also be optimized for search engines so more prospective clients can find your business when they google, for example, "best contractors near me".
Or when they do that for their city, like in this example for Austin, Texas.
First off, to ensure your business is shown on Google Maps and local search results at all, you should claim your free Google My Business listing.
After that, your website's position in the search results relative to the other contractors in your area will depend on many factors ranked by search algorithms.
Those factors are interconnected and mutually reinforcing and include parameters like offering relevant and engaging high-quality content, using keywords that drive organic traffic to the website, having optimized metadata, ensuring sufficient website load speed, and so on.
This complexity gave birth to search engine optimization (SEO), which has grown into a global multi-billion-dollar industry.
Thus, when it comes to building a website that will rank high on search engines, it's best to find out more about local SEO practices or, even better, consult an SEO agency or expert.
In any case, all components of your website should be optimized for your target audience and search engines, thus bringing more potential clients to your website.
Have an Active Social Media Presence
In addition to having an SEO-friendly website, another key ingredient in reaching more clients is establishing and maintaining an active social media presence.
To do that, general contractors can use one or, more often, several social media platforms like Instagram, YouTube, Facebook, Twitter, LinkedIn, etc.
There, general contractors can demonstrate their work—for example, by posting before/after photos and videos of their construction projects or publishing other engaging content.
The end goal of having an active social media presence is to build a following of highly engaged users who like your work and, by extension, are more easily converted into actual clients.
Although any social platform can be utilized to attract more clients, contractors should, due to the visual nature of their work, particularly consider Instagram, like in this example.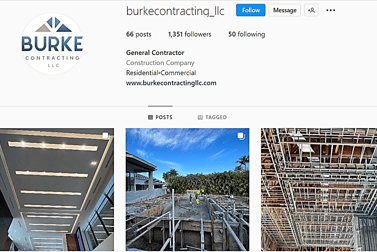 As you can see, your business's Instagram account should include at least the basic info and a link to your website, followed by photos of your work.
Another visual social media platform is YouTube, which is ideal for posting videos showing off your projects, providing tutorials, helpful tips & tricks, etc.
Naturally, your YouTube videos can then be linked on your website and other social media your business decides to focus on, thus enhancing the user experience on those channels as well.
In summary, staying active on social media by posting engaging content will make general contractors more visible and attractive to prospective clients.
Make Use of Paid Advertising
Depending on their marketing budget, general contractors should make use of paid advertising to attract more clients.
This can be paid online advertising or more traditional methods like advertising their business on billboards, TV, radio, or printed newspapers.
However, any digital and non-digital advertising channel should be first measured against your target clientele to determine which will produce the best results, i.e., bring the most clients.
As for contractors, this often refers to their target area of operation, as most are not looking to attract clients offering work thousands of miles away.
Thus, similar to optimizing the website and social media posts to attract predominantly local clients, it might be worth considering employing more traditional local advertising methods.
When it comes to paid advertising on social media, only those platforms where you already have a following should be considered.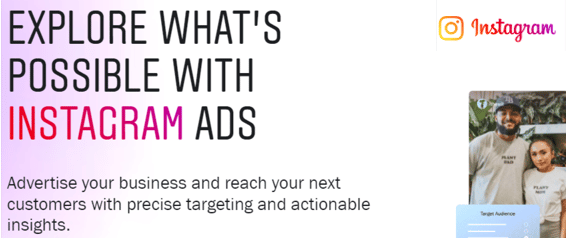 Of course, there are other, more far-reaching online methods of paid targeted advertising, like Google Ads.
In a nutshell, Google will display your ads when people search for services like those you're offering, and those ads can appear on Google Search and Maps and across their partner sites.
To quote them:
You'll pay for results, like when people click your ad to call your business, visit your website, or get directions to your store.
With so many paid advertising options, general contractors should carefully consider their target audience and their budget to determine where their offline and online ads will generate the best return on investment (ROI), i.e., attract more clients.
Expand Your Professional Network
Networking is essential in any business, and particularly in construction, which involves working with a series of other construction professionals.
Thus, making connections with other builders and subcontractors you're working with, as well as different contractor associations, can generate new clients.
For instance, when another contractor gets offered a construction project but is already booked on another job or can't provide specific services, they can recommend you as an alternative.
Of course, for that to happen, your work needs to be top-notch and your relationship with them should be strong.
Another way to expand your professional network is to join one or more construction industry associations, such as the Associated General Contractors of America (AGC), and/or attend a professional convention like Conexpo.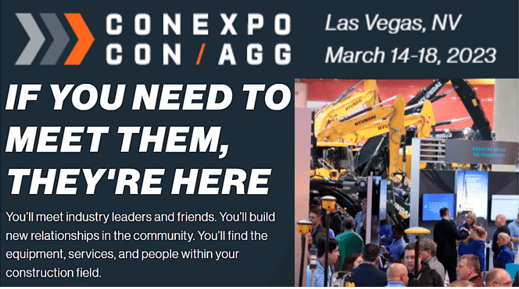 More specifically, events organized by local chapters of professional associations can be a great way to make yourself known among your peers, make contacts, and build relationships that can turn into new projects.
Looking beyond contractors, all other construction professionals (architects, interior designers, engineers, electricians, plumbers, etc.) you work with can be part of your network that keeps you informed on potential clients or upcoming construction projects.
Again, that can happen only if you meet the aforementioned conditions of delivering quality work and maintaining strong professional relationships.
Given all the above, general contractors should work on expanding their professional network to make new connections and strengthen existing ones, both of which can generate more prospective clients.
Ask Previous Clients for Referrals
Asking your previous clients for referrals is probably the greatest method of establishing new connections, whether by having satisfied clients recommend you to their friends or post a great review online.
Why? Because 90% of people believe their friends' recommendations, and 70% believe consumer opinions posted online, including social media referrals.
Thus, word-of-mouth referrals, whether made offline or online, are generally a highly potent source of prospective clients.
In construction, for example, when clients are looking for someone to build or renovate their home, good referrals are priceless.
Of course, just like with your professional connections, getting referrals from previous clients will ultimately depend on how satisfied they are with your work.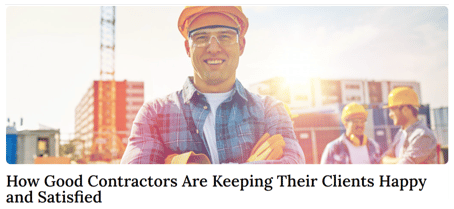 Naturally, client satisfaction implies the quality of your finished project, leading to your client being asked something like, "Wow, the house looks great. Who was your contractor?"
However, keeping the project on budget and schedule, along with your and your crew's professional conduct and relations with the client during and after the project, is equally important for getting great referrals.
Otherwise, the above question could be answered with something like, "The house may look great now, but it cost us a lot more (time, money, nerves) than expected."
To prevent that, consider what you can do to avoid the most common complaints about contractors: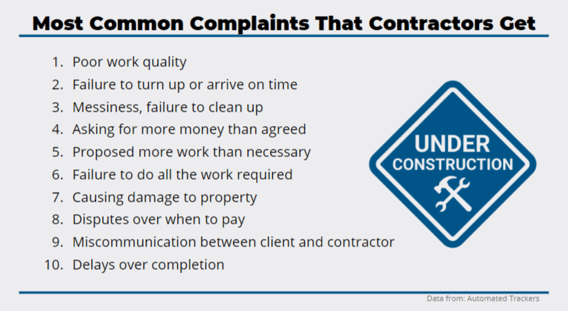 Thus, provided that you've managed to avoid the above complaints and clients are satisfied with your overall performance and quality, they will be more than happy to refer you to their friends in real life and on social media and even write an online review or testimonial.
So, even though some of your satisfied clients will recommend you on their own, still make sure to ask them.
Finally, you can also offer some rewards for your clients' referrals that turn into work, such as gift certificates or discounts on future services.
Overall, asking your satisfied clients for offline and online referrals is probably the most powerful way to attract new clients.
Use Lead Generation Services
Using lead generation services, whether commercial or residential, can help general contractors find prospective clients who would be interested in their services.
In the case of commercial construction projects, online software tools like iSqft or The Blue Book basically act as a database of projects in the bidding stage and let you run specific searches based on your criteria (location, particular keywords, etc.).
This allows you to quickly find leads, i.e., the specifics about construction projects you could bid on and potential clients to build relationships with.
For instance, The Blue Book's BidScope is advertised as the most extensive project database that can help you pinpoint the project leads you want.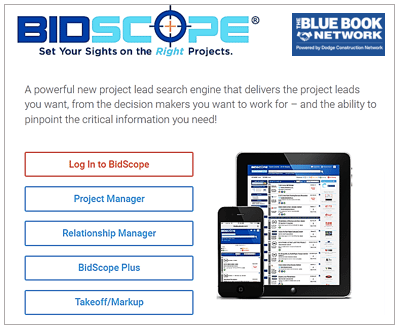 When it comes to residential construction, lead generation services like HomeAdvisor collect info from their users looking for contractors and put your name in front of them.
Naturally, that's after you've registered and paid the annual membership.
Here's how it works.
As you can see, a fee will be charged only if a prospective client connects with you.
Naturally, that's only a lead, while winning over the client and getting the job is up to you.
Hence, lead generation services are a valuable tool that helps general contractors find more work, such as commercial projects they can bid on or residential clients interested in their services.
Meet With Potential Clients in Person
Meeting prospective clients in person can prove crucial for any general contractor who wants to grow their business.
Why? Because face-to-face interactions build trust, the foundation of any relationship, much more efficiently than emails, text messages, phone, or even video calls.
In fact, a study found that participants in computer-mediated interactions experienced less understanding and solidarity and more polarization than in face-to-face interactions.
This is because these communication methods, although very convenient, fail to convey all the nuances of the human experience only felt when we meet someone in person, such as their physical presence, touch (handshake), and non-verbal cues.
Thus, despite all the technology around us, the power of face-to-face communication should not be underestimated, as discussed in an article by FreshBooks.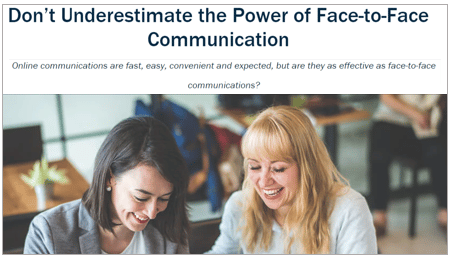 So, what does all this mean for you as a general contractor who wants to attract more clients?
For one, it's a sign that you should reach out to prospective clients, introduce yourself, and arrange to meet them in person.
Of course, you should first make a list of potential clients (businesses or individuals) that might be interested in your services and then proceed to contact them, offering to present your business, listen to their needs, answer questions, and discuss potential projects.
This will allow you to find out about upcoming projects and how you could secure those projects to grow your business.
If they have no immediate projects in mind, they can still put you on their call list when something comes up.
Overall, proactively meeting potential clients in person is, next to word-of-mouth referrals from satisfied clients, the best method for general contractors to build relationships and trust—and attract more work.
Conclusion
So, we've seen seven ways general contractors can appeal to more clients and ensure more work.
Although all these strategies are interconnected, they could be divided into two categories.
The first one comprises online efforts, such as building a website optimized for search engines, having an active social media presence, or using paid advertising and lead generation services.
On the other side, there are mostly offline efforts like expanding the professional network, asking previous clients for referrals, and meeting prospective clients in person.
When properly planned and implemented, these strategies can help general contractors grow their client base, thus ensuring a consistent inflow of new projects and profit.