Tool tracking systems are valuable for owners and managers of construction companies because they provide several advantages at once.
A robust tool tracking system helps to streamline nearly every aspect of your business. Not only does a tool tracking system provide you with a centralized tool database, it makes it easier for your employees to collaborate.
Tool tracking systems also help to hold your team members accountable while simplifying the process of maintaining your tools.
Finally, tracking your tools helps you to reduce the risk of tool loss and theft.
Provides You With a Centralized Tool Database
A tool tracking system provides your construction company with an accurate and centralized database for all of your assets.
No matter how far-flung your build sites or satellite offices are, your information will reflect the last known location of your assets. It allows you to have complete tool visibility.
Source: GoCodes
Achieving complete tool visibility means that you and your team will always understand exactly how many tools are not only recorded as assets, but also where they are, who is using them, and what their condition is.
You can even see when the asset is scheduled for maintenance; this allows you to schedule tool use with greater efficiency.
In fact, complete tool or asset visibility can help your IT professionals and operations teams address a wide variety of situations, for instance, in case of unexpected outages or security incidents.
An up-to-date inventory also wards off unnecessary spending.
For example, your purchasing department might continually purchase assets your company does not need, because they aren't working with current or accurate information.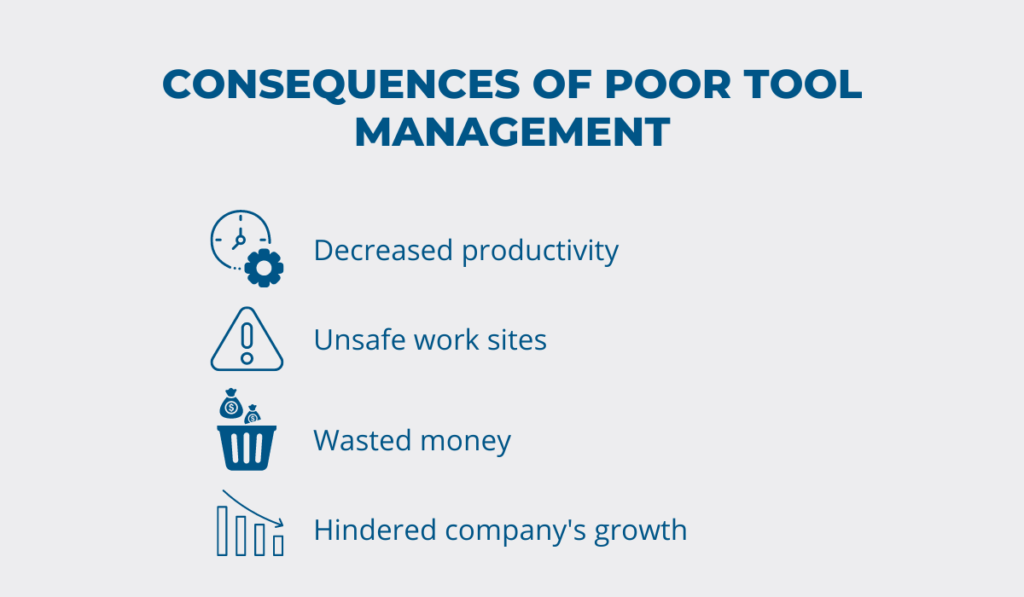 Source: GoCodes
In such cases, tool tracking systems that offer the ability to schedule and oversee maintenance inform you what major pieces of your fleet are offline are a lifesaver.
You can then calmly and responsibly rent a replacement, schedule work around the maintenance event, or turn to other projects.
Finally, centralized tool databases can improve how well your employees communicate with one another.
Armed with the ability to look up the information they need themselves rather than hunt down one person in charge of it, your team can avoid unnecessary work interruptions and shrink opportunities for miscommunication.
However, optimal daily operation is a goal for the short term.
Over time, taking good care of your tools can lengthen their lifespan, and when the lifespan of tools is extended through maintenance, you are less likely to make an emergency purchase to replace assets that were designed to last longer.
Makes It Easy for Your Employees to Collaborate
A healthy collaboration environment allows your employees to feel more involved in decision-making and task completion. This contributes to a better work environment and increased efficiency.
In fact, employees who can communicate easily even show less fatigue.
Working together allows your employees to coordinate their work, which is especially important for a construction company.
Most construction companies are involved with work sites that separate construction crews from in-office employees, and it can be difficult to communicate and understand the exact nature of one another's situation.
This becomes even more difficult to manage when more than one worksite is at play.
A tool tracking system allows authorized team members to look at schedules, check on timelines, and look up asset information. That means all facets of your business stand to improve.
When your team can get more work done in less time, every department benefits.
In asset-heavy construction businesses, employees will not have to waste time searching for the tools they need for a task, only to discover that another employee is using what they need.
This avoids putting the employee in a situation where they have to choose between waiting for the tool or interrupting a teammate, which can cause conflict, delay completion times, and invite disorganization.
When employees can get more work done in less time as a result of improved collaboration and coordination, your business will more easily complete projects on time and within budget.
Allows You to Hold Your Workers Accountable
A tool tracking system requires your employees to check tools out when they start using them and check them back in either at the end of a shift or when they have completed their task.
Tracking who used which tool makes it possible for your company to hold employees accountable for the tools they use, and according to the U.S. Office of Personnel Management, increasing employee accountability can result in improved performance.
In addition, team members are more likely to avoid rough usage, late tool turn-ins, ignoring operators' manuals, and lending the asset out to unauthorized users.
When employees use assets appropriately and make sure they do not misplace these items, your company is less likely to have to replace those tools due to misuse or misplacement.
However, your company can enjoy far more benefits from such systems than just deterring theft.
By implementing a check-in and check-out arrangement, project managers can verify the location of each tool and how it is used at a glance, which is especially useful when multiple job sites are active.
Using a robust and flexible system like GoCodes' check-in and check-out feature allows your company to access your new organizational system straight from an app on a smartphone or tablet.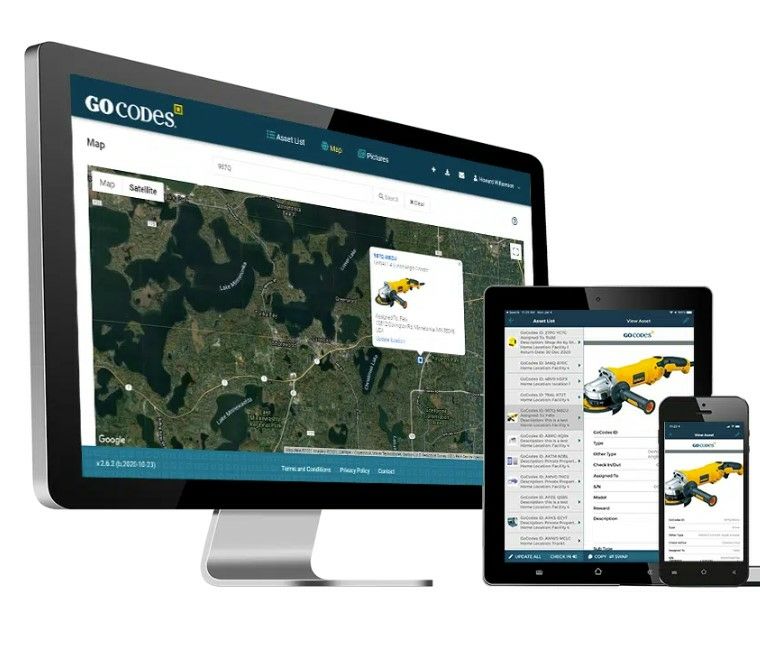 Source: GoCodes
That means your employees can onboard with the system on a device with which they are already familiar, lessening training time and encouraging employee use.
Here is a screenshot of the training video for GoCodes' check-in and check-out resource:
Source: GoCodes
As you can see, the app's interface is straightforward and user-friendly.
When an employee scans a QR tag attached to the asset, GoCodes' software automatically updates all of the information your company has decided to track.
Since these QR codes and the asset's identification code are uniquely generated, it is almost impossible for anyone to fool a check-in and check-out system.
Simplifies the Process of Maintaining Your Tools
A well-designed tool tracking system enables your construction company to track maintenance histories and tool usage.
This ability is extremely useful for the purpose of scheduling preventive maintenance.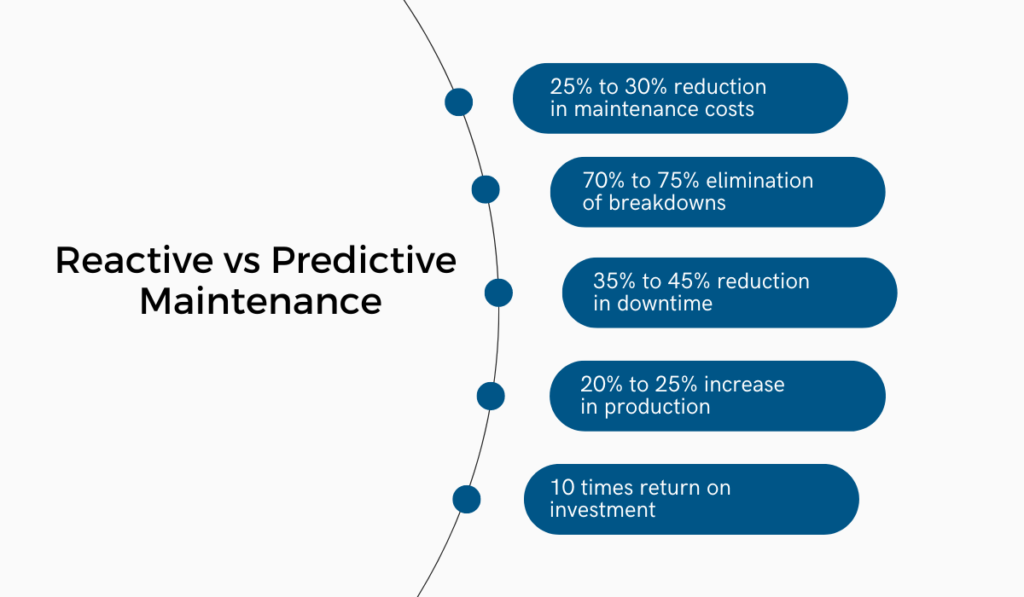 Illustration: GoCodes / Data: US Department of Energy
While this is not the first feature most think of when deciding whether to install asset tracking, it could, over time, save you the most money and provide the most efficiency than any other aspect of your asset tracking.
Maintenance organization is essential for making the most of your assets.
The best software suites for tool tracking include automatic maintenance scheduling notifications.
Here is an example:

Source: GoCodes
This way, you can establish your compliance with various government codes, protect your company in the event of a lawsuit, or confirm a warranty claim.
Without proper maintenance organization, your company's tools stand a greater chance of suffering a sudden breakdown, which could mean panic buying, high rental rates, or missed project milestones.
Therefore, centering your maintenance information in one place also eases the workloads of administrative assistants and project managers.
Timely maintenance makes it less likely that tools will suddenly malfunction or break down during a construction project.
Unreliable machines can translate to a potential worker injury, which is often costly.
By ensuring that your employees interact only with tools that are in good working condition and maintained according to the manufacturer's directions, you lessen the chances of an asset breakdown and possible employee injury.
A construction company with a clean safety record avoids lawsuits, saves money on hiring temporary replacement workers, and enjoys lower insurance rates.
This graphic illustrates the many hidden costs of construction safety incidents: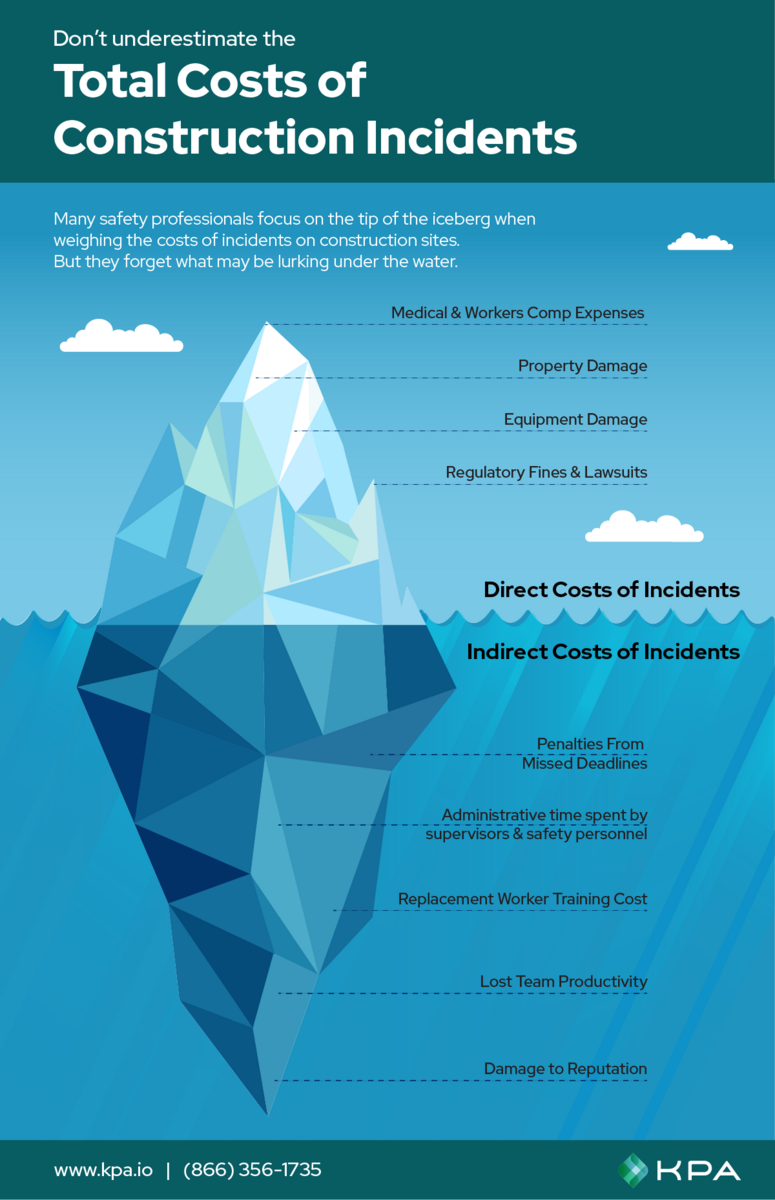 Source: KPA
Some of these costs are incalculable, such as damage to your company's reputation and lost administrative time.
Avoiding such situations will improve your bottom line and boost your standing in the industry and the community at large.
Tool maintenance becomes much easier with tool tracking, and avoiding the high cost of maintenance mishaps is well worth investing in the best software for your needs.
Helps You Reduce the Risk of Tool Loss and Theft
Tool tracking not only increases employee accountability, it also reduces the risk of tool loss and theft from those outside your company.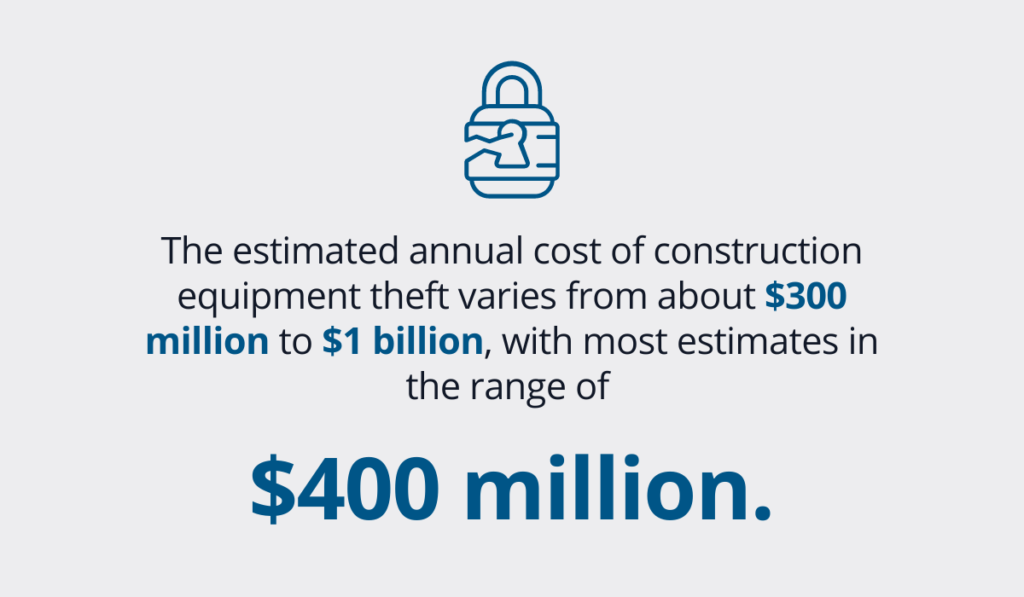 Illustration: GoCodes / Data: NER
GoCodes offers an excellent GPS location tracking feature which offers many benefits that can provide enormous help in the event of asset theft:
Provides the last known location of the missing item
Helps prove the loss of your asset when filing insurance claims
Can establish that the asset is misplaced, not stolen, saving valuable employee time in searching
Automatically alerts security personnel and law enforcement when an asset crosses a GPS boundary without authorization
Having insight into the last known location of their tools is particularly beneficial.
It makes it more likely that your construction company can successfully recover tools if they are misplaced, lost, or stolen.
In some states, GPS tracking retrieval rates are as high as 71% for vehicles, which usually represent the bulk of a construction company's asset costs.
In the event of accidental tool loss, your GPS tracking system can provide your item's location in satellite map form.
This is how GoCodes' GPS system looks when engaged: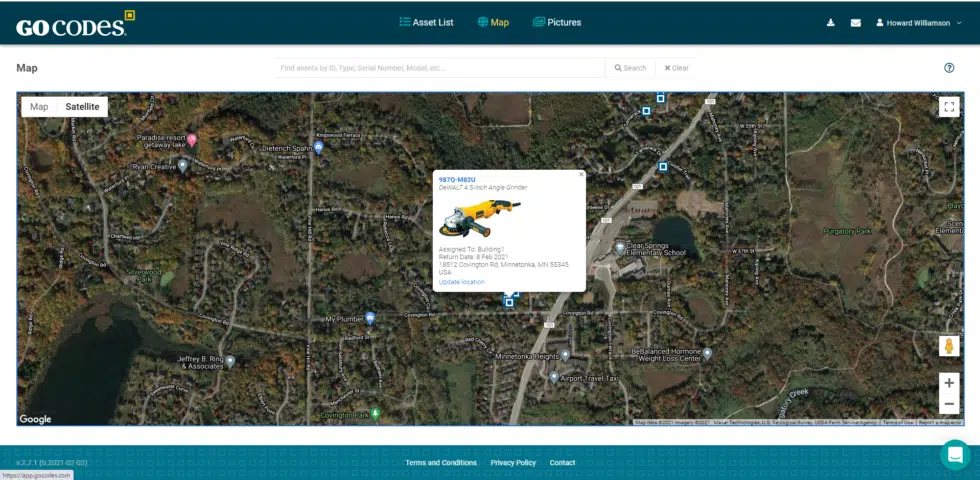 Source: GoCodes
With this information, your team can see not only the general location of the asset, but where it is in the context of a large construction site or warehouse.
Conclusion
A tool tracking system is a wise investment.
It provides your construction company with a centralized tool database to help you achieve complete tool visibility, which is vital for business-wide efficiency.
Your employees will have the ability to collaborate more smoothly, and your team members will more easily be held accountable.
Tool tracking simplifies the process of maintaining your tools, and helps you reduce the risk of tool loss and theft.