If your collection of tools, smaller equipment, and all the other assets typically used by construction companies is too extensive to be managed manually via spreadsheets, you need tool tracking software.
An efficient tool tracking system will provide crucial real-time information about your assets by tracking their location, availability, usage, condition, and maintenance status.
The advantages your company gets from having this information?
Too many to count, from streamlined tool management, increased productivity, and improved jobsite safety to better worker accountability and cost savings.
But with so many tracking software options available, finding the right tracking software for your needs and budget can leave your head spinning.
To make things easier, we'll describe how top tool tracking solutions work and cover their key features, differences, and prices.
GoCodes
Our tool tracking platform, GoCodes, tops this list because we know it best, so we'll use it to describe how tracking systems tend to work in general.
That said, we'll highlight any differences in how each software solution applies this principle as we go along.
The GoCodes tool tracking system has three main components:
cloud-based software
in-app scanner
rugged QR code tags
While the GoCodes software is the heart of the system, let's start from the bottom up—with the QR code tags or labels.

These tags are affixed to each tool or asset to uniquely identify them in the system.
In the case of GoCodes' asset tags, they can be customized to your preferences, printed on durable materials, and delivered to you.
As we'll see later, other asset tag options exist, such as barcodes, RFID tags, or Bluetooth beacons.
The second component—the in-app scanner—is an integral part of the GoCodes package that enables users to scan the tags on tracked assets using their smartphone or tablet, like in this example.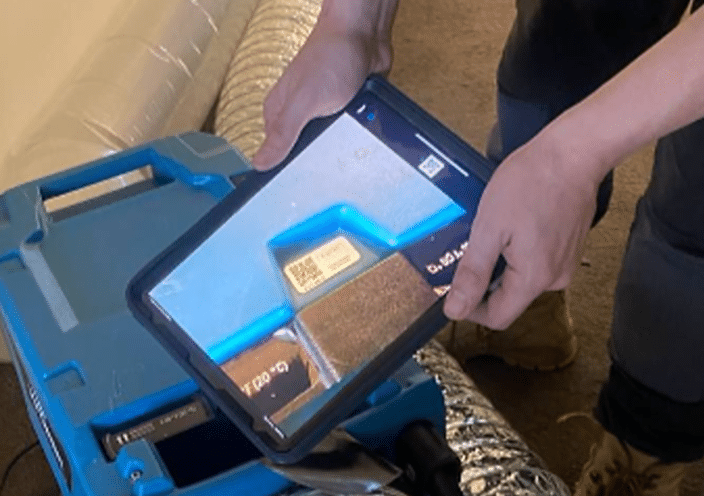 Naturally, the ability to use business-issued or personal mobile devices—instead of special hand-held scanners—to scan tools and access the app is more affordable and also very practical at the jobsite and in other out-of-storage situations.
By scanning an asset tag—or searching the software's database—your employees can access the asset's info portal containing details such as purchase date, maintenance and repair history, past locations and users, availability, and the like.
Finally, the third component—cloud-based software—is the actual system that collects and stores all this information in a centralized online database, which serves as the basis for other features GoCodes provides, some of which you can see here.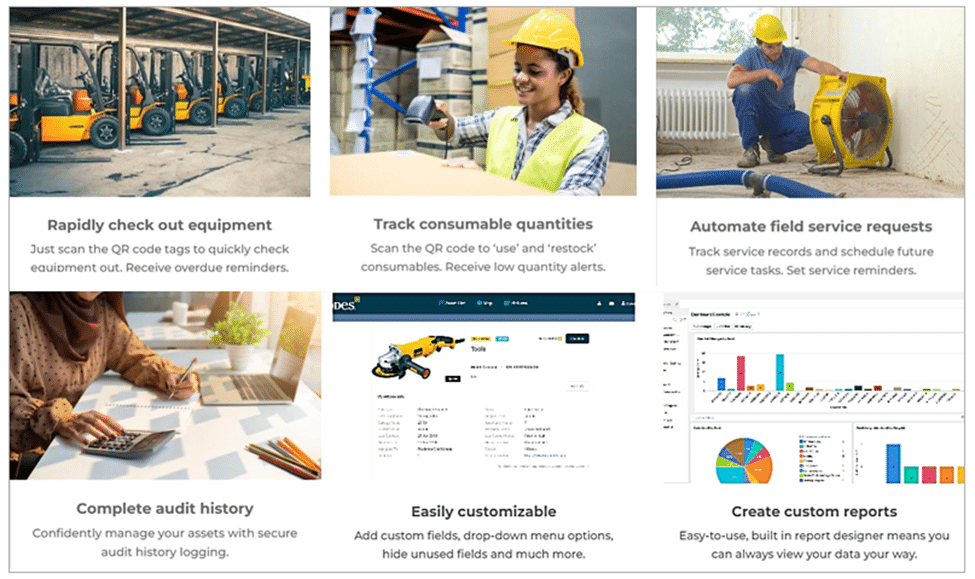 For example, GoCodes enables you to establish a tool check-in/check-out system, create tool kits, track consumables like tool accessories and spare parts, and automate maintenance requests.
Furthermore, it provides you with a full audit history necessary for safety inspections and regulatory compliance, it can be easily customized to your preferences, and valuable insights can be gained from the custom reports it can generate.
Needless to say, other tool tracking software options listed here also offer more or less the same tool tracking features regardless of how their system is set up.
However, the patented feature differentiating GoCodes from other solutions is the automatic tracking of the GPS location of your tools and other assets.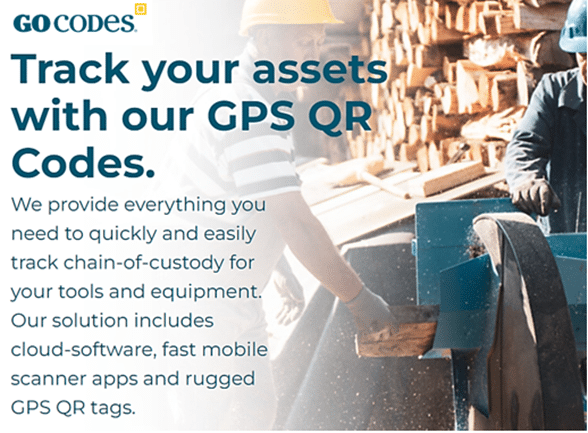 More precisely, whenever someone scans an asset tag with a smartphone or tablet (or another GPS-enabled scanning device), the GoCodes app will use the device's GPS function to update the asset's location.
If you want, you can view the last-scanned GPS position on a map.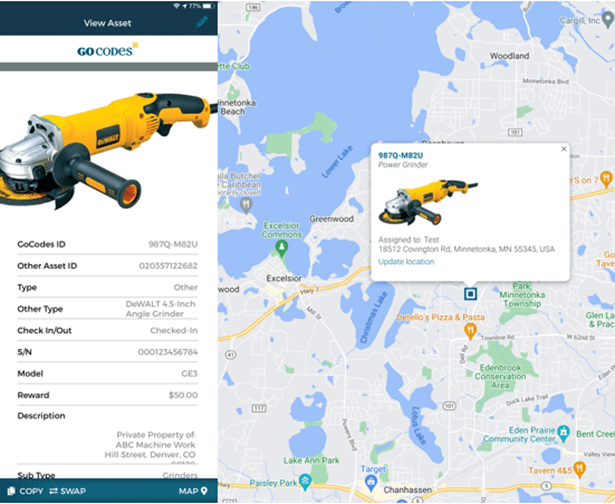 Automatic GPS tracking means that users don't have to enter the tool's location themselves; instead, it's automatically recorded.
Aside from the added user convenience, this feature helps increase worker accountability, minimize theft, and recover lost and stolen assets.
Regarding pricing, GoCodes is subscription-based and offers a 15-day free trial.
The standard plan costs $500 per year for up to 200 tools and 3 users but doesn't include custom labels, which you print yourself.

As you can see, other plans include the delivery of customized tags, among which the most popular is Premiere Elite, which covers 1,000 assets and 10 users for $1,750 per year.
Overall, GoCodes is a complete tool tracking solution often praised for its simplicity, ease-of-use, and affordability and cited as best for construction companies on other top lists.
Now that we both explained how tracking systems work in general and presented what's specific about GoCodes, let's turn to other notable software options.
GigaTrak
GigaTrak—created by a company that has been providing tailor-made software and hardware solutions for various industries for over 25 years—is a tool tracking software that relies on a simple barcode-scanning system.
In other words, barcode labels are attached to tools, assets, and equipment you want to be tracked, and hand-held scanners—which may be in-app scanners for smartphones and tablets—are used to scan them and access the individual asset's portal and the central database.
This classic inventory tracking system is best for storage/tool rooms, but the mobile app extends its use to jobsites and other remote locations.
GigaTrak offers two versions for purchasing software/hardware/labels: self-hosted and cloud-hosted.
The self-hosted option—on-premises software—means your IT department will host and manage the software after receiving initial installation support and training.
However, by all accounts, the cloud-hosted version is a more practical and affordable option.
You can see the benefits below.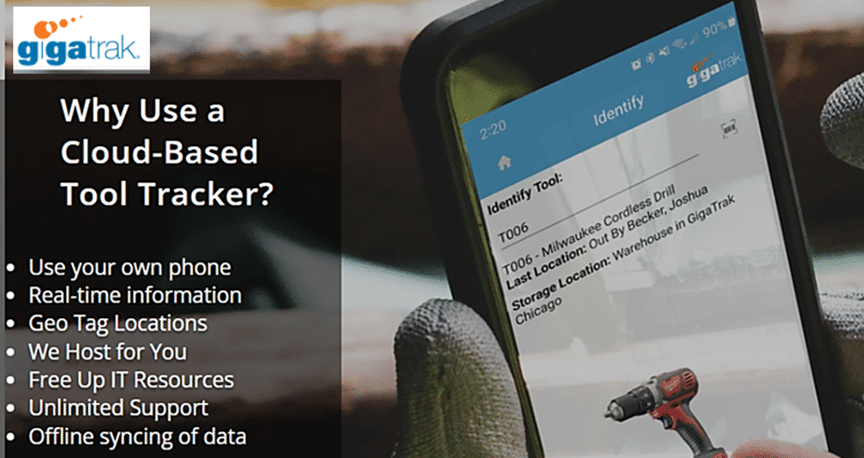 As you can see, this gives managers access to real-time information and enables workers to record the asset's current location.
Whether you opt for a cloud- or self-hosted GigaTrak version, you will get a range of features that could be considered standard for most tool tracking solutions.
Here are the highlights.

As advertised, GigaTrak can track and manage an unlimited number of assets, perform audits, set due dates for returning tools, and schedule maintenance and repairs.
As for pricing, the self-hosted packages we mentioned are paid as a one-time fee and start at $2,495, which gets you the on-premise software, asset tags, 3-month free support, plus an optional service agreement for future support.
The cloud-based option, hosted by GigaTrak, starts at $900 per year; according to some sources, this is an annual fee per user.
In any case, you'll have to contact GigaTrak and request a demo.
ShareMyToolbox
ShareMyToolbox is a tool tracking software that—in addition to standard tracking features—offers a user-friendly interface optimized for mobile devices.
This cloud-based app uses barcodes or QR codes to establish a tracking system.
You can create and print your own labels or order standardized or customized metal or peel-and-stick asset tags.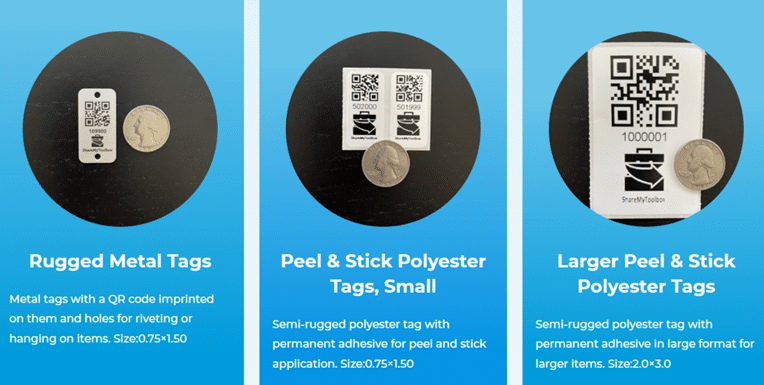 If you're ordering asset tags, you can choose one of four packages, each including a combination of metal tags and small and large polyester tags.
Mind you, the price of these tags, sold in bundles costing from $75 to $500, will be added to their monthly subscription fee.
Regardless of how you get your asset tags, once this tracking software is installed on your employees' mobile devices and the system is set up, you're ready to start tracking.
This is where their user-friendly interface comes into play.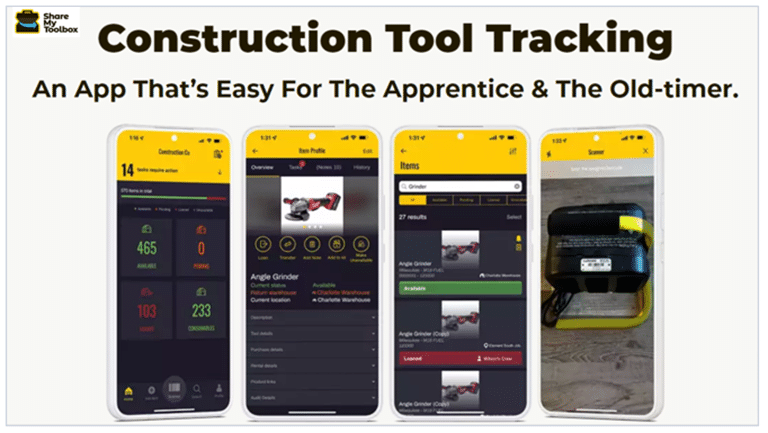 This tool tracking app focuses on providing a central database with a powerful search function that allows users to browse tools according to asset category, assigned location, and or designated person (connection).
Another strong feature concerns the ability of workers to release and accept the responsibility for a tool, exchanging tools between themselves directly on-site while the tracking system records it.
Naturally, this helps keep the chain-of-custody records accurate, thus increasing worker accountability and preventing misplacement and theft.
Above all, this peer-to-peer software feature saves time and significantly reduces the administrative burden for construction workers and managers alike.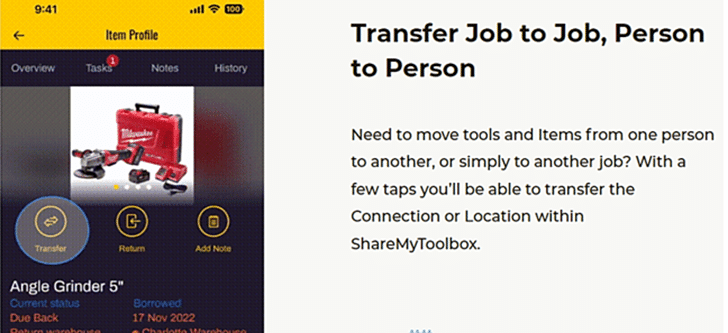 In addition, ShareMyToolbox comes with a set of features like tool assignment, maintenance scheduling, tool kit creation, as well as damage and costing reports.
Finally, their monthly subscription fee for five users is $115 (annual fee $1,380) for unlimited tools, ongoing hosting, user support, and training and setup assistance.
Every next five users you want to add to the system will cost $50 a month ($600 a year).
Currently, they're offering a promotion where all new 5+ subscribers get the "sample bundle" of 175 asset tags for free.
Tool Hawk
Tool Hawk—a barcode tool tracking system—was created by one of the leading producers of labels across all industries, General Data Company Inc., based in Cincinnati, Ohio.
Moreover, this company is, according to its LinkedIn profile:
…an industry-leading provider of innovative labeling, barcoding, RFID, automated data collection and mobility products and solutions."
As such, they offer a range of barcode-based tracking software focusing on different industries, and Tool Hawk is intended for construction companies.

The main difference between Tool Hawk and the tracking solutions we have described thus far is that their offer does not include the option of in-app scanning by smartphones and tablets.
Instead, they will provide—as part of their software package—rugged portable terminals with an integrated barcode scanner.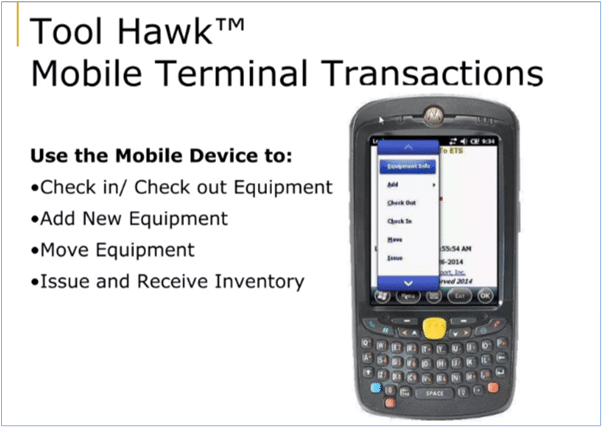 As you can see, this mobile terminal allows you to quickly check out tools and other equipment for users and jobs.
The system automatically records the date and time of each transaction, which gives management an accurate chain of custody that can be used to address tool issues, such as lost or damaged tools, and carry out safety, compliance, and financial audits.
In addition to mobile scanning devices, users can access Tool Hawk on any other internet-connected device, regardless of whether you opt for a self-hosted or cloud-hosted version.
The Tool Hawk features offer a standard range of options they combine with benefits:

The above features include an easy-to-use interface, tool check-in/check-out, maintenance tracking and scheduling, quick audits, management reports, and data exports.
As with some of the other software options listed here, their pricing is quote-based.
In other words, they don't list any specific prices but invite you to request a quote based on your particular tool tracking needs, such as how many assets you want to be tracked and how many users will be in the system.
According to the only source available online, their prices start at $2995 per user for one-time payments.
ToolHound
ToolHound is another tool tracking software that utilizes barcodes—or RFID tags—and special mobile scanners and automated kiosks workers can use to check tools, equipment, and other assets in and out of inventory (i.e., central database).
According to their website, the most basic ToolHound system:
…operates similar to a library to facilitate the quick and accurate checkout and return of tools, equipment, and consumables from your tool room.
ToolHound can—depending on your choice and IT resources—be delivered as both on-premise and cloud-based software.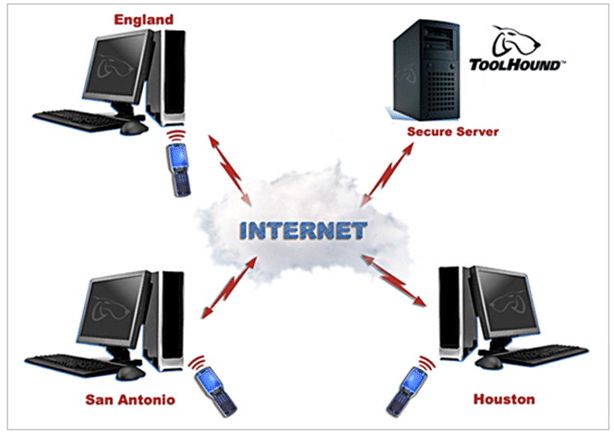 ToolHound's accessories include durable barcodes and RFID tags for unique identification of each asset and "mobile computers and scanners," i.e., hand-held devices used for reading barcodes and/or RFID tags, performing different tool transactions and inventory searches.

A special add-on offered by ToolHound comprises fully automated scanning stations—ToolHound Kiosk —that allow employees to easily take and return tools.
Workers can do so by scanning their badge first, choosing "checkout" or "return," and then scanning the tool with a kiosk's integrated barcode scanner or RFID reader.
In addition to basic features, this tracking software can be expanded with optional tool inventory modules, such as the service module for maintenance monitoring and scheduling and the purchasing module for automatic reordering of low inventory items.
ToolHound also offers transaction and transfer modules for tool and equipment rentals.
As for how much this system costs, ToolHound is strictly quote-based, meaning there are no relevant sources on any of its pricing models.
ToolWatch
Last but not least, ToolWatch is a comprehensive tool tracking solution that—in addition to standard features—offers construction companies the ability to utilize a combination of the latest scanning technologies according to their needs and preferences.
In other words, this cloud-based software can be used with barcodes scanned by either dedicated hand-held scanners or smartphones and tablets with the ToolWatch mobile app installed.
As for Bluetooth Low Energy (BLE) and RFID tags used for more automated scanning, they require special readers and gateways.
In whatever combination, construction companies can—when setting up the tracking system— mix and match these scanning technologies to fit their asset tracking requirements.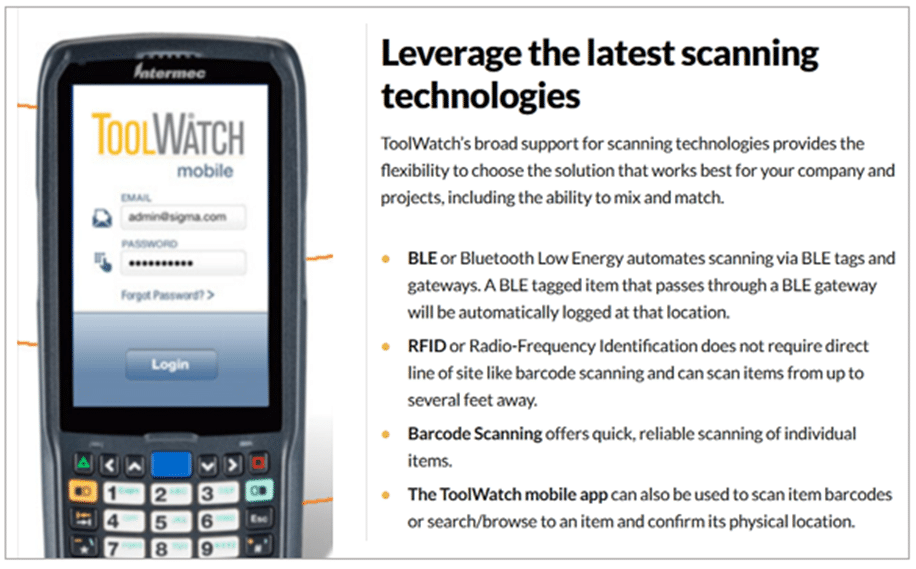 In their words:
By allowing you to collect and share data from virtually any device —via cloud app, dedicated mobile app, and hand-held scanning devices —ToolWatch delivers a wealth of measurable benefits to general contractors across all areas of their operations.
Therefore, this tracking software aims to be an all-in-one tool, equipment, consumables, and materials management platform for construction companies.
Their focus is on improving your office, warehouse, and field operations, as they explain here.

Naturally, to do all this, ToolWatch offers a wide range of standard features like maintenance scheduling and inventory tracking.
All these mix-and-match options mean they do not specify prices, and companies should contact them for a quote; one source states the basic (barcode) packages start at $2,520 per year.
Conclusion
Having gone through some of the best tracking software options specializing in construction tools, it's evident there are many similarities—and some crucial differences—between them.
This means you and your team should first identify your company's tracking needs, establish which tracking software features should be prioritized, and follow this with online and offline research.
Ultimately, the software of your choice should—in a simple and affordable way—allow you to streamline tool management, increase productivity, improve worker accountability, cut costs, and boost profits.