Running a construction business nowadays involves numerous challenges, one of them being the increasing incidence of tool theft.
Stolen tools lead to project delays, budget overruns, and costly tool replacements.
However, there are quite a few innovative and clever ways to protect your tools from theft, ranging from sturdy van locks and motion sensing cameras to attaching identifiable markings on your tools.
This article delves into several tech-savvy methods to help you outsmart tool thieves, protect your business, and increase your chances of recovering stolen tools.
Digital Inventory
Construction sites are busy and dynamic places, where workers collaborate amidst the organized chaos of complex building operations.
In such a bustling environment, contractors frequently overlook missing items until the moment of need.
Without maintaining an up-to-date inventory of hand tools and power tools, the situation often comes down to the adage, "You don't know what you've got 'til it's gone."
This problem can be easily addressed through digital inventory tracking.
To that point, tool management software is the optimal way to keep your inventory organized and access accurate and real-time data about your tools.
The solution we developed at GoCodes functions as a centralized database for all the information related to your tools, including where they are and who is using them at any given moment.
It not only serves as a digital inventory database, but it enables you to also keep track of your tools' maintenance and utilization history.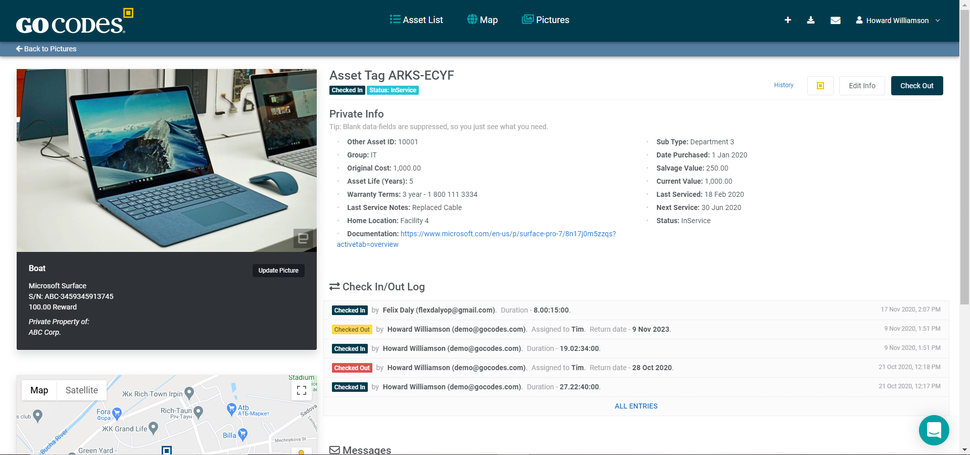 Let's go through the specifics of how it works:
First, you attach tags on the tools or toolboxes you want to keep track of.
Then, whenever a member of your team needs to use a tool, they can scan the tag using their smartphone, and check it out.
Once they're done using it, they can check it back in.
This activity informs other team members about the location of the tool and whether it's in use or not.
All the relevant tool information is displayed on your GoCodes dashboard, regardless of whether you're accessing it from your smartphone, laptop, or tablet.
And that's it. All your tool inventory is digitalized and all your tools are accounted for.
This makes our tool management software remarkably user-friendly and efficient.
Moreover, every item listed in your inventory comes with details, such as purchase date and price, serial number, description, manufacturer's maintenance recommendations, and more.
Leveraging tool management software such as GoCodes, apart from helping you maintain accurate digital inventory, can also assist with recovering your tools if they are misplaced, lost, or stolen.
Namely, the attached tags along with all the information they contain can serve as proof of ownership.
So, if the police or a good Samaritan find your tools, they'll be able to return them to you.
Opting for a tech solution like this is undoubtedly a good idea and a first step in protecting yourself against tool theft.
Microdots
Confronted with the unfortunate scenario of tool theft, business owners are compelled to explore innovative ways to deter thieves.
Luckily, engineers and tech developers have diligently worked to devise a range of practical solutions.
One of them is microdots.
It's a cleaner and more precise tool marking method than attempting to engrave or paint identifiable markings on your tools.
Microdots, each the size of a grain of sand, contain a unique identification that can be applied to almost any surface—tools, electrical equipment, mobile phones, laptops, and other high-value assets.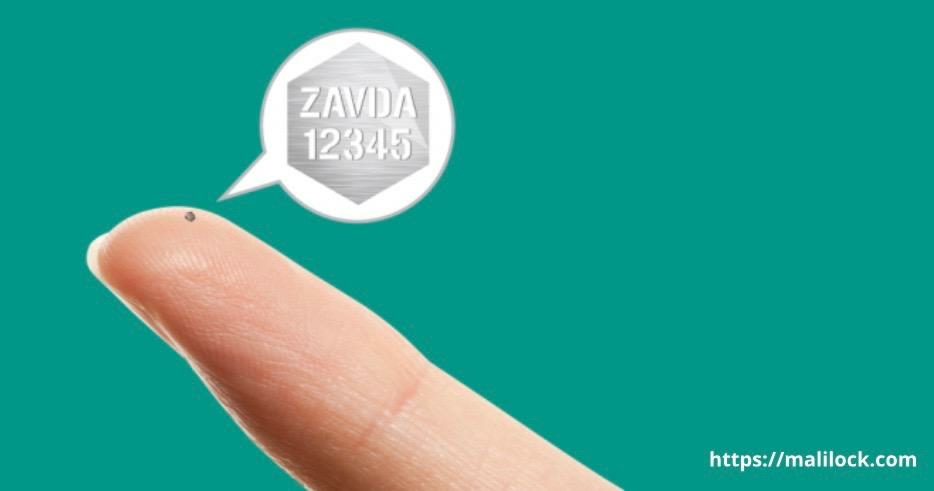 The microdots themselves are made of a thin layer of durable material, such as nickel, polyester substrate, or polymer nanoparticles.
The application onto the asset is done with UV-based adhesive, with the use of a laser, small brush, pen-like applicator, or pressurized spray can.
Each microdot is imprinted with an alphanumeric combination that is unique and cannot be replicated.
This identification can encompass the item's serial number, hull identification number, computer-generated PIN, or fully customized dot information.
Microdots can be easily viewed and read with the aid of a small magnifying glass, which is the method police commonly use to observe serial numbers.
Besides, from a thief's perspective, they're not worthy of removal.
In this context, the microdot markings on your tools serve as a warning decal, indicating that the labeled objects are equipped with traceable technology.
Moreover, to establish ownership and make an arrest, the police only need to locate one microdot.
All this has a strong deterring effect on thieves.
As it turns out, the efficiency of this technology has been recognized across various industries.
For instance, a recent study identified that vehicles fitted with microdots displayed over a 60% reduction in professional theft.
Overall, it's a worthwhile option to consider for safeguarding your tools, although microdots lack location-tracking capabilities.
However, the solution we will discuss next does offer this feature.
QR Codes
Marking your tools is an efficient way to protect them against theft.
Stolen tools that contain owners' information are not that easy to resell, thus discouraging thieves from going after them in the first place.
However, while basic markings—such as engraved owner's initials—may make tools less attractive to thieves, they've also proven to be less useful when it comes to retrieving them.
In the first section of this article, we discussed the option of labeling and tagging your tools for the purpose of maintaining digital inventory, as part of an all-encompassing tool tracking solution.
These labels and tags, specifically those patented by GoCodes, entail QR codes.
Each QR code is unique to the individual asset being tagged and contains information pertinent to the tool itself.
The option to customize what information is displayed on these tags—like the company's name, logo, and contact information—is of crucial importance for determining ownership.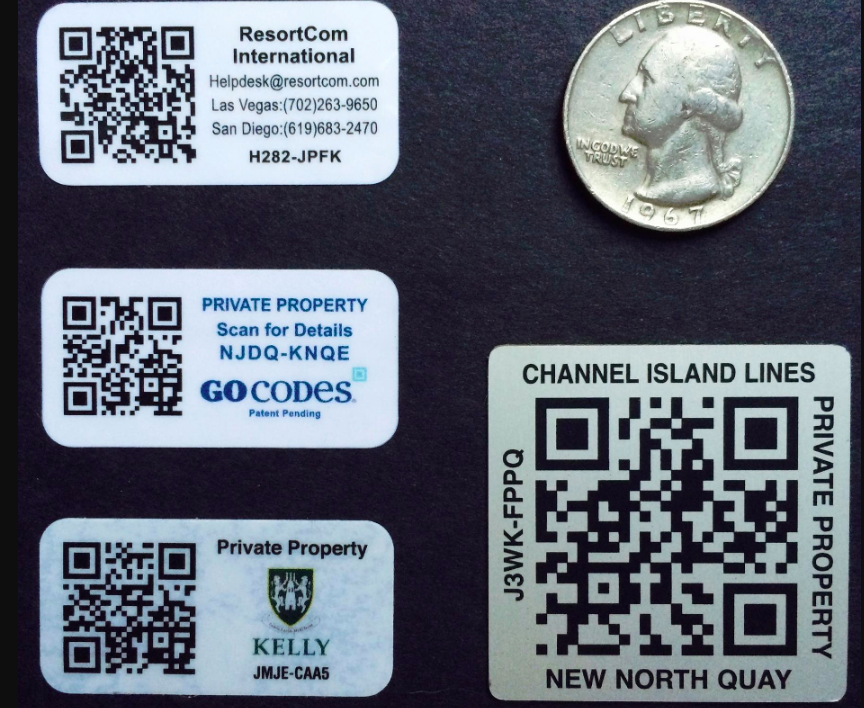 Furthermore, the QR code tags are meticulously designed to be both durable and tamper-proof, securely attached to the tools with industrial-grade glue.
Any attempt by a thief to remove or damage them will be futile.
Now, a notable advantage of this solution is that it provides complete visibility and tracking of your tools.
Namely, when one of your crew members scans the QR code with their smartphone using the GoCodes app's built-in scanner, the software records the tool's last known location, creating a detailed log of who used the tool and where.
This information can come in quite handy to the police in their efforts to investigate the theft, track down stolen tools, and return them to their rightful owners.
Basically, applying QR code tags or labels on your tools can help you significantly with locating tools and equipment—whether on construction sites or in a warehouse—and monitoring their utilization.
But most importantly, by tagging your tools, you are practically informing thieves that they are being monitored and can be tracked.
This knowledge may prompt them to give up their intention.
Above all, if your tools get stolen, it can also expedite their recovery and serve as evidence that those particular tools belong to your company.
Given the complexity of construction sites, keeping track of your tools will not only allow your projects to run smoothly but, in the long run, will also safeguard your business against unforeseen losses.
Van Locks
Tool theft is increasing year after year, with one-third of van drivers falling victim, as revealed in a 2022 study conducted by Volkswagen Commercial Vehicles.
It's not surprising that the numbers are on the rise, considering that three-quarters of workers acknowledge leaving tools in their vehicles overnight, as mentioned in the same study.
It's also unsurprising that thieves are 10 times more likely to steal powered hand tools than regular ones, given their higher resale value.
This only stirs up more trouble amid the current turbulent economic developments.
As the Director at Herts Tools, Stefano Lobban, duly noted:
It's been a tough couple of years for tradesmen and people working in construction, with Covid-19 really restricting their ability to work. The last thing they need is their tools being stolen, but this new data shows us just how common that reality is.
With these statistics in mind, construction business owners must find ways to protect their tools and their vehicles now more than ever.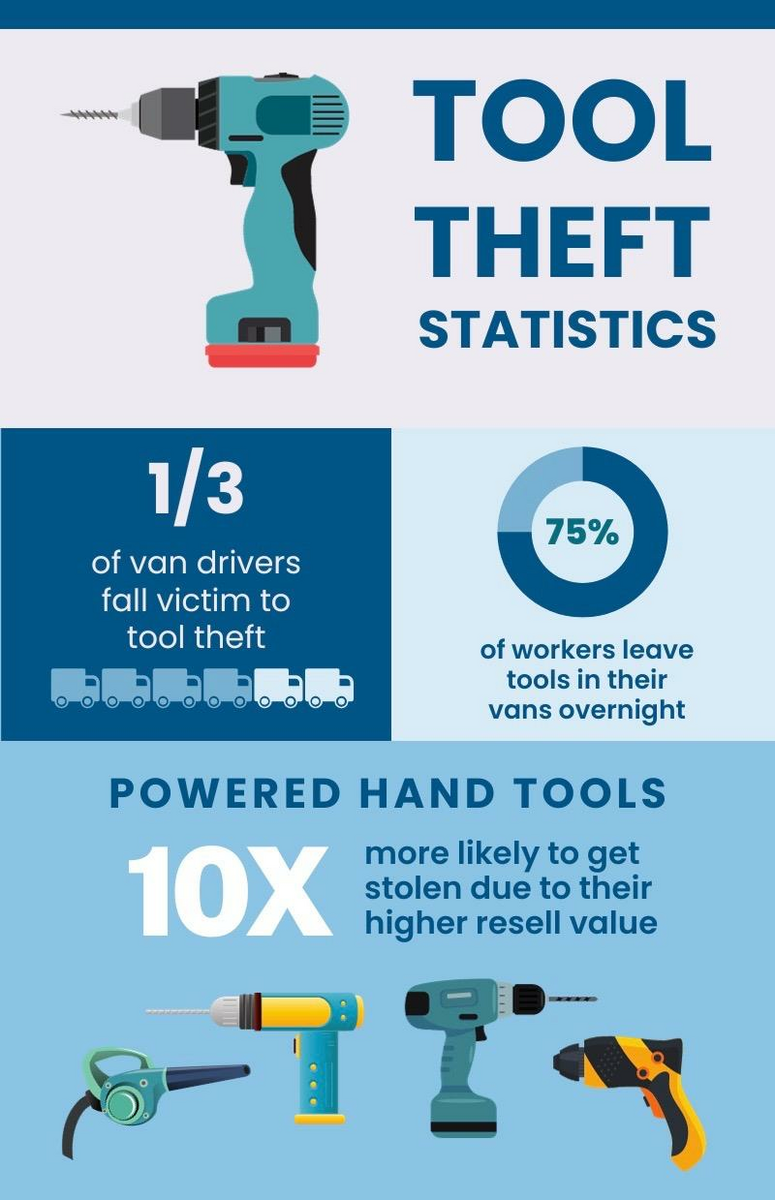 If there's no other solution but to occasionally leave tools in a work van, then you should think of adding locks.
Factory door lock cylinders do not provide enough protection, as their simple spring clip system attached to the door sheet metal can be easily popped out, even by a rookie thief.
However, interior sliding deadbolts significantly complicate the task.
There are manual and electric sliding deadbolts.
The electric ones can connect to your van's remote keyless entry system, allowing you to lock and unlock them with just one push of a button.
Another solid option is to invest in van slamlocks.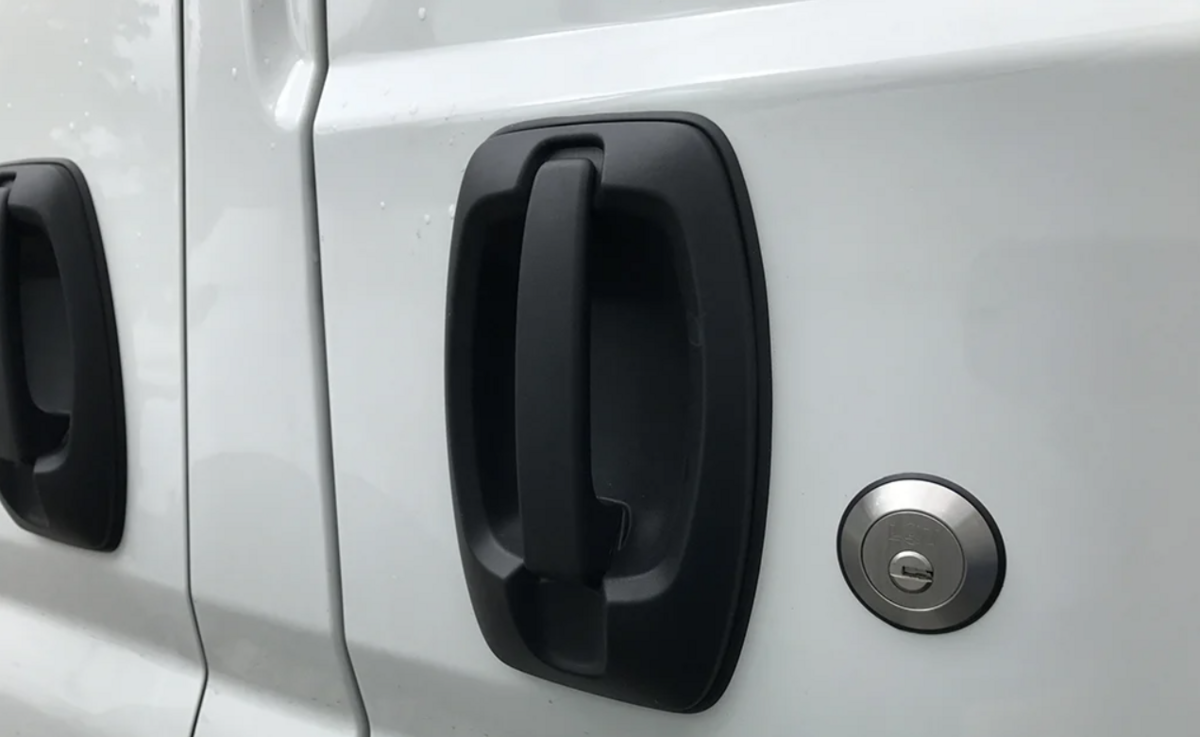 Designed to automatically lock when the van door is closed, these mechanisms eliminate the possibility of the van driver inadvertently leaving the doors unlocked.
Similar to electric deadbolts, slamlocks seamlessly integrate with the van's lock system and can be operated alongside deadbolts using the same remote key.
And while additional van locks can go a long way in deterring tool thieves, your van is not the only place that needs extra security.
Safeguarding construction sites, warehouses, and other properties where valuable tools and equipment are stored is equally crucial.
Motion Sensing Cameras
Present-day construction sites are virtually bound to incorporate security cameras as a protection against a variety of perpetrators seeking quick payoffs.
Even when they are not operational, the presence of visible security cameras puts off opportunistic thieves.
Apart from that, knowing that your property is safeguarded in this manner brings significant peace of mind.
Security cameras have the capability to record continuously, 24/7, or be activated by motion sensing detectors and infrared sensors, utilizing passive infrared (PIR) technology to detect movement and create brief recordings.
Additionally, modern wireless camera systems—frequently powered by solar energy or batteries—provide you with the convenience of monitoring your property remotely.
You also have the option to configure them to activate alarms and initiate a spotlight function if an intruder is detected.
On top of that, many security camera systems are supported by cloud-based storage, allowing you to share the footage with the police in case of theft, use it to make insurance claims, or support potential legal proceedings.
All in all, motion sensing security cameras are one of the best methods that assist construction companies and site managers in deterring theft, vandalism, and other criminal activities.
Conclusion
As tool theft becomes more prevalent, it's important to explore innovative methods to safeguard your property and business operations.
As a construction business owner, you now have a range of options at your disposal, from employing QR codes and microdots for tool identification to implementing digital inventory tracking and enhancing security measures with additional van locks and worksite cameras.
So, make sure you're making the most of it.