If you're a site manager or the owner of a construction company, chances are you are already familiar with the frustration that comes with equipment theft.
For a start, investigating the extent of the crime, reporting it to the police, and dealing with insurance usually eats up the rest of your work day—or several days.
Additionally, if it's heavy equipment that's missing, it usually means shutting down parts of production until a replacement has been found.
However, given the difficulty of properly securing construction sites, you have to be ready even for that worst-case scenario, and have a plan in place to address it if it occurs.
Don't worry, we're here to help.
In this article, you will find advice on how to take a more active role in locating your stolen equipment.
Create an Equipment Inventory
When construction equipment goes missing from your site, the amount of information you can provide to the authorities in charge of the investigation plays a big part in your chances of finding it.
After all, according to the National Equipment Register, only around one-fifth of stolen equipment gets recovered.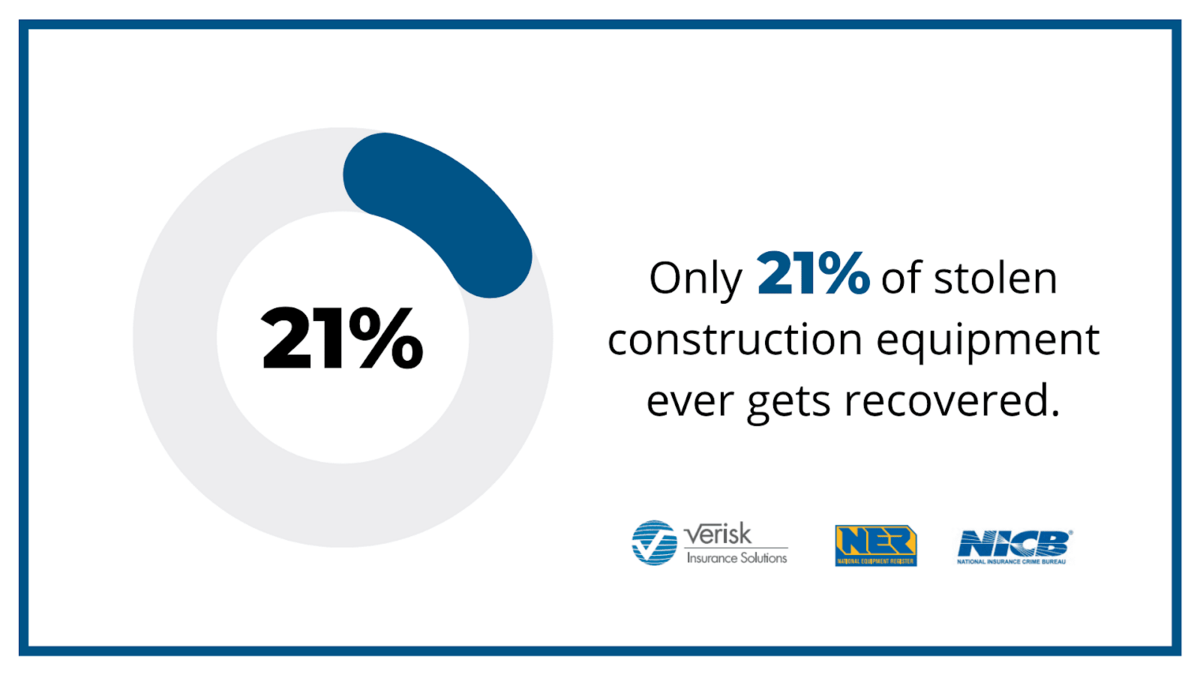 With chances of recovery that slim, serial numbers, manufacturing details, identifying marks—anything that differentiates your equipment from pieces that look similar—could be instrumental in getting it back.
This is where having an exhaustive equipment inventory comes in handy.
And exhaustive doesn't just mean that it contains every single asset your business owns.
Rather, each entry should also provide pertinent and up-to-date details about the asset in question.
Of course, that includes basic information like the manufacturer, serial number, manufacturing year, etc.
As Palm Beach County Sheriff's Detective Jeremy Campbell says, "The first thing I ask for is documentation that you own it, proof of ownership and what the serial number is, what the product number is, what attachments it has on it."
Additionally, you should have images, as well as accurate and thorough descriptions of every asset ready.
Be sure to make a note of any unique marks, scratches, and other characteristics which stand out.
As we said, every detail helps, and if you go by memory alone, it is unlikely you will recall much more than the color.
With all the relevant information in one place, if and when equipment gets stolen, you can hand everything over to the police right away, saving them and yourself time on questioning.
Campbell highlighted the importance of this aspect:
Ninety-eight percent of the time, somebody has to call the office. During that time, we're twiddling our thumbs because we can't enter it in the computer as stolen. Not having this information right off hand is hurting everyone.
To make the best of your equipment inventory, you can also use it to conduct internal audits, which are also a useful way to prevent theft. Let's look at how.
Up to this point, we focused mostly on heavy equipment. However, research shows that most theft incidents actually include missing tools.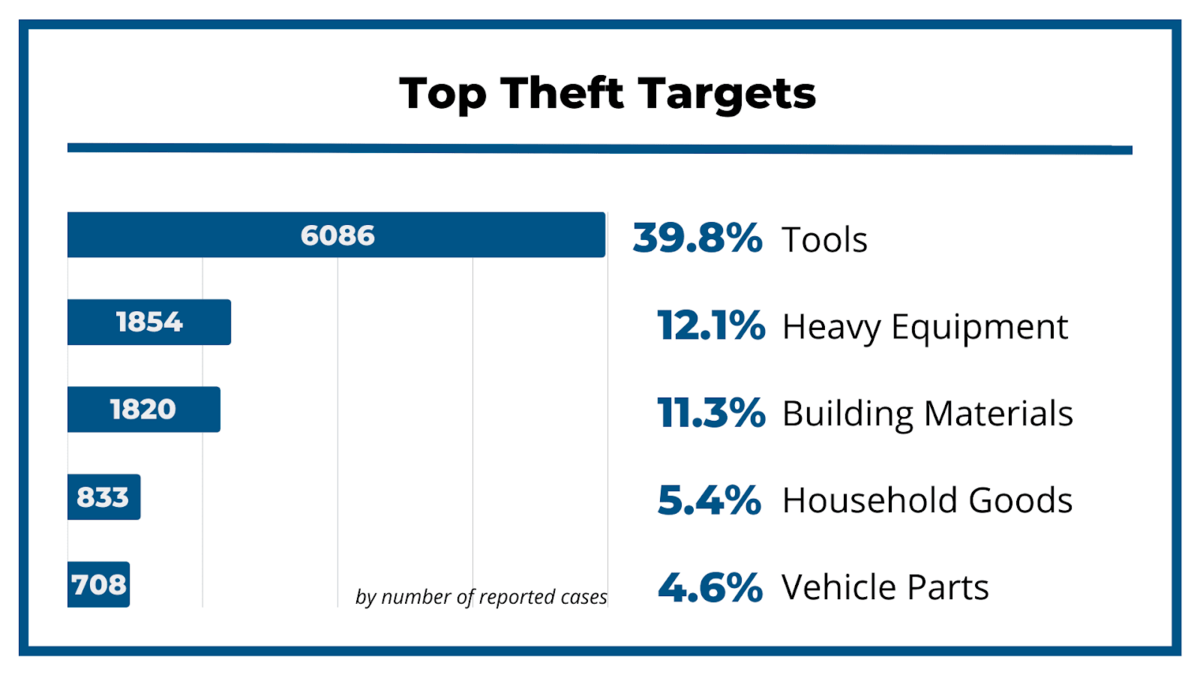 Seeing as missing drills are less conspicuous than stolen excavators, it could be a while before anyone notices they are missing.
Regular audits of the equipment will help you make sure everything is accounted for—or determine what is missing.
This way, it will take you less time to discover equipment has been stolen, and more chance of recovering it.
All in all, having an inventory of all your equipment makes it easier to investigate the crime once you report it to the police, increasing the likelihood that they'll eventually find the culprit.
Tag Equipment with Durable Tags
Durable, well-placed asset tags can go a long way in locating and identifying equipment stolen from your site.
Asset tags are small, scannable QR-code- or barcode-based labels containing information pertaining to the item.
This usually includes the serial number, manufacturer, owning company, last user and time of use, etc.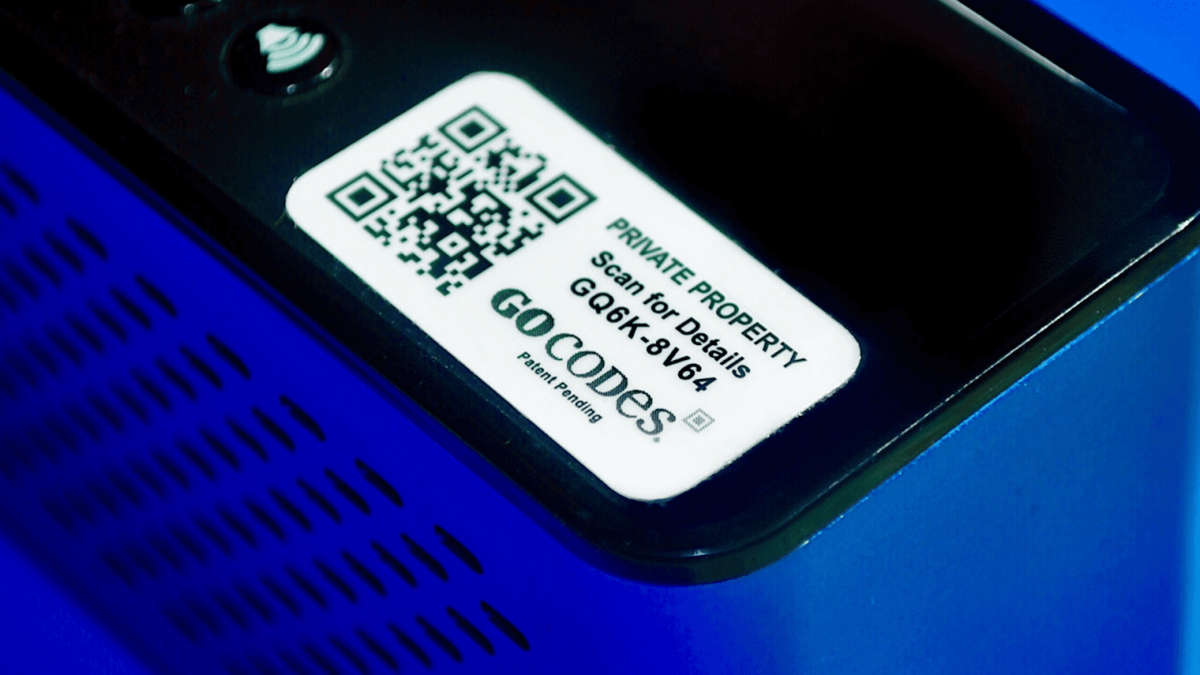 They come in all shapes and sizes.
There are basic labels you can print yourself with a laser printer and can be affixed to most surfaces, as well as more robust solutions for heavy equipment, made from metal and aluminum.
Why is that important?
When police discover stolen equipment, asset tags could be instrumental in linking it to your company. Jeremy Campbell touched upon this as well:
I can't tell you how many times we've reported a piece of equipment stolen, and we've recovered it. Now we can't get in contact with the person that reported it stolen.
To avoid this unfortunate outcome, you want to make sure you have the most long-lasting and tamper-proof tag guarding your information.
Here's where GoCodes can help.
GoCodes offers customizable, durable QR-code asset tags with the construction company's name, logo, and contact information. As for the material, there are several options available.
First, GoCodes offers 5-millimeter thick water- and chemical-resistant polyester labels with permanent adhesive backing.
Hard to remove or make unreadable, it's a great solution for smaller equipment such as power tools.
There are also anodized aluminum metal tags, up to 63 millimeters thick, that can be attached to heavy machinery with permanent adhesive and additional screws.
When placing the asset tags, try to find spots that are readily apparent. This will reduce the chances of thieves finding a way to remove them.
Another beneficial feature of GoCodes' tagging system is location tracking. Every time a code is scanned, the system marks the time and the location.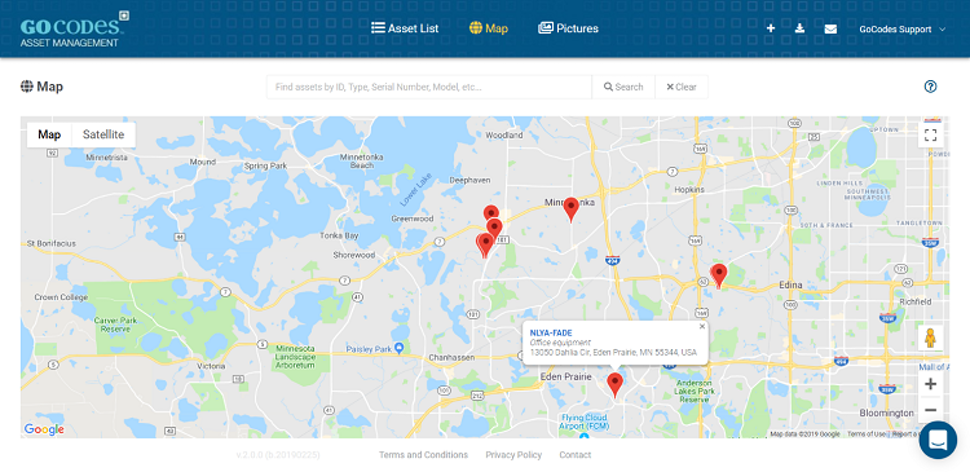 If you perform regular equipment scans on the site, you will be able to use this system to approximate when and where the stolen equipment was last used, and that information could be crucial to the police's investigation.
Overall, labeling your equipment with asset tags and opting for an equipment tagging system should help police both find the perpetrator and recover the equipment to its rightful owner.
Involve the Police Department
When equipment goes missing, there is only so much you can do on your own.
Although reporting the theft to the police seems like an obvious response, it's vital not to understate the importance of this step.
As mentioned, only around one-fifth of stolen equipment eventually finds its way back to the owner.
This number might discourage some from contacting the police if a less valuable piece of equipment goes missing, especially if they've already had negative experiences that produced no results.
After all, calling the police, collecting information, answering questions, and filling out reports is a hassle that takes a lot of time and effort.
Moreover, the rise in premiums sometimes makes it less than worthwhile to claim insurance for smaller damages.
Be that as it may, involving the authorities benefits you in more ways than one.
For a start, it's the only way you're ever going to be able to get your equipment back. Let's say you accidentally stumble upon your stolen assets online.
If you haven't notified the police of the incident beforehand, there's nothing they can do before you would file an official report. By the time you're done, it might already be too late.
Additionally, more often than not, yours is not the only site these criminals are targeting.
For example, in December of 2022, following a string of construction site thefts, police raided a site near Sterling, Canada and discovered $70,000 worth of stolen equipment.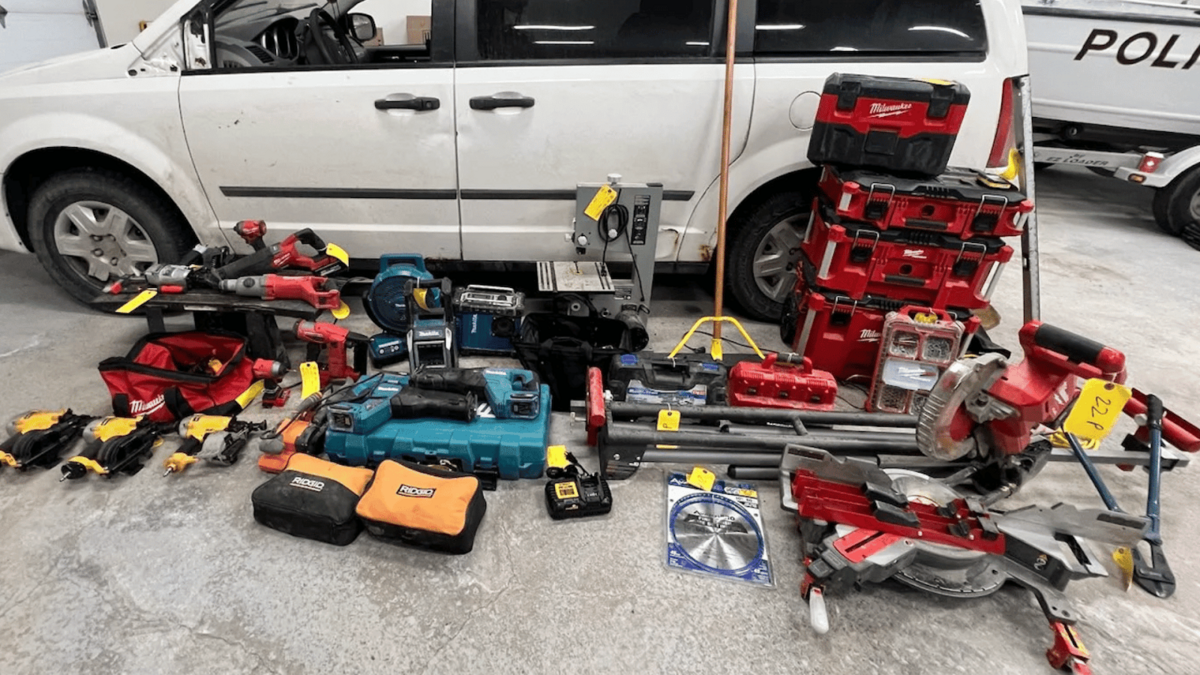 These were stolen from multiple different sites. Any one of the reported incidents could have led police to the perpetrators.
Therefore, you should make it a habit to report equipment theft immediately after it comes to your attention.
The less time passes, the more likely police will stop a criminal from continuing with their illegal activities, potentially coming back to your site in the future.
It's also a good idea to check on the development of the investigation on a periodic basis. Remember, police have a mountain of cases to deal with.
Perhaps your equipment has been found, but not yet linked to your case. This way, you ensure they have you in mind whenever they make a find.
Fortunately, this is not the only action you can take to recover your equipment. If you want to get more involved, try searching through online marketplaces.
Monitor Online Marketplaces
There is only one reason criminals ultimately have for stealing your equipment, and it's not construction work.
You guessed it—it's money.
Whether they acted out of opportunity or as part of an organized, premeditated effort, the perpetrators will want to sell the stolen goods as soon as possible.
This is the point where they might slip and make a mistake, which you can catch by knowing the right places to look.
And those places are online markets.
You may think it's unlikely the thieves will think twice before selling stolen goods online, where everyone can see them. However, it happens more often than it perhaps should.
For example, in May of 2023, a Southern California pair were arrested for stealing around 500 pieces of equipment worth over $800,000.
How did the police catch them? In the words of US Attorney Nick Brown:
In this case, we allege the co-conspirators hatched a scheme to rent high-value construction equipment and then fail to return it. They allegedly sold the stolen goods on websites such as OfferUp and Facebook Marketplace.
That's right—Facebook and OfferUp, an alternative to Craigslist. You would expect more planning from people that are potentially facing prison time.
It's even easier to catch criminals that stole out of opportunity, without any plan whatsoever.
A case like this happened in 2020 when $2,000 worth of tools were stolen from an unsecured construction site.

As the title says, a week after the theft, the owner was looking through advertisements for used items and spotted two of the stolen tools.
By providing the ads and the serial numbers to the police, they were able to return the equipment to the owner.
That is why it's a good idea for you to monitor online marketplaces for signs of your equipment for a time after it goes missing.
As you've seen in the example above, Facebook Marketplace and sites like OfferUp and Craigslist are a good start.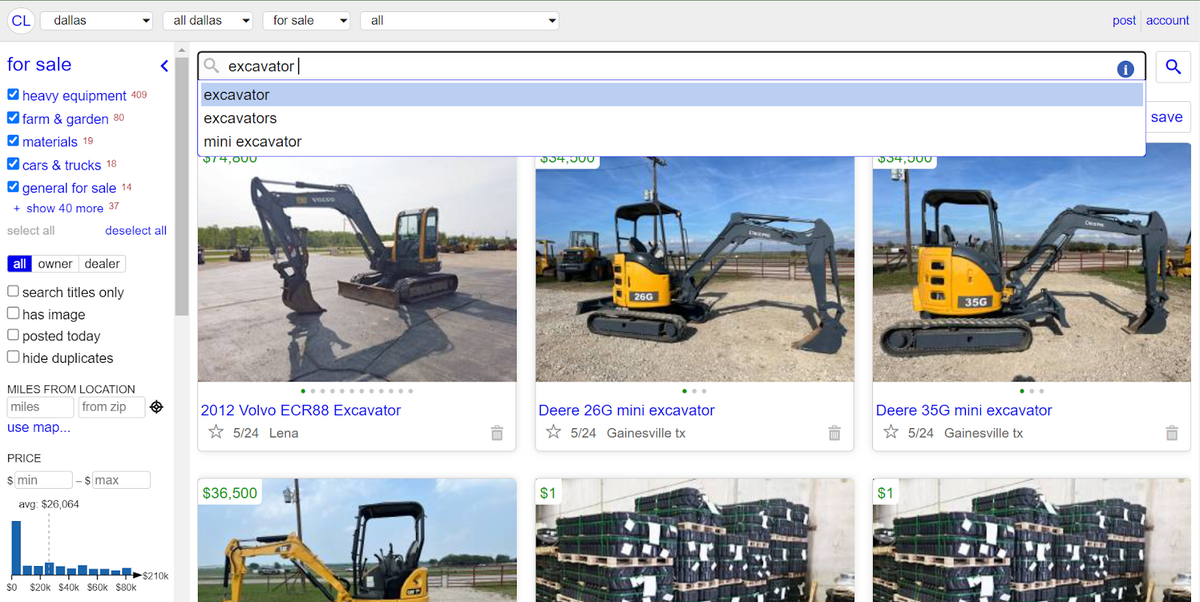 Also, keep an eye on your local websites for used-equipment advertisements.
In summary, criminals are often careless when it comes to getting rid of the equipment they steal, so you should monitor online marketplaces so you can quickly react in case the items that rightfully belong to you appear there.
Take Advantage of Social Media
We've discussed how sifting through online spaces helps in locating stolen equipment, but there is a more active approach you can take in your online search efforts.
After discovering two of their excavators were missing, Mercury recently reported, the construction company McGuire and Hester went to social media for help.
Posts about their devastating $250,000 loss were met with a ''resounding'' response, showering them with tips, one of which eventually led to an arrest.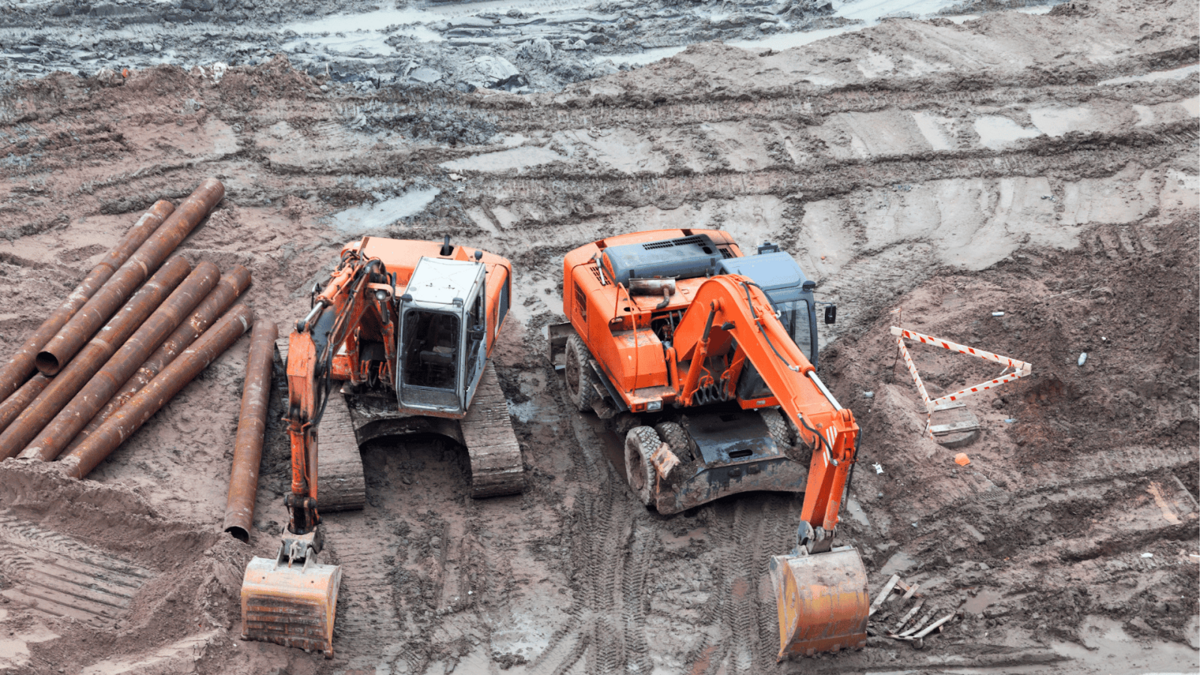 This case exemplifies how sharing your story on social media can help in recovering stolen equipment.
When posting, share as much information about the missing items as possible.
Serial numbers, pictures, and detailed descriptions are a must, but be sure to also include details about the theft itself.
The location and the time of theft could play a part in identifying the perpetrators.
If a person has heard a strange noise, maybe the only way they connect it to the crime is by reading your description.
Publicly speaking about your case can save others from damages, as well.
A recent story from Utah involved multiple families unwittingly buying stolen equipment from a man later caught by the police.
The families were instructed to return the stolen equipment to the rightful owners, leaving them with tens of thousands of dollars in damages.
They mostly bought the items because the offer was good and looked legit.
As Sgt. Greg Moffitt from the Sandy Police Department said:
It can be just as simple as having your phone, going up to a construction site after it's been shut down for the day, seeing a skid steer or skid loader or any other equipment that's on scene, taking a picture of it, going and loading it onto a classified ad, and seeing if you can get any takers.
News travels fast on social media.
If you post about the theft of your bulldozer and the post goes viral, there's a good chance one of the people interested in buying a used bulldozer will see that story.
Consequently, they will pay more attention and be more inclined to report, for example, suspiciously low prices to the police, instead of jumping on the offer right away.
Ultimately, social media is a proven way to get exposure, which helps you engage members of the general public in the search for your equipment.
Conclusion
Nobody likes dealing with equipment theft.
However, because construction sites are plagued with low security while hosting valuable equipment, the chances of your company facing it at some point are never zero.
The most you can do to handle it properly is to prepare beforehand and have an actionable plan when it comes to it. By now, you should have an idea of what that plan entails.
All you have to do is implement the measures outlined in this article, and you will have a much better chance of bringing the stolen equipment back to your construction site.