It would be no exaggeration to say a general contractor's success, to a large extent, depends on how good their subcontractors are.
That's because the quality standards agreed with the project owner extend to subcontractors, and a general contractor must hold them accountable for the quality of their workmanship, safety of their work, and timely completion of their job.
At the same time, a general contractor needs to respect subcontractors' expertise, seek their input, and build strong working relationships with them.
Given all this, it's not surprising that finding reliable and talented subcontractors is high on the priority list of most contractors.
So, if you're among them, here are five things you can do.
Post a Job Ad
If you're starting from scratch, posting a job ad is the most common way of finding subcontractors.
Of course, the job ad should list the requirements a subcontractor must fulfill to be considered for the project, and then the ad should be posted in the right places, such as online job boards or local newspapers.
Once the ad is posted, you can proceed to consider the applicants, prequalify them, make a shortlist, and interview the most promising subcontractors.
Naturally, the requirements listed in the job posting will depend on whether you're looking for subcontractors for potential long-term cooperation or a specific project.
For instance, if you have a particular construction project in mind, you should first determine the scope of work that needs to be assigned to a subcontractor, the deadline for completing their job, and many other relevant project details.
Conversely, you can be more general if you're looking to find full-service or specialty trade contractors in your area for future projects, like in this example.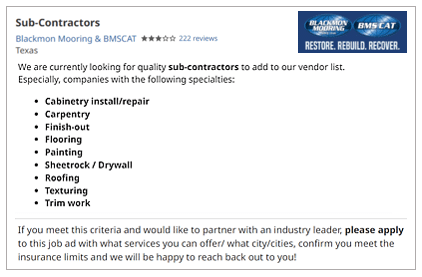 As you can see, this company is looking for subcontractors to add them to their list of vendors for upcoming but still undefined projects.
The ad lists what trade specialties are sought and informs the applicants they need to meet these criteria.
Once a job ad with specific requirements is ready, you should post it on not just one but several free and paid online construction job boards, your website, and even on social media like LinkedIn.
You should also take advantage of more localized job posting opportunities, such as online community forums, local chapters of contractor associations, or local newspapers.
After receiving the applications, you can proceed to prequalify the applicants and interview the best potential subcontractors.
Overall, a well-prepared job ad with clear requirements, when posted in the right places and supported by a finely tuned hiring process, can help you find good subcontractors.
Ask Your Network for Recommendations
Asking your network of connections in the construction industry to recommend the subcontractors they worked with might just be the best way to find reliable collaborators.
You can do so by asking other contractors you know, your current and former subcontractors, your suppliers, other construction specialists like architects and engineers, and even industry associations or trade schools.
For example, you can reach out to a colleague who has worked with a subcontractor they were happy with not only for a recommendation but also to arrange an introduction with that subcontractor.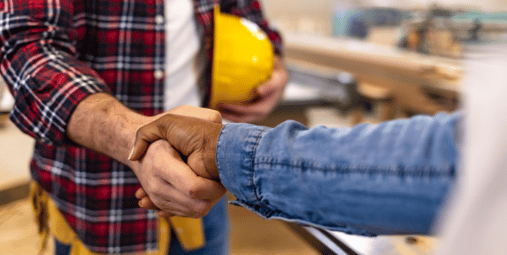 That way, you and the prospective subcontractor will benefit from knowing that the other one was recommended by someone they know (and trust), thus establishing the basis for building a strong working relationship.
Another way is to ask one of your current or former subcontractors for a recommendation, but you should be careful not to give the impression you're trying to replace them.
For example, you can cite different reasons like an upcoming larger project or business expansion, or you can cross check and combine their specialties, such as asking your subcontractor doing electrical work if they know any good plumbers.
Suppliers of various construction materials are another good source of professional recommendations.
For instance, if you're looking for a good roofing subcontractor, a specialized roofing material supplier will usually have at least several roofers in mind.
The same could be said about other construction professionals you interact with during your projects, such as architects, designers, and engineers, all of which can provide valuable insights about the quality subcontractors they prefer to work with.
You might also ask home and building inspectors responsible for checking the whole property or different systems (electrical, heating, plumbing, etc.), as they usually know which subcontractors can be relied upon to do a great job.
Finally, local professional construction associations will readily provide a list of their members in your area, while trade schools and community colleges can give you a list of contractors where their students train or do an apprenticeship.
Overall, most of these sources of recommendations can provide a firsthand account of a subcontractor's work quality, trustworthiness, and professionalism, which will allow you to find someone who has already proven to be reliable instead of taking a risk with an unfamiliar subcontractor.
Search for Subcontractors Online
In addition to posting a job ad on your website and online job boards, the internet offers many search options, websites, and databases that allow you to search for subcontractors by location, specialty, and other criteria.
This can be a convenient way to find a subcontractor with specific skills or when working on a project outside your local area of operation.
Of course, almost any search starts with Google, where you can use local keywords such as "electricians near me" or "best plumbers in (city)" to find potential subcontractors.
For instance, your search for "best electricians in Greensboro (North Carolina)" would yield the following results: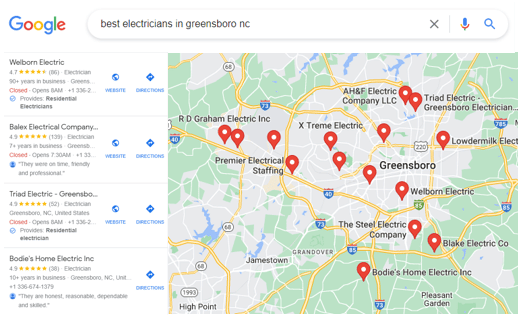 From there, you can look at their website, online reviews, local business listings (and comments below them), and social media postings, as most subcontractors will have at least some form of online advertising.
All this info can help you shortlist potential subs and determine whether they would be a good fit for a specific project or future collaboration.
Of course, there are specialized websites for commercial and residential construction that act as databases of projects in the bidding stage, clients looking for contractors, or subcontractors looking for work, such as Angi and the Blue Book.
For instance, it could also be worth checking out MerchantCircle, a prominent social network for business owners, where you can advertise your business to attract more clients.
However, even more importantly in this context, you can also use it to find and contact potential subcontractors among the network's 2 million members, many of which are in construction.

Whatever your search method, remember that searching for potential subcontractors online should be done as thoroughly as possible to ensure they could be a good fit in terms of qualifications, experience, and quality.
This will prevent problems from cropping up in the hiring process when checking their work history, credentials, references, licenses, insurance, etc.
In summary, when done properly and supported by a solid prequalification process, searching for subcontractors online can be a great way to pinpoint potential subcontractors according to a different location, specialty trade, and other criteria.
Attend a Construction Job Fair
As a general contractor, another way to both promote your business and attract good subcontractors is to attend construction job fairs (i.e., expos) in your area.
Job fairs are useful because they allow you to meet face-to-face with subcontractors, interview them, and gather their resumes.
Of course, they're also a great place to find future clients or potential employees.
And you can use them as an opportunity to make your business stand out by designing an interesting booth and coming prepared with marketing materials like business cards, brochures, and merchandise.
In addition to traditional marketing materials, you can also consider using technology, as Williams Plumbing did.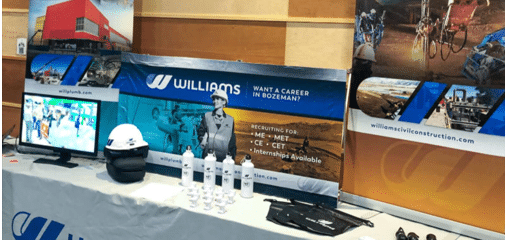 They used a mixed reality headset so anybody interested could see how they model piping and ductwork before construction, which left a lasting impression on potential employees, clients, and subcontractors.
Similarly, you can promote advanced tech solutions used in your construction operations that your subcontractors can use to their advantage, such as an asset tracking app like GoCodes.
This app can ensure that all the tools and equipment used by subcontractors are accounted for (not lost or stolen) and well-maintained, while also enabling workers in the field to quickly find tools or report issues with them.

As construction technology is taking great leaps forward, adopting such solutions can be simple and affordable, and promoting their use at job fairs can be a great way to attract potential subcontractors.
Overall, attending construction job fairs is another good way to both promote your business and make contacts with great subcontractors, especially if you come with a well-designed booth, marketing materials, and some modern tech solutions.
Work With a Construction Recruitment Agency
Finally, you have the option of working with a construction recruitment agency that will find, screen, and recruit qualified subcontractors for you.
Since many construction companies are often repeatedly looking for new subcontractors on different projects, that can start slowing down their operations, even leading to project delays.
That's why general contractors can turn to a construction recruitment agency, which can save them the time and effort put into finding, prequalifying, and recruiting quality subcontractors.
The process is similar to finding skilled workers and starts with contacting an agency of your choice, discussing your needs, and the type of subcontractors you're looking for.
Following that, the agency will scour its databases and identify potential subcontractors who fit your criteria, providing you with a list of qualified candidates, together with their resumes and work history.
You then select the subcontractors you want to interview—and ultimately hire—while the agency provides support, including the necessary paperwork.
Of course, there are many recruitment agencies specialized in construction and related industries, such as Skillwork.

Of course, you should make sure to find a reputable agency and clearly communicate your needs and expectations to ensure that you are matched with the right subcontractors for your business.
Overall, working with a construction recruitment agency can, albeit at a cost, save you a lot of time and trouble by doing the legwork of finding qualified subcontractors for you.
Conclusion
Now that we've gone through five strategies you can use to find great subcontractors—posting a job ad, asking your network, searching online, attending job fairs, or using an agency—it's clear that the first four must be followed by a well-designed screening and prequalification procedure.
When coupled with clear expectations and good communication, applying one or more of these methods will enable you to build your team of reliable subcontractors and ensure the success of your projects.