Implementing a barcode tracking system is a simple and affordable way for construction companies to reduce theft and loss of their tools and equipment.
By doing so, they will also improve equipment maintenance and usage, and increase their company's overall efficiency.
However, to successfully implement a barcode-based asset tracking system tailored to their company's needs, owners and managers must make a series of strategic decisions.
In this article, we've presented those key decisions through six practical tips.
Partner With the Right Tracking Software Provider
Finding the right software for your specific tracking needs is vital, and the software's ease of use and affordability are the priorities.
That said, your decision on who to partner with as your software provider is equally important, as it will shape the experience of using the software.
The decision will depend on all the other considerations covered in this article, such as your hardware requirements, the type of barcode labels the provider offers, or your employee training needs.
As for the tracking software features, you should look for the following essentials: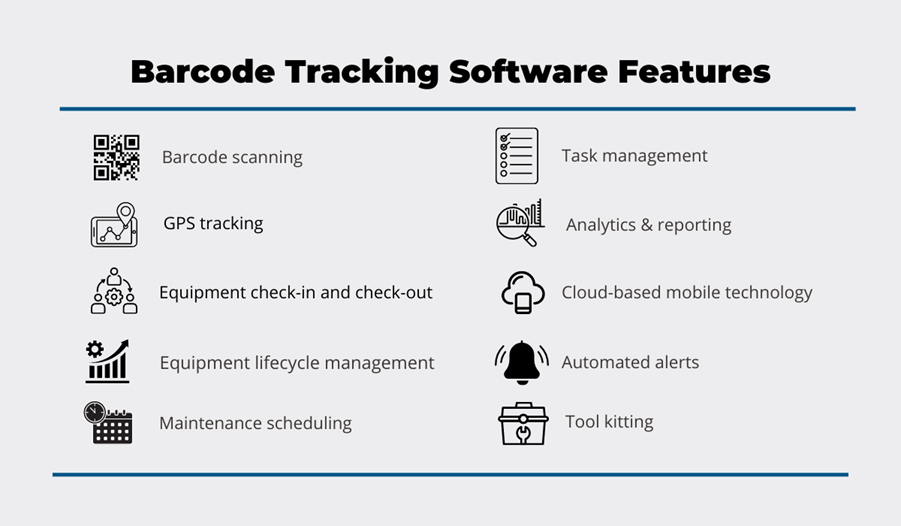 Without going into details, we'll just say that cloud-based tracking software optimized for mobile devices ensures managers and workers can access the tracking system from any internet-connected device (anytime and anywhere).
Likewise, scannable barcodes attached to tools, equipment, and other assets enable the software to provide all the other listed features.
This, in turn, gives your company the visibility and control it needs to minimize asset theft and loss, as well as poor maintenance and maximize operational efficiency.
As for the function of other features, we'll stop here and give an example of such software, namely our asset-tracking solution, GoCodes.

GoCodes is an excellent example of a barcode tracking system that takes advantage of technological advancements that simplify its use and reduce its cost.
This ease of use and affordability are the primary reasons barcode asset tracking is so widely used in different industries, including construction.
GoCodes also fits the description of what you should look for in a tracking software provider.
Simply put, your provider should be an established company specializing in barcode tracking for construction assets and inventory.
Next, it should provide an all-in-one tracking solution, in other words, one that delivers all components of a barcode tracking system: the software, barcode labels, and barcode scanners or scanner apps.
Finally, when needed, the right software provider will provide immediate and practical support during system setup and user training, as well as unlimited phone, chat, and email customer support.
However, before you select your tracking software provider, let's see what other factors you should consider for successfully implementing a barcode tracking system.
Check What Hardware You Need for Your Labels
When choosing an appropriate barcode tracking system, checking what hardware you need for your labels is an absolute must, as this factor reflects on the price, implementation complexity, and efficiency of your asset tracking.
Simply put, you can opt to design and print your own barcode labels—which typically involves purchasing a special printer—but the results of this process are often unsatisfactory.
In other words, designing your labels is time-consuming, and self-printing often leads to lower-quality labels that are easily damaged or peel off over time.
Conversely, these issues are avoided if your software provider delivers labels whose design, size, and print material are customized to your preferences.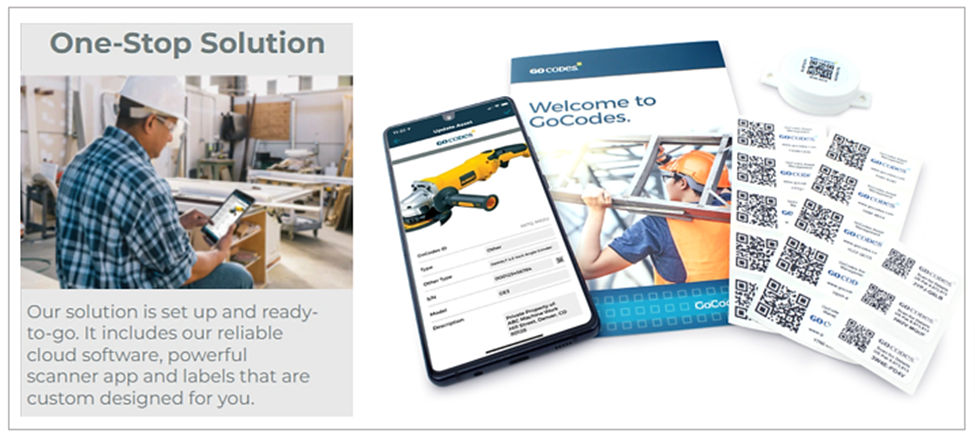 Likewise, understanding what types of hardware (other than labels) your company will need to efficiently run the barcode tracking system is even more important.
For example, some asset-tracking providers offer a package that includes on-premises software, dedicated barcode scanners, and special label printers.
In such cases, your company has to manage software hosting and other IT issues by itself and purchase a sufficient number of scanners and printers, which raises the cost and complexity of implementing the system.

Now compare that to the hardware requirements of a barcode tracking system composed of:
cloud-based software (no self-hosting, instant access)
a scanner app that turns smartphones and tablets into scanners (no scanners)
pre-ordered, custom-designed barcode labels (no printers)
In this case, the only "hardware" you're purchasing are barcode labels or tags, while the tracking software and an in-app scanner are installed on mobile devices you and your staff already have.
Naturally, this significantly lowers the cost and simplifies the implementation of such a system.
Overall, when evaluating your tracking software options, be sure to check what hardware you need for your labels.
Determine the Types of Barcode Labels You Need
Since your barcode system aims to track tools, equipment, and other construction assets, you should determine what type(s) of barcode labels you will need.
In other words, you need to identify what assets you will track and the environment in which they'll be used, as that will help you determine what labels are most suitable.
For example, smaller construction tools, IT equipment, and various instruments and devices can be labeled with light-duty polyester tags that are great for indoor applications.

Conversely, outdoor equipment and larger and/or more valuable tools might require a more durable solution, such as a metal tag that can be screwed, glued, or tied to an asset.
Likewise, besides the operating environment, there are other factors to consider, such as the asset's value and useful life or potential security features like tamper-proof labels.
Naturally, the right tracking software provider (all-in-one package, specialized for construction) will be able to provide expert advice to help you determine the most suitable barcode labels for your various construction assets.
Include the Necessary Information in All Your Labels
Once you decide what type of labels you need, it's time to determine what information (in addition to the barcode/QR code) should be printed on your asset labels.
Although this ultimately depends on the label size, you still want to achieve a uniform design that will fit onto different-sized assets, from small precision tools to large equipment.
For instance, a standard label size of 2×1 inch (5×2.5 cm) should contain at most four lines of short text.
Here's an example.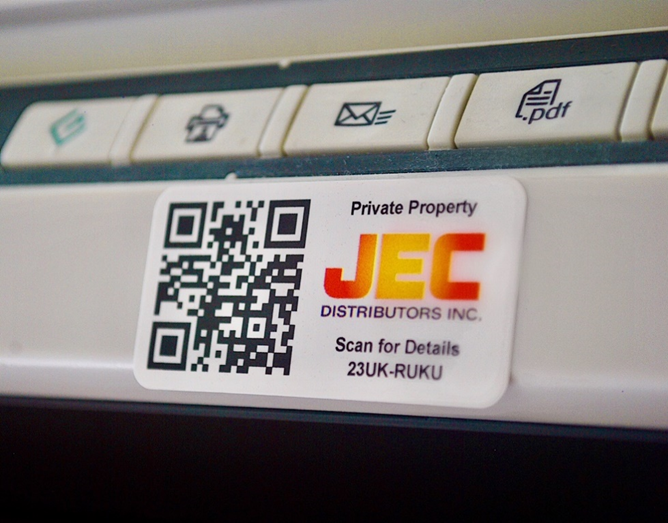 As you can see, you can include your company logo, especially when that logo includes the name of your organization.
In any case, you should clearly state the asset's owner.
Remember, if your asset is stolen or lost, the label acts as proof of ownership when the asset is found, so it can make reselling harder, and help in asset recovery.
Moreover, you can add "Scan for Details," indicating that the label can be scanned by any good Samaritan who wants to report they found your lost or stolen equipment.
All in all, deciding what information to include in all your labels is an essential step in implementing a barcode tracking system.
Place Labels Where They Will Be Easy to Scan
When label placement is concerned, you want to make scanning as fast and easy as possible while avoiding places where the label might be damaged.
First, it should be noted that both of these concerns can be alleviated by opting for quick response (QR) codes instead of traditional barcodes.
Why? Because, unlike their predecessors, QR codes can be scanned at any angle and can be read even when the barcode is damaged.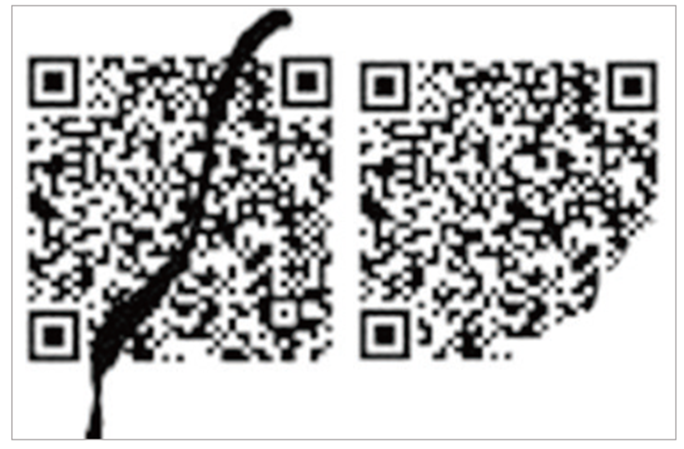 This means that, for example, you don't have to worry about the angle at which the scanner must be positioned, as you would with a traditional barcode, which is a time-saver and efficiency booster.
Likewise, although you generally want your labels protected from damage, QR codes will retain functionality even when damaged by an accident or the asset's wear and tear.
In general, you want to attach asset labels in easily visible and unobstructed spots, which—depending on the asset type—include flat surfaces, handles, or control panels.
When placing labels, consistency can also play a factor.
For example, if you have four backup generators, their labels should be found in more or less the same place on all of them.
To sum up, you should use QR codes and affix asset labels where they will be easy to scan, thus minimizing the scanning time and maximizing user convenience and efficiency.
Train Your Employees to Use the Tracking System
Although most barcode tracking solutions demand little or no training, it's still important to train workers and managers on how to effectively use the tracking system.
For example, they should be shown how to check tools and equipment in and out of storage (or exchange them on-site) using the tracking app.
This tracking system feature enables them to scan the tool they're taking and scan it again when returning it while the software records these actions in a check-in/out log highlighted below.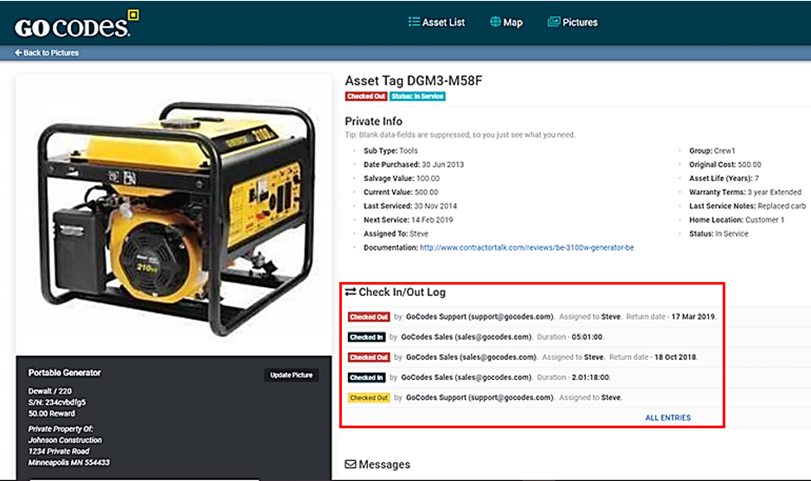 When workers know their responsibility for tools and equipment is recorded and tracked, this can effectively minimize theft and loss, improve worker accountability, and reduce negligent handling or improper operation of tools and equipment.
Moreover, workers should be aware that the asset's GPS location is automatically captured every time a barcode label is scanned, allowing them to easily and quickly find where assets are in the software's central database.
Of course, training should also include instructions on using other relevant software features, such as reporting breakdowns, or performing maintenance and inspections.
All in all, you should look for user-friendly software that requires minimum employee training focused on practical aspects of using the tracking system.
Naturally, this training should be supported by your software provider in the form of great video tutorials and help center articles, as well as excellent live customer support.
Conclusion
In a nutshell, to successfully implement a barcode asset-tracking system, you first need to consider the tracking software (ease of use, affordability, features) and its provider (one-stop solution, system setup, and training support).
While doing so, you need to determine what hardware and types of barcode labels best fit your tracking needs and budget, affix the labels in the right place, and train your employees to use the tracking system.
Applying these tips will enable you to easily, efficiently, and cost-effectively track your tools, equipment, and other assets, minimize theft, improve maintenance and usage, and streamline your construction operations.