If you're a construction company owner or manager looking to minimize theft and loss of your tools and other assets used on jobsites—while also improving your company's overall performance—you need tool management software.
However, if you're here, you've likely already faced the extensive online offer of different software solutions intended for this purpose.
In fact, you may even feel a bit overwhelmed by their long list of "must-have" features and options.
And you're probably aware that not all software systems will fit your company's specific needs and preferences, nor will all their features be relevant to you.
Therefore, to help you sort out what's important and what's not, we rounded up ten essential features your tool management software should have.
Barcode Scanning
The first feature we'll cover is barcode scanning. It refers to barcode labels affixed to construction tools and equipment that are scanned using dedicated barcode readers (hardware) or built-in scanners (software)—or both—delivered as part of your tool management package.
That said, using special scanning devices of any kind makes the entire tool management system more expensive and unwieldy.
Even when they're portable and internet-connected, separate scanning devices are a less practical solution than in-app scanners.
That's because digital scanners allow you to scan barcodes with your smartphone or tablet, eliminating the need to purchase additional equipment just for scanning.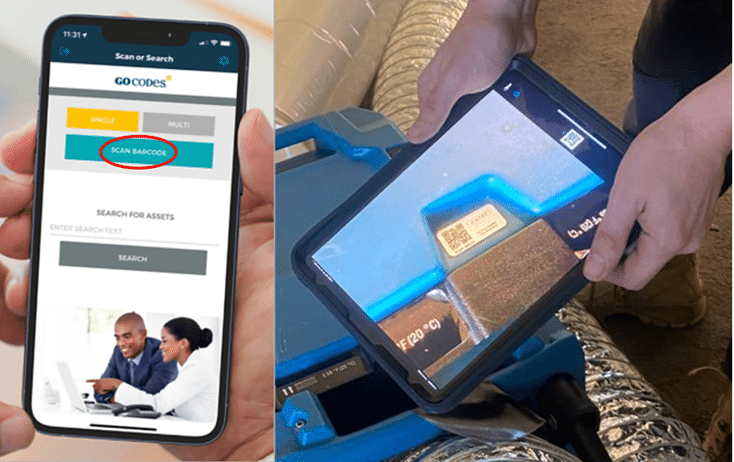 The same affordability and convenience extend to selecting barcode or QR code labels as the primary tool tracking method compared to, for example, GPS trackers, RFID, or NFC tags.
In other words, despite the advantages some of these methods can bring, barcode tags are by far the most practical and affordable method for tracking construction tools, equipment, and other assets.
In short, tool management software with barcodes and a built-in barcode scanner provides the best and fastest return on investment (ROI), due to its ease of use and affordability.
For example, our tool tracking software, GoCodes, ticks both of those boxes.

As you can see, GoCodes is based on durable QR code labels (attached to your tools), a built-in scanner app, and cloud software (installed on your devices).
Combined, these three components (labels being the only "hardware") make for a user-friendly and cost-effective tool management system.
Moreover, GoCodes—unlike many tool management software providers—keeps the entire process of customizing barcode tags in-house.
In other words, you'll be dealing with only one company when deciding on the label design, size, and material, as well as when setting up and implementing the tool management system.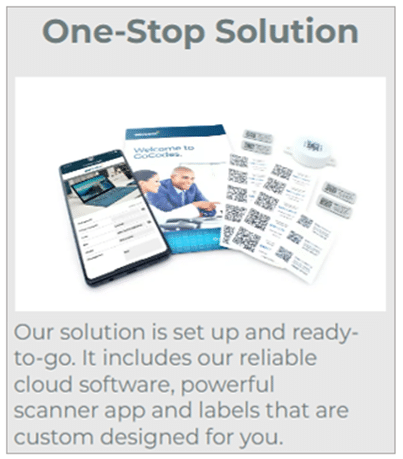 When a software provider provides a fully integrated service, this enables them to extend the principle of simplicity and affordability to all processes associated with running an efficient tool management system.
Therefore, given these practical advantages of using barcodes and in-app scanners—as opposed to separate devices and other tracking methods—barcode scanning is an essential software feature, best delivered as part of an all-in-one tool management package.
Tool Lifecycle Management
This overarching feature allows your company to monitor the entire tool lifecycle from acquisition to disposal and make better-informed tool management decisions to maximize their use and lifespan.
Simply put—after the tools are tagged, and the system is populated with initial data—the software's database will hold and continue to collect a lot of valuable data.
What's more, the software will allow users to access any tool's info portal and pull up information crucial for efficient tool lifecycle management, such as:
item identification, manufacturer, purchase date, and price
past users and locations
maintenance and repair history
As shown below, any tagged piece of equipment has its own page with relevant information, and history can be accessed to review different performance parameters.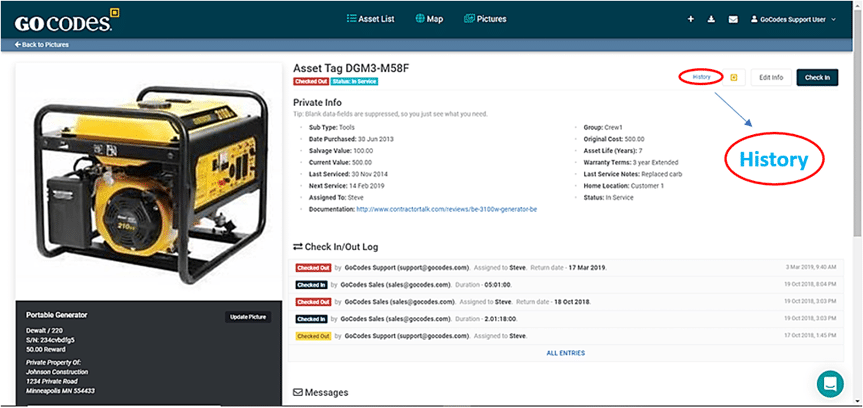 When all this data is analyzed, and reports are generated (we go into this later), it provides invaluable insights into the lifecycle of your tools and equipment, allowing you to:
determine the useful life and lifecycle costs from tool acquisition to disposal
calculate depreciation for accounting and tax-saving purposes
optimize tool allocation, maintenance, and procurement
In practical terms, this feature can help you:
make better-informed tool repair-or-replace decisions
avoid unnecessary tool purchases, overstocking, and understocking
reduce tool loss and theft by keeping an accurate and up-to-date inventory
To summarize, the lifecycle management feature—powered by data collected and analyzed by your software—enables you to monitor and improve the lifecycle of your tools and equipment and generate cost savings.
Tool Check-in and Check-Out
The components of your tool management package—labels, in-app scanner, and software—enable you to establish a user-friendly tool check-in/check-out system.
In other words, workers can easily check out tools from the tool room and return them, and these actions are recorded by the software every time a tool is scanned.
Of course, tools can be checked out and checked back in by an inventory manager or equipment coordinator.
However, this feature also enables self-service, where workers scan the tool when taking it from the tool room and scan it again when returning it.
In such cases, the inventory manager or equipment coordinator can only supervise the process.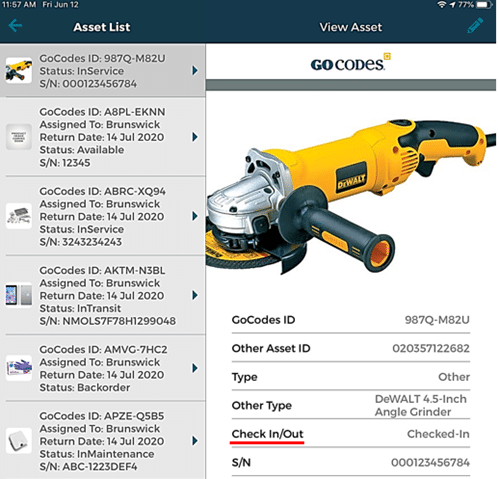 Best of all, workers can now exchange tools directly on-site, and the system will record the chain of custody.
The benefits of establishing an automated check-in/check-out system are numerous, but here are the highlights. Such a system:
keeps accurate real-time records of who is using tools, their availability, and their location
increases worker accountability, ensuring that tools are returned on time and in good condition
minimizes careless tool handling, misplacement, and theft
Most tool management software providers highlight this crucial feature and its many advantages, so look for a simple, fast, and user-friendly check-in/check-out system.
GPS Tracking
Naturally, we're not talking about attaching active GPS trackers on all your tools and equipment—as that would be too expensive and impractical—but about automated GPS location updates when the tool's label is scanned.
In other words, construction companies often use GPS trackers to track the real-time location of their vehicles and heavy equipment, but that's not feasible for smaller-sized assets like power tools, measuring devices, hand tools, and accessories.
That's why companies turn to other location tracking methods, such as RFID tags, Bluetooth beacons, or other methods that detect the tool's location remotely, but only within a limited area.
An elegant and cost-effective alternative to these methods is based on automated GPS location updates, where the software records the tool's location using the GPS function of the device used to scan it, i.e., a smartphone or tablet.
Each time a tool is scanned, the software will update its GPS location and show it on a map.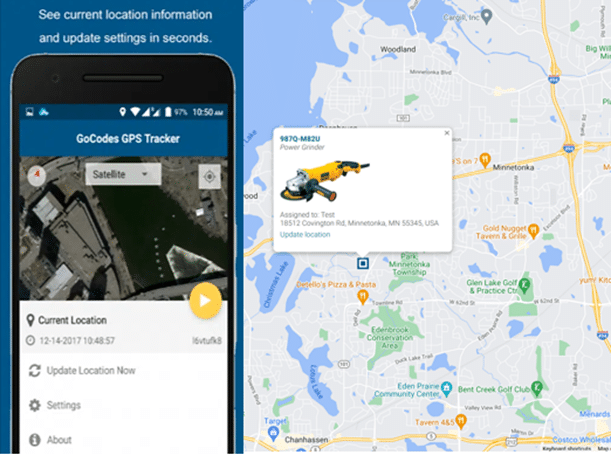 Long story short, this scan-triggered GPS tracking feature allows you to view the last location where the tool was scanned along with a history of past locations and users, thus establishing a transparent chain of custody.
Needless to say, this software feature—in an elegant and cost-effective way—increases worker accountability and helps you locate misplaced, lost, or stolen tools, making it a " must-have " feature.
Tool Kitting
The next important feature of tool management software enables managers and other employees to group tools and track them as a single unit, making it easier to organize and manage tools.
We're talking about tool kitting, of course.
In other words, you can group tools needed for a specific construction task in a single kit.
From that moment on, that kit is treated as one asset in the software's database, thus facilitating the scheduling and transport of grouped/kitted tools and equipment.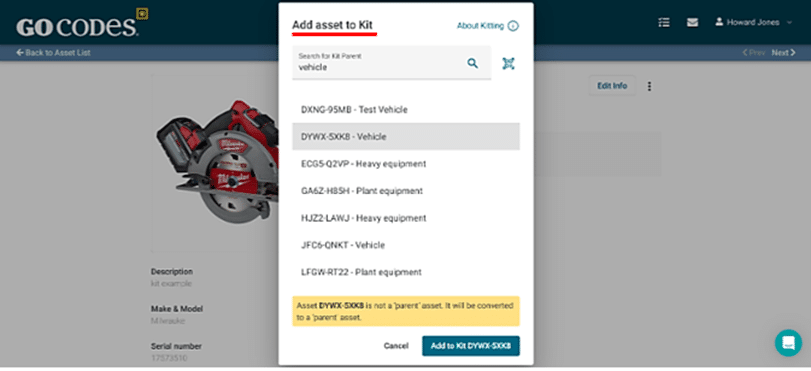 For example, you can create a kit of tools and equipment to be transported to a specific site, so the equipment manager can assign the entire kit to a particular worker, instead of having to do so for the individual tools within it.
To summarize, tool kitting is a valuable tool management feature that further streamlines tool organization, allocation, scheduling, and transport.
Task Management
Tool management software should have a task management feature that allows construction companies to assign tool-related tasks to their employees and track their completion.
Simply put, when the inventory list of all tools and equipment is easily updated, and employees can easily access it, you can assign tasks involving those tools to specific employees, teams, or projects.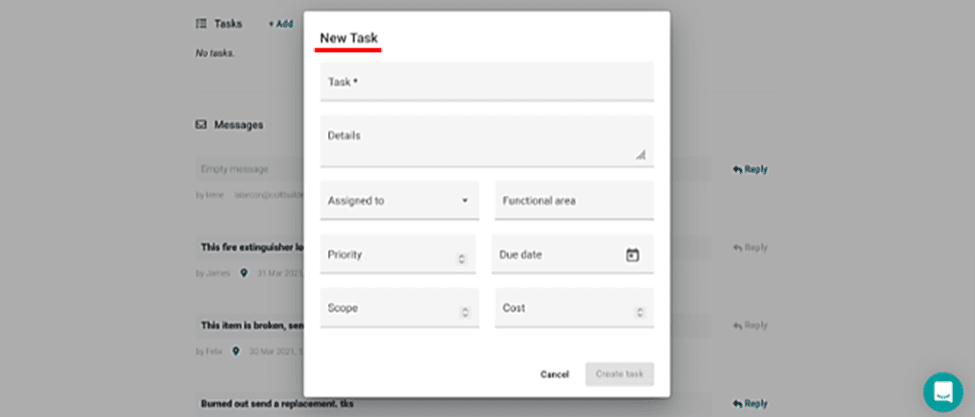 Outside of scheduling maintenance tasks discussed in the next section, this feature allows you to, for example, reserve tools (or kits) for a specific period, ensuring that they're available when and where needed.
Furthermore, the ability to add, update, and manage tool-related tasks also enables you to set automatic reminders.
The assigned employee(s) will receive a task alert on a predefined date. This functionality is also explained below.
After completing the task, the responsible employee can (be instructed to) record that the task is finished in the software app and can—if needed—add task-relevant notes and images.
Overall, this feature of your tool management software, when combined with other features mentioned here, allows you to assign various tool-specific tasks to your employees and track their completion in real time.
Maintenance Scheduling
To recap before we move to maintenance scheduling, the tool management software features described so far enable users to access the app and view the current location and availability of tools and equipment in real time.
Furthermore, they can review the complete usage and maintenance history of any tracked asset (e.g., power tool, generator,…) and assign assets and asset-related tasks to specific workers or teams, depending on their user role.
Naturally, all this means the software app also allows managers to plan, schedule, and monitor regular maintenance tasks, assign them to individual service technicians, and ensure they're notified.
This short GoCodes video about scheduling future service tasks is a good example of how simple it can be to set up maintenance tasks.
Of course, efficient maintenance goes beyond routine upkeep activities, and includes handling breakdowns and the resulting unplanned repairs, sometimes on-site.
In such cases, this feature is also highly useful because it cuts down the reaction time, allows easy rescheduling of technicians, and enables quicker repair or replacement.
To recap the strengths of maintenance scheduling, this feature enables you to schedule future maintenance tasks, improve regular maintenance practices, and quickly react in unexpected situations.
Automated Alerts
To best utilize task management and scheduling features, your tool management software should allow you to set up automated notifications, to be sent to those responsible for tool management.
These alerts are displayed in the software app and sent to the email addresses of persons you designate as receivers.
For example, this feature allows you to enable scheduled maintenance notifications and overdue tool reminders, both triggered by a specific date.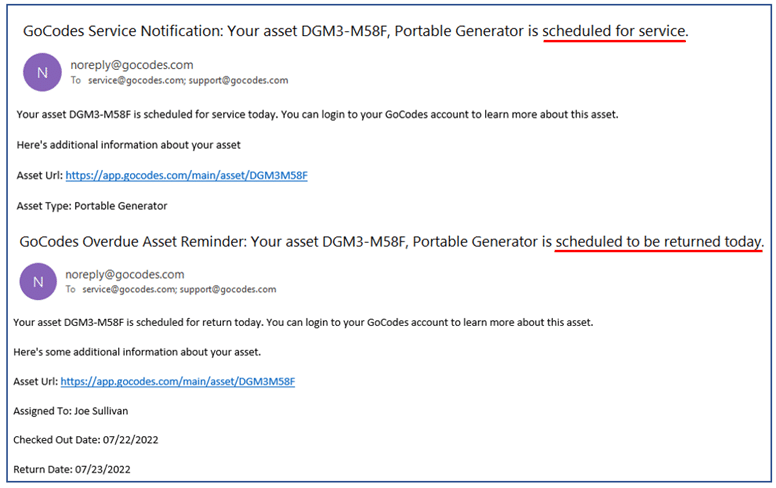 Another type of automated notification are low-quantity alerts.
They are triggered—and sent—when the software's inventory tracking feature detects that the quantity of items in a particular container/box has fallen below a predetermined number.
This is useful when dealing with spare parts, cables, tool attachments, and other consumable items and ensures that inventory stocks can be replenished in time.
Given their exceptional usefulness and simplicity, automated alerts should be integral to your tool management software.
Report Generation
Report generation as a feature of your tool management software allows you and your team to create custom reports using the data stored in the software's database.
This provides your company with the means to analyze the data, gain valuable insights, and make better-informed decisions.
These reports—just like data fields and other elements—should be customizable.
In other words, you should be able to filter and combine different data parameters and analyze them in the way that best suits your tool management needs.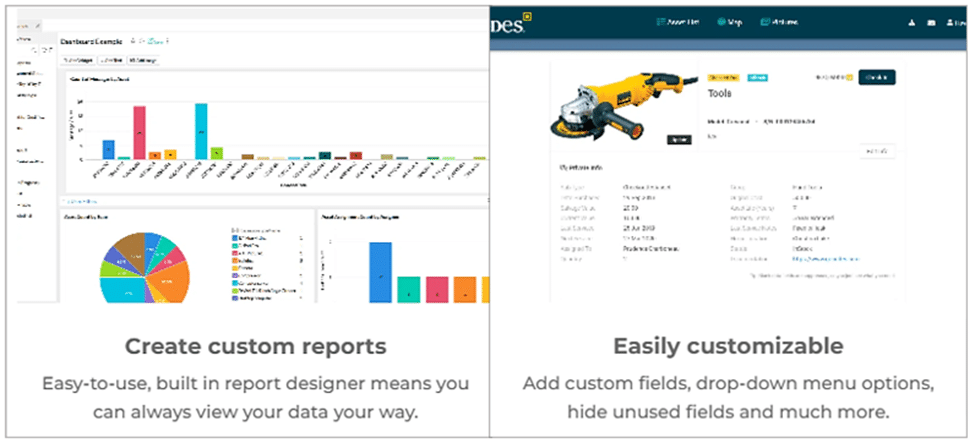 Put simply, managers can generate reports about, for instance, tool usage across multiple jobsites, helping them detect underused and overused assets and take corrective action.
They can do the same for lost/stolen tools, where reports can help identify weak spots in jobsite security or worker accountability.
Considering that custom report generation only becomes more useful as time passes and data accumulates in the software's database, this is an essential feature that allows your company to improve tool management processes across the board.
Cloud-Based Data Storage
In the same way that your reports allow your managers to excel at their jobs, cloud-based tool management software makes everyone's job easier.
Actually—when compared to on-premise software and all the associated hardware, installation, and upkeep costs—cloud-based solutions come on top not only because they're more affordable but also provide instant access to real-time data.
Put simply, both your software and its database are kept secure, regularly backed up, and continuously updated in the cloud maintained by your software provider.
This means online data storage can be accessed anywhere, anytime, using any internet-connected device.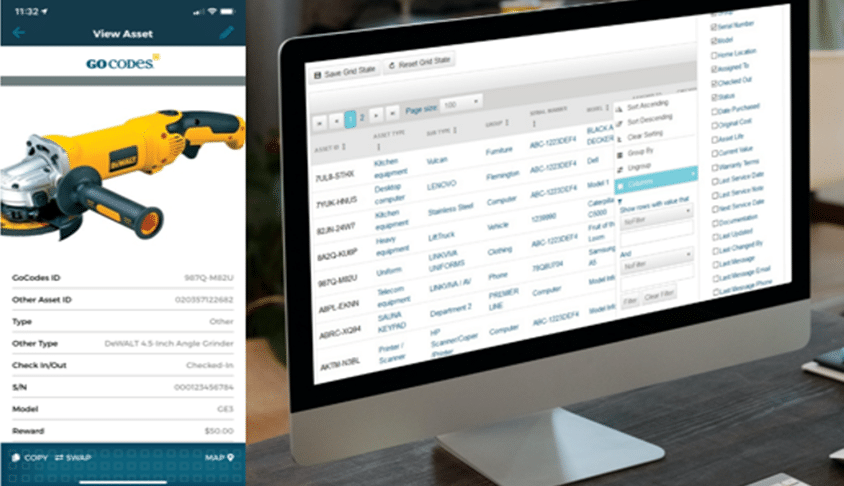 Long story short, on-premise software is more costly and less efficient in providing everyone with secure access to real-time data from any place and device, whether in the field or office, along with other benefits.
Given that most tool management solutions nowadays are cloud-based, your search efforts should focus on the three fundamental principles we already mentioned—simplicity, ease of use, and affordability.
Overall, cloud data storage helps everyone do their job more efficiently and provides them with the information they need for better decision-making on all company levels.
Conclusion
If you want tool management software to help you minimize the chance of theft or loss of your tools, increase worker accountability, and streamline overall tool management, you should look for a solution that has the above essential features and is cost-effective and user-friendly.
With an effective tool to manage your tools, you can take your construction company to the next level of operational efficiency and achieve cost savings and productivity gains across the board.