Whether you work in a retail industry or your company provides a service, inventory is an important part of your company's success. You'll need a detailed inventory check before you file taxes for the year, and this often means hours of counting, recounting, and keeping records. Fortunately, QR codes make the process simpler and more efficient.

QR Codes vs. Barcodes
QR codes and barcodes seem to serve the same purpose when it comes to inventory management, but QR codes are better in several ways.
QR codes can store far more information than any barcode, which allows you to store information along with your counts. For example, if some of your inventory depreciates over time, you can keep this information current with QR codes.
QR codes can be scanned with smartphones and data can be stored in the cloud, allowing you to access it anytime from anywhere. Expensive barcode readers must be tied to nearby equipment, such as a computer.
The software that comes with QR codes is far more user-friendly, and it allows you to keep real-time, accurate information all year round. This makes year-end inventory simple.
Replace Your Antiquated Counting Methods
Year-end inventory requires counting each and every item in your possession, all the while keeping careful, accurate records. In most cases, you must count your inventory two or three times just to be sure your records are completely accurate. If you're waiting until the end of the year to reconcile your inventory, the truth is that you're just making it harder on yourself – and more expensive, too. That's why these methods are considered antiquated; today's technology makes things far simpler. With QR codes, you can keep accurate inventory all year long, which makes year-end inventory a snap.
No Disruption in Operations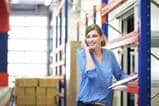 All too often, year-end inventory is an all-hands-on-deck type of event. Everyone must help sort, count, and document inventory, and because everything must be so precise, it can disrupt operations. Using pen and paper or a spreadsheet makes it difficult to account for inventory coming in or going out during the process, so it's often necessary to completely halt operations until the inventory has been completed. QR codes allow you to keep track of inventory without disrupting your operations. By scanning items as they come in or go out, you can automate part of the process and continue serving your customers, even as you count.
Better for Tax Professionals, Too 
There are two main reasons for year-end inventory checks. First, they allow companies to reconcile their inventory and ensure that everything is brought back up to par. Second, they do it to provide tax professionals with information about sales and depreciation. Because QR codes can store vital information all year long, and because all that information is stored in the cloud, it's easy to generate a report on-demand to send to your tax preparer. This makes everyone's job easier.
Year-end inventory can be tedious and time-consuming, and in some cases, it may even disrupt your operations. When you use QR codes all year round, things are much simpler. In fact, it can cut your year-end inventory time by more than half, and it can allow you to continue your operations, too.