Good construction companies always find ways to optimize processes to deliver projects without sacrificing quality. But as anyone knows, this is not something that can happen overnight. 
Only with continuous improvement can you ensure efficiency in construction project operations. This means reducing idle time, minimizing material waste and rework, and streamlining project planning.
Your goal with improved construction efficiency is to generate more significant profit with the same resource input. This can scale your company and turn it into a formidable competitor in the construction industry.
But first, let's consider the necessary steps you need to take to boost your operations and deliver projects both on time and within budget.
Establish Current Benchmarks
The first step in setting goals for construction efficiency is to review your current benchmarks in order to establish new ones.
Where do you currently stand? Analyze where you're hitting your production targets and where you're lagging.
Establishing a system you can consistently monitor will help your projects progress faster, and you'll preserve the expected quality of the finished work.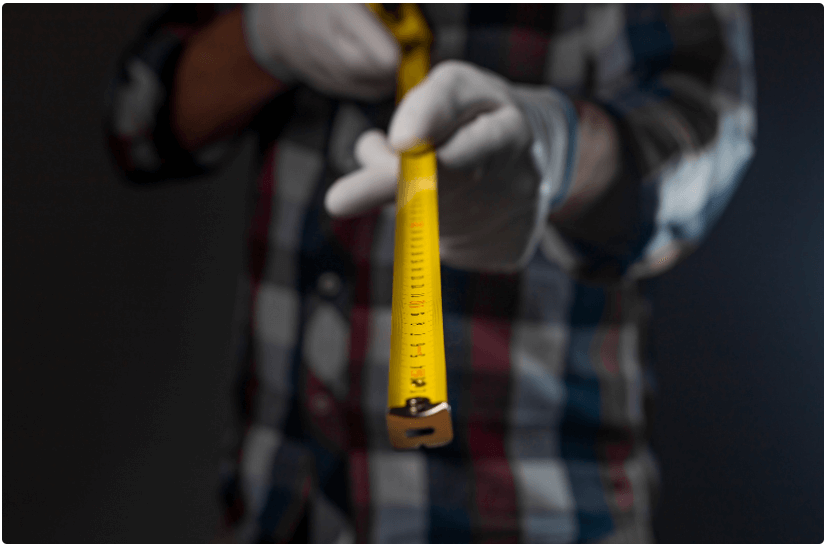 Your benchmarks can cover a wide variety of construction tasks, but they are commonly used to track the worker's progress.
For example, you might set a benchmark for a plumber to install a specific length of pipe. Or a drywall contractor will need to finish a specific number of square feet of drywall.
If those workers are failing to meet the established benchmarks, don't immediately assume it's their fault.
There could be other factors that prevent them from accomplishing the required work. Maybe the material wasn't delivered, or certain designs weren't approved on time. 
That's what effective monitoring will help you determine.
Benchmarks are here to help you assess problems in all aspects of the project. Basically, consider them stepping stones towards your larger construction efficiency goals.
Determine the Scope of the Project
Construction projects are notoriously complex, and project managers need to organize them systematically and transparently.
To do that, they need a good overview of the specific tasks that need to be done. Then they can delegate them to the right people in the right order to maximize construction efficiency.
So, the most straightforward solution is to prepare a work breakdown structure. But what is that?
Work Breakdown Structure (WBS) is a method of dividing construction work into smaller and achievable tasks used by project management. It also makes monitoring the project easier.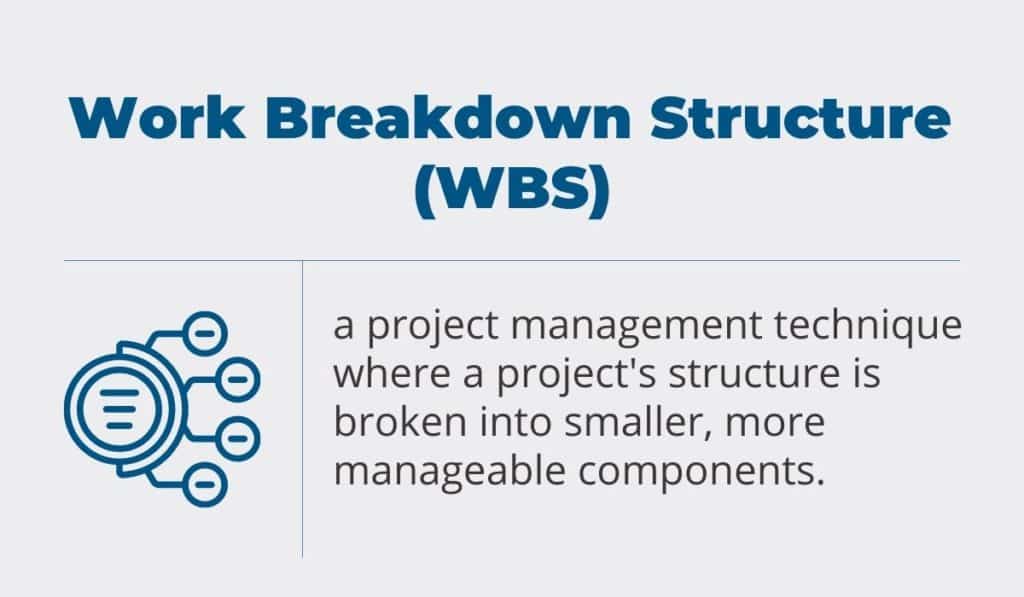 For example, scheduling can be better organized when it's set according to an individual task. 
So, instead of setting a general deadline for putting in the foundations, break down the schedule by determining separate deadlines for marking out trenches and corners, digging, and finally, for the arrival of concrete trucks.
Now, if a problem occurs, you'll know exactly what's caused it, and you'll be better able to prepare solutions.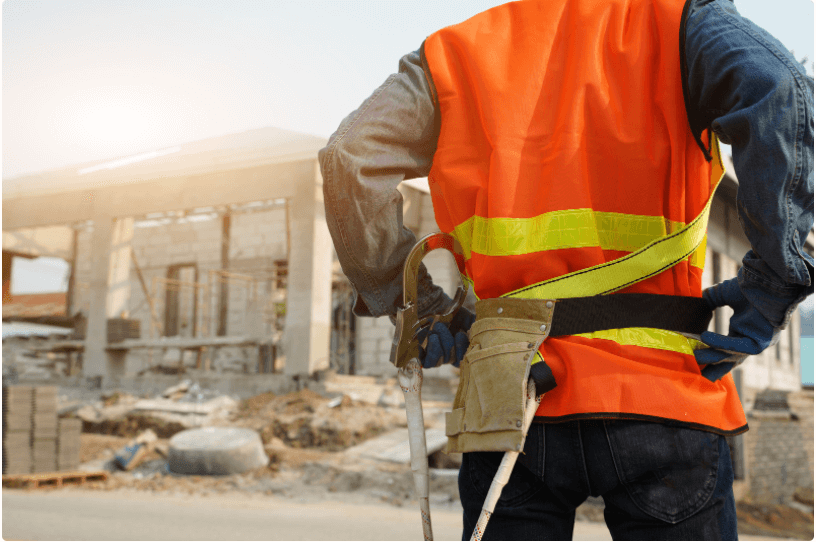 Other areas WBS is useful for are: 
Reporting
Cost control
Planning
Worker's time management
Any time you break down a complex process into individual parts, you create more opportunities for operational efficiency.
Review Your Workflows
When you segment your workload properly, each stage of the construction process is streamlined.
When every stakeholder has a clear understanding of their tasks, deadlines, and procedures, coordinating the construction site becomes more manageable.
Therefore, it's important to look at your processes and analyze what you're doing wrong and what could be improved.
So if you want to set better goals for construction efficiency, see how you can realign your daily workflows. Here are some areas you can review for improvement:
| | |
| --- | --- |
| Preconstruction | Ensure that stakeholders are equally involved in the planning, bidding, and procurement process. Collect necessary documents to start the project off on the right foot. |
| Building information modeling (BIM) | Identify duplicate, incorrect or missing information when creating 3D models of a project. Structured and correct data throughout a project's lifecycle is essential for construction efficiency because it minimizes rework and construction defects. |
| Submittals | Collecting and reviewing submittals can be long and hard. Even if you ensure that all contractors cover each aspect of the project, you can still make mistakes. |
| Request for information (RFI) | If you don't want your project to suffer from constant rework, RFIs are a necessity. Streamline this process with digital solutions so you won't have to deal with unanswered RFIs. |
| Punch lists and Closeout | Manually managing punch lists and the closeout process is a recipe for delays. To prevent those delays, you have to conduct this part of the process properly. |
If problems pop up when construction starts, your productivity will suffer and make you look incompetent. So if you want to achieve your construction efficiency goals, start by improving your workflows.
Identify Productivity Barriers
What are the main drivers of on-site productivity?
The answer is twofold: equipment and workers. They are the ones who take a construction project from a pile of dirt to a magnificent finished construction.
One can't go without the other—if equipment breaks down, workers won't finish their jobs and vice versa. 
Thus, you need a thorough look into how equipment and workers contribute to the overall on-site productivity if you want to set your future goals properly.
Let's start with the equipment.
Specialized pieces of machinery require special care. Regularly servicing your equipment and checking for performance anomalies will ensure your workers are always handling top-of-the-line machinery. 
And the results? Apart from construction efficiency, proper care ensures that the equipment lasts longer and performs better with a bonus of reduced owning costs.
Remember that boosting construction efficiency is impossible if you don't actively track and monitor your equipment.
Solutions like GoCodes help you track your assets and provide a comprehensive view of your entire fleet. You'll easily monitor use, schedule maintenance and maximize their performance. 
Now, when it comes to worker productivity, low efficiency is often a consequence of disorganized workflows.
For example, ACT Building Systems interviewed a contractor for tips concerning the construction of steel buildings. The contractor's main advice was to increase efficiency by doing one part at a time but doing the entire job at once.
So, if you're assembling rafters, do all of them at once, so you're not constantly putting down or changing tools. Basically, fewer hours will be needed to complete a job, and the extra profits can go into your pocket.
To sum up, if there are some problems with on-site productivity, you'll usually find them with equipment or field workers.
Collaborate With the Team When Setting Goals
Construction projects are collaborative processes that require input from different stakeholders. So, if you want to create better goals for construction efficiency, you have to work with a team.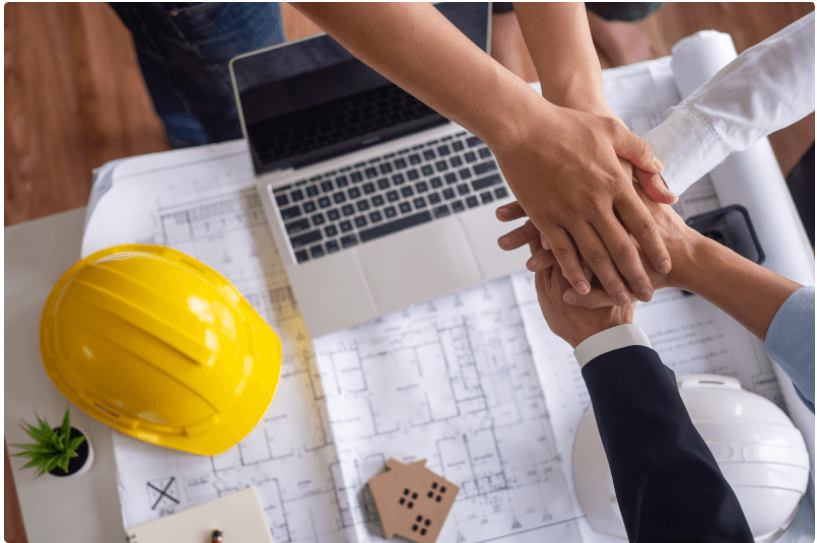 You have to allow different people to offer their own perspectives and bring their own expertise to the table if you want to set and achieve sensible goals.
For example, planning for all the changes that can happen during construction early on will significantly improve efficiency in the execution stage.
So what can you do? According to Kienen Koga (project engineer at PCL Construction), it is a good idea to bring contractors into the design phase to brainstorm with the design team for constructability issues and answer any questions.
That way, once the building starts, there will be fewer conflicts, allowing you to achieve your goals with speed and efficiency.
Koga also adds that communication in construction is essential, and notes that his biggest pet peeve is when people hide behind emails.
He prefers face-to-face communication because it is the best way to find solutions and explain your point of view. 
In the end, your entire team is working towards one final outcome: a successfully completed construction project. So, don't neglect teamwork in setting construction efficiency goals to accomplish it.
Employ Construction-Specific Software
Do you know the secret to the success of today's top construction companies?
They are better at gathering and analyzing data. Or, to explain it further, once they looked at hard facts behind their performance, productivity, and safety, they used that information to set better construction efficiency goals.
Currently, 60% are using a cloud-based solution for gathering data, but that number is set to grow to 80% in the next three years.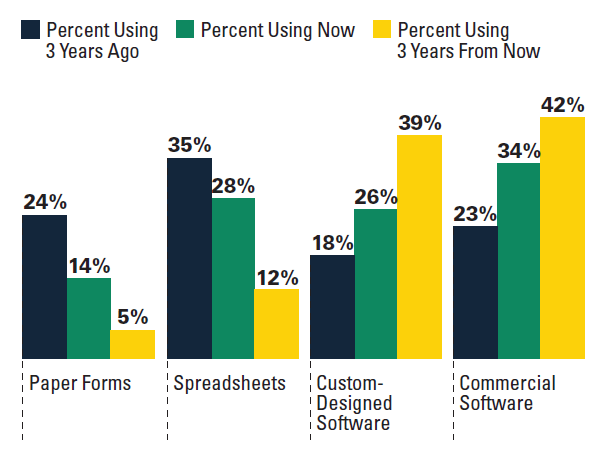 What do they see in construction management software? 
First, different kinds of software have helped construction companies streamline and organize their core operations.
Handling bidding, invoicing, reporting, and job scheduling is much easier when one central source manages all the crucial information.
Here's how CR Construction from Hong Kong uses Novade in their projects.
The company has opted for the platform to improve site quality and manage safety. 
Before using Novade, every worker was overwhelmed with paperwork while striving to comply with standard procedures, on top of their actual construction work.
Implementing Novade has enabled workers to simply log the inspection information using their mobile phones, saving the company time and money.
Moreover, gathering reports from a centralized system enabled project managers to understand on-site problems better, track quality data, and promptly intervene to solve issues.
The lesson from CR Construction is that the less you have to rely on paperwork, the more efficient you will be.
So, consider the following construction-specific software to help you set and meet your efficiency goals:
Mobile construction software
Project management software
Fleet management software
If you're serious about construction efficiency, construction software is no longer an option but a necessity.
A dedicated piece of software, such as GoCodes, will automate your work, allow you to store important data, and ultimately keep your construction project on track. It's the best way to set your construction company up for success.
Conclusion
Improving operational efficiency can only be done by developing predictable processes.
Simply put, if you take time and effort into reviewing different aspects of a project (from benchmarks and scope to team communication and workflows), you'll detect where there's room for improvement.
Balancing all of the elements of a project should ensure that you deliver cost-effective results without sacrificing quality and productivity.