Construction sites are action-packed places. Workers carry out their tasks, often on tight deadlines, handling various tools and equipment.
In such a dynamic environment, countless tools exchange hands in short amounts of time, so it's essential that they are managed properly.
One way to make tool management more efficient is to rely on tool kitting, the practice of grouping tools into a unified set.
If you have a toolbox in your garage, you're already familiar with toolkits. A toolkit is simply a set of several tools, often similar in size, that you tend to use together.
The benefits of having such a kit are numerous. Everything is stored in one place, so it's easy to find, which saves time and increases productivity, allowing you to focus on the task at hand.
The same applies to tool kitting in construction.
In this article, we'll explore the five important benefits of tool kitting and explain why it's so valuable for construction professionals.
Streamlines the Process of Tracking Tools
Tracking tools in construction can be highly challenging due to the large number of tools, their variety, and their size differences, but if the process isn't well organized, it will create significant setbacks for the company.
Therefore, it's important to make the tool tracking process as efficient as possible.
Grouping tools together and tracking each kit as a single asset simplifies tool tracking and makes it more practical.
After all, it is much easier to track one asset, instead of twenty. When you're tracking individual tools, there's a higher risk of the pieces getting lost or stolen.
Conversely, tracking kits instead of individual items minimizes the chances of the tools getting misplaced.
Let's see what that looks like in practice.
For instance, the tool kitting feature provided by GoCodes treats each kit like an individual asset.
Not having to treat each item inside the toolkit separately makes it easier to keep track of where the kit is located, and who is responsible for it, while also accounting for the tools within it.
The photo below shows what the tool kitting feature looks like in GoCodes.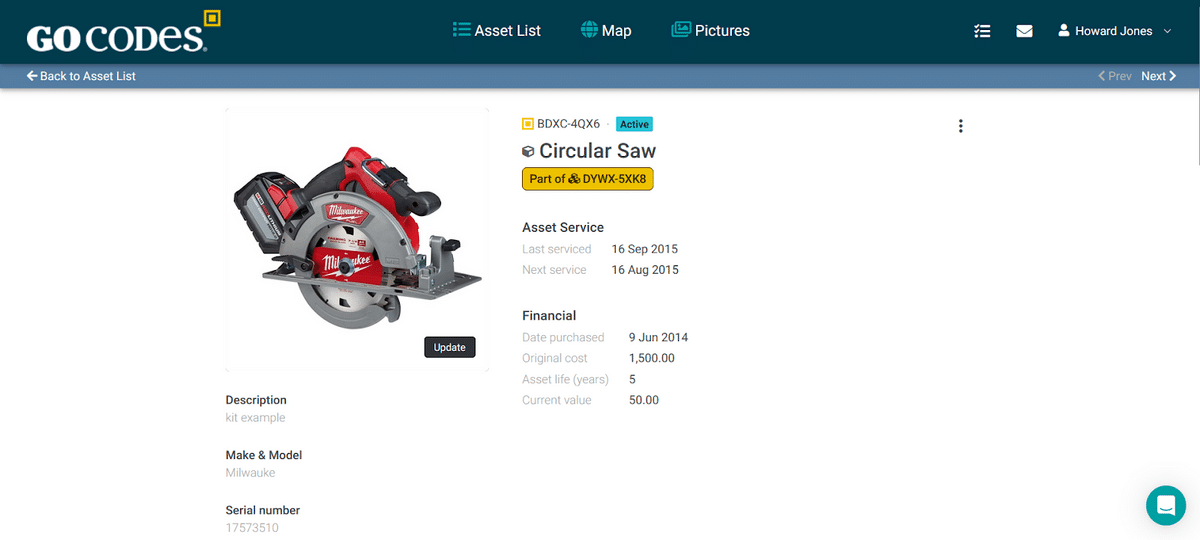 As you can see, the image shows a circular saw that has been added to a kit.
Anyone who views the entry for the saw can see a label, highlighted in yellow, indicating that the saw has been assigned to the vehicle kit.
The viewer can then click on the message Part of DYWX-5XK8 and be redirected to the entry for the kit, where all of the assets assigned to it are listed.
All of the tools will be in one place and well visible—and those are two of the most important characteristics of a tool kit.
To learn how to add tools into kits in GoCodes, check the step-by-step tutorial, available here.
Reduces the Time Spent on Searching for Tools
When tools that are often used together are grouped into kits, workers don't have to spend as much time looking for them.
Everything they need to complete a particular task is available in one place, which makes finding what they are looking for much more straightforward.
In other words, workers don't need to waste time searching for a specific tool or, in the worst-case scenario, leave the site altogether to collect misplaced tools.
The value of such an approach is backed by research.
A study conducted at the Department of Civil Engineering at Aalto University in Finland has shown that organizing items together can increase on-site productivity in the construction industry.
Although the study in question focused primarily on material kitting—assembling materials into location-based and task-based kits and delivering them on-site—it nevertheless makes a compelling argument regarding the usefulness of introducing kitting into the construction industry.
Therefore, it's worth taking a look at.
When interviewed, the workers that participated in the study explained that kitting made their work easier because they didn't have to spend additional time looking for materials.
Instead, they were able to focus on the tasks at hand and complete them faster.
As you can see in the image below, the average daily utilization rate on the project was higher when the kitting logistical solution was implemented.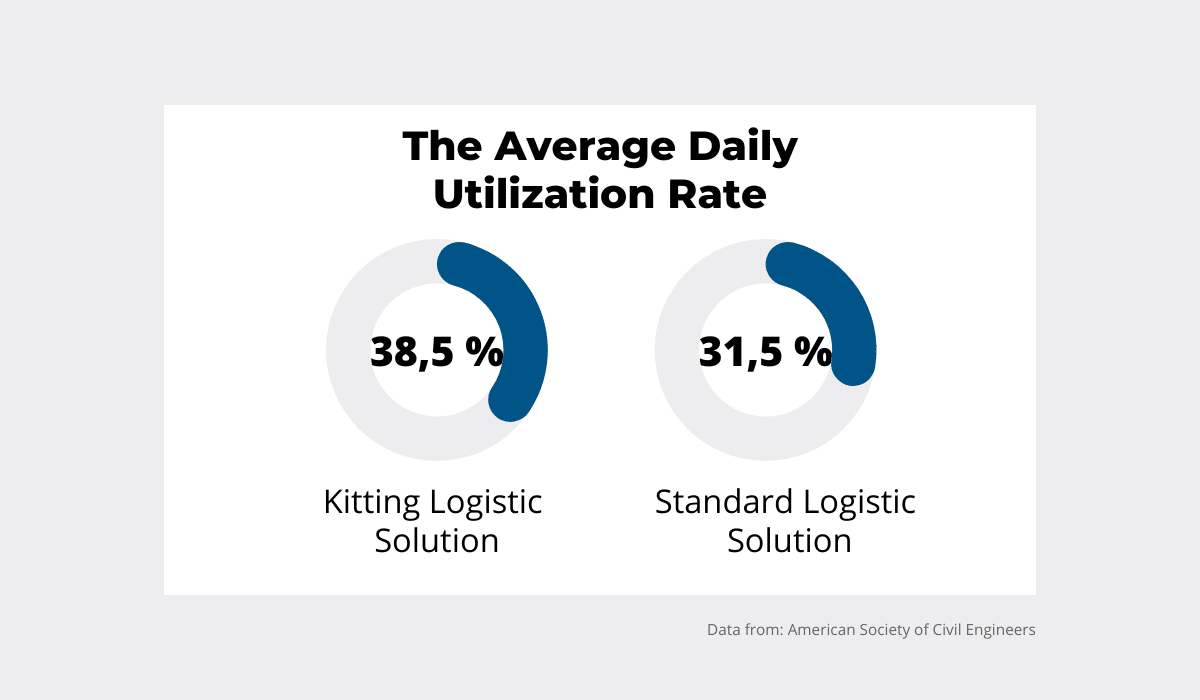 Unsurprisingly, stats show that workers were more productive when they didn't have to waste time searching for what they needed on-site.
These insights can easily be applied to tools as well.
When workers are relieved of the mental load of having to locate multiple items, and can instead rely on being able to find them in the toolkit they belong to, they can tackle their daily assignments much more efficiently.
This benefit is also meaningful to the employees in charge of maintaining the database of the assets.
It is less time-consuming to take care of a smaller number of assets than to manage a database with thousands of items.
Focusing on fewer assets ensures that there are fewer mistakes in management and makes finding them at the right time much easier.
Thus, introducing tool kitting to your company would benefit not only construction workers but also other company members.
Saves Money by Improving Tool Visibility
Keeping track of tools and knowing where an item is at any time of the day, who is responsible for it, and when it returns can significantly increase the cost-effectiveness of your company.
In other words, tool kitting saves your construction company money by improving tool visibility.
How so?
As we pointed out in the previous sections, in a well-structured database, tools that are grouped in kits are more visible, as you don't have to be mindful of thousands of individual assets.
Instead, you can focus on the kits, which are much less numerous and therefore easier to stay on top of.
Because of this easy oversight, tool kitting will prevent you from mistakenly ordering tools that you already have at your disposal.
It will also make you more efficient about obtaining the replacements you need on time.
For example, you can organize your tools in kits by the estimated useful life of the tools.
Doing that will give you more precise insights into when you need to replace the tools in specific kits that are nearing the end of their life cycle.
However, deciding whether to repair or replace a tool can be challenging.
A new tool is often a costly investment, but continuing to put money into repairing an existing one, while incurring smaller immediate costs, can result in a significant waste of resources in the long run.
When you doubt whether to replace or repair a tool, you can help yourself with the 50% rule, explained in the image below.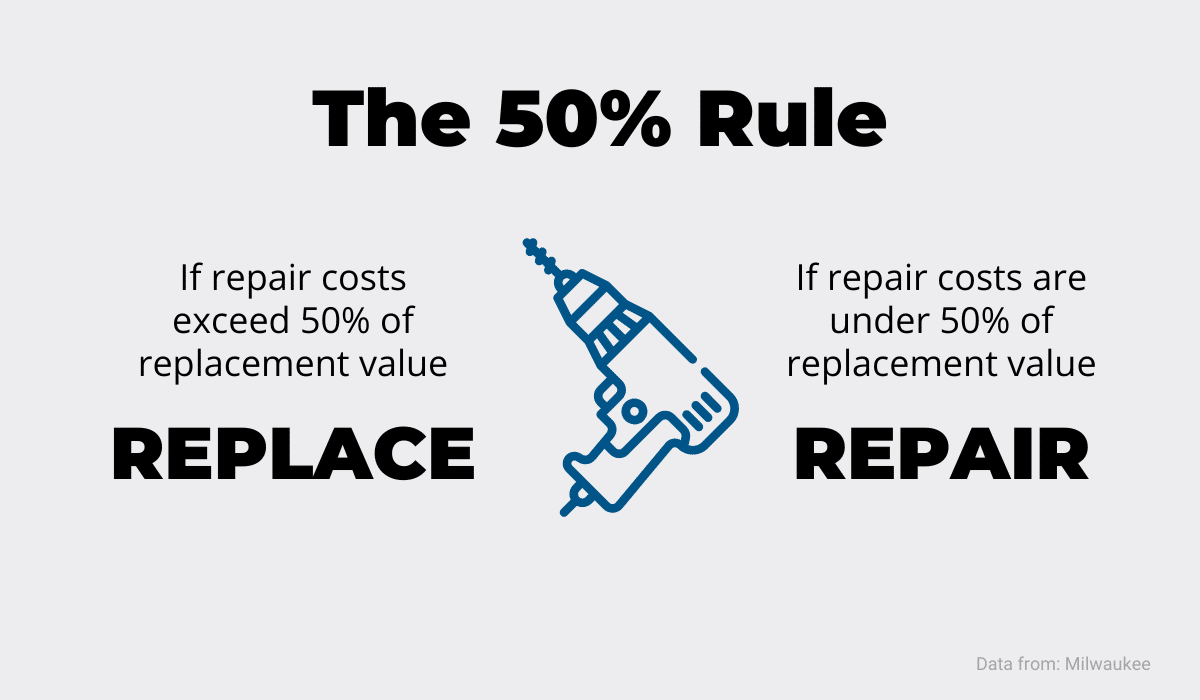 Organizing tools in easily trackable kits, where information about each tool is always readily available, will help you stay on top of each item's maintenance needs and possible depreciation, as well as allow you to implement the 50% rule with more precision.
As a result, you will be able to make sound business decisions and save your company money.
Makes It Easier to Perform Tool Maintenance
Tracking the maintenance schedule for more tools is easier when you have them organized in a kit, grouped either by type, location, or purchase date.
Let's take a look at how scheduling maintenance works with reliable asset management software before we explain how tool kitting improves it.
For instance, our solution, GoCodes, has a task feature that allows you to set tasks for each tool and monitor their status.
Let's say you have to change the oil and filter of the compressor. To schedule this task, you can add it to the tool and assign it to the responsible person, as seen in the image below.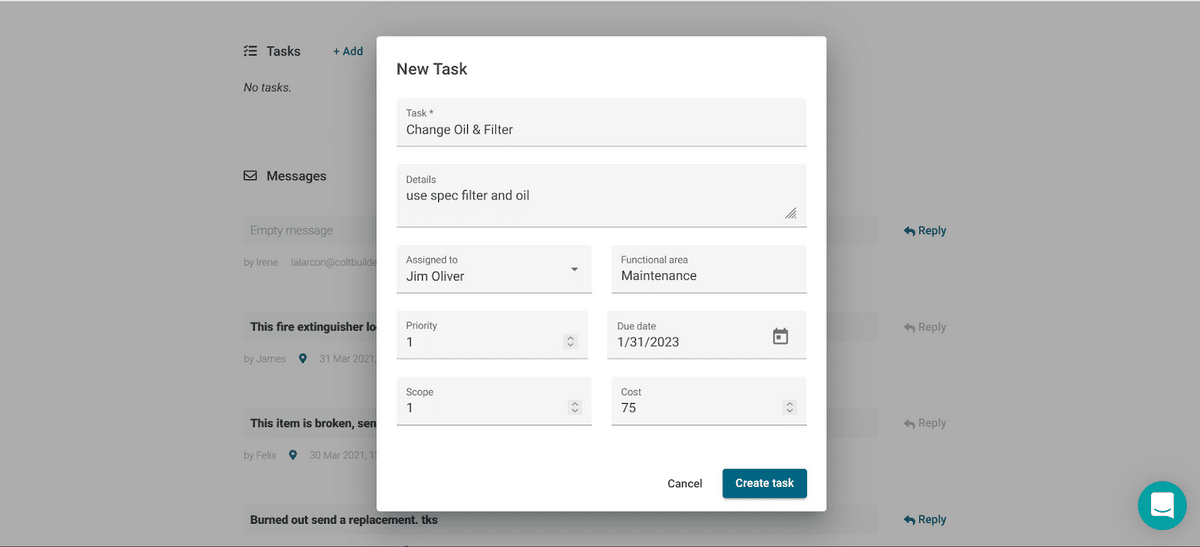 When creating a new task, you can name it, give more specific information or instructions on performing it, and define the due date.
Moreover, you can check the status of the task and see whether it is in progress or it has been completed.
Working with tool kits makes scheduling maintenance tasks even more efficient and less time-consuming.
For instance, when working with tool kits, you could simply assign maintenance tasks for each tool in the kit to the same person.
In the My Tasks section, that person would then be able to see which tasks they were given and the deadline by which those should be completed.
Another way you could implement tool kitting into the task feature is by creating a kit with tools that need to be inspected by the same date.
This would simplify tracking information on tool maintenance and ensure that all tools in this kit went through the maintenance inspection by their due date, and no item would be overlooked.
In short, it is a systematic approach that facilitates scheduling, minimizes errors, and ensures that every tool is inspected and maintained on time.
Simplifies the Process of Performing Audits
In addition to all the benefits we listed in the previous sections, tool kitting also simplifies the process of preparing for audits.
When tools are stored and tracked together, you have a better overview of the assets.
That means employees can work in batches, moving from one kit to another instead of searching for documentation for each tool individually.
Such distribution of work saves precious time and reduces stress for your employees before an audit.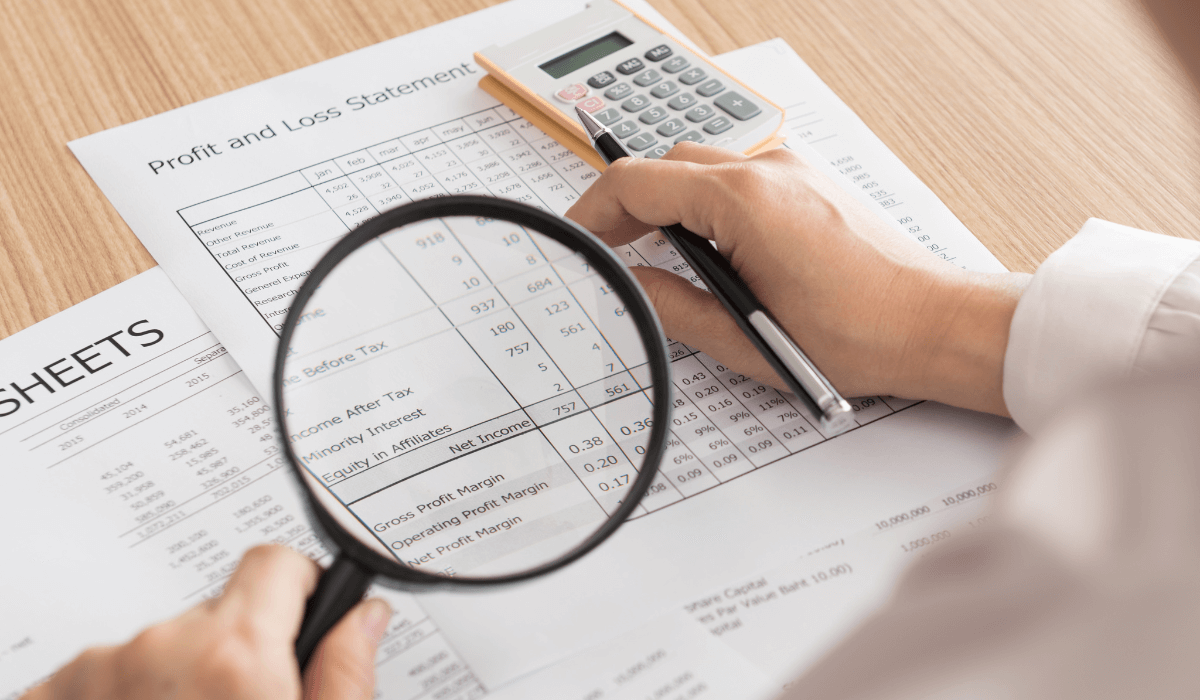 If an audit is unexpected, as it often happens, you don't have to worry about tools being lost, stolen, or misplaced because every tool is tracked and accounted for.
The information about the kit and the tools within it that is stored in the asset management software database will provide necessary insights about how your kits are being used, where they are located, and who is accountable for them.
As a result, auditing will be less stressful and complicated, with fewer mistakes committed.
And the documentation will be ready anytime, so no auditor can surprise you.
Conclusion
Integrating tool kitting into your construction company's operational procedures has various advantages that can enhance the overall performance of your business.
Organizing tools into kits can streamline the tracking process, reduce the time spent searching for tools, and facilitate maintenance tasks and audit preparation.
Furthermore, tool kitting has the potential to boost employee productivity and efficiency while also offering substantial cost and time savings.
Therefore, consider implementing tool kitting, as it can optimize your construction company's workflow and enhance its bottom line.