It's nearly impossible to efficiently run a construction company without relying on modern technology.
Whether it's automatically preparing employee schedules, using tablets for quick communication, or posting on social media, clients have come to expect instant communication and a systematic work plan.
Improving efficiency ensures that your company makes the most of every dollar, which is especially important in times of high inflation.
Well-integrated and useful technology can make collaboration easier, facilitate decision-making, and contribute to employee safety, as well as compliance with federal and local regulations.
It also facilitates access to important data in real time and simplifies the information capture process.
Following are some tips for using technology to improve construction efficiency.
Makes Collaboration More Effective
Construction is a collaborative effort.
In addition to the project manager and field crews, it involves architects, subcontractors, suppliers of raw materials, and negotiations with local governments for permits and regulation compliance.
Technologies such as mobile and desktop apps make it possible for project managers to modify work schedules, share documentation, manage various aspects of the project, and collect data and distribute it as needed.
Real-time communication between all departments ensures that everyone is operating from a common base of understanding and terminology.
This decreases unnecessary delays and helps to eliminate misunderstandings and miscommunication.
Here are some ways in which collaboration and communication intersect:
In some ways, technology has become such an integrated part of our lives that we rarely realize how omnipresent it is.
That's why it's important for construction professionals to pause and reflect on ways in which technology is applied to communication, security, and employee safety.
Without an organized approach to communication and collaboration across various aspects of the construction industry, it is easy to miss opportunities for optimization.
Taking the time to produce a detailed technology budget, talking to employees about what works best in their various positions, and seeking ways to refine guidelines are all quickly repaid in streamlined workflows and efficiency in communication.
That applies to employees within your company as well as subcontractors, clients, and partners participating in the project.
Helps Project Managers Make Informed Decisions
Technology is vital in making informed and efficient decisions about the project based on cost and labor data.
With access to such information, project managers are able to make decisions that will ensure the company remains within the budget and the timeline of the project.
Technologies such as intelligent modeling facilitate project management.
Intelligent modeling is a quick, real-time way to create and make adjustments to a 3D model of the project, and it's also easily accomplished in an online meeting between several parties working from different places.
Reliance on modeling helps project managers determine how these changes will affect labor and cost.
Modeling encourages creativity and allows team members to try different techniques without wasting material or labor time.
It also helps everyone visualize the final product as well as the current physical state of the project. This is useful in a number of ways.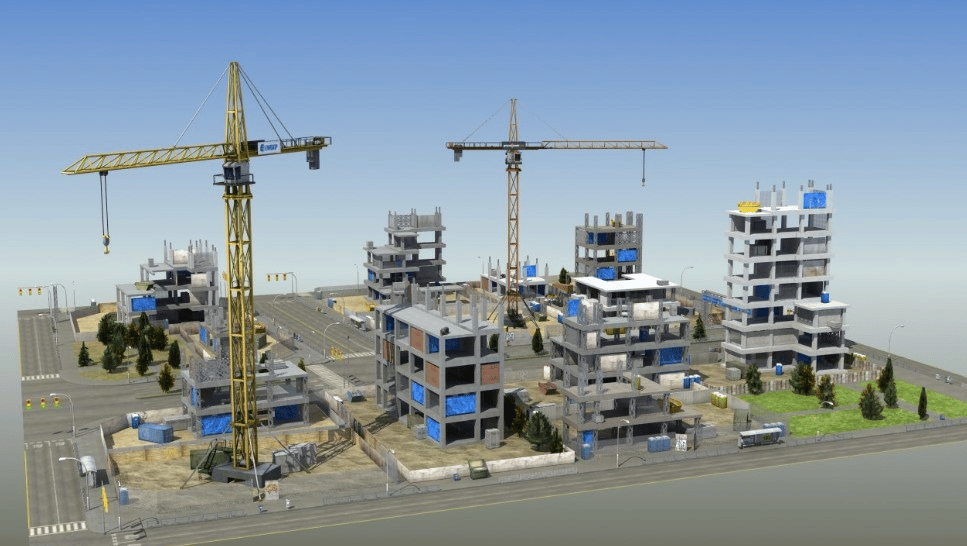 This image depicts a construction site in the midst of a build.
While some might associate 3D modeling only with sharing a projection of the final product with clients or investors, it's also applicable in planning equipment placement, spotting more effective ways to transfer materials, and assessing how close crews are to meeting project milestones.
Simplifies the Information Capturing Process
Various forms of technology can help with simplifying and automating the information capturing process.
Digital shift punching is one example.
With the help of software solutions such as mobile time cards, it is possible for supervisors to keep track of the employees' working hours using a smart device such as a tablet; this eliminates the need for hard copy documentation.
This automation allows for information integration with the company's computer system, which results in better file organization, improved accuracy, and reduced processing costs.
It also means that the company can quickly save money on hard copy storage and upkeep.
Additional benefits include increased security of captured information, the ability to authorize the data as needed, and provision of accessibility from locations other than a physical office.
In construction, which often uses several large sites set far apart from one another, this aspect of information capture is especially important.
Although most employees from younger generations tend to quickly adapt to and embrace digital information capturing, doing so can be difficult for older employees or those who do not feel comfortable with virtual technology.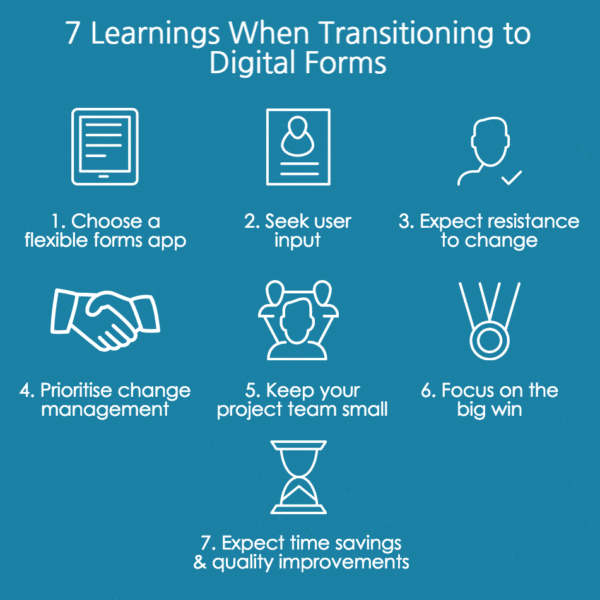 This visual aid indicates the steps company leadership can take when attempting to switch from hard copy information-gathering to digital options.
Anticipating resistance and retaining focus through small project teams can often offer an advantage in easing this important transition.
Ensures You Are Meeting Compliance Regulations
Once your workforce is accustomed to capturing information digitally, the usefulness of electronic document management solutions will quickly become clear.
Office software allows your construction company to create, organize and manage documents in the form of electronic files.
By taking photos and videos of the construction site and then storing them in the cloud, your business can ensure they have visual proof of regulatory compliance that can be quickly accessed through a secure online document portal.
Drones can also provide inexpensive, real-time overhead views of construction sites to provide proof of compliance with distance and height regulations.
Other types of technology can help prove compliance with regulations.
For example, site sensors placed throughout a construction site monitor such environmental conditions as temperature, dust amounts, decibel levels, or amounts of radiation exposure.
Long-term records of these measurements help to prove compliance with OSHA or EPA regulations. They also provide a helpful baseline of measurement for use in future projects.
A major part of compliance with local government standards involves obtaining building permits.
Doing so digitally can save time and streamline the application process, as this flow chart shows:

A closer examination of this chart will reveal references to 3D modeling, BIM (Building Information Modeling), and geographical models.
These forms of information are all digital, and construction companies must maintain the ability to interface with compliance agencies in this way.
Allows Access to Real-Time Project Data
Many cloud-based construction software solutions offer access to real-time project data.
Companies such as GoCodes can provide this important information, along with the ability to track and organize assets.
Maintaining the ability to access important project information at any time and from any device reduces the risk of errors and delays.
If, however, a project goes awry, project managers will receive instant notification, enabling them to adjust immediately and gain a complete picture of what has occurred.
Real-time information is vital when used in conjunction with many other digital trends that are shaping construction: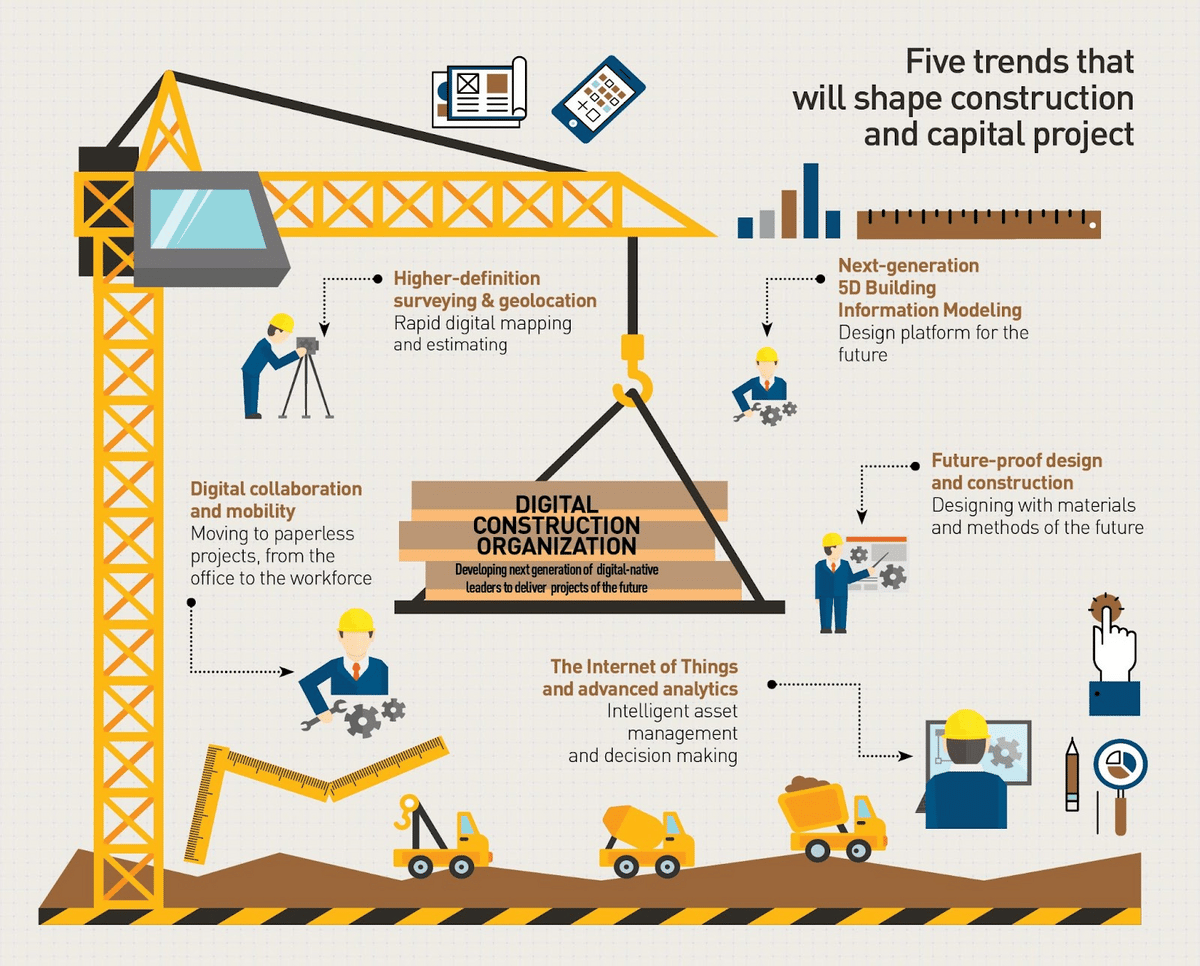 This graphic highlights the growing certainty that next-generation modeling and future construction tools will undergo design and development with the expectation that end users will have access to real-time data.
In addition, digital collaboration, advanced analytics, and client expectation of mobility will all hinge on the ability to work in a paperless environment.
Reporting, archiving, response trackers, sensors, online planning, and information modeling are all tools that can decrease downtime and provide sufficient time to intervene in a situation that is potentially dangerous or expensive.
The older the data they provide, however, the less effective they become.
Makes the Construction Site Safer
Visitor safety is one of the central concerns at a construction site.
With the help of technology such as drones and cameras, your construction business can monitor multiple sites on a 24-hour basis.
In addition, the development of wearable technology allows project supervisors to keep track of how much time the workers have spent on the site.
Break provision is important for safety compliance and maintaining a worker's alertness.
Sensored helmets or goggles with augmented lenses provide early warning for even the most experienced staff members.
Health trackers can provide automatic notice of an employee's body temperature, heart rate, and hydration levels.
Pictured below are some examples of breakthrough safety equipment for construction workers:

Should a safety violation or accident occur, this technology makes it possible to report and address the problem immediately.
Some systems can capture visuals, footage, time-stamped actions, and more to help with examining the event for assessment and training purposes.
Conclusion
Project managers are constantly balancing quality, safety, speed, and efficiency.
New technology makes it possible to easily integrate such advancements as 3D modeling, wearable tech, and asset tracking into existing processes.
By keeping pace with technological developments, collaboration becomes easier and more effective.
Project managers, when armed with real-time data, have the ability to make informed decisions.
Information is much more easily captured and distributed, and the use of time stamping, electronic documentation, and easily-obtained visuals help to prove compliance with various regulations.
Last but not least, site safety is greatly boosted by the use of sensors, drones, and health trackers.