A venture as complex and multi-tiered as a construction project needs a solid plan.
Since the construction industry is prone to delays due to the weather and supply chain struggles, this plan must also be flexible.
It has to include provisions for budget adjustments, and other changes.
It's vital to present a document to the major actors of a project that gathers milestones, contingencies, blueprints, and more.
A construction plan establishes legal boundaries, defines roles and expectations, delegates responsibilities, and breaks the job into smaller tasks. It gives everyone involved a single source of reference.
Read on to learn more about construction plans, as well as how to create one.
What Is a Construction Plan?
A construction plan is a broad, comprehensive look at all the various aspects of a construction project, and includes budget projections, site surveys, labor needs, and so on.
Since construction plans include many parts, they are often the result of collaboration between a diverse collection of collaborators.
Several small companies working together to bid on a project might pool their resources to offer information or claim responsibility for various tasks.
For example, a concrete company might supply cost information, while an architect provides blueprints for a future building.
Construction plans also offer an idea of not only the major milestones in a project but also a detailed look at how each phase will unfold.
This usually involves a work breakdown structure, as shown here: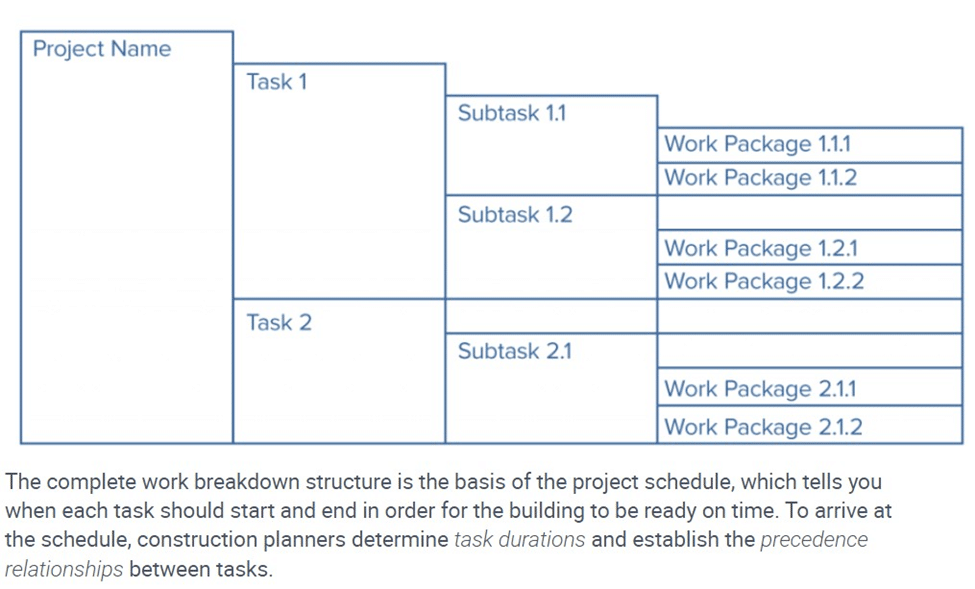 Notice that task prioritization is a major part of construction planning.
For example, project managers cannot arrange for the tiling of a bathroom floor if the foundation isn't complete yet.
This kind of coordination demands logical thinking and experience in the field.
Building a workable construction plan demands good relationships with subcontractors as well as reasonable time and cost projections.
When compiling a construction plan, a project manager might undergo several revisions or amendments.
This requires patience, strong interpersonal skills, and expectation management for clients.
Why Do You Need It?
If a supply chain nightmare like the COVID 19 pandemic can upend a project, or a hurricane cause severe weather delays on a housing development in Florida, why bother with a construction plan—especially if a project manager has been through all this before?
If adjustments are made and unforeseen roadblocks arise, what's the point?
Indeed, many seasoned project managers are adept at adapting one construction plan for another, similar project, or swapping out one home blueprint for another while working on a subdivision.
However, a construction plan is vital to a safe, efficient, and satisfactory project. It helps bring in projects on time and within budget.
It helps the interested parties decide on not only what a project needs, but the technology, resources, and supplies necessary to achieve it.
Doing so is impossible with at least some idea of where the project is headed. While milestones might require adjustment, at least some tangible goals are necessary.
The details of a construction plan help stakeholders establish commitments and plan for potential cost overruns, as well as provide for operational necessities.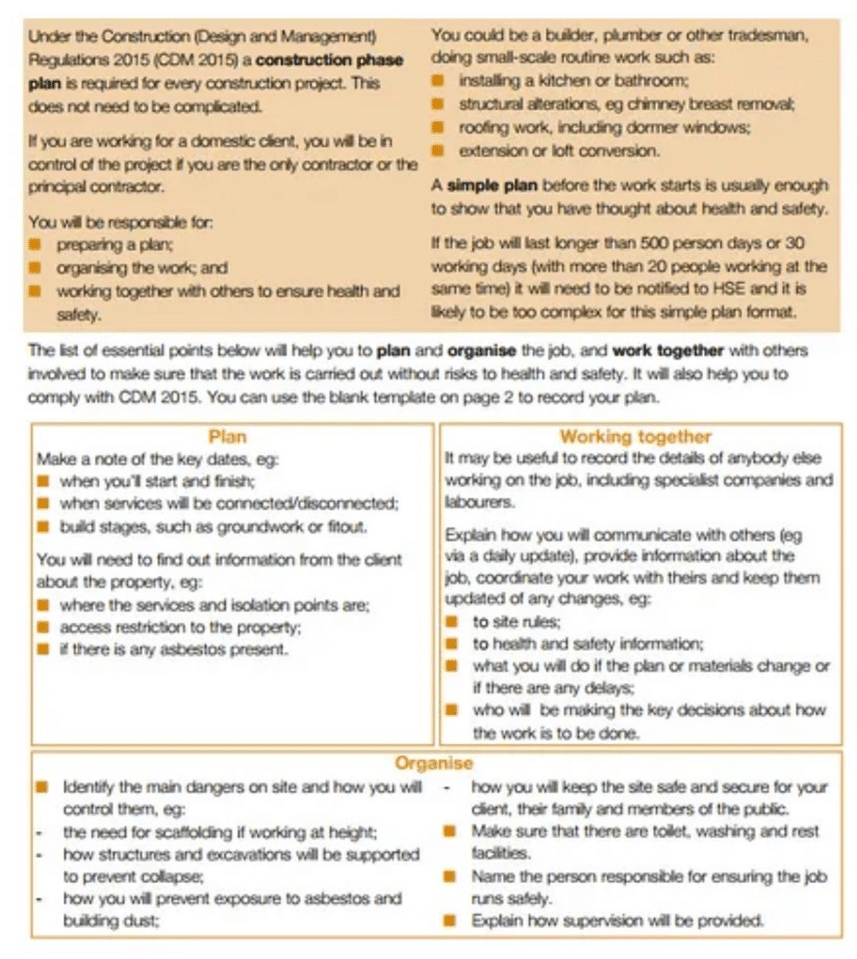 This visual provides an overview of the broad strokes of a construction plan. It is a starting point, as it doesn't delve into the details of the project, such as who precisely will perform each task.
All good construction plans begin with these general ideas, then zero in on the finer points as actual construction approaches.
Providing such an overview allows stakeholders to iron out the differences and spot potential problems.
Addressing these issues at this early stage can help to avoid costly disputes or unwelcome surprises later in the project.
What Is Included in a Construction Plan
Construction plans usually contain the following:
| | |
| --- | --- |
| Description | The scope and purpose of the project |
| Project Management | Definition of stakeholders and responsibilities |
| Risk Assessments | All areas of risk on the project, physical as well as financial, and plans for controlling them |
| Blueprints and schematics | This can involve hard-copy prints or 3D models |
| Health and Safety Information | Training and labor necessities, site rules, and so on |
| Site Assessment | Important information about the building site, such as elevation drawings, soil samples, and excavation plans. |
In addition to these, a major part of every construction plan is its projected timeline.
Here's an example:
This is, of course, adjustable, but it provides a workable idea of the projected end date and when the client can expect various phases to take place.
However, you can only build it after the project manager has determined risk assumptions, project resources, labor availability, legal viability, insurance details, and plans for communication.
This often involves a tremendous amount of work, but once the timeline and plan are in place, the stakeholders are reasonably braced for unpleasant surprises once the ground is broken.
This saves money as well as time.
How to Prepare a Construction Plan
Usually, construction plans are prepared by those with a wealth of experience and contacts in the construction industry.
It's not a job for someone new to the field; a construction plan contains many details and demands a deep understanding of site-related tasks, hazards, and technologies.
Those who prepare construction plans must also have the ability to read schematics and blueprints, and have experience dealing with the scientific aspects of site surveys and soil samples.
Project managers must first familiarize themselves with preliminary information, including site photographs, surveys, and rendering.
This data is essential for preparing the construction plan outline.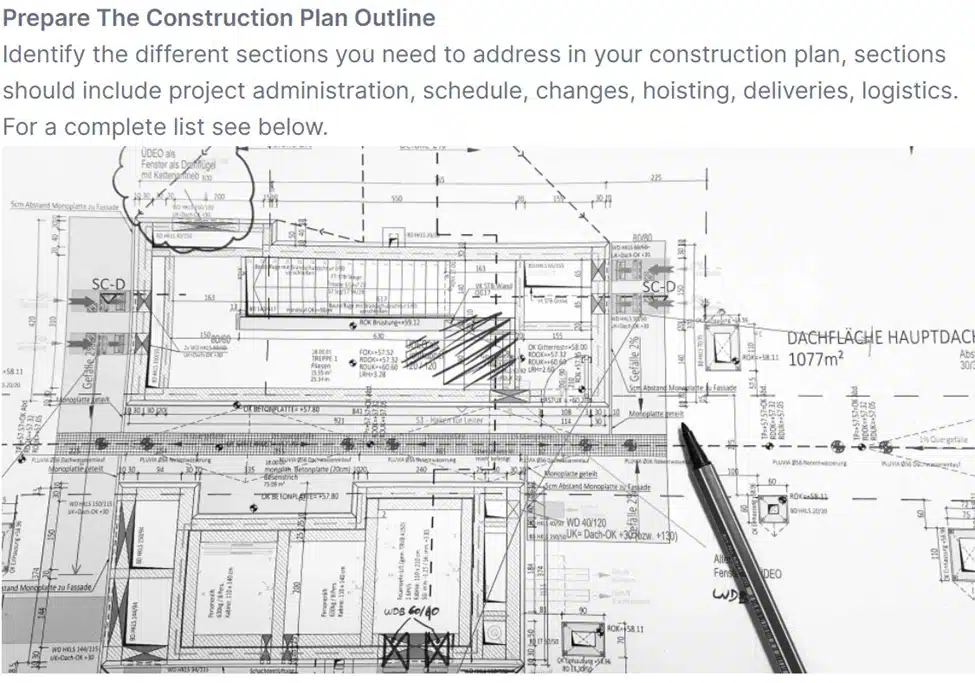 This visual aid indicates the tremendous analysis involved with the construction plan outline.
These technicalities demand attention to detail, logical thinking, and the ability to prioritize. Once this phase is done, the project manager must assign teams to each role and phase of the project.
By doing so in this early stage, it's possible to work out schedule conflicts, address competency gaps, and section out work breakdowns.
Much of construction plan work involves compilation.
Team members responsible for specific portions of the plan will have submitted their information, and the project manager must arrange and integrate them in a way that makes sense.
Finally, the construction plan is submitted for peer review.
Third-party contractors such as lawyers or consultants can provide a valuable outside perspective, and point out legal vulnerabilities or missing pieces.
Key Features of a Blueprint
Blueprints, the large construction drawings that provide the designs and layout of a building, are largely loaded online, but they might also appear on site as hard copies.
They define the placement of the different features in a building, such as stairs, doors, and plumbing fixtures.

Three-dimensional models are especially useful when making changes on a project, or helping clients to visualize what a completed building might look like.
They are an ecologically friendly way to share information or take an overview of multi-stage buildings.
Blueprints offer proof that safety codes are under consideration, and most local authorities insist on reviewing them before issuing permits.
Generally, blueprints are issued in ¼ inch scale. This means that each quarter inch is equivalent to one foot of the actual building.
There are five parts to a blueprint:
| | |
| --- | --- |
| Title Block | Names, logos, and contact information of key parties, along with scale, drawing date, building title, number of sheets, and approvals |
| Revision Block | List of changes, including dates and authorization initials |
| Grid System | Reference system for specific places on the blueprint |
| Notes and Legends | Key with abbreviations, symbols, notes, and custom signs |
| Drawing | The plan itself, including property boundaries, features, and mechanics |
Blueprints can seem intimidating, but they continue indispensable information, and knowing how to read them is an extremely valuable skill.
How to Read a Construction Plan
Blueprints begin with a more general view of the project, then become more and more detailed.
Within the blueprint are letter codes that speak to various contractors, such as those involved with the framing or landscaping.
They are as follows:
| | |
| --- | --- |
| G sheets | General sheets, including a cover sheet and index of all planning sheets |
| A sheets | Structural engineering plans detail how to build the foundation, roof, and reinforcements |
| M sheets | Mechanical plans provide mechanical layouts for ducts, fire protection, and HVAC (heating, ventilation, air conditioning) |
| P sheets | Plumbing plans show where drains, pipes, gas lines, and irrigation systems go |
| | |
| L sheets | Landscaping plans show not only where plants should go, but which types work crews will install |
| Specification | Lists of materials for each part of the building |
| Schedules | Plans for various features with specifics such as door thickness and Pantone color codes |
Here is an example of a construction blueprint.
This is a G sheet. It includes the address of the site, title block, and general descriptors.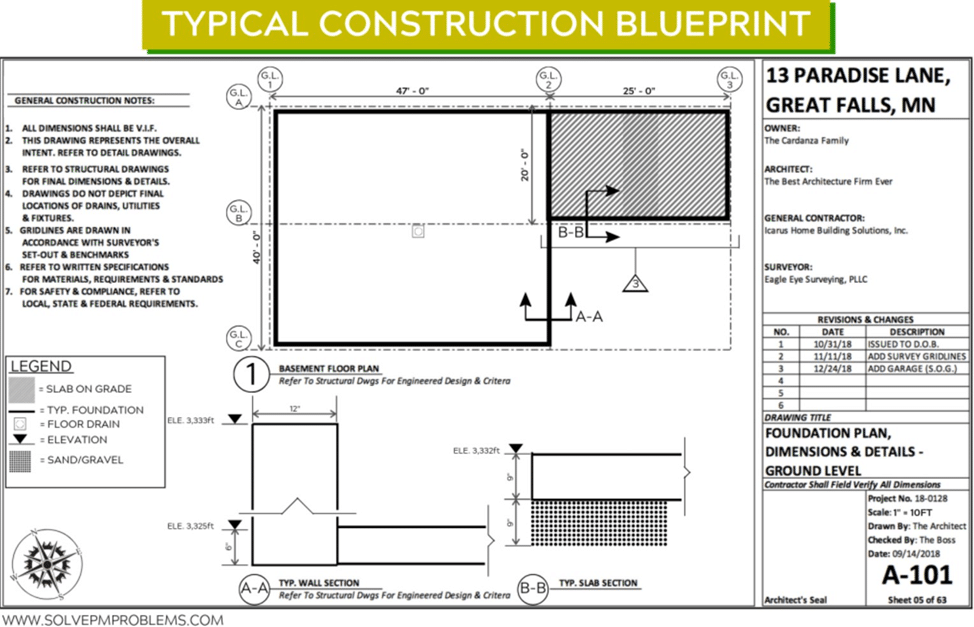 In short, blueprints are an integral part of a construction plan. They represent the culmination of research, expertise, engineering, and resource planning.
Conclusion
A well-crafted construction plan helps everyone involved with the project to understand its larger goals and smaller subtasks.
It contains such important reference materials as blueprints, cost estimates, risk assessments, and time projections.
This document acts as an anchor to the project, and changes should be updated regularly.
With a good construction plan in place from the earliest phases of the venture, the interested parties can help to keep costs down, project labor needs, and prepare supplies.
Accuracy, a clear definition of subtasks, and a workable project concept are all part of a useful construction plan.