School assets are valuable and integral to a school's smooth daily operation. Tracking them with school asset tracking software increases the efficiency of those operations.
The days of students showing up to the classroom self-supplied with pencil and paper are long gone. Most schools now issue students laptops or tablets, and teachers must have a suite of gadgets at hand to present lesson plans comprehensively.
With many classes still meeting remotely due to COVID 19 concerns, ensuring that all assets are accounted for and that they remain in the right hands can be intimidating.
School asset tracking software is the solution to maintaining control of all school assets, electronic or otherwise.
In fact, school asset tracking software is also useful for providing valuable information on items that never move from where they were installed.
The post will discuss what can be tracked with school asset tracking software, the benefits of using such a system, and some key features school asset tracking software should offer.
What Can You Track With School Asset Tracking Software?
If an item circulates amongst students, teachers, staff, or all three, it's possible to track it.
Some such items are rapidly consumed, while others might circulate for several years before replacement is required.
Here are just a few examples:
Tablets
Laptops
Office chairs
Virtual loans on e-textbooks
Print textbooks
Cafeteria utensils and napkins
First aid items for nurse station
Lab equipment
Student desks
Bathroom paper supplies
Printers
Safety equipment (vests for crossing guards, traffic cones, etc.)
Cleaning supplies
Standing desks
Projectors
Digital cameras
E-readers
Replacement parts for basic maintenance
This list is far from comprehensive, and yet the variety and breadth of the items is incredible. Nevertheless, school asset tracking software can be configured to account for it all.
As you can see, not all of these items are tech-related. Lab equipment, for example, might pass through several different pairs of hands in a single day, and it's important to account for each item.
Tracking Fixed Assets
It is possible to track an asset even if it never leaves the building or if it remains in place. Such items are known as fixed assets, and while they might not need a check-in/checkout system, tracking them still yields many benefits.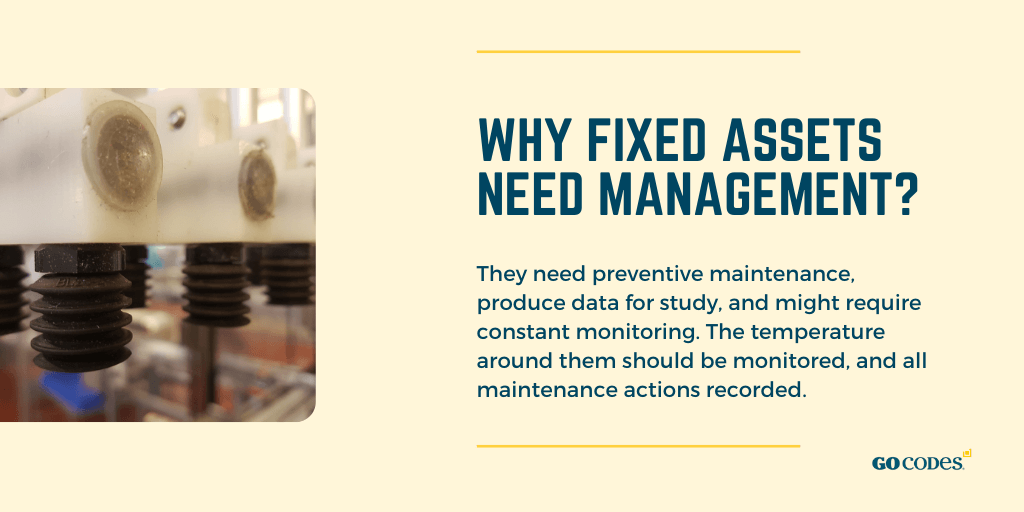 Fixed assets that traditionally belong to schools and school districts include:
Employee lounge appliances (refrigerator, microwave, etc.)
HVAC system components
Water heaters
Cafeteria cooking appliances (stove, fryer, dishwasher, etc.)
Fire extinguishers
Weight machines for student gym/athletes
Bathroom and plumbing fixtures
When an asset is fixed, "tracking" it refers to the practice of constantly monitoring its performance, environment, maintenance actions, and so on.
Tracking, then, can include:
The current condition of the asset
Its current and previous locations
Place or person to which it has been assigned
Availability
Frequency and the total time of use
Given the incredible variety of what items can be tracked and how, the benefits of using asset tracking software are many.
Benefits of Using Asset Tracking Software for Schools and Universities
With tech spending on the rise at elementary and secondary schools, as well as college campuses, it makes sense to put in place a network of protection and means of monitoring these valuable items.
Here are a few other benefits to keep in mind.
Tracking Assets Across All School Districts With One System
School districts are rarely responsible for educating students at one school. Instead, they oversee many schools, perhaps even scattered across a wide rural area.
Regardless of whether the distance between each facility runs for miles or the district is located in a dense urban area, budgets are often tight, and accounting for each asset is key.
Asset tracking software enables administration members, teachers, and security personnel to:
Track assets from school to school, building to building, and classroom to classroom
Provide complete transparency and oversight for parent groups, taxpayer watchdog organizations, and government agencies
Integrate a real-time digital system of accountability for teachers, students, administrators, and families
Enable seamless asset integration in the event of school mergers
School asset tracking systems are easily customizable.
If a district includes small rural schools as well as populous urban ones, with medium-sized suburban facilities in the middle, easy scalability allows the same system to work equally well in all types of locations.
Compliance With State Mandates
Laws at every level—local, county, state, and federal—affect how schools operate on a daily basis. In most areas, state law and federal mandates, stipulate demonstrated control and accounting across the useful life of assets.
When a comprehensive asset management software system is in place for an entire school district, it becomes easy to prove compliance.
Oversight data is digitally stored in the cloud, which means that the necessary information is at hand easily and instantly if compliance ever comes into question.
In this manner, time and physical space are saved when employing school asset tracking software.
There is no longer any need to keep physical hand-written or keyed records. Such records are notoriously erroneous and might be easily destroyed by fire or damaged beyond repair by water leaks or archival disintegration.
Instead, if the need ever arises, any administrator or staff member with the appropriate authorization credentials can immediately narrow documentation to the time frame and assets in question and produce a reliable report.
Clutter is reduced while accuracy increases.
Insight Into Asset Availability, Usage, and Value
The key to making economically sustainable decisions regarding such necessary investments is the wise management of its life cycle.
An asset's life cycle consists of five stages:
Planning/Decision
Design/Procurement
Deployment/Installation
Operation/Maintenance
Disposal/Donation
School asset tracking software helps schools predict each stage of a valuable asset's life cycle more accurately. This allows more time for budgetary shifting, fundraising, and possible application for grants and other forms of financial aid.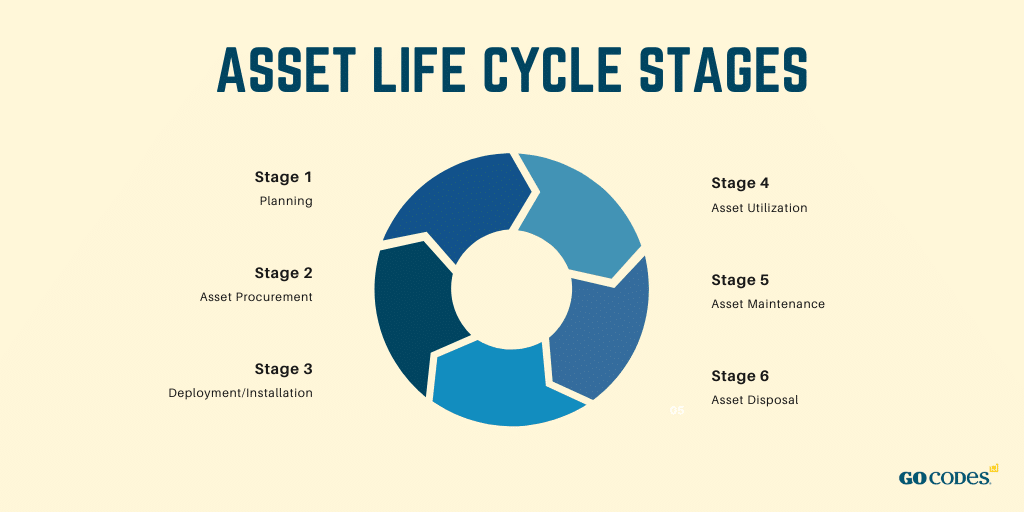 Knowing when an asset is approaching its natural end of life helps to avoid expensive panic-buying.
After all, panic buying can prove disastrous for a public entity, particularly one which serves many members of a vulnerable population.
A school cannot operate in the middle of winter, for example, if a furnace should fail. Tracking usage and value helps avoid such logistical and financial nightmares.
In addition, no matter how valuable an asset is, its worth will begin to decline after its installation.
The process of depreciation can account for the cost of an asset across the span of its usable life. Having this information is invaluable for planning committees, financial reports, and budgetary requests.
Depreciation carries major insurance and tax responsibility implications, and affects allocations for an upcoming financial quarter or year.
Since school asset tracking software provides a complete picture of asset availability, usage, and value, administrators and staff members no longer need to rely on "gut feelings" or best guesses regarding important asset-related decisions.
Controlling the Spending of the Department of Education (DoE) Budget
Schools are assigned funds and budgets from federal sources, which means they are accountable for the items they purchase with this money.
Keeping in mind the variety of items this can include, such tracking can seem overwhelming. They have to account for:
School lunch programs
Special education/accessibility accommodations
Supplies for the state-mandated curriculum
Sports supplies
Safety equipment
School asset tracking software is necessary to keep order when such a wide range of items must be accounted for across a wide expanse of schools.
In some cases, the program might need to be justified by counting each student involved.
When asset tracking software is deployed, it's easy to see at a glance which program is within budget, as well as what its upcoming needs might be.
Such a system helps individual schools, as well as districts as a whole, improve budget reporting. The compilation of errors is avoided when simple scans replace spreadsheet input or handwritten records.
Sharing Reports With Other School Departments and Authorities
Exporting and sharing reports on assets across departments and within various administrative task groups is simplified with cloud-based school asset tracking software.
It is much easier to launch, facilitate, and study various pilot projects when data is provided accurately and in real time.
There is also no need to take the time to file a request for a financial report and then wait while one is compiled. Anyone authorized to see such information can check on the entire district, just one school, or a single department.
This benefit provides the important ability to compare and contrast, all while accounting for the ways in which schools are different.
When information is freely shared and schools learn from one another's best practices, the entire district benefits, and efficiency is much easier to achieve.
Departments and faculties are then empowered to take calculated risks, act creatively, and try new methods or ideas.
Maintaining a Reservation System for Classrooms and Equipment
What works well for construction tool cribs, large health care complexes, and sporting equipment venues also yields massive dividends in terms of smooth organization for a school district.
Introducing a reservation system for classrooms and equipment is easy with school asset tracking software. In addition to such items as laptops and projectors, a reservation system can also include:
Musical instruments
Sporting equipment
Props and costumes for dramatic productions
Fundraising items
Now think of schools as facilities that serve as centers and anchors for a community. Depending on the software, a reservation system can also cover:
Use of baseball fields, basketball courts, and football areas
Theater spaces
Claiming tables for fundraisers
Registering booths for community events such as craft fairs
Specialized classrooms, such as labs or computer rooms
Gymnasium rental
Cafeteria usage
Club use of lobby space
Scheduling special class sessions and presentations, as in a library familiarization course
Not only does this simplify reservation processes, it also helps to provide a long-term and ever-expanding record of which spaces tend to bear the most usage. This allows staggered scheduling for more efficient use.
Reducing the Risk of Theft or Misplaced Assets
Loss of valuable assets to theft and misplacement is a standout feature of school asset tracking software. Once a decision maker assigns an item to a staff member or student, he or she is accountable for it.
The very presence of a tracking system helps deter theft; in addition, it is possible to choose tracking lables according to the type of environment and usage an item experiences.
Metal tags are available for welding to construction equipment, while flexible polyester labels are an excellent choice for library books.
Creating a Maintenance and Repair Schedule for Essential Assets
Any staff member can place a maintenance request with school asset tracking software.
Maintenance staff can easily schedule such preventive actions as oil changes, filter cleanings, and inspections.
These help to sustain a consistent schedule and procedure across the entire district, as well as provide important information for third party contractors.
Such records are also useful for audits, insurance claims, and proving warranty compliance.
Key Features of School Asset Tracking Software
The best school asset tracking software system is the one that is the most appropriate fit for the facility it will serve.
For example, a school relying on federal funding should seek a system with a robust budgetary feature.
Other items to look for include:
Ability to track assets by the group or individually via barcodes or QR codes
Low stock alert function, which prevents frantic ordering at premium prices
Support for multiple users with varying levels of authority
Capacity to generate standard or customized reports, including depreciation
GPS location tracking
State of the asset (active vs. inactive)
Customizable data fields
Variety of equipment categories
Ability to import/export data in many forms (PDF, Excel, Word, etc.)
The option of scheduling preventive maintenance
When the staff use school asset tracking systems consistently and correctly, school asset tracking software can solve multiple problems simultaneously.
Conclusion
From theft prevention to ensuring that the environment of each classroom is healthy and comfortable, school asset tracking software not only saves time, but money as well.
The right kind of software helps districts track assets across multiple schools, regardless of distance, ensuring compliance with state and federal regulations.

Additionally, when schools track asset availability, it is easy to set up a reservation system for different types of equipment, thus reducing the risk of dealing with lost or stolen items. Scheduling maintenance also becomes easier.
As a result, schools can manage their budgets more effectively.
In short, asset tracking software is a wise investment for any school.
GoCodes Can Help
We use QR code tags with a unique visual code that school staff scan with their smartphones. When scanned, GoCodes tags provide GPS information about equipment location, making asset tracking easy for all schools and districts. Sign up for a free trial here.