Replacement parts can save you a lot of time and trouble. When you replace a malfunctioning or worn-out part, you help your equipment last longer, making it more efficient and saving yourself time and money.
In short, there are many benefits to purchasing replacement parts for your heavy equipment. The only downside is that they require some investment, but even then, you get your money's worth with how useful they are.
This article will help you pick your replacement parts wisely, so you can make the most of them.
Know Your Options
Before you invest in a replacement part, it's important to understand what the market at large has to offer.
Since 2016, the construction equipment industry has been on a steady rise globally, meaning that more heavy machinery gets sold. Consequently, the replacement part industry is growing as well.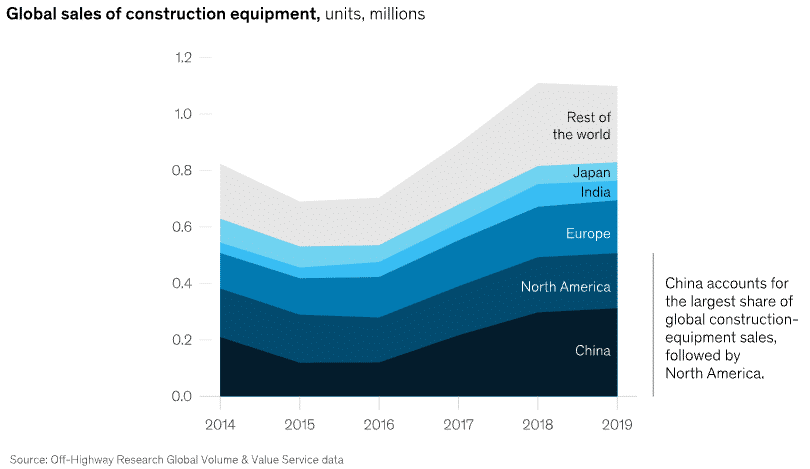 The more people buy heavy equipment, the more replacement parts they will need, even if the machinery is top quality. After all, certain parts just aren't meant to last forever.
Since the market's on the rise, you'll be able to choose between different options. Most places will let you pick between entirely new, used, rebuilt, or exchange parts.
Each of the four has its benefits and flaws, so you should have a general understanding of these options.
You can always find new parts on the market, and there are many obvious benefits to going for that option.
First, they should last longer since nobody has used them before. On top of that, new parts are almost always available for purchase. They are also often under warranty, adding an extra layer of protection to your machine.
But, buying like this has one major downside: if you want to get something brand new, you'll have to pay extra for it.
On the other hand, used parts are not as easy to find. Not every dealer will have what you need. However, if you do find that exact piece, it will cost a lot less than a new one.
In fact, used parts cost just a third of the price of a new, original equipment manufacturer (OEM) part.
The price also depends on whether you're purchasing an original or aftermarket part. Typically, sellers get the used parts from a broken machine or one sold by the insurance company.
So, consider that each used part comes with a level of wear and tear, and with a shorter warranty, or even no warranty at all.
Similarly, rebuilt parts often come with a limited warranty, and their quality is lower than new ones.
Usually, the rebuilder inspects and cleans an asset before replacing the parts that show signs of wear and tear or don't function well. Only certain parts get replaced while others merely get cleaned.
Finally, exchange parts offer quality at a lower cost than new or rebuilt parts. This benefit makes them the best choice for those who can't spend a lot on parts but still don't want to sacrifice quality.
The way this works is simple: you give your old piece to the dealer and receive one back. The only condition is that the old part you're bringing in has to be functional.
OEM vs. Aftermarket Heavy Equipment Parts
When looking for replacements, you'll have to choose between OEM or aftermarket parts.
Both can be new, used, rebuilt, or exchanged, and the thing you'll decide on is whether you want an original piece or one made by another manufacturer.
OEM parts are a perfect fit for your equipment since they are made precisely for the type of machine you own.
As such, they are reliable and a guaranteed good investment. You don't have to worry about an OEM part not being a good match for your machinery or damaging the machine.
On the other hand, aftermarket parts are replacement parts created by other manufacturers. By the nature of things, you'll find a lot more aftermarket than OEM parts available.
Additionally, some claim that the aftermarket parts can even surpass OEM parts in quality.
The other manufacturer can study the original and change it to optimize the piece. That way, you can get more out of your machine after installing an aftermarket part.
But, many will argue that you never know what you're getting when you buy an aftermarket part. Indeed, such purchases are always a risk.
The most significant difference is the price. OEM parts are always more expensive than the aftermarket ones.
The image below shows the price difference between OEM and aftermarket parts by vehicle origin in the last decade. It distinguishes between domestic, Asian, and European manufacturers.
Of course, the lower the number, the closer the two are in price.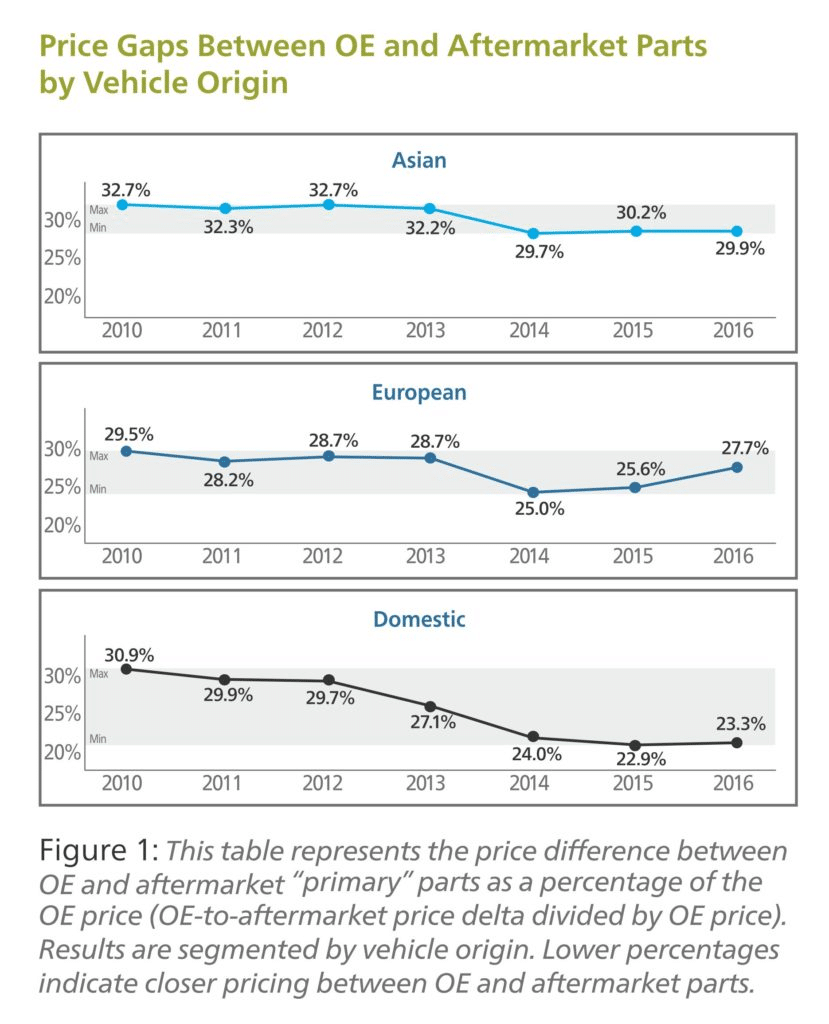 As you can see, Asian-produced OEM replacement parts tend to be around 30% more expensive than aftermarket ones. The discrepancy is lower for European-made equipment.
On the other hand, this difference has decreased by 7% in six years for domestically produced parts.
Still, in most cases, it's a lot cheaper to purchase an aftermarket part than an OEM one.
Nevertheless, OEM parts almost always come with a warranty, so you're protected against any damage while you use them.
Conversely, the manufacturer doesn't test aftermarket replacement parts for compatibility. This means you could be ruining your machine by using a piece that doesn't fit right.
Moreover, if you've used aftermarket parts, you can't hold the OEM responsible in case of damage.
Common Parts to Replace on Heavy Equipment
When buying heavy equipment, you need to understand which parts you will likely have to replace in time.
It's no secret that certain parts simply go out faster than others. In the OEM's manual, you will find the manufacturer's recommendations on how often you'll have to replace parts.
This tells you that even the OEM knows that specific parts of your equipment can endure less wear and tear.
Such parts include:
different types of filters (air, fuel, hydraulic, oil)
fluids (engine oil, hydraulic fluid, transmission fluid)
engine starters
batteries
belts
spark plugs
Of course, with proper maintenance, you can get these parts to last as long as possible, but sooner or later, you'll have to replace them.
To begin with, filters play an essential role in the functioning of your equipment. In short, they keep contaminants out of your machine's components, such as engine and fluids.
Air filters protect the engine, while fluid filters keep fluids clean and contaminant-free. This function makes them indispensable to your machine.
Because of their importance, you should regularly clean and replace filters. With time, they can get too dirty, which allows debris to contaminate your machine.
Engine starters are also vital for any type of equipment as you always need your machine to start. Since they get used whenever you turn the machinery on, the chances for wear and tear are higher.
The risks increase if you turn the machine off whenever you don't use it instead of leaving it idle. And turning it off is something you're likely to do because it preserves the engine and saves fuel.
Schedule maintenance when you notice the engine doesn't turn on as fast as it should or hear some unusual sounds. You need to determine whether the engine starter needs servicing or replacing.
When to Replace Parts on Heavy Equipment
Additionally, it is crucial to understand when you should replace heavy equipment parts.
Knowing when to act can help you prevent downtime and prolong your equipment's useful life at the same time.
On the other hand, if you don't take action on time, you may face equipment failure, malfunctioning parts, unplanned downtime, and costly replacements and repairs.
The parts you should pay most attention to are your filters, batteries, hoses, and fluids.
Your heavy machinery will typically have four types of filters:

Oil
Hydraulic
Fuel
Air
Their purpose is to prevent debris, dust, and filth from entering crucial parts of your machine. That's why you need to regularly check your filters and clean or replace them when necessary.
You should change air filters after careful inspection, as soon as you notice they need replacing, and not on a set schedule since you can't know when the filter will become clogged.
So, conduct regular maintenance frequently, and always make sure to include filters on your maintenance checklists.
Similarly, replace a hydraulic filter when it's at 80% of its capacity for optimal performance. Experts recommend replacing oil filters after every two oil changes.
Next, fuel filters should last you for 10,000 to 20,000 miles. Still, it's important to schedule maintenance so you can inspect the filters' condition.
Then, batteries can function for four to five years, similarly to hoses. Once again, regular inspections can help you find and eliminate any problems.
Without such checks, you may be running your machine with a faulty part. Doing this causes that piece, those around it, and in some cases, the entire machine to deteriorate rapidly.
On top of this, you should perform regular fluid checks. When your machine runs out of fluids, your engine could fail, so it pays off to check the fluids regularly.
You need to change the oil every 200-500 hours, while hydraulic fluid can last up to 1000 hours. Depending on the type of coolant, you'll need to change it every 6,000 or 12,000 hours.
Finally, hoses need a change every four years to keep the fluids going from one part of your machine to the other. Of course, if there's a leak or the rubber wears off faster, you'll need to change a hose sooner than expected.
How to Track and Manage Your Equipment and Its Replacement Parts
Construction companies often struggle with tracking their equipment and replacement parts.
After all, if you work in construction, you are bound to amass a lot of machinery, especially if you've been in the business for a long time.
A replacement part you bought three years ago is long forgotten by now. And if you don't end up using it, you've wasted your money.
Luckily, technology has made it easier for companies to know exactly what they own, where it is, and whether they can use it.
A great example of this is GoCodes, equipment tracking software that lets you in on details concerning the machinery, from ownership records to the current user and maintenance logs.
To start using it, you have to do an inventory of all your equipment and replacement parts. It sounds like a hassle, but it's mandatory for anyone who wants to have a precise overview of what they have.
Keith Ely, the general manager of Keith Ely & Associates, agrees:
It's is an excellent opportunity to verify the physical count and value of the parts inventory and reconcile inventory against the general ledger. You should assess inventory-management performance. 'When we do our plus-minus report, how many pieces were we off? Do we have parts in the wrong locations?' Even though the dollar amount may not be that far off, we may have parts numbers with incorrect counts in the system.
Ely places considerable importance on replacement parts. With time, the costs related to keeping such parts can pile up, and you could end up wasting a small fortune on parts and equipment you aren't actually using.
So, write down every single thing you own to avoid losing track of it.
Then, you should assign each machine and replacement part a unique identifier to help you differentiate them. For instance, you may have 20 oil filters in stock, but how do you know which is which? Not all filters fit the same type of machine.
By labeling them, you'll always be able to pull up information on what equipment the part in question suits. So, stick a durable tag or a QR code on your machinery and parts.
Then, you'll have to manually add equipment information into the cloud. This part will take a while, but you want to do it properly.
When it's done, you'll be able to scan a QR code and land on the equipment's page where you'll see all the necessary information, such as:
The picture of the equipment
The description of the machine
Original cost and date of purchase
The asset's expected life
Warranty information
The machinery's salvage and current value
List of past and current users
Other documentation
You can add any documentation you see fit. We recommend uploading the owner's manuals for each piece of equipment, as they can help your team understand how to safely and properly use it.
On top of that, your maintenance team can upload servicing reports, which will keep the rest of the team in the loop.
GoCodes even allows you to schedule maintenance in advance, which means you can create and set up an individual upkeep timeline for each piece of machinery.
The system will show you when it's time for maintenance, so you can plan in advance and avoid accidentally scheduling the equipment for use during that period.
As we've already discussed, proper maintenance and inspections are vital if you want to catch issues on time and replace damaged or worn-out parts. By doing this, you're preventing more significant problems and potential equipment failure.
Conclusion
Stocking up on replacement parts seems like the best option for those whose businesses depend on well-functioning equipment.
The question is, what parts to opt for? After all, there are so many options out there, from OEM parts to aftermarket parts. Additionally, you also have to determine whether you want a new piece or a used one.
Whatever option you choose, you must know what replacement parts you have so you can use them whenever your equipment gets damaged.
You'll know when to replace parts if you invest in proper, frequent servicing and keep track of all maintenance sessions.