Lots of customers ask how they can use GoCodes to track common recurring tasks that require a checklist or some other task specific documentation. Sometimes the best way to accomplish this goal is to create a separate document that's linked to your asset in GoCodes. This article shows you how.
Here are some examples of where this approach will help:
Monthly safety inspection for fire protection devices and AEDs
Weekly machine calibration checks for manufacturing or industrial plants
Weekly condition inspections for tool and equipment
Rental return check lists
Medical safety checks
Equipment safety inspections and reports
With GoCodes it's easy to automate these tasks to that you save time and increase the accuracy of the information recorded. Here's how.
Getting Started
First off, GoCodes includes data fields that allow you to track the most common key data for most common assets. This includes warranty information and service records. But sometimes this is not enough, and a specific form is needed.
In these special cases, you can make use of the GoCodes 'Documentation' URL link field to add a link to your custom form. Many customers choose to use Google Docs of Google Forms where they create their own custom form, though you can use any cloud or web based resource.
Once your document has been created for the asset and the link included in GoCodes, your users will be able to scan a barcode to view the asset and link URL, and then click the link to automatically open the custom form.
From there they can enter their data and submit the form. Done.
Here's an Example
First create a Google Docs form that meets your needs. Here's a guide to help you get started. https://docs.google.com/document/d/14nh-7p-i2WjtCurd3KpBMQxIULFm_EHyeFAh8gPxscg/edit
Then once you have created your form, add the URL link to an asset in GoCodes like this. Note login to your account, select the asset and click 'Update'.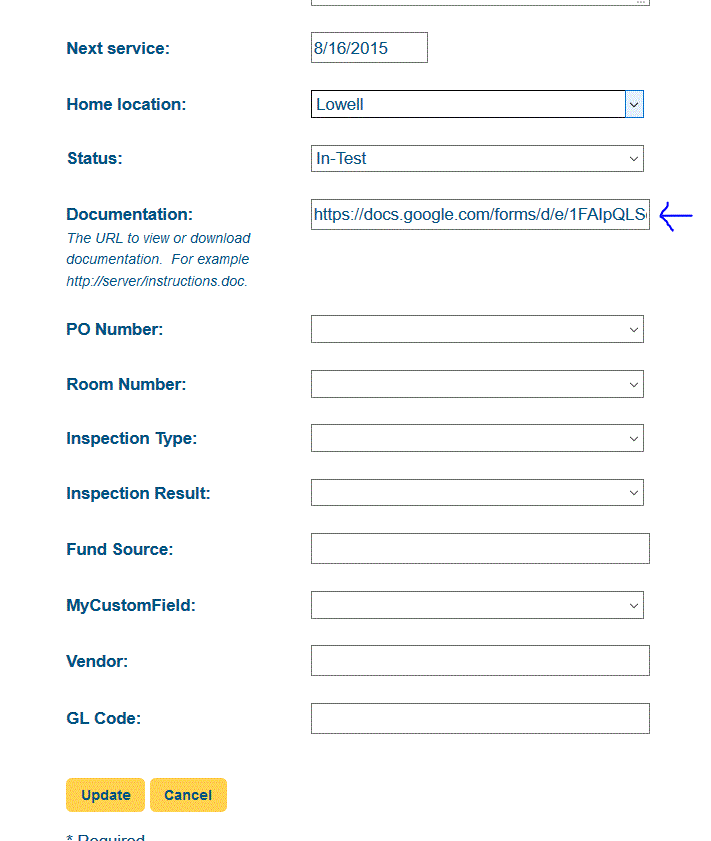 Then you can view your link for the asset in the Asset Detail View like this.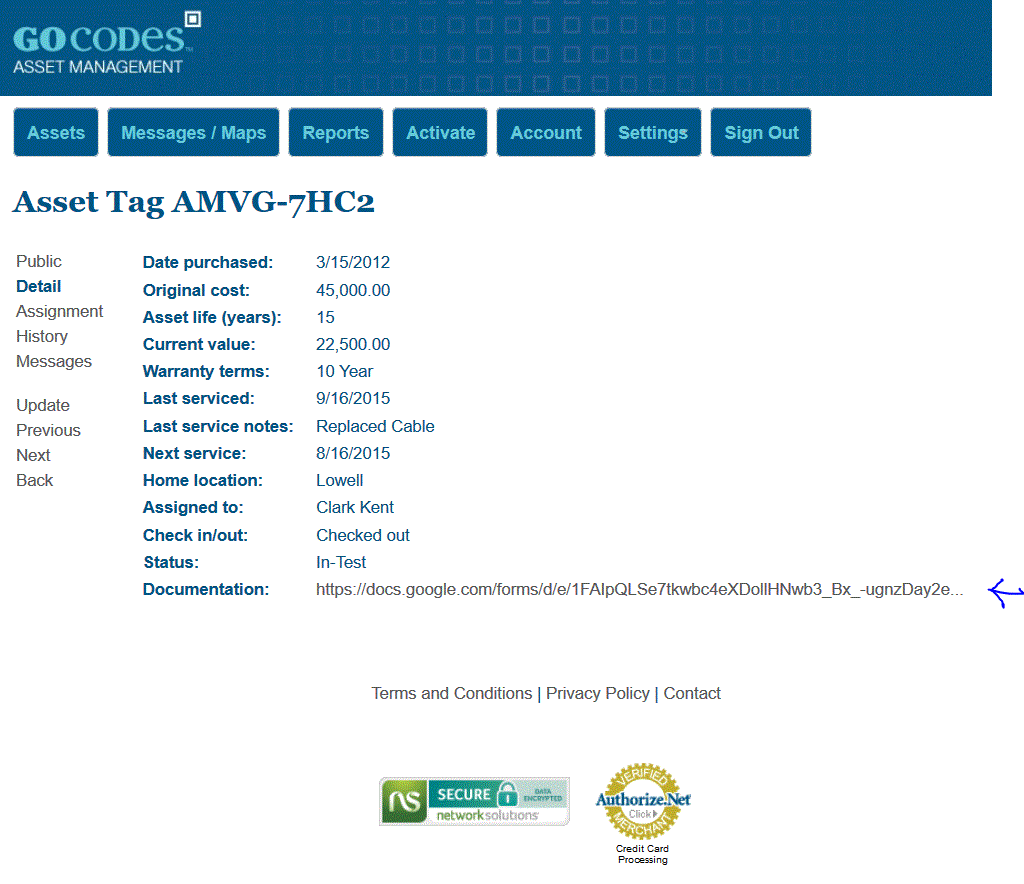 Now let's try it on your smartphone. In this case we will use the GoCodes iPhone app which you should have installed. Just start the app, login, scan the barcode and then click on the link.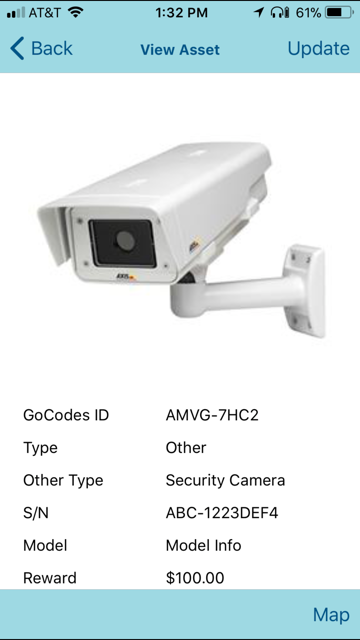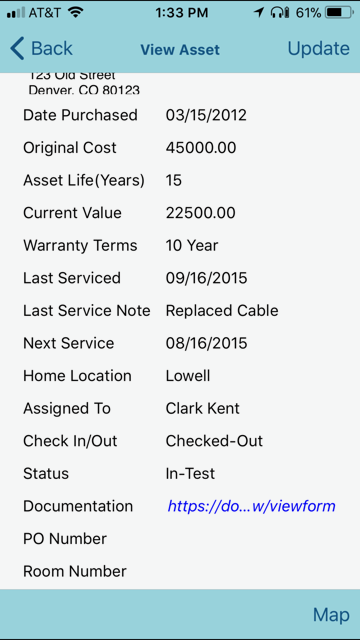 Now you can view your form.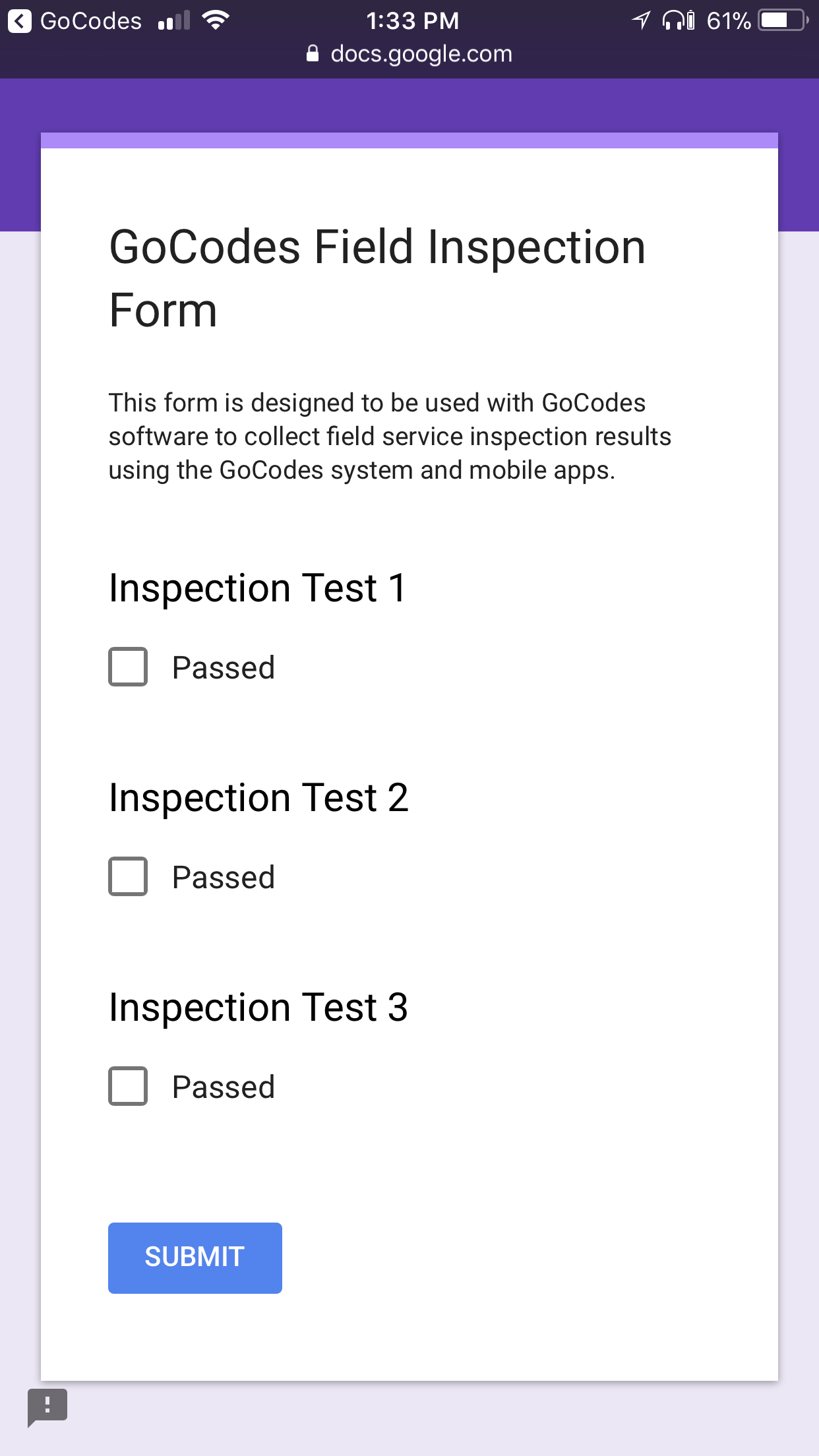 Here's the link to our example form.
https://docs.google.com/forms/d/e/1FAIpQLSe7tkwbc4eXDollHNwb3_Bx_-ugnzDay2e3Z7PwNJGK0k5wsw/viewform
Need help or assistance, were here to help.