Starting a mold remediation business may sound challenging, but it doesn't have to be.
If you're thinking about getting into the business yourself, this article will help steer you in the right direction.
It will explain what you need to do to start a successful business in the mold remediation industry, starting from planning the company to its execution and marketing.
Explore Business Options
You have to explore your options to start a mold remediation business.
Before diving into mold remediation, you need to understand what kind of business you want to run—freelancing or franchising.
If you want to be a freelancer, you will have to invest a lot less when you're just starting out, but bear in mind that this will affect your profits.
Your business might not get many customers right away, which means less profit.
It will take customers some time to get to know who you are, and you will have to market your company well.
Also, you will be the one in charge of every aspect of the business, which may be overwhelming to some.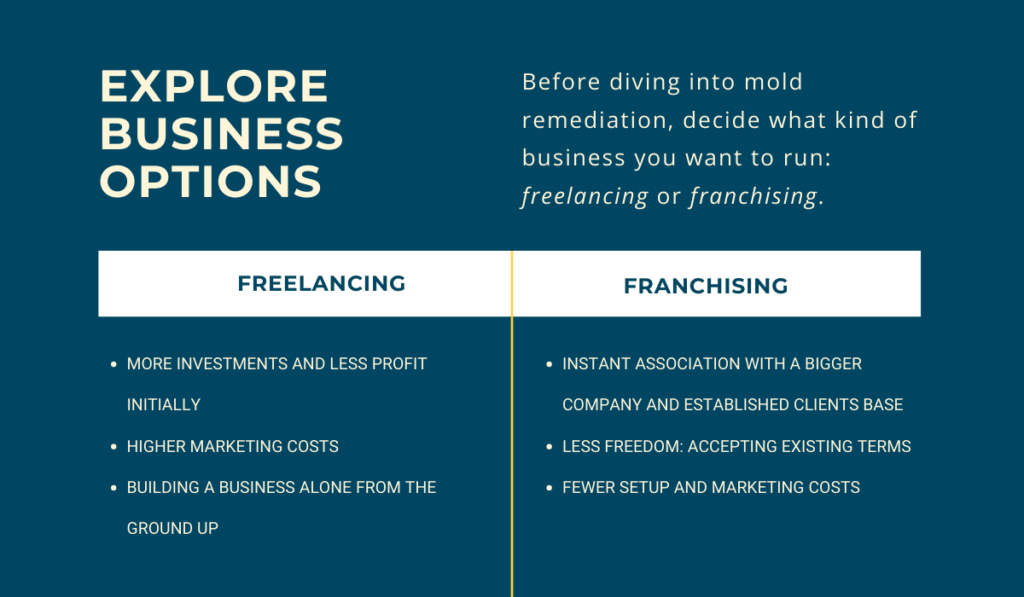 On the other hand, you can purchase a franchise of an established mold remediation company.
Of course, as a franchise of a bigger business, you won't have your creative freedom, and you'll have to agree to the existing terms and ways of doing business.
However, this means you are automatically associated with their company name and clients. Because of this, you will see profits almost instantly and save up on marketing in the process.
Decide whether you want to freelance or start a franchise before going into mold remediation.
Pick the Location Wisely
Choose your location wisely if you want to start a successful mold remediation business.
When setting up shop somewhere, always think of the potential market. Do the residents need your services? If not, you'll be out of business before you even start.
Instead of setting yourself up for failure, think about the location strategically.
Mold grows in wet areas, which is why the perfect place for a mold remediation business needs to be humid.
Choose an operating area prone to water damage or floods.
Anyone who lives in such conditions and notices mold will contact a specialist to bring mold levels down to normal and eliminate the risk of health issues.
Of course, your operating perimeter can be as wide as you want it to be, and your main office can be in a different location.
Still, if you set up shop in a dry area, you won't have that much business, especially if there's quality competition around.
Think of the weather conditions, the business perimeter, and competition when choosing the right location for your business. That way, you'll have a higher chance of making it.
Choose a humid area where water damage is common to ensure the success of your mold remediation company.
Get the Necessary Certifications
Set yourself up for success in the mold business by obtaining the needed certifications.
Before venturing into your first project, you need to ensure that your business meets all legal requirements.
Otherwise, the state can fine you and shut your business down. Even if that doesn't happen, your reputation will suffer.
The state dictates regulations that apply to all mold remediation businesses.
Therefore, before starting your own, you need to get familiar with them and know what the state expects of you as a mold business owner.
For example, Maine prohibits you from performing both mold inspection and remediation on the same project unless you sign a disclosure agreement.
In addition, some states require you to have a license to work as a mold remediator and pass a state exam.
Look into the local legislation in the area where you want to offer your mold remediation services.
Moreover, if your perimeter crosses state lines, you need to abide by the rules of both states.
Of course, you should also think about insurance and liability.
Decide whether you want general liability, worker's protection, and vehicle insurance. By doing this, you will spend a bit more but protect yourself from potential unnecessary costs.
Look into the relevant laws and regulations before starting your mold remediation company.
Purchase the Right Tools
To be a successful mold remediator, you need to invest in quality tools.
When starting a business, many think it's a good idea to save on costs such as insurance, marketing, and equipment.
They believe they can invest in these aspects over time as they start making a profit.
However, faulty or unreliable equipment can cost you a lot more in the long run. You will have to buy replacement items more often or invest in costly emergency repairs.
For example, if you have only one air mover which often breaks down, you won't be able to count on it to get the job done.
You might have to stop the project to get a new asset, rent it, or invest in a costly repair. In that case, you will not only be late with the project but will lose money.
Therefore, be wise when purchasing equipment.
Buy quality, long-lasting tools and choose those that can replace manual activities, even if they cost a bit more.
That way, the asset will perform a part of someone's job, which means that the employee can be more productive and save time.
As a result, you will get more work done in the same amount of time and will save money in the end.
Read more about the proper mold remediation equipment here.
Buy quality equipment to ensure your mold remediation business is off to a great start.
Invest in a Reliable Company Vehicle
You need a good company vehicle to start a successful mold remediation company.
Such vehicles get you to the place of work and help you deliver equipment to all the necessary locations.
Without a company car, you will have to rent one or arrange equipment delivery in another way, which takes planning and requires additional effort.
However, when you have your vehicle, you don't depend on rentals to transfer workers and equipment to the necessary location.
Therefore, a vehicle owned by your business is a practical solution.
Company vehicles also make you seem more trustworthy than rented vans or personal cars.
When clients call you to help them get rid of mold, they expect a professional to show up at their door.
If you show up in an unmarked vehicle or one that could be mistaken for a personal one, you don't leave a good impression.
On top of that, company vehicles help you market your business.
If you feature your company logo and contact information on your car, you will attract new customers and give them a way of contacting you.
Your vehicle will serve as a moving advert for your business.
And remember—you get bonus points if your car is clean and well maintained.
Have a branded company car to promote your mold remediation business.
Stay on Top Of Your Equipment
Manage your mold remediation equipment to have a successful business.
If you're just starting, you want to make use of every single penny and save where you can. This is where equipment management steps in.
When you manage your equipment, you know where it is at all times.
For example, a software solution like GoCodes can serve as a database of all your assets, allowing your employees to check equipment in and out.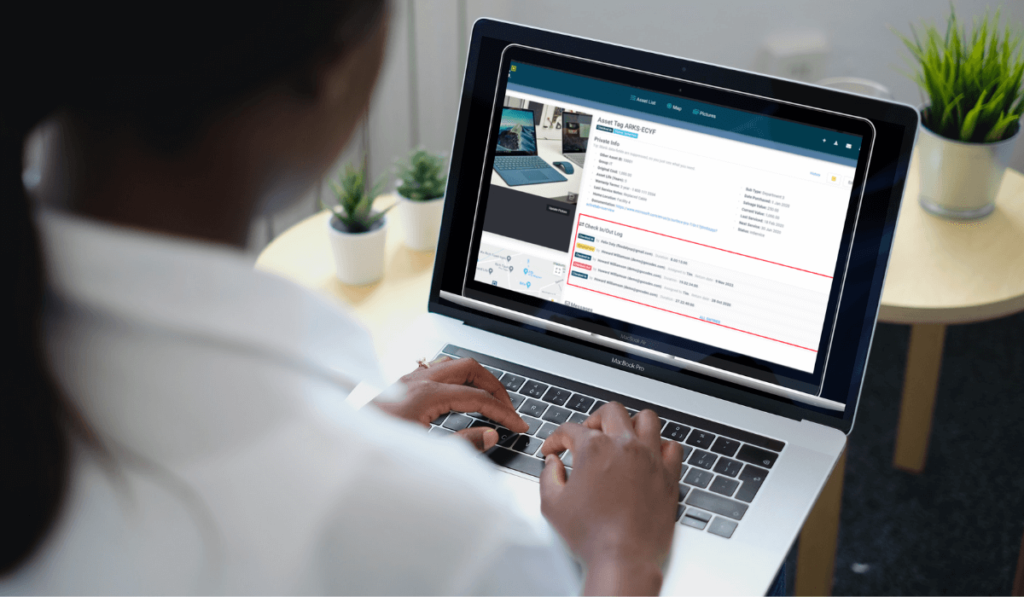 Therefore, you will always know whether the equipment is in use and when it will be available for use again.
Asset management also helps you save money.
If you have one piece of equipment for each part of mold remediation, that piece needs to be available when needed.
When it's not, you have to stop the project and wait for the asset to become available.
With the right software, you will be able to reserve the equipment and see when the current user will return it, allowing you to avoid double bookings.
Moreover, managing your equipment helps you keep track of maintenance.
Regularly investing in repairs of your assets prolongs their life and helps you get your money's worth out of the equipment.
Understanding where your assets are, who is using them, and what condition they are in helps your business succeed.
Find a Good Laboratory for Mold Testing
Decide where you will carry out mold testing before you start your business.
Since you're just starting your business, you probably won't be able to invest in an in-house laboratory.
It costs a lot, and it's not viable for someone who doesn't already have an excellent reputation and many clients.
However, although you won't be able to afford a laboratory of your own, you can still conduct the necessary tests.
When you take a sample from the field, be it a swab, tape lift, or a piece of material, you need to take it to a reliable laboratory to produce results as soon as possible.
Choose labs approved by the American Industrial Hygiene Association (AIHA) if you want reliable results.
It is also a good idea to try to arrange with the laboratory to prioritize your samples to keep the downtime to a minimum.
Potential customers call you when they worry about mold, which is why it's important that the testing process doesn't take too long—the customers are scared for their health and can't use their home or office while waiting for the results.
Select a reliable laboratory to guarantee the success of your mold remediation business.
Hire Specialists
Hire competent professionals to help your mold remediation business thrive.
Since the mold remediation process has many different steps and running a business is more than simply eliminating mold, you will need help.
You can try to do everything from marketing and taxes to mold removal and customer service on your own, but you will inevitably fail.
Taking on so many responsibilities at once doesn't let you focus on one thing and be excellent at it. Instead of doing that on your own, you should hire a specialist.
If you're confident in your mold testing and remediation skills, you can hire someone to help you with the other aspects of running a business.
For example, the employee can help you take care of accounting, scheduling, and other administrative tasks you need help with while working in the field and arranging jobs with customers.
On the other hand, if you don't want to work as a mold remediator and are more focused on the business side of things, hire a mold testing and remediation specialist to perform the job for you.
Of course, in that case, you need to ensure that the employee already has the necessary certifications and experience.
Specialists will help you bring your mold remediation business to the next level.
Market Your Mold Remediation Company
Great marketing is key to propelling your mold remediation company to success.
Many households struggle with mold today, and the struggle is getting even tougher—it was determined that mold negatively affects mental health.
Because of this, there will always be clients if you work and market well.
How can you start marketing?
First, list your business on the internet. Many sites offer free listings—why not take advantage and reach a wider audience?
Take the time to find those sites and send your proposal. Ensure that the listed data is correct and complete.
Also, invest in a clean website that offers all information regarding your business and allows your customers to contact you quickly.
Social media is where 71% of small to midsize businesses advertise their services. You need to get on the trend and create social media accounts for your business.
Try to post daily to attract an audience and get your name out there.
Since more than 4.5 billion users use social media and many of them use it to find information, those searching for mold remediation will find your business easier if you post regularly and have high engagement.
Market your company online to increase the chances of getting new customers.
Conclusion
Before starting a business, decide between franchising and freelancing. Then, choose the right location and get all the necessary licenses, equipment, and vehicles.
On top of that, you need to find a reliable laboratory for mold testing services.
Manage your equipment to know where it is, who is using it, and keep track of maintenance if you want to prolong its life.
Since you won't be able to handle all of it on your own, hire specialists to help you.
Don't forget to market your mold remediation company to attract customers. Good luck!