Asset monitoring is increasingly becoming a must-have when running a construction company in today's complex world.
Making it a part of your processes will benefit your business in multiple ways—from improved workflow and productivity to protecting your assets from theft or misplacement.
It will instigate higher employee accountability and lower your maintenance costs.
Additionally, it will keep you in line with regulatory requirements and help you make data-driven, informed decisions to move your business and operations forward.
Read on to discover what makes asset monitoring indispensable for the future and growth of your business.
Complete Asset Visibility
When running a construction company, you need to have a constant overview of where things are at any given time to achieve optimal efficiency.
Asset monitoring software lets you know exactly how many assets your company currently has, where they are located, and who is using those assets.
It also provides insight into your assets' current performance and life cycle.
With it, you have a clear overview of when they need to be serviced or replaced, helping you optimize their utilization and improve your company's bottom line.
All this relevant information gathered in one centralized software system allows for complete asset visibility, where everything is accounted for and in check.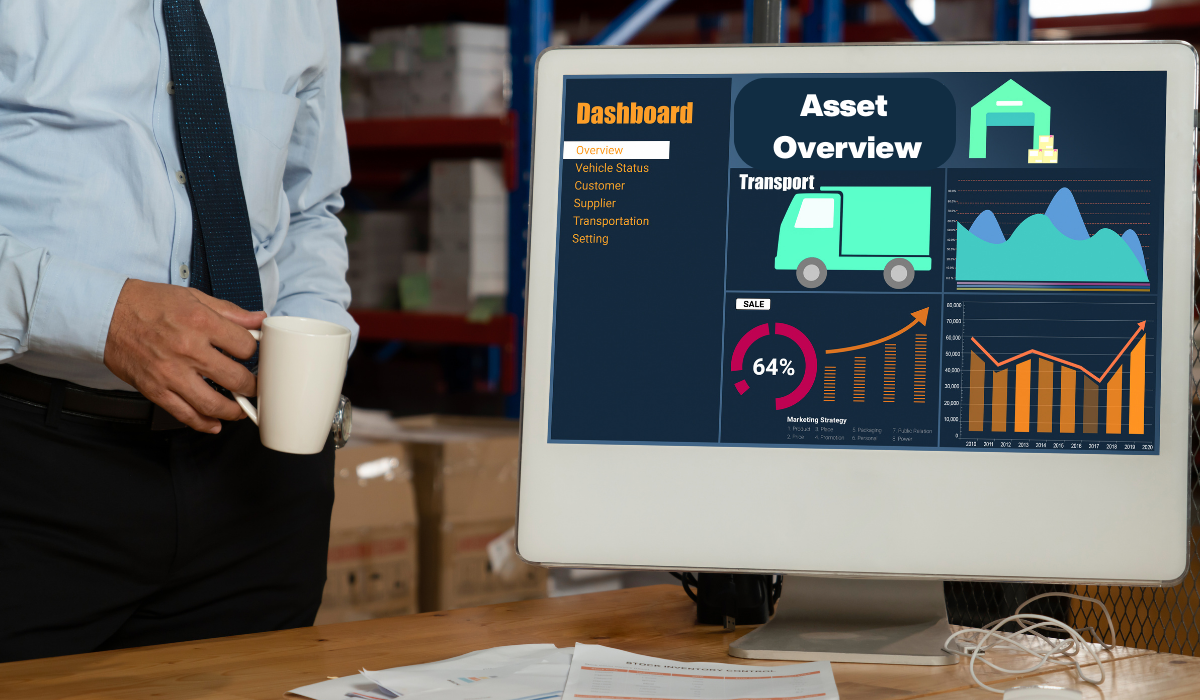 This game-changing technology notably improves asset management and helps employees coordinate their work more efficiently.
Namely, by using a centralized cloud-based asset monitoring system, employees can access real-time information about any tool or equipment they need.
They can see if the items are currently in use, and, if not, when they would be available again.
This saves time, allows better planning, and prevents construction delays.
In addition, the software keeps logs of who has accessed the equipment and when, helping you prevent unauthorized use and protect sensitive data.
In short, insight into asset usage and movements helps streamline operations and increase efficiency for your business.
Increased Asset Utilization
Construction companies invest heavily in buying and renting machines, equipment, and tools to run projects and operations successfully.
The mismanagement of these assets can significantly hinder productivity, causing companies to lose money.
Therefore, learning how to allocate and utilize equipment efficiently is of fundamental importance for any company's success.
This is where asset monitoring software comes to shine.
Not only will you be able to track your assets, but you'll also determine which of them are overused and may be at risk of damage or malfunction.
You'll also be better able to detect which assets are inactive and could be put to use elsewhere.
The asset monitoring software can help you keep track of equipment utilization by precisely capturing equipment usage.
For example, with a fast and easy–to–use barcode scanning system, your staff will be able to scan and check out equipment for projects in the field.
This change will be immediately reflected in your database, giving you a clear understanding of where your company's assets are being deployed, and by whom.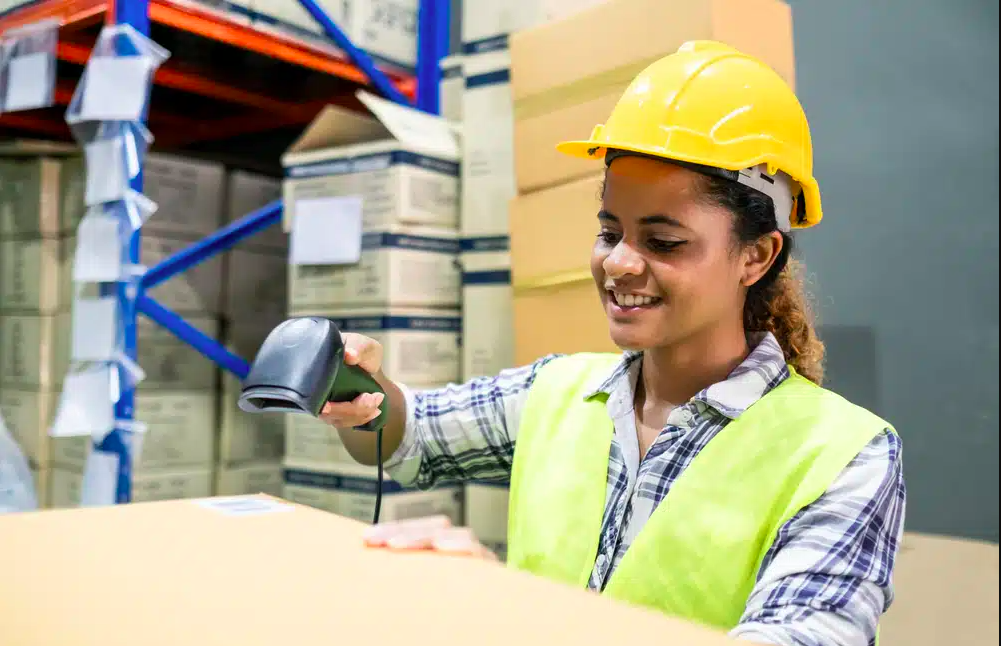 This system also provides equipment maintenance history, helping you plan and manage your assets' life cycle.
By keeping track of where their assets are located and how and when they are being used, companies can improve their overall business performance.
Better Asset Maintenance
One of the biggest operational problems at a construction site is unplanned downtime due to sudden machinery and equipment failure.
These problems usually occur as a result of poor preventive maintenance, causing costly project delays on top of unbudgeted repair costs.
To upkeep your critical assets' functionality, you need to establish and follow a firm preventive maintenance schedule.
Bear in mind that regular preventive servicing and repairs typically cost less than reactive maintenance, significantly extending an asset's lifespan and usability.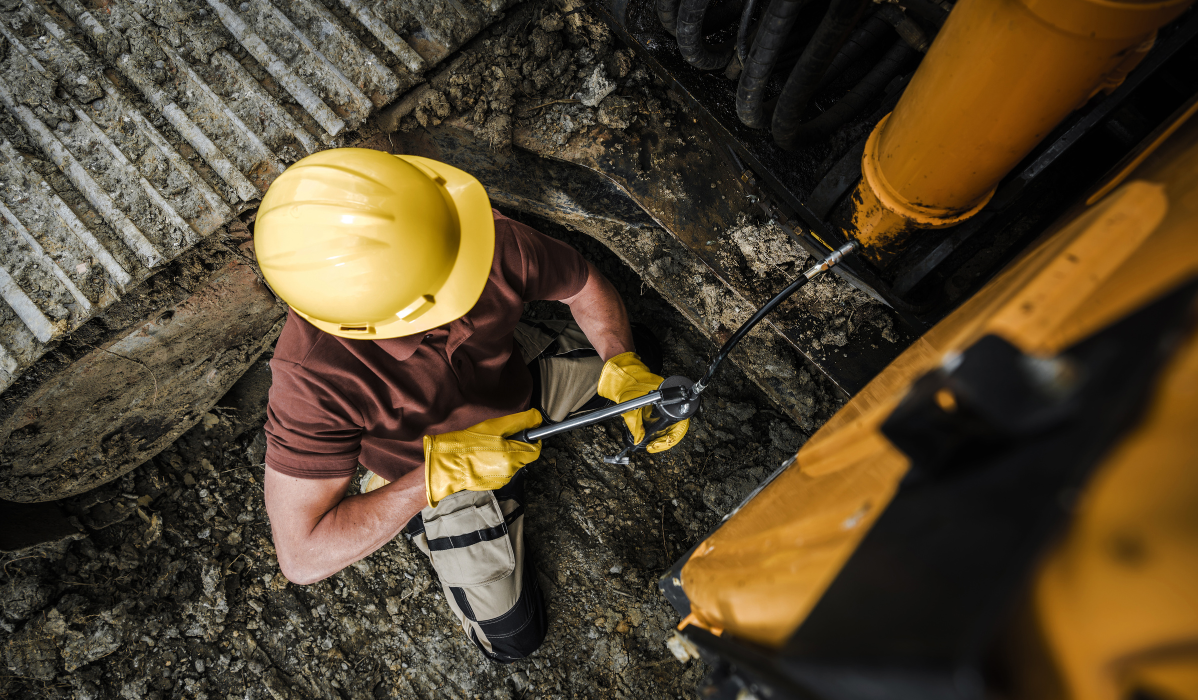 Modern software solutions for asset monitoring incorporate various features that can help you improve your asset maintenance planning and execution.
With an effective asset monitoring system in place, you can instantly access your asset utilization history and maintenance records, and review operators' manuals and manufacturer's maintenance recommendations.
The maintenance scheduling feature allows you to set a future service date, while the notifications feature will send a scheduled service alert to all relevant employees.
Moreover, when equipment unexpectedly malfunctions or breaks down amidst construction, the field service request feature comes in quite handy.
Workers can easily file a service request by scanning the QR code on the label of the asset using their smartphones.
The request message will reference the item that was scanned, provide a date, and a GPS location, as well as any information about the issue entered by the user.
In response, management can quickly send a team of technicians to the site to fix the problem, thus preventing longer downtime that would constitute a waste of resources.
On the other hand, the task feature enables you to create, assign, and track maintenance work orders that allow for an issue to be reported and addressed promptly.
The work orders envisage adding detailed information and data about the equipment and the current issue, which will help the maintenance team get straight to work.
Using these technological perks will enable you to keep your company's assets in good condition for as long as they can be useful.
Improved Employee Safety
It is no secret that construction sites can be a dangerous place to work.
According to the National Safety Council, in 2021, the construction sector saw the most preventable deaths of all industries.
That's the leading reason why the authorities, including the Occupational Safety and Health Administration (OSHA), insist on adherence to various safety regulations.
Asset tracking and monitoring solutions have proved helpful in ensuring the employee's health and safety at the workplace.
Tracking your company's assets, like tools, machinery, and equipment, gives you valuable information about their life cycle, functionality, maintenance, and use.
It can help you identify the equipment at high risk of breaking down and causing accidental injuries to the workers present.
In other words, by implementing a regular maintenance schedule, you will be able to find potential threats and resolve them promptly, making the workers feel safer using the equipment.
Additionally, designated employees must undergo training to use specific machinery and tools to avoid becoming a safety hazard to themselves and their coworkers.
The asset monitoring software can allow you to track who has access and authorization to operate specific machinery.
This promotes accountability, and consequently helps avoid accidents and injuries resulting from mishandling tools and equipment.
Evidently, investing in an asset monitoring solution and a strong safety program can help prevent workplace accidents and injuries.
OSHA estimates that construction companies save $4 to $6 for every $1 invested in training and worker safety programs.
Higher Employee Accountability
Construction requires a lot of equipment that entails significant investments in acquiring, operating, and maintaining that equipment.
Nevertheless, workers often take the tools and equipment for granted, focusing only on the work that needs to be completed, and not so much on the equipment they leave behind.
Keeping track of the equipment is particularly challenging when assets move across locations.
The asset monitoring system will enable you to hold employees more accountable when it comes to taking care of the equipment and using it properly.
That is to say, to achieve better asset visibility and utilization and be up to date on each asset's location and status, the employees will be required to manually scan the labels or tags attached to individual assets every time they need to use them.
An asset monitoring software with a check-in and check-out feature enables every employee to check the equipment out when they start using it and check it back in when they are done.
The software also has an option for overdue asset notifications if an employee does not return an asset on time.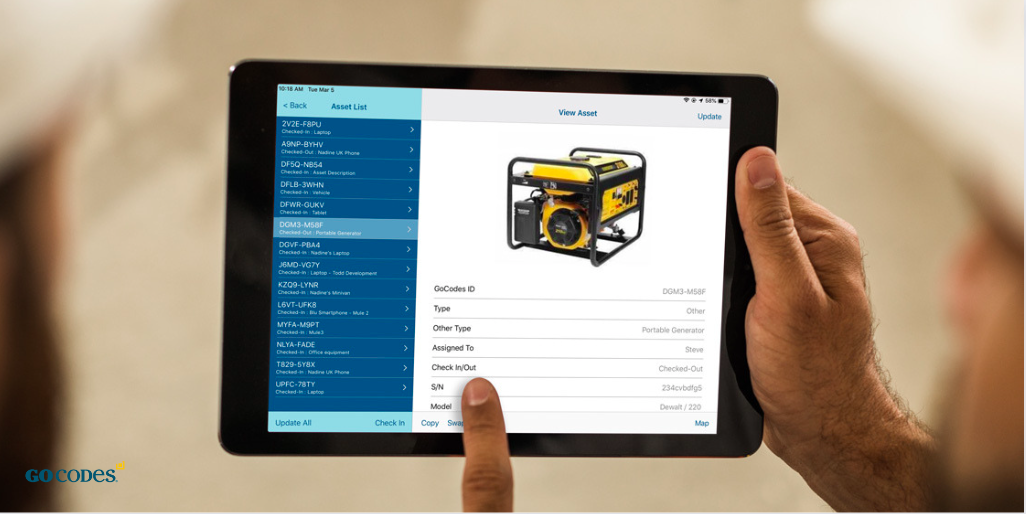 The bottom line is, if an employee misuses a tool or equipment or if it goes missing while they're in their possession, they will be held accountable.
Knowing this will motivate employees to act more responsibly.
With each scan, employees contribute to the asset's records, allowing for more efficient usage and better planning for its long-term maintenance.
It also helps get employees involved in implementing and using asset tracking.
When they make this practice a part of their daily routine, employees will naturally feel more accountable for the care and proper use of the equipment.
Reduced Risk of Theft
Equipment, tools, and building materials often get stolen due to their high value, which results in lost productivity, delays, and unbudgeted expenses.
Businesses can't afford to lose track of their assets or have them stolen.
An asset monitoring solution will undeniably protect your valuable equipment, primarily by discouraging opportunistic thieves who can notice that the construction company's assets are being monitored.
Attaching unique identifiers to your equipment and tools, like tags or labels, will enable you to track your asset's location through a cloud-based asset management system, increasing the chances of recovering stolen assets.
Let's see how that works in practice.
For instance, GoCodes provides QR code asset labels and tags, and each time a label is scanned, the app records and updates the location of the equipment.
If an asset was stolen, the last known location can serve as a helpful starting point in finding and retrieving it.
Furthermore, GoCodes' labels and tags represent proof of ownership if the asset is found.
GoCodes also facilitates asset tracking through its use of Bluetooth beacons.
If an asset, or its beacon, is removed from within a specified range, the GoCodes Guardian app will immediately notify you via text message alert.
This feature works toward theft prevention, above all.
With technology on your side, thieves are less likely to take the risk.
Informed Decision-Making
Effective management of a company's resources is based on access to information.
Modern asset monitoring solutions collect and store data about the asset and how it is used, enabling companies to gain valuable insights into specific trends and patterns.
Access to accurate data stored within a single centralized system's database will allow managers to make informed decisions about optimally deploying the company's assets.
It also helps them determine when to purchase new assets, or focus on repairing the existing ones.
In simpler terms, the data gathered by the asset monitoring system will help you determine what you currently have so you know what you need to upgrade or replace to remain at the cutting edge of your industry.
This kind of software solution allows for detailed asset data analytics and reporting.
Managers can easily extract and apply this data to, among other things, create custom reports, analyze equipment performance, optimize schedules and prevent unnecessary downtime.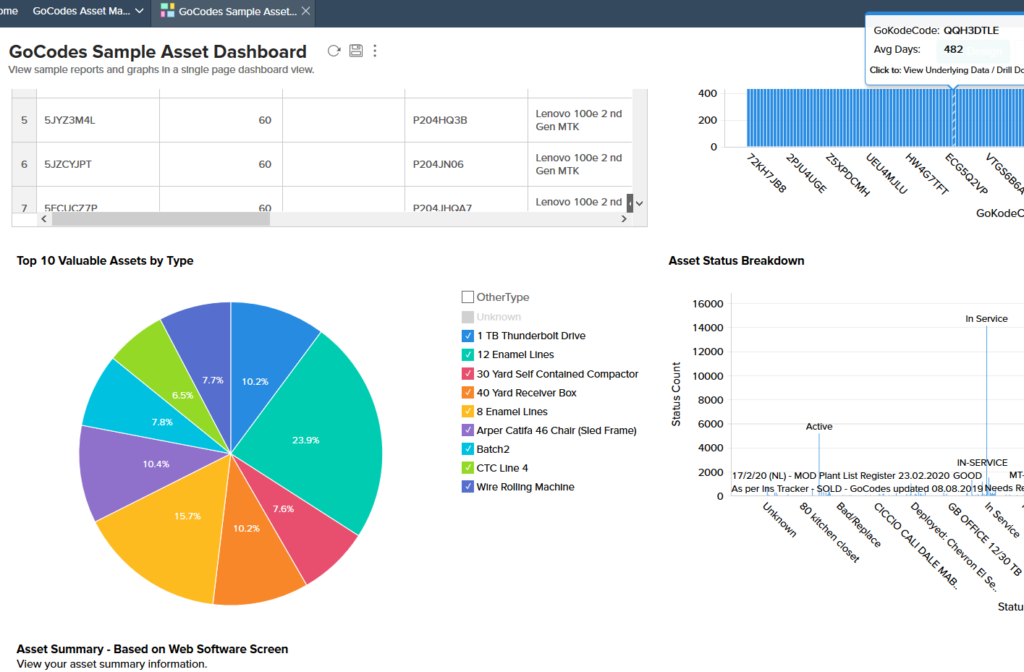 In other words, the asset monitoring software's analytics can help you make data-driven decisions on how to best invest in resources and respond to problems.
Easier Regulatory Compliance
The ability to track assets is a valuable tool when it comes to working within industry compliance standards and regulations.
As defined by the construction wiki Designing Buildings, building regulations establish minimum standards to be achieved in the construction of buildings and provide guidance about how the building regulations can be satisfied.
On the other hand, regulatory compliance is the process by which organizations ensure they are operating in accordance with relevant regulations.
Maintaining an accurate asset record helps you track your physical assets and facilitate compliance with regulatory requirements.
By leveraging asset monitoring technology and digital tools, your company can streamline compliance processes, minimize risks, and avoid costly fines and penalties.
Conclusion
In this article, we've covered only a few of the many benefits of asset monitoring systems.
Essentially, asset monitoring solutions help you track your assets and their usage, optimize their utilization, and expand their lifespan to serve your business needs longer and better.
It increases employee accountability, deters thieves, and has you covered with data and analytics when it comes to making important decisions and plans about the future of your business.
If your goal is to run a successful construction business, asset monitoring solutions are increasingly becoming an imperative.