Nowadays, QR codes are everywhere around us, which is a testament to their versatility, simplicity, and cost-effectiveness, proven across various industries and applications.
In construction, QR codes have enabled company owners and managers to digitize, automate, and streamline numerous processes, resulting in significant time and cost savings, enhanced productivity, and increased profitability.
In this article, we'll explore eight ways QR codes can help you transform your construction operations.
Having Employees Clock In and Out
Quick response (QR) codes can successfully replace outdated punch card clocks and paper timesheets and even streamline more modern electronic methods of employee time tracking.
In other words, even in only a small part of construction operations—worker time clocking—QR codes offer versatile applications, enabling contractors to pick and choose what best fits their employee management needs.
For instance, workers can have physical QR code badges they scan at a designated QR code scanner at the jobsite when clocking in and out.
Alternatively, they can store digital QR code badges on their smartphones, which helps reduce instances where physical badges are forgotten, lost, or misused for "buddy punching" when someone is late.
Here's an example of one such solution, Simple In/Out.

In this setup, workers have one or more devices (e.g., tablets) available at strategic jobsite access points where they simply scan their digital QR code badge to automatically check in and out.
Naturally, it's also possible to reverse this QR code-based time-clocking process.
In other words, instead of showing their unique QR code to a dedicated reader/scanner, workers can be the ones scanning a QR code displayed on a screen, paper, or sign.
For example, a truck driver can use a dedicated mobile app and in-app scanner on their phone to scan the designated QR code inside the cabin when starting and ending their shift.
In such cases, the driver will usually log into a smartphone app, select "clock in" or "clock out," and perform the scan.
Given all these employee time-tracking options, their convenience, and cost-effectiveness, it's not surprising that construction companies are increasingly utilizing QR codes for clocking their workers in and out.
Reviewing the Training of Construction Workers
QR codes allow you to quickly access and review your workers' training records, ensuring their jobsite safety and your company's quality of work and compliance with regulations.
More precisely, the unique QR code on workers' badges or smartphones can link to each employee's info on their qualifications, training, and certifications to perform certain construction tasks and operate specific equipment.
Since the info linked to all these codes is stored in a central online database, managers and other stakeholders can simply scan the code or log into the appropriate software and find what they're looking for.
Moreover, stickers with the worker's QR code can be placed on their hard hat or safety vest, allowing the site safety officers, forepersons, and managers to instantly access the training records of on-site workers with a simple scan.
The mobile app AnchoRock gives a good example of this practice.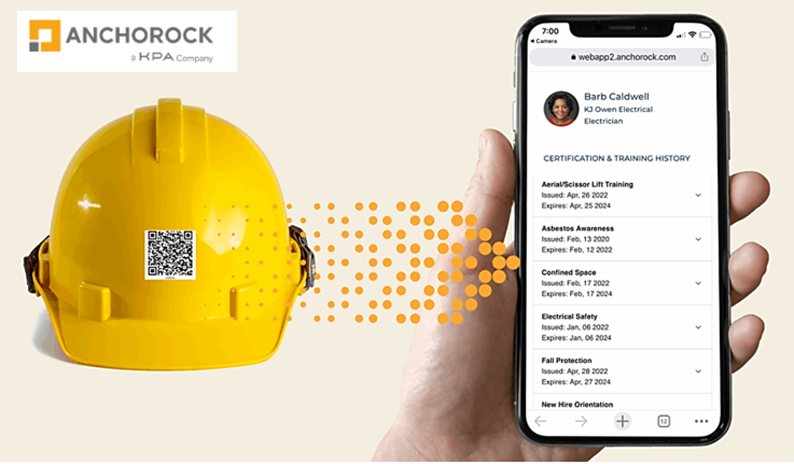 This specialized training and certificate tracking app—and other comparable solutions—can be used to perform internal site inspections of whether the workers have received adequate training and if they comply with industry standards and safety regulations.
Of course, when OSHA's (Occupational Safety and Health Administration) safety officers or local building inspectors arrive, such apps can be instrumental in avoiding citations and fines.
Overall, by using QR codes to review and update the workers' training records, contractors can ensure the right workers with proper qualifications and training are assigned to specific construction tasks, thus maintaining their quality of work.
At the same time, this increases jobsite safety and ensures the company's compliance with regulatory requirements.
Defining Standard Operating Procedures
Using QR codes to define and facilitate workers' access to standard operating procedures (SOPs) can significantly improve efficiency and safety on construction sites.
As a reminder, here's how TechTarget defines an SOP:
"A standard operating procedure is a set of written instructions that describes the step-by-step process that must be taken to properly perform a routine activity."
Since SOPs serve as the backbone for ensuring construction tasks are executed correctly and safely, it's crucial to provide workers with an easy and instant way to access them on-site.
For example, when construction equipment or machinery is serviced, the assigned service technician can scan the QR code to access instructions on how to ensure no other employee accidentally turns it on while they're working (lockout procedures).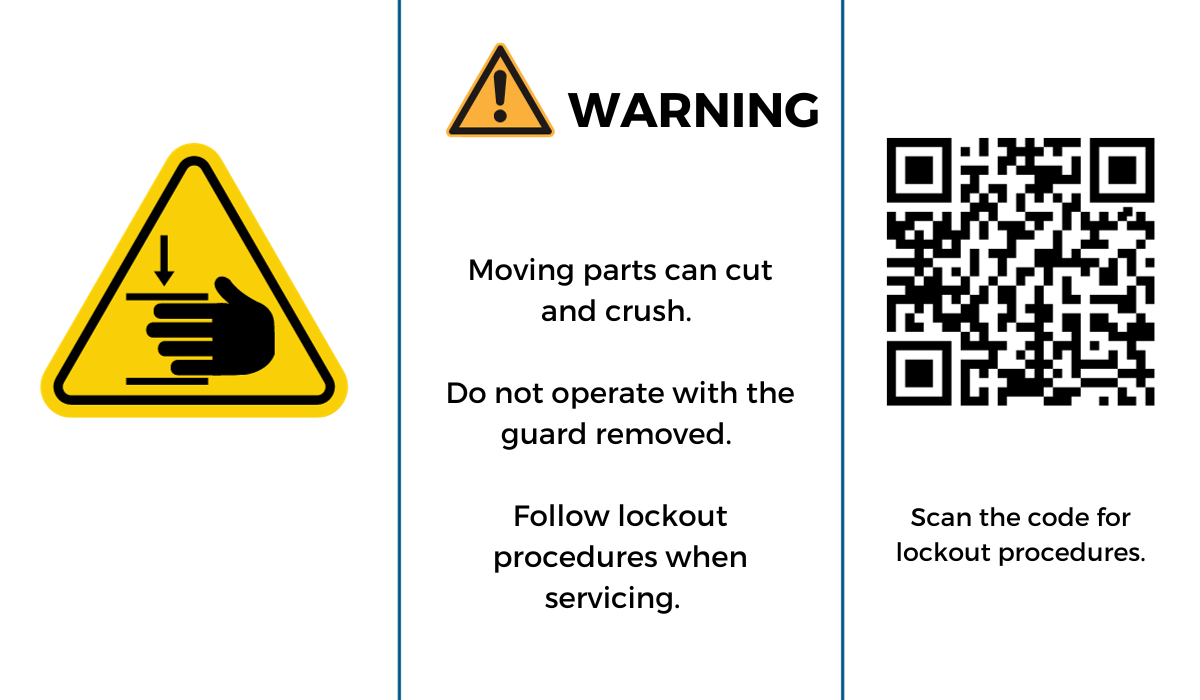 In essence, QR code applications for defining and distributing SOPs are as diverse as the range of procedures stemming from regulatory requirements, safety protocols, and your company's internal standards.
For instance, QR codes can be placed on or near specific pieces of equipment or at task locations so workers can scan them and instantly access relevant SOPs, like in the case of lockout procedures.
When hazardous materials are involved, QR codes can be affixed to storage containers, safety cabinets, or material datasheets, enabling workers to access detailed instructions for safe handling and storage.
The same principle applies to emergency response plans, i.e., what to do in case of accidents or incidents, and to safety inspection checklists and procedures.
To recap, using QR codes to define and provide easy access to SOPs reduces the risk of errors and accidents, and empowers workers with the knowledge they need to perform their tasks efficiently and in compliance with the industry, safety, and your company's standards.
Sharing Instruction Manuals
Like with SOPs, QR codes can simplify access and share various instruction manuals and guides related to equipment, tools, vehicles, and materials commonly used in construction.
In other words, contractors can replace printed manuals with digital, QR-linked versions, providing workers with quick and convenient access to essential operational and maintenance information.
For instance, when a worker encounters a less familiar tool or needs to troubleshoot an issue on-site, a quick QR code scan eliminates the previously time-consuming process of searching for the correct paper manual.
In fact, many equipment manufacturers provide their own QR code links to instruction manuals, usually located near or on the equipment nameplate, like in this example.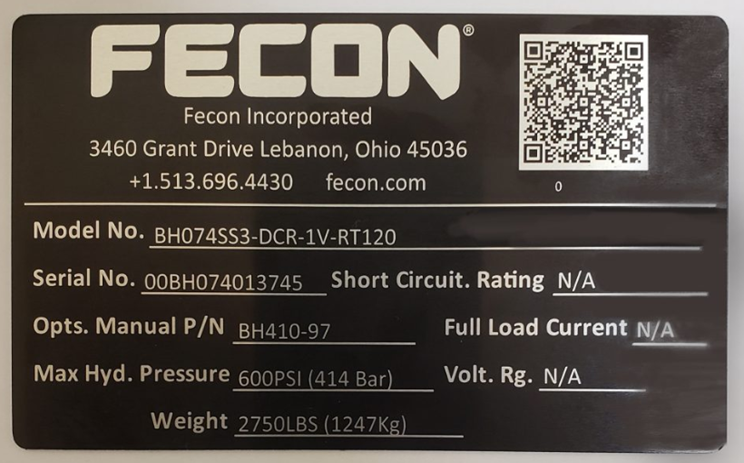 That way, equipment manufacturers provide users instant access to a wealth of information, including assembly, operational, and safety instructions, maintenance procedures, troubleshooting tips, and warranty details.
Naturally, your company can create its own QR code-based central database where vital information about your tools and equipment can be stored and accessed by workers with an easy scan.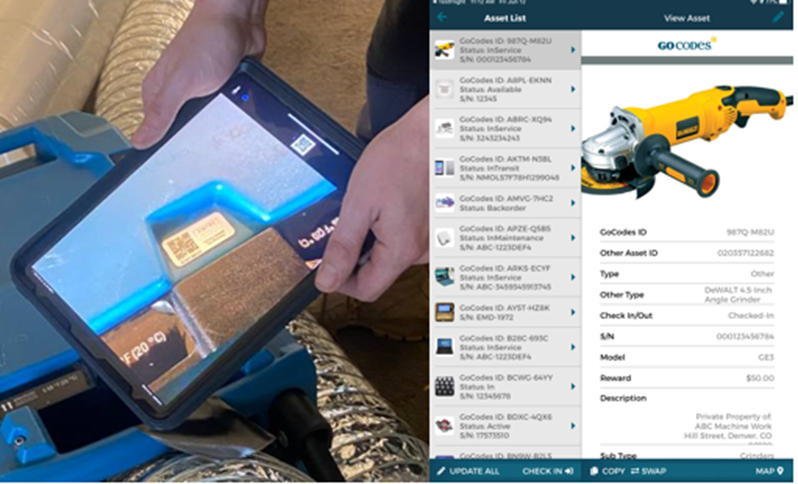 To do that, you can order customizable QR code labels, attach them to tools and equipment, and populate the cloud software's database with initial info.
When workers use the software's in-app scanner to scan a QR tag, they're taken to the asset's info page.
There, they can view and update various data relevant to equipment usage and maintenance, including manufacturer's manuals and your company's specific guidelines.
To recap, leveraging QR codes to share instruction manuals is a great way to ensure workers have a simple and quick way to access crucial information about the equipment and tools they're using.
Updating Engineering Drawings
Since it's clear by now that QR codes can be used to access any web-based content, it makes sense to use them to keep your construction team informed about any changes in project design and engineering drawings.
Although such documents are typically reviewed digitally, contractors often encounter challenges ensuring construction crews work off their latest version.
If drawing sets are not updated, this can cause severe consequences like rework, project delays, and cost overruns.
Therefore, QR codes on printed plans and drawings can take workers to the last-updated version, and the same can be done for their now outdated digital versions.
Since changes are inevitable in any construction project, using QR codes to update drawings and other construction documents can help improve communication and collaboration between design, engineering, and construction teams.
Naturally, this helps contractors avoid delays, costly rework, and budget overruns stemming from working with outdated drawings.
Performing Asset and Material Verification
Of course, worker safety and successful construction project completion depend on using high-quality tools, equipment, inventory items, and building materials.
We already mentioned how QR code tags on tools and equipment take workers to a digital asset record containing details like maintenance and usage history, last inspection date, etc.
This enables them to perform asset verification, i.e., determine whether the tool/equipment fits the job, its maintenance status, and any special operating conditions.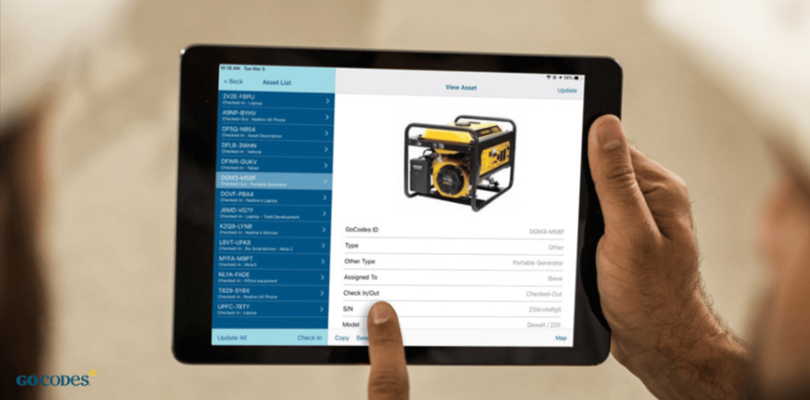 Similarly, by attaching QR codes to construction materials (bundles, pallets, bags, boxes), construction companies can streamline their verification process.
For instance, QR codes can be generated and affixed to bundles of different-type steel beams needed for the project.
That way, when they're installed on-site, workers can scan them and verify they match the project's specifications.
Lastly, a QR code-based system can track the quantity and verify the quality of inventory items like spare parts, lubricants, etc., ensuring workers can quickly check their availability and product specifications.
Since safety and quality are top priorities, performing asset and material verification using QR codes can help avoid accidents, minimize construction errors, and ensure that construction projects are finished on time.
Tracking Construction Assets
Although some might think you need active GPS trackers to track the location of your construction assets, that's not necessarily so when GPS-enabled QR code tags are involved.
This QR code application enables construction companies to track the location of their assets by utilizing the GPS function of mobile devices used to scan the QR tags.
In other words, when a worker scans the QR code label affixed to an asset, tracking software automatically captures the asset's GPS position and shows it on a map.
One such solution with automated, scan-based GPS tracking is our asset-tracking software, GoCodes.
GoCodes is a great example of how cloud software, an in-app scanner, and patented QR code tags can be used to create a single system for tracking the location, usage, and status of all construction resources, i.e., equipment, materials, and inventory supplies.
As we've seen, you can use the asset's info page to add notes, images, and links to important information like SOPs, instruction manuals, specifications, scheduled maintenance, or any other relevant information.
Naturally, when GPS-enabled QR codes are used to track where your construction assets are and who is using them, this significantly minimizes asset theft and loss, prevents negligent operation and poor maintenance, and increases worker accountability.
Overall, QR codes are the simplest and most affordable method to track the location and usage of your construction assets, streamline maintenance, and automate inventory control.
Monitoring the Progress of Construction Projects
Naturally, tracking the progress of a construction project is essential for staying on schedule and within budget, and versatile QR codes can help.
For example, workers can scan a QR code on-site to quickly input their daily reports, i.e., information about tasks completed, materials used, and any issues encountered, which managers can use to monitor project progress.
The same principle applies when QR codes on drawings and documents are used to record the performed construction tasks that lead to specific project milestones.
For instance, the completion of these construction document review milestones can be monitored with QR codes shown next to their digital versions or printed on their paper versions.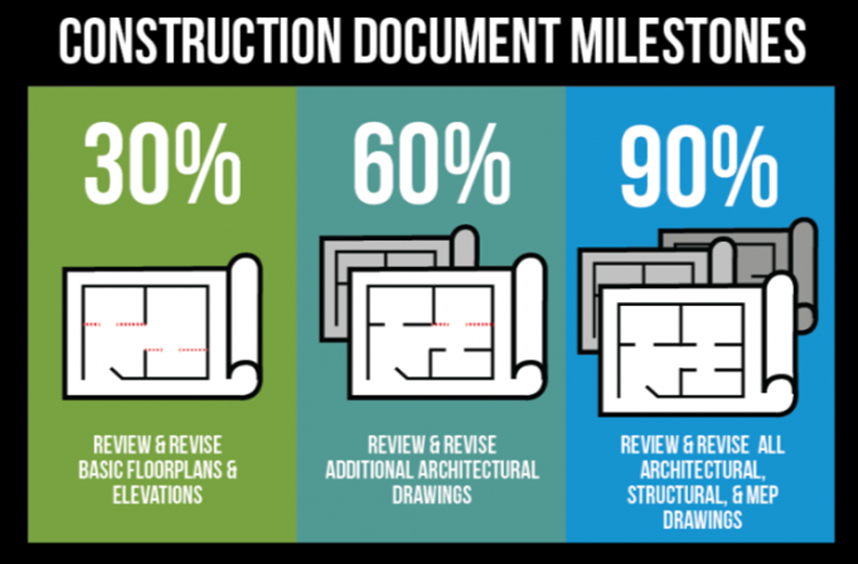 Another example of how QR codes facilitate tracking project progress are inspections and quality control checks, where employees scan digital or physical QR codes to enter their findings.
All in all, the versatility of QR codes offers contractors various efficient ways of using them to facilitate monitoring the progress of construction projects.
Conclusion
After exploring these eight QR code applications in construction, it's evident that QR codes are a simple, low-cost, and versatile method to digitize, automate, and improve many aspects of your company's operations.
In all the cases we've covered, construction companies utilize QR codes to save time, minimize errors, provide instant access to critical information, and automate different processes, enabling them to increase productivity and enhance profitability.