An efficient inventory control system ensures construction companies have the right tools, equipment, and other supplies needed for smooth project completion.
More specifically, such a system should facilitate managing construction inventory, which means maintaining appropriate inventory levels, avoiding stockouts and overstocking, minimizing inventory loss and theft, and reducing costs.
In today's world, numerous software solutions can help construction companies establish a digitized, automated, and streamlined inventory control system.
However, with so many options, it's easy to lose sight of what's essential and what's not.
To help you pick the right inventory control system, we'll explore seven key factors to consider when evaluating different options.
Prioritize the Inventory Control System's Ease of Use
Above all, the right inventory control system should be easy for the construction company and its employees to use.
The reason why you should prioritize the system's ease of use is—first and foremost—because of the complexity of construction projects and the number of inventory items moving between storage and one or more jobsites.
In other words, your inventory management software—the heart of your inventory control system—shouldn't make the construction process even more complex by forcing employees to deal with a cluttered user interface, too many seldom-used options, and complicated procedures.
Another argument in favor of a user-friendly system is that construction typically involves many people with different social and educational backgrounds.
Therefore, less tech-savvy users can find it challenging to use a complicated system, leading to user resistance, slower adoption, more extensive and expensive training, and even system failure and abandonment.
Therefore, construction companies should focus on how easily all their employees—from jobsite crews to project managers—can work with the software system.
For example, our construction asset and inventory tracking system—GoCodes—was designed with simplicity and ease of use in mind.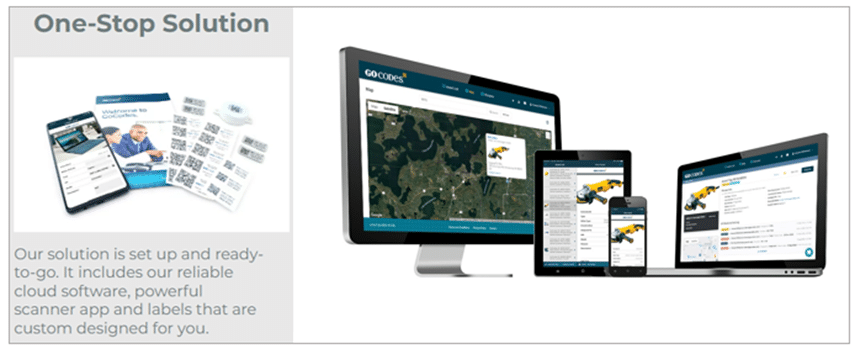 Aside from its user-friendly interface and straightforward functionalities, this simplicity extends to the entire product package.
In other words, there's no hardware—like printers or handheld scanners—to purchase, and there's no need to print labels or get them from external label producers.
Moreover—as we'll explain later—there's no on-premises software to install or host servers to maintain.
Instead, users download the cloud-based app onto their devices, the pre-delivered labels are attached to inventory items, the software's online database is populated with initial data, and your inventory control system is ready to go.
In conclusion, when picking the right inventory control system, construction companies should prioritize its ease of use for all employees, the simplicity of its user interface design and functionalities, and how easily the system can be set up.
Check Whether Barcode Scanning Is an Option
Although construction tools, equipment, supplies, and materials can be tracked using a variety of tracking methods, barcode scanning is by far the most used and affordable method for inventory control.
Simply put, barcodes are less expensive and easier to apply compared to other methods while also enabling fast and convenient scanning.
Therefore, you should check whether the software system you're considering is either based on barcode/QR code scanning or offers it as one of the tracking options.

For starters, barcode scanning eliminates many errors commonly associated with manual data entry and allows construction companies to collect, store, and organize their inventory data digitally.
Furthermore, you should look for an inventory control system that—instead of relying on separate handheld barcode scanners—has built-in barcode scanning.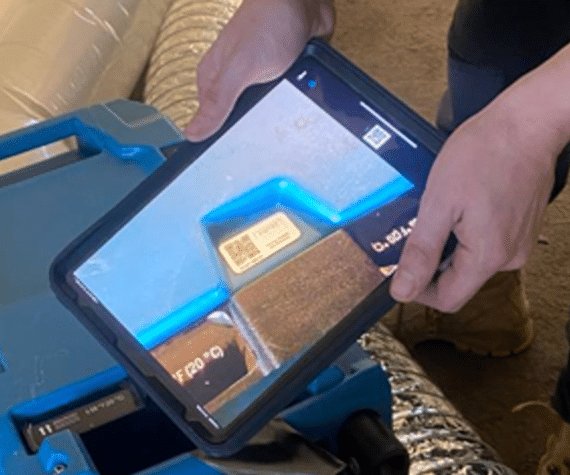 As you can see, in-app barcode scanning means that users can scan barcode labels/tags with their smartphone or tablet to quickly and easily access, view, and update inventory data.
For example, a worker can scan the barcode on any tool, equipment, or other items in the company's inventory to access that asset's data, view relevant info, and record their actions, such as checking a tool out from storage and returning it.
The system records all these actions in real time, so all users—from jobsite workers to office-based managers—can see them when they access the system's central inventory list (database).
We should point out that more advanced inventory control systems utilize the in-app barcode scanner and the mobile device's GPS function to automatically record the GPS location of the scanned asset.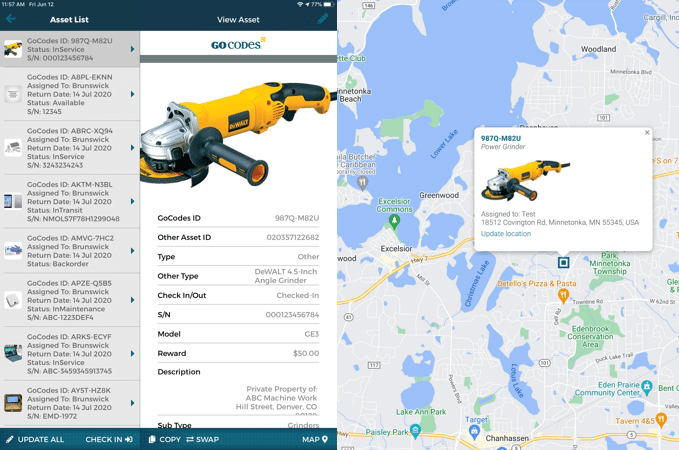 These automatic GPS location updates are extremely useful for improving worker accountability, minimizing inventory theft and loss, and increasing operational efficiency.
Given all these benefits of built-in barcode scanning—affordability, flexibility, mobility, and even automatic GPS tracking—you should opt for an inventory control system based on this method.
Find a System That Can Track Inventory Quantities
In addition to tracking individual construction assets like tools and equipment, a vital feature of an effective inventory control system is the ability to monitor inventory quantities in real-time.
This gives construction companies complete visibility and control over their inventory quantities at all times, ensuring that all construction supplies, spare parts, and other consumable items are well-stocked and available when needed.
The principle of tracking inventory quantities is similar to the one described for tracking individual construction assets.
It involves scanning the tag to access and update their info in the system's central database.
For example, a worker can scan the barcode label on a container holding specific spare parts, take one or more parts out—or put new ones in—and update the inventory system to show the new quantity of spare parts in stock, as shown below.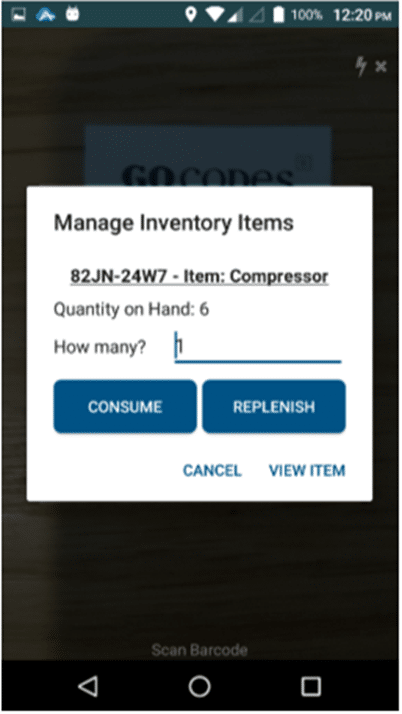 As we just discussed, when workers can use their smartphones or tablets to scan the barcode, this extends the range of your inventory control system beyond one or more warehouses to any number of jobsites and other field operations.
Again, this ensures that your employees have everything (tools, spare parts, PPE, etc.) they need to do their job efficiently.
It also prevents overstocking and stockouts, both of which can be caused by the lack of real-time inventory updates from multiple locations.
Given all this, you should look for a system that can track inventory quantities in real-time, allowing your workers to easily update inventory records from any location and your managers to quickly access accurate inventory information for decision-making purposes.
Understand the Need for Low Inventory Quantity Alerts
Another key feature of an inventory control system is the ability to send out automatic low inventory quantity alerts when the construction company's inventory levels fall below a predetermined minimum.
In other words, these alerts can help contractors avoid issues like:
project delays due to a lack of necessary parts, tools, or materials
extended equipment and worker downtime while obtaining required inventory items
higher costs due to the rush ordering of inventory items and expedited shipping costs
Now that we highlighted their importance, let's explain how alerts usually work.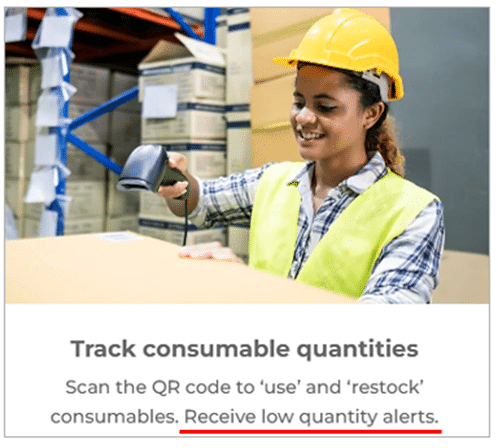 As we explained, workers scan the tag on a container or pallet, and the system prompts them to record how many items they're using or restocking.
If the number of items reaches zero, the system will show an alert and send an email notification to the responsible person(s).
However, if the system's parameters for that inventory item are set to a minimum quantity of, for example, 50 items, then the system will automatically send an alert when it detects that the current quantity is less than 50.
This enables inventory managers and other responsible staff to know when it's time to order new inventory, thus preventing a whole host of issues we mentioned above.
And that's why automatic low inventory quantity alerts are a vital feature of an efficient inventory control system.
Look For Inventory Analysis and Reporting Options
Since the inventory control system collects a great deal of data, inventory analysis, and reporting options allow construction companies to use all that information and turn it into valuable insights and data-based inventory management decisions.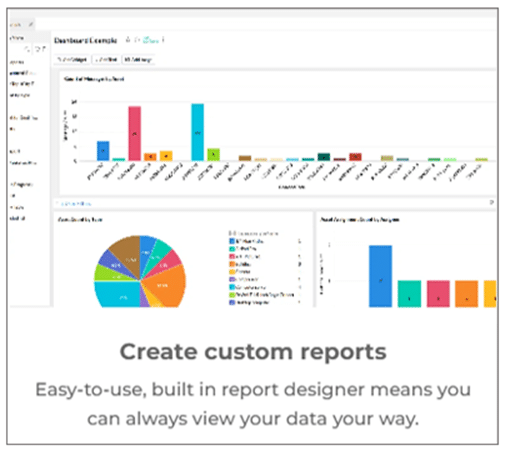 For example, an inventory manager can run a report on the number of used spare parts and notice that the stock of a specific part is consistently running low.
Using this insight, they can analyze other relevant records to identify the root cause of this issue, such as a high failure rate due to low-quality materials those spare parts are made from.
From there, they can take proactive measures to address the issue.
This is just one of numerous examples of how your inventory control system's inventory analysis and reporting feature can help you identify potential issues and inventory management inefficiencies, gain invaluable insights, and make better-informed decisions.
Consider the System's Available Integration Options
Ideally, an inventory control system should have the ability to be integrated with other systems that the construction company and its employees are already using, such as project management and accounting software systems.
In other words, if two software solutions are able to communicate with each other and exchange data, there is no need for manual data transfer, which reduces errors and saves time.
As for your system's integration options, inventory management software providers should—either as part of their package or for an additional fee—provide an API (Application Programming Interface).
In essence, an API tells your IT personnel/developers how to integrate the inventory control system with other systems so that they can communicate and share data.

Some inventory management solutions will—instead of one API—provide different APIs tailored for specific software solutions typically used by construction companies.
These pre-built APIs make the integration process easier for your developers but still require some coding knowledge and a good understanding of the software solutions they're combining.
For simple inventory data transfers, it's often sufficient to use the export data function offered by most inventory management solutions, which allows you to export data in different formats (e.g., Microsoft Excel, CSV, etc.) so it can be imported to other software systems.
Overall, checking whether your system offers integration options can save you time and effort otherwise needed to transfer data between different software tools, thus minimizing errors and increasing efficiency.
Search for a Cloud-Based Inventory Control System
As opposed to software solutions that need to be installed on your company's premises with or without added hardware, the right inventory control system should—in today's digital age—be cloud-based.
There are two main reasons why cloud-based inventory control systems are preferred over on-premises software, namely:
mobile access to real-time data: inventory data can be accessed from anywhere, at any time, using any device with an internet connection
reduced IT costs: no need for expensive IT infrastructure, installation, and server hosting, plus secure data storage, backup, software updates, and maintenance usually included in the price
In other words, when everything is recorded in a centralized online database that can be accessed on any device, inventory management becomes much easier, which brings us back to our first tip for picking the right system—simplicity and ease of use.
Here's an example of such a database on a desktop screen next to an individual inventory item's info page on a smartphone.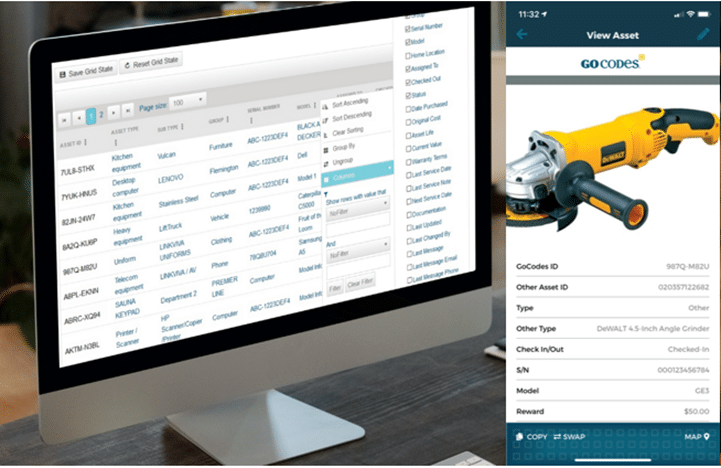 Considering all the benefits we mentioned, it's not surprising that almost all inventory/asset management software providers are cloud-based, so there should be no problems in finding the right cloud solution for your business.
That said, your focus should be on how easy your cloud inventory management system is to use.
Also, consider aspects such as whether it's optimized for smartphones and tablets, and what online support (e.g., live chat, help center, FAQs) the provider offers.
Overall, opting for a cloud inventory control solution is—given the affordability, mobility, and flexibility of such software tools—the easiest and simplest choice to make when choosing a system that best fits your company's needs and preferences.
Conclusion
In summary, when picking the right inventory control system for your construction company, you need to prioritize its ease of use, ensure it has in-app barcode scanning and that it can track inventory quantities, and send out automated low-quantity alerts.
In addition, the system should provide inventory analysis and reporting, offer integration options, and be cloud-based.
Naturally, it should also be affordable.
Ultimately, the right system will digitize, automate, and streamline inventory management processes in your company, helping you minimize inventory loss and theft, improve overall productivity, and reduce costs.