A project manager faces many challenges on a construction site. One of those is maintaining control over the inventory arriving at the site or undergoing transport to another one.
Establishing effective inventory management techniques from the first days of the project saves time, maintains a sense of control, and helps to keep costs down.
Strong inventory management also enables a construction company to more easily move inventory from one site to another, and to track possible theft.
Essential aspects of inventory management on a construction site include creating a comprehensive inventory register, building a list of reliable supporters, scheduling regular audits, investing in robust inventory management software, and maintaining your inventory system.
Read on for more information about these important aspects of managing inventory on a construction site.
Create a Comprehensive Inventory Register
Creating a comprehensive inventory register is essential on a construction site. An inventory register is an itemized list of each item on a build site, from nails or bricks to landscaping items.
The first step in managing the available inventory on a building site is to determine exactly what that inventory includes.
Knowing precisely what is on site or in the company's warehouse creates a baseline that is then easily updated via scanning, as in the cloud-based asset tracking system offered by GoCodes.
Keeping the count up-to-date helps your entire team understand at a glance what inventory is on hand at the building site, as well as what is available in storage, and what is in transit from suppliers.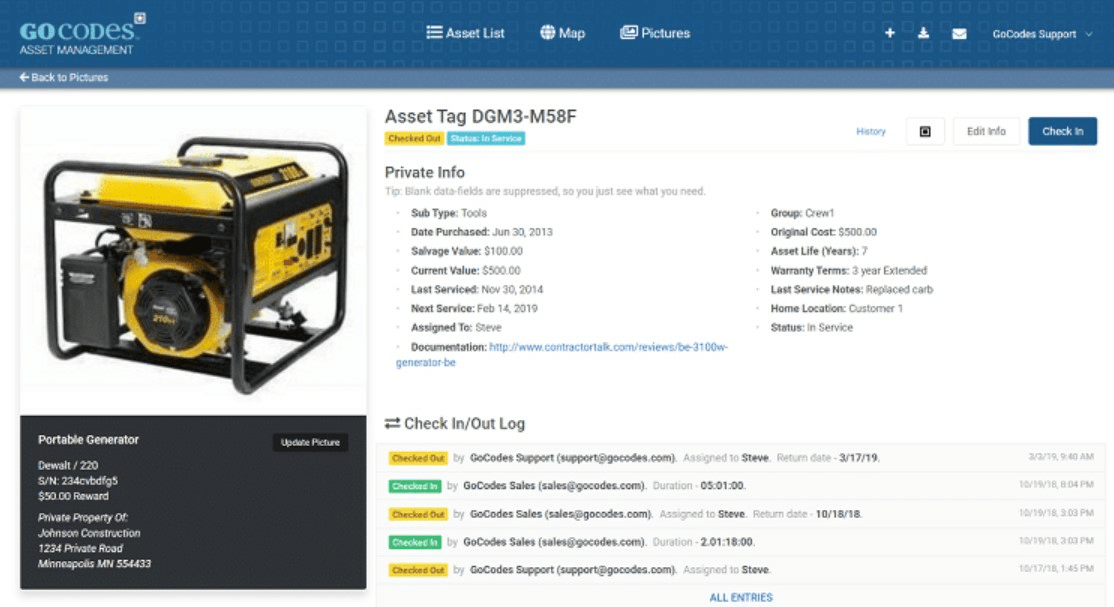 Above is a screenshot from a live GoCodes industry management system. As you can see, it involves a photo of the item, as well as vital information such as its make and model.
It contains the date for the item's next maintenance appointment, in order to facilitate planning potential downtime or tech scheduling, and even links to a check-in/check-out log for audit purposes or to boost employee accountability.
This system provides tremendous efficiency, and avoids expensive rushing when items are under-ordered, unexpectedly offline, and the like.
It can also aid in distributing items across several sites in the event of theft, damage, or inclement weather.
For example, shifting leftover lumber to another site where a shortage is at hand saves time, money, and resources, because this move is easily accomplished without a stop-off trip to a corporate warehouse.
Everyone benefits when a comprehensive inventory register tracks which items are where, especially when it's time to re-order important items that are quickly consumed in the process of a build.
Create a List of Suppliers You Can Rely On
Supply chain headaches are difficult even at the best of times, but the COVID-19 pandemic tested construction companies and project managers like never before.
The government shutdowns that ravaged the world's supply chain continue to leave warehouse shelves empty and contractors scrambling to find what's needed to complete a project.
One way to avoid panicking when a necessary item is slow to arrive is to build a list of suppliers rather than leaning on just one.
Sometimes good business sense, design-build contracts, or long-term arrangements for discounts call for using a certain supplier as the first choice, but maintaining a roster of back-ups is always a good idea.
Establishing fruitful relationships with a number of suppliers is well worth the time and effort when a last-minute delivery is necessary to meet a construction milestone.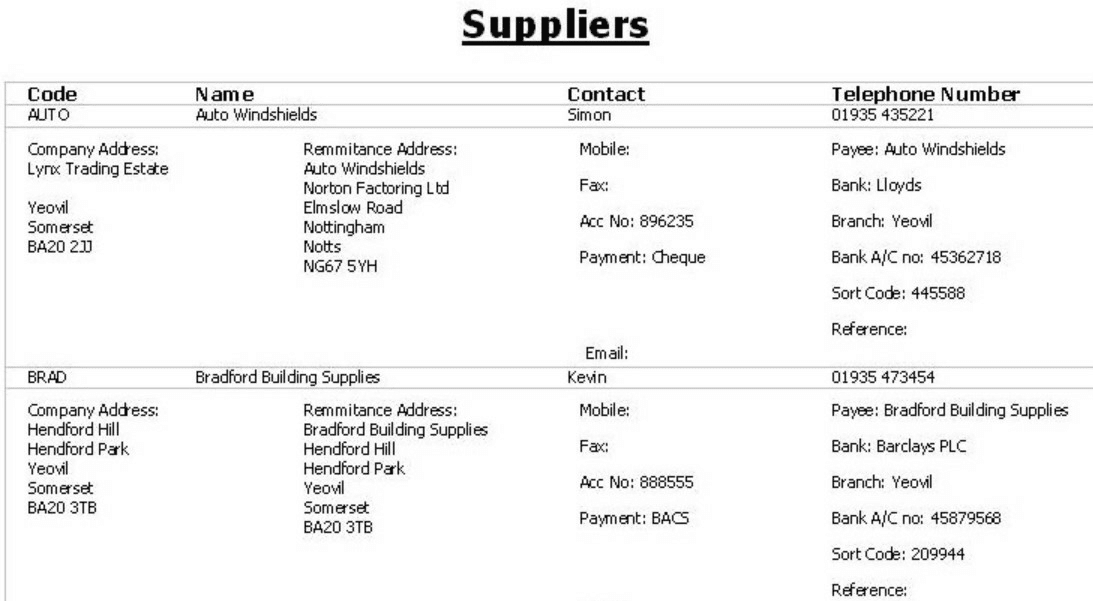 Above is an example of a well-maintained list of suppliers. It's a good idea to keep a regularly updated list of reliable suppliers in a cloud database, complete with contact information and notes about the relationship.
This information allows your team to call up this data even when you or another person usually in charge of maintaining contact with that supplier are not available.
It also provides a quick look at the status of a construction company's relationship with the supplier, including how often orders are placed and what sort of delivery options are available.
Having this information to hand when it's needed quickly is invaluable when it comes to overcoming emergency situations or patching a hole in your usual supply chain.
Schedule Regular Audits of Your Inventory
Inventory shortages are more likely to happen when construction companies do not conduct a regular audit schedule to keep track of inventory.
Construction companies can experience material shortages due to inventory mismanagement.
Therefore, scheduling regular audits is critical for keeping track of available inventory and detecting problems in times of non-crisis, when the problem can be more easily and efficiently addressed.
Below is a checklist of tasks to accomplish for your company's construction inventory audit.
Note that such an audit requires some advanced planning, and should not take place during a time of heavy output or hectic supply chain management.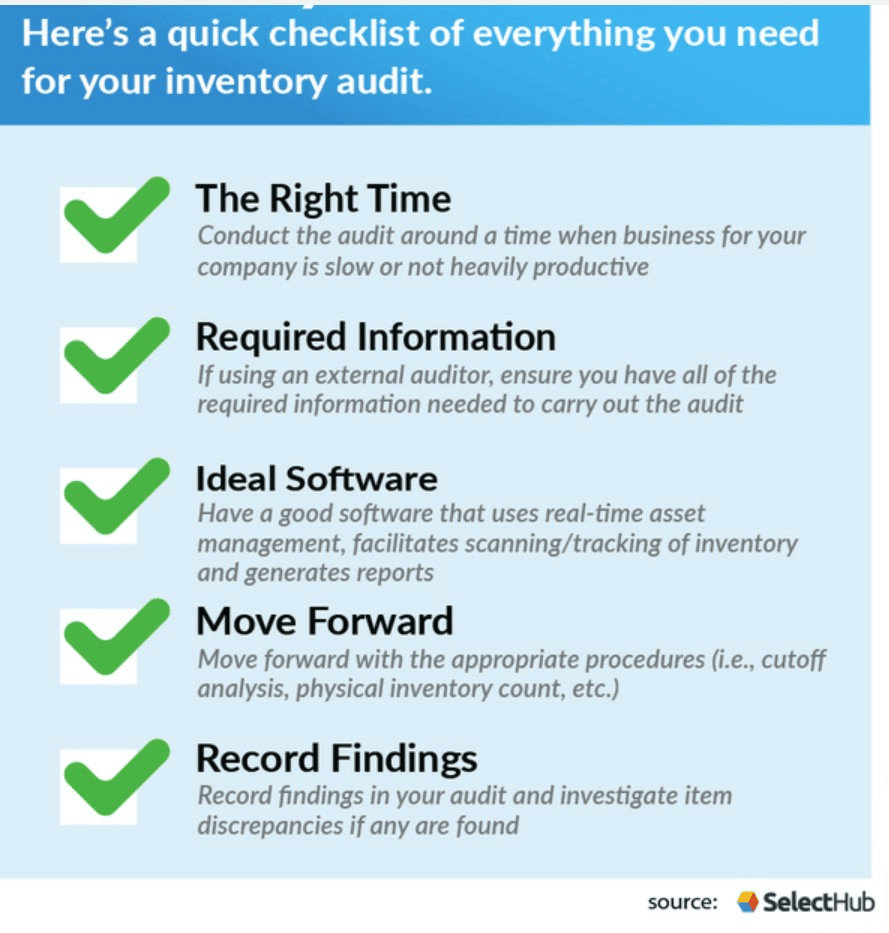 Audits are quickly accomplished with just a few clicks when inventory information is continually updated in a system like the one provided by GoCodes.
This data is also easily shareable with team members in the form of graphs, charts, and visual reports.
Having access to correct information at all times means it's much easier to make decisions and plan ahead.
That means reduced stress and less wasted time trying to track down consumables.
Construction inventory audits might save one to three percent of a project's budget because they increase efficiency and help to avoid over-buying.
They can also help to prove oversight and good faith management in the event of an inspection or dispute.
In addition, audits are useful in providing reports to stakeholders and potential investors.
Invest in the Right Inventory Management Software
It is advisable for construction companies to invest in inventory management software, which makes it easier to keep track of inventory and manage it more efficiently.
It is also one of the best ways to avoid inventory management mistakes.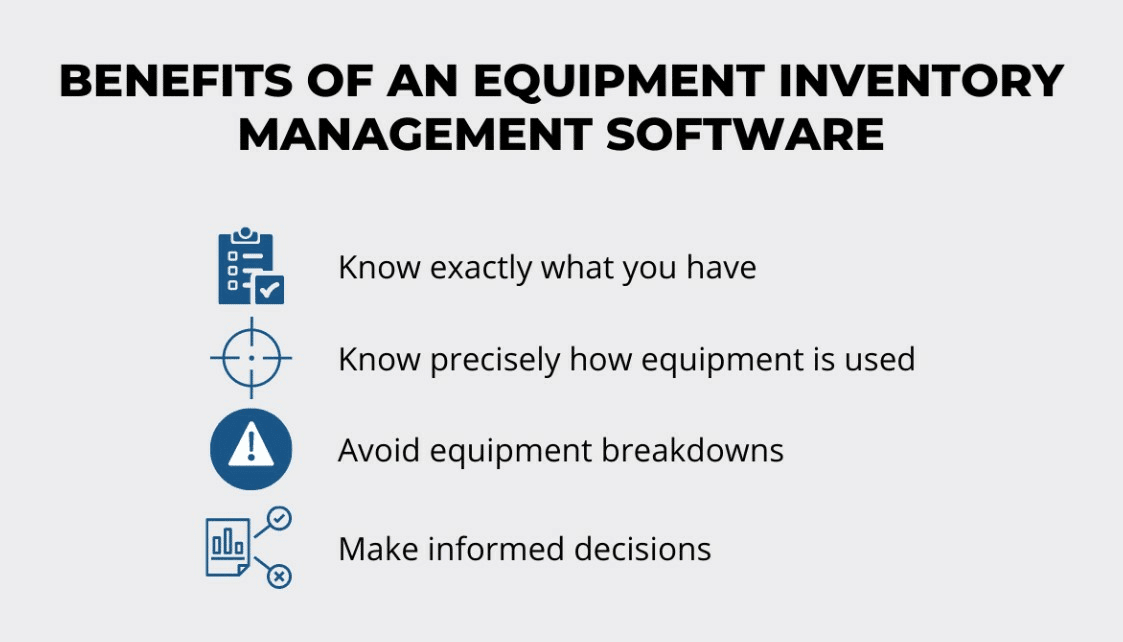 As the above graphic indicates, equipment inventory management software offers many benefits to everyone who uses it, from an individual employee on a far-away build site to stakeholders attempting to make informed decisions about asset purchases.
GoCodes can provide all the benefits mentioned above, while also assisting in producing a comprehensive inventory register.
Once an initial inventory is accomplished, the software automatically updates the register with a simple scan.
Employees can perform these scans by using any mobile device and finding a QR code.
Using inventory management or asset tracking software like GoCodes offers the following benefits:
Knowing the physical location of any single object
Ease in categorization
Tracking inventory levels
GPS tracking with real-time updates on en-route shipments
Finding consumables and other inventory in vast warehouses across multiple locations
Using a single platform for several tasks
Customized employee access
Fast data compilation for third-party or outside audits
Provision of presentation-friendly reports in a variety of formats
In addition to inventory management, asset tracking also helps with big-picture planning. Maintenance records can provide important information about where an asset is in its life cycle.
Asset tracking also streamlines inventory counts by eliminating ghost assets and signaling when it's time to order an item that is in low supply.
Higher profit margins and a more reliably estimated return on investment almost always follow the increased efficiency that an asset management system can offer.
Continue to Improve Your Inventory Management Strategy
After implementing an inventory management strategy, construction companies inevitably discover areas that can undergo improvement to make inventory management more streamlined.
Through ongoing inventory management, construction companies can make these improvements on a continuing basis.
The key to making the most of an inventory management strategy is to remain flexible in its application and to refine it constantly.
An inventory management strategy that was effective before the era of smartphones is likely no longer the most efficient way to understand how inventory flows through the company.
Similarly, a system that was in place before the COVID-19 pandemic has likely required some changes in order to keep pace with new circumstances.
Anticipating supply chain issues should also be a part of your inventory management strategy, and it can help to improve your system.
Part of this means comprehending how the supply chain works. Here is a visual reference: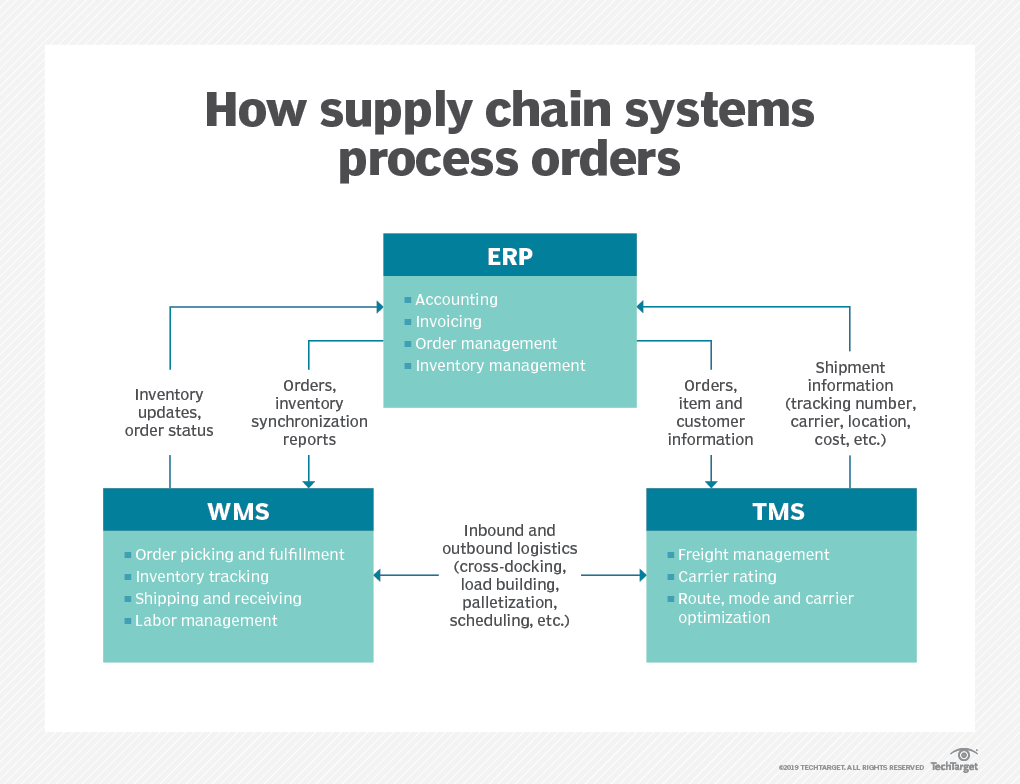 As this visual aid indicates, supply chain systems are complex and involve many steps, particularly when items are not ordered wholesale or through a local supplier.
As you can see, many employees are involved in each phase, and such "hidden" aspects like freight coordination, labor management, and report synchronization can all contribute to slowdowns.
Continuing to improve your inventory management system means reflecting on how you are optimizing each step in this process.
Conclusion
Managing inventory on a construction site goes well beyond what is happening at the build.
Responsible project managers understand that efficient inventory management involves processes at company headquarters in addition to challenges employees may face in the field.
Managing inventory effectively begins with creating a comprehensive inventory register.
It also means maintaining an up-to-date list of trusted suppliers and colleagues.
Regular audits are necessary, and doing so with the right inventory software saves a great deal of time and money by avoiding cumbersome and error-loaded physical inventory assessments.
Finally, by continuing to improve your inventory management strategy, you and your construction company are well-positioned to meet new challenges.