Construction project management combines the skills and knowledge required to see various tasks and project phases through from start to finish.
This expertise is essential to handle the fast-paced nature of construction projects and supervise diverse teams and structured timelines.
While top project managers have the required skills and expertise, there are some secret tips they also implement to accelerate the success rate of their projects.
Read on to find out more.
Have a Detailed Construction Project Plan
It all starts with a plan—and it has to be as detailed as possible.
Think about it this way. When you go on a vacation, do you just pick a destination and hope for the best?
Hopefully, you'd also look up important information like the weather forecast, transportation options, book a hotel, buy tickets for museums, etc.
Vacation requires proper planning for everything to go as smoothly as possible. It may not rain while you're there, but you'll bring a jacket just in case, right?
The same applies to construction projects.
When you set a detailed plan beforehand, it's easier to address issues as they come and know which activities take place in each construction phase.
This is especially important if you find yourself in a situation where you juggle multiple projects simultaneously, like this contractor.

When you work on many different, demanding projects, it's easy to forget what needs to be done and what comes next if you don't have a detailed plan.
Each project is unique and has specific requirements. Therefore, it's necessary to foresee the project lifecycle and create a clear plan with measurable milestones and benchmarks.
A plan lets you know what equipment you'll need and how many subcontractors to hire, among other things.
With it, you'll also be able to create quality projects, stay within budget, and respect the timeline.
Not to mention that the contractor mentioned above could better inform his clients on the ''waiting list'' when he'll be able to start their projects and avoid losing clients due to long waiting times.
Now, it's easy to say: "Create a detailed plan!" but how do you do that? Here is the top advice the contractor mentioned above got from one of his peers.

This contractor summarized it perfectly: Gantt charts are incredibly useful tools that visualize projects and timelines clearly and precisely.
Gantt charts are a common scheduling technique used widely in the construction industry.
Their primary purpose is to communicate the project plan and status but also accurately monitor each task in the project.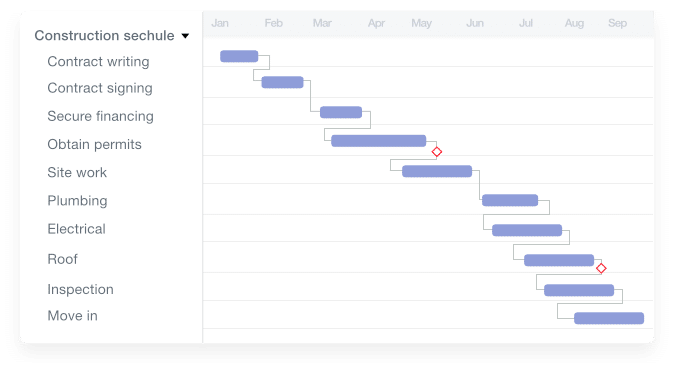 Each project is broken down into tasks with its schedule, and each task is presented with a bar. Here is what you can read in a Gantt chart:
The start and finish time of a task
Completed tasks of a project
The person selected for the task
Tasks that overlap with each other
Linked tasks
The finishing date of the project
But the best thing about Gantt charts is they're easy to use. Even people without prior knowledge of scheduling can use them effectively.
Remember that successful project management starts with a solid plan for gathering the necessary labor, equipment, permits, and safety protocols.
Using scheduling tools will ensure your job site is well-organized and productive.
Know Your Contracts Well
Handshakes and verbal agreements are a thing of the past because everyone wants to protect themselves against possible risks. The only way to do that is to have everything in writing.
But project managers are under a lot of pressure handling construction projects, so it's not uncommon for them to skim through construction contracts or not read them at all.
This leaves the construction company open to potential conflicts and legal actions if they fail to comply with the written requirements and agreements.
It's already too late when you have to search for specific points in the contract after a problem occurs.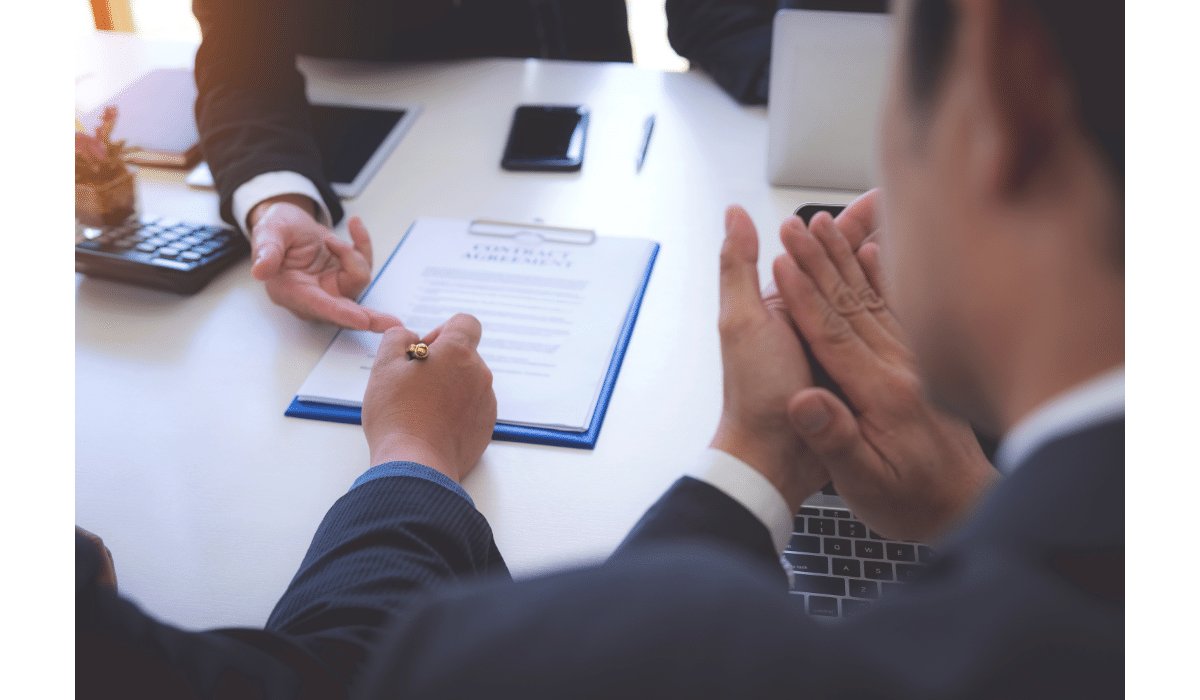 The best solution is to read contracts thoroughly and as soon as possible.
Each construction contract is slightly different, but they all outline roles, responsibilities, and procedures each involved party has to follow.
Essentially, construction contracts are important tools that help you understand what you need to do and mitigate risks.
Here is what you'll usually find in your contract that can help you fulfill your obligations:
Scope of work
Indemnity clause
Payment terms
Additional insured clause
Project price and costs
Managing change orders
Following that, contracts can also be full of legal jargon, so if you don't understand some terms, look at online resources like construction lawyer blogs or construction glossaries of legal terms.
One such resource is MinterEllison, where you'll find concepts and legal terms in alphabetical order.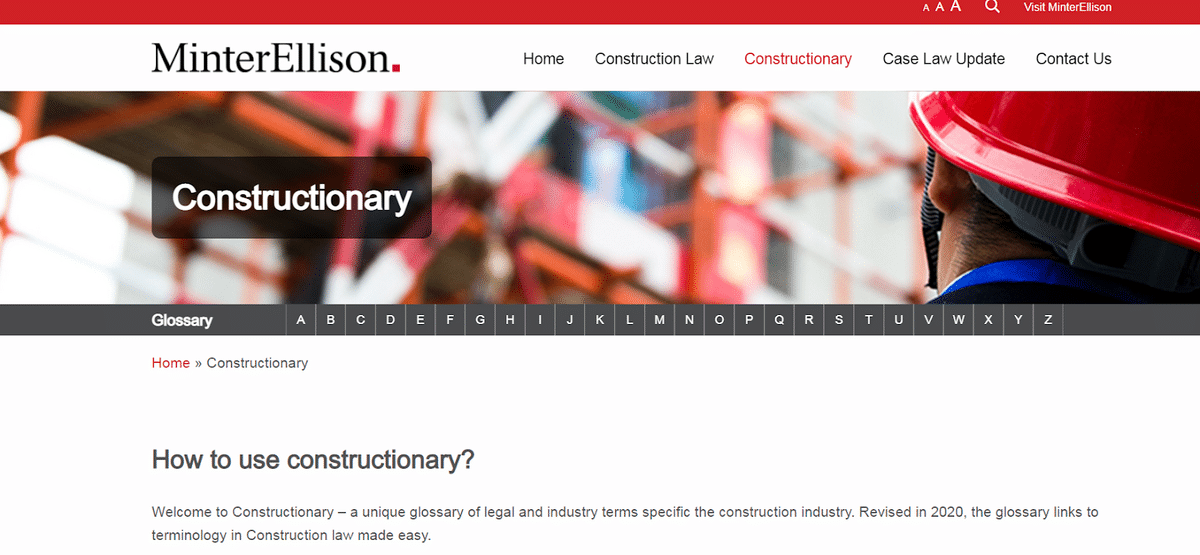 Your main takeaway from this should be that contracts are crucial aspects of successful project management because they ensure you follow the specifications and the scope of work for each project.
That way, you're less likely to encounter preventable problems, while being able to handle disputes more effectively.
Encourage Collaboration
As Electrical Contractor puts it, poor coordination, incomplete specifications, and underfunding are common reasons progress is obstructed in construction projects, leading to conflicts, delays, and miscommunication.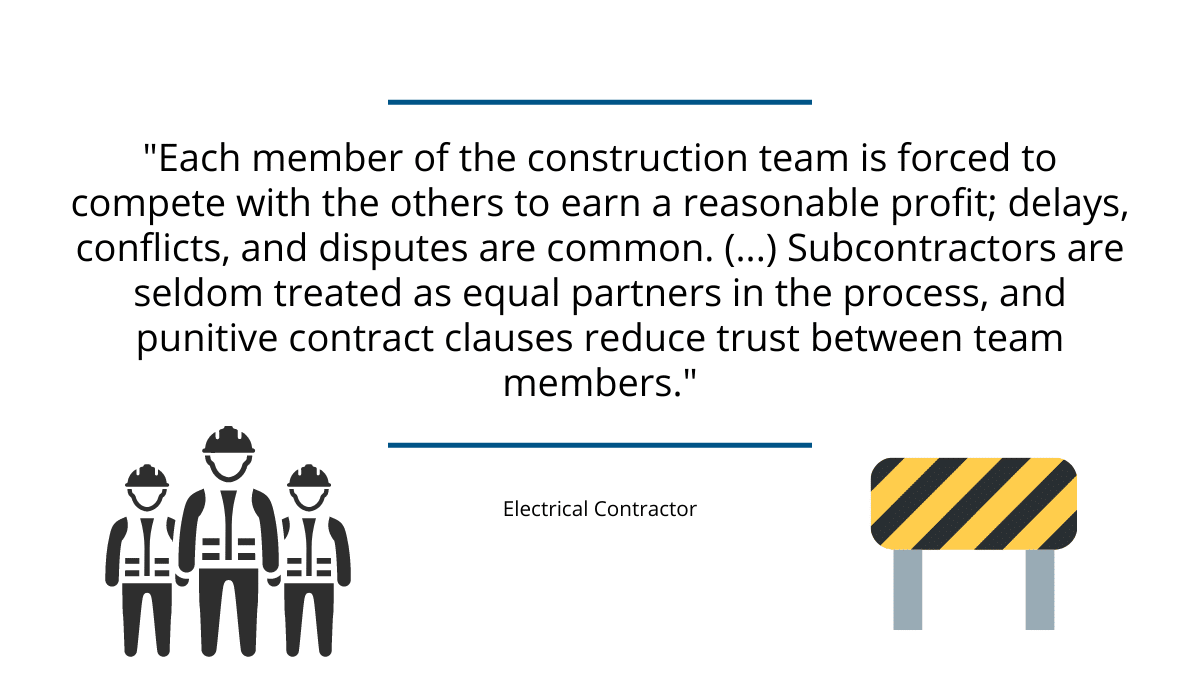 It goes without saying that good collaboration on construction projects will create a more effective team.
They will improve the overall quality of work, ensure safety on site, utilize resources more responsibly and make better decisions to mitigate risks.
Essentially, people work better in environments that encourage communication, shared vision, and adequate task delegation.
Teams who know their tasks are meaningfully contributing to a project but can also communicate issues (personal, professional, and project-related) are more motivated to collaborate with others.
So how do you do that?
Keep in mind that bringing people together won't magically create a good team and force them to collaborate.
You need to explain why cooperation and collaboration are necessary to complete a project.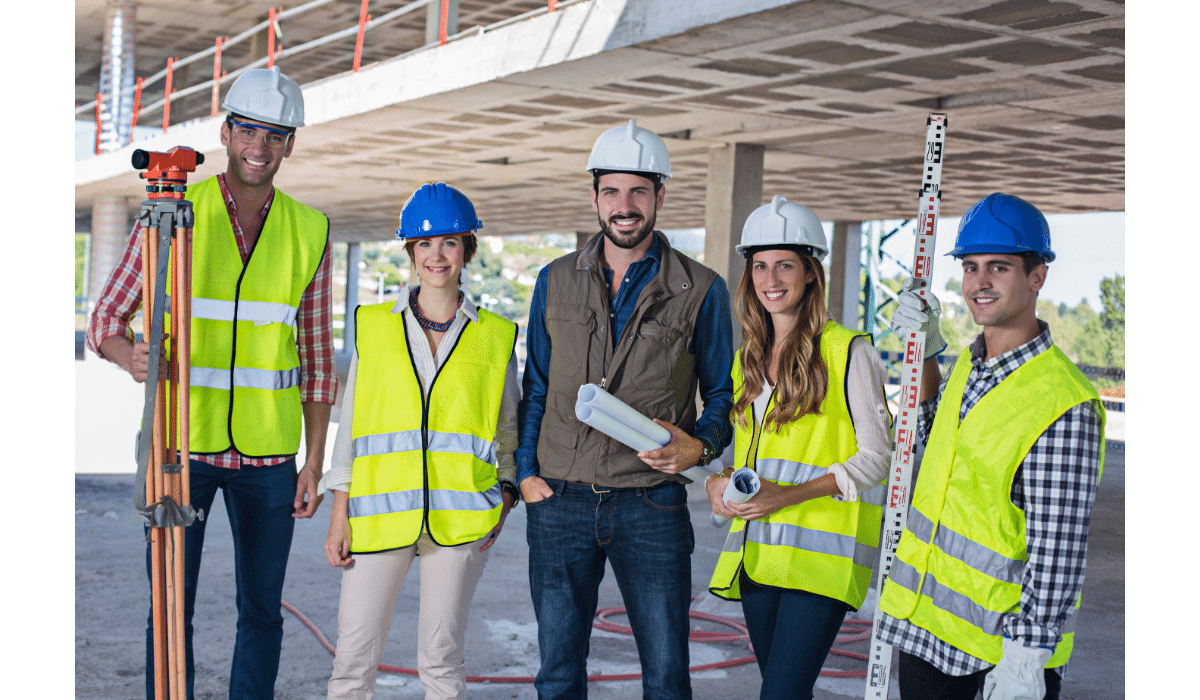 Start with defining shared goals and vision. Obviously, they're working on a construction project, so they know what they were primarily hired to do.
But be specific in how each team member's role contributes to overall project goals and success.
Before you begin each project, outline tasks, milestones, and the purpose of each job role which you can share with your team.
Having this shared vision will be a good boost in fostering better communication and working as a unit.
Everyone is important and should have the same expectations and responsibilities entrusted to them.
Another important aspect of good collaboration is trust.
Building trust is a long process, and humans are often wary of working with new people because we aren't familiar with their working processes, communication style, and work ethics.
But you can lead by example by showing openness and patience from the start.
So, as teams work together for a long time, your good leadership skills and respect for others can translate to the entire team.
Finally, there's conflict resolution. Emotions can run high on construction sites since you're trying to finish a job on time and within budget.
So, if people aren't doing what they're supposed to, conflicts are not an unusual sight. Sometimes they even escalate into physical fights, like this contractor reports.

Good leaders know that listening, negotiations, and problem-solving are the key ingredients to effectively resolving conflicts.
Active listening starts with asking the right questions and letting people know they can vent their frustrations before things escalate.
Ultimately, all of these steps should help you create a good collaborating environment in your workplace, so your team can deliver high-quality projects on time and within budget.
Track Everything
Just because the construction project has begun, it doesn't mean everything will go according to plan. With so many moving parts to monitor, risk lurks behind every corner.
So, how do you ensure the project is progressing as expected?
By tracking resources, time, and task completion!
Luckily, you no longer have to waste time by manually keeping track of every aspect of the construction project. There is cloud-based construction software to help you.
From comprehensive solutions with a plethora of features to specialized software dedicated to one area of project management, these technologies give construction companies more clarity and control over their projects.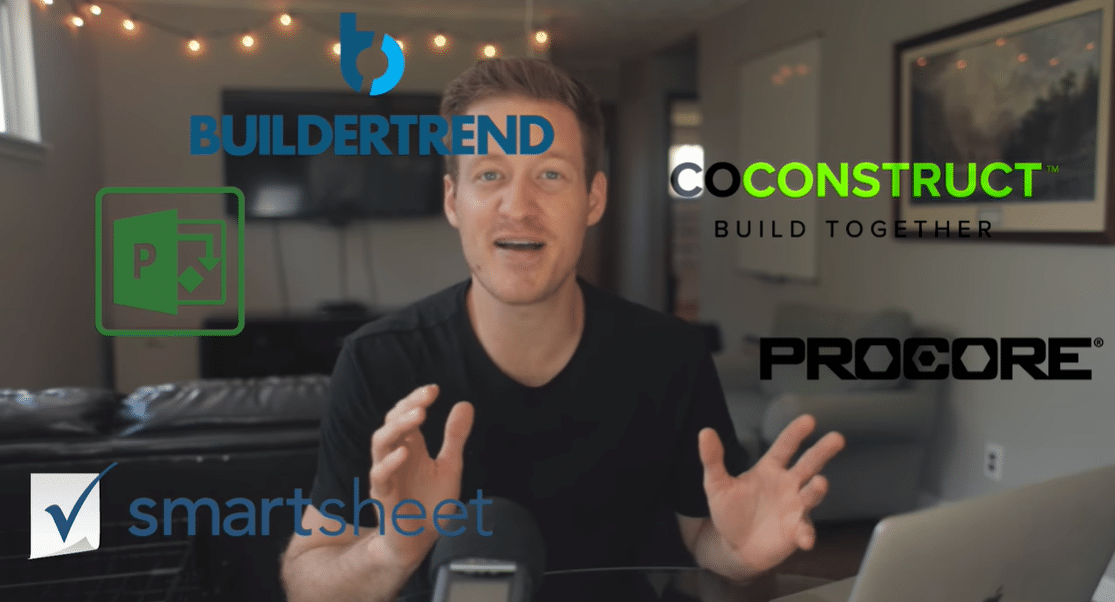 Here's how High Street Homes changed their approach to project management by using construction software to track daily progress.
They're using Buildertrend as their primary solution to manage projects, and one of their favorite features is daily logs.
Essentially, daily logs are daily records of events, job progress, and incidents on the construction project.
They're an objective source of truth and can be used as evidence to showcase to clients what was done on a specific day in case there's confusion or dispute.
What's more, daily logs can be supplemented with photos and videos to provide further proof of project details and completed work.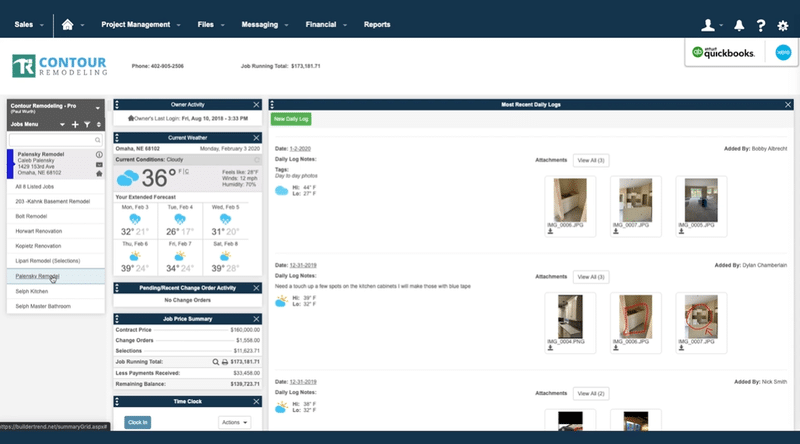 Daily logs were handy when the owners of High Street Homes, Brett and Kara Phillips, couldn't visit the construction site.
Just by looking through the daily logs with a desktop or mobile app, they were instantly updated about what was done.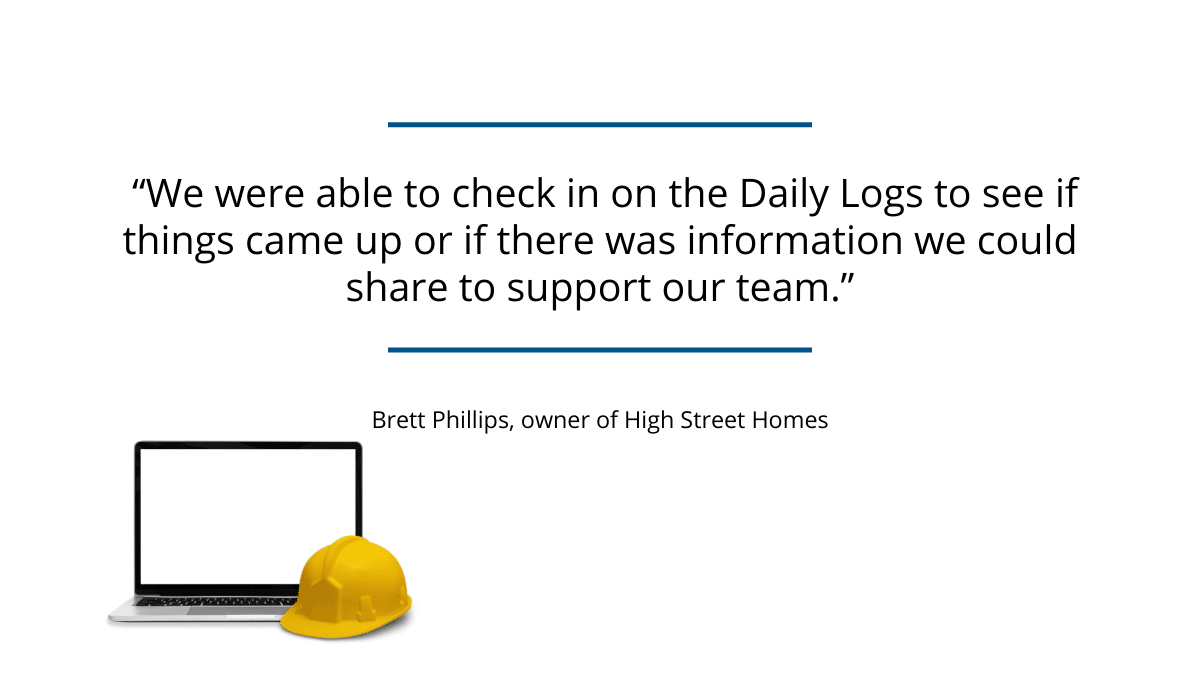 Basically, daily logs enabled them better communication and easier documentation of day-to-day activities, resulting in better project management and finishing projects on time and with enhanced quality.
Now, apart from tracking daily progress, you should also consider monitoring your assets and construction equipment with construction software.
Even if you own a small fleet, having a single source of information is invaluable in ensuring the right resources get allocated to the right construction site.
Not to mention this technology can track maintenance schedules and accurately geolocate assets no matter where they're stationed.
Or, to put it differently, projects can progress better if workers have the right resources available to them whenever they need them.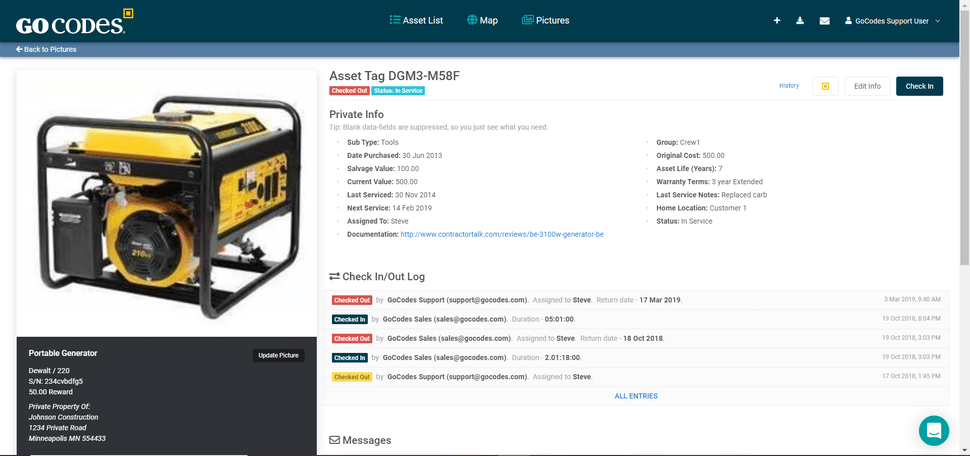 If you're looking for the right solution to answer these issues, GoCodes might be what you're seeking.
With the powerful combination of robust labels and software, you can effortlessly track tools across multiple project sites without worry.
All in all, if you want to finish construction projects successfully, then you need to track as much as possible with the help of the right construction software.
Show Up on Job Sites
Here's a simple question: do project managers need to show up on job sites?
Well, this can depend on company procedures, overall project management needs, as well as their own diligence.
Nevertheless, the general rule is that project managers need to appear on the site at some point during the project construction process.
And the main reason for that was perfectly put by Sam Paul on Quora.

One of the main responsibilities of project managers is to ensure projects are progressing according to plan and handle difficulties that occur on the job site.
Now, they can spend all their time looking over daily logs from their offices, but pictures and videos can only do so much.
That is why Blue Jay Exterior Renovations believe that project managers should make daily visits to active job sites. They have five key reasons why this is important:
Quality control
Team morale
Customer communication
Proactive problem solving
Process improvement
For the first reason, visiting construction sites is necessary to understand how certain tasks impact project progress and quality.
That way, you can supervise important work and ensure it is done correctly.
But it's not just better supervision that's important for project management.
Another aspect of site visits is getting in touch with field workers, listening to their input, and answering any questions.
Field workers often have ideas and solutions project managers haven't thought about before, which could improve the project quality, speed up timelines or keep the budget in check.
Project managers are team leaders, and showing up on site can significantly improve team morale and motivation.
It signals that project managers care about the project and the field workers' role in bringing successful projects to an end.
What's more, you're discussing and addressing issues proactively by working together with the field workers.
So, a simple question like: "Should we cover a gap or not?" can be resolved immediately, and field workers won't have to decide on their own and potentially cause additional reworks.
Obviously, project managers don't have to follow Blue Jay's example in detail.
As mentioned before, site visits can be as frequent as they deem necessary, but they must happen during the construction project's lifecycle.
Conclusion
Managing construction projects is difficult if you're new to the process and don't have the right plan, tools, and procedures at your disposal.
Hopefully, our tips have helped you understand what's necessary to bring a project to successful completion.
Then, you'll be able to take on more jobs without worrying about how you'll handle so much work.