Some of the worst things that can happen to rental companies include the inability to locate equipment and having it break down mid-service. Either of these could damage your reputation and turn away potential customers.
Since the equipment rental industry is supposed to reach $47.8 billion this year and see a 9.68% increase the next, it will be easy for dissatisfied customers to find a more trustworthy company.
How can you prevent that from happening? The answer is simple: implement rental software to become more organized.
This article will cover six of the many benefits of using such software in your rental business. If you want to stay on top of your resources and have a better overview of your equipment, keep reading!
Better Resource Planning
When using software to manage your rental equipment, you become better informed on your resources. Therefore, you can also improve your resource planning.
Why is this important?
Resource planning ensures that you're using your resources as much as you can while maximizing your profit.
Without it, you're wasting money. Your equipment is sitting around your warehouse instead of being rented and bringing you a return on investment.
The recommended industry utilization for rental equipment is 72%, which means you have to rent this percentage of your fleet at all times.
In other words, if you have 100 pieces of machinery, 72 should be used by the client at any given time if you want your utilization to be satisfactory.
Another 20% must be somewhere close and ready to rent. If a customer inquires about the machinery, you have to have at least 20% of it ready to go.
The final 8% doesn't have to be prepared for rent. However, if that number increases, it means you're not using your fleet to its full potential. In other words, you're not getting as much return on your investment as you could.
Something that will help you with your utilization and resource planning is rental equipment software. It lets you save all the data in the same place—the cloud.
Therefore, you'll have access to all the information 24/7, and it won't be just you: your entire team can check whatever data they need whenever they need it.
Additionally, most customers will contact you in advance and tell you when they will need the machinery in question. With the software, you don't have to write down the reservation details manually and risk it getting lost or overlooked.
The software will also let you schedule the use of the equipment, making the reservation date visible to anyone who uses it.
This option will also let you see when the equipment is due, allowing you to utilize your fleet as much as you can.
Real-Time Inventory Overview
Rental equipment software helps you keep up with a vital part of your business: knowing what you own and where it is.
After you do inventory and add all your equipment information to the cloud, you'll know exactly what you own.
Since you'll also have insight into the asset's current condition and past maintenance records, you'll know what percentage of your equipment is rent-ready and what percentage of it you need to inspect or repair. 
Opt for software that lets you track your machinery using global positioning system (GPS) or Bluetooth low energy (BLE) technology.
That way, you'll see an update on the equipment whenever someone who uses the software scans the QR code or walks past one of your beacons.
If you tag your equipment diligently, accounting for each machine, you can increase the accuracy of your rental inventory by over 30%, so it's well worth it.
When you know the exact amount of machinery you own, you can offer your customers more accurate estimates and ensure that you never promise a service you can't fulfill.
The real-time inventory overview can help you figure out whether you're dealing with under- or overstocking, both of which end up costing you money.
If you're understocking, you don't have as many items as your customers would like, which means you're missing out on profit. On the other hand, if you're overstocking, you're investing in a lot more assets than you actually need.
With the detailed overview that this type of software gives you, you can reduce both overstocking and understocking, and lower your inventory costs by 10%.
Reduced Equipment Downtime
Since the software allows you to schedule regular maintenance sessions, you'll also see a decrease in unexpected downtime.
Let's face it, unexpected downtime could make or break your company, given that you rely on equipment to bring your profit. Without machinery, you wouldn't have anything to rent and would quickly go out of business.
Sadly, this happens to many companies that are simply unprepared for all the obligations that come with keeping heavy equipment.
One of them, maybe the most important one, is precisely maintaining the machinery in excellent condition. You can achieve this with regular inspections and detailed checks, i.e., through preventive maintenance.
A survey has found that an astonishing 82% of businesses have experienced at least one case of unplanned downtime in the past three years, while the overall average was two.
In addition, 70% of businesses admitted to not understanding when their machinery is due for service, or needs an upgrade, or a replacement, which can quickly land them in hot water.
With software that helps you track your machinery's condition and maintenance, you will practically eliminate unexpected downtime.
Instead, you will create planned downtime by scheduling regular maintenance sessions, where your team can do a thorough inspection and detect any issues.
Only after they've fixed the problems they've found will they let a customer rent the machinery, which means you'll always be able to guarantee that your equipment is in top condition and is safe to use.
On top of that, your service staff can add the maintenance report to the asset's page, allowing your entire team insight into the equipment's condition through a simple QR code scan.
Insightful Financial Reports
If you start using equipment rental software, you'll be able to generate detailed reports as well.
With this option, you'll get insight into your finances and revenue, which will help you plan better and understand the next steps. Your auditing reports will help you figure out how effective and accurate your auditing process is.
The system will calculate your depreciation rates for you, saving you a lot of time, money, and energy on the otherwise tedious task.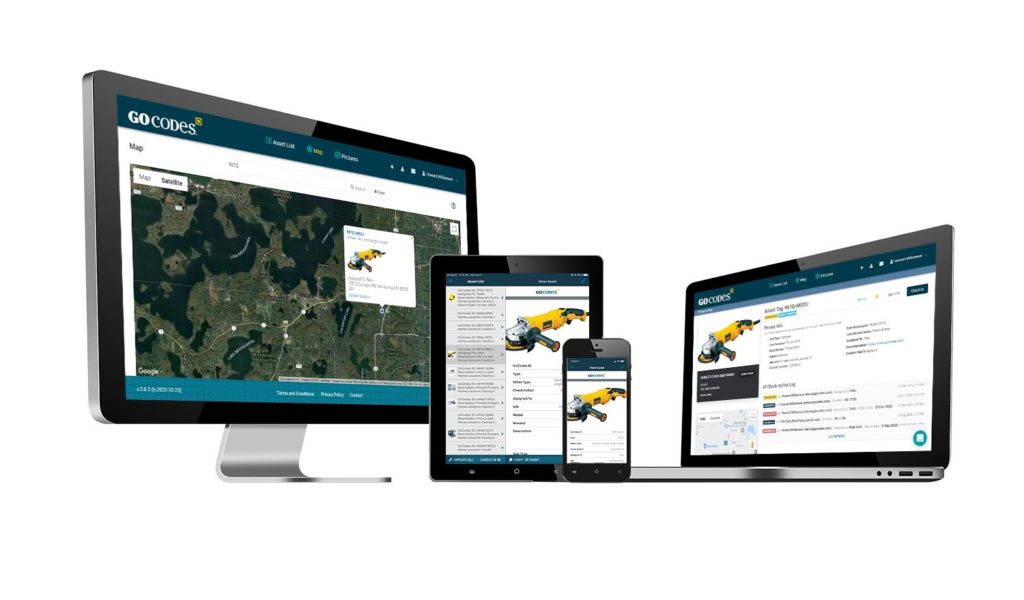 You can also create different equipment reports, which will help you determine what to do with your machinery.
For example, if you notice that you're not earning as much as you should to keep your business afloat, you can create equipment usage reports.
Once you know which machines you don't really rent or use, you can determine whether it pays off more to sell them or to keep them on the books.
If you choose to sell, you can then invest the money you've earned into buying more items of the machinery that you can see is very popular, especially if you can't keep up with the demand.
With rental equipment software like GoCodes, you have the option of generating different types of reports, all of which can help you understand your business better.
Some of these include:
The reports can also show you how well your team is performing in terms of maintenance. You will easily spot servicing inconsistencies if you see that specific equipment is often in need of repair.
Of course, this doesn't always mean that your maintenance team is slacking—it could also mean that the equipment is simply faulty, or that it's experienced too much wear and tear, or is nearing the end of its useful life.
Regardless, the information you get out of these reports will prove useful to you.
Better Communication via Updates and Reminders
The ease with which you can communicate through the app is one of the major benefits of using rental software.
Since your entire team has access to it, they will be updated as soon as something changes. Therefore, you'll be able to improve your efficiency and always stay in the loop.
Let's say a client cancels last-minute, and suddenly, a piece of machinery becomes available for use over the next two weeks.
As soon as the change happens, your team can start offering this option to potential customers or mark it as available on your website if you provide your services online.
Conversely, without real-time updates, your team wouldn't find out about the change instantly.
You can also update the equipment's status manually through the software, which means your maintenance team can inform everyone else about a problem that will put the machine out of use for a while.
However, other groups can do the same if they get a report directly from the customer or notice an issue themselves.
The software itself can send you different reminders, so you're always up to date.
For example, there's the overdue reminder which will update you whenever someone is late in returning with their equipment. This ensures that you keep everything in order and immediately react when someone's not sticking by the agreed terms.
The software can also remind you that a machine is due for maintenance, thus guaranteeing that you never skip a service date and keep your equipment in good condition.
On top of that, you can get a reminder when certain assets are low in quantity, ensuring you never run out of consumables.
Improved Organization of Documents
As mentioned earlier, cloud-based rental software gives you the option of saving your data on the cloud.
More than half of companies moved their data to the cloud last year, and 59% expected to increase the amount of data they've migrated over the course of this year.
Clearly, companies are starting to find many benefits in cloud computing. One of the main ones is better documentation.
Instead of saving your data in file cabinets and manually searching through all the files to find a purchase receipt or a warranty confirmation you need, you can simply scan the documents and upload them to the cloud, making it instantly accessible when necessary.
This action could save you a lot of time and money since research shows that employees spend what amounts to one day a week just searching for information.
When using an app like GoCodes, linking the document URL to the equipment's page is easy.
That way, anyone who accesses the asset page can click on the link and see the attached documentation.
Consequently, your employees will find the necessary files in a couple of clicks or through a simple QR code scan, making them more productive.
Through this option, you can attach whatever type of document you think is necessary, such as:
proof of purchase
warranty information
insurance data
manufacturer's manual
training information
maintenance reports
customer invoices
business contracts
You'll need to access the information sooner or later, whether for an audit or because of a customer request. With the cloud, your data will be easily accessible to you and your team 24/7.
Conclusion
Using rental software to manage your heavy equipment rental business will help you become more productive and efficient.
All your machinery data and documentation will be saved in the same place, which will make it easier to analyze the data, generate reports, and decide on your next steps.
On top of that, you'll get notified of changes, and you'll be able to communicate through the software with your team. This option will ensure you're all on the same page and functioning like a well-oiled machine.