Imagine you are a site manager of a construction project.
Employees are exhausting materials around the clock to achieve project goals. Your client expects the project to be completed on time next week. And you are responsible for tracking materials to ensure they stay replenished and do not run out.
Sound familiar? It's a challenge that project managers and organizations deal with globally. Restock too slowly and materials could run out and delay projects; restock too early and you'll find yourself spending unnecessary money that you may not get back.
It can be a hard line to walk and that's why material tracking is vital for success, not only in construction but in any business that requires material inputs to succeed.
Embrace Technology
Satya Nadella, CEO of Microsoft said, every company is a software company. Even if you are not developing your own software, this means that you can profit from someone else's software and solutions. Technology simply makes life (and business) easier.
So, where should you start? Use cloud-based software that will sync data across sites even if they're in different countries.
Cloud-based systems provide vital information in real-time so you'll be able to respond to business events fast, such as contacting suppliers for restocks or sending updates to cross-site managers within seconds.
Use Unique Tracking Identifiers
Tracking identifiers like barcodes are a must-have. They provide each material unit with a unique identity—think of it as a social security number for items. With these unique serial numbers, you can track material from procurement, delivery to storage, and usage.
Several common identifiers used in industries are:
Many products are shipped with UPC barcodes on their packaging. In many cases, you can simply use these barcodes for your inventory identifiers.
Smartphones have made it easier to track items with serial numbers or UPC barcodes. Today, scanner apps work directly with smartphone cameras and mobile apps so workers can scan, track, and update the status of materials using just one device.
While barcodes are ubiquitous with serial numbers, we recommend using QR codes as they store more data, are able to withstand damage, are faster to scan, and can be scanned by any smartphone.
When a QR code is scanned with a smartphone, data is sent to the software responsible for managing materials along with the context of the scan (e.g. who scanned it, their location, date, and time)
The updated inventory information is then sent back to the user so s/he can get the latest information on the company's material stock levels.
This enhanced workflow increases productivity and service quality while reducing operating costs which is a win for low-margin industries like construction.
Want to see how low margins are? Check out this chart.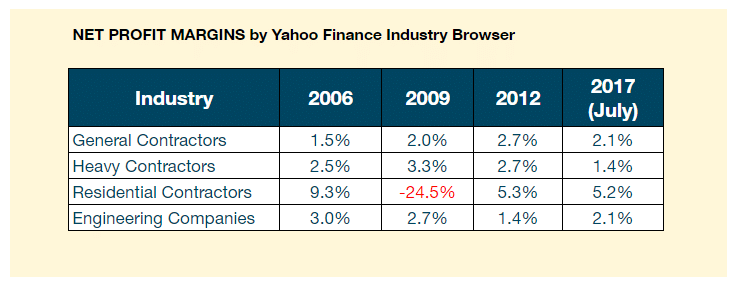 Leading companies all over the world are already benefiting from this trend; a Motorola-endorsed survey found that 67% of companies plan to use mobile tracking to manage inventory.
Trying to manage your construction project without barcodes and technology is impractical.
You'll be spending additional money on staff members manually recounting inventory and expediting overdue critical inventory orders. Also, consider how this tedious, repetitive work is likely to elicit costly mistakes among your workers and that's something you cannot afford.
Use Real-Time Tracking
Real-time tracking is an excellent feature provided by the latest solutions. Real-time tracking allows you to track the movements of material on the go.
Some platforms, for example, even integrate real-time tracking for all three core project components—materials, assets, and inventory—with specific project timelines, further improving the productivity of your business, which is a massive win.
Another benefit of real-time tracking is the ability to monitor materials as part of your security policy. Hiring guards to watch over your materials is expensive.
Remote monitoring helps you watch over your materials, but it's cheaper to implement and comes without the risk of employees getting hurt from attempted burglaries.
Plan Your Inventory Management Infrastructure
It's wise to plan your inventory supply infrastructure for common scenarios. Asking these questions will help:
Where is the main delivery and storage point for inventory?
If a project site is out of the main coverage area, where are the secondary points?
Where should inventory deliveries be sent for last-minute orders?
When should you consider paying fees to expedite delivery?
All these questions should be addressed in your inventory infrastructure groundwork.
Also, train your team to be well-versed with your company's warehouses and storage locations. Run them through the procedures for when an order arrives and is processed to mitigate issues like damaged materials or incorrect deliveries for improved efficiency and better service.
Proactively Manage Your Supplier Relationships
Inventory supply partners are a critical component of your inventory planning process and hence your company operations. It is necessary to implement best practices to help you get the most from your suppliers.
These include:
Be transparent when dealing with suppliers so they understand why you need the materials to be sent swiftly and when you may be willing to pay a premium for expediated processing. The better your overall communication is, the fewer problems you'll encounter when ordering construction materials.
If you are working within a strict timeline, investigate last-minute delivery services to speed up your orders. Last-minute delivery providers specialize in rushed orders so there's less risk of them damaging or losing your materials. While these deliveries come at a premium, in a situation where the success of your project is on the line, it makes sense to use them. And there are many counterintuitive examples where a $200 expediated shipping charge on a $50 part represents a great investment since it saves a 1-day delay in a project with a team burn rate of $5,000/day.
Project delays and cost overruns can arise from contract disputes which often end badly. Make sure to clarify key performance points ahead of time to ensure that you are all on the same page. Clarify:
Delivery dates
Prices (including tax and miscellaneous fees)
Refund & Return policies
Expected product quality during negotiations
This way, you stop supplier disagreements from ever affecting your operations.
Conclusion
Construction companies are low-margin businesses where small inefficiencies in inventory management can quickly add up. Use these five tips, to drill down on construction material inefficiencies and ensure your company builds success.