People in the construction business knows that buying used heavy equipment isn't easy.
The process consists of more than just finding a piece of machinery you need for a project and purchasing it.
You have to find a reputable seller before even thinking about buying machines from someone. Then, you have to take a deep dive into the equipment and all its records.
So, let's go into these checks in detail to get you ready for your next used equipment purchase.
The Seller's Reputation
The first thing you need to be aware of is how reliable your heavy equipment dealer is.
After all, the machinery's performance depends on it, even if you don't see the correlation at first.
The seller is the one who maintains the equipment and keeps it in good condition. When buying machinery, you need to take their word on its history, condition, and previous service. So, you have to ensure that the dealer is someone whose word you can trust.
Looking into the seller's reputation beforehand will help you determine whether you want to do business with them in the first place. Why waste your time on inspecting equipment offered by somebody unreliable?
A simple Google search will help you find news about the dealership, buyer experiences, and past and present disputes, if any. Here are some tips for researching used equipment sellers:
| Where to look? | Why? |
| --- | --- |
| Public company records | Publicly traded companies are required to publish their financial statements so look for those. |
| Online reviews | Use Google and Facebook to find customer reviews about used equipment sellers. |
| Customer testimonials | Companies that publish customer testimonials on their website are likely more reliable. |
| Better Business Bureau | The Better Business Bureau can provide insights into reported customer complaints. |
In your industry, it's important to have the equipment you can use for its original purpose, so ensure that you're buying from a person who invests in the machinery and doesn't try to sell barely functioning assets just to earn money. Sellers who do that usually have a bad reputation, so look into it before buying from them.
When trying to find the perfect supplier, opt for a company specializing in buying and renting equipment, as they are more likely to have the necessary expertise and be diligent.
If possible, find a dealer who's been in the business for a long time and is known for their reliability.
Ritchie Bros. heavy equipment auctioneers have been in business since the 1960s, which speaks for their reliability and stability. In 1963, they conducted their first big industrial auction in British Columbia, selling $600,000 worth of equipment.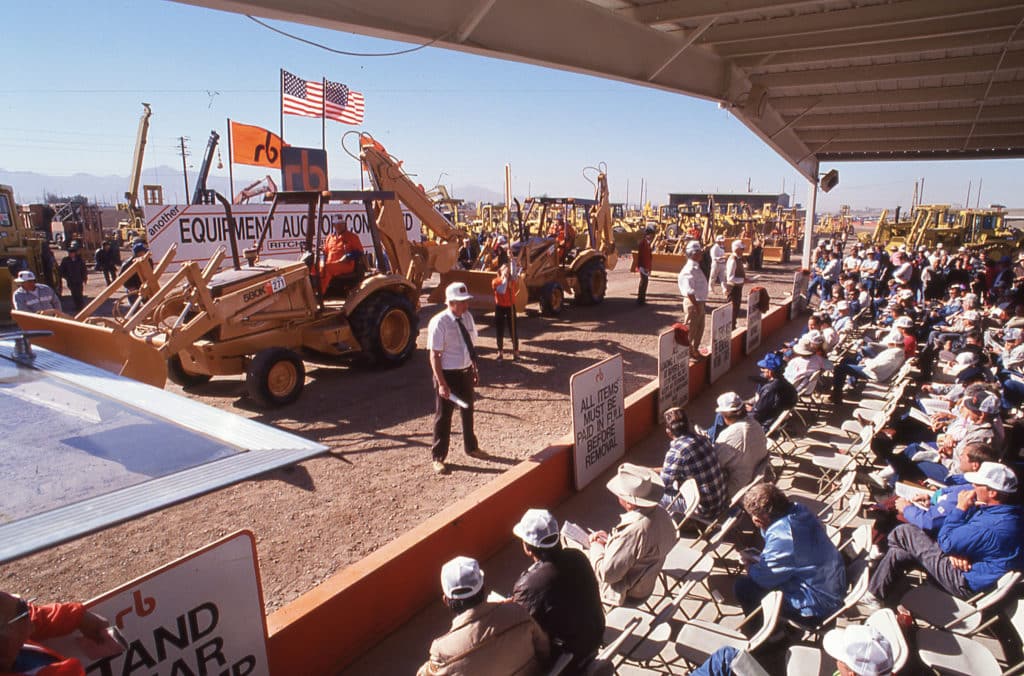 However, keep in mind that you can find a good supplier through word of mouth, but it's important to do additional research as well.
You should always look into the buyers' feedback as they're the ones who have personally dealt with the seller. If you notice a trend of unhappy customers, the supplier might not be the right choice for you unless you want to risk wasting money on faulty machinery.
The internet is a great place to find other people's testimonies on the seller's equipment or service. However, if you don't find someone's reviews online, don't be suspicious right away.
Instead, try to ask around to identify their existing customers and get in touch with them to see how happy they are with their investment.
Signs of Wear and Tear
So, you've found a great dealer who has just the type of machine you need. What next? It's time for you to inspect the equipment.
You should thoroughly check both the exterior and the interior of the piece of equipment you're considering. Even if the dealer's reputation is impeccable, it's vital that you verify that the piece is in good condition for yourself.
Start by looking for excessive signs of wear and tear. Used machinery will naturally show signs of use, but you should be wary if their amount points to equipment neglect.
Finding easily preventable damage on the machine is a clear sign that the seller didn't really invest in the equipment or its maintenance. Do you want to buy neglected machinery?
When inspecting the machine, look for faults that could result in further damage and costly repairs in the future. Some types of damage won't need your attention, but others can point to bigger issues later down the road, so it's important to distinguish between the two.
The best way to inspect the equipment is to start from the ground up and check it part by part.
The things you need to check are:
| Where to check? | What to look for? |
| --- | --- |
| The overall structure | Check for any ruptures and other signs of damage |
| Signs of welding | If the seller had to weld the machine, or if certain parts had to be replaced, it's a sign the equipment suffered significant damage at some point in the past |
| The machine's undercarriage | It's costly to repair the undercarriage, so make sure to scrutinize it before deciding to go through with the purchase |
| Visible leaks | Check the ground for fluid leaks, but don't forget to check the fluids themselves to see if they are leaking on other machine parts |
| The condition of the attachments | Inspect whatever type of attachment the machine has for signs of damage or wear and tear |
These are the elements that give you the best general idea of the equipment's overall condition.
Now let's look at a specific example of how to conduct the inspection, that of a CAT excavator.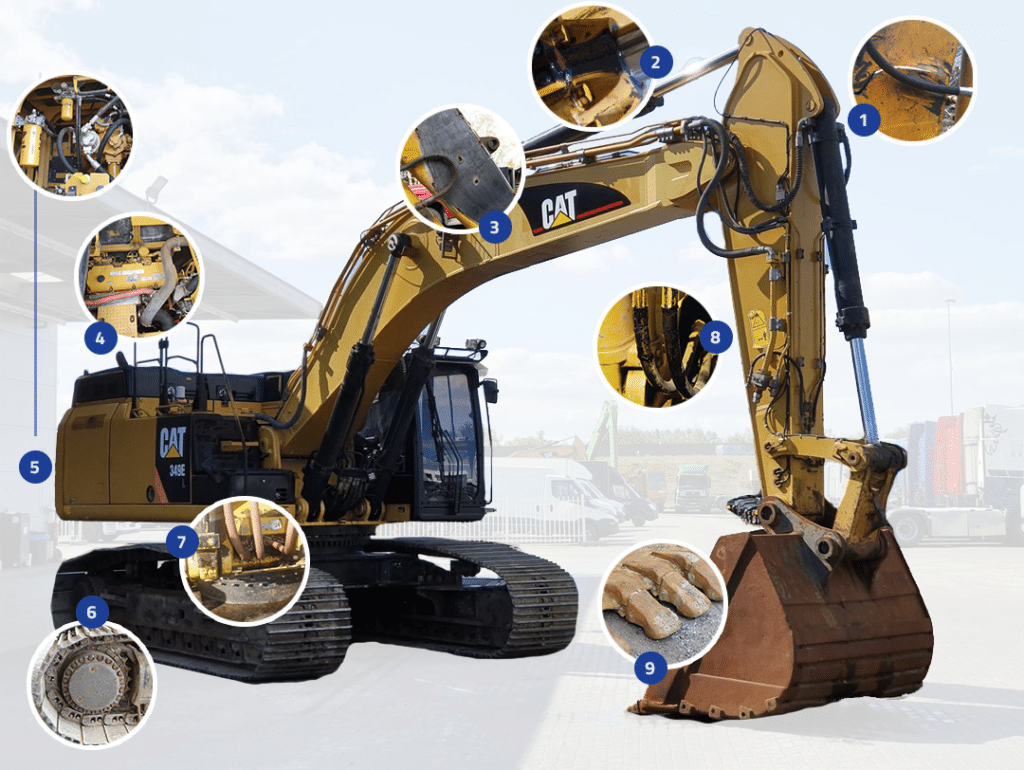 Let's look at CAT excavator inspection results to better understand what you need to look for when checking the machine.
Image one – you can see that the equipment is clearly showing signs of wear and tear on or around the frame.
Image two – shows oil leaking on the hydraulic cylinders, which you shouldn't take lightly. In addition to being a hazard, it is a waste of resources.
If you're losing a drop of oil per second, you're looking at an additional yearly cost of $6,000. On top of the cylinders, inspect the fluids and the ground around the equipment for any sign of leaking.
Image three – shows what a frame reconstruction looks like. As you can see, someone performed a welding procedure to fix the damage, which isn't a good sign. 
Image four – The signs of leakage and the resulting damage in the engine compartment are visible. 
Image five – You can see a depiction of similar issues occurring in the hydraulic system Always check the engine before purchasing machinery. 
Image six – shows extreme damage to the undercarriage, which is expensive to repair. In fact, half of the amount you spend on excavator maintenance will go to undercarriage repairs.
Image seven – points to issues with the slew ring bearing and pivot points, which can cause more damage if left that way. 
Image eight – damaged hydraulic hoses, which are likely to lead to a system malfunction or machine failure. 
Image nine – shows wear and tear on the teeth, i.e., the attachment, which can nevertheless stop the machine from performing its function. 
Now that you have a general understanding of what you need to check for in or around the equipment, let's see what else you should know.
Operating Hours of Equipment
Some believe that one of the essential things you should consider when inspecting the equipment is how old it is.
While age is important, the equipment's operating hours hold more value to you when making a purchasing decision.
This might seem illogical at first glance but bear with us here.
Let's say you have a choice between buying a five-year-old tractor and a two-year-old one for roughly the same price. You've inspected both, and they seem to be in a similar condition.
Most people would opt for the one produced two years ago, believing it's automatically better preserved. However, this isn't exactly the case.
The five-year-old tractor might have been used for 500 hours, while the newer one could have been used for 3,000. If you consider that a tractor is usually in good condition at least until its 4,000th hour, it becomes clear that the older tractor is a better investment in this specific case.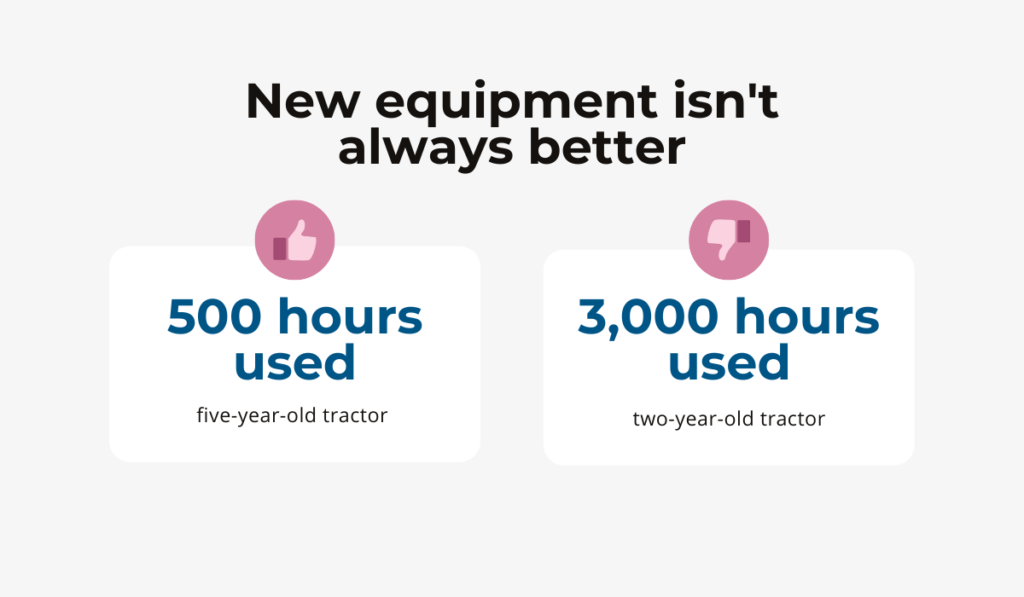 The point is, don't assume that you can tell everything about the equipment from its age. Operating hours, i.e., how much the machine has been used, can tell you a lot too. Clearly, the more you use the machinery, the worse its condition is going to get, due to the inevitable wear and tear.
If the seller claims they don't know the exact number of operating hours of a particular piece of machinery, check its internal clock using the manufacturer's instructions, and you will be able to clearly see how many hours it's spent working.
Based on this information, you can determine whether the machine was overused, or, conversely, underused.
Then, you will be better able to decide whether purchasing it is a wise investment, especially if it's nearing the end of its useful life. For example, a machine might have been used twice as much as recommended, which means its useful life will be a lot shorter than expected.
On top of the equipment's general condition and operating hours, you can tell a lot about it from its maintenance records.
Maintenance Records
When you look into the seller's reputation, check the equipment's condition and determine the machine's working hours, it's time to figure out how well the seller serviced it.
If the seller hasn't serviced the equipment properly, none of the aspects mentioned above matter.
Even if the machinery wasn't overused and is in seemingly good condition, you can expect it to experience some type of failure soon due to the lack of proper maintenance. 
Of course, there's always a possibility that your machine will fail as the industry standard for equipment downtime is around 20-30 percent. However, just because something's the industry standard doesn't mean you should accept it without trying to do better.
The fact is that these numbers are so high companies neglect preventive maintenance and instead run the equipment to the point of failure. However, reactive servicing not only costs ten times more but also causes a lot of downtime.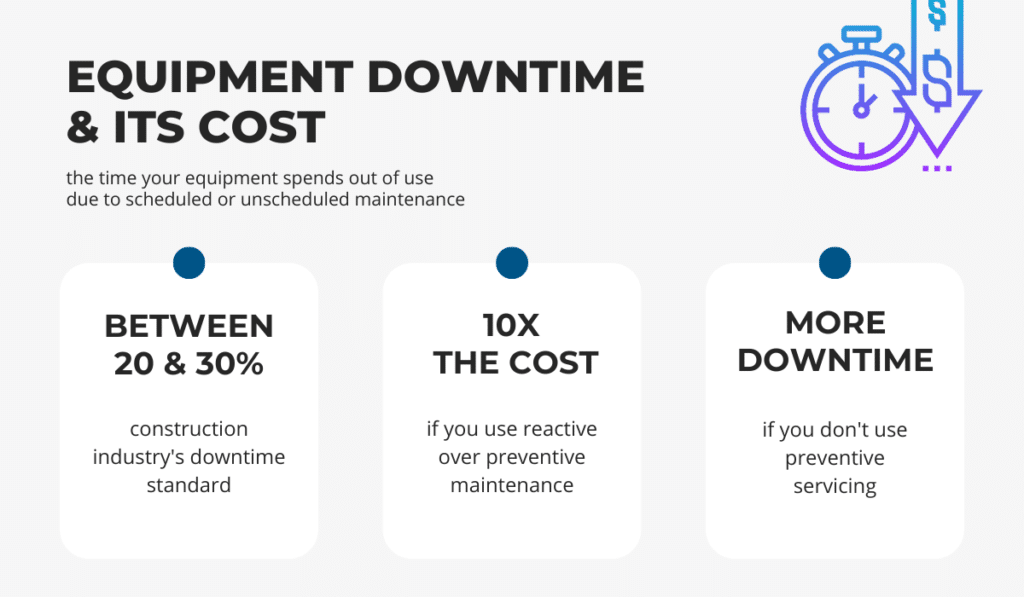 The reason for this is simple: preventive servicing finds and solves every discovered problem before it escalates, prolonging the machine's useful life.
Sellers who invest in their equipment can guarantee that it is in excellent condition and that it serves its original purpose. 
Besides, the manufacturers recommend regular servicing for each type of equipment, and the suggested schedule can be found in the manuals. So, maintenance is an essential requirement for equipment owners.
Because of this, you should ask the dealer to present you with the equipment's service records. If they don't have these records, you shouldn't purchase the machinery as this is not something you can just take their word on.
Respectable sellers will have the information and save it in one place, preferably the cloud. That way, their team can access it whenever there's a problem with the machine and have a full rundown. Equipment management software solutions offer an option to log each maintenance session and save it in the cloud.
This allows everyone to access the software and check the details.
You can do the same with your machinery to ensure you don't miss a maintenance date, especially if you intend to resell the equipment later.
The type of servicing that you are looking for is:
Scheduled maintenance where the team inspected the machine in detail and fixed any issues they've found
Regular minor servicing like fluid changes, filter cleaning, and tire inspections
Urgent repairs, which are a sign there may be permanent damage
Whatever type of records the dealer gives you, you have to go through them to determine how often they serviced the machine.
Conclusion
Before deciding to purchase heavy equipment, you have to check a couple of things, including the seller's reputation, the equipment's overall condition, the machine's operating hours, as well as any previous maintenance records.
All four of these aspects will help you decide whether to purchase the specific machine, so don't ignore any of them.
A reputable seller is a lot more likely to sell you machinery in good condition with decent operating hours and detailed service history, and that's exactly what you need out of your next machine.