When equipment breaks down, companies suffer excessive downtime and are left with substantial repair costs. The best way to avoid both is to maintain your equipment regularly.
In this post, you'll find the key facts and statistics to help you understand the importance of adequate equipment maintenance.
The Global Maintenance Market Is Predicted To Reach The Value Of $701.3 Billion By 2026
In 2020, the global maintenance market was worth $616.1 billion. Currently, it's set to grow at the rate of 2.19% every year until 2026.
However, the recent disturbance in operations and supply chains, as a consequence of the ongoing Covid pandemic, has had a negative impact on the maintenance market. Like many other markets, it has suffered reduced growth.
On the other hand, those unfavorable circumstances have increased the need for improved internal efficiency and more effective digital maintenance solutions. These have been the primary driver of industry growth.
Therefore, the global maintenance market will continue to grow despite recent setbacks.
The US Machinery Maintenance Market Has Grown 10.4% In 2021
The machinery maintenance market in the US is a part of the global maintenance market. In 2021, it has grown by 10.4% compared to last year, reaching $43.6 billion.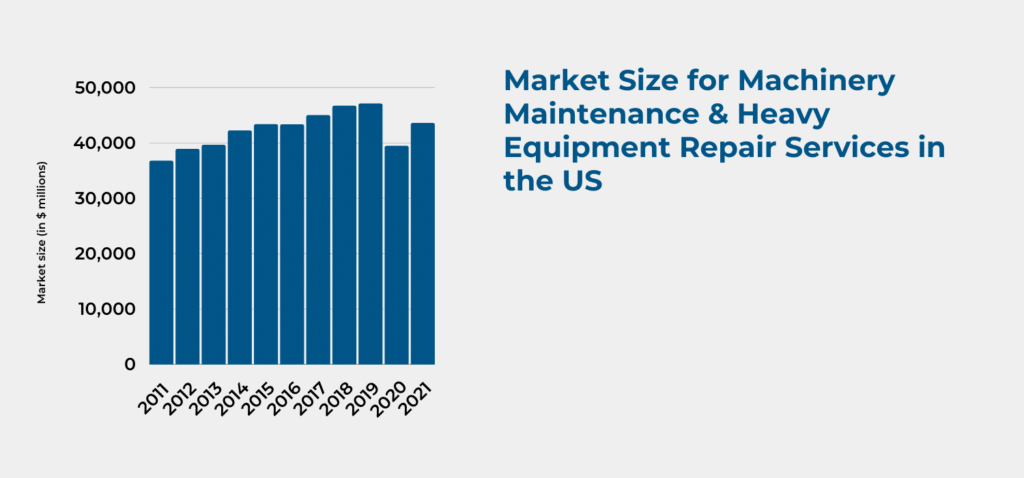 It's worth noting that the machinery maintenance market has recovered better than any other service sector except for public administration.
It is predicted that consumer spending will increase by 6.9% and further improve the financial outlook of the market.
If the positive growth trend continues, the machinery maintenance market will recover and reach its pre-pandemic size by the end of 2022.
The Real Estate and Leasing Sectors Were the Biggest Employers of Maintenance Workers In The US In 2019
The real estate and leasing industries are ripe with opportunities for maintenance workers across the US.
According to the Bureau of Labor Statistics, 22% of all US maintenance workers in 2019 found employment in those sectors.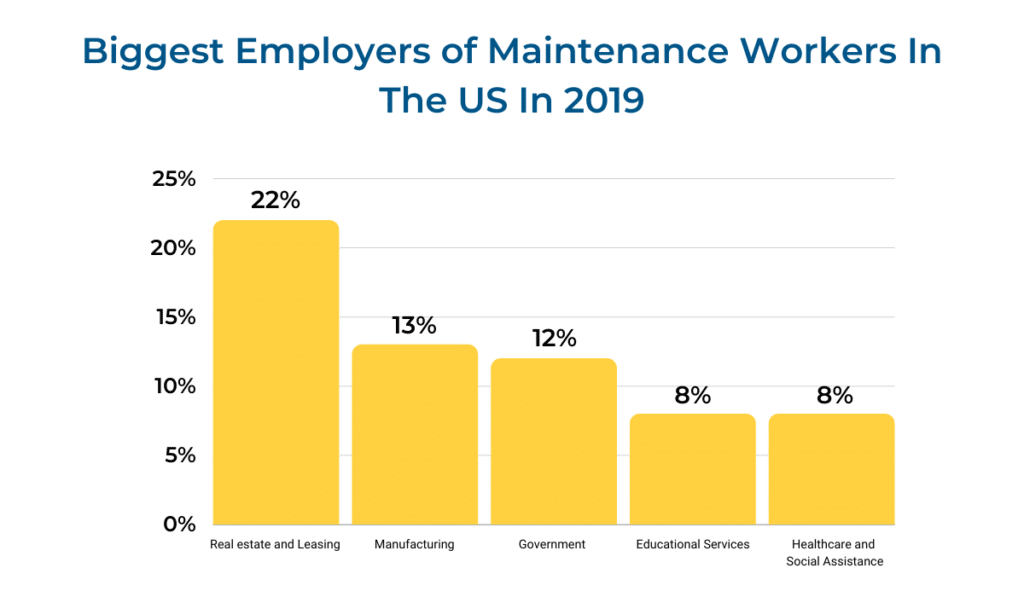 The runner-ups were manufacturing and government agencies with 13% and 12%, respectively.
New opportunities for maintenance professionals in the real estate industry will increase because of the rising demand for remodeling and home maintenance.
According to official statistics, the employment rate for maintenance workers is likely to grow by 6% by 2029. This translates to about 63,000 jobs.
Deferred Maintenance Costs Up To 10 Times More Than Regular Maintenance
The notion that deferred maintenance saves money in the long run is misguided, to say the least. In fact, when equipment breaks down, repairing it costs 3 to 10 times more than regular maintenance.
Deferred maintenance costs are devastating to companies because their budgets rarely take unexpected breakdowns into consideration.
Deferred maintenance costs can include:
Downtime costs
Repair costs
Bringing in specialized labor
Potential overtime costs
Instead of deferred maintenance, businesses would be wise to practice preventive maintenance instead.
Predictive Maintenance Saves Up To 40% More Money Than Reactive Maintenance
A report from the US Department of Energy has found that predictive maintenance is a significant money saver.
The paper claims that implementing a predictive maintenance program in industrial facilities results in cutting costs and increasing equipment reliability.
Depending on the facility's material conditions and maintenance capabilities, a business can save from 30 to 40% with predictive maintenance.
The research also claims that a functional predictive maintenance program can reduce breakdowns by 70 to 75% and eliminate catastrophic breakdowns almost entirely.
It goes without saying that implementing a predictive maintenance program is crucial for running a cost-efficient facility.
Poor Maintenance Can Reduce A Company's Production Capacity By Up To 20%
Industry analysts found that a company's production capacity drops between 5 and 20% due to poor equipment maintenance.
When a company or facility experiences a downtime event, its capacity to produce goods is crippled. The critical equipment breaks down, and employees can't complete their duties.
Furthermore, managers have to spend time ordering replacement parts and unplanned maintenance operations. Their production line pays the price.
On top of that, companies have to make up for the loss of labor with overtime, which adds to the overall expenses.
All of this can be prevented with an outstanding maintenance practice that stops equipment breakdowns from happening in the first place.
Unplanned Downtime Costs Manufacturers $50 Billion Per Year
It is estimated that unplanned downtime costs manufacturers up to $50 billion per year.
Equipment failure accounts for 42% of unplanned downtime costs. The related expenses include repairs, equipment and machinery replacement, as well as the increased cost of maintenance. Since these are unexpected expenses, they can devastate company budgets.
In addition, the facility staff is exposed to greater safety risks, which can translate to even greater financial losses.
Unplanned downtime is a costly business. If manufacturers want to avoid it, they have to take an active stance towards eliminating equipment downtime.
The top-performing manufacturers recognize the economic benefits of regular maintenance and invest in solutions that enable preemptive maintenance.
On Average, an Hour of Equipment Downtime Costs $260,000
An industry survey has found that an hour of equipment downtime costs businesses $260,000 on average.
To make things worse, the costs of downtime have increased by 60% since 2014. Downtime events are becoming more expensive for businesses; by leaving their equipment unattended, they risk a drain on their budget with each hour that passes.
The same report found that 46% of businesses that experienced equipment downtime couldn't deliver the services or goods they promised to their clients. This is something you want to avoid, because it can have far-reaching consequences.
When clients are disappointed, they stop doing business with your company, and it suffers a loss of revenue.
$22,000 Per Minute Is The Average Cost Of Unplanned Downtime In The Automotive Industry
The automotive industry is highly vulnerable to devastating losses from unplanned downtime.
Since the manufacturing processes in that sector rely on uninterrupted operations on production lines, if one critical piece of machinery breaks down, it creates a bottleneck.
A survey covering more than a hundred automotive manufacturers revealed that unplanned production halts cost those companies around $22,000 per minute.
Some respondents even said their unplanned downtime costs can reach $50,000 per minute.
Interestingly, 53% of manufacturers also answered that their first outsourcing priority would ideally be hiring a maintenance team to manage preventive maintenance for their machinery.
By doing so, automotive manufacturers wouldn't have to worry about finding skilled maintenance professionals themselves, and could rely on maximum efficiency instead.
10+ Years Is The Average Age Of Industrial Equipment In The United States
The majority of the industrial equipment in active use in the US is over 10 years old.
According to statistics, the average age of manufacturing equipment is currently the highest since the 1940s. During the 1960s and 1970s, the average age of manufacturing equipment was about 7 years.
Every piece of equipment has a lifespan. When machinery gets old, it's more likely to break down or work at a below-optimal rate.
If most of the equipment in a facility is dated, an unplanned downtime event becomes highly probable. The risk increases with each passing month.
It would be wise for businesses to increase their maintenance efforts as their equipment becomes older. That way, they can predict when their equipment will fail and prevent downtime.
Aging Equipment Is The Leading Cause Of Unplanned Downtime
One survey claims that 44% of respondents identified aging equipment as the leading cause of unplanned downtime.
Remarkably, the runner-up reasons are operator error and lack of time for maintenance by 16% and 15%, respectively.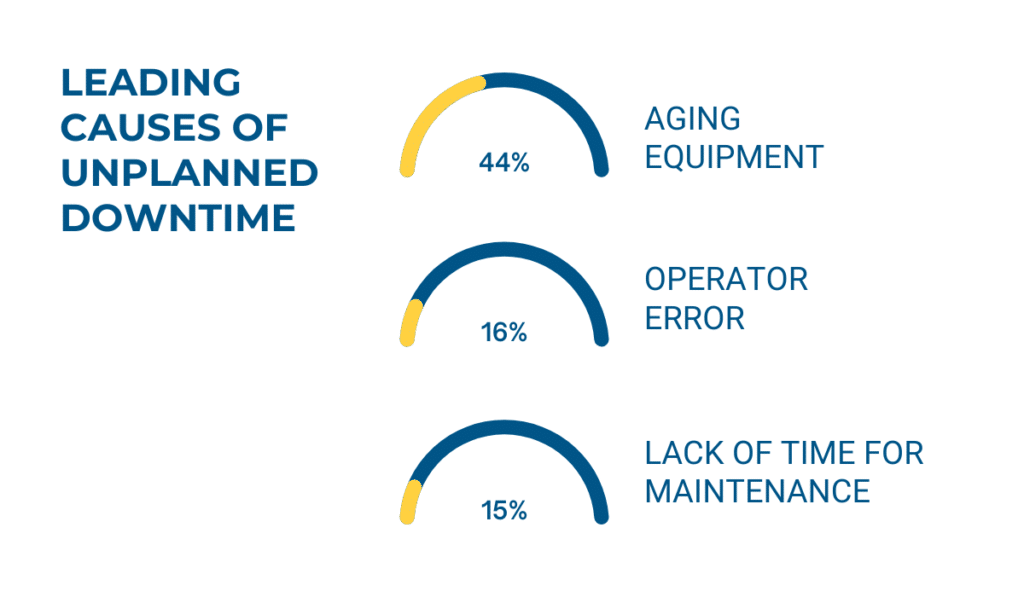 However, according to the survey, aging equipment is almost 3 times more likely to cause unplanned downtime than a mistake made by the operator. Despite how well the facility trained its operators, downtime is still expected with old equipment.
In addition, 50% of respondents identify implementing a preventive maintenance strategy as one of the best solutions for reducing aging equipment downtime.
52% Of Survey Respondents Use Spreadsheets To Monitor And Manage Equipment Maintenance
Unfortunately, most organizations still depend on spreadsheets to monitor their equipment and manage maintenance operations.
In addition to the 52% of respondents that rely on spreadsheets, 39% or manufacturers still use paper records. This is highly problematic, as neither of these options is ideal.
While tracking equipment with pen and paper is dated and inefficient, spreadsheets are extremely time-consuming.
It's challenging to keep track of a spreadsheet with thousands of rows. Imagine updating it manually every time you complete a maintenance check.
Management reports are difficult to generate with such a chaotic database. If you want accurate and updated reports, you need a reporting system that doesn't rely on operators going through every column manually.
Instead of using archaic, time-consuming solutions, organizations should rely on equipment management software instead. It enables facilities to manage their maintenance operations and keep up a preventive practice.
Conclusion
We can see from these facts that introducing preventive equipment maintenance is becoming a standard industry practice.
Managers are turning to new technologies to enable their teams for effective maintenance management. Thanks to new solutions, they'll be able to eliminate unplanned downtime almost completely.
Despite challenges that have arisen over the past year, the equipment maintenance market will continue to grow and save companies' precious resources.
Reflect on the stats you've read today and think about the maintenance procedures in your business.
---
References:
https://financesonline.com/maintenance-statistics/
https://www.ibisworld.com/industry-statistics/market-size/machinery-maintenance-heavy-equipment-repair-services-united-states/
https://www.bls.gov/ooh/installation-maintenance-and-repair/general-maintenance-and-repair-workers.htm
https://www.buildings.com/news/industry-news/articleid/21728/title/stop-wasting-money-deferred-maintenance
https://www1.eere.energy.gov/femp/pdfs/OM_5.pdf
https://www.ptc.com/en/blogs/corporate/iot-slashes-downtime-with-predictive-maintenance
https://partners.wsj.com/emerson/unlocking-performance/how-manufacturers-can-achieve-top-quartile-performance/
https://www.stratus.com/assets/aberdeen-maintaining-virtual-systems-uptime.pdf
https://news.thomasnet.com/companystory/downtime-costs-auto-industry-22k-minute-survey-481017
https://www.reuters.com/article/us-usa-manufacturing-investment-analysis-idUSKCN18E1DI
https://www.plantengineering.com/articles/2018-maintenance-survey-playing-offense-and-defense/