There are numerous reasons why construction companies want to reduce their waste on job sites. Some want to be more sustainable, some want to save money, and others want to comply with new environmental laws and regulations.
What's important is knowing that reducing waste in construction is beneficial to everyone involved.
So, if you want to manage your construction waste responsibly, here are some methods you can adopt to reduce waste on your construction sites.
Plan Ahead to Minimize Waste
It's human nature to worry about scarcity, so we often purchase more items than we actually need. Just in case.
But in construction, this often means that you're spending money on excess materials you won't end up using or having to cut materials to the right size on site.
So what happens to the leftovers? They end up in a landfill.
Now, when it comes to reducing waste in construction, you'll have to plan for it before a shovel hits the ground.
Choosing more sustainable options, ordering the right materials in the right dimensions, or opting for prefabricated components are just some of the ways you can not only reduce waste but avoid creating it in the first place.
You can even think outside of the box, like Ged Finch, a Ph.D. candidate at Victoria University in Wellington, who is researching and creating a wooden frame that can stand on its own without the use of nails and adhesives.
These components contaminate and damage materials, so Finch wanted to create a system that would be wholly recyclable and strong.
That's how a diagrid structural system manufactured out of plywood components was born.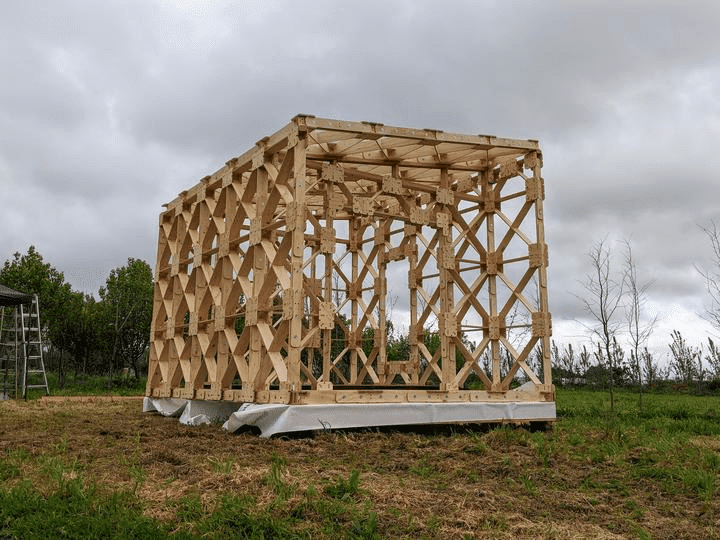 But if you're not ready to make drastic changes, there are other ways to reduce construction waste, simply by planning ahead.
Remember that some of the most important decisions are made in the design phase, so that's where most problems can be mitigated too.
First, think about the materials you're using for the project. Could you substitute them with more sustainable ones? For example, you could use concrete made from recycled aggregate or recycled steel instead of the more traditional options.
Using sustainable materials in your projects ensures that your structures will have a long life but can also be recycled if the building should be demolished in the future.
Next, ordering exactly what you need for the project is one of the best ways to ensure that you won't have to throw away unused materials.
You can hire a quantity surveyor to get the most accurate estimates for the amount of materials you'll need.
Of course, mistakes can happen, and you'll probably need to rework some aspects of the project. But that's where planning ahead helps.
With thorough project planning where every stakeholder gives their input, you'll ensure that the project progresses with minimal rework, so you're less likely to overorder materials or run out of them unexpectedly.
Long story short, to truly manage your construction waste, start with proper planning.
Find the Right Supplier
If you are serious about sustainability, a crucial factor in supporting your goals is working with reliable vendors.
Of course, you want to work with someone who will deliver your materials on schedule and in perfect condition.
But you also need to consider how they source, package, and transport these materials to comply with environmental regulations and your sustainability goals.
Basically, you could take one step forward and two steps back, trying to create less construction waste. But there are ways to solve this problem.
For example, avoiding individual packaging and buying materials in bulk can significantly reduce the use of cardboard. It's better to avoid using excess packaging in the first place than recycling this additional waste.
Or even better, try to negotiate with your supplier to use returnable containers and pallets they can pick up once the project is finished.
If that's not an option, make sure to repurpose and reuse non-returnable containers such as plastic barrels, buckets, or tubs yourself.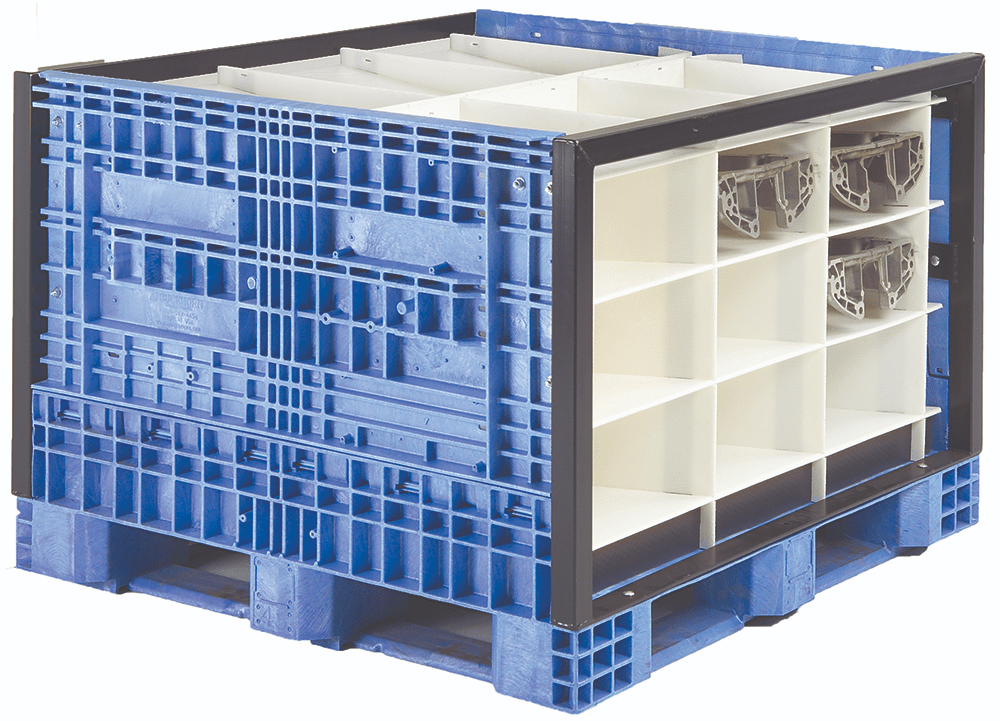 Finally, look for vendors that have a good return policy. This means you can send leftover materials and get some of your money back.
Certain suppliers, like Lowe's, offer returns within 90 days of purchase to any store in the US, but you can extend that to 365 days for business accounts.
Keep in mind that most suppliers will require some proof of purchase (print or digital receipt) to provide refunds. You also need to return the materials and supplies in good condition and unopened to qualify for rebates.
Additionally, pay attention to exceptions in the supplier's return policy.
For example, Ace Hardware doesn't accept returns for clearance items, damaged and defective materials, and hazardous materials such as flammable liquids or gasses. They also put limits on paint returns.
In a nutshell, working with reputable suppliers who share your sustainability goals will help you reduce construction material waste.
Invest in Proper Storage Space
Sunlight, moisture, and extreme temperatures are the biggest enemies of your materials.
As you're probably aware, frequent exposure to the elements can result in material damage or diminished quality, which means you'll have to discard them and produce unnecessary construction waste.
So, it's important you carefully consider how you store and handle different types of materials.
Thad Pirtle, vice president and equipment manager at Traylor Bros., recommends putting all your equipment and materials inside a firm structure.
That way, you're not exposing valuable company investments to climate conditions, insects, rodents, and birds.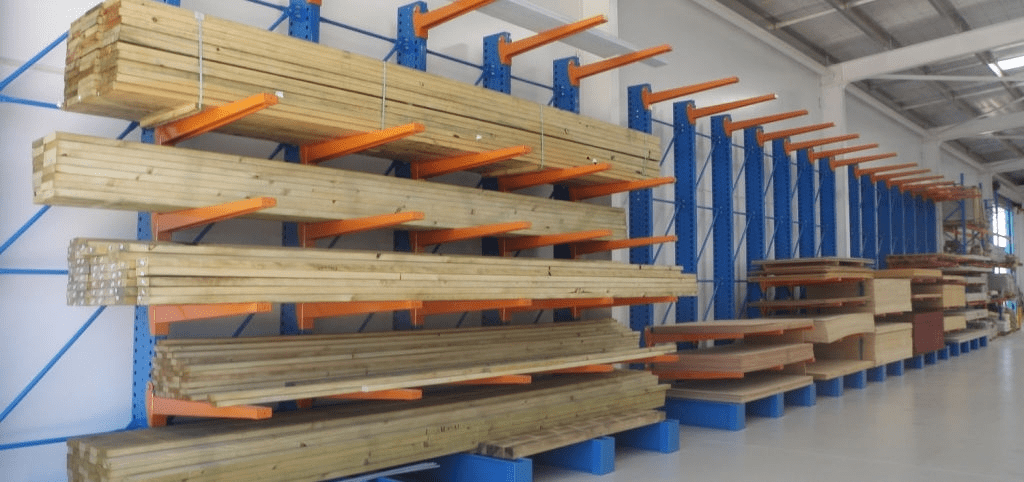 Generally, you'd want a large enough facility that's dry and adequately ventilated, but you can also designate different areas to stock materials that have varying storing requirements.
For example, you can put paints in special containers to maintain the optimal temperature (between 60-77°F), while timber can be placed on a raised base with smaller gaps between each layer to create airflow.
This is because paints are more susceptible to temperature changes, while ventilation plays a substantial role in minimizing warping in wood.
Not to mention that this method will keep your storage more organized and accessible to employees to get what they need faster.
Additionally, if you need help with material inventory and you want to know how much material you have at all times, check out GoCodes' material tracking software.
All in all, properly storing materials will ensure that they retain their quality, and you'll avoid dumping them in landfills.
Reuse Excess Materials
Have you ever considered deconstruction instead of demolition?
In both cases, you're disassembling a building. However, with deconstruction, you're taking more time to take down the building piece by piece to preserve materials and valuable resources, thus eliminating waste.
Looking at any project, there are probably some materials you can salvage to be reused, sold, or donated. For example, windows, doors, structural steel, other metals, electrical and plumbing fixtures, even concrete and masonry.
Saia Latu, CEO and General Manager of TROW Group, says that many construction professionals perceive deconstruction as expensive and time-consuming, so they often opt for demolition.
But in Latu's experience, saving some of the materials can pay off in the long run.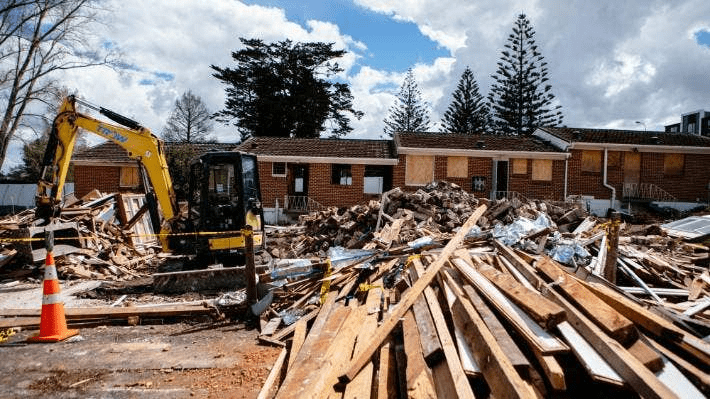 Latu has been working in civil infrastructure in Auckland, but he wanted to give back to the community in Tonga, where he was born.
He was repairing and rebuilding communal buildings ravaged by cyclones, but he soon realized the high cost of these repairs.
To cover some of his expenses, he started to think about valuable resources on construction sites in New Zealand that could be repurposed—like timber, lighting, or even furniture.
He founded the TROW Group, which became one of the largest deconstruction companies in New Zealand. On-site, they sort everything into piles and later sell 70% of secondhand materials to pay for labor and transport while 30% is donated.
One of his projects was to upcycle polystyrene, metal, and concrete from flood-damaged houses in Piha, which were used to create a permaculture garden.
Timber and trusses that couldn't be used were sent to Tonga, Nukunuku, and Tongatapu to rebuild cyclone-prone areas.
With this approach, the company managed to reclaim and repurpose 471 tonnes of materials from five major projects in Auckland.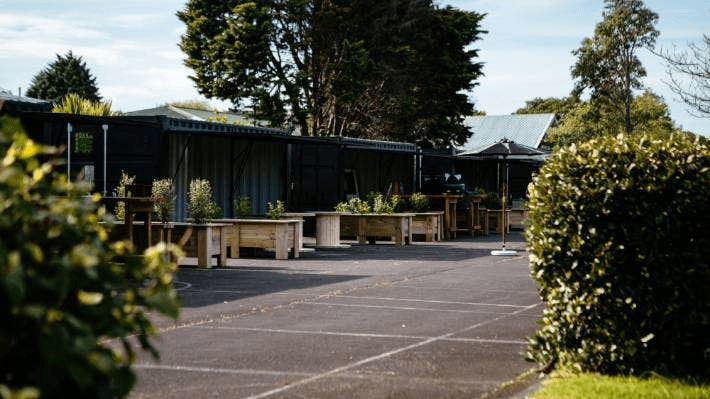 What you can learn from this is by reusing materials, you'll be able to save money in the long run, help the environment and even create jobs for the local community.
But even if you can't reuse some materials for your projects, consider donating them to programs like Habitat for Humanity ReStores. You'll support a worthy cause and get a tax write-off at the same time.
All in all, reusing materials is beneficial for everyone, from your construction business to the environment, so try to do it more often.
Organize Your Construction Site
Did you know that you could reduce your construction waste by 75% by simply organizing your construction site?
That is precisely what R J Alderton Builders, a small company from Hamilton, New Zealand, has managed with sorting their construction waste.
Their main strategy is to plan for a space on a construction site dedicated to collecting different types of reusable, recyclable, and other materials.
They have separate dumpsters to sort the materials and provide enough access for collectors to gather them once the project is complete.
Then, just like Saia Latu, they try to reuse many of their materials. For example, demolition timber is repurposed for props or bracing, while they send their concrete waste to a local recycler who later uses it to create a builder's mix.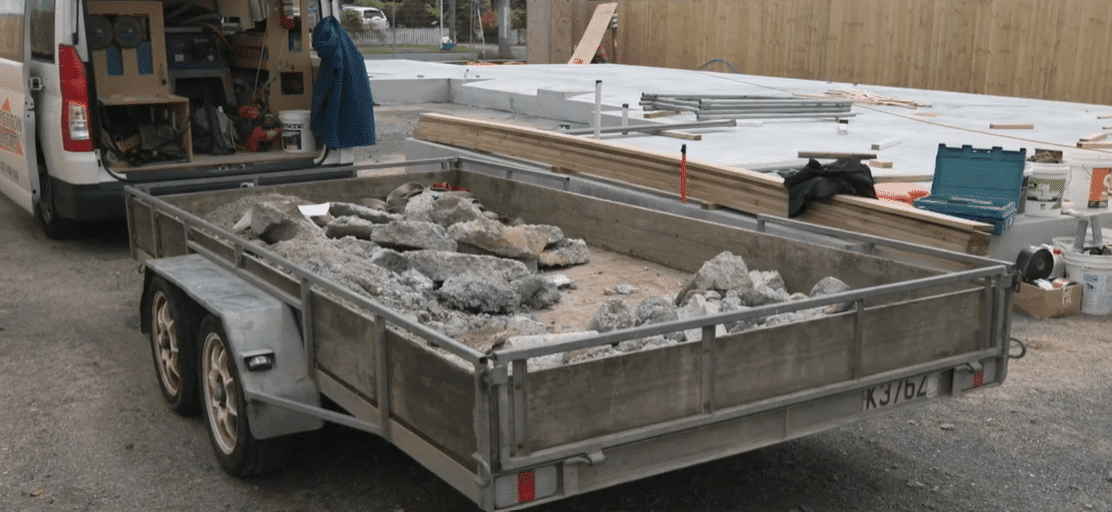 Also, when it comes to metals, they work with a local scrap dealer to sell and recycle valuable metals. But that's not all: they even have a composting site for lunch scraps!
The company claims that material sorting is not that difficult, and they simply shifted time and costs from dumping the material unnecessarily to labor.
Their expenses are the same, but they operate in a more sustainable and environmentally-friendly way, which was one of their goals.
If you want to achieve the same, it might be a good idea to start by assigning areas on your construction site that will contain recyclables and waste materials.
You can sort them by type:
Brick
Drywall
Paper
Plastic
Metal
Wood
Or in any other way that makes more sense to reduce waste and help your workers sort materials easily on construction sites.
If time equals money, then creating a more efficient system to sort materials and reduce your overall construction waste is necessary.
Conclusion
Simply throwing away materials might be easy, but we all know that is not the solution if we want to live sustainably and protect the environment.
Luckily, for eco-conscious contractors, there are numerous ways they can reduce waste on their construction sites if they're determined and flexible enough to change their practices.
No matter the size of your project, you can take small steps to reduce your construction waste.