Managing IT equipment well requires a thorough knowledge of the equipment, how it might change in time, and what benefits the company most.
If you run a company that has a lot of IT assets to contend with, you've come to the right place.
In this article, we'll go over some of the best practices for efficient IT asset management, ranging from assembling the right team, to creating a preventive maintenance strategy or managing the end-of-life stage of your assets.
So, let's begin.
Assemble an IT Asset Management Team
When most people think of asset management, they tend to imagine all the physical items that require organization.
However, due to its specialized nature, IT asset management is best conducted under the management of a team of professionals.
Assembling a dedicated IT asset management team may be necessary to ensure efficiency.
Some of these tasks include managing software purchasing decisions, updating and upgrading licenses, and maintaining readiness for software licenses.
As you can see, this is a great deal of work.
Your asset management team should feature a number of members, all with complementary roles.
For instance, in addition to an IT asset manager, who coordinates the activities of the team, it's a good idea to have an asset management analyst to ensure license compliance, watch for misuse, and seek ways to save money on licenses.
There should also be change managers, who procure and schedule software updates, as well as tool ministers who work on implementation and fitting IT tools to the company's needs.
Next, the asset management specialist should be there to configure systems, offer advice on software purchases, and study usage data.
Finally, procurement managers process requests for software, and it's a good idea to have them on your team as well.
So, assess your company's needs and hire the right people in order to ensure your company manages its assets, especially IT assets, efficiently.
Use an Automated Discovery Process
IT asset discovery is a process through which a company manages, protects, and responsibly upgrades its tech assets. This includes both hardware as well as software.
For optimal efficiency, this process should be automated.
An automated discovery process seeks to gain a complete picture of a company's IT assets.
Conducting it also contributes to understanding cloud storage, mobile devices, servers, scanners, and routers.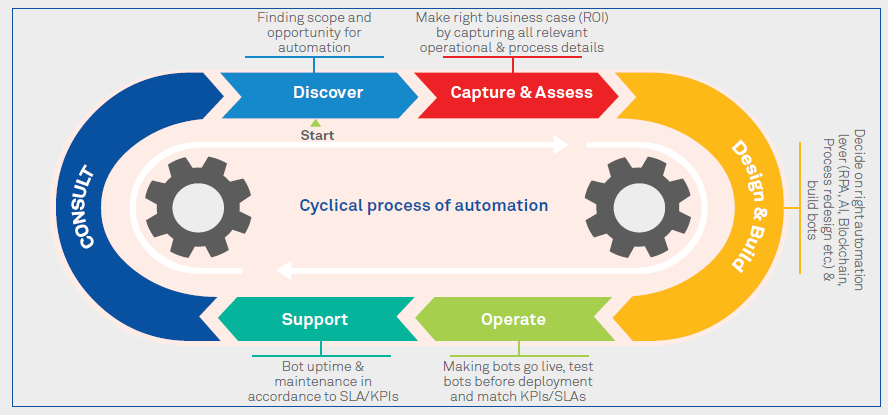 IT asset discovery should be automated through agent and agentless methods.
Sometimes this includes bolstering a company's IT safety, and protecting the data of employees and the company itself. It's also important to constantly monitor for unauthorized assets.
For all of this, it's important to choose the right tracking system.
At the very least, an automated discovery process should scan your company's entire system to probe for vulnerabilities and regularly collect data on usage stats.
Predict Your Employees' IT Asset Needs
If you want your team members to have the best tools for their jobs, you need to be able to predict what kind of IT equipment they'll need and stay on top of asset procurement.
In doing so, your company will also keep pace with competitors, and your overall efficiency will reflect that you've invested in the right assets.
What does predicting your employees' asset needs involve?
Here's a brief overview:
Listening to what frustrates employees and determining how IT could better meet their needs
Understanding how employees use their current assets so that the appropriate replacement can be obtained when the time comes
Maintaining awareness of the shifts and trends in the market in order to make optimal purchasing decisions
Therefore, your company's IT asset management team should evaluate not just your individual employees' asset needs, but also how they use these assets.
Market trends, usage data, and turnover will also shape your company's purchasing decisions.
It doesn't make sense to invest in tech that is popular or priced attractively, but that doesn't serve your team.
Create a Preventive Maintenance Strategy
Preventive maintenance is typically much cheaper than reactive maintenance, so your company should implement such a strategy for IT assets.
The first step in this process is to conduct a thorough inventory of not just physical assets, such as computers and tablets, but also software licenses, cloud storage, and wifi connections.
This enables your company to now track and monitor your IT equipment on an ongoing basis.
Are any licenses expired or any user invites going unused? These could cost your company quite a bit of its IT budget without serving the company in any way.
A proactive IT asset management strategy involves comparing a company's current assets with how employees use them, then strategizing to close the gap.
This involves studying what employees need and what frustrates them about current assets, as well as your company's future plans and the ways in which the IT world is changing.
Your company's preventive maintenance strategy should undergo fine-tuning as your team begins to make changes based on their findings and your employees integrate new processes or equipment.
A preventive maintenance strategy can help combat stagnation in all parts of your company.
By staying ahead of technological changes and understanding how your employees accomplish various tasks, this time investment can help to prevent unwise or unneeded purchases, whose consequences in the IT field can be quite far-reaching.
Plan for the End-Of-Life of Your IT Assets
No matter how well your IT asset management team chooses your IT assets or cares for them through preventive maintenance, your equipment will have to upgrade, dispose of, or replace them.
This is a normal part of an asset's life cycle.
A thorough understanding of this cycle enables the company to plan for each stage, and prevents it from being blindsided by an asset's sudden breakdown.
This allows your company to stay in the planning process as long as necessary, shopping for items that will best serve your company.
Failing to track your assets can lead to unpleasant surprises.
Your company should track its assets throughout their lifecycle, calculate their depreciation, and effectively dispose of those assets when the time comes.
For this, you will need the right software.
Our own solution, GoCodes, is a cloud-based software for tracking assets of all types.
Its capabilities include asset life cycle management, from gathering information about each asset, to scheduling safety inspections and maintenance, as well as managing end-of-life disposal.
By implementing such a solution, your company will avoid scrambling to recover from a major security breach or failure.
In addition, by tracking your IT assets, you can plan for their disposal responsibly.
For instance, some schools or nonprofit organizations might welcome your company's outdated mobile devices or desktop computers, but first, your IT team must thoroughly expunge all company data and ready any donations for a new role.
This process is much more difficult to schedule and becomes potentially rushed when it is hastily arranged.
Also, keep in mind T assets often require specific forms of disposal.
In many cases, your company is not permitted to simply throw away lithium battery-powered devices or those containing mercury, lead, or other potential toxins.
These components might prove hazardous to the environment. In fact, the Environmental Protection Agency (EPA) could specifically prohibit certain forms of disposal.
Your IT team should have a plan in place to safely and legally dispose of tech hardware that is no longer viable.
Sometimes, contracting with an electronics disposal or recycling company is the most efficient course of action.
Conclusion
Efficient IT asset management is a must for any modern company.
To manage those types of assets properly, you must assemble an IT asset management team to help design your tracking program.
It's also important to use an automated discovery process and to predict your employees' IT asset needs.
Finally, it's best to create a preventive maintenance schedule strategy so that you are well-prepared for the end of your IT assets' life cycle.
All of this can be achieved through using the right asset management software, such as GoCodes.