Asset turnover is an important financial metric that allows companies to determine how efficiently their assets are used to generate revenue.
A higher asset turnover ratio signifies better performance, indicating that the company is producing more income for every dollar of assets.
To be able to make the best use of their assets, companies are looking for ways to improve their management by taking advantage of automated solutions.
Deployment of automated asset management systems leads to optimized asset allocation and utilization, substantial cost savings, and, consequently, higher asset turnover rates.
This article presents a few methods that can help you strengthen your asset management initiatives and improve your asset turnover ratio.
Invest in Asset Tracking Software
Effective asset management is crucial for enhancing business efficiency and productivity.
It involves maintaining the company's assets, monitoring their condition, and ensuring their optimal functioning.
Therefore, the first component of your focused strategy to increase asset turnover is to invest in asset tracking software.
It will not only allow you to physically track and have control over where your company's assets are at any given moment, but it will enable you to significantly improve your allocation strategy and optimize your asset utilization.
The asset tracking system we developed here at GoCodes, has taken into consideration the variety of equipment, machinery, and tools that construction companies employ in everyday operations.
Hence, it integrates several monitoring technologies that cover different tracking requirements.
For example, GPS tracking is highly suitable for heavy construction machinery and vehicle fleets, especially for companies possessing a diverse range of assets employed in a few locations.
Its main advantage is that it provides real-time information on the location and movement of your assets, globally.
Moreover, GPS-based tracking enables you to monitor essential metrics beyond location, including driving routes, fuel consumption, speed, detours, and travel time.
However, for smaller pieces of equipment like compressors, hand drills, or hydraulic power packs, a more fitting solution is the one involving QR code labels and tags.
Workers can effortlessly scan these codes to instantly retrieve key details like the asset's location, availability, manufacturer data, maintenance history, and more.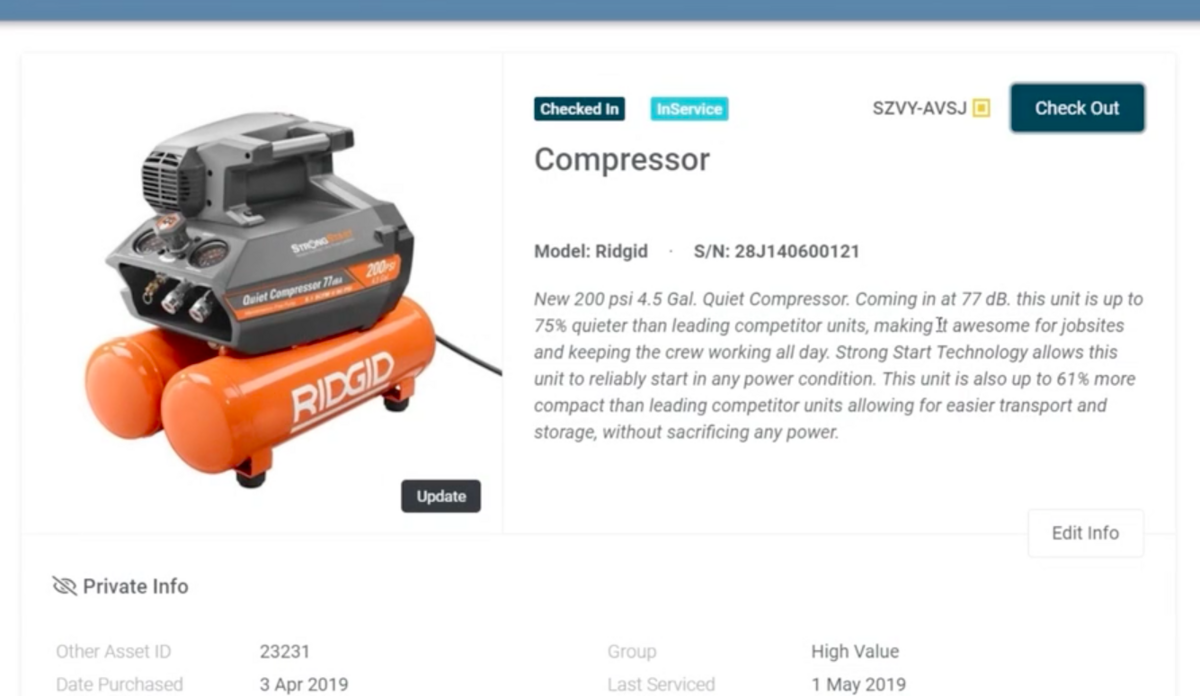 With the user-friendly software in place, you and your team can view and update asset information, and most importantly, manage the check-in and check-out process with ease.
As suggested in an expert review, the innovative labeling system provided by GoCodes is as affordable as it is secure, and offers the ability to track any kind of asset—networked or non-networked, online, or offline.
Another technology that allows tracking and managing your company's assets is based on Bluetooth beacons.
They are especially useful in locating assets on-site, whether storage facility or job site, and in real-time, allowing you at the same time to maintain an accurate inventory.
In essence, this integrated, low cost and highly flexible asset tracking solution resolves several issues in the area of asset management.
Most importantly, monitoring and tracking your assets facilitates informed decisions on whether to extend the use of current assets or determine the best time for replacement.
This process also aids in reallocating underperforming assets and making better capital investment decisions.
Ultimately, the benefits of employing an efficient asset tracking solution will be reflected in your year-end asset turnover calculations.
Schedule Preventive Maintenance
One of the key factors impacting the asset turnover ratio is the preventive maintenance of equipment.
While all machinery has a design lifespan—for example, a wheel loader will run for about 10 years, or 7,000-12,000 hours—your end goal is to extend the life of your equipment for as long as possible to maintain optimal utilization levels.
Regular maintenance keeps your equipment and machinery in good shape thus minimizing the risk of breakdowns and unplanned costly downtime.
A construction company that conducts regular inspections and maintains its machinery can maximize uptime and productivity.
Conversely, poor equipment maintenance can reduce a company's production capacity between 5 and 20%.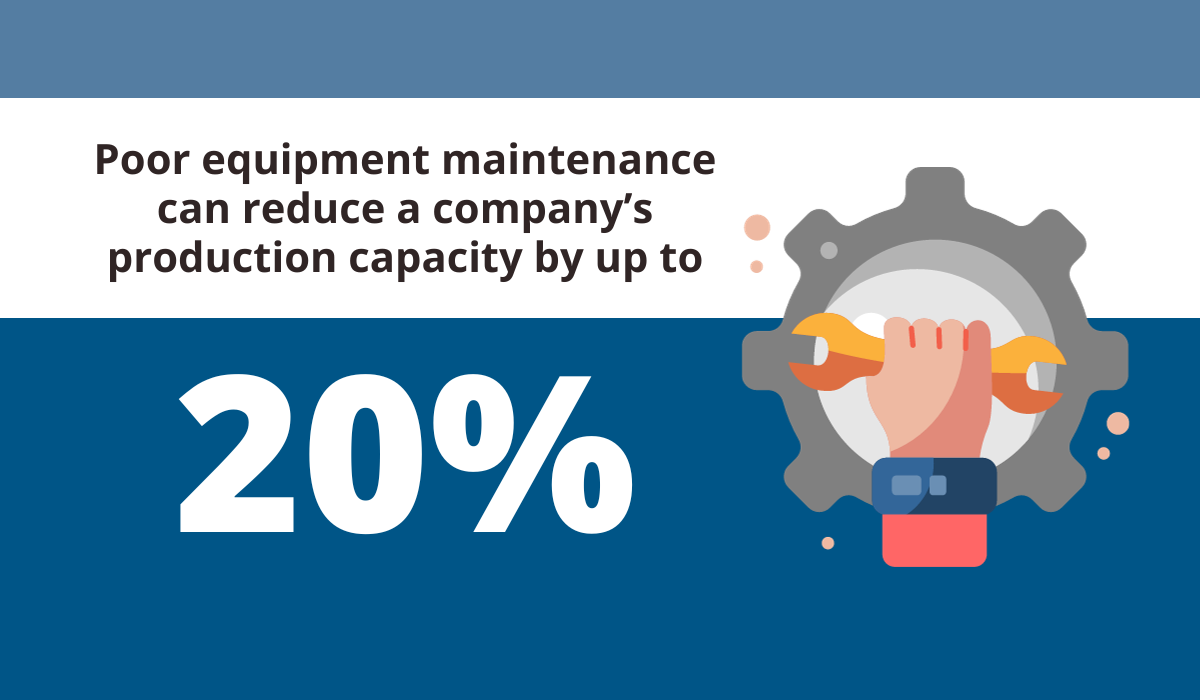 Normally, maintenance tasks are performed at planned intervals, determined by specific triggers such as elapsed time or recorded thresholds on meters.
Routine activities like lubrication and filter changes substantially contribute to the equipment operating more efficiently over longer periods.
To that point, adopting a proactive maintenance approach can lead to substantial cost savings and better use of your assets.
In this context, an asset monitoring solution will not only enable you to keep track of your assets' utilization but also establish a solid preventive maintenance schedule which will provide you with a clear view of all maintenance processes.
Namely, the software can enable managers to seamlessly organize, schedule, monitor, and document all preventive maintenance activities.
Therefore, when choosing an asset monitoring solution, focus on whether it provides some of these key features in a user-friendly manner.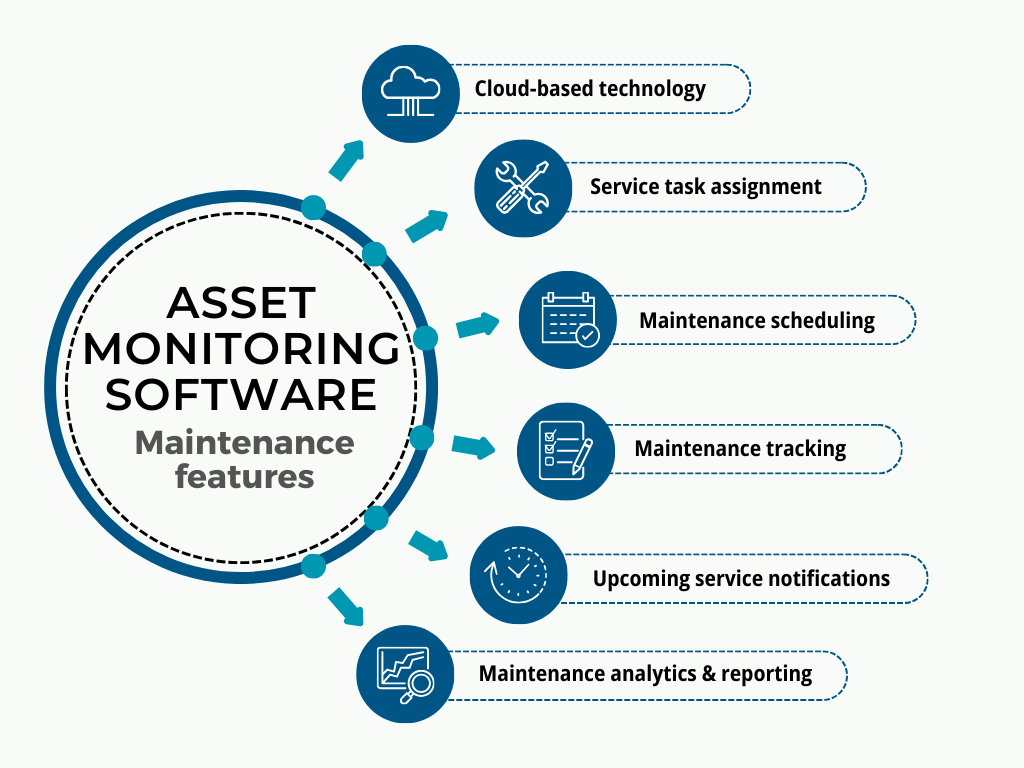 For instance, the software should enable users, based on their roles and permissions, to schedule and assign maintenance tasks in real time.
It should also incorporate an option to configure automated notifications as a reminder of upcoming maintenance events.
This feature is particularly valuable in ensuring that routine maintenance services are never missed.
Furthermore, an asset monitoring solution should allow both managers and service technicians to access and update the central equipment database and maintenance history, only by scanning the equipment tag with their mobile devices.
Finally, it should empower managers to analyze maintenance data, generate reports, and make more informed decisions, thereby enhancing the maintenance plan for the future.
A preventive maintenance strategy, supported by a cloud-based monitoring solution, can significantly extend the service life of construction equipment and machinery, enabling optimal utilization.
This extended longevity helps organizations delay significant expenses associated with equipment repairs and replacement, ultimately improving the asset turnover ratio.
Use Your Assets More Efficiently
A low asset turnover ratio may result from inefficient asset utilization.
To determine if this is the case you should closely examine equipment's utilization rates, and explore ways to enhance the productivity of each asset.
The fact is that with a proper asset management system in place, construction companies can avoid more equipment failures and breakdowns, projects exceeding budget, productivity halts, and reduced profitability.
As we've discussed thus far, monitoring asset utilization and adhering to a consistent equipment maintenance schedule can greatly enhance your ability to use your assets more efficiently.
However, there are a few more strategies that can help you increase your assets' utilization and efficiency.
Firstly, opt for a solution that can provide you with overall visibility of your assets—where they are employed, who is using them, how long they have been in use, and whether they have been regularly serviced.
Innovative software solutions typically include a feature that allows equipment to be checked in and out.
With it, workers can easily register equipment usage with a simple scan, recording details such as their name, date and time of check-out, and expected return date.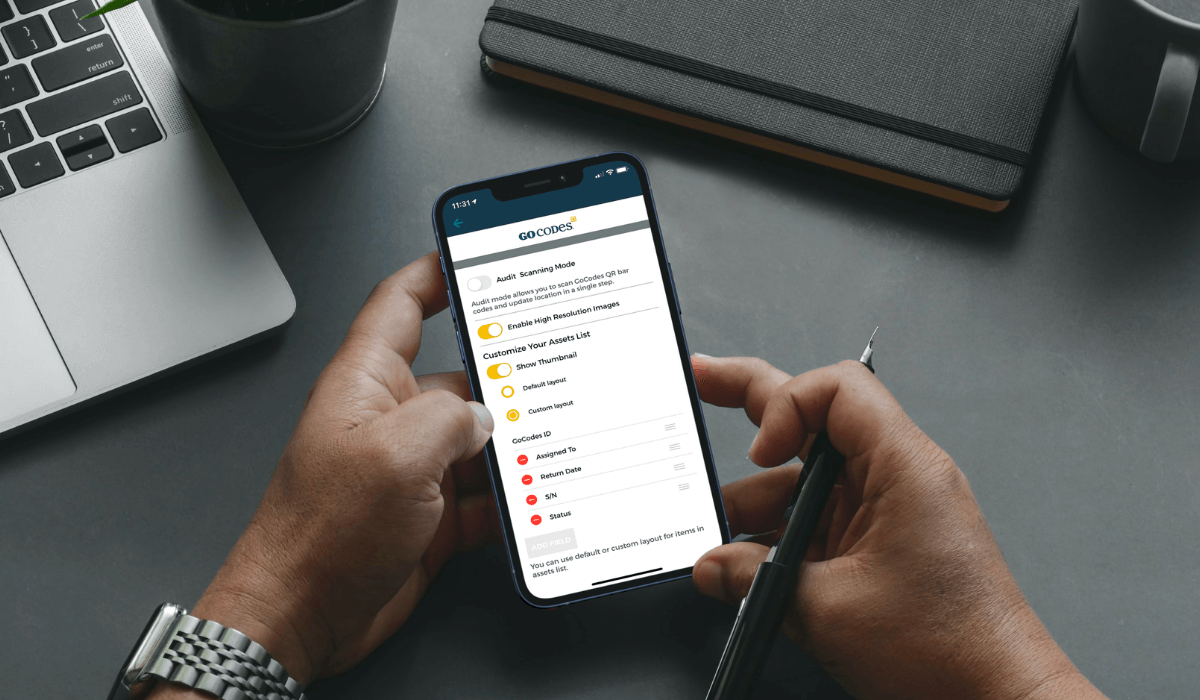 On top of that, you can receive direct notifications about equipment issues as workers can request on-site maintenance or part replacements by submitting a field service request—all through the convenience of the same phone app.
In the long run, this asset monitoring feature will enable you to better plan and allocate your assets, optimize asset utilization, and improve the overall workflow and productivity.
Another viable strategy to use your assets more efficiently is to invest in training your operators.
Skilled operators play a key role in extending equipment lifespan and enhancing your company's efficiency.
When they conduct regular checks and operate machinery with care, the risk of equipment damage is minimized.
By spending a significant amount of time operating the machinery, equipment operators gain ground-level insights and can identify performance variations early on, allowing for timely assessment and prevention of major issues.
While technology provides extensive visibility into equipment and utilization details, firsthand information is truly invaluable.
All things considered, having a full understanding and overview of your assets' whereabouts, condition, and usage is incredibly beneficial for achieving a higher level of efficiency and productivity.
Sell Unused Assets
A low total asset turnover can indicate many problems, one of them being assets left idle.
As a rule of thumb, outdated or unused assets should be quickly disposed of.
In simple terms, your heavy equipment, like trucks, may experience malfunctions if left unused for more than two weeks.
Hence, you should evaluate which assets are not used frequently to determine if it makes sense to keep them.
If it turns out that you will be spending more money trying to keep the equipment in good condition without using it regularly, then selling becomes a better option.
To be able to make the most of the situation you should maintain well-documented and updated records of the value of each piece of equipment your company possesses.
Understanding the value of your equipment is crucial to determining the equipment's remaining service life, aiding in the processes of selling and liquidation.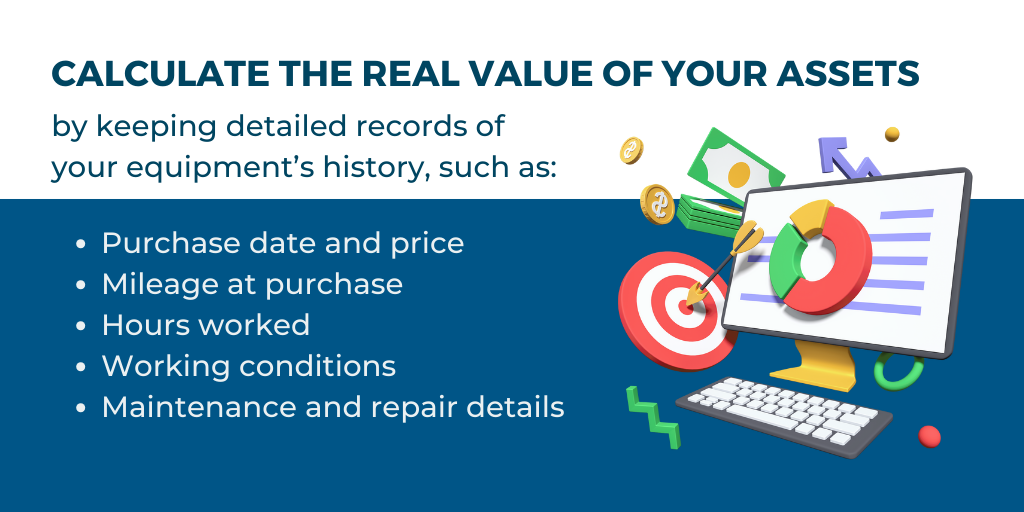 Basically, a company should sell any assets that do not consistently contribute to its bottom line.
In fact, with modern software solutions, you can track each instance a piece of equipment is used on the job site.
This enables you to measure the time and effective dollar utilization of your equipment, helping you assess its profitability.
If assets are underutilized, renting or leasing might be a more beneficial option than ownership.
Conclusion
The asset turnover ratio is a clear indicator of your company's overall business performance.
For instance, overly low asset turnover usually implies that the company is experiencing a setback or operational challenge that needs focused attention, whereas too quick turnover might indicate improper maintenance.
To address these issues you should consider adopting a comprehensive asset monitoring software that enables better utilization tracking and improved asset visibility.
When choosing a solution that would best fit your company's needs, aim for one that integrates features like scheduling preventive maintenance and assigning future service tasks to help keep your equipment in perfect working order.
Your strategy should also include measures to ensure the most efficient and optimized usage of your equipment and machinery.
That being said, any equipment that isn't contributing enough to the company's bottom line should be promptly sold.
By following these straightforward steps, you can identify areas for improvement and significantly boost your company's asset turnover, leading to increased profits.