Asset tracking is a major aspect of keeping budgets under control and maintaining an efficient workflow.
When a company tracks its assets, several options are available, some more technologically advanced and precise than others.
One indispensable means of accurate asset tracking is using modern equipment sign-out sheets.
Sign-out sheets and forms no longer denote a smudged piece of paper on an easily misplaced clipboard or even a database spreadsheet.
Cloud-based spreadsheets, structured with carefully designed software, keep workforce members and managers informed of asset movement, as well as ensuring that equipment is never double booked.
Software instantaneously and automatically updates digital equipment sign-out sheets and forms.
They are easily integrated into a company's organization and provide security that other methods do not.
This post will explore why companies should implement digital sign-out sheets and forms, and offer suggestions on what these documents should include.
Readers will also learn about the many benefits of streamlining equipment sign-in and sign-out procedures with an app.
In many ways, harnessing this technology will positively affect net profits and employee satisfaction, and safety.
In this post, we'll cover:
Why Should Companies Use Equipment Sign-Out Sheets and Forms?
The consequences of poor tool control can seep into every part of an organization, from eroding an organization's safety culture to inhibiting company growth.
Not only does using asset tracking software prevent those adverse consequences, but it also offers further benefits.
Here are some of them.
Monitoring Usage
It's impossible to form a comprehensive idea of where an asset is in its life cycle without accurate and detailed information about how often it undergoes use.
This information especially applies to construction, medical, military, and load-bearing equipment.
Any item that might suffer the effects of metal fatigue or overloading should undergo asset tracking.
Equipment sign-out sheets and forms represent an excellent way to monitor activity.
Tracking Location
Employees waste hours of each workweek seeking misplaced or lost tools.
Equipment sign-out sheets, even in a non-digital format, establish a definitive trail of custodianship.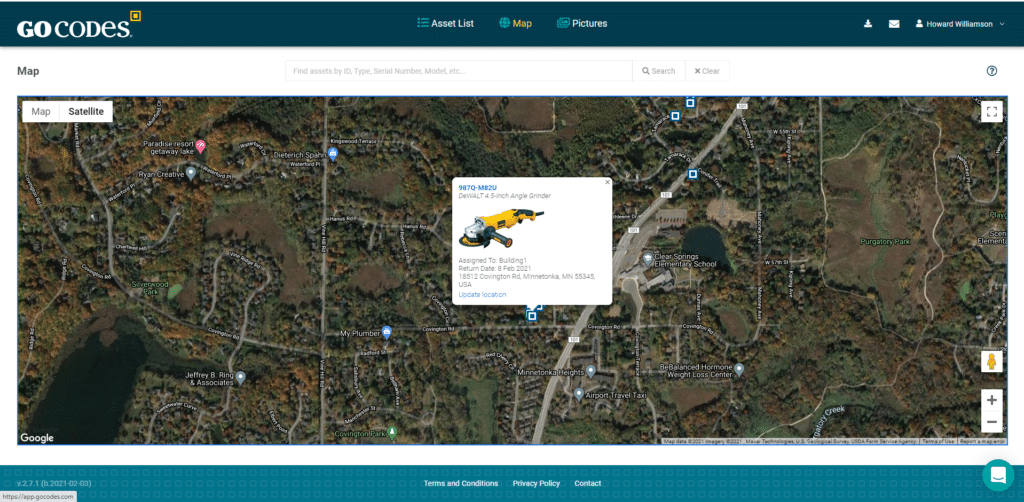 In addition, whenever an asset changes hands, the paper trail helps keep track of its location.
Improved Utilization
Forming a better understanding of what an asset undergoes each day leads to more efficient usage.
Shortening paths between employees, enabling safer transitions, and arranging for more efficient scheduling are all possible simply by introducing sign-out sheets.
Proving Compliance
Certain federal, state, and zoning regulations may affect which tools can undergo use. Others might limit the number of work hours or miles for which employees may use the item.
With sign-out sheets, collecting this information happens automatically. The information is then easily shareable in the event of an audit or permit review.
This same data is also useful when filing an insurance or warranty claim. It's tough to argue against a digital record that stretches back for the asset's entire life cycle.
Updating Physical Condition
Equipment sign-out sheets alert each user to the idiosyncrasies of each asset. They also pass on important information about signs of wear, as well as updates on the performance of the item just before or after maintenance actions.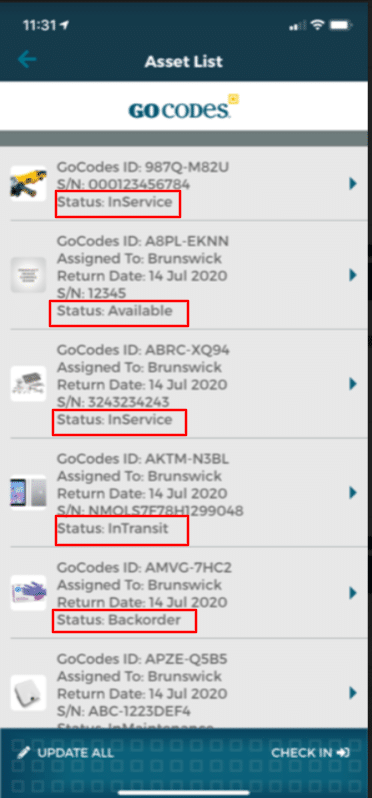 This information helps employees adjust asset use or schedules accordingly.
Physical condition updates keep employees safer and help form a pattern of use that applies to usage-related decisions.
Emphasis on Employee Responsibility
When employees and third-party contractors are aware that tracking is underway, they take more ownership of the items in their care.
Breakage and need for maintenance are reported more promptly and comprehensively.
Also, adding the action of filling out an equipment sign-out sheet at the beginning of a shift quickly becomes a reflexive action that employees tend to undertake automatically.
This eliminates the need for constant reminders and the necessity of tracking down missing items.
Preventing Theft
Adding GPS fencing or tracking to asset tags means that items are easily discoverable.
Misplacement or theft is a frustrating reality of asset usage, but it shrinks when tracking is in place.
With a systematic approach in place, workforce members usually leave assets where they belong for the next employee, which reduces theft.
More importantly, companies avoid the cost overruns associated with renting replacements or purchasing replacements in a rush to meet client expectations.
That way, they make sure they can complete projects on time.
This contributes to client satisfaction and allows for more accurate projection and project planning within the organization.
Reducing Repairs
In the same way that tracking reduces employee and outside theft, using equipment sign-out sheets means that employees are usually more careful and respectful of company property.
They improve accountability.
The knowledge that a digital, non-erasable record exists with an employee's name associated with breakage due to carelessness typically encourages vigilance and proper use.
As you can see, a wealth of benefits begins to build when equipment sign-out sheets and forms are in place.
Moreover, including other forms and data fields can vastly expand the decision makers' ability to understand how the object moves through the day, month, seasons, and year.
What to Include In an Equipment Sign-Out Sheet
Equipment sign-out sheets are only as effective as the information they capture and maintain.
By including information vital to not only identifying the item, but also in gathering applicable data, your company can quickly improve much more than just the bottom line.
Of course, it's just as important to know what not to include on an asset tag or equipment sign-out sheet.
Avoiding data overwhelm leads to more comprehensible and actionable reports and analysis. Each company benefits differently from sign-out sheets, depending on its size, mission, industry, and goals.
However, a few standard items are helpful to have on an equipment sign-out sheet.
Company Information
In the event that your employee or client loses your asset, or another company claims it, you must demonstrate that the item belongs to your organization.
One way to do so is to include your registered logo, along with a unique identifier.
GoCodes' asset tags and software system includes a one-of-a-kind code for each item, which is invaluable in cases of proving ownership.
A busy client might also forget where to return the item, so email information, phone numbers, and physical address are all good items to include on a sign-out sheet.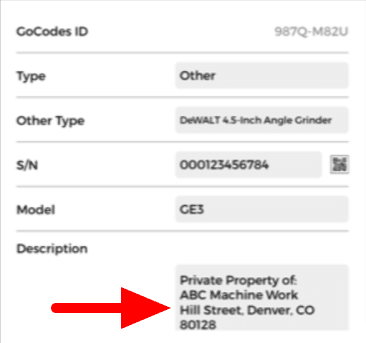 This allows the borrower or renter a one-stop opportunity to capture the information he or she needs to bring back the asset on time.
In addition, a sign-out sheet provides the client with a point of contact in the event he or she has questions about item use or return details.
Including a customer satisfaction number or location of tech support services is also a good idea.
Moreover, capturing certain data is just as important for your company's records.
For instance, noting which employee oversaw the departure of the item, as well as which manager might have stood responsibility for the shift, saves valuable time in tracing custodianship for the item after it leaves the grounds.
Employee or User Details
A full name helps distinguish a user from another in the system who might have the same initials or even the same first and last name.
Furthermore, including an employee ID or student number is essential for large institutions.
Consider adding names of managers, home and company phone numbers, and company email addresses.
What if the user is a client or third-party borrower?
In this case, it's even more important to collect enough information to find or contact the person or business who has the item.
Sometimes an item undergoes a recall, and it requires immediate maintenance.
For all these reasons, businesses renting or loaning assets to third parties should include contact information or guide the user through a simple account creation process.
Data collection should include phone numbers, physical address, full legal name, and a working email address.
Equipment Details
This information helps distinguish the item from another one that is identical—for example, in the instance of multiple copies of the same library book.
Where tools are concerned, include a field for a detailed description of the item's condition.
Sign-out sheets should also include fields for accessories such as hose attachments and charging cables.
Proof of Equipment Condition
A few notes on the asset's condition when it left company grounds can avoid tremendous legal or procedural headaches later on.
If possible, the employee overseeing the checkout should take photos of the item's condition, particularly in the event of recent damage.
This process is the usual part of renting a car. for instance, but it's also applicable to any tool, electronic item, or otherwise valuable asset.
Due Date
Depending on your industry and the size of your business, you might need to negotiate return dates.
Ensuring that the client or employee understands when the equipment is due is an important part of the check-out process.
The same applies to emphasizing the amount of monetary penalties, replacement costs, or potential professional consequences in the event of a delinquent return.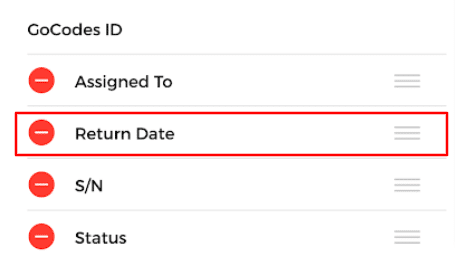 Specifying this information ahead of time not only places the onus on the borrower to return the asset; it also allows your company to schedule as efficiently and effectively as possible.
Therefore, if flexibility allows, include contact information to request an extension on the loan.
Late Fees
Late fees are more than just a deterrent for the client to avoid returning the item past its due date—they also function as compensation for your organization.
When an item returns later than expected, you might have to rent equipment to fill the gap.
Moreover, you might also suffer time frame slippage, which raises the possibility of missing turn-in dates of your own.
When employees and rentes are fully made aware of what late fees are, as well as why they are in place, you stand a high chance of seeing your asset again on time— and in good working order!
Terms and Conditions
The terms and conditions of loaning or renting the asset can form a legal contract.
Because of this, consulting an attorney or your company's legal team is essential when it comes to correctly and precisely wording the terms and conditions of the rental.
Some equipment sign-out sheets allow the user to provide an electronic signature, such as the ones used in retail for credit card transactions.
Often, agreeing to terms and conditions means that the borrower must check a box or type his or her initials in order to confirm agreement to the document.
More complex arrangements call for specific clauses, such as specifying insurance requirements, payment responsibilities, and waiving responsibility in the event of damage or injury.
The Best Alternative: Streamline Your Equipment Sign-Out Process With an App
Using an app-based digital system carries many benefits.
Not only is it more accurate, secure, and reliable than outdated databases or pen and paper, allowing employees and clients to check in and check out items with an app demonstrates a commitment to efficiency and ease.
The GoCodes app, asset tags, and tracking software work together seamlessly to offer these services.
In addition to the advantages using a digital sign-out form can bring, here are just a few of the additional benefits an app-based one offers:
Instant scanning on drop-off and pick-up points
Avoidance of relying on handwritten forms
GPS equipment tracking
Tool reservation
User information cache
Unique QR label containing equipment and company info
Smartphone or tablet-based; no additional equipment required
When equipment check-in and check-out procedures are efficient, both clients and the employees who serve them profit from increased efficiency and accuracy.
Conclusion
The digital benefits secured by a digital sign-out sheet or app show that your organization is committed to security, updated technology, and convenience.
In addition, the data automatically collected in the process of using apps or digital check-in/check-out systems provide a wealth of knowledge your organization can apply to move beyond even these advantages.
GoCodes Can Help
We use QR code tags with a unique visual code that you can scan with your smartphone. When scanned, GoCodes tags provide GPS information about equipment location, making asset tracking and signing out equipment easy.
Sign up for a free trial here.