There's simply no denying technology has revolutionized the way we keep track of our equipment.
Thanks to the development of equipment management software, we're able to reduce unnecessary costs and project delays while simultaneously increasing productivity, efficiency, and profitability.
However, when there's demand, there's also supply. Because of this, there are now plenty of equipment management software solutions to choose from.
How do you pick the right one, though?
We've compiled six useful tips to help you find software that will take your equipment management to the next level.
Ensure the Software Is Easy to Use
The main goal of any equipment management software is to streamline and simplify the process of equipment tracking and control.
Therefore, choosing a complicated software solution defeats the whole purpose of obtaining one. In fact, software with a very high learning curve can cause more problems than it solves.
In other words, equipment management software that is easy to install and navigate is a must if your goal is a successful software integration and a streamlined workflow.
Pawel Banhegyi and the Map My Growth team conducted a survey on 98 SaaS companies, and its results support this.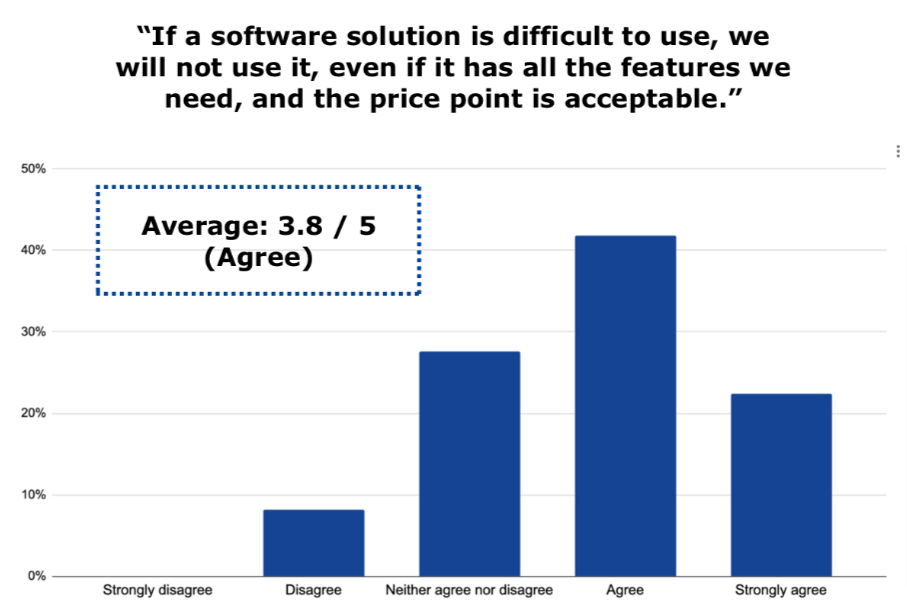 According to the survey, overly complicated software is a deal-breaker for many, even if it offers all the necessary features at a good price.
In other words, users are more likely to abandon the software if it is not easy to use.
This is especially true for users that are not as tech-savvy, which tends to be the case in the construction industry.
Take a look at the picture below: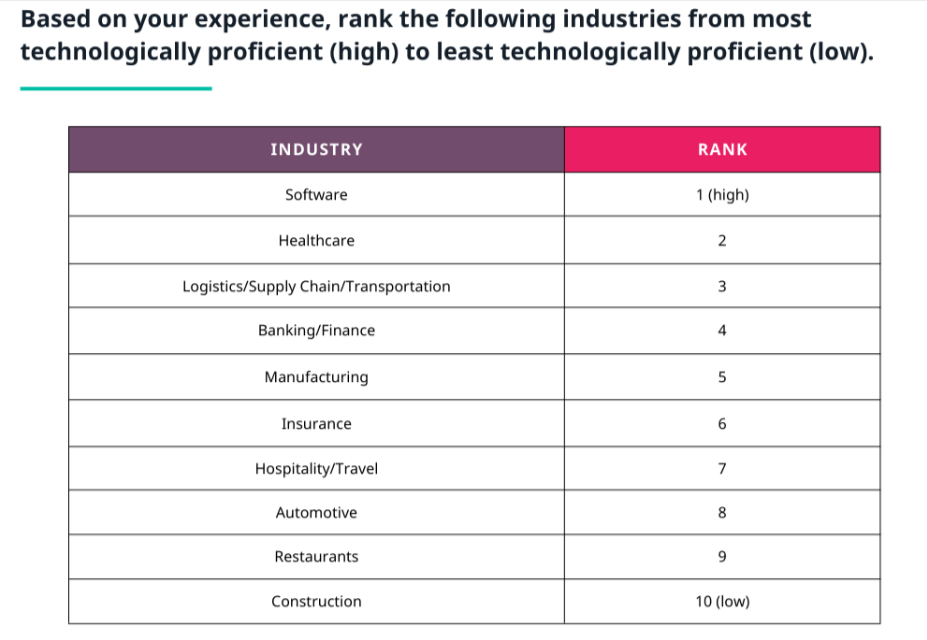 According to this survey by Yooz, the construction industry is considered the least proficient when it comes to the use of technology.
In light of this information, it's no surprise that one of the most important aspects of effective equipment management software is its intuitiveness.
But how can you tell if a particular equipment control solution really is user-friendly?
Luckily, there's a way to evaluate the software before committing to the purchase.
Some solutions, our own included, offer a free trial so you can see for yourself if the software is the right fit for you and your team.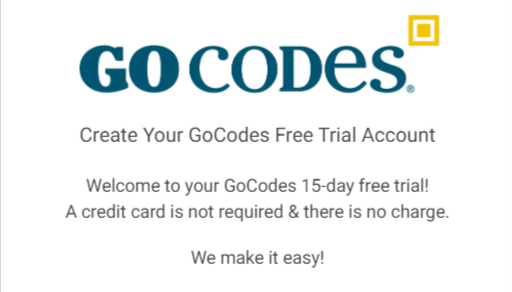 Our software is user-friendly, even for less tech-savvy employees. Consider signing up for the GoCodes free trial to see how it works first-hand.
All in all, to maximize software utilization, make sure your employees feel comfortable using it. Overly complex solutions will discourage effective or frequent use.
Evaluate All of the Software's Features
Neither all businesses nor equipment management software are created equal.
In other words, different software comes with different features, and you probably don't need all of them.
Therefore, consider creating a list of features that would be useful to you and your team specifically, and then start evaluating and comparing the available solutions.
Granted, there are many types of software out there, each with its own set of features. It's pretty easy to get lost in the sea of options.
To help you out, we've come up with a couple of useful features that effective equipment management software should have.
Consider the following:
Barcode scanning
GPS tracking
Equipment utilization tracking
Notifications
To begin with, software that relies on QR scanning makes equipment tracking so much easier.
This entails a rugged tag affixed to an asset that, when scanned by a scanner (or ideally, a scanner app on your mobile device, as in the case of GoCodes), shows information about that particular asset.
Moreover, GPS tracking allows you to monitor your equipment on a map in real time.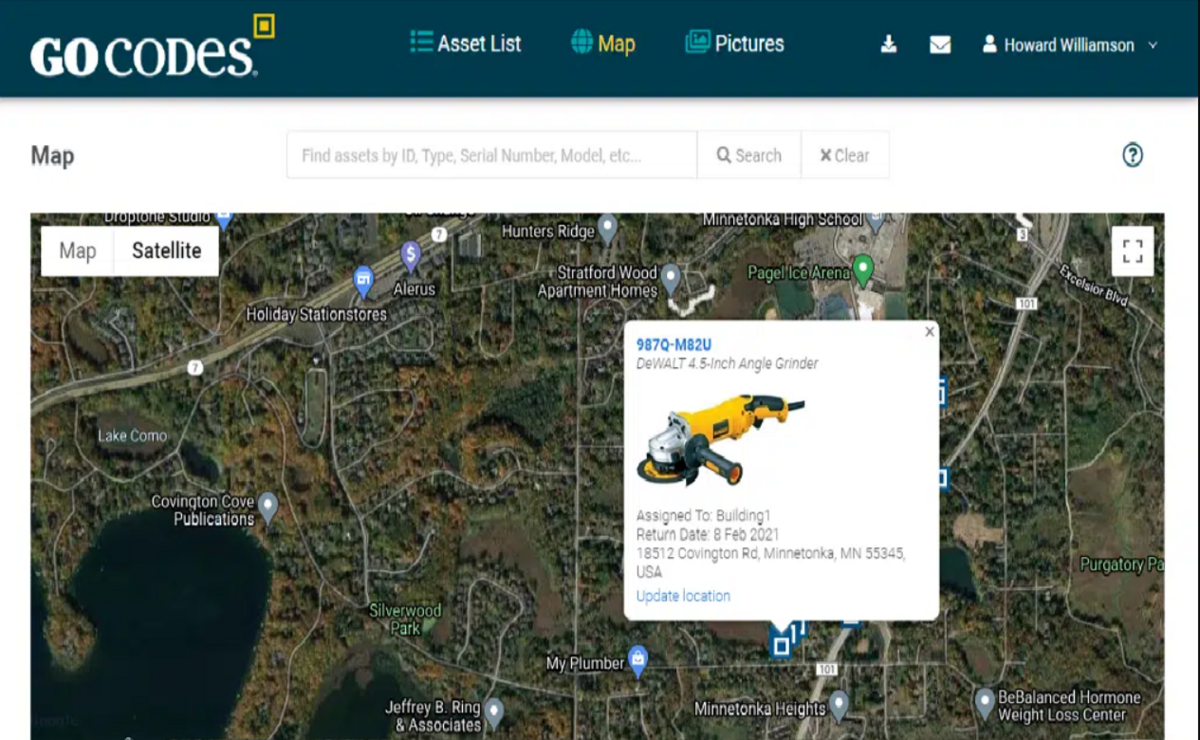 This useful feature lets you know where your assets are at all times and, in turn, prevents equipment loss and theft.
Another thing that will surely improve your operational efficiency is tracking your equipment utilization.
More specifically, effective equipment management software will give you insight into data such as availability, the amount of time a piece of equipment spends in use, mileage, fuel use, etc.
Notifications are also a must-have when it comes to equipment management software. There are many types, each useful in its own right.
Some of the notifications that equipment management software might offer are:
Low inventory notifications
Overdue assets
Task assignment
In conclusion, no business is the same. Take your time evaluating your needs before starting to search for software that meets them.
Search for a Cloud-Based Solution
As we've mentioned before, the purpose of equipment management software is to simplify equipment control.
A big part of the streamlined management processes is having your data securely stored and available to everyone on the team.
While looking for an equipment management solution, therefore, consider opting for cloud-based instead of on-premises software.
As their names indicate, the main difference between these two types is in their location.
On-premises software is installed exclusively on your company's computers. Therefore, it is available only locally and, as such, unable to offer support to remote teams.
This is no good, especially in the construction industry, where employees tend to be scattered across different construction sites.
Cloud-based software, on the other hand, is hosted on the provider's server and accessed via a web browser.
The beauty of cloud-based software lies in the fact that it automatically backs up all your equipment data in the cloud, as well as makes it available to everyone on your team in real-time, all the time!
Consequently, this has a positive impact on your team's productivity and the effectiveness of their workflow.
There's no more need to visit every single construction site to see how the project is coming along.
Instead, with cloud-based software, you can set up tasks, assign them to particular employees, and set deadlines for task completion from anywhere in the world.
Take a look at the picture below to see how this works with our own equipment management solution.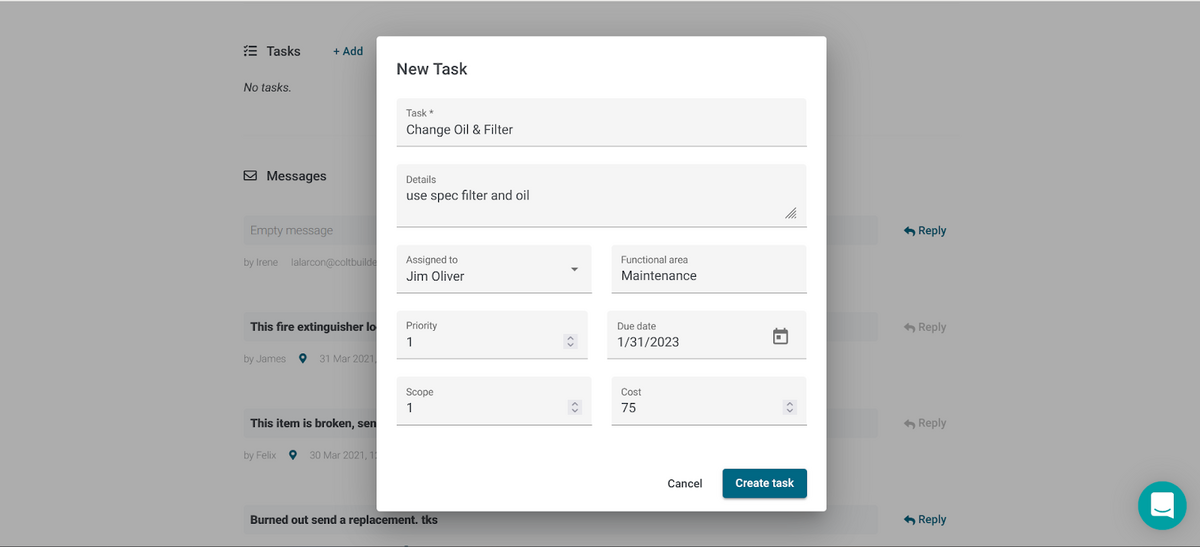 Once the task is set up, you and your employees can update it anytime.
To conclude, when selecting equipment management software, do pay attention to whether the software you're looking at is cloud-based or on-premises.
This information should make a difference in your final decision.
Cloud-based software will grant you the flexibility that will surely increase your company's productivity as well as profitability.
Look For Mobile-Friendly Software
Another thing that will boost the flexibility of your workflow is the ability to access data from anywhere.
That's why your equipment management software should be mobile-friendly, i.e., accessible from any mobile device with internet access.
This way, you and your team can view and update asset data on the go.
This comes in pretty handy, especially in the construction industry, where there is a lot of fieldwork and employees often move across multiple jobsites.
After all, most people already own a smartphone anyway.
In fact, smartphones are the most used mobile device on construction sites.
In fact, according to the 2020 JBKnowledge ConTech Report, 92% of contractors and construction workers use their smartphones every day at work.
Moreover, 22% of them use six or more specialized construction apps.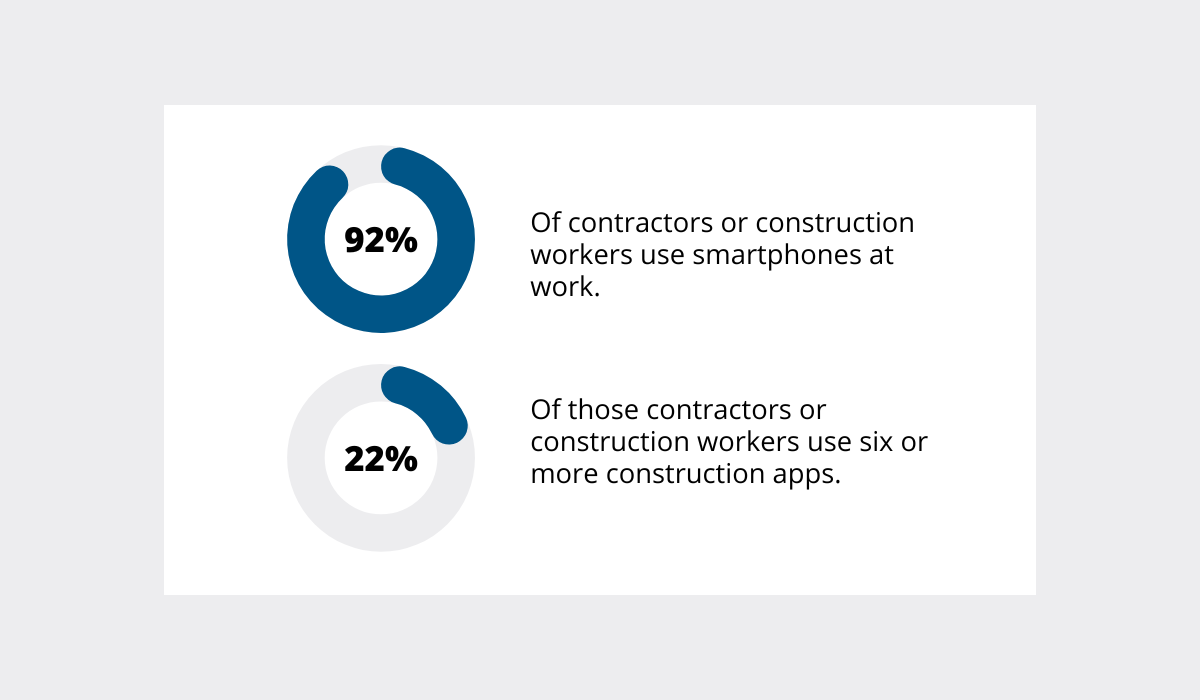 This data shows us that there is an emerging recognition of the advantages that come with mobile-friendly software in the construction industry.
This is no surprise since mobile-friendly software offers many benefits. Here are just a few of them: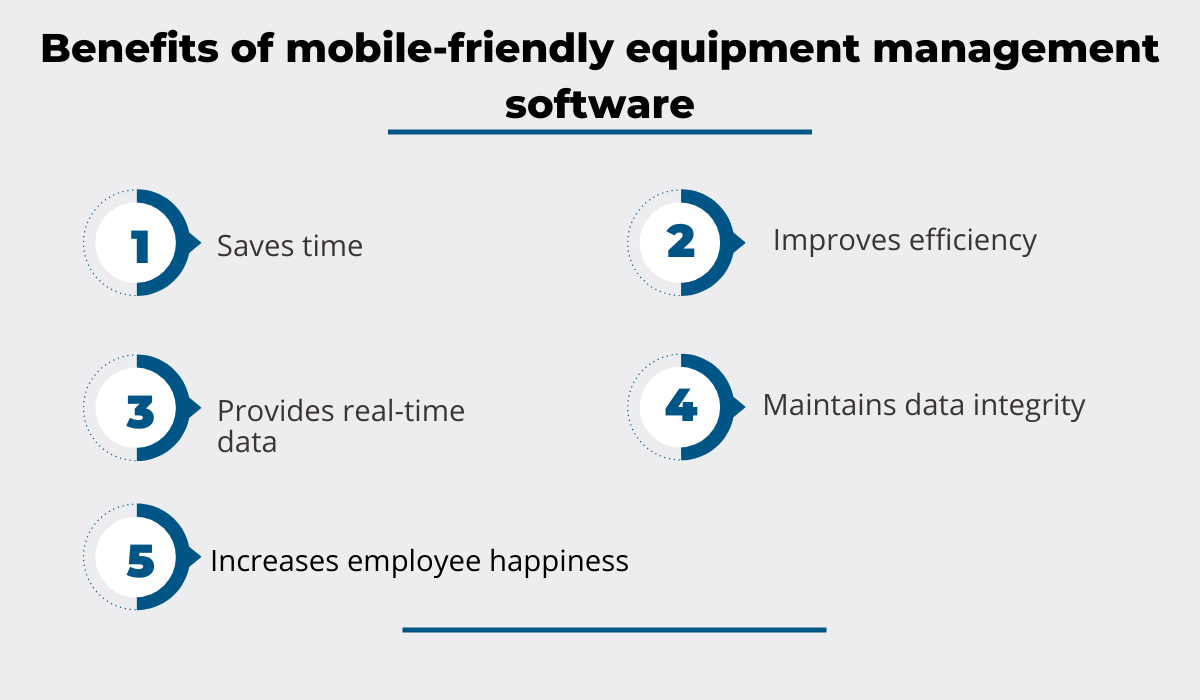 Mobile-friendly software saves a significant amount of time as it allows information to be accessed by anyone on the team at all times, consequently improving the team's overall efficiency.
In that same vein, with a mobile-friendly solution, employees can view and update data in real-time.
This way, project delays are reduced since there's no need to wait days or even weeks to collect and process field data.
Minimizing that waiting time between collecting and processing data collected at the jobsite also eliminates errors and data loss.
To conclude, while looking for equipment management software, identify which solutions are mobile-friendly.
Software vendors will highlight that fact, as well as specify which operating systems their app is available on, enabling you to opt for a solution that works on the systems used by your workers.
Know the Importance of Customer Support
Getting employees on board with adopting new technology can be pretty tricky.
As mentioned in the first section, workers need to know that the new software will be easy to use and that it is here to help—not create more problems.
However, they also need to know that once the software is integrated into the system, there will be someone to guide them if they encounter any issues along the way.
In other words, effective equipment management solutions should come with high-quality customer support that will provide users with timely assistance if they need any help using or troubleshooting the software.
There are many different types of customer support. Take a look at the picture below: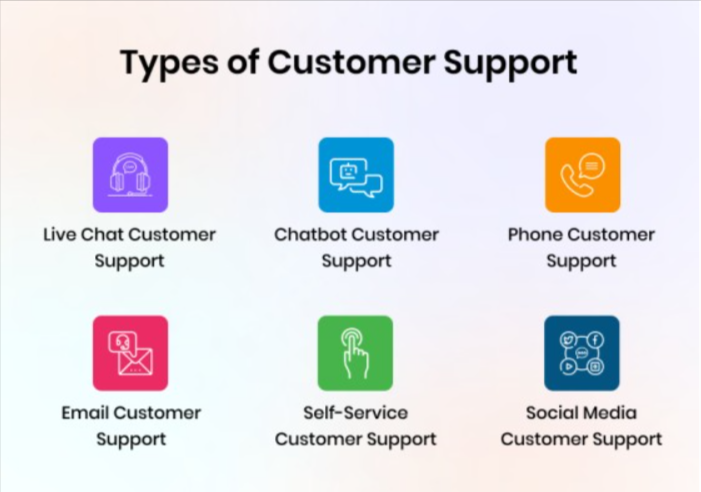 Among all of these, phone customer support is still preferred when it comes to more complex issues that need to be resolved on the spot.
Direct personal contact simply resolves such problems faster.
Therefore, while browsing for equipment management software, be sure to check if and what types of customer support are included in the software price.
Moreover, keep in mind that the type of customer support provided sometimes depends on the price plan you choose.
Finally, don't forget to check out the reviews to see what other users say about the customer support offered by a particular software provider.
This is an excellent way of assessing the quality of customer support before you commit to purchasing software.
Compare Equipment Management Software
In fact, reviews are a great way to get familiar with particular software in general.
There's no denying there is a wide range of different equipment management software solutions out there. But which one is the right one for you?
The most efficient method to help you decide is comparing different kinds of equipment management software side-by-side and analyzing each product's advantages and disadvantages.
During your research, keep in mind all the tips we've covered so far.
Firstly, analyze which software seems the most user-friendly and which offers a free trial so you can see for yourself if that particular solution is what you're looking for.
Moreover, find out which software has the features you need. Be careful, though, to avoid getting carried away by systems that offer too many features.
More features often directly translate to a more complicated system and a bad user experience.
Software with too few features, on the other hand, might not do its job properly, so make sure to determine which features are important to you and that your chosen solution has them.
Also, it's highly beneficial if the software is cloud-based and mobile-friendly.
Finally, as we have already suggested, you should compare the price, quality, and types of customer support a software provider offers.
Luckily, you don't have to compile all that data yourself. There are plenty of websites that provide software comparisons and user reviews.
For example, G2 is one of those sites. It offers detailed product overviews, including descriptions of the software and its features, user reviews, and the pricing.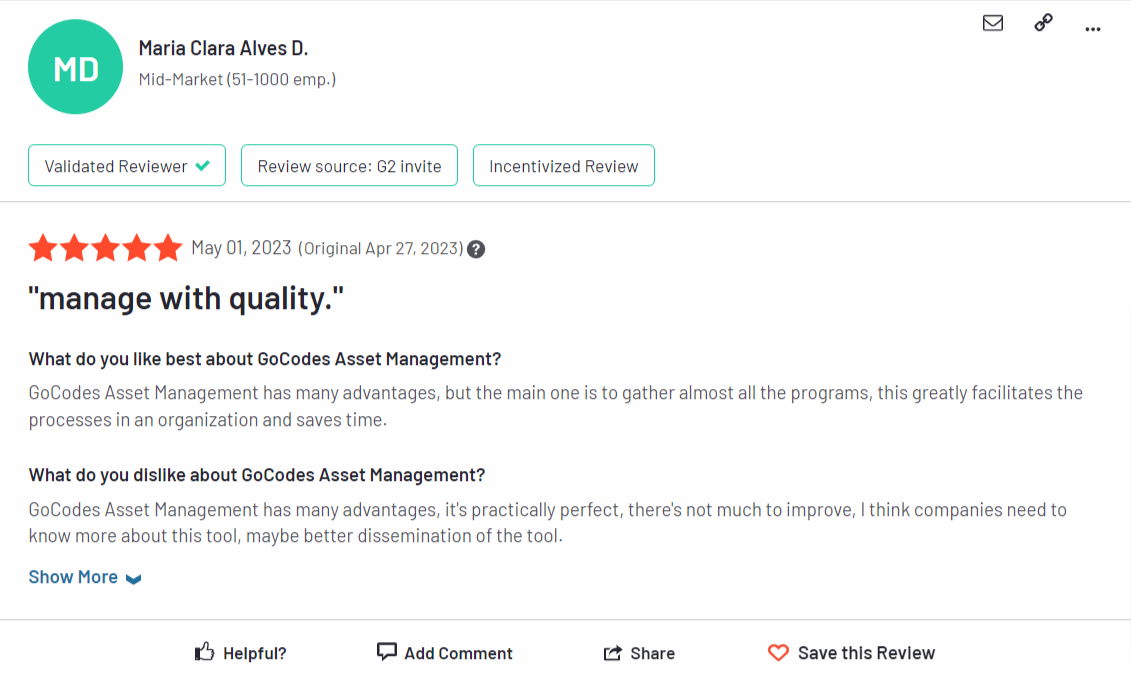 Comparisons between similar types of software can also be found on the website.
Capterra is another website focusing on software's top features, pros and cons, reviews, and comparisons between the software and its alternatives.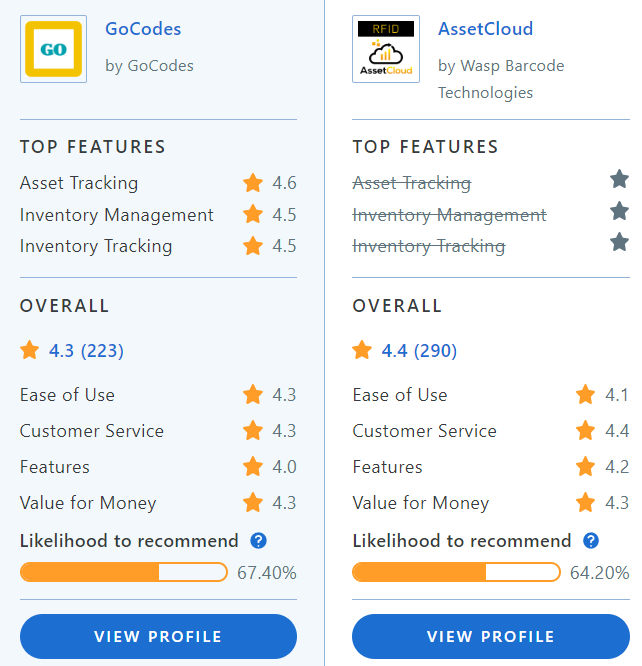 All in all, don't hesitate to check out what others have said about the particular solution you're considering.
This valuable data will surely help you make a better-informed decision.
Conclusion
The construction industry is already known as quite demanding and labor-intensive.
Why not let technology take care of some of that hard work?
Equipment management software is a great tool that will help you reach peak efficiency and stay ahead of the game!
Be careful to choose the right solution for you, though.
Don't pick software that is too complicated to use, but instead look for one that has only the features you need.
Flexibility is also important, therefore, cloud-based and mobile-friendly equipment management software is a must-have.
Finally, don't underestimate the importance of high-quality customer support. It can be a lifesaver.
Take your time to analyze what's available. It might seem like a lot of work at first glance, but it will be worth your while.