The construction equipment market is expected to reach an impressive $180 billion by 2030, which demonstrates the importance of construction as an industry.
Considering the growth of the equipment market at large, we can confidently say that the machinery attachment market will also grow proportionately to meet the demand. After all, the attachments help you get the most out of your machine.
This article will guide you through the ever-developing world of equipment attachments and explain how they work and what you can get out of them.
That way, it will be easier for you to make an informed purchasing decision.
Knowing the Common Equipment Attachments in Construction
The value of the equipment attachment market is on the rise, which means it is worth the investment.
Fact.MR published a report on the global market trends for the construction equipment attachment market at the end of 2020, highlighting just how important it will become.
The compound annual growth rate (CAGR) for the decade will be 2.4%. On top of that, the attachments market will create an absolute dollar opportunity of $1.4 billion. By 2030, its worth will surpass $6.7 billion.
The point is: the equipment attachment market is projected to grow steadily but surely, which means that the demand for this type of accessory will grow too.
Fact.MR looked into the most popular types of equipment on the attachments market. Compact track loaders attachments were in high demand and ranked as the most popular category of equipment attachments.
Skid steer loaders were the second type of machinery based on popularity. Since the market's expected skid steer growth by 2030 is 1.5X, it seems like they will stay just as popular.
Mini excavators and telescopic handlers will also see an increase of absolute dollar opportunity of over 1X, with the latter accounting for a fifth of the market share by the end of the decade.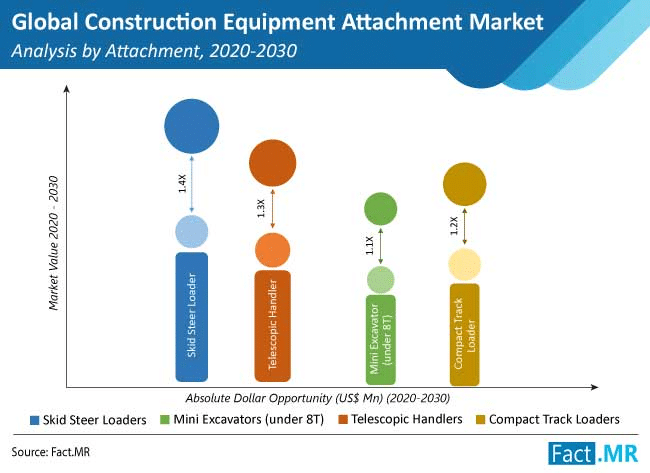 The most common attachments people searched for are buckets, augers, grapples, and breakers.
It's no wonder that buckets were in high demand since you can use them with different types of equipment. You can attach a bucket to:
skid steer loaders
compact track loaders
excavators
telescopic handlers
Buckets are versatile attachments that you can use for digging, moving materials, and leveling, among other things. They are generally deep and function like big shovels, except they usually have teeth that penetrate the ground.
You should use augers or drills whenever you need to break into different materials but stay quick and precise.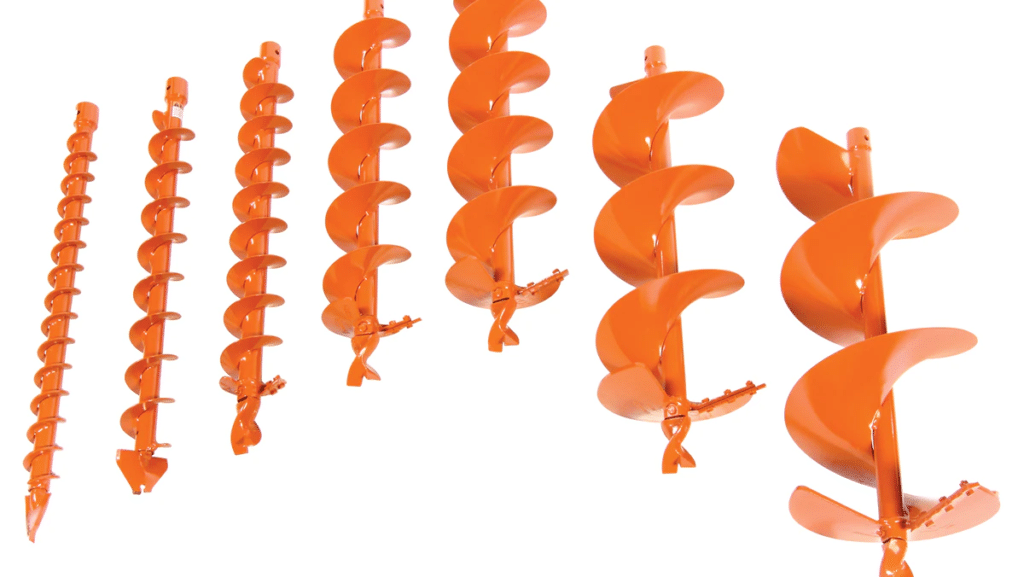 Making holes is straightforward when you use drills, since that's their primary function. Augers come in different shapes and sizes, depending on the type of material in question, such as soil, concrete, or wood.
Grapples can be used for various purposes on the construction site, but outside of it too. For example, Brad Ziemke of Ziemke's Farm Fresh Produce used an excavator with a grapple to remove old trees and make room for new ones.
Grapples help you grab and move debris, trees, or branches in the construction sphere, therefore saving you time. The bigger the grapple, the more material you'll be able to pick up.
As their name suggests, breakers can break any type of rock or concrete at your construction site. They are the perfect attachment for demolition and deconstruction tasks or any other project where you need to break rigid materials into pieces.
Which attachment is perfect for your worksite? Let's figure that out together.
What to Consider When Buying Machinery Attachments
When thinking about investing in heavy equipment attachments, it is wise to rent the extension you're interested in first, to see if it's a good fit for you. Of course, if you're already certain that's the case, there's no need to waste money on rentals.
The question is: how can you know which attachment is the one you need?
When deciding, think of the type of projects you take.
What are the main activities? If you're focused on demolition, you need attachments like breakers and grapples to break the material into pieces and remove it from the worksite. Go over your project plans for each project and see what tasks appear the most.
You should also think about which equipment is underused. Let's say you have five excavators in your fleet, and you use three of them since you simply don't need the rest.
At the same time, you need a machine that can help you drill in another location. With an auger, one of your excavators can do this for you.
The point is that you have to look into what you already own but maybe don't use as much. That way, you'll figure out what equipment attachments would be genuinely helpful for your fleet.
However, some other non-equipment-related aspects are just as important.
Safety should be your primary concern in construction, so pick an attachment that allows you a lot of control and manual setting. That way, you'll know that the operator will command the extension and not the other way around. An operator in complete control is less likely to experience a workplace accident.
Then, focus on the quality of the attachment and the manufacturer's reputation. Even if the piece is a bargain, a bad reputation should deter you from investing in it.
After all, buying something cheap and low-quality will ultimately cost you a lot more than buying a reliable attachment. Just think of the costs related to an unplanned breakdown in the middle of a project!
How to Choose the Right Attachments for Your Construction Business
The second step is to consider all the technical aspects of choosing the correct attachment.
First, think of what equipment this attachment fits. Clearly, you want your machinery to be as versatile as possible, and what better way to do that than to invest in extensions that can help you transform it?
Specific extensions can fit many machines, and some can only fit the one you purchased them for, so be careful when buying.
Besides, even though some extensions can be used on different types of equipment, it's not exactly a one-size-fits-all type of thing.
When choosing, you have to take into account factors like:
Equipment's weight, height, capacity, and similar specifications
Hydraulic pump specifications such as flow and pressure
Other technical details
Materials you will use the attachment for
Knowing what you're working with can help you determine what type of attachment will fit the equipment.
For example, when choosing a drill, you should know hydraulic pump details such as gallons per minute (GPM) and pounds per square inch (PSI) to make an informed decision. The pump will be running the attachment, so they need to be a match.
Here's a recommendation for the size of your bucket based on the weight of the machine in question. Of course, the heavier the equipment, the wider and bigger the bucket you should choose.
| Machine weight (tons) | Bucket width (in) | Grading bucket size (in) |
| --- | --- | --- |
| Up to 0.75 | 6 to 24 | 30 |
| 0.75 to 1.9 | 6 to 24 | 36 to 39 |
| 2 to 3.5 | 9 to 30 | 48 |
| 4 | 12 to 36 | 60 |
| 5 to 6 | 12 to 36 | 60 |
| 7 to 8 | 12 to 36 | 60 to 72 |
| 10 to 15 | 18 to 48 | 72 |
| 19 to 25 | 18 to 60 | 84 |
Using a bucket that's too big for your equipment won't do you much good, and neither will opting for one that's too small. So, make sure to look into these specifications before making such an investment.
What Are the Benefits of Using Attachments for Heavy Equipment?
Using equipment attachments helps you get more use out of a single piece of machinery, thus boosting your efficiency.
Think of it like this. If you buy one costly machine and a couple of attachments, which cost less than buying different equipment, you maximize the machinery's potential and use it for a variety of purposes.
You don't have to buy a separate piece of equipment for each activity, and in that sense, you're saving money.
You're also saving on ownership costs. With different attachments, you can use the same equipment for demolition, excavation, and leveraging instead of owning three other machines.
Don't forget that you spend a lot of money just to own equipment. After all, you have to insure it, depreciate it, and maintain it. 
Machine attachments increase your productivity as well. Since you can use the same machine for different parts of the construction process, all you have to do is transport it to the site and bring along multiple attachments.
By using the same equipment for multiple activities, you save the time and resources you would otherwise spend on getting multiple pieces of machinery to the construction site.
On top of all this, you also promote safety at the workplace.
The founder and CEO of LaValley Industries, Jason LaValley, explains that his workers used to be in great danger every time they had to load and unload pipes at the worksite, especially in harsh weather conditions.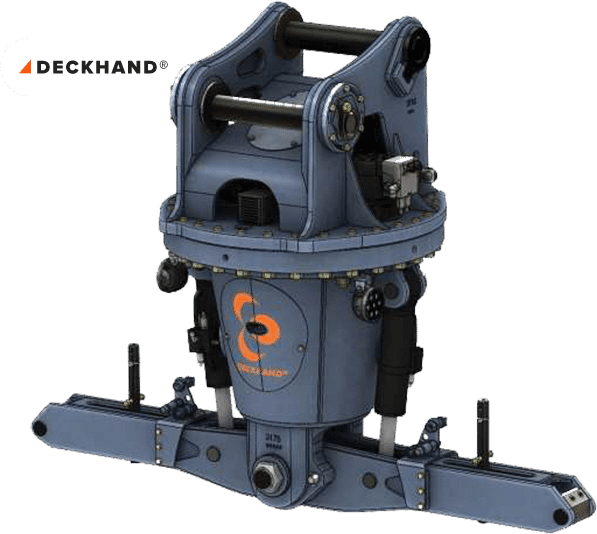 After an employee got injured, LaValley designed and created the deckhand, an attachment that does all of that work for the employees, moving them from harm's way.
The operator can use this attachment to load and lay pipes without entering the trenches and lifting them manually.
Other attachments do the same thing: they let your workers stay safe, without having to perform potentially dangerous manual activities that a machine could do just as well.
How Will You Manage All Your Equipment and Attachments?
Once you have all the necessary equipment and attachments, you should track them.
Nowadays, it's easy to stay on top of all your machinery through software designed for heavy equipment tracking.
Setting it up is a process consisting of:
Doing a detailed inventory of all your equipment and attachments
Assigning a unique identifier to each piece of machinery
Labeling the equipment with a QR code or a rugged tag
Uploading the relevant equipment data into the cloud
This type of software lets you have a clear overview of all your machinery, which helps you manage it better.
At any point in time, you can log into the system and see what you own, how often you use it, and whether you really need it.
This knowledge will help you better plan projects as it will be easy to schedule equipment and/or an attachment for a specific project.
Through this app, you can also check equipment in and out, changing its status, which lets everyone know who is using the machine and when they're supposed to return it. Software like GoCodes shows you your equipment's last known GPS location, which gets registered whenever someone scans the QR code.
On top of that, the system lets you upload and track your maintenance process. Being in the know on servicing is extremely important. After all, you should inspect the equipment and its attachments regularly if you want to use them safely.
Tom Schwind, a business line manager, claims that you have to invest in maintenance if you want to have functioning attachments. He advises:
Be aware of your environment and treat the attachment like it's a piece of equipment, not just an ancillary bucket or something that you're going to destroy. The environment for demolition tools and hydraulic breakers is a very tough environment. We don't need to make it harder.
Sadly, not investing in machinery maintenance is a mistake that many make, leading to shorter equipment life-spans and the accumulation of costs.
Whenever your team performs a machinery inspection, they can use the app to upload their findings and notify the rest of the employees. That way, you'll rest assured that the equipment is safe to use.
Conclusion
Investing in equipment attachments benefits you significantly because you get the most out of your equipment while saving money.
It's important to note that you should treat equipment extensions just like you do the equipment itself. In other words, invest in attachment tracking and maintenance to know what you have, where it is, and its current condition.
That way, you'll continue to reap the benefits for a long time!