Many construction projects require working at heights, so taking them on means you'll probably need good lifting equipment.
Luckily, there's plenty of choices!
Most lifting equipment consists of a platform connected to an extension arm and mounted on a cabin or vehicle. They can be used to lower or lift material, people, and other equipment.
Increased innovation enabled some manufacturers to build machines that can lift the load to a height of 210 feet!
When picking quality lifting equipment, consider its strength, attachments, and functionality. With so many choices at your disposal, let's go over the main types you can see on many construction sites nowadays.
Hoists
Hoists are basically elevators used primarily for construction.
Construction hoists typically consist of a cabin and a tower, allowing for quick maneuvering of materials to an overhead location. Some can even lift thousands of pounds of material, so they're incredibly useful on the construction site.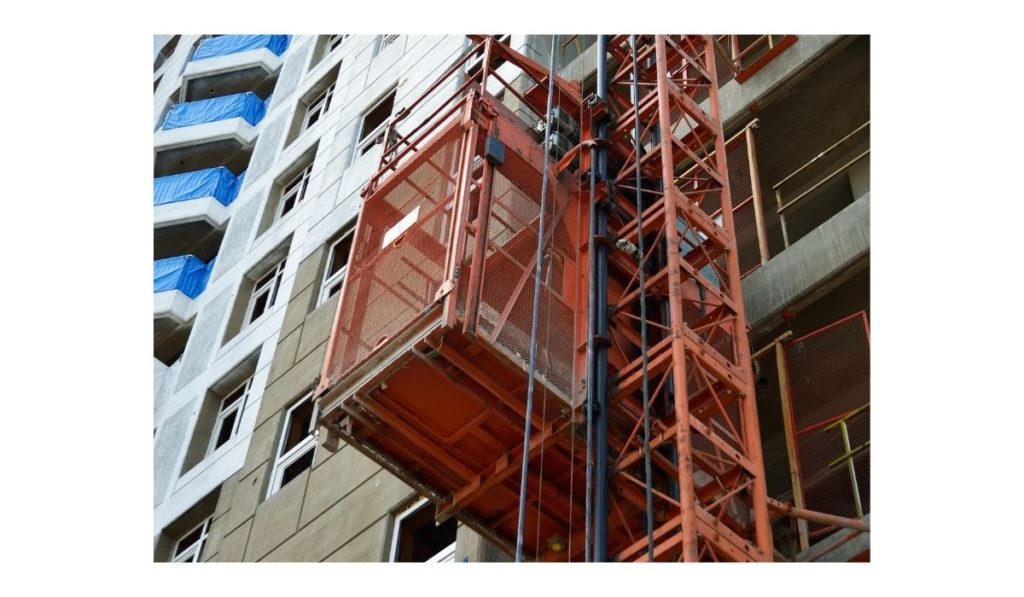 How do they move? 
They usually run on diesel engines or electric motors. Some can even be hydraulically powered and use chains as a lifting mechanism. Then they move the load vertically to greater heights.
Here are the three main types of hoists used in construction:
Mobile hoists
Lift loads to heights of 98 ft
Can be dismantled and moved to another location
Load capacity is 1100 lbs
Protective screen with gates should be at least 6 ft high for safety reasons
Passenger hoists
For lifting people and cargo
Controlled from the cage
Can have one or twin cages mounted on a static tower
Common weight capacity is 12 people or 2200 lbs
Small package hoists
Have a small lifting arm, electric motor, and wire rope
Mounted to a structure or scaffolding
Weight capacity of 1100 lbs
Hoists are easy and safe to use, which makes them a common sight on many construction sites.
Cranes
When you think about lifting equipment, cranes are probably the first thing you picture. That's no surprise since cranes are highly versatile and thus the most commonly used type of lifting equipment in construction.
Basically, you'll find a crane in any location that requires high-rise construction. But what makes them so indispensable?
They come in a variety of sizes, they're easy to transport and operate, and they can carry huge loads. Their types range from small hydraulic cranes suitable for short-term projects to tower cranes attached to skyscrapers.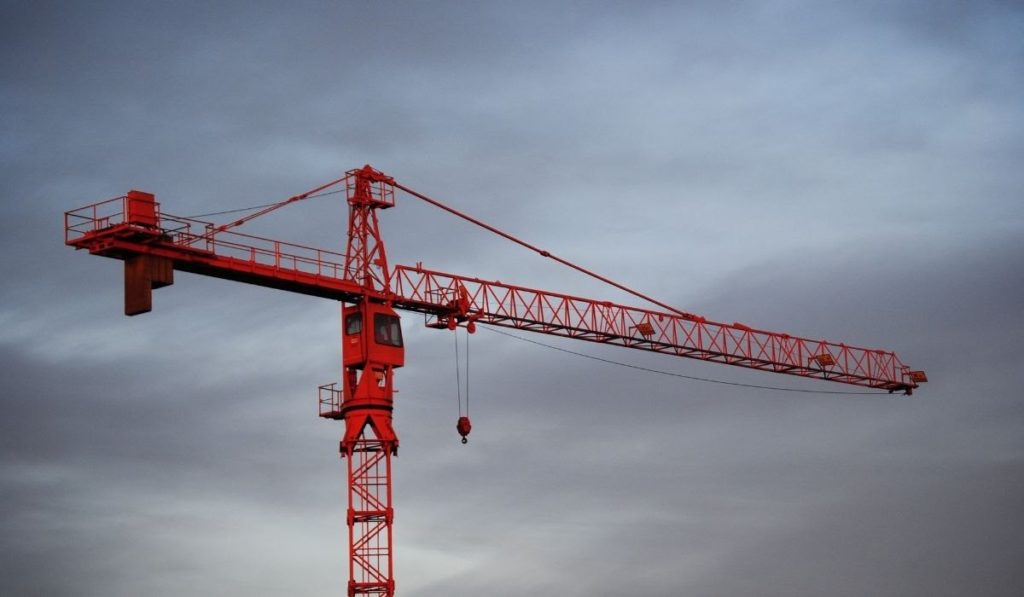 Whatever your lifting needs or terrain conditions are, you'll probably find a crane that suits them. But generally, we can sort cranes into three main categories: 
As their name suggests, mobile cranes are mounted on a vehicle or tracks to be easily transported from site to site. Since they're smaller than other cranes, mobile cranes can be used for lifting materials at lower levels.
Next, tower cranes are the most well-known type of cranes. They're fixed to the ground, and the mast provides the necessary height. The working arm of the tower crane, called a jib, is connected to the mast.
Now, to operate such a massive machine, workers are seated in a cabin located under the cross-section of the mast and the jib.
Finally, static cranes are similar to tower cranes, but the mast is affixed in such a way that the entire tower moves from a single position.
In short, when you combine their potential mobility with the ability to load and lift a lot of materials, it's clear to see why cranes are so widely used among contractors.
Forklifts
Forklifts are mostly associated with warehouses, but they're also useful in construction.
The main purpose of forklifts is to carry materials. Simply by loading up cargo onto forklifts, you improve efficiency on construction sites.
Forklifts are widely accessible and convenient for material transportation, and they're best suited for single-level construction projects.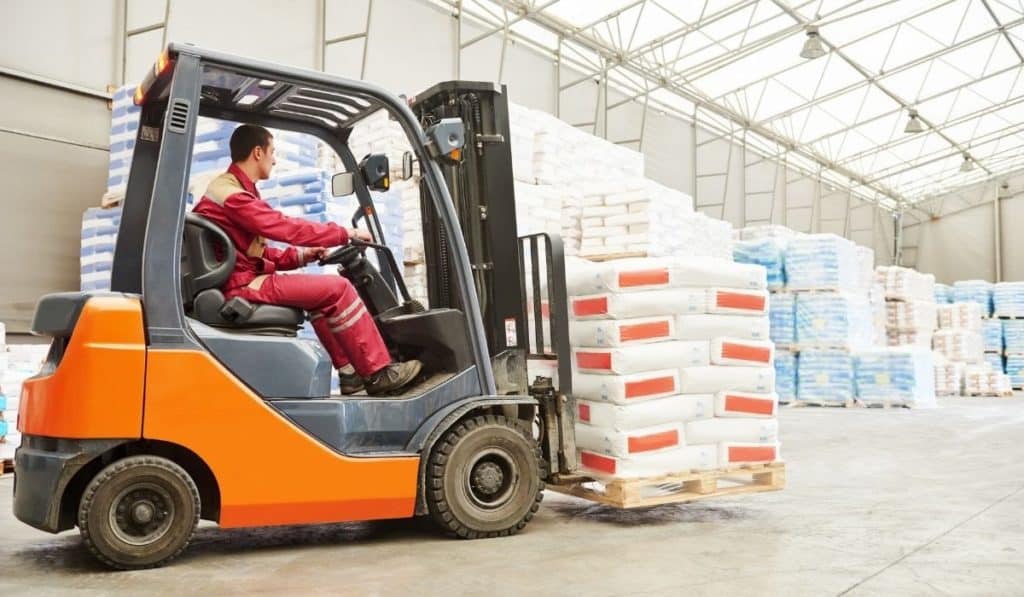 These are the main things to consider when buying or renting forklifts: 
Height
Load capacity
Fuel type
Tires
Forklifts are the smallest and the cheapest kind of lifting equipment, so it's no wonder that 230,134 of these machines were sold in 2020.
Forklifts are extremely reliable and sought-after because they significantly reduce the amount of workforce needed for specific tasks. 
But you know what's really the best part about using forklifts?
To become a certified forklift operator, all you need is $150-$200 and a completed two-day training program!
It's far easier to train for forklifts than any other lifting equipment, so if you need efficiency and convenience on your construction site, consider training your employees to operate forklifts.
Lifting Tables and Platforms
Lifting tables and platforms are mainly used to elevate materials and people on small distances, enabling work at heights.
Let's first take a look at lifting tables.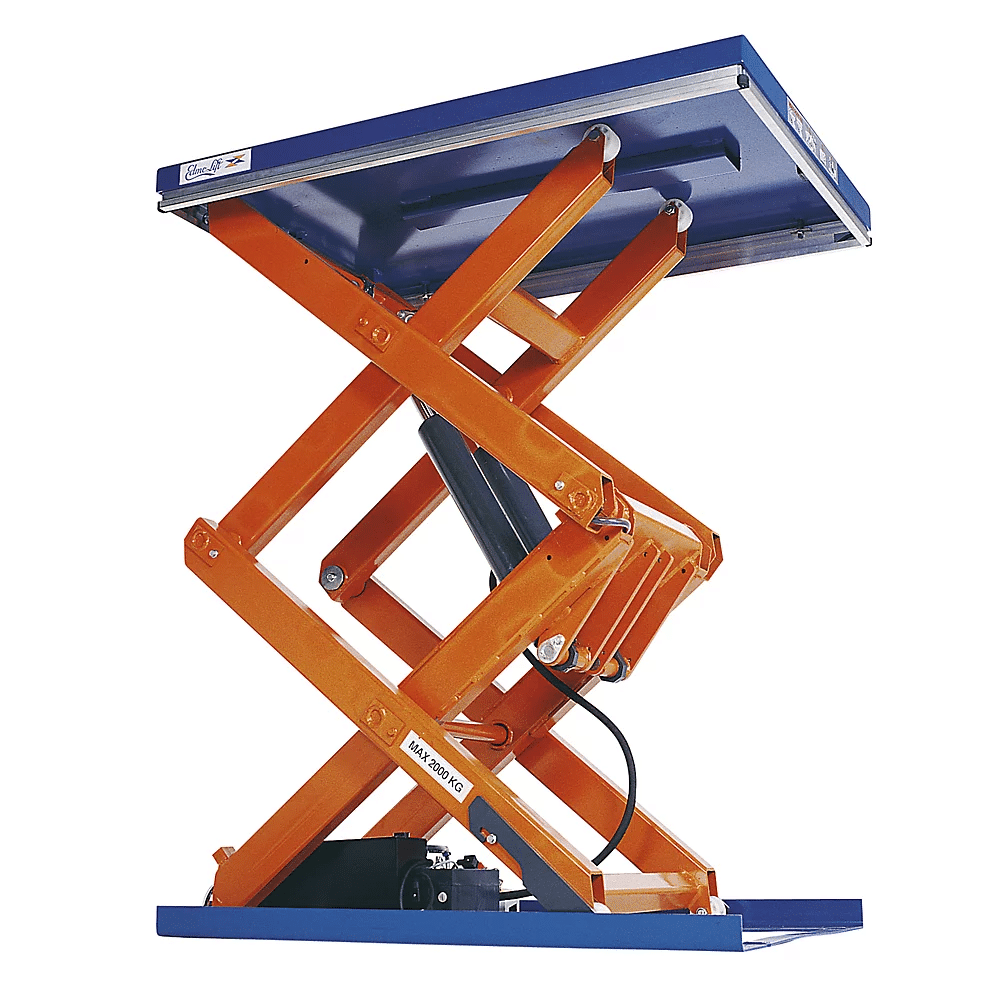 They come in many different configurations to allow for common or specialized use, and they're powered in several ways: 
| | |
| --- | --- |
| Manual | The operator uses a crank, screw, or pump. |
| Pneumatic | Has a pressurized air cylinder and a compression mechanism. |
| Hydraulic | Pressurized hydraulic fluids power a linear actuator. |
| Electric | Has an electric motor. |
Power is only used during elevation, and if you want to lower the table, there's usually a slow-release mechanism.
Now, let's look at lifting platforms.
Their primary use is to enable workers safe task completion at any height. Basically, ''working platform'' is an umbrella term for any scaffold, gangway, trestle, or mobile platform that workers use to work at height.
For a working platform to be suitable for its purpose, it has to be:
Sufficiently sized for moving materials and equipment
Stable (erected on solid ground)
Clean and tidy
Equipped with handrails
When it comes to lifting tables and platforms, your primary concern is to find a suitable solution that will enable workers to do their work safely and efficiently.
You'll have to look at load capacity, type of use, and physical dimensions, among other things. 
So, before you use either lifting equipment, it is necessary to conduct inspections to make sure the equipment complies with safety standards.
Hydraulic Elevators
Hydraulic elevators are the newest members of the lifting equipment family. They're also a safe and reliable option for transporting materials in solid or solution form.
How do they work?
At the base of the elevator cab, there is a cylinder with a piston powered by an electric motor that pumps hydraulic oil into the cylinder. Then the piston moves the elevator cab, and an electric valve controls the descent.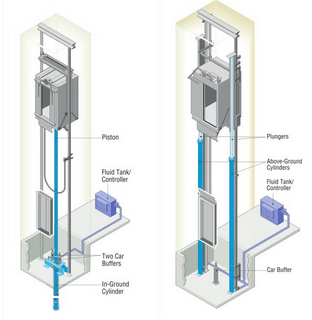 However, this lifting equipment is only suitable for heights of up to six stories. Sometimes, although rarely, you can find hydraulic elevators reaching as much as 8 stories, but it should be noted that these heights aren't ideal for safe use. 
It's essential to stick to safety requirements so that you can use hydraulic elevators more efficiently. 
In the end, if you need to move equipment and material on medium-height projects, then you can look into using hydraulic elevators.
Scissor Lifts
Like lifting tables, scissor lifts are used to carry people, allowing them to undertake construction work at different heights.
But first, how did scissor lifts get their name?
When you see a scissor lift, you'll notice they have a specific lifting mechanism that folds in an 'X' pattern. The crisscrossing sections elongate as you apply pressure to the external side of the lowest supports, thus raising the platform.
Some can even reach heights of up to sixty feet. 
They're fairly rigid work platforms that can only move up and down, but they're also equipped with wheels that enable you to relocate them.
But even with this limited use, scissor lifts can still be applied to indoor and outdoor working conditions.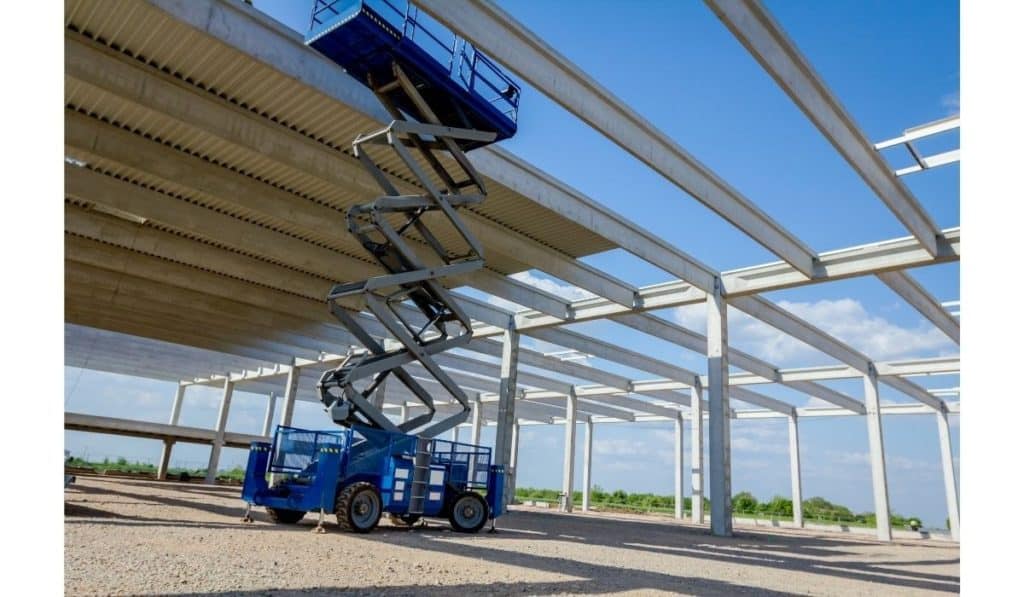 Scissor lifts are commonly used for exterior building repairs, window installation, cladding, or even window cleaning.
Now, what are the main benefits of using scissor lifts? They're:
Compact
Cheap
Simple to operate, with straightforward commands
Cost-effective and easy to maintain
Customizable
Basically, if you need a simple lifting platform to operate and manage with ease, while getting the necessary work done, then look no further than scissor lifts.
Boom Lifts
Globally, there is a growing need for construction projects in public infrastructure, renovation, and transportation, including new airports and roads.
Consequently, experts estimate an annual growth of 8% in the global lifting equipment market, resulting in $17.03 billion by 2028. 
But what's even more impressive is the fact that boom lifts held a 33.9% of market share in 2020. Basically, every third piece of lifting equipment sold was a boom lift.
Boom lifts have dominated the lifting equipment market and reached new heights for the construction industry. 
This doesn't come as a surprise if you consider their flexibility and ability to operate in rough terrains. They give you more moving ability while providing the best safety features.
If you want to take your business to the next level, you have to invest in a boom lift. 
But which one to choose?
It boils down to two choices: an articulating boom lift and a telescopic boom lift.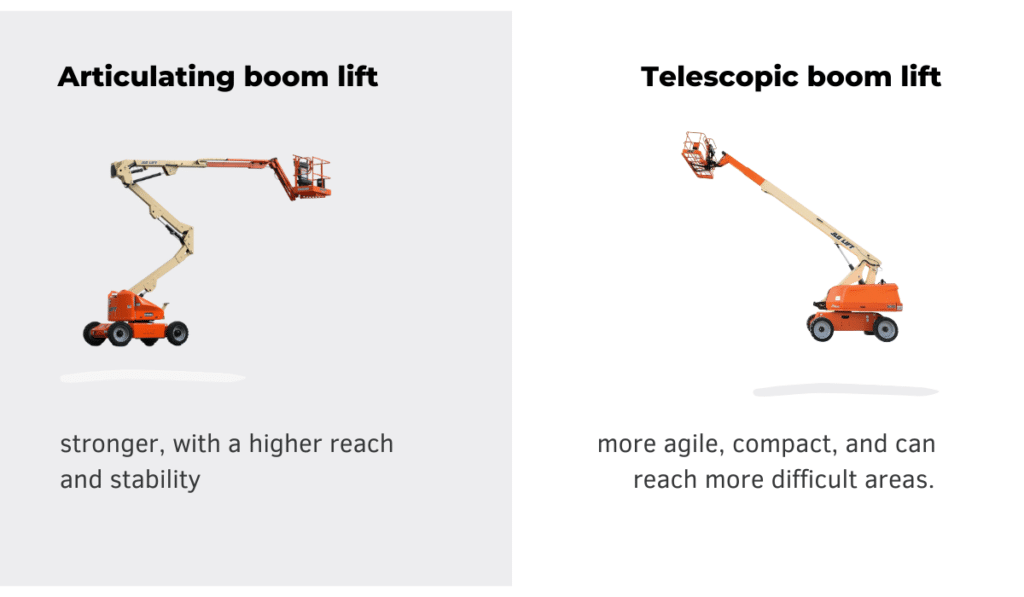 Both types of boom lifts are a great solution if you want to safely and efficiently move materials and the workforce. They eliminate the need for dangerous scaffolding, and they're ideal for working at any height.
But in the end, your decision will be determined by the job requirements and work conditions. 
Cherry Pickers
Have you ever wondered how cherry pickers got their name?
Apparently, in 1944, Jay Eitel grew frustrated picking fruit at his summer job because he had to continuously move the ladder to get to a new spot.
So, he spent his free time designing the prototype of a cherry picker–a steel structure mounted on a truck operated with one lever. 
Soon after that, he improved on his first design and created the Telsta Corporation, which produced commercial aerial lifts mostly for telecommunication companies.
But besides utility installation, cherry pickers are used for different purposes, like cleaning, painting, or even fire rescue service!
Their versatility is mainly due to their simple design. Cherry pickers have a platform attached to an articulated arm mounted on a truck.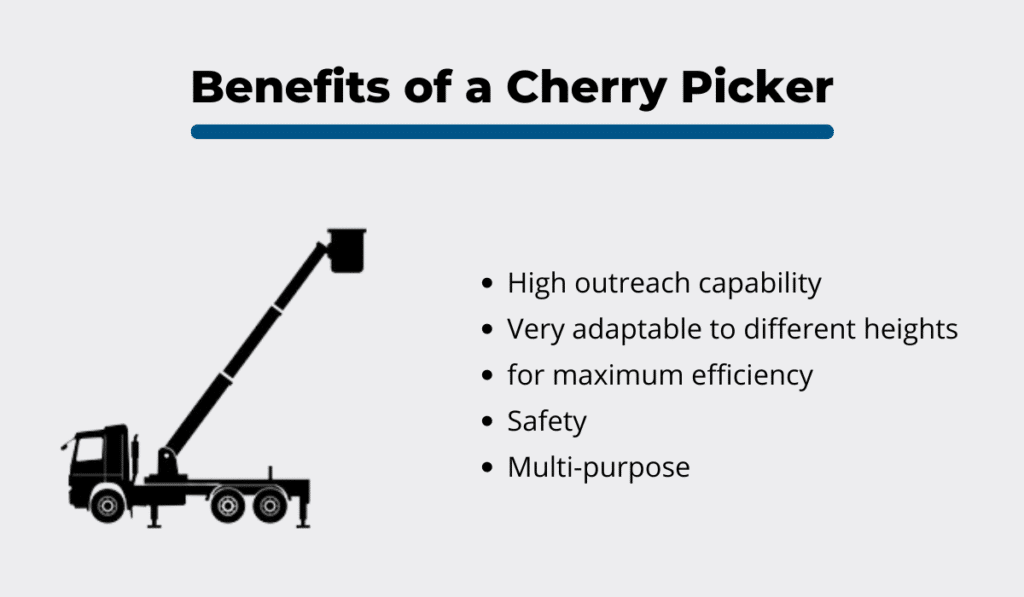 A single person can operate cherry pickers, and the vehicles can reach incredible heights while remaining safe and easy to maneuver in awkward locations. You can add different attachments like a cradle, pallet forks, winch, or a bucket to get more use of them.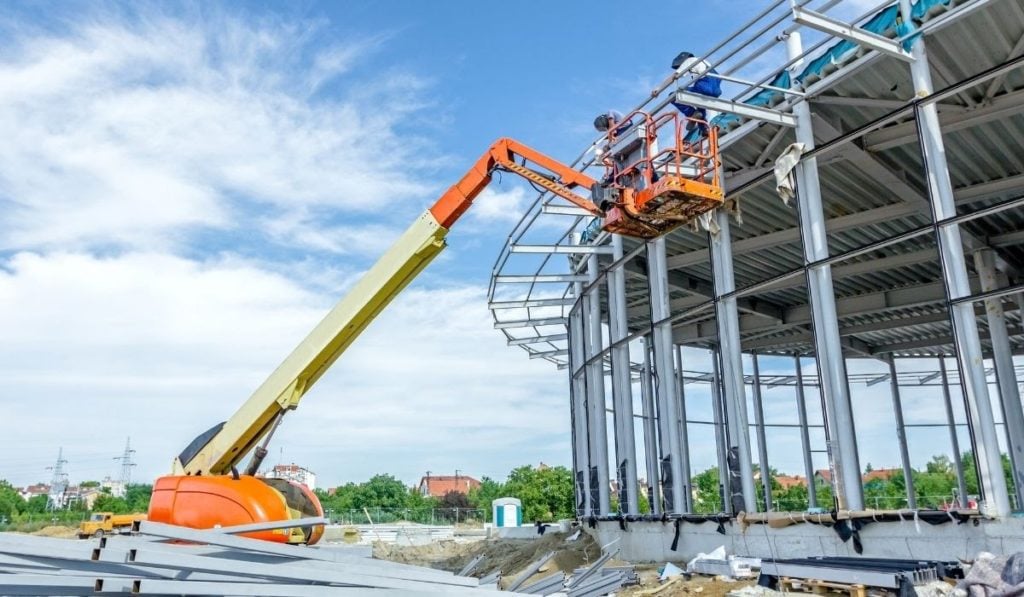 Cherry pickers have been vital in the construction industry, and they are still one of the most effective construction vehicles due to their versatility, adaptability, and ease of use. 
Telehandlers
Here's a quick question: what is the difference between a forklift and a telehandler?
At first glance, they're basically the same tool: both have forks as attachments, they are used for lifting materials to certain heights, and they have wheeled cabs. But the main difference between them is their size.
To put it simply, the telehandler is the forklift's big brother. It can reach higher, carry more load, and has a telescopic arm that allows it to move in different directions. This also provides more precision and stability.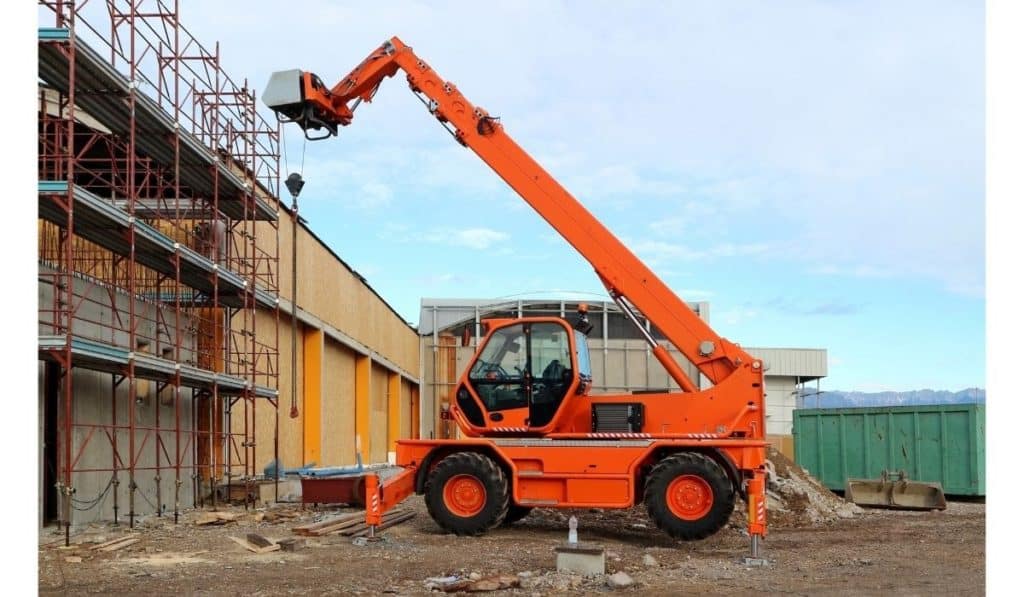 If you think a telehandler would be useful for your construction site, you'll likely consider the following basic models: 
Standard fixed boom
Rotating model
The main difference between the two is that the standard fixed boom has a low range of motion while the rotating model can move up to 360°.
Other options include compact-sized telehandlers and heavy-duty models. Compact telehandlers are ideal for indoor use because they can move in tight areas. On the other hand, a heavy-duty telehandler can carry up to 6 000 lbs and extend to 56 ft.
So, consider using a telehandler when your forklift isn't up to the task of carrying the load on your construction site.
Strand Jacks
Ronald Wiggill, project engineer at Vanguard (an international heavy lift installation company) says his company has found a more effective way to handle complex lifting tasks.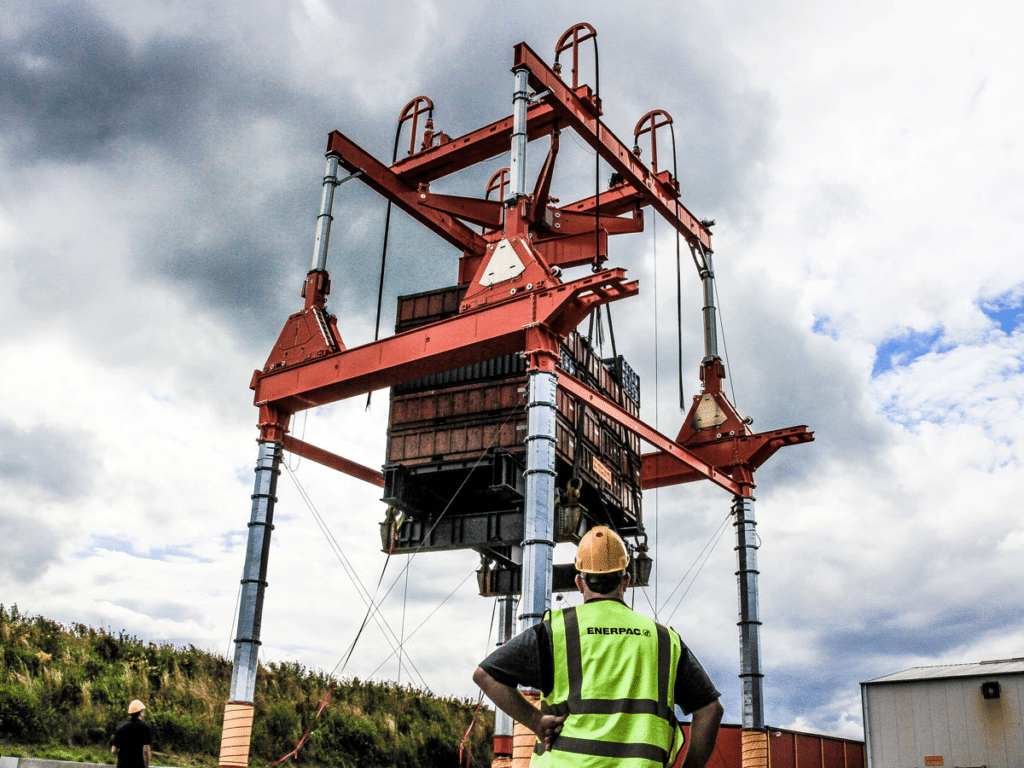 For a mining project in Zambia, the company needed to lift and place four sections of a conveyor gantry 98 ft above the ground. At first, they wanted to use cranes but opted instead for four-strand jacks, each with a lifting capacity of 400 tonnes. 
First, they needed to construct the framework in which the jacks could operate.
They erected four 141 ft tall towers, which were connected with two pairs of horizontal beams. Then they put traversing lift platforms on each pair of horizontal beams which carried strand jacks. 
After that, they could easily move conveyor gantries weighing 115 tonnes and 160 ft in length.
They were lifted and connected using high-tensile steel cables (i.e., strands), and the entire process was controlled on the ground using intelligent computer software. 
What was the result?
According to Wiggill, strand jacking was more cost-effective and safer. They could avoid the costs of using cranes due to unforeseen schedule delays and waiting for the equipment to be transported.
Also, they had better quality control with strand jacks since monitoring was done from the ground, and the overview of the process was better.
To conclude, Wiggill says that strand jacking is the best solution in cases where you need to lift large and difficult materials where the load has several lifting points and needs regular, continuous movement.
Basically, strand jacking allows you to lift greater loads with more precision and more safely.
Stackers
Stackers are large machines that handle bulk material. So if you have piles of ore, limestone, or coal that need to be stacked, this is your machine of choice.
You will usually find a stacker moving on a rail between stockpiles using traction motors. They have three different types of movement, which allows them to stockpile materials in different patterns:
| | |
| --- | --- |
| Traveling | The machine moves along the stockyard on a rail track. The track can be narrow or broad to enable unrestricted movement. Also, the traction motors are connected by 12 to 22 bevel gears. |
| Luffing | Hydraulic cylinders allow for vertical movement. These stackers also have winch mechanisms. |
| Slewing | Rotational movement around the central axis to discharge material. A slew pinion rotates around a slew base. |
But let's see stackers in action!
Stackers can be operated manually from a cabin positioned above the boom or even remotely, with fully automated parameters set by a central control system.
To choose a suitable stacker, you need to look into stockpile layout, material properties, and stacking methods. So, if you want to stockpile your material in a chevron or a windrow pattern, you need to use different machines.
In the end, the right stacker is the one who can do the job efficiently and improve your operations.
Conclusion
Every construction site requires some type of lifting equipment to move and carry weight around. Boom lifts, cranes, telehandlers, hoists–the world of lifting equipment is very diverse.
But it's important to remember that picking the right equipment is what makes or breaks construction projects.
When you use the appropriate equipment, you can significantly increase productivity and complete tasks with more efficiency. Not to mention, you can finish the project within budget and on time.
Hopefully, with this basic overview of different lifting equipment used in construction, you have a better understanding of your options, allowing you to decide on the best equipment you need for your next construction project.