Anybody who's worked on a ladder, on roofs or scaffolding knows firsthand about the very real danger presented by heights.
Falling from heights is a risk that some workers face on a daily basis, and it's an important issue. So how can workers at height protect themselves from falls?
According to the US Occupational Safety and Health Administration (OSHA) commonly used statistics page, falls from heights (FFH) accidents are the top contributor to US construction worker deaths. In 2016, 384 out of 991, or 38.7% of total deaths in construction in the US were caused by falls.
In this article, we'll look at how New Zealand is tackling this safety challenge and how implementing safety nets is helping mitigate fall-related injuries.
Overview of Studies into Fall-From-Heights Incidents
The problem is the subject of ongoing research. One study published by the International Journal of Environmental Research and Public Health aggregates 75 relevant research papers on the subject of falls from heights.
These studies explore a number of interesting aspects of FFH accidents, including activities that present higher risks for FFH accidents, demographic correlations, and many other factors.
The biggest conclusion from this meta-research project is that more work is needed to significantly reduce the number of fatalities and injuries due to falls internationally.
The International Journal of Environmental Research and Public Health study states that:
Various studies have collected data through different methods, including survey questionnaires, interviews, case studies, forensic and morbidity records and empirical/experimental laboratories to define the factors involved in falls. Yet the multidimensional relations among factors have not been investigated holistically.
After aggregating and investigating various results found over decades of research, the study concludes that "findings and recommendations of this study provide insightful signposts for safety researchers to conduct future research and shed some lights for industry practitioners to design preventive measures for FFH accidents."
Among these signposts are the successes of safety nets, a passive measure for fall protection.
At-Height Safety is Serious Business in New Zealand
New Zealand is growing rapidly. The population of the island nation has increased by almost one million people in the past decade, which is no small figure for a country whose current population is under 5 million.
As a result, construction accounts for well over 5% of New Zealand's GDP. And, with construction jobs and rapid expansion come more working-at-height hazards than ever before.
For New Zealander Craig Daly, safety at height is an issue that he takes to heart.
"We were unhappy with the safety provisions [in New Zealand] for people working at heights," says Craig. Determined to address this, Daly and his partner looked at preventative measures.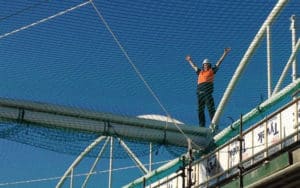 Source: Safety Netz NZ
"When you're working at height, you've got some options open to you. You can harness on to the building; that introduces other sorts of hazards," explains Craig. One important example of these hazards is worker compliance.
The worker himself should have his own well-being in mind at all times; however, throughout the work day, the myriad of factors at play can lead to occasional safety slip-ups.
As an example, imagine a worker at the end of the day working on a high-rise construction project.
He's packed up and secured all his equipment, including the safety equipment, and is ready to go home. But, just before leaving the work site, he remembers a piece of equipment left above on a scaffolding.
The last one down and the last person on site that day, our hypothetical worker has to make a decision whether to spend the extra minutes fetching, putting on, and attaching the safety harness for a simple few steps out onto the scaffolding.
On paper, legally, contractually, and officially, it's an easy choice; take the few extra minutes to do it properly. It's a worker's duty. But when the long day's work is done and the family is at home waiting, the temptation to skip the harness for one simple task can be great.
"It's human nature," argues Craig.
Following in the Footsteps of Industry Safety Leaders
Craig and his partner were interested in bringing an alternative at-height safety system to New Zealand.
"We were aware of safety net systems that were used successfully in Europe," explains Craig, that offer more robust protection from falls.
Eager to improve the safety conditions for construction workers in New Zealand, Craig Daly and his partner set out to establish Safety Nets NZ, offering safety net services to construction projects in New Zealand.
In the ten short years since their beginnings as a humble operation in Auckland, the business has seen incredible demand and has grown accordingly.
"We've grown from 2 to around 50 employees," says Craig. "and after originally just concentrating on the Auckland area, demand has been such that we now have offices throughout both the North and South Islands of the country."
Convenient and Omnipresent Safety Provisions
Craig says that he is attracted to the safety net system because it's always there. And, with the onsite service that Safety Nets NZ offers, he's able to offer a virtually failure-proof safety system for working at heights.
Better yet, it's simple and convenient for clients.
"We'll get a phone call, supply and install it, certify it… and when you no longer need it, we'll come remove it," explains Craig.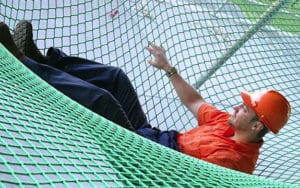 Source: Safety Nets NZ
It's a simple system. And, by working with clients, inspecting job sites, and completing the certification, it's easy for his clients to prove compliance with safety ordinances.
But, most importantly for Craig and his company, safety nets offer a robust system that protects workers from falls in any situation. "The nets are always there," says Craig. It's a simple system that works.
Safety Nets Save Lives
A recent example of life-saving safety nets is a frightening story that could have ended much worse than it did. At a high-rise construction project in Seattle, WA, journeyman iron-worker Jesse Ely tragically fell from the 25th floor of the incomplete structure.
In what would almost certainly have been a fatal incident, the worker was thankfully stopped eight stories below by an on-site safety net system.
There's no substitute for proactive measures to keep workers at height from falling, but this is just one of many examples of how a safety net system can provide life-saving backup support for workers at all times.
In fact, the safety nets were not intended for stopping human falls, and were rather installed to stop heavy debris on its way down.
Ely and the work site were completely reliant on other safety systems in place for human workers; despite all these provisions, he still fell.
Ely suffered serious injuries but survived.
Convenient for Clients, Logistics Challenge for Company
From a client, worker, and safety perspective, Safety Nets NZ offers perhaps the best and most practical solution. But it's important that nets function properly in the event of a fall.
Safety nets are tested by the manufacturer to ensure that they meet the full specifications required to protect a worker in the event of a fall. Over time, however, the webbing material that safety nets are made from inevitably degrade.
Daily exposure to ultraviolet radiation ultimately leads to the degradation of material over time.
In consideration of this fact, it's critical that Safety Nets NZ perform regular integrity tests on their nets.
"Whenever we buy a new net," explains Craig, "the net comes with three small removable samples, known as test meshes, that are attached to the main net. Let's say your net is 6 x 6 meters and the test net is 400 cm by 200 cm, wide."
The test meshes remains attached to the primary net, so they undergo the same exposure to sunlight.
"Every year, one of those test meshes is sent off for testing," says Craig. This system simplifies the testing process, as there's no need to move a large safety net unit all the way to the test site; only the small test patch needs to make the trip.
As long as the test mesh meets the required specifications, the company – and the client – can be assured that the safety net will provide sufficient strength to save the day in the event of a fall.
It's a great system that keeps workers safe. The logistics of using the system, on the other hand, can be complicated.
"Now, to control 10,000 nets all around the country is extremely difficult," says Craig. "Every net that we use is individually identifiable with a unique ID number."
These ID number tags are attached to the test meshes as well, so that, during testing, each result can be reconciled with its associated net.
"If they test up, they are good; if they're bad, that net needs to be taken out of service," explains Craig.
As the business was rapidly expanding, it became clear that a more formal tracking solution would be necessary to keep their documentation in order.
GoCodes Offers a Scalable Solution
Craig Daly searched for a practical solution for tracking the growing net inventory and test results.
"In my research I came across the GoCodes system in the States," recalls Craig. "The inventory tracking system seemed suited to what we needed to manage ongoing compliance of our nets."
With a built-in system for tracking the unique ID numbers associated with each net, GoCodes asset tracking was a logical choice to address the need for a more scalable system.
"We've established the GoCodes system, which has been brilliant," says Craig.
For Safety Nets NZ, the convenience of using GoCodes lies in a number of features. The business can post test results and update the status of nets immediately after testing.
"Our 50 lads are all across the country," explains Craig, along with safety net of different sizes and types.
The ability to simply scan a net and immediately confirm whether the net is fit-for-use is a critical feature for Safety Nets NZ, and with direct access to the cloud-based database through the mobile app, Craig's employees can work flexibly and use the mobile data network from virtually anywhere in the country.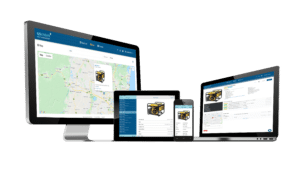 Source: GoCodes
Tracking fitness-for-use is just one GoCodes utility that the company enjoys. With 10,000 nets to monitor, explains Craig, "I know where they are."
With the GPS-integrated GoCodes mobile app, an employee need only scan the net unit when it's deployed. With a time and GPS-located stamp, they're able to systematically report "where, when, and what" each unit is up to, all with a simple scan with a mobile device.
"Setting up something like that ourselves is, well, it's virtually impossible really…" says Craig.
For a company of their size and resources, putting together such a robust system that integrates so well with the Auckland-based office and their employees and assets distributed across the nation would certainly be a challenge.
"We're very pleased with [the GoCodes solution], it works perfectly for us," says Craig.
Another key feature that Craig and Safety Nets NZ enjoys is general-use inventory management. The company's primary asset is, of course, safety nets.
There are other assets to track, too; scissor lifts, company vehicles, and any other assets that the company is responsible for.
All such equipment requires regular maintenance, and GoCodes makes tracking usage information simple.
Addressing Unique Challenges with a Simple, Flexible Solution
Craig Daly and Safety Nets NZ faced unique challenges as a growing small business. When it comes to solving inventory and asset-related challenges, GoCodes offers a flexible and intuitive solution that perfectly met their needs.
To learn more about how GoCodes can work for your use case, contact us. We offer a number of different levels of service and a free trial so our users can see what works best for them.
Looking Forward to Another Decade of Safe Workers in New Zealand
As Craig and Safety Nets NZ celebrate ten years of service and safety, the company and their clients are looking forward to continuing to improve worker safety in the next decade and beyond.
Construction worker and site safety is an ongoing challenge in New Zealand, and while safety at height is just one of the many issues on the table, Safety Nets NZ will continue to contribute in their way to this important problem.
Ten years of success and safety is an "opportunity to look forward to see how we can continue to improve and develop as a company to ensure that the needs of our clients are met," states the ten-year anniversary piece on the company's website.
"We have spent some time thinking about what we do, and why we do it, and have rewritten our company Mission Statement to reflect our goals and values, and this Mission Statement will hopefully lead us through the next 10 years."
That statement reads:
To be New Zealand's clear market leader when it comes to the provision of fall arrest safety net systems by consistently providing exceptional, customer focused solutions.

To be recognized as not only the most trusted, reliable, professional and respected provider of innovative safety net solutions in the country, but also the benchmark for service delivery standards, and the "go to" company for clients when they need their fall arrest problems solved.

To ensure that we continually remind ourselves why we do what we do. That every net saves a life and "We catch you if you fall". – Safety Nets NZ Mission Statement
Worker safety is important to us all. For that reason, we salute Craig and Safety Nets NZ for the good work they're doing.