If you're a manager or owner of small and medium-sized businesses in industries such as construction, manufacturing, or the distribution of goods, you are probably aware of one notable trait many of them share.
We're talking about the continual dependence on a complicated network of machinery, vehicles, tools, and replacement parts.
In the beginning, businesses usually own a small number of assets that can be handled without much difficulty.
However, as companies grow, so does the number of the assets they own, and managing them becomes more difficult as a result.
In this article, we share the reasons an asset management system is an important ally in ensuring your company operates as smoothly as possible.
To begin unpacking the benefits of effective asset management solutions, we'll first explain the role of asset registers.
Maintains an Accurate Asset Register
A well-maintained asset register is one of the main pillars of any effective asset management strategy.
Simply put, it is a comprehensive inventory of your business's properties, providing crucial information about their location, condition, economic value, and other details pertinent to asset management.
However, for registers to have any practical use, it is crucial they contain accurate and up-to-date information.
That's where modern, cloud-based asset management excels compared to old-school practices.
As anyone who has ever worked with spreadsheets could tell you, manually entering large volumes of information into tiny boxes on a computer screen is no picnic.
It is a repetitive, tedious task that requires attention and concentration from workers, often inducing either drowsiness or frustration instead.
This only exacerbates the unavoidable error rates humans are already naturally inclined to make.
University researchers found that even in optimal conditions, humans have an error rate of 1.8% at the lowest, and rising to a staggering 18.72% at the top end.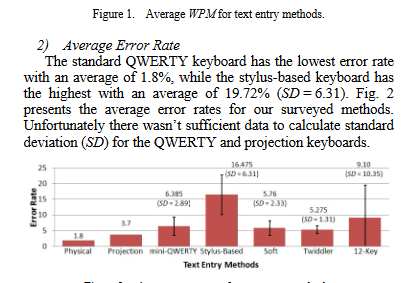 Seeing as AI-based platforms have error rates of as close to 0% as non-humanly possible, it was only a matter of time before they replaced us for analytical and repetitive tasks.
As Thomas Bolander explained in his paper comparing human and machine intelligence:
Roughly speaking, one can consider problem-solving abilities to be a combination of 1) an ability to extract information from data (intuition, abstraction, conceptualization), and 2) an ability to process data quickly (search). Humans are much better at 1 than 2, and for computers, it is the opposite.
As Bolander points out, in addition to accuracy, automated data management is also immeasurably faster than its hands-on counterpart.
In light of all this, an automated asset management process powered by a dedicated software solution provides asset registers with the speed, accuracy, and functionality needed to fulfill their purpose.
Tracks Assets to Prevent Loss and Theft
For many companies, assets are their lifeline. Assets help owners achieve their business objectives, many times taking over the tasks humans would be unable to do themselves.
For example, construction companies rely on machinery to do all the extremely heavy lifting—digging massive holes in the ground, moving concrete blocks across great distances, and lifting tons of material hundreds of feet in the air.
The consequences of losing one such piece of equipment to carelessness or malice could range from simple frustration to long-term financial and reputational damages to your business.
For this reason, many small and medium companies consider loss and theft prevention a top managerial priority.
And, according to research, this attitude is not unfounded: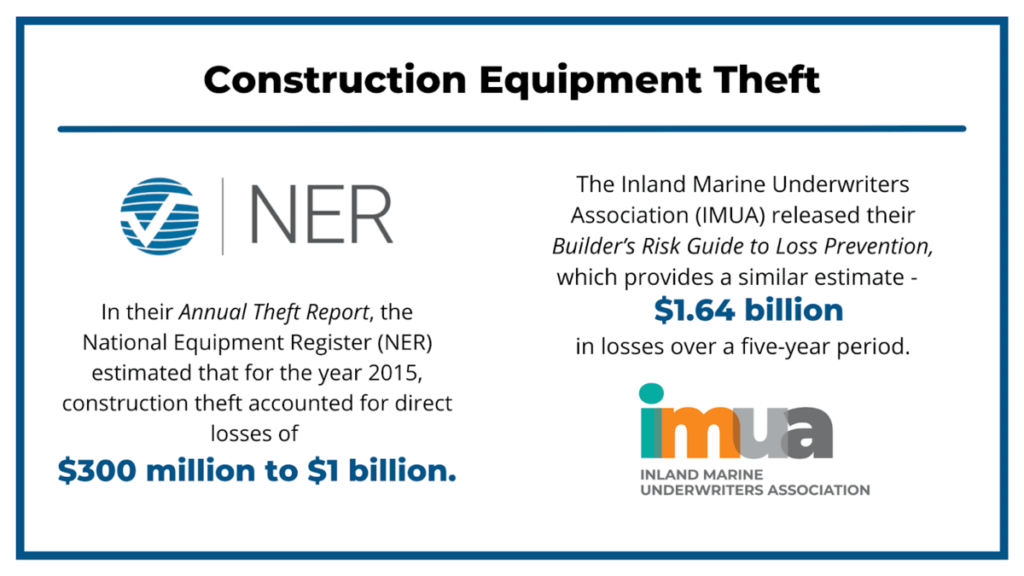 The authors attributed the unusually high theft rate to the lofty value of heavy equipment, combined with high resale potential and generally poor site security standards.
Whatever the case may be, implementing an asset management system allows you to mitigate the risk of loss or theft by effectively tracking the location of your company's assets.
Technologies such as Bluetooth, GPS, and RFID are already advanced to the point of offering real-time location tracking.
Businesses can simply attach tags to their treasured equipment and monitor its movements by scanning codes of receiving signals.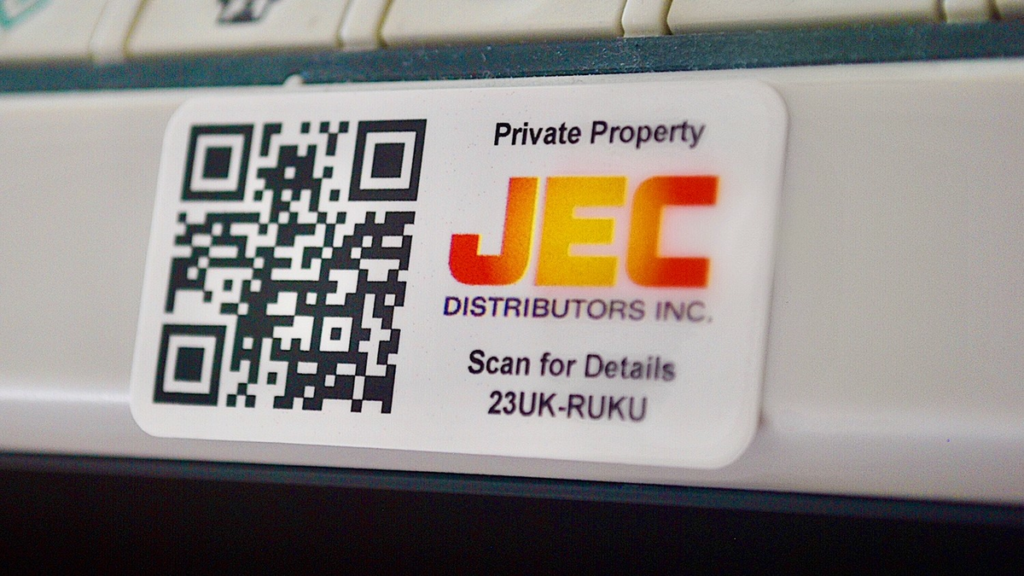 As per the Kennewick Police manual for controlling theft on construction sites: Mark it! Record it! Protect it!
Tracking the location of assets enhances security measures, reducing the chances of unauthorized removal or misplacement.
Moreover, when a theft does occur, businesses can promptly identify missing assets, allowing for immediate action to minimize losses and maintain uninterrupted operations.
Seeing as around 70% of missing assets are recovered in the first 24 hours, reaction speed is of utmost importance.
The ability to trace the movement of their assets enables businesses to implement effective theft prevention and recovery strategies, reducing financial burdens and safeguarding valuable resources.
In the next section, we will delve into the proactive maintenance capabilities of asset management systems, exploring how they optimize asset performance and minimize downtime.
Improves Asset Life Cycle Management
Now that you know how to identify and secure your assets, let's go over how to get them to hit their peak performance levels.
In a research paper on asset life cycles and management, a professor of engineering and technology management called Joe E. Amadi-Echendu is paraphrased as saying:
… physical asset management involves a wide range of disciplines and processes covering the life-cycle stages of creating, establishing, exploiting and divesting a physical asset in a balanced manner to satisfy the continuum of constraints imposed by business strategy, economy, ergonomics, technical and operational integrity, and regulatory compliance.
Sounds complex?
Perhaps, but it paints a fairly accurate picture of what a managerial position entails.
However, if all these various factors truly impact performance, how is one person expected to keep track of it all?
The answer is simple—by implementing an asset management system.
With a comprehensive database of assets, you can gain valuable insight into all the various stages of your assets' life cycles.
This includes information on purchasing, usage, maintenance, economic value and disposal decisions.
Comparing and contrasting different sets of data present enables you to make informed choices regarding when to repair, replace, or retire assets.
According to a paper on optimizing the life cycle of physical assets, this is crucial to developing an effective asset management process: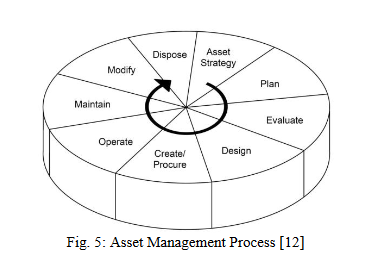 Without an exhaustive overview of your assets, every part of this process becomes less reliable and efficient, trickling down to others and causing further losses for your company.
In contrast, improvements to any of them will translate to better performance and higher productivity.
Overall, leveraging the capabilities of an asset management system will result in more efficient and more productive use of your company's resources.
However, to make sure you get the most out of your assets, you will also need to optimize your maintenance processes.
Ensures That Assets Will Be Maintained
Out of all the factors affecting the performance and longevity of an asset, maintenance is perhaps the most impactful.
With an asset management system, you can ensure that assets receive maintenance in a timely and organized manner.
For most businesses, this means implementing preventive maintenance strategies.
To define how these differ from regular practices, let's first turn to an article from the International Journal of Engineering Applied Sciences and Technology (IJEAST):
Initially, maintenance was done when breakdown of any component occurred, that's why it is known as breakdown maintenance. But the drawback is that after the maintenance again some problems revert back and sometimes the cost may be very high as well as operator safety is in danger.
Preventive maintenance, on the other hand, takes a proactive approach, ensuring equipment is taken care of before it reaches a point of critical failure.
However, creating an optimal schedule entails more than just spreading out assets to fit whatever number of maintenance work hours you have available.
In fact, it could even backfire.
The article above references a study that found that bad planning or unnecessary repairs made for nearly one-third of a company's total maintenance costs.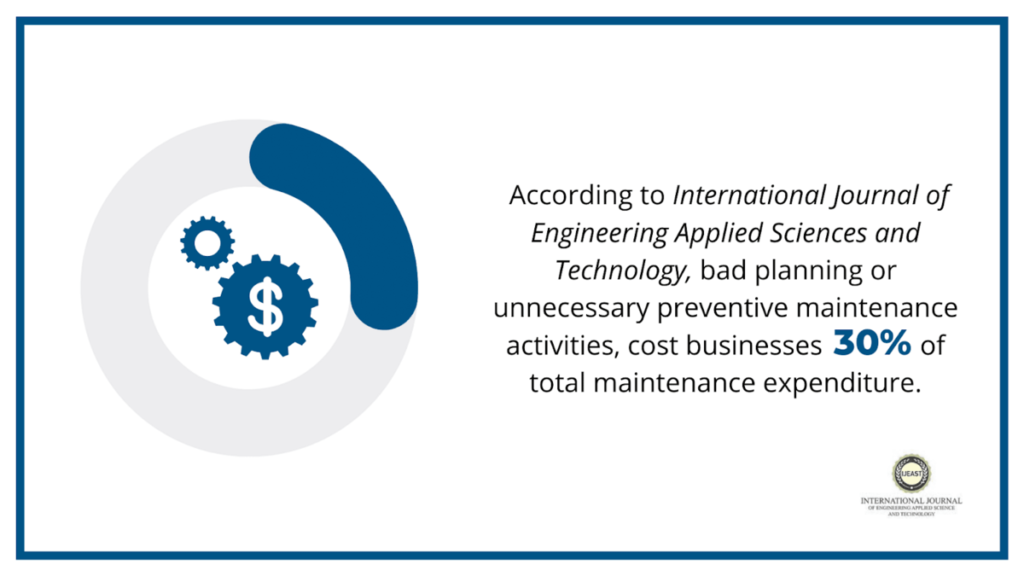 With an asset management system like GoCodes, it is much easier to create and carry out maintenance schedules with precision.
To start, you can use the asset register data to evaluate the performance and condition of any asset.
This allows you to make lists organized by maintenance priority, which function as a basis for determining optimal service frequency.
When you figure out how many hours to allocate to each asset, whether on an individual or categorical basis, you can easily create a maintenance schedule.
With GoCodes, all it takes is going into the asset's profile and entering dates.
Furthermore, GoCodes' asset management platform allows you to set up automated maintenance reminders and notifications.
If you want to ensure assets don't miss their regular check-ups, all it takes is turning on the Scheduled Service Notifications feature.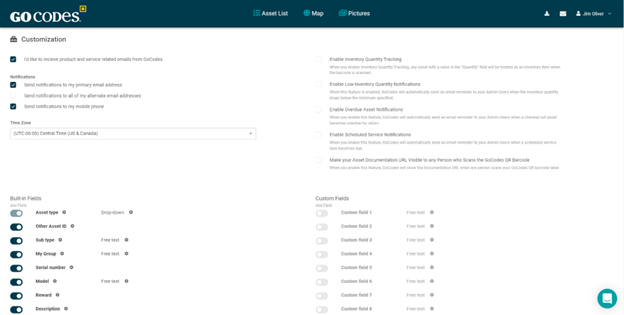 This will instruct the system to send emails when scheduled services are coming up.
Ultimately, an asset management system will allow your business to stay on top of maintenance schedules, reducing the risk of unexpected breakdowns and ensuring that assets are consistently in good working condition.
Increases the Company's Operational Efficiency
While it is important to keep assets healthy, it is as important—if not more so—to keep them busy.
Every hour assets spend idle costs your business the potential value that asset could have provided if utilized.
As Leigh Dennis, manager of fleet services for the Sunrock Group puts it:
idling is an unnecessary cost of epic proportion.
An asset management system makes tracking and analyzing any type of data effortless.
You can use it to see which assets are being underused and by how much, allowing you to put them to work.
Utilizing those assets means they will be more productive, which is one of the main metrics for measuring operational efficiency.
This is how Gikongo Kayitare Sam, master of business administration and a university professor, defines it: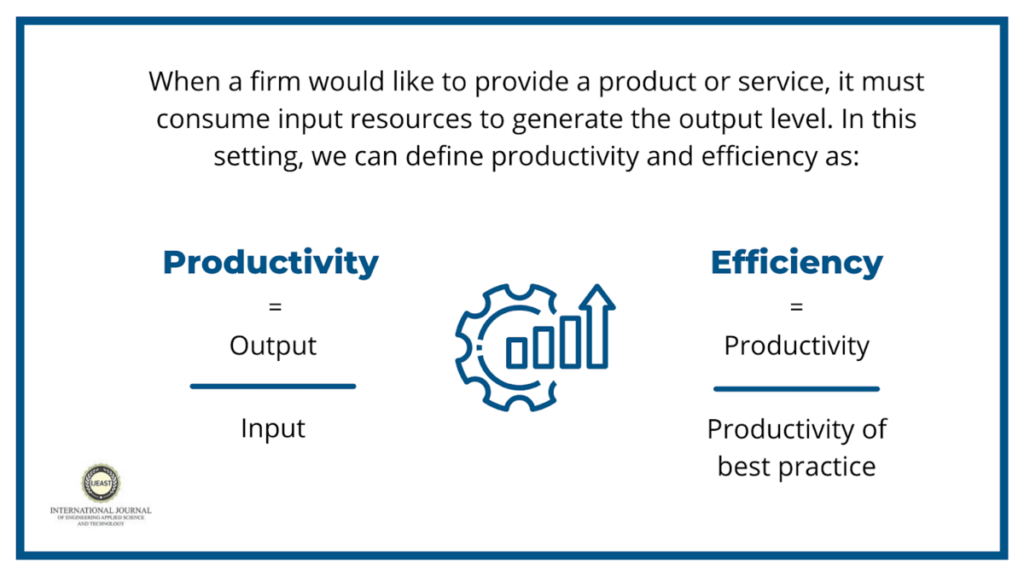 In other words, the closer your production numbers come to the maximum, or "best practice" productivity, the greater the operational efficiency of your business.
This covers overutilization as well. While agreeing that "idle time is inherently wasteful", Matt Beinlich, director of Digital Support Solutions at Komatsu America, also argues for finding the balance between operational and idle time: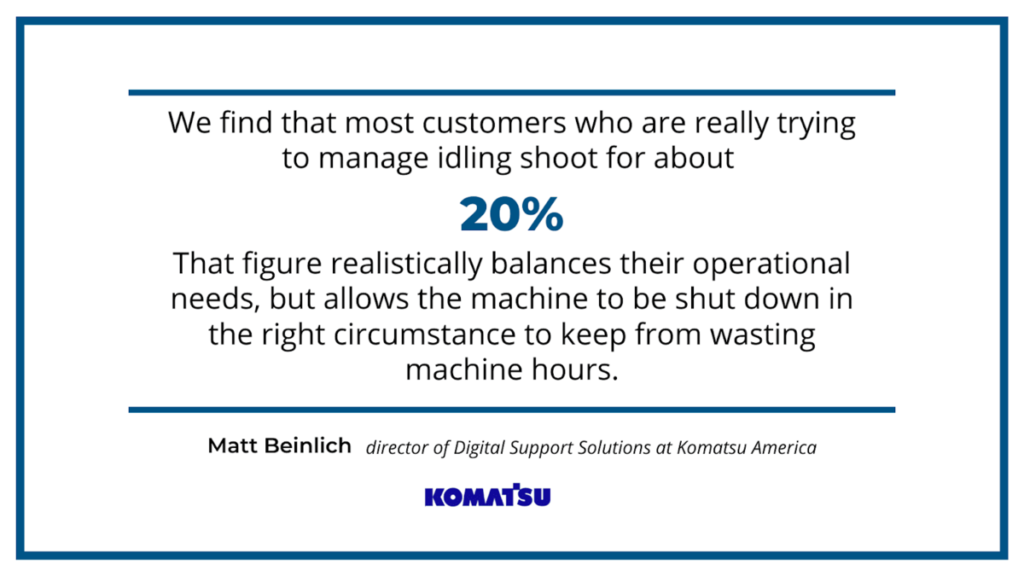 Basically, if you overwork your assets, it can lead to maintenance costs greater than their output.
Asset management software allows you to track the assets' condition, maintenance history and productivity.
If you see an uptick in maintenance issues and a drop in productivity, while maintaining the same work hours, you probably need to give that asset some rest.
Ultimately, a digital asset tracking solution allows you to access and analyze data relating to asset productivity and utilization, and use it to create a realistic roadmap towards greater operational efficiency for your business.
Conclusion
For businesses reliant on assets to produce or perform services, managing those assets encompasses a wide variety of tasks and responsibilities.
Managers are in charge of making purchases, creating inventory lists, analyzing data, scheduling maintenance and performing regular audits, all of which can add up to be quite exhausting for most.
If you are one of those managers, it's important you at least consider investing in asset management software.
Its data-handling and automation features will significantly speed up and streamline every part of the asset management process.
In turn, you will gain time to plan, implement and improve upon new management strategies, leading to a more productive and successful business.