Buying used construction equipment is a smart way to save money for necessary tools. However, doing so can also result in some unwelcome surprises that you should be wary of.
For instance, the equipment can have invisible structural damage from not being used properly or fewer working hours left in it than expected, turning out to be an unnecessary drain on your resources.
How can construction professionals minimize the risks of purchasing used equipment?
This post will explore the many ways you can safeguard your company against buying poorly used or even entirely inappropriate equipment for your projects.
Understanding what you need from your construction items, and consequently, what to look for on the used equipment market will enable you to make the best choice for your company.
Determine the Purpose/Application of the Equipment
Before launching into the particulars about which specific item you'd like to add to your fleet, it's important to first clarify what you want from the equipment.
You must determine its purpose as well as how you will use it. Here are some questions to ask yourself while considering what kind of item to purchase:
What exactly do I need it to do? For example, do your pending projects require a backhoe, a loader, or something else?
Is a multifunctional piece of equipment a better investment?
How long do I expect to use it?
What is my budget?
Do I need to add attachments to it? If so, which ones?
Is it worth it to obtain financing, or should I save up and pay cash?
What is the heavy equipment market like for the item(s) I need?
What are my plans for the future of my operations, both short-term as well as long-term?
As you can see in the infographic below, the heavy construction equipment market is expected to rise steadily in the coming years.
This is because construction companies seek to find access to reliable machinery while avoiding undue costs that sometimes come with buying expensive new items.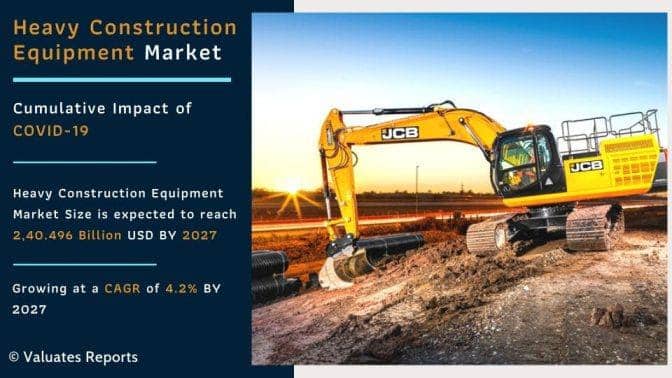 Consider whether or not you might need to upgrade your equipment in the future, allowing for changes in technology. Think also about whether these technological upgrades are truly able to assist you in your work, or are they merely flashy?
Once you've examined the purpose of the "new to you" equipment, think about the scope of your company and how you will most efficiently and effectively employ the item you purchase, based on the projections available.
This information can help you narrow the scope of your search. 
To begin with, consider how many operating hours you plan to place upon the newly-obtained equipment and determine the best balance of power, size, durability, and efficiency to meet your needs.
For instance, here is how much annual use the most common types of construction equipment typically see.
Will the used equipment you buy be able to keep up with that demand?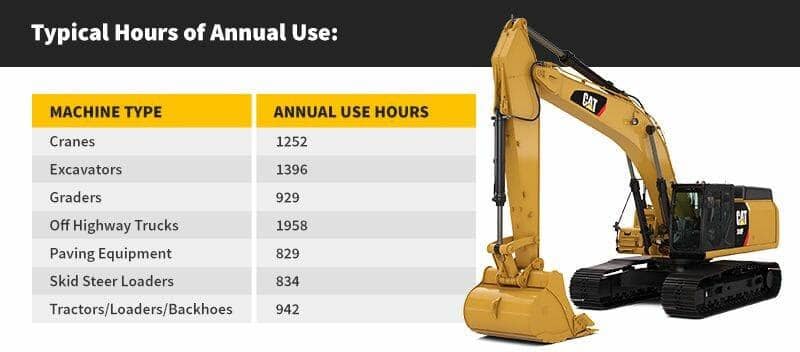 What needs can it meet that your current equipment does not?
Next, think about whether the new addition to your fleet will require any specialized parts or labor.
Finally, you have to have an idea of the costs of its upkeep and preventive maintenance.
It's important to consider all these factors, including those specific to the ways in which your construction business operates, as well as how your employees might best apply it.
Know Your Worksite Conditions
Worksite conditions involve a great deal more than simply the weather to which your equipment is subjected.
They encompass everything from temperature extremes (summer to winter), amount of humidity, and exposure to saltwater or harsh chemicals, such as snowmelt, fertilizer, or acid.
When you have an accurate idea of the worksite conditions your used construction equipment is going to endure, you can form a more accurate projection of how long it might last without major repairs.
You will also be better able to tell how much preventative and regular maintenance it will require.
The inside of a piece of heavy equipment is just as vital as its exterior. The engine alone of major construction items requires a wide range of fluids to keep it working properly.
Temperature extremes can wreak havoc on these materials. Most heavy-duty construction items also involve hydraulic fluid, coolant, and lubricants, as seen in the image below.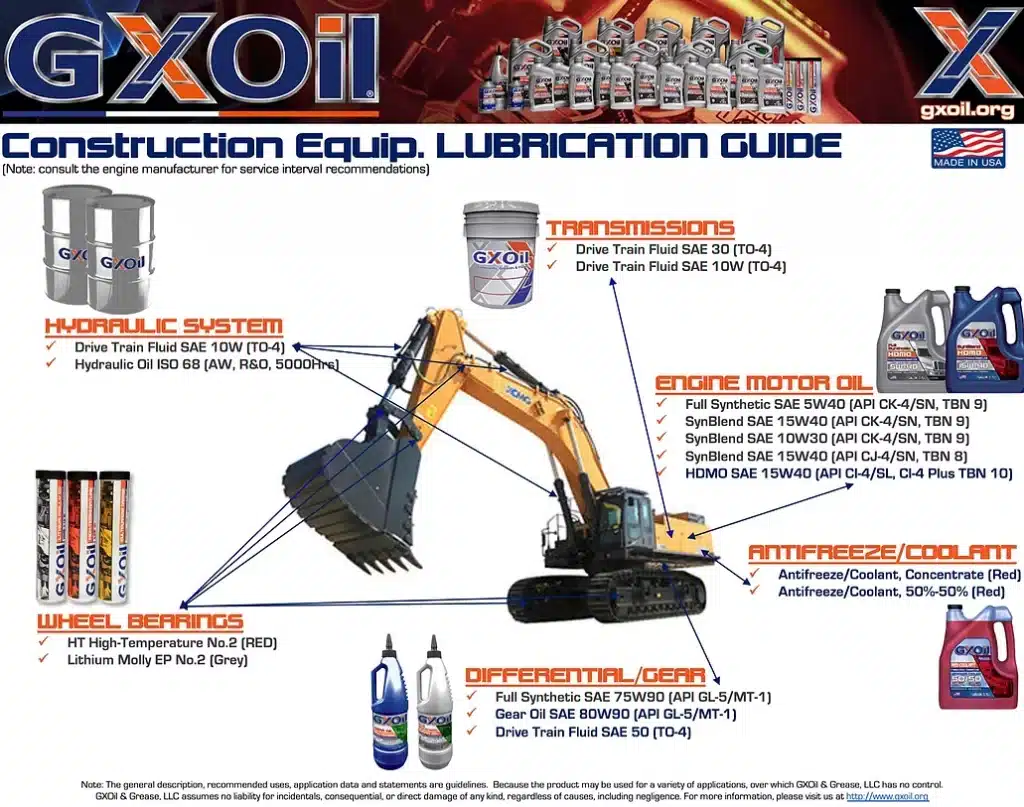 Ensure that your projected worksite equipment is appropriate for its environment.
The terrain is also extremely important. For example, if your company regularly works on projects in hilly or mountainous areas, it might be best to consider tracks for better mobility.
Wheels, on the other hand, are likely a better choice for more level areas. It is also important to take into account whether the machinery might face pooled water, deep mud, or ice.
Sometimes, equipment such as snow chains might be available to use as conditions warrant. 
Now think about the needs of the employees who will be operating the equipment. If the item will remain inside, remember that some equipment will still operate in conditions that are extreme or involve exposure to dangerous materials.
Depending on the circumstances, your used equipment might require an open cab or specialized safety additions.
Find a Reputable Equipment Dealer
Where you find your used equipment is as critical as what you ultimately buy. It might be your first instinct to search out private buyers through the internet or trade publications in the hope of finding a lower price.
Sometimes this can result in a better deal on your equipment, but it can also lead to frustration, not to mention the ever-present danger of becoming a victim of fraud.
In short, taking your time to search for private buyers balances increased risk with a lower price. 
On the other hand, reputable used equipment dealers might charge higher prices, but they can also offer what individuals usually cannot:
financing,
signed contracts,
traceable names,
and addresses.
They can also refer you to a reliable source for replacement parts, and even provide the extension of warranties. 
Large used equipment dealers might also offer certain guarantees such as dated inspections, provision of maintenance history, and preventive maintenance perks such as free oil changes.
In addition, some major heavy equipment lines run designated pre-owned sale programs. 
In spite of a potentially higher sale price, you will enjoy the benefit of having peace of mind when it comes to your used equipment.
Here are the most sought-after pieces of used equipment in 2020, according to Equipment World: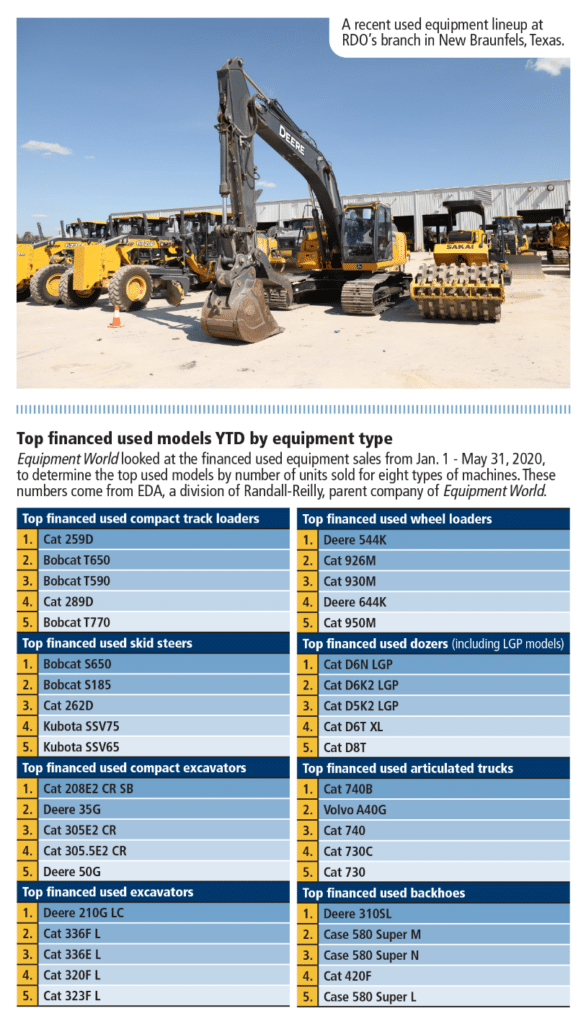 No matter who the seller is, it's important to realize how much the used construction equipment market was altered by the Coronavirus pandemic.
Not only have many large used equipment dealers taken sales to their own digital storefronts, but they now also post available items to worldwide auction sites.
In these cases, it's important to carefully examine who the seller is and to avoid anonymous accounts. 
Here are some red flags to watch for when seeking out used equipment:
No traceable names
Phone numbers to disconnected lines
Insisting on wire transactions or cash upfront
Unexplained gaps in communication
No reviews from other customers or lack of references
The seller asks to meet in a remote location
Refusal to allow an in-person inspection
Avoiding questions about maintenance or why the equipment is for sale
Depending on location, some buyers might find a good selection of equipment at local live auctions.
These events can provide a wide range of choices with the added benefit of knowing who the seller is, as well as a good idea of the conditions to which the items might have been subjected. 
Sometimes it's simply worth it to pay a higher initial price on used equipment when you find a trusted equipment source.
If you have discovered an identical item for $100 less than the competition, but retrieving it involves a journey of 700 miles and a transaction with an unknown entity, consider weighing the benefits against the extra cost.
Have a Checklist for Inspecting the Equipment
After you have located the right equipment seller for you and your company, come prepared to have a look at the item.
Doing some careful thinking ahead of time can help to ensure that you remember to check any important elements, without overlooking any warning signs.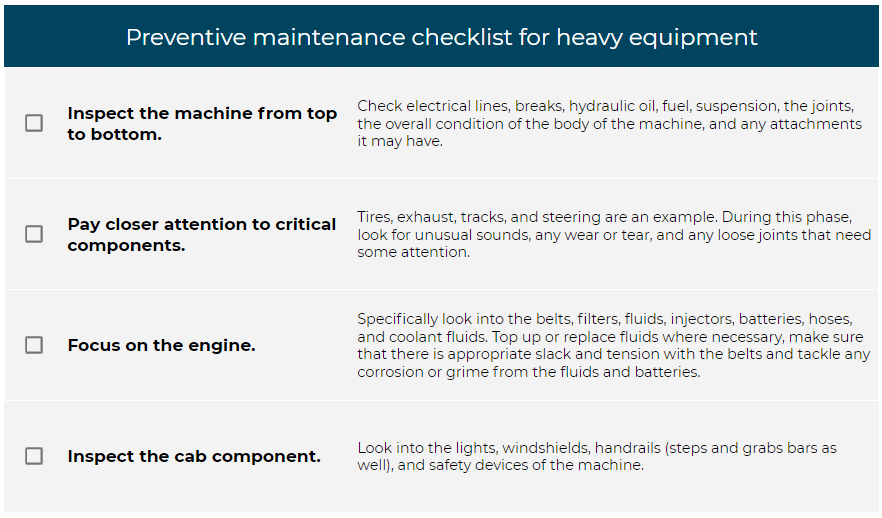 Sometimes it's easy to get too caught up in the outward look of the vehicles, so carrying a list of points to examine can help you determine the state the equipment is in more accurately.
In other cases, a checklist can remind you of what distinguishes the machine at hand from a similar item. Taking notes as you go is useful in keeping track of your search.
Here are some issues to look for as you examine the used heavy machinery:
Rust anywhere on the vehicle, particularly the undercarriage
Non-functioning equipment in driver's area
Recent repairs
Welding in undisclosed areas
Consistent fluid levels
Operating hours do not match reported time
Presence of smoke, unusual noise, vibrations, or odd odors
Thin tire treads
Remember to take a test drive or to ask a trusted employee or associate to do so. Run the machine at various speeds and try it together with its attachments.
Getting a second opinion from a trusted source can help you make informed judgments about the items on your checklist. 
Understand Equipment's Attachment Capabilities
Now is when the hard work you did assessing the purpose and application of your used equipment comes into play.
If you think that investing in attachments will expand your business and site capabilities, your needs are different from those that require only one kind of machine.
Consider the versatility and usefulness of each attachment. This also involves an assessment of your employees' skill level at handling them, including whether or not they are trained to use them in the first place.
In addition, if you already use certain attachments, it is important to confirm that the machine you're about to purchase can support them.
In the event you have decided to purchase some attachments along with your used machine, be sure to carefully inspect these as well.
Look for unusual welding, any damage beyond the usual wear and tear, or evidence of weak joints. Ensure that your machine can bear the weight and power needs of the attachments.
Below are some common types of attachments for construction equipment, courtesy of the Nebraska Machinery Company: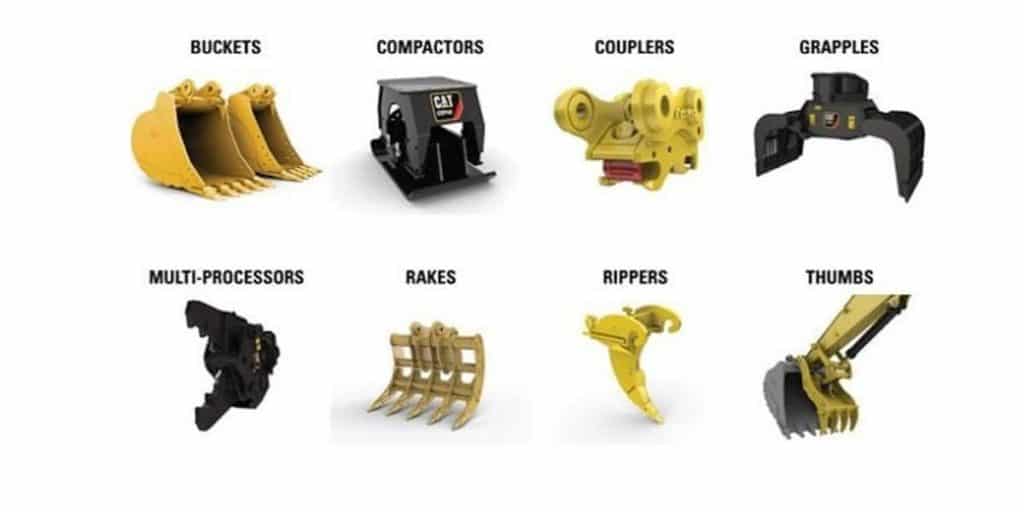 As you can see, attachments can run from buckets to grapples and rock rakes.
Nevertheless, while it might seem tempting to load up on all kinds of new potential add-ons, ensure they are in line with your budget, employee status, and physical capabilities. 
Working with attachments can require an entirely new field of knowledge and use of engineering. Attachments might use hydraulics, mounting hardware, computer systems, or licensed software.
All of these can quickly balloon budgets and safety considerations. While they might bring in cash flow with new ventures, their presence can increase costs as well.
Rental of attachments or even entire machines might be a better option for your organization than even used equipment if your use of these items is demonstrably light.
Conclusion
As you can see, there are many considerations when it comes to buying used equipment.
You have to determine whether the piece you're buying fits the purpose you intend to use it for and whether its previous level of use makes it suitable for your purposes. 
Then, you have to make sure that the used equipment in question can stand the environmental condition on the site you plan to use it in, as well as whether your employees are properly trained to handle it, as well as any attachments you may use with it.
All of this can be determined in consultation with the equipment provider, so it's important to find a vetted, reputable one. The provider will also be able to offer information on the item's maintenance history and future upkeep requirements.
Make sure to carefully inspect the equipment's overall condition, as this will contribute to how useful the item will ultimately be to you.
However, if you take all of these points into consideration, and look at your options carefully, buying used equipment will represent a worthwhile investment.