Do you know the amount of inventory your business has, whether it's in the warehouse, field, or office? You should. Keeping tabs on your inventory means protecting your investments.
Managing inventory is an essential business process, which, if not tracked properly, can hurt your bottom line.
Results of Poorly Managed Inventory
Here is how mismanaged inventory can harm your business:
Wasted time – Without sufficient asset management procedures, it's possible to experience theft, misplacements, and loss of tools.
When a device isn't where it should be, employees will spend time looking for it instead of working. They may also wait for someone to turn up with the equipment required to complete a task.
Unhappy customers – When you've got a project to deliver by a specific deadline, but some tools are missing; it might take longer to complete the task, as you'll need first to locate or purchase the missing equipment.
Customers won't be happy with such delays and may look elsewhere next time when they want a similar task done.
Increased overtime and labor costs – Any delays in completing a job can result in increased labor costs. Workers may need extra hours to complete the task at hand, and that's how overtime builds up.
In some cases, you'll need to hire additional temporary staff to beat deadlines. Hiring temporary staff can be costly as it may involve agency fees, high hourly rates, and job-specific training.
Dampened employee morale – Spending hours to track down a missing screwdriver, nail gun, or angle grinder can be a stressful activity for workers.
Work-related stress costs U.S. companies $30 billion annually.
How does this happen?
Stressed employees are not only likely to be absent, but they may also start questioning why they're working in such a company in the first place. And when they quit, organizations face additional costs to recruit and train new hires.
So, to avoid running into such problems and protect your investments, you should track your inventory.
Benefits of Inventory Tracking
Inventory tracking is essential because it does the following:
Reduces costs – Once you automate your inventory management, you can easily access the equipment you need and optimize processes and labor force for optimal efficiency.
Improves customer relationships – Customers are happy when you complete their project on time, and this is only possible when you can track your assets so that you have the right tool at the right place, at the right time.
Boosts employee productivity – Workers have more time to work on assigned tasks. They no longer have to waste time trying to search for missing or lost equipment.
When you place the commonly used tools and equipment in strategic places so workers can access them easily, they won't stress over looking for missing items. Instead, they'll concentrate on the work and complete it on time.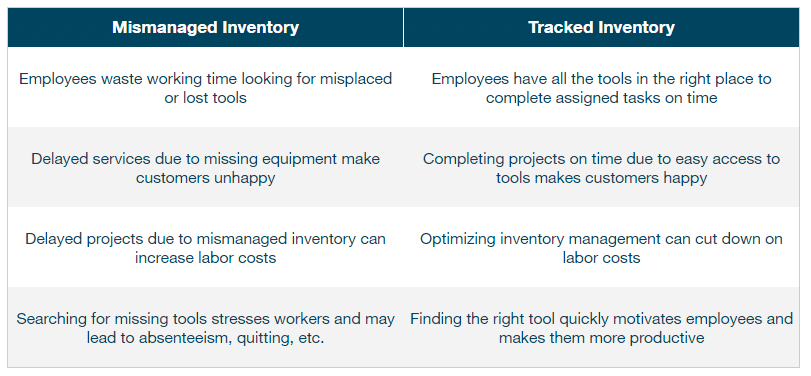 If you want to optimize your business operations, you just can't neglect to manage your inventory. But what are some of the best ways to track inventory?
#1 Label And Track All Asset Information
The first method for tracking inventory is to label your assets so you can track all information related to them. You can achieve this through:
List Product IDs and Add Descriptions
This includes assigning a unique item number, product code, or sequence number to identify each product and adding a description of what the product does.
The use of item numbers and short descriptions makes inventory management and data entry easy.
When labeling multiple products, this approach may not be ideal as it can cause errors and overlapping of numbers. That possesses a security concern as someone can guess asset IDs just by viewing asset information.
Use Unique Identification Numbers
To avoid the problems related to asset serial numbers, consider using a unique identification number with a random code associated with a specific product.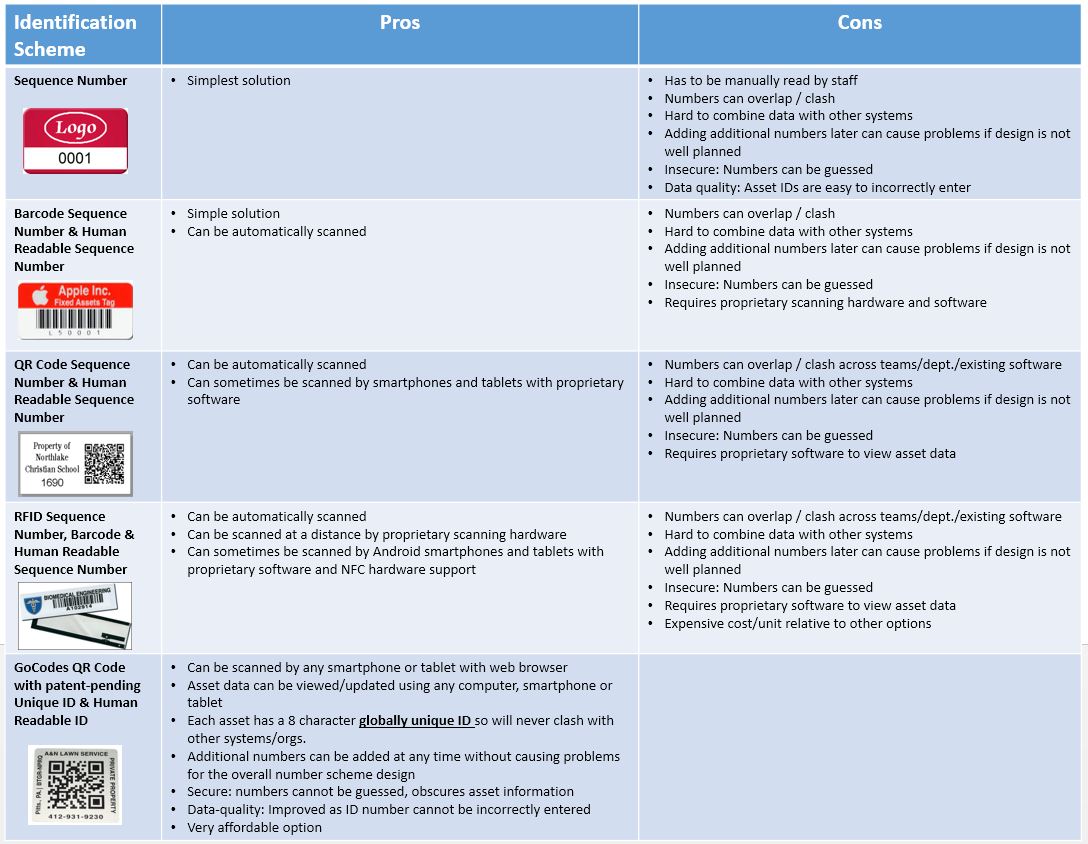 That way, you won't experience an overlap or duplicate ID problem even if departments or companies with numerous assets merge together. 
Asset Tags
According to reports, 30% of businesses are unaware of all the assets they own.
Imagine the possible problems this might cause, including over-ordering and equipment rusting away due to little to no maintenance or planned audits.
Asset tags come in to help organizations avoid such pitfalls.
Here are practical ways in which asset tags contribute to better inventory management:
Conducting effortless audits of machinery, tools, and equipment
Improvement the lifecycle planning of your assets
Monitoring the use and access of equipment by workers
Reducing manual documentation and human error
Planning regular calibration and maintenance procedures on assets to meet industry standards or warranty contracts
Providing managers with useful and prompt information for making informed decisions on capital investment
Reducing losses from stolen or misplaced items
For robust inventory-taking, it's best to invest in quality and durable tags along with barcode scanners.
The label material depends on the environment and application of the asset. Office equipment, computers, or furniture in a school, for instance, may require a vinyl or polyester label with a laminate coating.
On the other hand, durable metal tags are ideal for assets exposed to hard environmental conditions.
Examples of such assets include shipping containers, military UID labeling, manufacturing components and equipment, and industrial tools, parts, and equipment.
Use Barcode Readers
Most businesses overlook barcode scanners until inaccuracies start creeping into inventory records. A barcode scan isn't only quicker and more comfortable than manual data entry, but also minimizes errors and enhances data integrity.
When looking for a barcode scanner to tag your assets, it's best to ensure it's compatible with your inventory management software.
#2 Track Inventory Throughout the Supply Chain
Not all your assets will be at your company store or warehouse. Some may be in the repair shop, or en route to your warehouse, distribution center, or your business premises.
Since each purchase order is a significant investment and the transit times are longer when the goods leave the supplier, it's vital to know the amount of inventory the supplier has, the time it'll reach your warehouse, and when a worker is using the product.
Track Inventory Across Various Locations
Inventory management also entails tracking items on transit.
For a busy construction company, for example, keeping a record of frequently used tools can be a challenge.
Often, employees may require the same bundle of items to carry out projects in multiple locations.
An effective way would be to allow for easy check-ins and checkouts. 
Inventory tracking applications make this possible with a single click on a smartphone. This process motivates employees to manage tasks productively.
When you have hundreds of items coming in from the supplier and going out to the field for use, you need to track them.
Using positioning software, you can trace the movement of your items, each time someone checks them out for usage. As a result, you will locate your assets wherever they are and create active workflow opportunities for workers.
Add Locations For Each Product With GPS Tracking
Study shows that asset theft is one of the reasons behind lower annual profits for organizations.
Monitoring assets across different locations isn't easy, but a GPS tracking application could help your business to protect precious company assets against misplacement or theft. An added benefit of real-time inventory location tracking is increased accountability among staff.
GPS tracking devices aren't only useful for tracking vehicles; you can also use them to secure inventory when moving it from one place to the other.
A sound GPS tracking system allows you to trace the location of each item within a warehouse and monitor its motion at different sites.
If someone steals or misplaces the company asset, the GPS tracking system comes in handy to help find the missing asset and get it back within a short time.
Real-Time Asset Management Reduces Loss and Theft
Additionally, GPS enabled inventory software allows real-time management of assets, which in turn reduces asset loss and theft.
Hospitals, for example, spend colossal sums of money on medical equipment. But most of these assets are prone to theft, and it's also possible to misplace medical supplies from a hospital's inventory.
Tracking inventory in real-time can help hospitals and other organizations alike to prevent equipment theft and manage valuable items.
#3 Embrace Quality Control
Quality control is among the best practices in ways to track inventory that you should be implementing. It is a set of procedures aimed at ensuring that a manufactured item or performed service meets defined quality criteria or customer's expectations.
Equipment maintenance is one of the procedures that define quality control in most businesses with physical assets.
Having well-functioning tools and equipment not only ensures smooth and timely completion of tasks, but it also saves your business repair costs and time
But how do you keep track of the maintenance schedule for your assets when you've thousands of items in your organization?
That's what inventory software can help with.
Here's how inventory tracking can help with equipment maintenance:
Reduce Equipment Repair Times
Your inventory probably consists of hundreds of tools, small instruments, or even furniture. These assets require regular repair and service.
Not knowing which asset should go out for maintenance and at what time can be a hassle. Furthermore, the lack of records on asset maintenance can demotivate employees and slow down projects.
Luckily, having an inventory tool that tracks equipment depreciation lets you know when an asset is due for maintenance.
With that knowledge, you can take the equipment for maintenance or even replace it on time, so it doesn't malfunction or break when in use.
Track Checking In And Out, Location, and Users
Inventory tracking software helps you to know where a particular item is and who's using it.
Such knowledge helps to ensure that only employees with the relevant training and skills use specific equipment.
The outcome is not only high-quality service but also proper use of the machine to minimize damage and guarantee the safety of the person using it.
Additionally, the software makes it possible for users to upload photos to give you up to date insights on the condition of the asset every step of the way.
By using a tracking solution, predictive maintenance becomes smooth, which benefits your business in the following ways:
Lower maintenance costs – Timely maintenance may contribute to the reduction of the actual costs for labor and part replacement.
Reduced machine failures – Regularly monitoring your equipment's actual conditions can considerably lower the number of unexpected equipment failures.
Decreased downtime for repairs – Regular analysis and tracking of the state of assets helps to identify the equipment's faulty components, thus allowing the maintenance team to plan for repairs. Thus, the duration of the equipment repair will be shorter.
Reduced cost of spare parts – Pre-determining the defective parts that need repair ensures reduced repair costs and time. Instead of buying all the spare parts for active equipment just in case, companies have ample time to order spare parts as needed.
Improved operator safety – Prior warning of equipment problems lowers the possibility of equipment failures which might cause fatal injuries to employees.
#4 Prioritize Your Inventory
Certain assets in your company will need more attention than others.
Thus, you should define those assets and tools that are vital to your business and set maximum and minimum quantity levels for that critical inventory.
In other words, identify those assets that are most useful to your business operations.
Other than assessing asset criticality, you may want to evaluate the vulnerability of an asset to potential threats, such as storms, terrorism, sabotage, and more.
Assets that are both critical and vulnerable to threats need high priority in your inventory management.
Likewise, examine the possibility of failure and its impact on your daily operations. Give priority to items with the highest potential of failure and the most significant consequences resulting from it.
To decide which assets are highly critical/vulnerable, keep the following points in mind:
Location – proximity to hazards
Cost of repair
Asset materials or construction characteristics
Impact of failure
Environmental, legal and other expenses related to failure
That's one way of categorizing assets. However, categorize your inventory based on criteria that make the most sense to your company structure and needs.
Here are a few ideas.
By Stage
Manufacturers, for example, can categorize assets according to production stages:
Raw materials – Components and materials scheduled for making a new product
Work in progress – Materials and components transforming into finished products
Finished goods – Products ready for sale or for use
Goods for resale – Returned products that the company can sell
By Location
For a construction company where most tasks occur at job sites, this categorization makes the most sense.
Due to the regular off-site use of equipment, list the tools depending on their current location.
For example, you may want to track where excavators and trawlers are operating at a given time.
By Department
Each business has various departments. To support its clients seamlessly, a telecommunication company can classify its equipment according to the department, such as HR, accounting, marketing, technical, and more.
By Function
Some firms may choose to bundle up their equipment according to functionality. According to this distribution, assets may fall under subdivisions, such as glassware, plastic ware, furniture, and lighting equipment.
By Lifecycle
Assets have different life spans, with most depreciating as the years go by. When managing inventory, businesses usually categorize equipment based on their lifecycle.
Hospitals, for example, receive different medications and equipment daily. Some injections can expire in a day while some tablets can last a month.
To ensure inventory doesn't go to waste, most health facilities adhere to a strict procurement routine when storing products in warehouses.
By Year of Manufacture
Most tools arrive with the manufacturing year indicated at the back to help companies record them easily.
Typically, resellers can use this information to price different products. An automobile company, for instance, can list cars using this classification.
#5 Go Cloud-based and Make Inventory Tracking Accessible to Everyone
If your business still uses the inventory management application that requires installation on the users' computers, then you're missing on critical benefits associated with the cloud-based software.
Cloud-based inventory management refers to the use of cloud software to monitor and maintain the inventory levels of a business.
Whether your organization is based in one place or several places, cloud-based software will offer many benefits to your business.
Accessibility
Moving your firm's inventory data to the cloud means you can now access the information from your mobile device, whether you're at home or traveling to work.
Compared to installed systems, the cloud system can benefit a business in various ways.
It allows workers from a store in one location to access and edit inventory data of a different store in real-time using any device.
This process eliminates delays associated with manual transmission of data if a company was to go with an installed solution in different stores.
When everyone in the organization has the ability to access inventory data ensures that there's the transparency of information and processes, which promotes accuracy.
A cloud-based inventory solution also allows you to monitor inventory operations from your gadget and location so you can make strategic decisions.
Whether you run one business or several of them in various places, a cloud-based solution can help you to secure your inventory data, save inventory costs, and grow the inventory along with your business.
Find the Right Tool That Integrates Well with Your Business
Finding the right cloud solution for your inventory management is crucial.
When searching for the right tool, one of the critical factors to consider is how the application integrates with your company.
Most businesses use a plethora of software to carry out different operations. These programs should work together to enhance efficiency. That's why it's crucial to find a software solution that's compatible with other applications your organization uses.
If the inventory control software doesn't sync with the existing software, then it may not help much, but might end up adding to the workload.
The systems should work in unison, and if they can freely exchange data, then they'll streamline your business operations and save you tons of time.
Most importantly, ensure the tool is accessible from mobile devices so you can have a bird's view of your business inventory and make updates from any location.
Check for Essential Features
A quality solution for inventory tracking has a user-friendly dashboard, which provides robust functionality and a full view of the inventory.
Here are key features to expect from a top-quality inventory control application:
Mobile compatibility – If you take inventory with your tablet or smartphone, the results should synchronize automatically with the cloud. This doesn't only eliminate the inefficiency of paperwork but also simplifies inventory management.
Inventory data – You should be able to view different items in the inventory at a glance, such as their location, cost, scheduled maintenance, and so on.
Triggered notifications – Receive emails or text messages when scheduled appointments and tasks are due.

Robust reporting – Access and download reports that address various asset management tasks. The tool should also allow you to design custom reports according to your needs and share them with other employees.
Conclusion
Inventory tracking is the lifeblood of your business. Without it, you could waste time, demoralize most workers, and even lose customers.
But by embracing ways to track inventory, you'll experience better productivity, lower costs, and strong relationships with customers.
To find effective ways to track inventory in your business, you can label your assets and track product information, use GPS features to track items across the whole supply chain, leverage a cloud-based software that lets you categorize your assets as you see fit, and so on.
All this is possible if you pick the right inventory tracking tool that suits the needs of your business.