Considering how many valuable tools and equipment construction companies use in everyday operations, it's no wonder that proper maintenance is among their top priorities.
For this reason, many companies turn to equipment maintenance software as the most efficient way to organize, schedule, and track their maintenance activities.
However, when a construction company owner or manager sets out to find the right maintenance software for their needs and budget, they're faced with seemingly countless options.
That's why we've selected seven top equipment maintenance software solutions, highlighting what they're best suited for, along with their key features, differences, and pricing.
GoCodes
Before we start, it should be noted that this list is impartial, and the software solutions are presented in no particular order.
Additionally, for the sake of transparency, we'll describe our equipment tracking software, GoCodes, first.
GoCodes is a complete barcode-based tracking solution that lets companies track the location, usage, condition, and maintenance of construction tools and equipment.
The same system can be used to track spare parts, materials, and supplies needed for regular maintenance, as well as manage maintenance work orders and other documents.
The GoCodes package includes cloud-based software (available on any internet-connected device), an in-app scanner (available on smartphones and tablets), and patented QR code labels (scanned for tracking and management purposes).

When QR code tags are affixed to equipment and the software is installed (with a scanner app for mobile devices), this system gives rise to numerous features, including those related to managing equipment maintenance.
For example, the equipment manager can schedule future maintenance tasks for a specific asset, assign it to a particular service technician, and ensure they're automatically notified by the app alert and via email.

Likewise, the assigned technician can use the GoCodes app to access specific info about their maintenance task (e.g., oil and filter change) and the equipment they're servicing (e.g., repair and maintenance history, mechanical condition).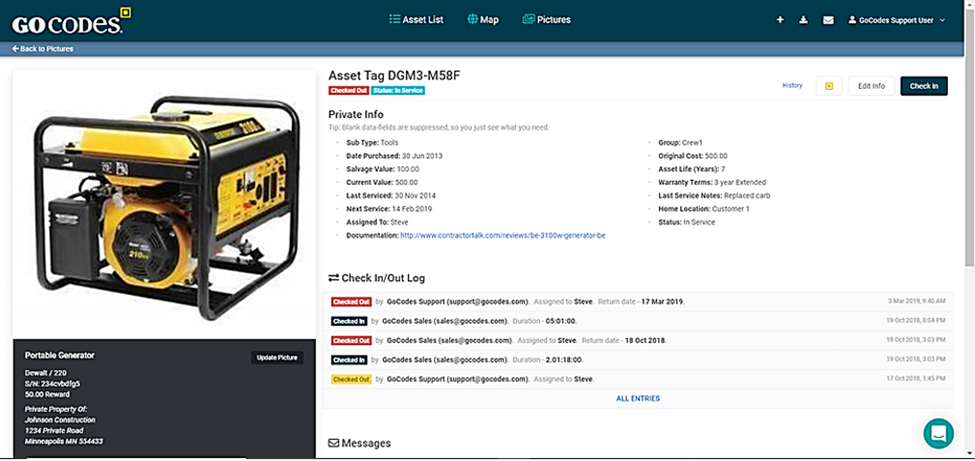 Once their task is done, they can use the app to report its completion, add comments and attach pictures.
At the same time, managers can monitor the performance of tasks, schedule future assignments, and quickly reschedule in cases of unplanned maintenance.
Finally, the staff can use GoCodes to track inventory like spare parts and supplies and receive automated low inventory alerts, thus ensuring service technicians have everything they need to do their job.
Outside maintenance, GoCodes focuses on reducing equipment theft and loss and improving operational efficiency by employing two powerful features shown here.
As you can see, GoCodes automatically records the equipment's user and current location when its tag is scanned.
These two features give construction companies the visibility and control needed to increase worker accountability and prevent equipment theft, misplacement, and negligent operation.
Concurrently, GoCodes enables companies to streamline their equipment maintenance with the help of other features like maintenance scheduling, automated alerts, and work order management.
Although this tracking system can be used in various industries, GoCodes is primarily designed for construction trades and is often cited as "Best for Construction Companies."
The main reasons behind such high praise are GoCodes' ease of use, simplicity, and affordability, which leads us to pricing.
GoCodes is subscription-based, with an annual fee charged for easily upgradable pricing plans and a 15-day free trial.
Here are the pricing tiers according to the number of assets and users, where it should be pointed out that the standard plan doesn't include custom tags, but self-printed labels.
For instance, the most popular plan—Premiere Elite—includes tracking and management of up to 1,000 assets by ten users for less than $150 per month.
In conclusion, GoCodes is a user-friendly and cost-effective solution for construction companies that utilizes GPS-enabled QR code labels to track the location, usage, and maintenance status of their equipment.
Ultimately, the features provided by GoCodes enable you to streamline equipment maintenance and lifecycle management, lowering operating costs and raising overall productivity.
eMaint
eMaint is a comprehensive computerized maintenance management system (CMMS) that provides clients with the tools needed to plan, track, and optimize all asset maintenance operations.
As such, eMaint focuses on the heart of any successful maintenance program—work order management—which is supported by asset and inventory management.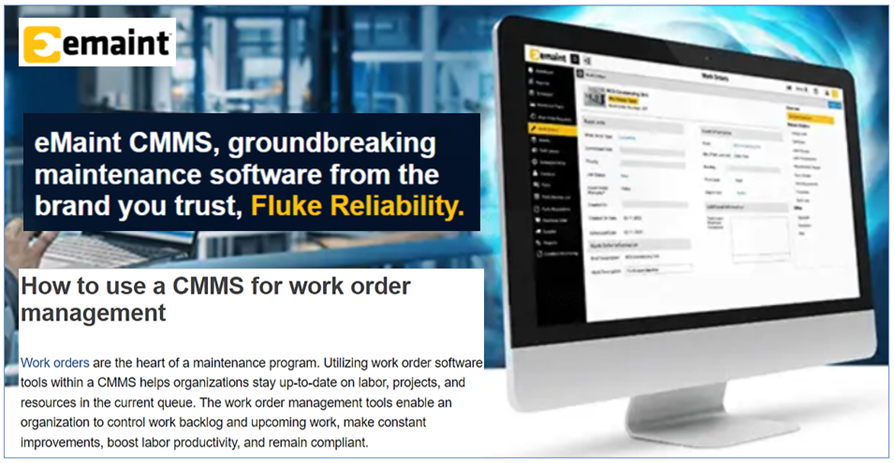 When these three core management functions are combined, companies can manage all work order requests while tracking equipment performance and the availability of spare parts and other supplies.
In terms of hardware, this cloud-based software requires none (i.e., labels are self-printed).
More precisely, it has a barcoding feature that enables users to generate their own barcodes or QR codes that can be scanned to access specific data like the work order history, related spare parts, and much more.
As for pricing, eMaint is subscription-based, and you can request a free trial.
There are only three pricing tiers, as you can see below.

For example, three users would cost you at least $255 per month (paid for one year in advance), with the price rising with the number of users.
If you want five or more users and additional features like a multi-site toolkit, that will require a custom quote.
As said, eMaint's primary focus is on digitizing all maintenance operations, from creating work requests and work orders to scheduling tasks and tracking inventory, meaning it can be used across many industries, including construction.
However, it lacks the specific focus on tracking equipment in construction environments, so you'll need to procure durable labels elsewhere, and there is no automatic GPS tracking.
Fiix
Fiix is another all-in-one CMMS designed to help industrial companies streamline their maintenance operations.
Like eMaint, Fiix focuses on digitizing and automating the management of maintenance work orders.

At the same time, Fiix enables companies to track, control, and optimize asset performance (asset management) and ensure service technicians have the parts they need (parts and supplies management).
This is enabled by the Fiix software allowing companies to, quote:
Create, customize, and attach QR codes or barcodes to any asset, part, or work order. Scan them with a mobile device to instantly see asset information.
Like other software solutions presented here, these functions are supported by other useful features, such as integrations with other systems and analytics and reporting.
These features allow you to connect the software to other hardware and software systems your company uses.
However, Fiix offers integrations only as part of their Enterprise package (custom pricing), while advanced reports and analytics are part of their Professional package ($75 per user per month).
Here are Fiix's pricing tiers, including a free version.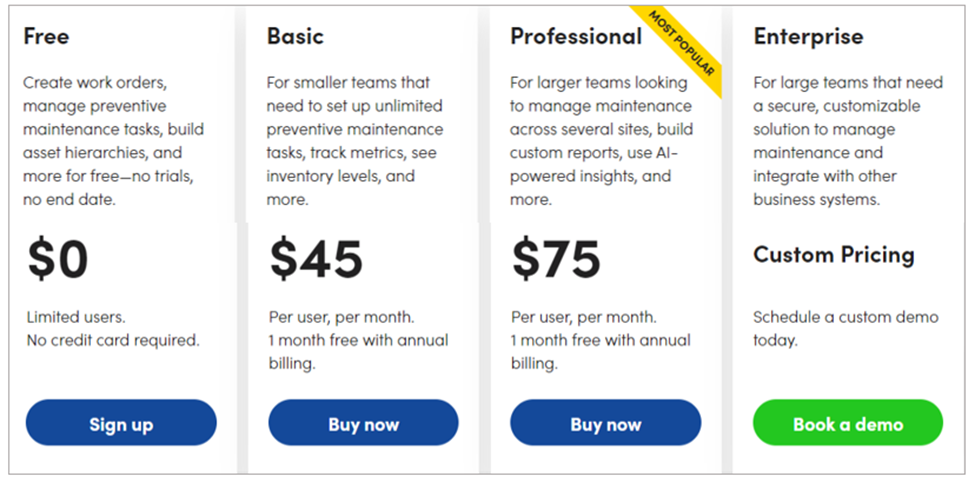 For comparison, three users of the Professional tier would cost $225 per month and somewhat less if you paid for one year in advance.
Overall, Fiix is a great solution for manufacturing, oil and gas, facilities, and warehousing-distribution companies looking to streamline their equipment maintenance processes but lacks a more specific focus on construction assets.
Fleetio
Fleetio is a cloud-based fleet management software that enables companies to maintain and manage their vehicles and equipment throughout their life cycles.
In other words, Fleetio provides companies with a single platform for fleet maintenance, inspections, cost tracking, work orders, asset assignments, parts and inventory, and fuel management.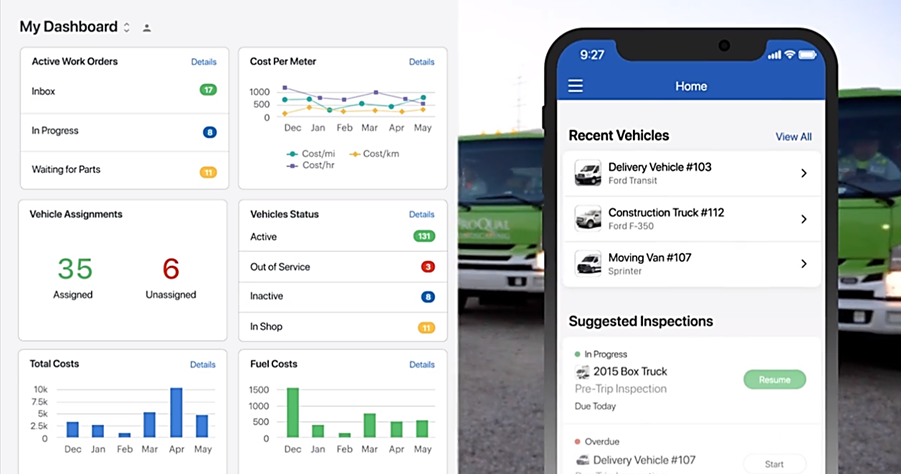 For real-time tracking of vehicles and equipment, Fleetio can be integrated with various GPS trackers and built-in or installed engine sensors.
As for tracking spare parts and small tools and equipment, it supports barcodes, QR codes, and NFC tags.
However, when the maintenance of vehicles is concerned, no labels or trackers are actually needed.
Instead, Fleetio's VIN decoder can be used to automatically populate the software's central database with essential vehicle information and build your fleet maintenance database from there.
As said, Fleetio is a complete fleet management solution, meaning it covers every aspect of vehicle and equipment maintenance, as well as much more.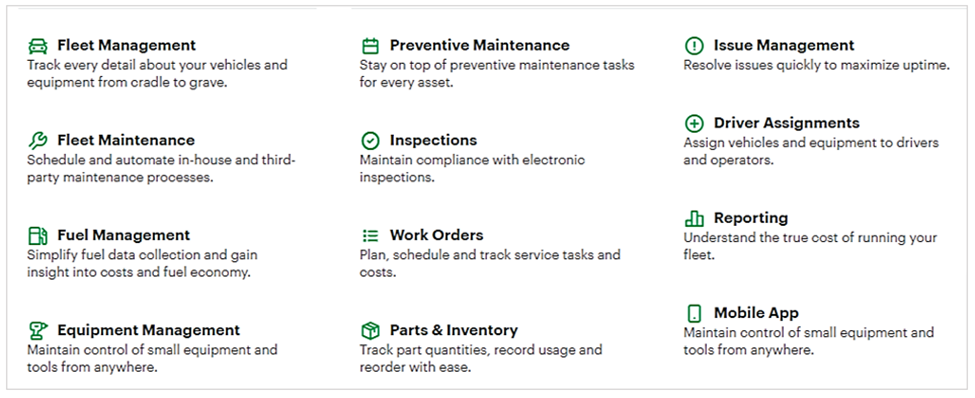 When pricing is concerned, Fleetio bases its offer and pricing levels on the number of vehicles your company has, starting with a minimum of five vehicles.
For example, companies that want to centralize their fleet data and automate outsourced maintenance can opt for the Pro tier, which costs $5 per vehicle per month, billed annually.
However, companies that handle maintenance in-house (including work order management and parts and inventory tracking) will need to get the Advanced tier priced at $7 per vehicle.

It's clear from all the above (and its name) that Fleetio is intended for companies with an extensive fleet of vehicles and equipment, including driver assignments and fuel management.
This means Fleetio may be well-suited for construction companies that want to automate their vehicle and heavy equipment maintenance operations while enabling them to track parts, supplies, and smaller assets.
However, companies with fewer vehicles and more small and medium-sized construction equipment requiring regular maintenance might find vehicle-based pricing confusing.
Fracttal
Fracttal is another CMMS that provides companies with comprehensive control of their maintenance operations, mobility, and interoperability.
The basic principle for establishing an effective maintenance program is similar to other solutions, i.e., cloud-based software acts as the central depository of all data relevant to asset maintenance.
This is paired with physical and/or digital scanners/readers that can read QR codes or NFC tags attached to equipment.
In this setup, Fracttal provides all the standard maintenance-related features like asset, inventory, and work order management.

However, Fracttal also offers a range of external sensing devices that can be attached to equipment and used to track any number of maintenance-relevant parameters such as operating hours, vibrations, critical electrical variables, fluid levels, etc.
Here's an example.

Naturally, these sensing devices are charged separately, and their cost is not included in the price of Fracttal's service packs.
It's worth noting that Fracttal is a company based in Spain, and the entire software package is also available in the Spanish language.
That's also why their prices are shown in euros.

Putting their free, bare-bones version aside, the Starter package for up to five users will cost you about $250 per month.
Alternatively, the Pro package that includes up to 10 users is priced at just under $600 per month when billed annually.
To sum up, Fracttal is a mobile-first software solution that ensures end-to-end equipment maintenance and can be integrated with sensor-enabled devices.
Hippo CMMS
Hippo CMMS is a flexible and user-friendly platform that delivers essential maintenance management features suitable for application in various industries, including manufacturing, facility management, healthcare, and hospitality.
Although not primarily focused on construction asset maintenance, its components can be easily adapted for such purposes.
Like all other top solutions listed here, Hippo CMMS is cloud-based, i.e., available on any internet-connected device.

Likewise, the Hippo CMMS platform offers all the features needed to reliably plan, schedule, monitor, and report on maintenance.
In their words, this means you can:
Generate, assign, and track work orders, control inventory, and get reliable automated reports that improve visibility and create accountability.
Another similarity with other solutions is the fact that this one also uses barcodes for asset and inventory management.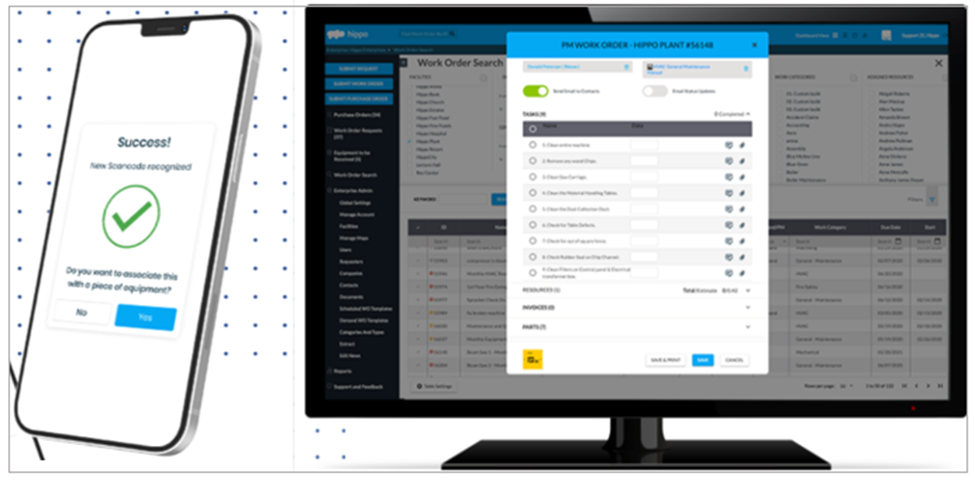 As for how much this would cost you, Hippo CMMS does not provide specific prices. Instead, you can contact them and request a quote.
However, according to Trust Radius, Hippo CMMS offers three pricing plans:
Hippo Starter: $35 per user per month
Hippo Plus: $55 per user per month
Hippo Pro: $75 per user per month
As per the available sources, the mid-price package, Hippo Plus, covers up to 100 registered work requestors (who can only submit work requests) and 1,000 equipment items and includes at least two authorized users.
This means that, for example, five users would cost $275 per month, and ten would cost $550.
Although not explicitly focused on construction, Hippo CMMS is a user-friendly, all-in-one maintenance management solution suitable for any asset-heavy company with equipment maintenance needs.
UpKeep
UpKeep is another popular CMMS platform designed to centralize all maintenance information and optimize maintenance operations.
UpKeep uses the same principle as other solutions, i.e., comprehensive, cloud-based equipment maintenance software supported by self-generated (or pre-ordered) barcode or QR code labels that enable asset and spare parts tracking and management.
However, UpKeep also goes beyond CMMS and offers an extension of these functions, namely an Asset Operations Management (AOM) platform.

According to their website:
Asset Operations Management unites maintenance, operations, and reliability data to help teams make important business decisions, with full visibility across the entire life cycle of maintenance, asset management, and operations.
Without going into specific features we've already covered elsewhere, it's enough to say that this solution has all the necessary components for complete control of your equipment maintenance processes.
Here are UpKeep's pricing plans.

For instance, if you wanted to manage work requests and orders, have access to advanced analytics and reporting, and enable electronic signatures, five Professional users would cost you $385 per month.
Their most popular pricing plan, Business Plus, includes all available features, but its price is quote-based.
As with most other software listed here, UpKeep is intended for any organization with maintenance needs, including construction companies.
All in all, UpKeep is a user-friendly equipment maintenance platform whose features include everything companies need to digitize, centralize, automate, and streamline their maintenance operations.
Conclusion
To summarize, the software solutions described here (and others on your shortlist) should be assessed against your specific equipment maintenance needs and budget, particularly in light of what features will actually be used.
This should be followed by evaluating the software's ease of use (including system setup, training requirements, and customer support) and affordability.
Finally, the right equipment maintenance software for your construction company should allow you to improve overall maintenance practices, increase worker accountability, minimize costs, and maximize profitability.