Hand tools and small power tools—like hammers, wrenches, socket tools, impact drills, chainsaws, or air compressors—are often targets of thieves because they're easy to carry and allow for quick resale.
And this trend is on the rise.
As a result, the construction industry is losing millions of dollars each year on stolen equipment and tools.
And even though the value of stolen goods is often top of mind, there are always additional expenses resulting from tool theft that further worsen the situation.
Namely, tool theft leads to project downtime that causes costly project overruns, lost onsite productivity, and halted progress.
To protect your tools and your business, you'll have to devise a plan and take immediate action.
Implementing a few precautionary measures and making reasonable tech investments can go a long way.
So, here are several tips to get you started.
Track Your Tools
Knowing where your tools are and keeping them safe should be a top priority, and one of the easiest ways to achieve this is through a cloud-based asset tracking solution.
It can enable you to consistently monitor your tools and equipment as they are dispatched to the field.
For instance, the solution we developed here at GoCodes uses GPS technology that allows you to track high-value tools on any device, whether a smartphone, tablet, or desktop computer.
It operates by affixing QR code labels and tags to your tools or toolboxes.
When scanned, the asset tag transmits the tool's location to the tracking software, providing you with an overview of where your tools are at any given moment.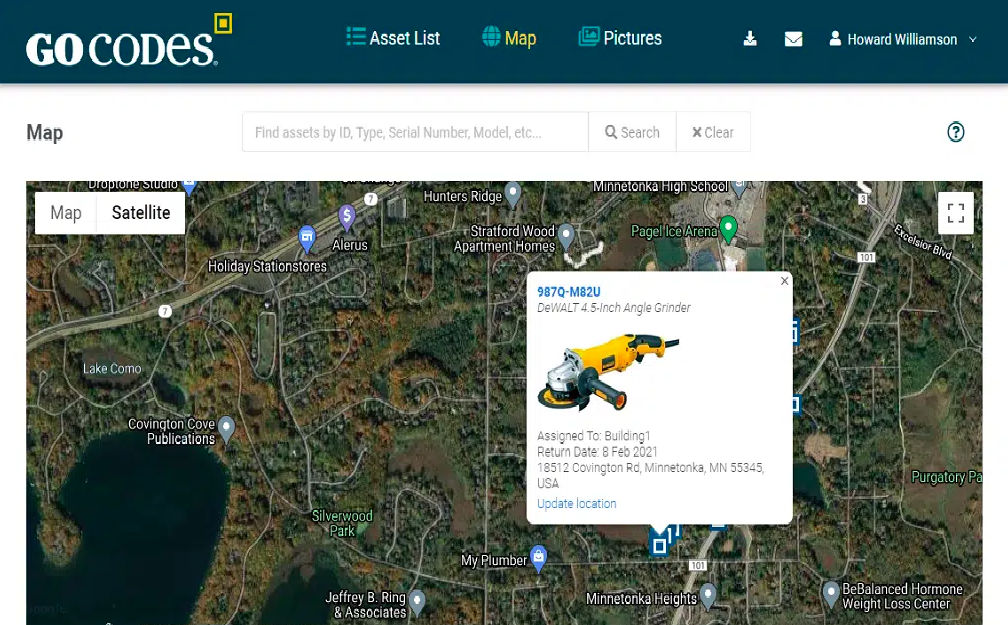 In case of theft, you will have an insight into the tool's last known location.
You can share this information with law enforcement when filing a police report, aiding them in their investigation and increasing the chances of tools being retrieved.
What is more, visibly positioned tool trackers serve as a deterrent to thieves.
Once they realize your tools have them, thieves are more likely to abandon them.
After all, they cannot afford the extra time to remove the trackers on-site and risk being caught.
Also, chances are they'll choose to avoid the possibility of being tracked as they head home with the stolen items.
In essence, tracking your tools can not only help you locate them if they're stolen or missing but will also prevent opportunistic thieves from trying.
To safeguard your tools and equipment, and have peace of mind, consider investing in modern technology—it has the potential to save you in the long run.
Store Your Tools in a Locked Toolbox
Preventing theft is way simpler than the hassle of replacing everything, even with full insurance coverage.
Therefore, keeping your tools out of sight is always a good idea, because if they can't be seen, they are less likely to be stolen.
At the end of the day, whether you are leaving your tools on the construction site or in storage, make sure to lock them up in a secure cabinet or attached locked toolbox, away from the view of potential thieves.
Tool thieves are aware of their limited time to break in and grab what they can.
Your task is to make them invest more time and create more noise, thwarting their attempt to get hold of your tools.
However, if you store your tools in your work truck, never leave them in the back seat. They will be gone in a blink of an eye.
Lock them, instead, in the trunk or—even better—invest in a truck toolbox.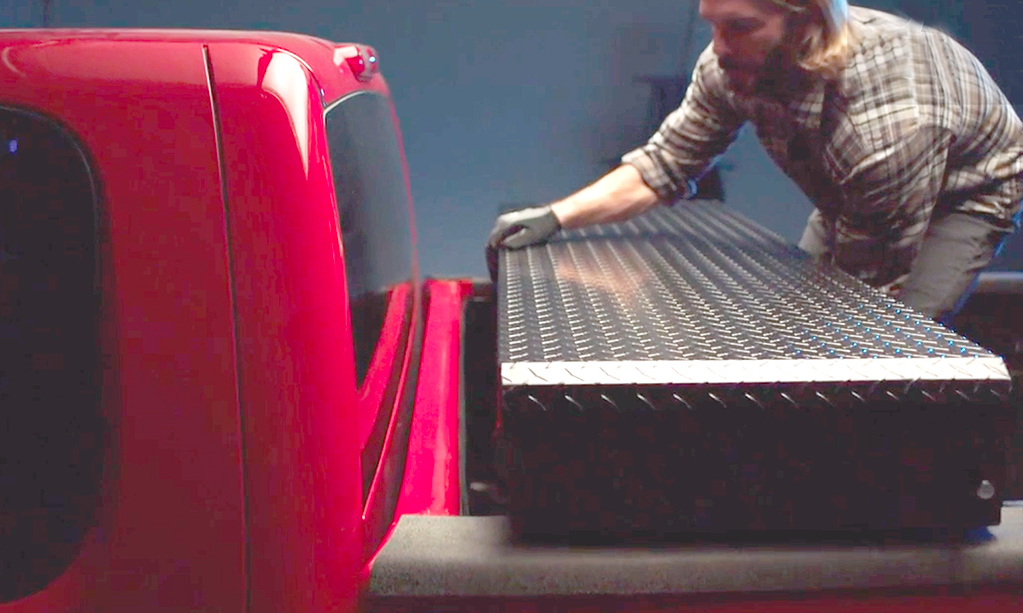 A truck toolbox enables you to store and access your equipment quickly and effortlessly.
But, most importantly, it will spare you from the trouble of losing your tools in the first place.
Use Asset Tags
Taking precautions to safeguard your tools doesn't completely eliminate the risk.
Unfortunately, tools still get stolen.
If this happens, the first thing you should do is file a police report.
But, despite the police recovering tens of thousands of dollars worth of stolen tools every year, there are instances where they simply cannot return them.
This is either because they don't know to whom they belong, or because owners have no proof that the tools are actually theirs.
Therefore, it's crucial to mark your tools with identifiable information.
In this regard, asset tagging stands out as the most convenient solution.
As discussed above, asset tagging is a common tool-tracking method that entails attaching a physical tag to a tool or piece of equipment.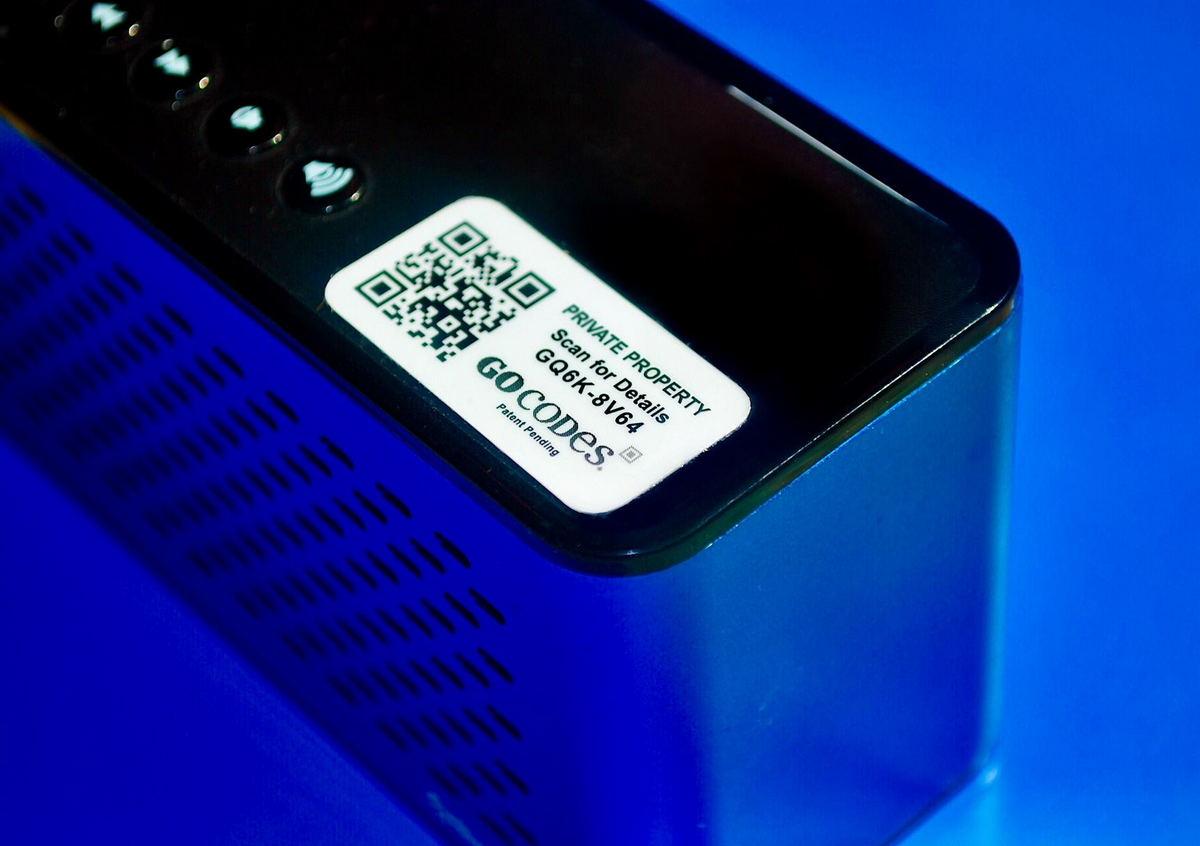 The rugged asset tags provided by GoCodes contain a QR code as a unique identifier.
It can be easily scanned with a smartphone and monitored by a digital tracking system to provide real-time information about the location and status of tools and equipment.
These tags are made either from metal or tamper-proof materials and can be attached to both indoor and outdoor tools and equipment.
Moreover, they are customized for your company, featuring your logo and company name, which makes them harder for thieves to resell.
Strong adhesives will also secure the tags in place, preventing thieves' attempts to damage or remove them.
Essentially, by tagging your tools you're letting thieves know that they are monitored and trackable, which will instigate them to give up on trying to target you.
Carry Fewer Tools
Construction workers and tradespeople too often store their entire toolkit either in their vehicles or on-site, increasing the chances of tools being targeted by thieves.
A practical approach is to provide your workers with smaller, portable toolboxes for field use, and advise them to store larger and more expensive tools at a secured warehouse or storage facility when not needed for the day.
Encouraging your workers to carry only the essentials reduces the likelihood of a more massive robbery.
Workers should check out the toolbox they are using and keep it under constant supervision to minimize the risk of theft.
The essential factor in all of this is the participation and commitment of your employees.
So, make sure you keep them motivated to follow these guidelines.
Also, every team member should be aware of the established procedures for reporting and documenting any losses due to theft.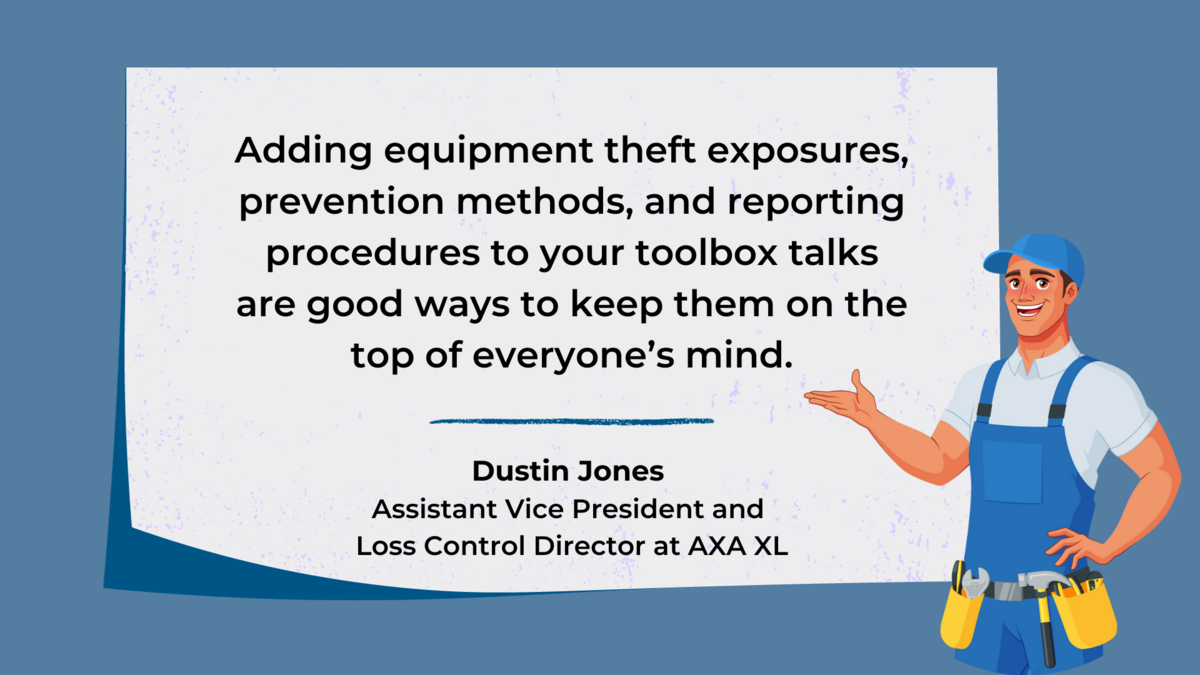 In essence, prioritizing tool selection not only streamlines daily tasks but also safeguards valuable equipment, ensuring a more secure and efficient work environment.
Invest in Smart Padlocks
To add an extra layer of tool security, you may consider switching from regular key-based to smarter, software-enabled padlocks.
Smart padlocks are locking devices that enable keyless and remote access.
They come in various shapes, sizes, and materials, and serve for both outdoor and indoor applications, including toolboxes and lockers, facility doors, and gates.
This innovative padlock solution is designed to be controlled using an app on your smartphone or via Bluetooth device, and can only be opened with a registered fingerprint or PIN.
Otherwise, they're tamper-proof.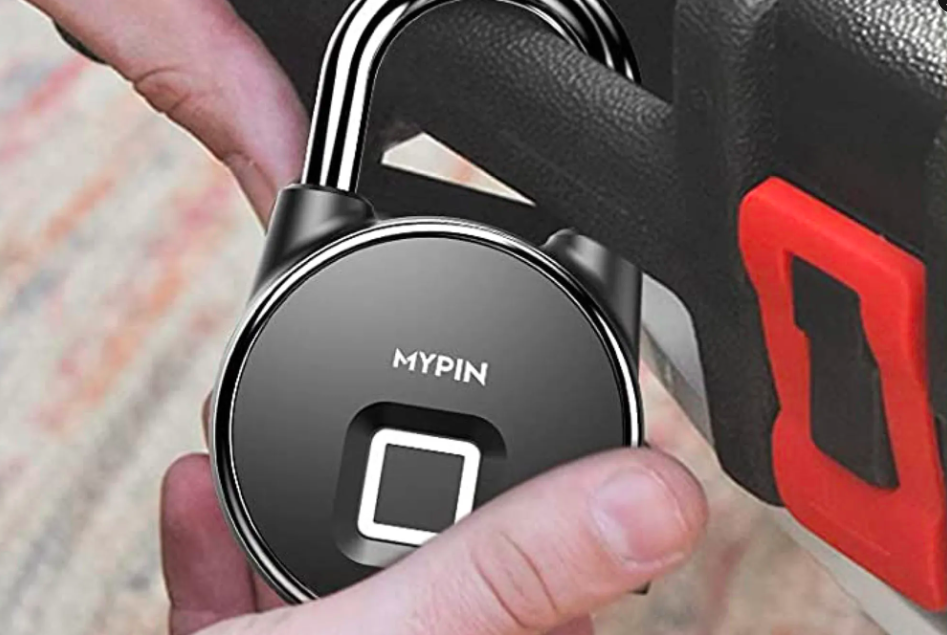 A smart padlock eliminates the need for keys which can be easily misplaced or combinations that can be suddenly forgotten, leaving your traditional padlocks unusable.
In this case, fingerprints and phone apps offer more convenient alternatives.
Certain smart padlocks provide safety features that monitor both successful and attempted access, keeping you informed through a mobile app.
This allows you to quickly notify the police of any attempted theft.
For a minimal price difference, you can enjoy a modern upgrade to a traditional solution.
Increase Vehicle Security
Let's be real, many construction workers keep their tools in their vans or trucks.
Research shows that this isn't the best practice, though. Namely, in the UK, tradespeople's vans get broken into every 23 minutes.
On top of that, criminals have familiarized themselves with the practices of the construction industry and know when to strike.
Research conducted by the Great American Insurance Group indicates that approximately 90% of construction equipment thefts take place between 6 p.m. on Friday and 6 a.m. on Monday.
This suggests that extra caution should be taken to secure tools during the weekends.
Additionally, Direct Line reports that 28% of tools are stolen from vehicles.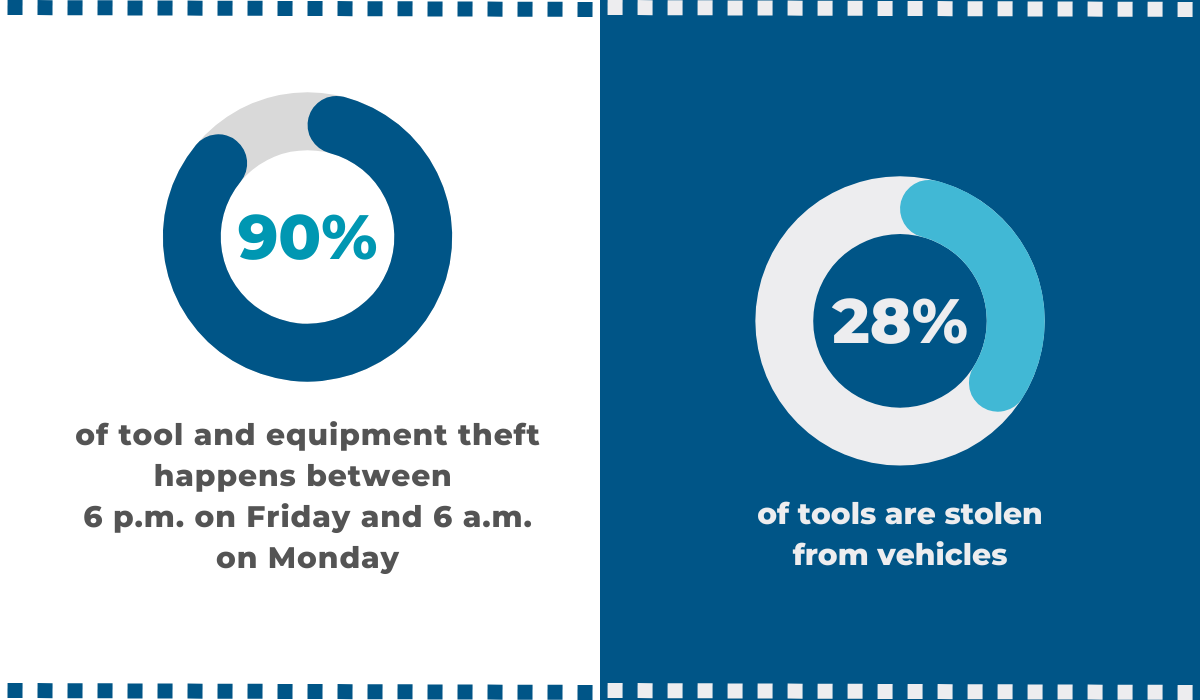 Not to mention, according to the National Insurance Crime Bureau (NICB), full-size pickups are the most targeted vehicles by thieves, making up more than 25% of the thefts reported in 2022.
Therefore, if your workers tend to keep their tools in a van or a pick-up truck, then you should seriously think about vehicles' security.
Common precautionary measures include parking with the back of the vehicle against a wall, in a busy or well-lit place, and as close to the worksite as possible.
However, the best way to protect your work trucks and tools is by investing in a truck alarm system.
They typically offer the option of confirming the system's arming status, as well as sending alerts to your phone if someone does open the truck door.
Regardless of the safety precautions you decide to take to protect your vehicle, the bottom line is—adding extra security pays more than taking up the risk.
Get Your Tools Insured
Considering alarming statistics of tool theft globally, it makes sense to prepare for the worst.
Our final tip is to get your tools insured and remember to keep receipts and take photos for a smoother claim process.
Include tools in your business insurance policy to guarantee their replacement in case of theft.
Also, make sure you thoroughly understand your insurance policy's wording so you know exactly what is and isn't covered.
For example, Insureon, a marketplace for online delivery of small business insurance, clearly lists what isn't covered by their Contractor's Tools and Equipment Insurance.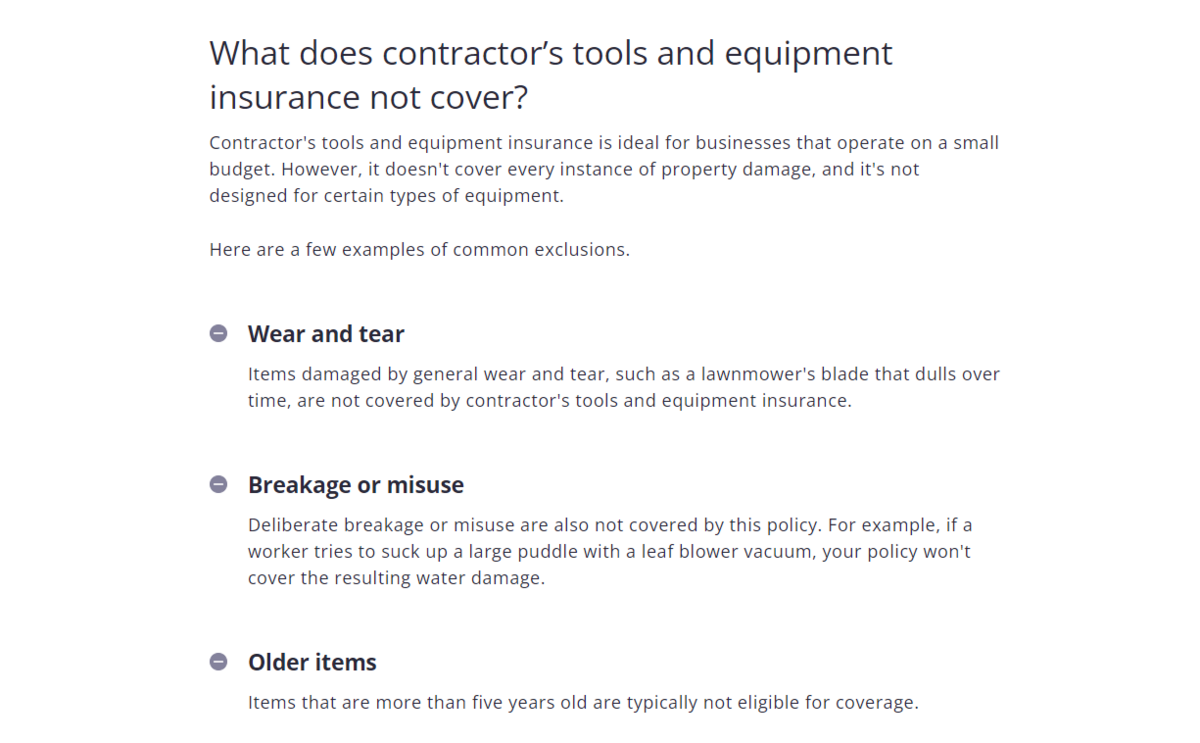 Additionally, make sure to carefully go through your insurer's policy details to understand the steps they expect you to take in minimizing theft risks, such as installing specific alarms on your van.
You might also qualify for lower insurance premiums if you have lockable toolboxes on your vehicle.
Conclusion
Despite your best efforts to safeguard your tools, there will always be thieves around waiting for an opportunity to snatch your tools.
However, this doesn't mean you have to become a victim.
If you get well organized, make smart tech investments, and be vigilant about it, you'll be able to protect your tools, your business, and your wallet.