Construction companies, by nature, have to manage a large number of tools that their workers need for their projects, often on multiple jobsites.
However, tool management entails numerous challenges, ranging from timely maintenance, to employee accountability and even theft prevention.
Nevertheless, using an efficient asset tracking system can assist a great deal in eliminating each one of these issues.
In this article, we'll delve into those challenges, and more, while also explaining how they can be dealt with.
Maintaining an Accurate Tool Inventory
If your construction company relies on manually tracking each tool inventory item on paper or a digital spreadsheet, it is extremely difficult to maintain an accurate count.
In fact, according to Powerhouse AI, errors in inventory cost the economy at large up to $1.1 trillion dollars every year.
In addition, just one mistake in shipping can cost a company anywhere between $50 and $250.
Over enough time and with enough shipments, this number can add up quickly—even to hundreds of thousands of dollars.
What is more, missed or erroneous shipments inconvenience team members, frustrate clients, and potentially even cause missed deadlines.
As this infographic shows, the cost of inaccurate inventory is so high partially because of the number of factors involved in correcting it:

The best option, then, is to begin or readjust your construction company's ability to build and maintain an accurate inventory count.
The cost of incorrect inventory numbers can snowball into even greater losses if your company hesitates to grasp control of this challenge with a customizable tracking system—or even an updated manual one.
After all, losing money to inventory errors can quickly and significantly impact profits.
Still, the obstacles and required time and labor to set up a by-hand inventory count system are overwhelming.
Conducting inventory by hand is notoriously slow and error-prone, not to mention expensive, as some companies must hire temporary help to undertake the inventory while regular employees tend to their duties.
The errors of the initial inventory count will quickly compound, because if an initial entry is erroneous, the incorrect sum will affect all relevant data regarding the item.
Maintaining an accurate tool inventory, or even putting an initial one in place, is far easier with a customizable asset tracking system like GoCodes.
Not only does GoCodes offer automatic asset tracking with a single scan of a custom QR code, but it does so using tablets or smartphones—tools with which employees are likely already familiar.
This eases training time and guarantees system universality.
Keeping Up With Tool Maintenance
Without a centralized system for assigning tool maintenance tasks, keeping up with tool maintenance, already challenging for a construction company, is even more difficult than it should be.
However, implementing such a system will increase employee efficiency, as well as assist in remembering and scheduling regular tool maintenance.
Recording these activities in an accurate, long-term maintenance log is another plus.
Reliability Academy points out that in some companies, maintenance can eat up anywhere between 20% and 40% of the budget.
That's an enormous cost for a company, especially if it's already barely operating on the margins.
Optimizing maintenance so as to keep the costs as low as necessary can help improve a company's profitability.
Moreover, the Reliability Academy report also offers this list of the most significant contributors to low productivity when it comes to tool maintenance: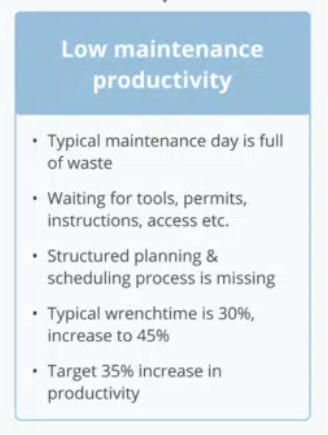 However, these numbers are addressable with the right asset tracking system.
For example, the ability to schedule maintenance tasks and set up service notifications to ensure that all maintenance tasks are expected and performed in a timely manner.
This helps to keep your tools in top condition and prevents the company from lapsing on maintenance simply due to a forgotten appointment.
Note that one of the reasons the graphic lists for inefficient productivity is a lack of instructions or access.
A well-designed tool management system can easily eliminate these stumbling blocks by providing expansive cloud storage, with plenty of room for original manufacturer instructions and operators' manuals.
In addition, asset tracking can offer individualized permissions for each user.
This means that employees can access only the information they are allowed to see, and permission is easily obtained from credentialed users.
Knowing Which Employee Has Which Tool
Maintaining a chain of custody is vital for accurate tool inventory. Most construction companies house not only a large number of tools, but many instances of the same item.
To add to potential confusion, construction tools are often scattered throughout several worksites.
However, companies that implement a check-in and check-out system can see a significant drop in tool losses—sometimes up to 90%.
A check-in and check-out system is enormously helpful in managing who has which tool, when, and where.
Tool management software is also helpful in avoiding confusion and double-booking; employees can see which items are needed on which date.
For employees who work from a more stationary location, it's also possible to check out an asset using a laptop or traditional desktop computer.
This infographic shares just a few of the many benefits of instituting tool tracking: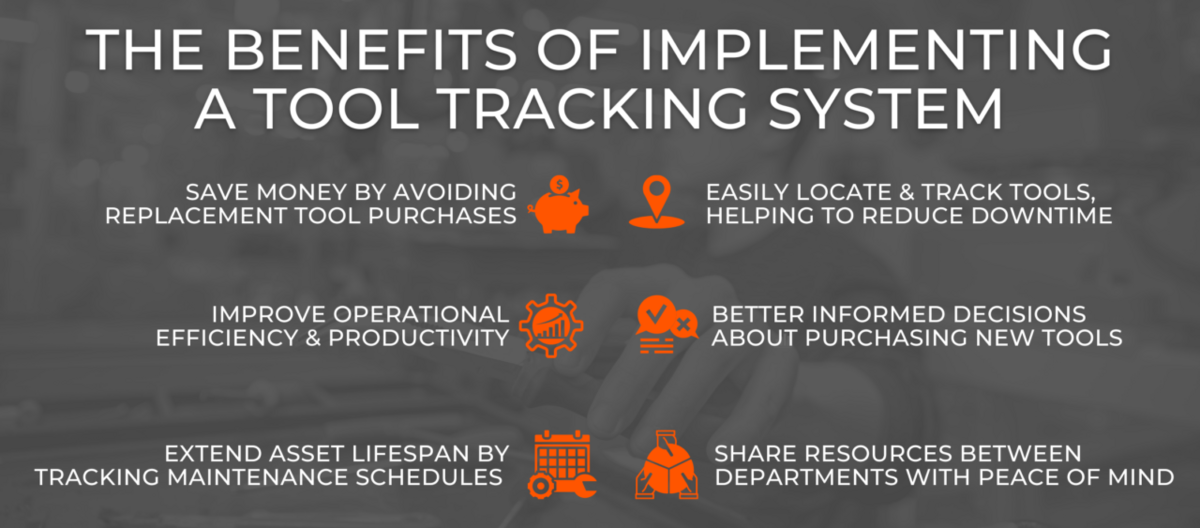 Tool management software standardization helps to facilitate tool kitting by not only streamlining the process of scheduling tool use and scheduling, but also by eliminating frustrating employee searches for a tool that might well sit on a work site hundreds of miles away.
Furthermore, in the event of tool loss or damage, your construction company can rapidly discover which employee last had possession of the asset.
Using a check-in and check-out system also allows space for equipment utilization reports and a record of each tool which has been used on a job or project.
Tracking Each Individual Tool Separately
Tracking each individual tool separately is probably the most daunting aspect of monitoring the circulation of your construction assets.
In addition, these assets might vary widely, all the way from enormous fleet items to the tiniest nuts and bolts.
As indicated earlier, one flexible solution is tool kitting.
Some tool management software, including our own solution, GoCodes, offers a tool kitting feature, which makes it possible to group tools that are frequently stored, transported, and used together.
These items are then tracked in a single unit, rather than submitted to separate tracking.
As a result, tool kitting allows for better efficiency in the check-in and check-out process.
This feature offers several advantages, as Badger Mill Supplies points out:

Tool kitting is useful for bundling these individual items into a more manageable unit.
Staying abreast of asset movement is far easier with this feature, especially when GPS tracking is available.
Finally, tool kitting can speed workers into and out of a shift by easing QR code inputting into just one action—a scan that can take place in less than 5 seconds.
Dealing With the Risk of Tool Theft
Tool theft is a persistent problem for construction companies.
The assets used in construction are valuable, from specialized vehicles to high-end power tools, so they are usually worth the risk to thieves.
In addition, construction tools, due to their abundance and various locations on a construction site, are sometimes difficult to secure,
The National Equipment Register estimates that the loss of heavy equipment alone totals an average of $400 million dollars every single year.
Tool theft negatively impacts every aspect of the construction industry, as well as each step in the building process.
For instance, the line chart below reflects how much input costs and bid prices have risen: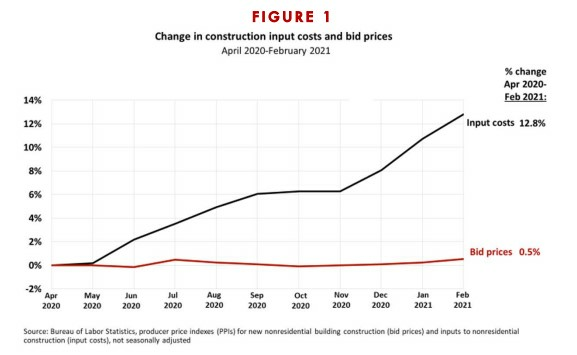 Fortunately, asset tracking can help to combat construction equipment theft.
The first step is simply the act of placing a tracking tag on each item.
Upon discovering these, potential thieves are usually deterred by the knowledge that these tools are likely closely monitored.
In addition, recording and tracking the GPS location of your company's tools by scanning the tool's label updates the assets' location.
This way, even if any tools go missing due to theft, you can expect them to be tracked down and recovered.
Conclusion
Although essential, tool management presents construction companies with a variety of challenges.
These range from the difficulty of maintaining an accurate tool inventory, through maintenance, to employee accountability and theft prevention.
However, implementing asset tracking can help to ameliorate or eliminate all of these obstacles.
We hope that this article, with its insights into the ways in which an asset tracking system can help combat the most common issues inherent to tool management, proves valuable in your own search for the right solution.