If you're here, chances are you either own or manage a construction company, and you're looking for the best tool management software for your business.
Similarly, it's likely you're not satisfied with the often generic software reviews that ultimately don't help you pinpoint a tool management solution that meets your company's needs in terms of its ease of use, tracking method, management features, and overall cost.
That's why we corralled up some of the top tool management software and presented them in a way that will help you decide which one is the best fit.
GoCodes
In an effort to keep this list of the top tool management software as impartial as possible, we'll start with our solution for managing construction tools and equipment—GoCodes—and use it as a benchmark for comparison with other solutions.
So, what is GoCodes, what does the product package include, and how does it work?
In a nutshell, GoCodes is an all-in-one tool management platform that consists of:
cloud-based software downloaded to any internet-connected device, such as a smartphone, tablet, desktop, and laptop
patented QR code tags affixed to tools, equipment, and other assets
in-app scanner, enabling QR tags to be scanned with smartphones or tablets
In other words, there is no software to install on your premises, no barcode labels to print, and no hardware (printers, handheld scanners) to purchase.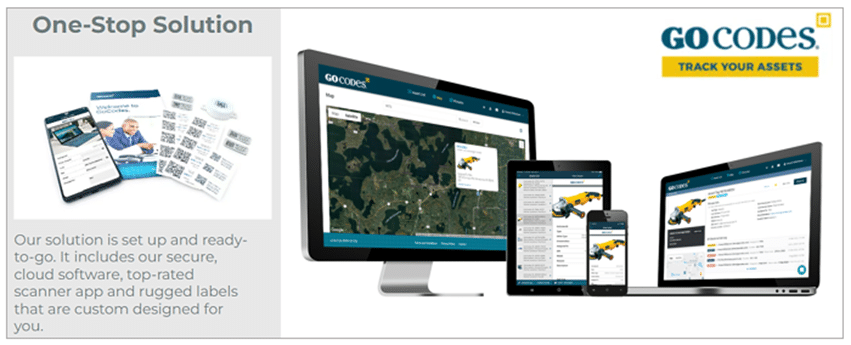 With these three components (QR code tags being the only "hardware"), GoCodes delivers a complete solution for tracking your tools and other assets, including consumable items like spare parts.
Once the tool management system is set up, GoCodes will:
automatically record the tool's current GPS location and its user every time a tag is scanned
provide real-time access to the central database of all tracked tools and equipment, as well as to an individual info portal for each tagged item
allow for monitoring maintenance records, scheduling service tasks, and setting automatic notifications
enable the establishment of an automated tool check-in/check-out system
let managers group tools and equipment into different kits
Naturally, other tool management solutions—whether listed here or not—will highlight more or less the same range of features.
Still, GoCodes has several distinguishing characteristics, and automatic GPS location updates are one of them.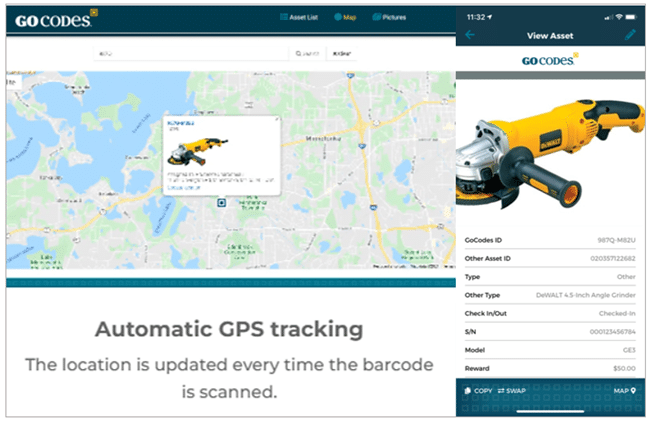 Simply put, this GPS-enabled location tracking is the most practical and affordable way to minimize tool theft and misplacement, increase worker accountability, and reduce tool procurement costs.
These automatic location updates are enabled by another distinctive feature, namely GoCodes' rugged QR tags that also—if a tool is lost or stolen—serve as proof of ownership when it's found.
GoCodes also offers Bluetooth beacons for remote tool detection and added security.
Other features—some of which are shown below—could be considered standard. In other words, they will be offered by other solutions as well.

However, what GoCodes does best is provide a simple and easy-to-use tool management system that your managers and workers can use with minimum effort and training.
The intuitive user interface and simple software operation make GoCodes ideal for construction companies with workers from different educational and social backgrounds.
GoCodes complements this simplicity by keeping the entire process of creating and customizing asset tags in-house, meaning you don't have to deal with external tag/label producers.
Finally, GoCodes provides a 14-day free trial and transparent pricing.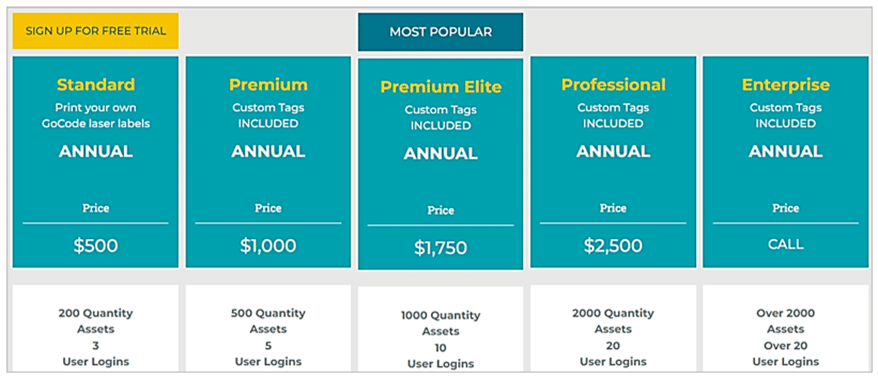 As you can see, the annual subscription for a standard plan—where you print your own labels, track up to 200 assets, and have three users or fewer—is $500.
From there, the price, quantity of assets, and the number of user logins increase together with the price, and the most popular pricing plan is Premium Elite (1,000 assets, 20 users, $1,750 per year).
To summarize, GoCodes is a complete software package designed with simplicity, ease of use, and affordability in mind.
As a result, various top lists and user reviews often describe GoCodes as the simplest and most user-friendly tool management solution for construction companies out there.
GigaTrak
As tool management software, GigaTrak has been helping companies from various industries track their tools and other assets even before Software-as-a-Service (SaaS) was a thing.
That's why you can today purchase it as either on-premises software (self-hosted option) or cloud-based software (cloud-hosted option).
The self-hosted option is usually intended for large businesses that manage the company's IT infrastructure, maintain its servers, and have the necessary expertise to set up and run the tracking system.
However, given the lower initial costs and other advantages (you can see listed below) of cloud-based solutions, even they might opt for the cloud-hosted option.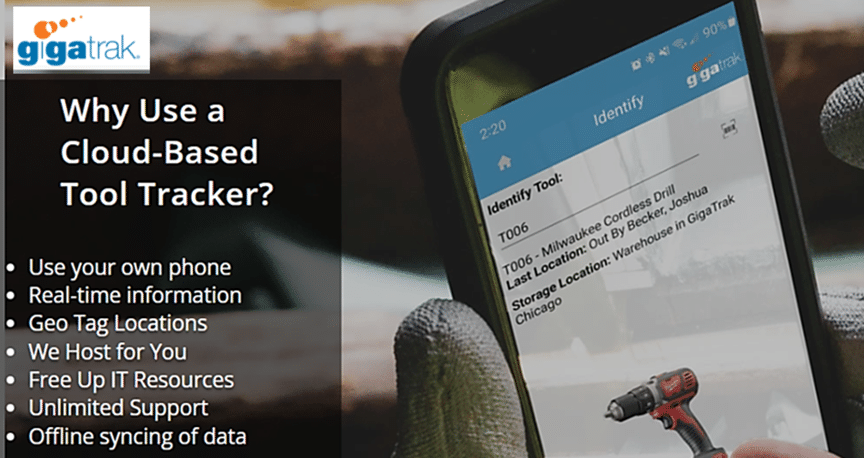 As for how GigaTrak enables you to track and manage tools, its system is based on barcodes—self-printed or pre-ordered—that are attached to tools and can be scanned by either mobile devices with the GigaTrak's in-app scanner or dedicated barcode readers.
In other words, GigaTrak allows you to combine devices like smartphones and tablets and selected handheld barcode scanners, all depending on your company's tool management needs.
Here's the selection of handheld devices offered by GigaTrak.

Such devices are primarily used in classic barcode scanning setups in warehouses/tool rooms.
Still, their mobile versions—along with the cloud-based tool tracker—enable scanning in the field, i.e., on jobsites and other remote locations.
Of course, ordering any special handhelds will raise the overall cost of deploying the tracking system.
The list of GigaTrak's features is extensive and covers standard functionalities also provided by other software solutions in their own iterations.
Here are some features GigaTrak chose to highlight:

As you can see, their offer includes an unlimited number of tracked tools, tool checkout, audits, overdue reminders, maintenance scheduling, and reporting.
If you opt for GigaTrak's on-premise software, the one-time fee starts at $2,495 and includes asset tags, installation and setup assistance, 3-month free support, and an optional service agreement afterward.
The cloud-hosted version starts at $900 for an annual subscription, but it remains unclear whether this price is per user, as some sources cite.
In other words, you will have to contact the company to get a custom-priced quote to learn the exact overall cost.
Otherwise, GigaTrak is regularly featured on the top lists of the best tool management solutions, where a more complex setup and limited scalability are listed as cons, and user-friendliness and reporting as pros.
ShareMyToolbox
ShareMyToolbox is a tool management software with an interface optimized for mobile device use that allows workers to easily track, find, and share tools.
This cloud-based solution is focused on providing construction companies with a mobile app—that can be used in warehouses and on jobsites.
The tool tracking system is based on barcodes or QR codes read by the in-app scanner on smartphones and tablets (and special handheld scanners, if required).
ShareMyToolbox offers a range of labeling and tagging options, such as using the tool tags you already have, generating and printing your own labels, or ordering more rugged metal or peel-and-stick tags.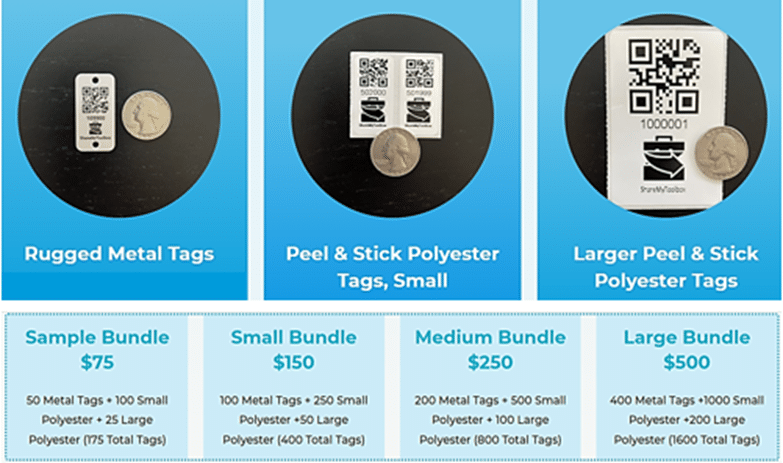 As you can see, they offer pre-packaged tag bundles (also customizable based on a quote) that are charged as an add-on to their monthly/annual subscription fee.
Whichever tagging option you choose, once the system is set up, your workers will enjoy ShareMyToolbox's user-friendly interface that allows them to easily track, manage, and exchange tools.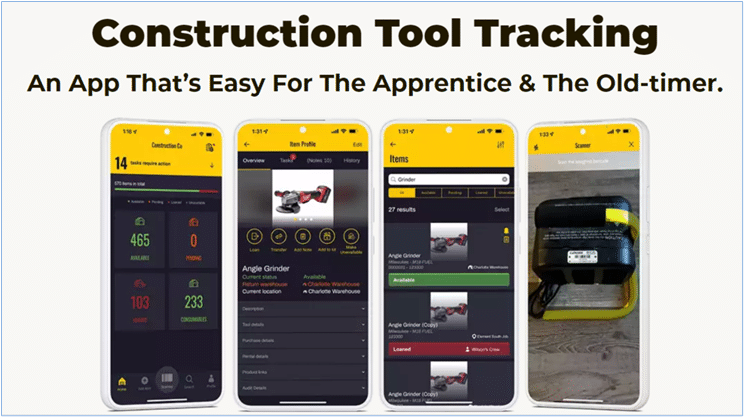 One highlighted feature of this tool management software is the central tool database with a robust search function, where users can find tools they need by asset category, pre-assigned location, or specific user/connection.
Of course, this also includes grouping tools into different kits and trailers and tracking them as a single unit.
As the system enables tool scanning at any location, it also allows workers to release the tools assigned to them to other workers directly on-site, and the whole process takes only a few clicks in their ShareMyToolbox app.
This feature complements the tool check-in/check-out system, provides a transparent chain of custody, increases worker accountability, and helps minimize tool theft or misplacement.

Naturally, its other features include audits, damage and costing reports, maintenance scheduling, etc.
ShareMyToolbox is subscription-based, and their trial starter package based on five users starts at $1,380 per year, which is paid monthly.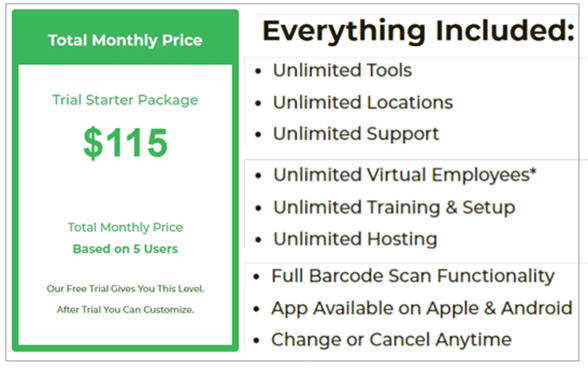 Potential disadvantages of this software primarily concern the lack of automatic GPS location updates and the price for larger construction teams.
Overall, ShareMyToolbox's focus on construction companies, user-friendly interface, and chain-of-custody tracking in the warehouse and the field justify this software's reputation as one of the top tool management solutions.
Tool Hawk
Tool Hawk is intended for construction companies, but it's otherwise part of the much wider tracking/management software solutions provided by the company that created it, General Data Company Inc.
As such, in addition to its barcode-based tracking system, Tool Hawk also offers hardware needed to set up RFID (radio frequency identification) tracking, which allows for remote tracking of tools within a limited range of radio waves.
This system is best for warehouses as tools can be scanned from a distance and don't need a direct line of sight.
However, they come with hardware like RFID printers/encoders and readers, which makes such solutions more expensive than barcodes or QR codes.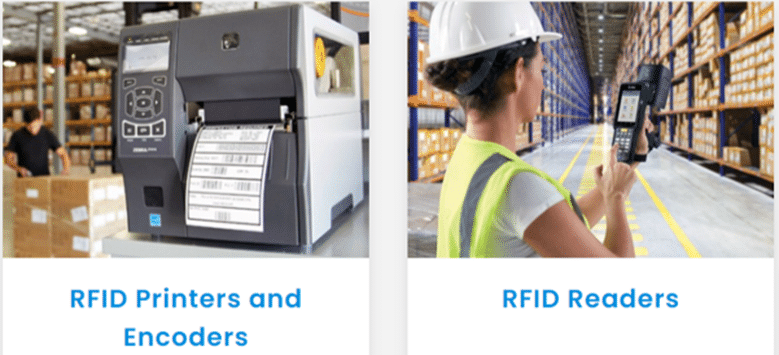 When barcodes are used for tool tracking, Tool Hawk—instead of relying on in-app scanning—provides mobile handheld terminals with an integrated barcode scanner.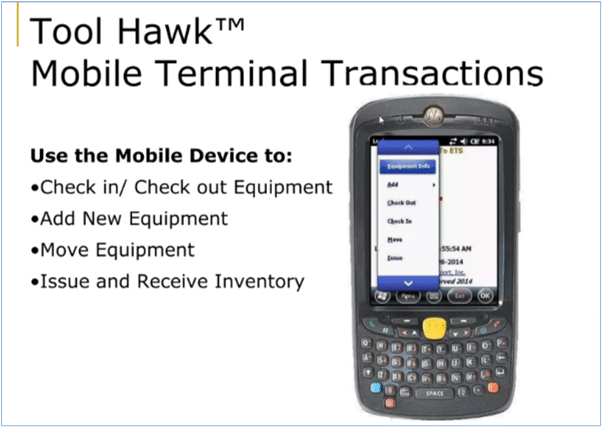 These mobile devices are used to automatically record each tool transaction, allowing for efficient tracking and management in storage and the field.
Tool Hawk offers a range of helpful management features like tool checkout, audits, maintenance scheduling, and reports.
As for Tool Hawk's pricing, it's quote-based, meaning no specific amounts are listed.
In other words, the overall cost can't be standardized because it depends on too many factors like the number of tools and users, company size and specific needs, etc., and can be determined only after you request a quote.
ToolHound
As tool management software, ToolHound is another solution that provides barcode/RFID tags and special mobile scanners/readers needed to establish a tool tracking system as part of their product package.
These handheld devices are used to scan tools and record different tool transactions, while the ToolHound software can also be accessed on any internet-connected device.
In other words, managers can monitor and manage real-time tool transactions and perform inventory searches from anywhere.

Another hardware option provided by ToolHound is an automated scanning kiosk.
To quote their website:
With the kiosk, workers can checkout and return their own tools using a simple-to-use touch screen computer and bar code or RFID reader.
In short, these stations are used for tool self-service check-in/check-out, so not all workers need separate devices to use the system.
Depending on your needs and IT resources, ToolHound comes as on-premise or cloud software and offers standard tool management features that generate the following benefits:

However, like some other solutions listed here, ToolHound offers too many management options to provide standardized pricing, so you need to contact the company or schedule a free demo.
What is clear from their info is that the basic package includes barcode/RFID tags and mobile scanners, whereas features like maintenance scheduling or low quantity alerts for consumable items are available as optional tool inventory modules.
ToolWatch
Out of the tool management software presented here, ToolWatch is probably the most comprehensive solution in terms of tracking options and management features.
In other words, ToolWatch positions itself as "the leading tool, equipment, materials, and consumables management platform for general contractors", whose mission is to integrate all office, warehouse, and field processes in one place.

As such, ToolWatch offers a range of tracking technologies (barcodes, Bluetooth, and/or RFID tags), each delivered with the necessary in-app scanner for smartphones and tablets, handheld scanners, or BLE and RFID readers and gateways.
This abundance of options extends to ToolWatch's management features, as shown here.

In their words:
From tracking tools and materials to scheduling equipment maintenance and safety inspections to reporting on inventory levels, our solution delivers easy-to-use capabilities that improve productivity and increase your bottom line.
As expected, all these features and mix-and-match options—aside from sometimes adding unnecessary complexity and extending training time—prevent this cloud-based platform from listing any specific price.
Nonetheless, the comprehensive range of ToolWatch can make requesting a quote worthwhile for larger construction companies that want to streamline all asset management processes in one software solution.
Conclusion
Circling back to where we started, tool management software solutions should be evaluated according to their ease of use, simplicity, minimal training requirements, and quick system setup.
This should be followed by identifying whether a particular solution has the tool tracking and management features your company actually needs.
Finally, transparent pricing, overall cost, and customer support should also be considered.
Ultimately, the best tool management software for your business will enable you to improve overall tool management, minimize tool theft and loss, increase worker accountability, reduce costs, and boost productivity.