After a contract with a subcontractor goes into effect, you effectively cede at least some control of your project.
That can prove stressful, especially when your subcontractor is underperforming.
While project managers and contractors are ultimately responsible for the final product, it's impossible to oversee every detail or develop expertise in every possible facet of the industry.
Subcontractors can increase the overall quality of a project and make large consignments possible.
However, when subcontractors underperform, they can cause more hindrances than help. You must have a crew you can depend on to complete a project safely, within code, and on time.
Underperforming subcontractors can cost money, damage relationships, negatively affect your company's reputation, and even invite legal trouble.
To prevent problems with underperforming subcontractors, define your rights in the subcontractor agreement, have a regular performance assessment, encourage open discussions, supplement underperforming subcontractors, and terminate non-performing subcontractors if your contract allows for it.
Define Your Rights in the Subcontractor Agreement
Some project managers don't examine the details of their subcontractor agreement until a problem arises.
And then communication is usually already badly damaged, and time is irretrievably lost.
While it's certainly not necessary for project managers to become legal experts, it's always a good idea to examine your contract so that you fully understand your rights in the subcontractor agreement.
Contractors must deal with their underperforming subcontractors in accordance with the subcontractor agreement.
For this reason, the agreement must clearly define when and how contractors are allowed to take action against underperforming or non-performing subcontractors.
It's important to understand the relationship between contractors, subcontractors, and owner-direct consultants. This chart shows how these relationships are usually structured: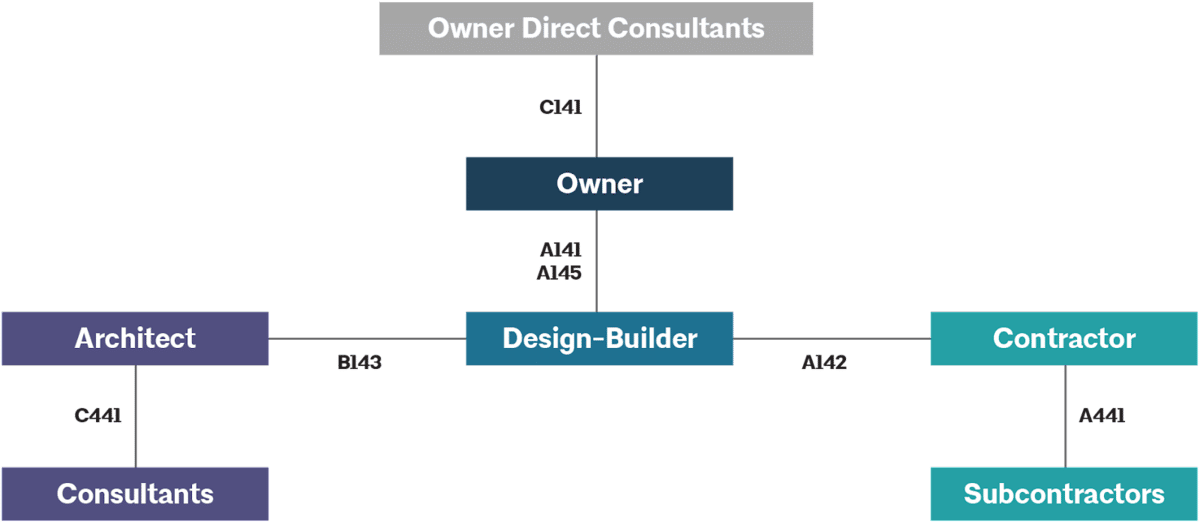 A sensible contract can help regulate and protect these relationships. It's wise to include language regarding the contractor's right to supplement work.
It's also important to outline the details involved in how to initiate termination, nonpayment, or delaying payment to companies or workers.
Understanding these details can prepare you for facing problems while they are beginning, not when they are out of hand.
Have Regular Subcontractor Performance Assessments
Regular subcontractor performance assessments will allow contractors to recognize the warning signs of declining subcontractor performance before the situation begins to affect the entire project.
However, it's less messy, more efficient, and more proactive to watch for warning signs rather than hoping the situation will right itself without intervention.
Having regular subcontractor performance assessments can help.
Conducting assessments, however, cannot take place without laying the groundwork first. The first step is drawing up realistic goals.
It's best to also study the timeline and milestone projection of the project so that these sync with the performance assessments.
Finally, perhaps most importantly, your subcontractors must know on which points they are judged before the performance assessment begins.
It is not fair to suddenly spring a performance assessment on a subcontractor if that is the first they are hearing about it.
Instead, before the contract is even signed, it's best to meet with the subcontractor and communicate the content of these assessments.
It is much easier for your whole team to score well on performance assessments if your expectations are clear, detailed, and measurable.
When deciding the particulars of subcontractor performance assessments, it's most useful to use the acronym SMART to form points of evaluation: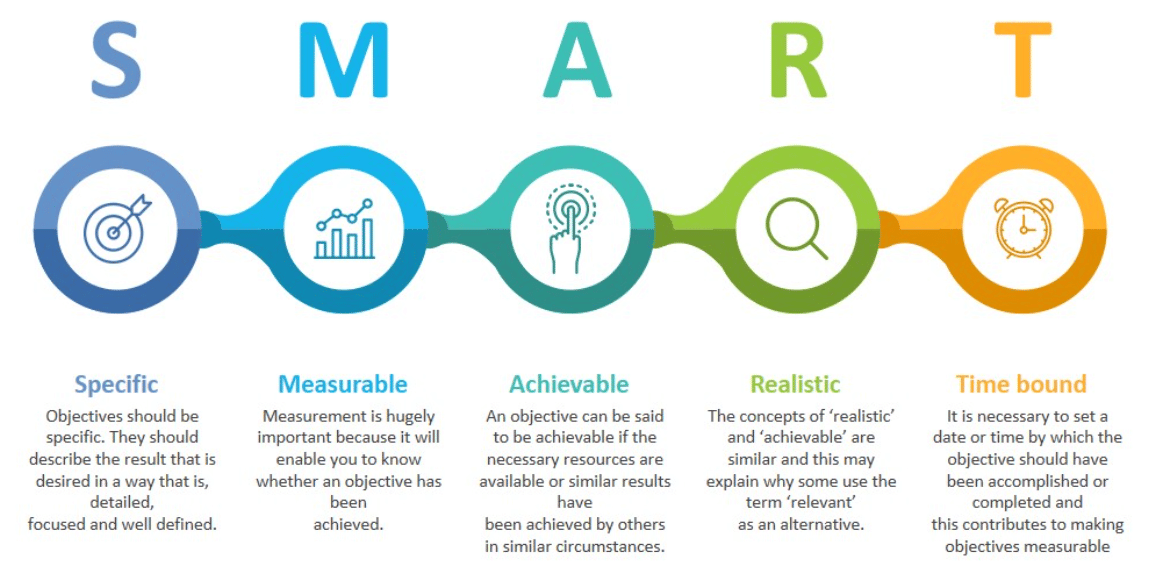 These five items are detail-oriented "Good job" or "I'm not happy with your performance" are rarely helpful for the recipient of a performance assessment.
Your subcontractor must understand precisely where they are falling short of your expectations, as well as how this adversely impacts other team members and the successful completion of the project.
When conducting the performance assessment, it is vital to first raise the topic and ask the subcontractor about specific incidents or points of improvement.
Lecturing, accusing, or threatening is never productive in good business collaboration.
Using negative tactics might bend subcontractors to your will for a single job, but you will doubtless damage your own reputation and pool of potential collaborators for the future.
Have an Open Discussion With the Subcontractor
Effective business relationships involve both speaking and listening.
Viewing your subcontractor as a skilled and necessary collaborator rather than an easily replaceable "employee" can quickly lead to an unstable and fraught relationship.
Part of working in such a relationship is conducting an open discussion with your subcontractor.
When speaking with them, it is imperative to search for ways in which your communication might improve, or how you as the project manager might help your teammate complete his or her part.
In this way, it's good to consider what not to do when discussing grievances or substandard work with the subcontractor. Here are a few.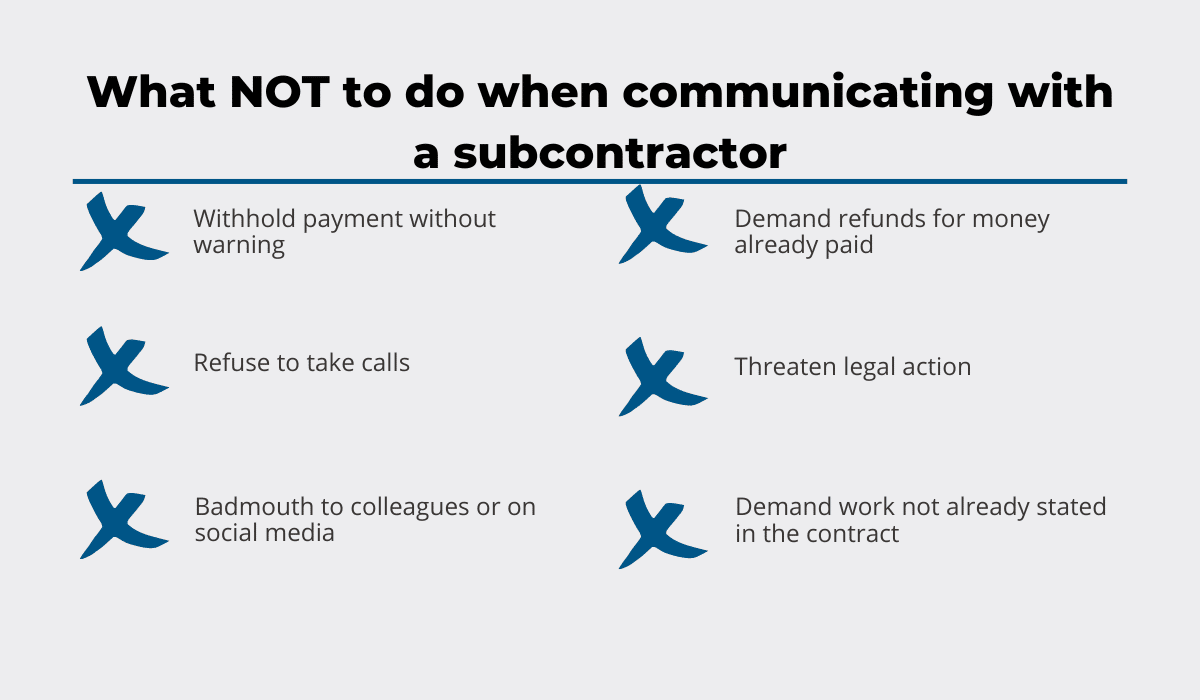 Any of these actions can escalate a tense situation and rarely bring about a mutually beneficial solution.
While it's tempting to lash out in anger or begin to communicate through a lawyer to frighten the subcontractor, these actions can worsen a situation that might have already started deteriorating.
Open communication and honesty without lashing out will not only bolster your own communication skills, but increase the respect the rest of your team will have for you throughout the rest of the project.
Remaining approachable and calming your temper before speaking is the best way to work through a situation like this.
This allows contractors to discuss and agree on a plan of action with their underperforming subcontractors to help them improve their performance.
Bringing the subcontractor into the solution is a reminder that you are both on the same side, and that you both want to complete the project safely, with good quality, and on time.
Supplement Underperforming Subcontractors
Sometimes subcontractors need assistance, and either don't realize their performance is slipping or are frantically attempting to solve the situation on their own.
This becomes especially difficult when the subcontractor is facing challenges that are out of their control, such as labor strikes, supply chain snarls, or weather-related delays.
Inviting open communication and conducting regular subcontractor performance assessments is one way to discover that a subcontractor needs supplementation in some way.
However, for a variety of reasons, some contractors might hide or fail to admit the fact that they need help to maintain a safe construction site or meet an important milestone.
What can a project manager do in this situation? You can take notice of certain warning signs that a subcontractor is underperforming. Here are some.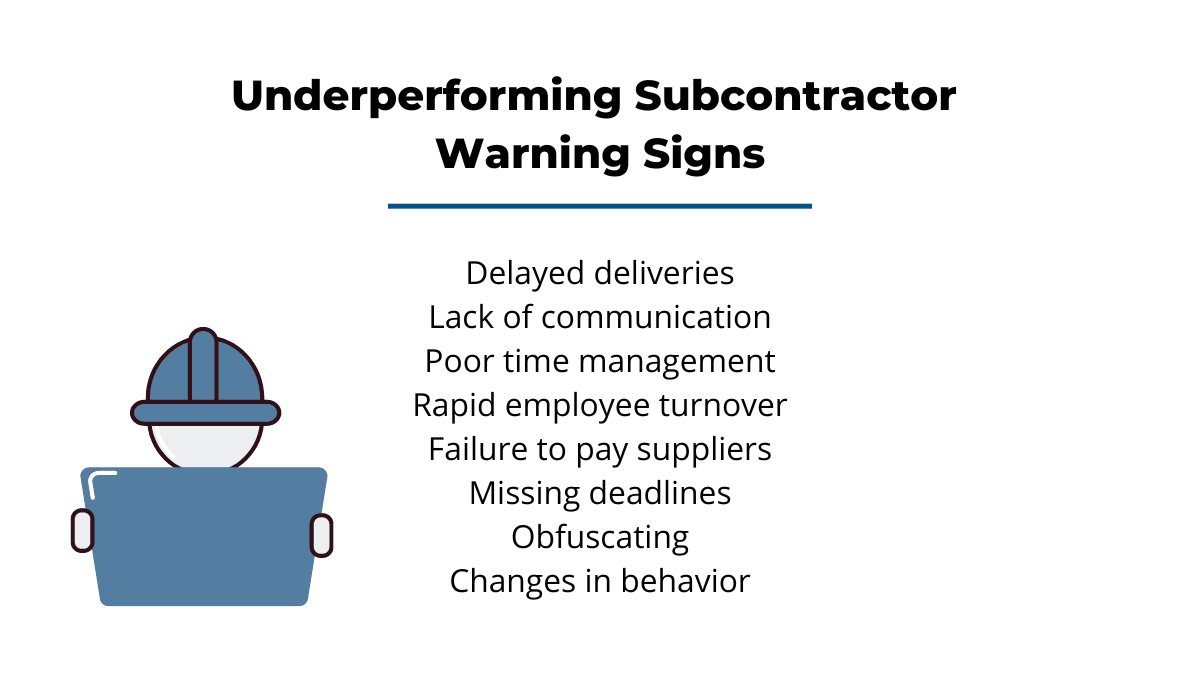 When you begin to notice any of these signs, it's a good idea to have a frank discussion with the subcontractor and ask what you might do to help with any problems.
The subcontractor might need resources, or their employees might engage in detrimental behavior that goes unnoticed.
Contractors can supplement underperforming subcontractors when the option is specified in the subcontractor agreement.
This could mean the contractor taking on part of the work themselves or providing the subcontractor with additional workers.
Such an outcome is why it's so important to agree on and refine details with the subcontractor in the negotiation and contract development stage. In cases such as these, it is especially important to refrain from engaging in blaming or suspicion.
Terminate Non-Performing Subcontractors
Although it's rare, sometimes a relationship with a subcontractor is beyond repair.
This might become the case when a subcontractor disappears from the worksite, absconds with equipment, or refuses to address safety code violations.
However, when it's time to take action, project managers must step cautiously.
It is tempting to take legal action immediately. However, this should remain the last option. Termination can often invite a legal tangle that is more trouble than it is worth.
Zach Jones, Managing Member at Jones Law, emphasizes that:
…you should not forget how messy termination is. In other words, you should strive to work it out with your sub rather than escalate problems to the point where termination and replacement is the only viable option.
In other words, if termination must take place, it is extremely important to do so according to the contract you have signed with the subcontractor.
Some contracts demand certified letters, advance notice, or other details.
To further protect yourself and your company from legal action, always keep records of communication and minutes of meetings.
Retaining safety checklists and maintenance records can also help.
Conclusion
Working with underperforming contractors is a frustrating aspect of construction projects both large and small.
However, threats and immediate legal action are usually not the best way to address the situation.
It's important to define your rights in a carefully negotiated subcontractor agreement.
Conducting regular subcontractor performance assessments with previously determined measures is also a good idea.
Maintaining open communication and discussions with the subcontractor can help mend the situation before it worsens or adversely impacts the project.
Warning signs are often apparent when a subcontractor is beginning to experience setbacks.
Finally, terminating non-performing subcontractors is the last recourse when a subcontractor continues to underperform despite all efforts.
In the event of beginning a contract termination, the subcontractor must be terminated in accordance with the subcontractor agreement.