Procurement in construction is key to ensuring the project gets completed on time and within budget.
Doing it right can pay off enormous dividends in efficiency and cost savings as the project moves along.
Without proper procurement channels and accurate forecasting, the foundation of a carefully laid project plan can easily crumble.
The engineer, architect, builder, client, and subcontractors might all become involved at different levels and in different ways.
There is a wide variety of types of procurement in construction, which means that project managers and contractors need to find a method that best fits the project at hand.
Understanding these approaches as part of the construction management plan is a major part of selecting the most effective one.
What Is Procurement in Construction?
Procurement in construction does not refer to any one particular action. Instead, it is a process and an integral part of general construction planning, whose major aspect is learning about risk management and minimization.
Once the project manager has a good understanding of the risks associated with the project, an appropriate procurement system is more easily chosen.
In construction, procurement refers to all the means used to obtain the tools, raw materials, services, and any other item that is necessary to complete the project.
This graphic provides an example of how various materials might flow through the procurement process: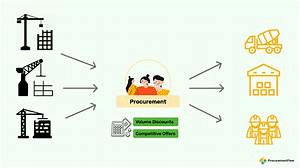 It might be tempting to simply look for the cheapest item, or the one which can arrive at the site the fastest, but procurement is much more involved than simply finding the lowest price.
It also hinges on finding the services, people, and products that best serve the project.
Efficiency and risk minimization are the most important aspects of construction procurement.
Contractors must consider the quality of the materials, how the timeline is progressing, and what impact the item or service might have on the budget.
Decision-makers in a construction project must strategize to choose the best option for the client and specific job.
Networking and experience are important in procurement, as well as openness to trying new paths and innovative ideas.
Someone who can negotiate well, source material even in a time of supply chain disruption, and maintain good relationships usually does well in the procurement space.
Aims of Procurement in Construction
The aims of procurement in construction usually fall under one of three categories:
Evaluating bids and proposals
Managing resources
Project monitoring
Sometimes, project managers must find tens of thousands of nails or just one cement mixer.
A successful procurer understands that tactics may vary when it comes to finding material, staff, and expertise.
Procurement demands a balance of attention to milestones, a good understanding of quality, excellent communication, and a strong concept of value to the client.
The graph below indicates the complex nature of procurement in construction. This is an illustration of just one form of bid evaluation, resource management, and monitoring.
However, it gives an idea of the aims of procurement, as well as the many ways to go about it: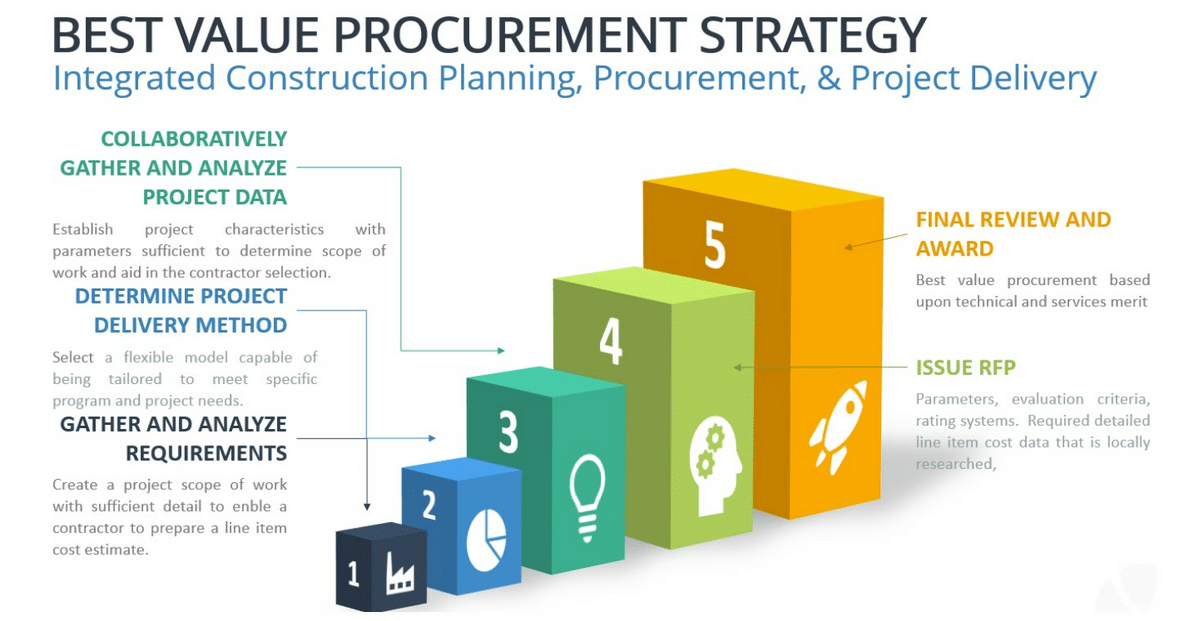 Failure to meet these aims can topple a project, particularly a complex one that involves many moving parts and deadlines.
Members of a workforce will stand idle at a site when materials are missing, and such delays can block other parts of a project, such as engineering checks, design adjustments, and landscaping.
The overtime needed to stay on schedule can wreak further havoc on a timeline.
Since there are so many factors to balance in construction procurement, meeting its aims requires many different strategies.
Some stakeholders might lease equipment or angle bids in a different way. The project requirements must involve careful and precise wording to meet various regulations.
Sometimes, costs fluctuate depending on unforeseen interruptions, such as a hurricane or tropical storm in the area.
On top of all this, to best meet procurement aims, those tasked with the process must quickly and effectively resolve conflicts between team members, timelines, or goals.
Importance of Procurement in Construction
A project can succeed or fail on the ability of a manager to procure what's needed.
In fact, 87% of construction professionals believe that proper procurement is essential to the success of a project.
Procurement needs will differ from client to client.
For example, a school district building an elementary education facility will probably focus on safety and longevity, while a single client constructing a vacation home might highlight the need for sustainable items, luxury finishings, and one-of-a-kind workmanship.
Establishing and agreeing on expectations regarding quality and budget is crucial in order to procure properly.
This might require an understanding of raw materials just as much as local labor laws and correctly reading blueprints.
For example, this is the procurement process for just one raw material, steel: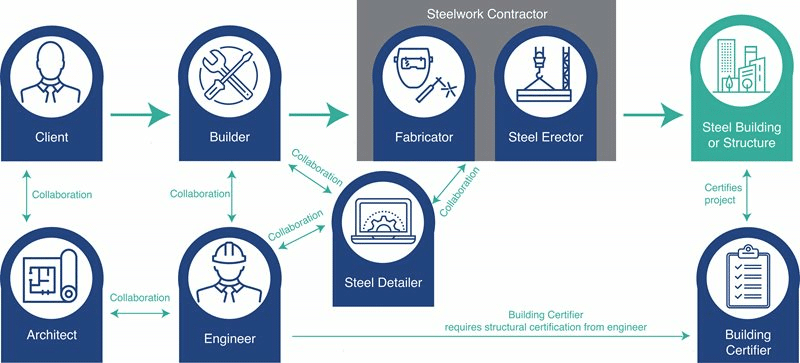 Procurement, then, is much more than simply "going shopping" or seeking bids.
It is a collaborative and ongoing event, and flexibility is required to meet the various demands of the project.
Experienced construction managers understand the importance of staffing as part of procurement.
Especially now that many areas are experiencing a building boom in conjunction with a staff shortage, contractors must budget accordingly for quality workers who are properly trained—and paid accordingly.
A basic understanding of team building, recruitment, and using community networks is just as much a part of construction procurement as knowing who has the best quality lumber at the best price.
Deciding on which consultants and project specialists to hire, if any, is also part of staffing.
Sometimes, for example, bringing someone on the team who specializes in high-altitude building is necessary, or including a legal team to help negotiate thorny permit rules will save time and money.
On the other hand, if a project manager is taking on a project in a familiar area, under conditions with which he or she has worked before, the budget is better spent elsewhere.
Strategic sourcing, with all its elements (transportation, longevity, viability, zone compliance, and so on), constitutes just one part of successful procurement.
Different Construction Procurement Methods
This chart provides a glimpse of the many various forms of construction procurement methods: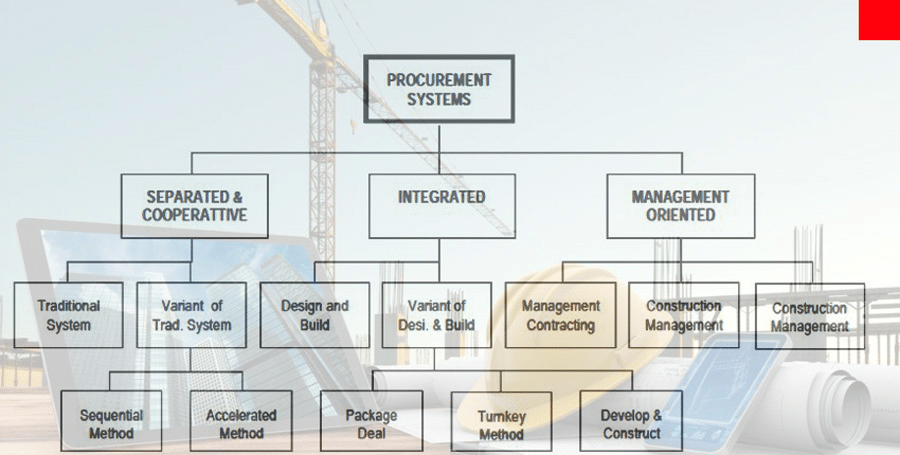 These procurement systems generally fall under one of five procurement methods. They may appear under different names, but the goals and methods are the same.
General Contracting or Some Variant of General Contracting
This method is also called the traditional system, and it is usually how project managers achieve conventional or smaller jobs, such as a home remodeling in a city with which they are familiar.
In general contracting, the client obtains the design of the project in a separate contract from the company that completes the actual building.
In this form of procurement, it is important to find a designer and builder who can work well together.
Sometimes, however, communication gaps can arise, not to mention arguments over liability or division of labor.
Design and Build or Its Variants
Procurement under design and build and its variants unite management, responsibility, and oversight under a single contractor.
While this method can avoid the disagreements sometimes experienced under general contracting, it can be difficult to find a company that is both large and efficient enough to meet the goals of the client.
However, keep in mind that this method is usually not ideal for projects requiring a strong creative element.
Construction Management or Management-Oriented
This system is typically best for large and complex projects, such as those put forth by a municipality or large non-profit organization.
Management-oriented projects focus on a heavy subcontractor presence.
This form distributes risk and responsibility across many people and companies, so a tremendous amount of coordination is involved.
At the same time, this procurement process focuses on competitive bidding, which means that the overall cost of the project can usually fit within constrained budgets.
Joint Venture or Integrated
This is a method focusing on collaboration. It usually involves the creation of a separate entity, such as an LLC, to manage the project.
Integrated construction methods can work well for start-up businesses or non-profits. In this procurement system, the client does not control the project.
Instead, the joint venture negotiates disagreements and contracts and focuses on a balanced approach to project completion.
Private Financing or Sequential Method
When a client is building a first home or just starting a business, private financing may work well.
In this form of procurement, the contractor works from private funds to complete one stage at a time.
When the project is done, the client takes ownership.
How to Select the Right Procurement Method
The best procurement method might vary from project to project.
Building a barn on a large mountainous farm is quite different from designing and completing a phase of a massive shopping mall.
The state of the supply chain at the beginning of the project might vastly differ from its status in the middle, and clients might have to adjust to shifting timelines.
However, by carefully budgeting and studying the resources at hand in the planning stages, project managers can avoid most procurement misfires.
This graph depicts using a decision tree to choose the best method: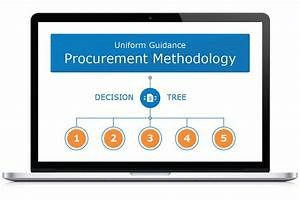 A decision tree is a tool used to determine possible outcomes and represent various courses of an action plan.
Decision trees can help to clarify conflicting factors, benefits, risks, and outcomes.
Using it to choose between, for example, general contracting and design-build can help to organize the drawbacks and benefits of each method.
Fully understanding the budget and aims of the project, as well as what obstacles the project manager might face, is crucial in choosing the best form of procurement during pre-construction planning.
Conclusion
Procurement in construction is the process of obtaining the people, products, and services that are needed to complete a construction project.
It involves evaluating bids, monitoring the project from start to finish, and managing resources.
Without attention to efficient procurement, a project can fail, fall dramatically behind timeline milestones, or run over budget.
Various forms of construction procurement include general contracting, design and build, construction management, joint venture, or private financing.
Choosing the most appropriate form of procurement involves obtaining an accurate budget, understanding risks, and organizing various courses of action.