If you're feeling that mix of excitement and light fatigue from scouring the internet in search of the perfect inventory control software solution for your business, you're not alone.
After all, the stakes of finding such a solution are higher than when you're downloading just any old app on your smartphone.
It's an overhaul of an entire system, requiring a lot of time, effort, and financial investment to pull off successfully.
And let's face it—after meticulously labeling and creating database entries for every single item in the inventory, not to mention training the staff, not many would have the energy to do so.
Therefore, you should look to find inventory control software able to serve your business for years to come.
To help you find the right one, this article will give you an overview of the current landscape of inventory control software by highlighting seven popular solutions encompassing different price ranges, features, benefits, and drawbacks.
For our first stop, we have GoCodes.
GoCodes
GoCodes is a cloud-based inventory control software solution designed specifically for small-to-medium-sized businesses.
As such, it offers a simple interface, rich customization options, and user-friendly controls, allowing anyone to learn how to use it in no time.
Its inventory management system comprises three main interworking parts—asset tags, scanners, and the software itself.
Barcode or QR-code tags are used for labeling assets. They are durable, come in various shapes and sizes, and contain information about the asset they are affixed to.
Kind of like an electronic fingerprint.
The next part is scanning the code.
Doing so feeds data directly into the system's database, whether you are offline or online, allowing you to continuously track the location, condition, history, and other pertinent information about your assets.
For example, for inventory purposes, you can use it to track and manage the quantity of stock items and consumables.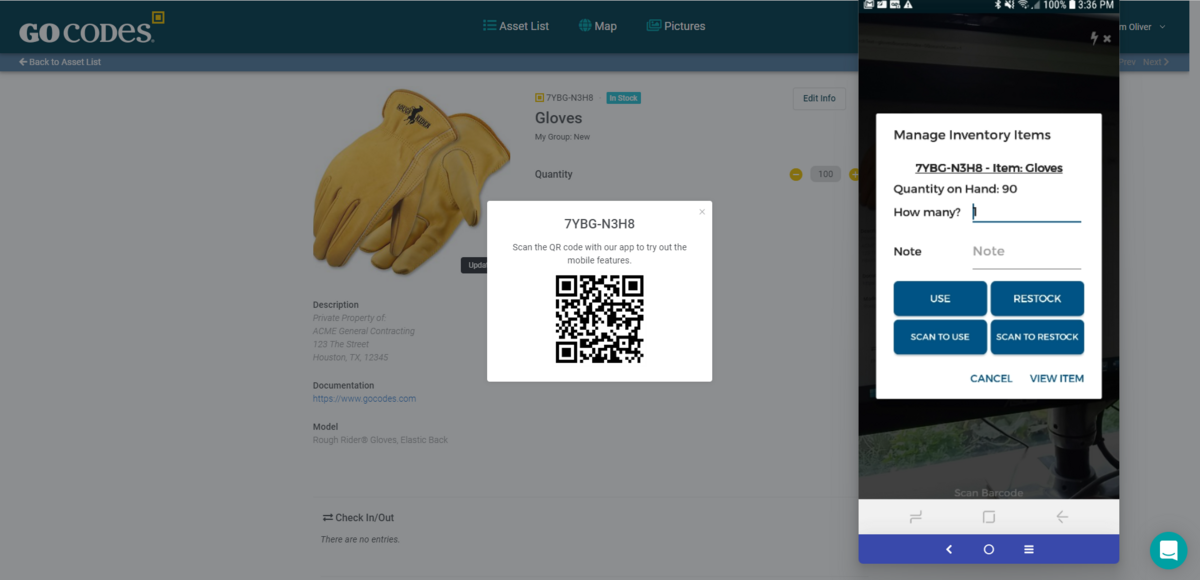 The process is straightforward. Scanning an item automatically reveals how many are left in stock, so you can restock if you see the levels are low.
However, GoCodes goes a step further by also providing automated low inventory quantity notifications. You receive an email when the number of items drops below a certain threshold.
Similar notifications can also be set up for overdue assets, scheduled services, task assignments, and other similar events.
To recap, here's an overview of the key features of this solution.
Key Features
Barcode scanning
Stock items and consumables management
Inventory quantity tracking
Item check-in and check-out
GPS tracking
Tool kitting
Task management
Maintenance scheduling
Automated alerts
Report generation
Cloud-based data storage
Full mobile support
Online and offline tracking
Now for the pros and cons, leaving the prices for last.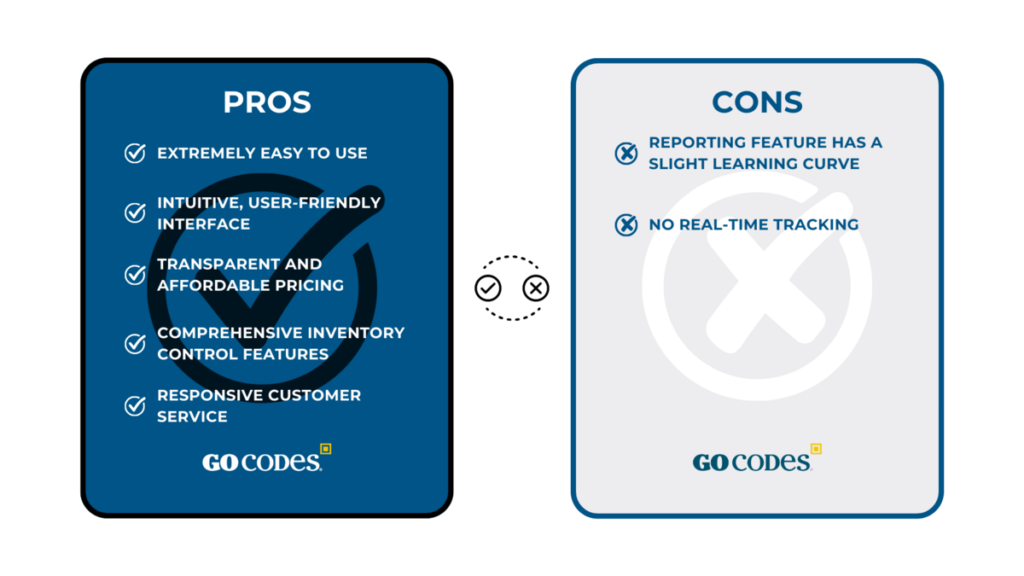 Finally, the costs. GoCodes' five-tier pricing structure is further built on the idea of simplicity.
There are five plans overall, each having an increasingly more significant number of users, assets, and features than the previous one.
The prices start at $500 annually for the Standard plan.
They climb to $1,000 and $1,750 for the Premium and Premium Elite plans, respectively, and finish with a Professional tier costing $2,500. Anything more falls under custom pricing options available in the Enterprise plan.
Asset Panda
Asset Panda is a cloud-based asset management and tracking platform strongly focused on rich customization options and a range of mobile features.
With Asset Panda, everything is customizable—dashboard, columns, fields, notifications, alerts, reports, and security settings, to name a few.
The number of options even presents a challenge for some users. Therefore, the learning curve is a bit steeper, but it's still not too complex for everyone not to catch on eventually.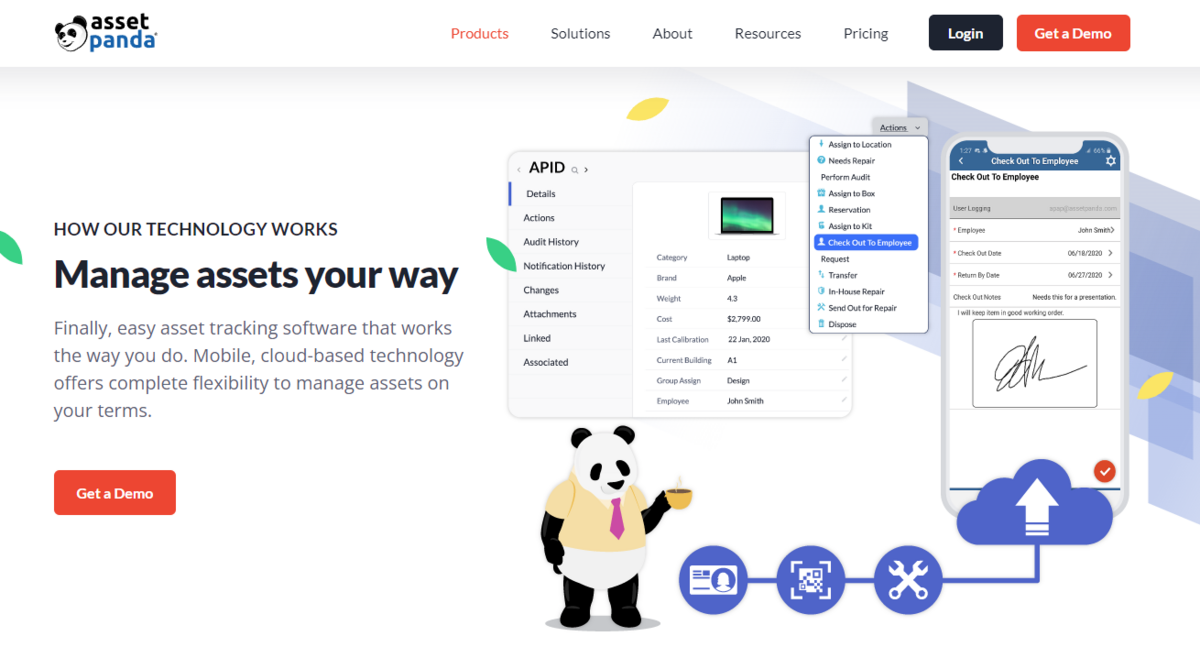 Another notable feature of Asset Panda is its mobile support.
Barcode scanning, asset addition, audits, tracking, and reports are just some of the actions you can perform with mobile devices, for Android and iOS users alike.
Furthermore, it supports an unlimited number of users and is fully integrated with the web app, making for a scalable solution great for inventory control on the go.
Key Features
Fully mobile workflow
iOS and Android compatible
Built-in barcode scanner
GPS pin-drop from a mobile map
Repair requests via the app
Asset kitting
Before moving on to the numbers, let's quickly take a look at the pros and cons: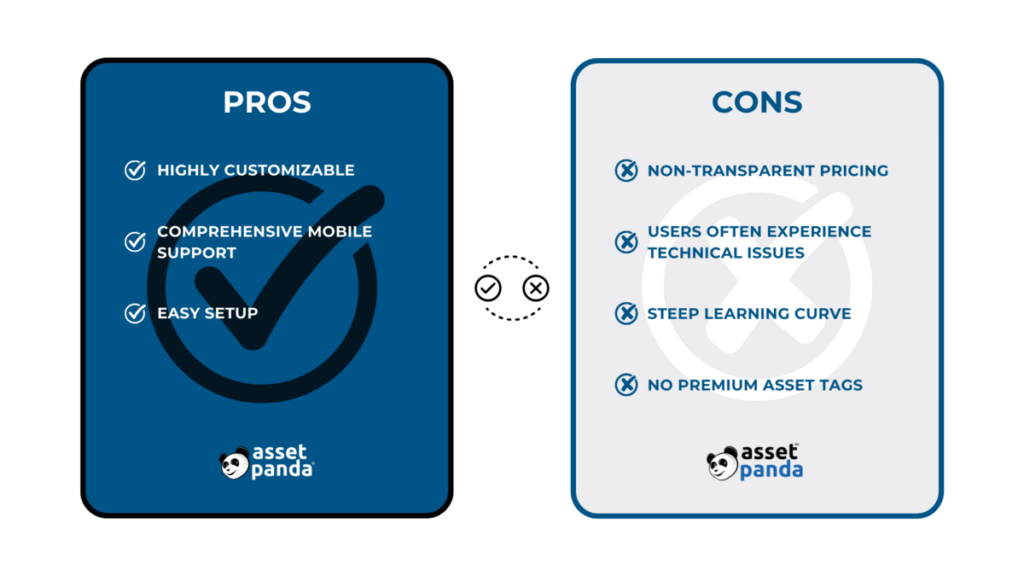 The pricing page on Asset Panda's website leaves something to be desired. However, there is some information to help you know what to expect.
For a start, a little digging through the website is necessary to find out they do, in fact, offer a 14-day free trial period.
Regarding pricing, the starting pack containing all of the core features will set you back $125 a month, or $1,500 annually.
The price scales based on the number of assets in your inventory, from 250 to 5,000+ entries, and for a couple of hundred dollars a year, you can get add-ons such as integration with Google Workspaces or Azure Active Directory.
All in all, if you want a customizable, personalized inventory management experience, and you don't mind sourcing tags from a third party, Asset Panda could be the platform you're looking for.
If not, feel free to go on to the next candidate—BrickControl.
BrickControl
BrickControl is an inventory and stock control software specialized in construction management.
It was designed as an all-in-one solution for construction project tracking, serving businesses of all shapes and sizes.
Features like cost calculations and price databases help construction companies in the preconstruction and planning phase.
During the project, you can use it in administrative tasks such as tracking the progress of the project, managing certificates, and monitoring materials and subcontractors.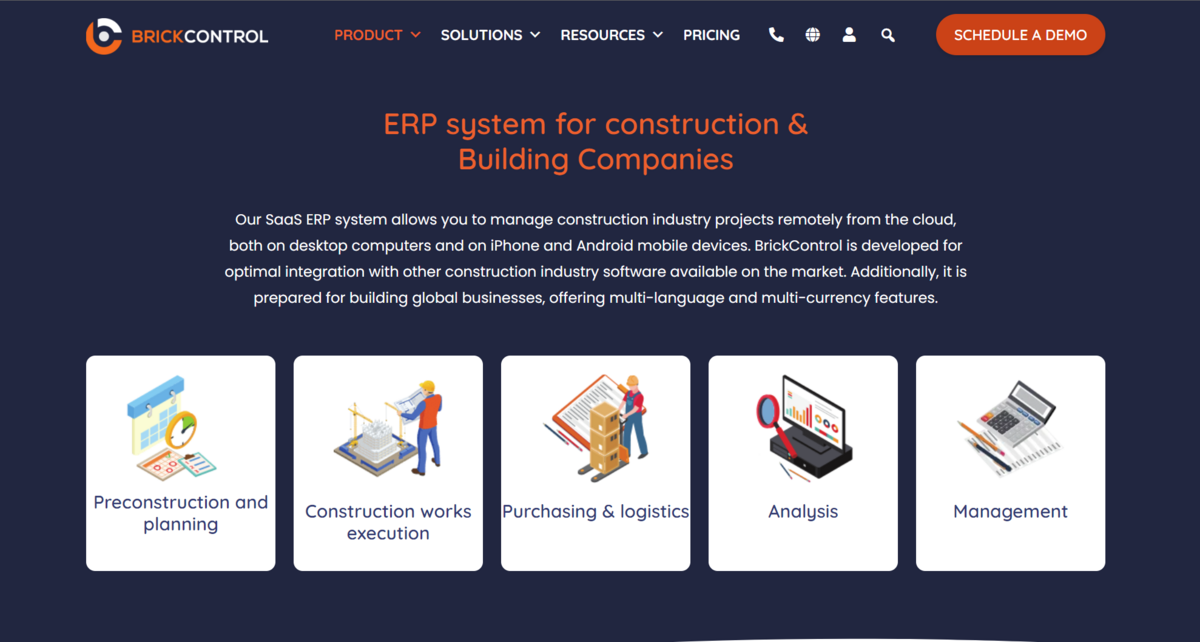 BrickControl also provides solid inventory management capabilities, allowing you to oversee the transportation of materials, manage machinery and equipment, and access a range of services related to financial data and customer management.
Here's an overview of BrickControl's main features.
Key Features:
Materials and equipment tracking
Suppliers management
Budget control
Workforce management
Multi-language and multi-currency
Integration with third-party software like Reviso and Quickbooks
Here's a list of its pros and cons.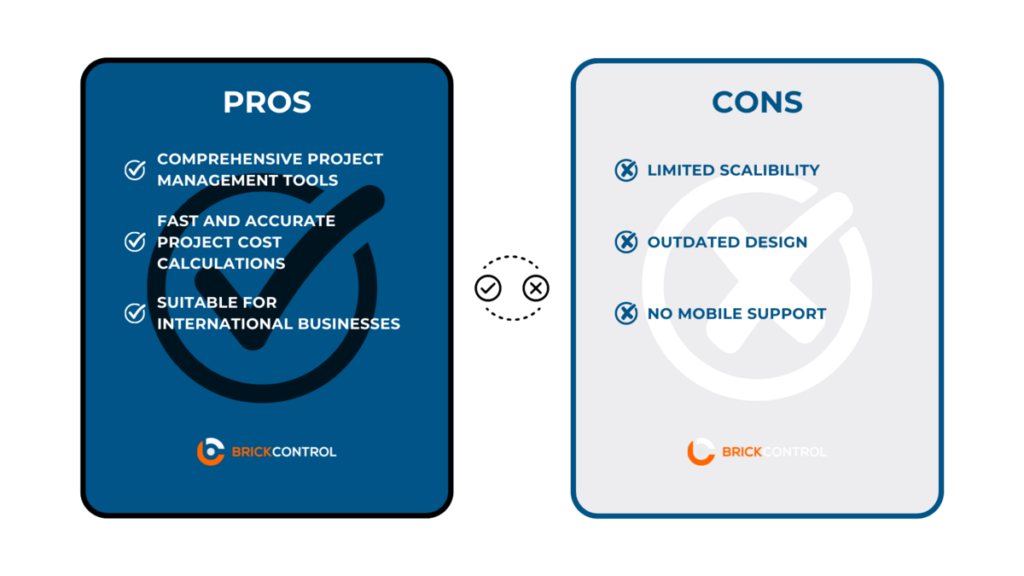 BrickControl doesn't have a trial period, but they do offer contract-free monthly subscriptions with the ability to cancel anytime you want.
Moving on, Basic and Business plans are pretty affordable, costing $51 and $64 per month, respectively.
Subscribing to either gets you access to most of the software's features.
To go all in, $77 monthly gets you the Enterprise plan, which unlocks the top level of customer support, raises the number of users from 10 to unlimited, and offers extra features such as business intelligence.
Overall, BrickControl is a software covering the entire set of processes related to construction project management, one of which is inventory control.
EZOfficeInventory
Unlike BrickControl, EZOfficeInventory is an asset tracking software catering to a number of industries, including AV and media, construction and sport, as well as non-profit organizations like churches and educational institutions.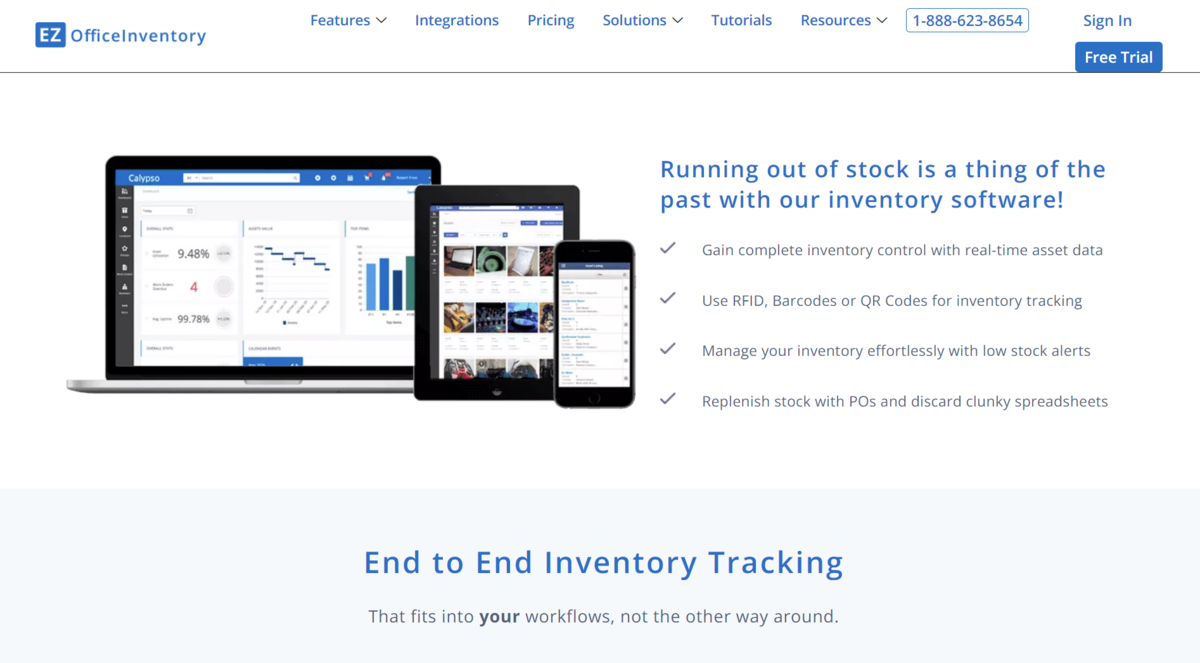 Similarly to GoCodes, EZOfficeInventory is a software solution focused on asset lifecycle management, with a similar tag-based tracking system.
And just like with our first example, this software enables you to track tools and equipment, schedule maintenance, scan RFID tags, manage inventory, and create service tickets, among others.
Key Features
Asset lifecycle management
Quick check-in and check-out
RFID tags, barcodes, and QR-codes asset tracking
Carts for tracking equipment across worksites
Scheduled maintenance
Contracts database
As you will see below, one of the notable benefits of EZOfficeInventory is the pricing.
Before delving deeper into it, take a look at the breakdown of other advantages and some disadvantages of the software: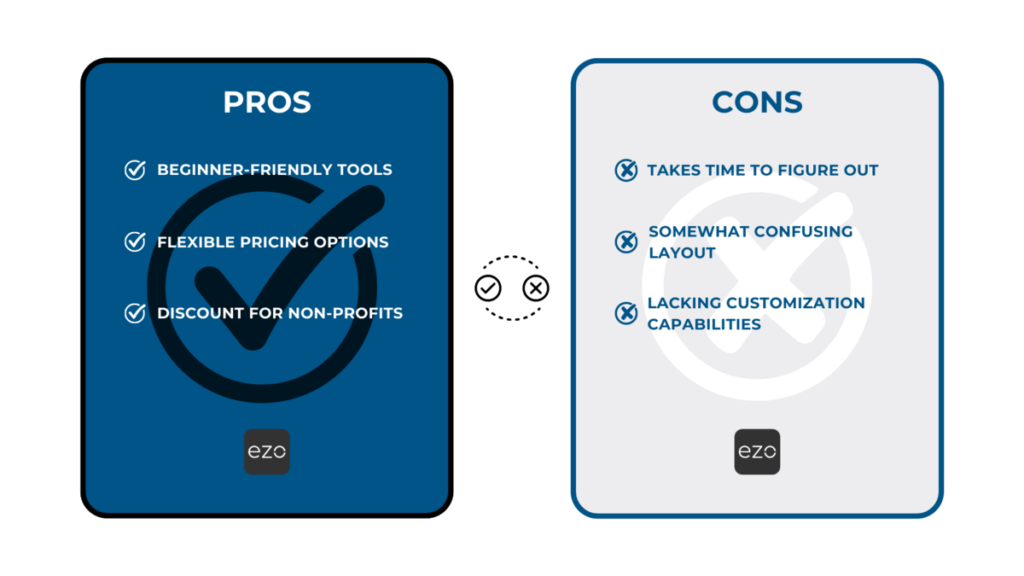 Each of EZOfficeInventory's three main pricing plans has a 15-day free trial period and is an affordable solution for smaller companies.
The Essential plan goes for $40, Advanced $50, and Premium $65 a month, each one containing more features than the former.
The price drops even more if paying in yearly installments, and it scales with the number of items in the inventory—starting at 250 and topping off at 15,000+—after which you need a custom price quote.
Fishbowl
While EZOfficeInventory serves a number of industries, Fishbowl has made it one of its main selling points.
Fishbowl is a warehouse inventory control software solution with a multi-industry approach, and clients from various fields like consumer goods, healthcare, materials, services and technology.
As you see in the image below, they even have a reptile supplier for a client.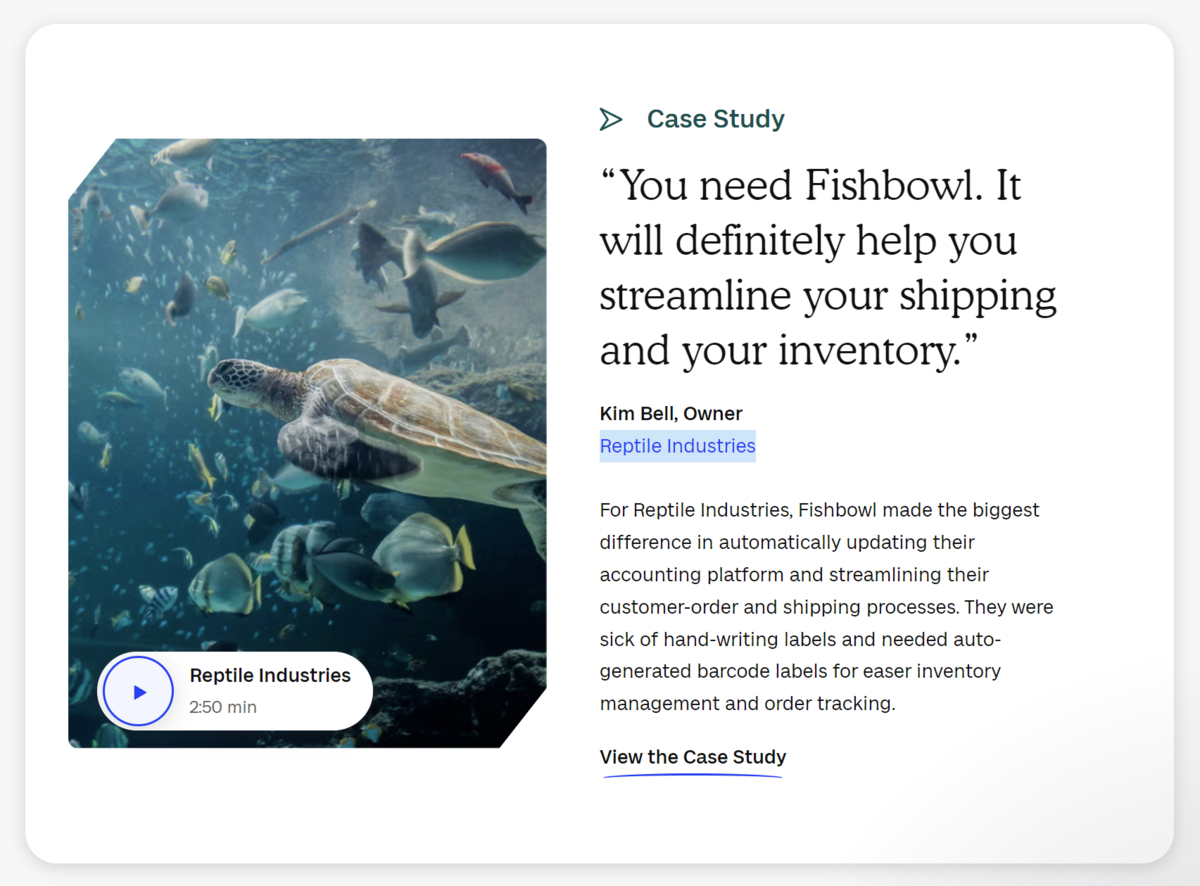 For construction companies, Fishbowl offers an end-to-end solution, with inventory tracking in the warehouse or out in the field on one, easy-to-use platform.
Key Features
Centralized inventory database
Inventory tracking and forecasting
Multi-location management
Ecommerce and accounting software integrations
Stock history reporting
Low stock notifications and automatic reorder points
Like with every platform, there are some benefits and some drawbacks to choosing Fishbowl.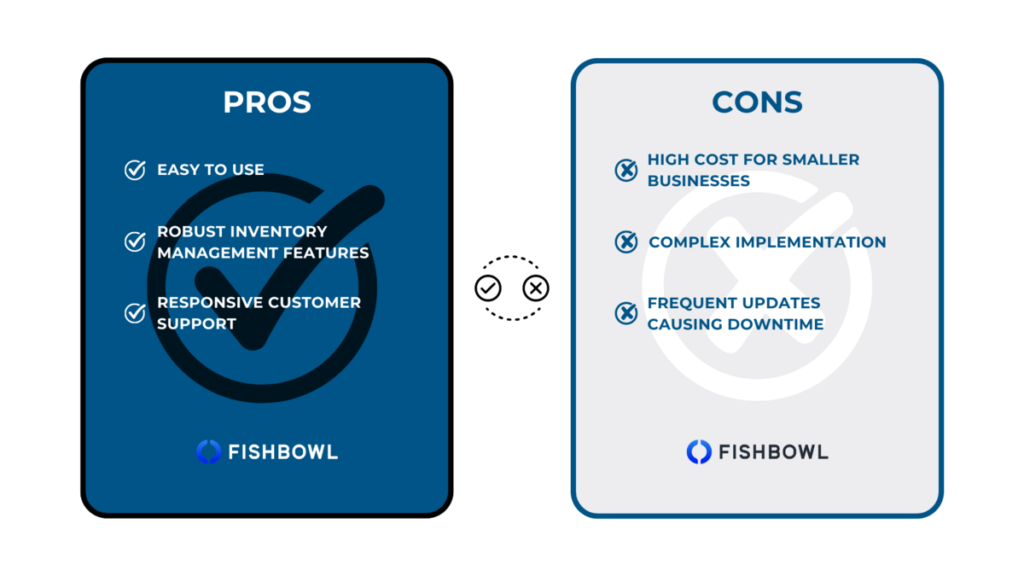 As it turns out, the most significant benefit—robust inventory management—is reflected in the biggest drawback—and that's the price.
They offer only two pricing plans multiplied by two payment types. The Fishbowl Drive starts at $349 and includes 2 full access users and most of the features.
The whole pack is $399, with add-ons costing an additional $49 a month each.
Interestingly, for annual payments, the price turns into a one-time fee of $4,200, with add-ons costing $599 annually.
Ultimately, Fishbowl is a flexible and universal inventory management solution. However, that requires a lot of features you perhaps don't need, but are reflected in the high price tag.
GigaTrak
The most established of the players mentioned in this article is GigaTrek.
Over 25 years of experience in creating inventory management solutions allowed GigaTrek to put together a knowledgeable US-based support staff and adjust their products to be more in tune with the needs and wants of their customers.
Its front-to-back inventory tool control software is designed to track a tool's journey from purchase, to checkout, to relocation, and back to storage.
You can track an unlimited number of items, regardless of the item in question. Here are just some of the tools you can track with their system.

It's probably par for the course for an old-school company to have analog systems available.
At least GigaTrak does, as it offers both self-hosted and cloud-hosted options to choose as the platform that best suits your business.
More about that in the pricing section, but first, take a look at GigaTrak's best features, as well as notable upsides and downsides.
Key Features
Unlimited assets and inventories
Hosted on-premise or on the cloud
Track asset life cycle
Track maintenance schedules and repairs
Android/iOS mobile app
Check-in/check-out to locations, employees, or containers
Here are the pros and cons.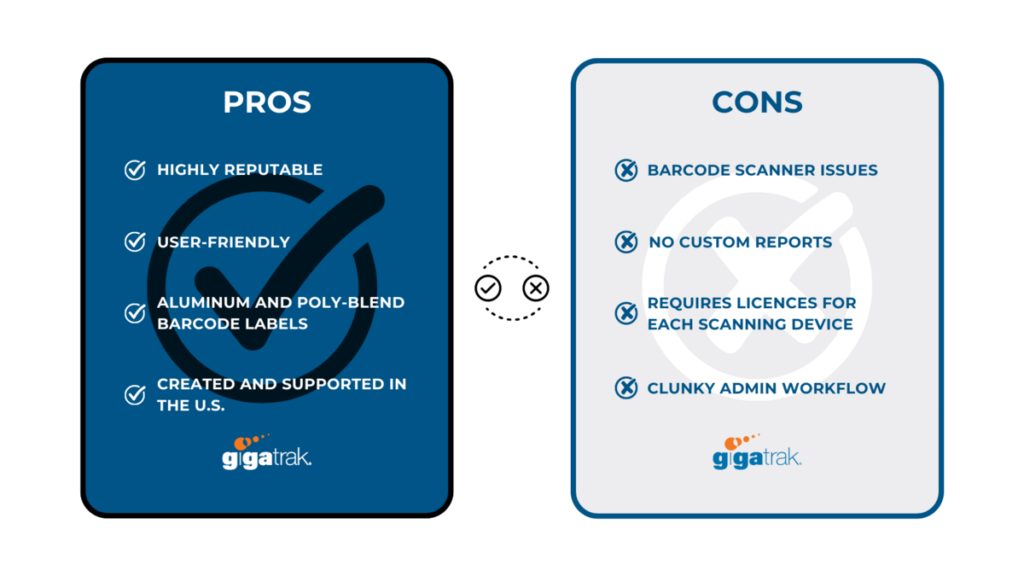 Getting back to the prices, if you want a cloud-based solution, you will have to go with GigaTrak's tool-tracking system for a minimum of $75 a month.
For the price, you get little to no IT involvement, and unlimited support and updates.
For self-hosting, you can manage everything yourself for a one-time fee of $2,495, or you can pick the more affordable, but less robust asset tracking system for $995.
To conclude, GigaTrak is a reputable inventory control software provider, with over two decades in practice.
This can be seen in their commitment to making their software user-friendly and providing great customer service, but technical issues and operating quirks show they may still be having a hard time staying on top of things.
InventoryCloud
Speaking of having a US-based technical support team, the following software, InventoryCloud also offers it.
As its simple tagline (Tag it—Scan it—Track it) suggests, this is a straightforward inventory control software, with all the bells and whistles that come with it.
Other than offering much of the same standard tracking features we have seen so far, InventoryCloud also has its own line of asset-tracking hardware products.

This includes barcode scanners, printers, tags, mobile computers, etc.
For businesses wanting to print their own labels, they offer complete tracking hardware packages created for everything from managing small inventories to managing multiple large warehouses.
Key Features
Inventory audits and cycle counts
Robust catalog of asset-tracking hardware
Unlimited items, customers, vendors
Free "Getting Started" training
Ready out-of-the-box
Drop ship on demand
Let's take a look at those benefits and drawbacks next.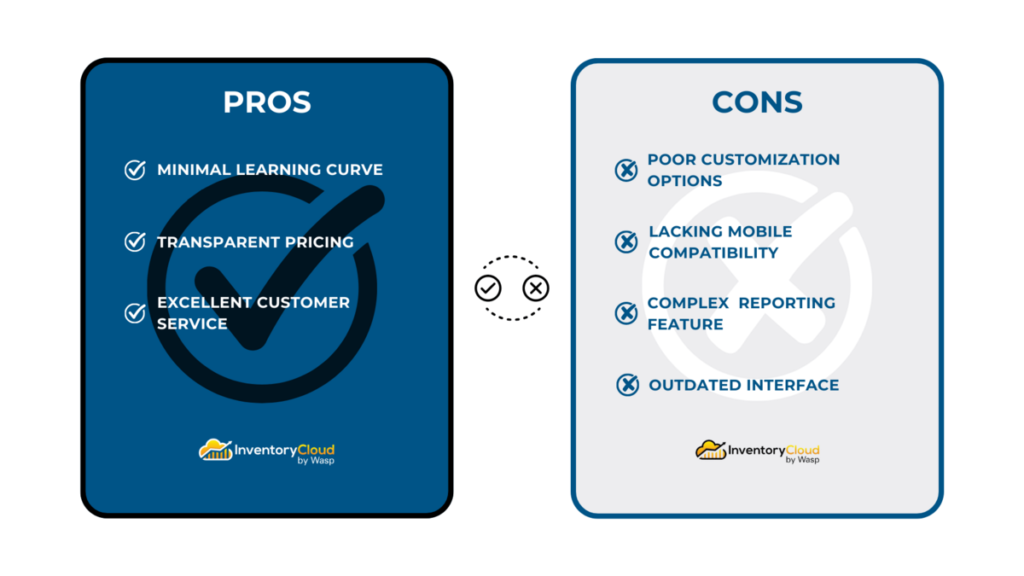 And, of course, we've come to the pricing. Similarly to our last entry GigaTrek, InventoryCloud separates cloud-hosted and self-hosted plans.
The cloud-hosted Basic plan allows for a single-user account starting at $1,295 a year. For a max of five users, there is the Complete plan, which costs almost three times the amount.
Self-hosted plans are billed only once, costing $2,995 and $6,995, plus a percentage for support and maintenance to be paid annually.
Conclusion
There you go!
Those were the best inventory management software on the market, each with its unique strengths and weaknesses.
If you were feeling indecisive at the start of the article, hopefully having a better idea about your choices empowers you to move on with your journey.
Whichever software solution you pick, be sure it's the one you like and that fits your business's needs, and you definitely won't go astray.