If you want to sell some of your heavy equipment, we have good news; the used equipment market is blooming at the moment, thanks to the pandemic.
Although the volume of pre-owned machines on the market has decreased, prices have gone up, so, obviously, this is the perfect time to sell your machines.
However, this brings up the following question—which method should you choose?
Well, your choice will depend on many factors, from the kind of equipment you're trying to sell to the cost of transportation, so make sure to do your homework before deciding which is the right one for you.
If you don't know where to start, don't worry; we'll cover the best methods for selling heavy equipment in this article.
Let's start!
Selling Equipment at Live Auctions
The first method of selling your heavy equipment we'll discuss are live auctions.
You might be surprised to find out that live onsite auctions are still extremely popular despite the availability of the online option, and even in spite of the ongoing pandemic.
This is because live auctions enable the potential buyers to test, compare and inspect your machinery in person, without the obligation to follow through with the purchase.
Also, auction houses usually have fully trained staff able to operate any piece of machinery, and they can present your equipment to potential buyers in the best way possible.
Additionally, transparency and honesty are guaranteed since service records and maintenance logs are always available at live auctions.
Moreover, although one of the obvious disadvantages of live auctions is their infrequency and the fact that they're tied to a single location, which makes the buyer pool narrower, auction houses will usually have highway exposure.
This means that lots of potential buyers will still have the opportunity to see your machinery.
Therefore, if you like these benefits and decide to sell your machinery at a live auction, the first thing you should do is find an appropriate auction house.
You can choose one that sells the equipment at the auction house, but some of them will offer the option of bringing the auction to a location near you, making transportation fees non-existent.
This can come in especially handy if you have a large amount of machinery you want to sell.
You can also do your best to make sure you sell your machinery for maximum value. For instance, you should always clean your machines before the auction—that includes the inside of the cabin as well!
Also, always make sure your tank is at least ¼ full since operators will need to be able to start the engine to present your equipment to the customers.
The same goes for the batteries; you don't want potential buyers to think your machines can't turn on.
So there you have it. Even though many people nowadays opt for online auctions, good old live auctions are definitely worth looking into.
Listing Equipment on Online Auction Sites
While live on-site auctions clearly have their benefits, listing equipment on online auction sites is a much easier route for many heavy equipment sellers.
As we've mentioned earlier, traditional on-site auctions can only be held a few times a year and can be far away from your location, which can be costly and time-consuming.
Making a profitable sale can also be difficult since the buyer pool is limited.
Many auction houses are adding online options or going completely online for all of these reasons.
For example, Ritchie Bros, a global leader in used equipment sales, closed five of their on-site auction locations because they wanted to focus on their online platforms in 2017.
Then, in early 2020, they decided to transition entirely to online auctions, due to the pandemic.
According to analysts, this was a smart move: online auctions are expected to grow at a compound annual growth rate of 7.2% by the end of this year.
This comes as no surprise, since online auction sites offer so many benefits compared to on-site auctions.
One of them, as previously mentioned, is access to a bigger pool of buyers. As we know, a live auction is limited to a single location, whereas buyers all over the world can access an online one.
Additionally, online auctions can be a lot faster and offer a very reasonable return on your investment.
For example, recently, one seller sold some spare parts in only 33 days and got 31% of the original value.
With online auctions, you also get more control. For instance, you get to choose which buyers to target, since you can see reviews that can help you find out who has promptly paid and picked up machines they bought on time in the past.

Make sure to find a reliable platform for online auctions. We've already mentioned Ritchie Bros, but Iron Planet, AuctionTime, Equipoo, and Bidaddo Auctions are also worth checking out.
But before you do that, make sure you do some research to understand better what type of equipment sells best and set a realistic price tag.
Then, once you've prepared it right, post many photos and videos of your machine in action.
However, when taking the photos, keep in mind that it's a good idea to only feature the attachments and accessories that you'll be including in the offer.
In conclusion, the shift towards online auctions is evident in the industry. It's no wonder, too, since they are easy to organize, attract a larger audience, and are even COVID friendly.
Partnering With a Dealer
If you're not comfortable with the idea of tackling the process of selling your equipment on your own, or if you're simply eager to sell your equipment quickly, it's a good idea to look into partnering with an equipment dealer.
Maybe you really need the money, or you need to free up some space for a new machine.
Whatever the case might be, equipment dealers can pay for your machinery almost immediately.
Equipment dealers are registered businesses specializing in buying and selling used equipment.
They also have their own moving equipment, so there is less for you to worry about.
Another advantage is that your machine can be in any condition when selling this way; dealers have trained technicians who can do any repairs needed, and they also have access to spare parts.
It's also worth mentioning that if you decide to work with an equipment dealer, you will usually have two options: a trade-in or an outright sale.
A trade-in is a great option if you're already planning on buying another machine to replace the one you're selling, since the dealership will usually offer you a good price towards purchasing a new or used piece of equipment from them.

And if you're only interested in getting your money's worth, then selling outright is the way to go.
In either case, it's important to find a reputable dealer.
And how do you find a good dealer? Like with anything else, you must do your research. You can't just assume all dealers are more or less the same and simply go with the first one you find.
So, always check the reviews to make sure you've found someone qualified and reliable.
To sum it up, if you are looking to sell your machine as fast as possible, working with a dealer is your best option. They will take the hassle of organizing the auction off your hands, while making sure you get paid as quickly as possible.
Selling to End Users Through Online Classifieds
Finally, if the machine you're selling is in high demand, it might be a good idea to sell your heavy equipment directly to an end-user, usually through online classifieds.
This is especially true if it's reasonable to expect that it might fetch even more than its fair market price.
However, keep in mind that going directly to the buyer will take a lot of your time and effort. Negotiating the prices, setting up showings, and even marketing can be exhausting.
Still, if you've decided to take this route, you might be wondering where to start since there are so many options when it comes to selling machinery through online classifieds.
Although eBay and Craigslist are staples for this niche, Facebook is slowly but surely growing in popularity, with its many specialized groups and Facebook Marketplace.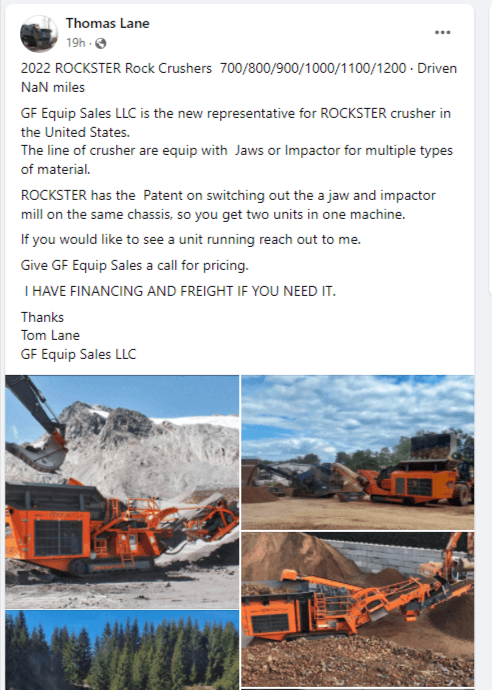 Melissa Moss, senior director of digital marketing at Randall-Reilly, publisher of Trucks, Parts, Service, agrees that Facebook is the most powerful social media tool for this purpose:
"We see a higher engagement rate with Facebook in terms of click-through rates and lead form submissions. I think a lot of people underestimate Facebook with the demographic we often target in heavy equipment sales, but with more than 2 billion active Facebook users in the world, it's just a place you cannot afford to not be present."
However, with so many users, competition will be fierce, so you will need to learn to stand out. Use lots of photos of your machine from all angles, write an in-depth and accurate description, and leverage good reviews.
For example, this seller has the feedback you should strive to: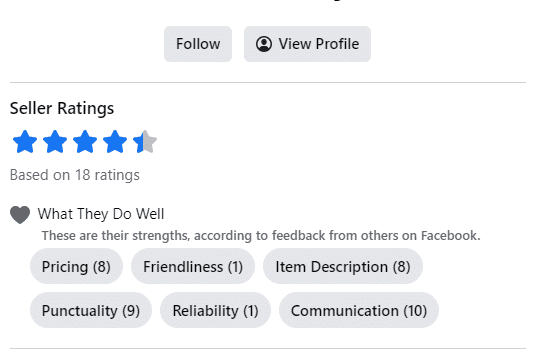 If you don't like the Marketplace, Facebook ads are another popular alternative.
Young Truck Sales have been using them for five years now.
According to their sales director, Justin Candea, they are running a Truck of the Week ad which leads potential customers to their main site where they can see the rest of their inventory and make a purchase if they want to.
As you can see, maintaining an online presence has become a must these days, even while selling heavy equipment. Most of the promotion is happening through social media and other online platforms, so try it out!
Conclusion
When it comes to selling heavy equipment, you most likely have two goals—you want to sell your machinery as quickly as possible, and you want to make some money out of it.
Choosing the right method for selling your heavy equipment is essential, but with all the options available, it can be challenging.
Whether you decide to go for an on-site auction, online auction, dealerships, or online classifieds, we hope that the advice given in this article is of use to you.
Good luck!