As the prices of food, gas and other commodities keep rising, the effects of inflation become increasingly noticeable in everyday life.
However, while the general inflation rate in the U.S. currently stands at 8.5%, the construction industry is experiencing record-breaking inflation in construction prices of over 20%.
Naturally, this has multiple negative implications for future and ongoing construction projects.
With that in mind, here are some practical tips on how contractors can mitigate the effects of inflation in their construction projects.
Develop a Spending Strategy
To mitigate the effects of inflation, you first need to know precisely what your construction business is spending money on.
Only when you're actively tracking your expenses will you be able to distinguish between essential and non-essential costs, align them with your long-term and short-term goals, and develop a robust spending strategy.
Before we go on, a little background.
The current inflation is spurred by supply chain issues caused by the pandemic, ongoing geopolitical crises, and labor shortages on the one hand, and increased demand for construction workers and materials on the other.
This mismatch of supply and demand has led to higher costs of all construction resources—labor, equipment, materials, and energy/fuel—which have contributed to the highest inflation rate since 1981.
Here's an overview of the annual inflation rates in the US in the past decade: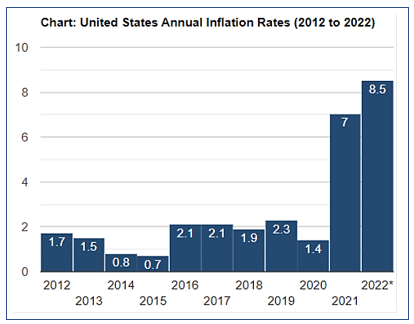 As the construction industry is particularly sensitive to price increases, almost all construction inputs have experienced much higher inflation rates, causing dramatic changes in the market.
So, what can contractors do to at least mitigate the adverse effects of inflation on their businesses?
The first thing is to know precisely what they're spending their money on.
Although this may seem like a logical step, the truth is that even when times are good, up to 40% of contractors don't track their expenses.
This prevents them from identifying inefficiencies and overspending in their operations, exposing their cash flow and profit to increased risks, particularly when prices keep rising, as shown below.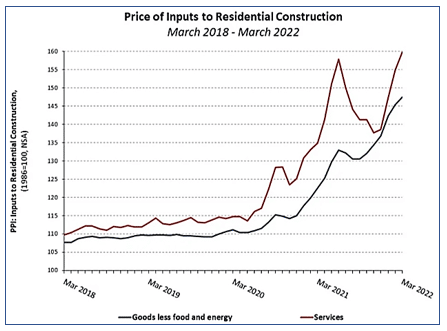 Thus, to develop a solid future spending strategy, contractors need to carefully analyze and monitor their overhead and project costs to determine where savings can be made.
For instance, maybe you own some seldom used equipment when it would be better to sell it and rent that piece when required.
Or maybe you're spending too much on services that could be outsourced or replaced by cheaper versions.
Moreover, contractors should make a clear distinction between essential and non-essential costs, depending on their long-term and short-term goals.
For example, although investing in tech solutions that automate time-consuming manual processes would create short-term purchase and rollout costs, the realized long-term savings would undoubtedly contribute to lower costs.
To sum up, understanding and tracking your expenses will allow you to create a robust spending strategy that can help you deal with the effects of inflation on your business.
Price Your Services Reasonably
Despite higher construction costs across the board, it may be hard to raise your prices and keep winning bids in a highly competitive construction market.
However, considering what can happen when profit margins are too tight, and costs keep growing, there might be no other way to ensure the survival of your construction business.
In other words, although contractors might be tempted to undervalue their services to acquire more projects, they should instead focus on providing high-value results and pricing their services to cover wages and overhead costs, while also bringing in profit.
Considering the price increases of construction inputs shown below and generally higher living costs, it becomes clear that reasonably priced but somewhat higher service rates are unavoidable.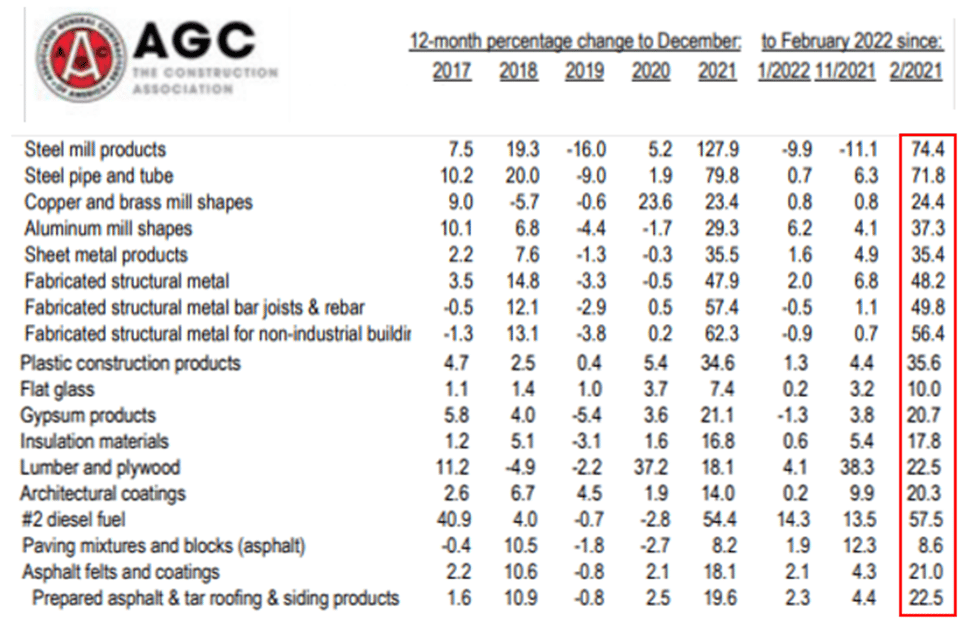 Thus, trying to get new construction projects through low pricing can backfire and jeopardize your entire business, especially in the current inflationary environment.
Instead, you should aim to offer and provide higher value in other project aspects, such as the quality of workmanship, speed of delivery, sustainability, and rapport with clients.
So, to set the price of your services, you should review overhead costs and calculate the impact of inflation on them.
When you combine that with the estimated labor costs (also increasing due to inflation and labor shortages) and your target profit margin, you can come up with new service rates.
Here's an example of cost calculations that should be adjusted for inflation.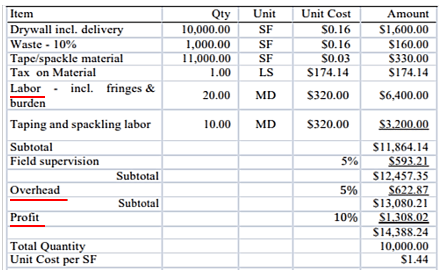 Remember, even though it may now seem that planned projects are being delayed or canceled due to rising prices, supply chain issues, and labor shortages, the demand for new construction actually remains high, both because of increased demand for residential construction and the announced large infrastructure projects funded by the government.
Thus, there will be project owners willing to pay more, particularly when reasonably priced services are coupled with high-quality work and timely project delivery.
Foster a Good Relationship With Suppliers
When it comes to construction materials, fostering a good relationship with suppliers is invaluable in helping contractors combat price inflation and materials shortages.
In other words, building long-term relationships with one or more trusted suppliers, preferably local, can allow contractors to save money by securing more favorable prices and improved supply chain reliability.
More specifically, going for local suppliers enables contractors to make site visits, meet their suppliers in person, stay in frequent contact, and more efficiently address any supply issues, thus fostering good relationships.
Naturally, the benefits of using local suppliers are more far-reaching, as the results of the survey below show: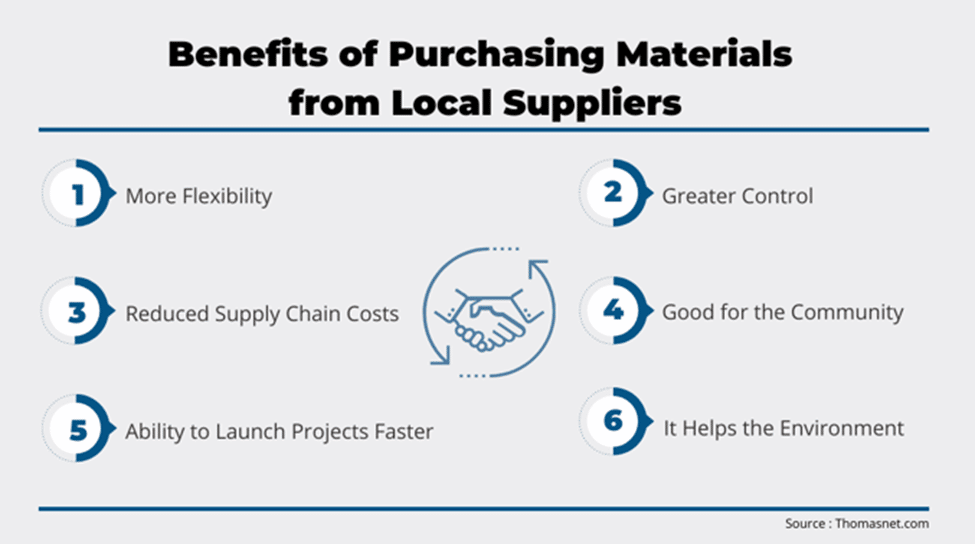 Of course, nurturing a strong working relationship with the supplier(s) works in both directions, meaning that all sides should be committed to honest communication, reliable delivery and payment, and fairness.
Moreover, such mutually beneficial relationships will allow contractors to make better purchasing decisions.
For instance, a trusted supplier can warn the contractor about the fluctuations in prices and stock levels of construction materials they supply, which are likely to affect the contractor's ongoing and future projects.
Consequently, the contractor can adjust their procurement strategy, pre-order the materials, or manage client expectations regarding price or availability.
When it comes to suppliers, they can employ different agile strategies to mitigate inflation effects and retain their clients and profitability, as suggested by McKinsey in the article shown below, while contractors can use similar methods to get more out of their relationship with suppliers.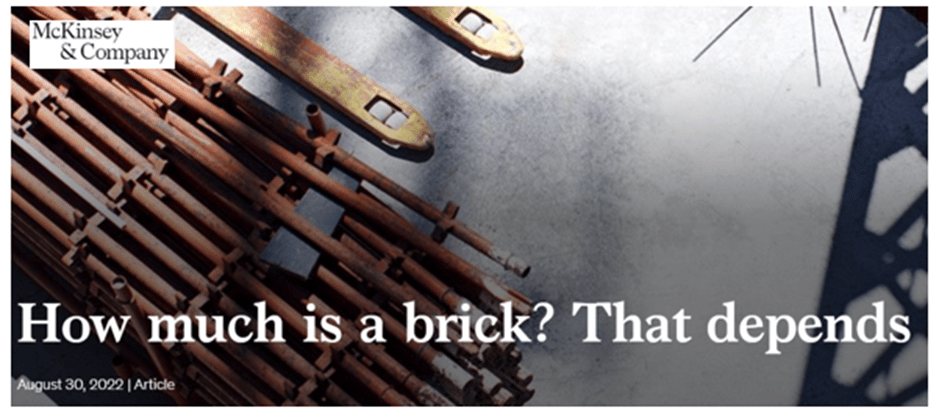 Overall, contractors should first strive to be stable and reliable clients and prompt payers, as this will incentivize their suppliers to reciprocate, ultimately creating a win-win situation.
Second, they should keep their communication with suppliers open and frequent and their collaboration close.
This can ensure they can clearly voice their needs and concerns and stay informed about the latest price and stock fluctuations.
Naturally, all of the above can be crucial when contractors are faced with supply chain issues and material price hikes as they are now.
Purchase Materials in Bulk
Bulk or wholesale purchases are a great strategy for mitigating inflation effects in your construction projects, as long as some specific conditions are met.
Namely, contractors opting for this strategy should have sufficient funds and storage space to purchase and store the materials bought in bulk, coupled with at least several future projects in which those materials will be used.
Of course, when you don't know whether any materials will be available or at what price, it's hard to make accurate cost estimates and plan projects.
That's why some contractors are taking advantage of high-volume purchases not only to get quantity discounts but to ensure they will have the materials they need to complete the project without cost overruns (if prices go up) and without delays (if materials are not available on time).
Ideally, a contractor will have multiple projects in the pipeline where the same materials will be used.
Alternatively, they will be able to manage client expectations and steer them in the direction of specific materials or, as Michael Bellaman of Associated Builders and Contractors puts it: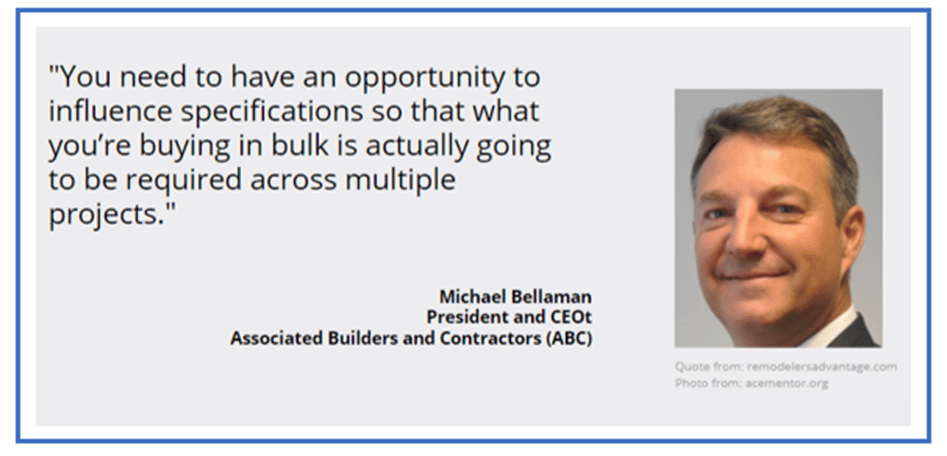 In the current situation of volatile prices and unreliable supply of materials, we should add that clients should be more than ready to modify their project requirements as they will also benefit from a fixed price, secured supply, and consistent quality of materials.
What's more, some design-build contractors are purchasing materials that are currently available and creating their designs around them, thus ensuring their clients will get exactly what's agreed, including the fixed price and secure delivery of materials.
Again, it should be noted that materials purchased in bulk need to be properly stored to stay in good condition until they're used.
Overall, creating a strategic stockpile of frequently used materials when they're available in bulk can result in substantial cost and time savings and significantly reduce the stress you and your clients are experiencing because of inflation.
Maintain Your Existing Equipment
Considering that inflation and supply chain disruptions extend to your equipment, tools, and vehicles, smart maintenance practices can extend their life and allow you to avoid having to buy replacements during periods of volatile costs and availability concerns.
There are many ways to keep your existing construction fleet, equipment, and tools in good condition, such as providing proper training, applying preventive maintenance, and utilizing tech solutions to track their status, location, and usage.
Even before the pandemic caused an unparalleled shortage of microchips and semiconductors, many construction businesses, pressured by tight profit margins and short deadlines, were forced to cut corners where they could, and regular maintenance was often the first to go.
However, that can have severe consequences, from injuries caused by poorly maintained equipment to unplanned breakdowns, repair or replacement costs, and especially delays, considering the current supply chain issues.
So, contractors should approach maintenance proactively and avoid making any of the following common mistakes: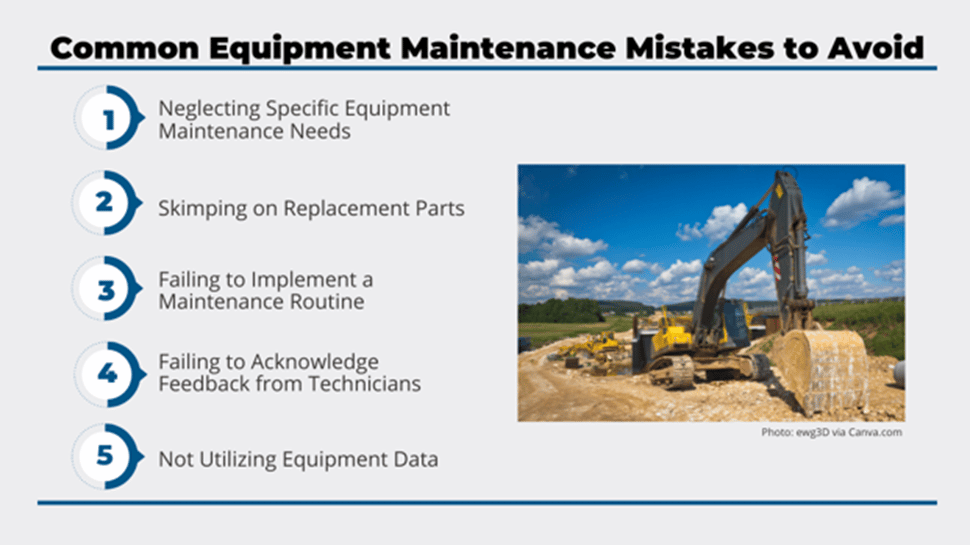 Ultimately, eliminating those mistakes will result in a robust maintenance program where equipment is regularly serviced by qualified technicians whose opinion is valued and who have the right replacement parts at their disposal.
However, considering the number of equipment and tools an average contractor owns and needs to maintain, this is almost impossible to accomplish without utilizing equipment data obtained by tracking their condition, location, and usage in near real-time and/or establishing an automated equipment checkout system.
One such equipment management solution that can do all that by combining the power of cloud-based software, smartphone scanner apps, and rugged QR code tags is GoCodes.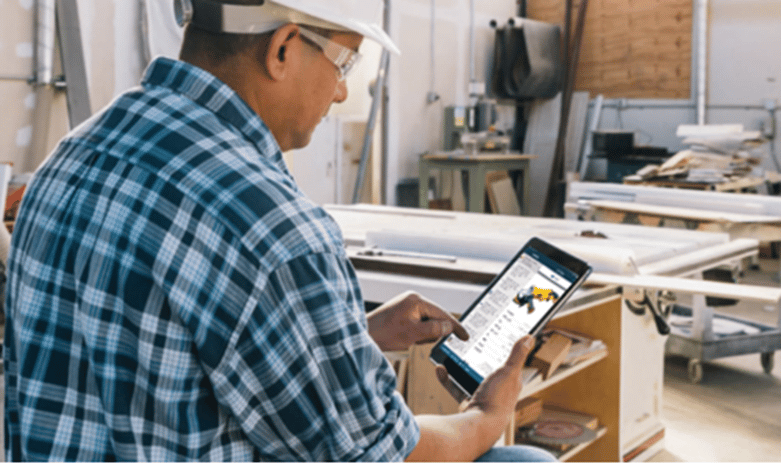 Among its many features, this asset tracking solution will provide automatic GPS tracking, send scheduled maintenance alerts, and allow you to rapidly check out equipment.
This and other equipment management software solutions will assist contractors in implementing preventive maintenance practices that can save them between three and ten times the cost of unplanned breakdowns and emergency repair.
Naturally, all this will greatly contribute to keeping your existing equipment in good condition and avoiding the effects of rising prices and shortages of replacement parts.
Conclusion
To sum up, we could say that the first two tips in our article, spending strategy, and reasonably priced services, can be boiled down to good preparation and planning.
The following two, suppliers and bulk purchases, deal with ways to stave off inflation when sourcing construction materials, while the last one emphasizes the importance of regular maintenance to avoid higher equipment replacement or repair costs and supply issues.
Thus, the key takeaway of this article is that, even in unpredictable times like these, there is still a lot you, as a contractor, can do to successfully mitigate the effects of inflation on your construction projects.