The journey from big to small
It seems laptops have become a body part for everyone. Whether it's a student, a housewife, or a corporate professional, everybody is investing in a laptop these days. Why shouldn't they? After all, this handy device lets you work on the go by simply keeping it on your lap!
The journey of computers from being humungous, room-sized machines to compact, handheld devices has been remarkable. The transformation is a surefire sign that man's creativity is boundless and is capable of turning bulky memory storage equipment into tiny microchips, which are not only tenacious but also supremely high-functioning.
Let's talk about the good-old desktop computers. This traditional computing device involves a combination of input and output devices, such as a monitor, keyboard, mouse, CPU, and UPS, all connected to a power source. These devices are still a common tool in different establishments, both residential and commercial, and hold relevance to present-day computing needs.
If at all you are in a tour-intensive profession that requires you to visit construction sites and conduct field works, you will perhaps have to get out of your desktop computers. You will need a laptop which you can carry around. Industrial establishments too need laptops for asset tracking and inventory management, which are nowadays becoming highly computerized processes.
There are a plethora of laptops you can buy in 2018. But not every model can help users meet their computing needs in the rugged conditions of construction or industrial site. Before you invest your money in a laptop, make sure you consider the following aspects:
Operability- Field, industrial, and construction sites have extreme conditions. The laptop you choose should be operable under such conditions. It would be a cherry on the cake if your laptop's screen is detachable, allowing you to turn it into a tablet in a jiffy.
Processing power- Industrial applications for asset tracking and inventory tracking can be heavy. You need a laptop that can process these applications efficiently. Sufficient RAM, super-fast processors, and dependable storage are important aspects of a rugged laptop.
Display- The laptop should have an adaptable display. You might have to work in sunny or rainy conditions. Your laptop's screen should provide clear visibility while working under such conditions. The size of your display is also important because it affects the portability of the laptop.
Connectivity- Rugged laptops are used in conjunction with other devices, such as pen drives and hard disks. As such, having a single USB port is not enough. The laptop should have enough connectivity ports so that you can connect different industrial devices. It should also have built-in internet connectivity so that you can work with them at remote locations.
Design- The physical makeup of your laptop is of utmost importance. Your laptop should be resistant to extreme temperature, water, shocks, and magnetic fields. It should have a strong body, if possible SSD and IP65 certification, to prevent interference of magnetic fields in the functioning of the hard disk.
There is a range of rugged laptops to choose from in the marketplace. If you are looking for the best options, do check out the following:
Dell Latitude 14 Rugged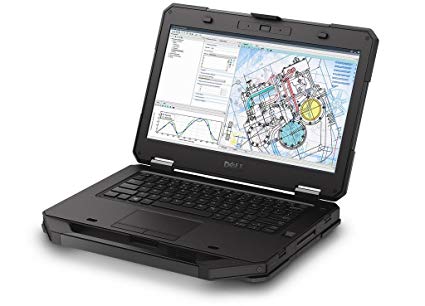 Dell has reached a high mark owing to its innovative products and excellent customer service. The range of rugged laptops from the company's portfolio is also commendable. The Latitude 14 Rugged grabs the spotlight with its tough features and specifications. Let's take a look at them:
Intel Core i5-6300U processor.
8GB RAM and 128GB storage.
AMD Radeon R7 M360 graphics.
14-inch screen, measuring 347×243×44.4mm and weighing 1.9kg overall.
WiFi, GPS, Bluetooth, GPS, Ethernet, and LTE.
The Latitude 14 is a fantastic offering from the laptop manufacturer. The machine blends a rough and tough outer covering with beefy components, something remarkable in this category. It's built to resist drops, vibrations, and shocks, thriving in the most extreme of weather conditions.
The display of the laptop is great owing to the matte finish, which gives a comforting touch to the whole design. Whether you are working outdoors or indoors, you will love using this laptop for the sheer comfort it provides. The model is also affordable, and you can get it at a good price both in the US and UK markets.

Toughbook 30 MK3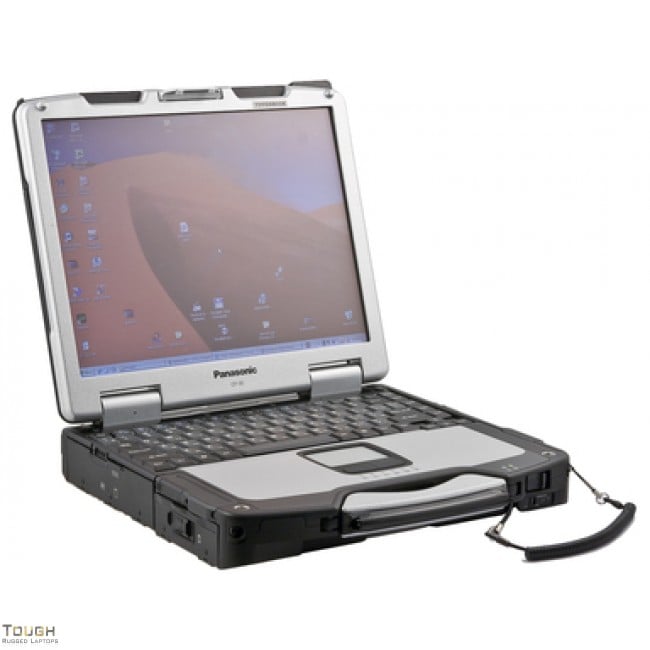 The Toughbook 30 MK3 from Panasonic is rich in cutting-edge features that field workers desire strongly. Although the company made an upgrade and launched the Toughbook 31 Max (another rugged option creating a buzz these days), the Toughbook 30 MK3 continues to remain an affordable option for many laptop buyers who work in harsh conditions. Let's take a look at few of the specifications of this laptop:
Intel Core 2 Duo SL9300 / 1.6 GHz processor.
2GB RAM, 4 GB DDR2 SDRAM, and 320GB hard drive memory.
33.8 cm display.
Bluetooth and Ethernet connectivity.
The Toughbook 30 MK3 is capable of surviving a drop from about a meter high. The solid metal handle in the chassis provides a sturdy grip and prevents damage from mishandling. The magnesium alloy casing conforms to the MIL-STD 810F US military standard for shock and vibration resistance.

When tested in office conditions, the Toughbook 30 MK3 performed perfectly well. You can get a battery life of four to eight hours when operated on maximum brightness level. The laptop is apt for challenging outdoor tasks. It's surely going to prove a solid investment for you.
Getac V110
If you wish to make a transition from the corporate look to a more sportive one, you can flaunt the V110 from Getac. The laptop is a fully-convertible rugged laptop that has a few lucrative specifications. Let's check them out here:
Intel® Core™ i5 or i7 processor.
Intel® HD Graphics 620, providing a high frame rate and responsiveness for both video and 3D graphics.
11.6" widescreen display.
WiFi, GPS, and 4G LTE connectivity.
This industrial laptop comes with a swiveling screen that's hinged perfectly to the base. You can flip the screen and convert it into a sturdy tablet, which you can carry around anywhere you want.
Not to forget, the laptop has a multi-point touch screen, which provides haptic feedback. The best part of the screen is that they are glove-friendly. Even if you are at a remote site in Siberia, you can operate them with unmatched comfort. The hot-swappable batteries of this laptop work great, and let you continue working even after switching to a full battery.

You don't have to fret about security because these laptops come with amazing security features. The display is wide and adaptable, thereby allowing you to work in different outdoor conditions. It's a robust super-portable laptop which is worthy of your investment.
HP ProBook x360 11 G1 EE Notebook PC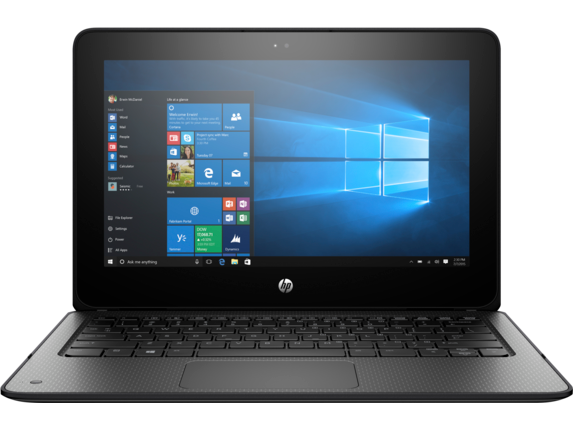 When you get the first glimpse of the HP ProBook x360 11 G1 EE Notebook PC, you will perceive it as an ordinary notebook. Once you look closer, you will see the sturdy side of this version of rugged laptops.

The laptop, however, isn't a very big deviation from your regular laptops; it is not meant for very dangerous environments, but it can be designed to resist more shocks, liquids, and drops than your regular ones. The laptop certain has some interesting specifications, which are:
Intel Celeron N3350 processor.
2GB RAM and 128GB SSD.
Intel HD Graphics 500 graphics.
11.6-inch screen, measuring 207×302.4×19.9mm and weighing 1.35kg overall.
Bluetooth and WiFi connectivity.
The Corning Gorilla glass display, industrial makeup, and the ability to withstand spills make this laptop a good choice for rugged use. You can flip the screen to convert it into a portable tablet, something that on-the-go construction professionals would covet. It's light and thin, making for one of the best options available in the marketplace today.
Lenovo ThinkPad X1 Carbon (6th Gen)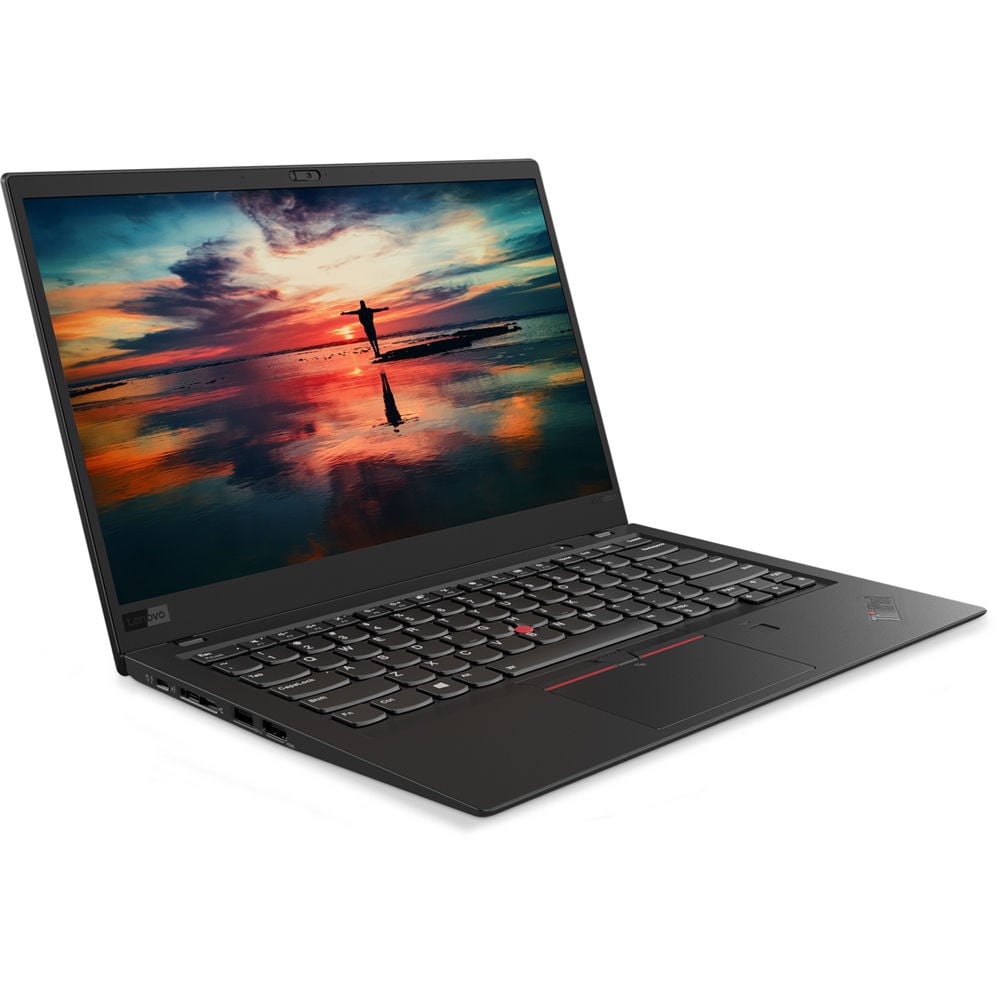 Last but certainly not the least, we have the Lenovo ThinkPad X1 Carbon, which is perfect for anyone who wishes to be productive and efficient on the go. The laptop brings superior performance features and long battery life together in a compact and slim chassis. Here are its specifications:
Intel® Core™ i7-8650U with vPro™ processor.
16 GB LPDDR3 2133 MHz memory and 1 TB PCIe SSD storage.
14-inch screen, measuring 323.5×217.1×15.95 (mm) and weighing 1.13 kg overall.
Bluetooth and WLAN connectivity.
The 6th Generation laptop preserves the amazing keyboard and beautiful display of its predecessor and enhances handling with the soft-touch deck and lid. This, however, doesn't mean that the laptop isn't rugged. The mixture of magnesium and carbon fiber makes this laptop extremely durable. Don't worry if your laptop falls off a cliff because it can withstand powerful vibrations and shocks.
The best part is the battery, which lasts up to fifteen hours and it has built-in rapid charge technology. Whether you are compressing videos or compiling huge spreadsheets, you will always experience a high degree of responsiveness with the laptop. You can settle on this option if seamless typing, appealing design, and longer battery life is what you are looking for in a rugged laptop.

Buying a laptop involves some amount of monetary investment. To get the best out of it, you should choose the one that suits your computing needs. You can also sign up for our asset management and inventory tracking solutions, which are designed to meet your needs effectively.